If you've ever wondered what Delta 767-300 Comfort Plus (officially known as Comfort +) is like, this review is going to be an eye-opener.
Unlike other long-haul aircraft in the Delta Air Lines fleet, the 767-300 is not equipped the newest interior. Premium economy seats on these airplanes are basic economy seats with a few extra inches of legroom. That's it.
Not only that, Delta has no plans to upgrade these seats (beyond maybe changing the seat materials). This is as good as it's going to get until this aircraft type is retired.
Part of me wonders if it's actually a social experiment just to see what customers are actually willing to put up with…
DL820
San Diego, CA (SAN) – Atlanta, GA (ATL)
Thursday, December 23, 2021
Aircraft: 767-332/ER
Registration: N195DN
Duration: 4 hours 2 minutes
Seat: 16A (Comfort +)
The video
Call me weird, but I really enjoy making videos about airline seats that don't quite live up to my expectations. Delta Comfort Plus isn't all that bad, but I was expecting something just a little bit better – especially with the 767-300 being an internationally configured aircraft and all.
For the soundtrack of this one, I headed over to Epidemic Sound and grabbed a couple gritty / bluesy tracks to help tie it all together. The title of the first track is Different Times by Jeff Everill, and the title of the second track is Don't Call Me Sugar by Johan Glossner.
A full review of Delta 767-300 Comfort Plus from San Diego to Atlanta
Right off the bat, this trip started with a challenge. I was traveling by myself with two very large (and heavy) suitcases today, so managing those along with trying to get pics and video for this review was a mother******.
My arrival at the airport
Despite already knowing that Delta 767-300 Premium Economy isn't all that great, I arrived at the San Diego International airport at 4:25 AM feeling chipper and upbeat. Those suitcases though. Ugh.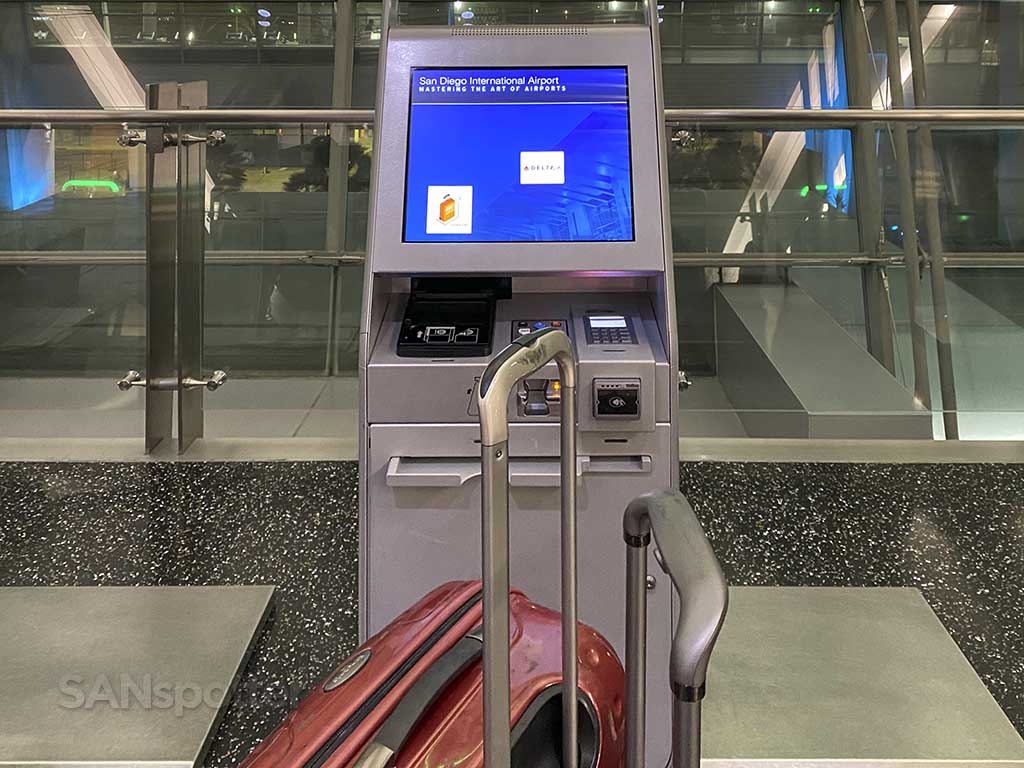 The boarding process for flight number 822 to Atlanta
Delta Air Lines runs a massive operation out of San Diego. There are five widebody flights a day to Atlanta alone, and every single one of them are usually packed to the gills. My flight this morning (DL822) was one of them, and if you're wondering, no: Comfort Plus passengers on Delta do not get any special boarding perks.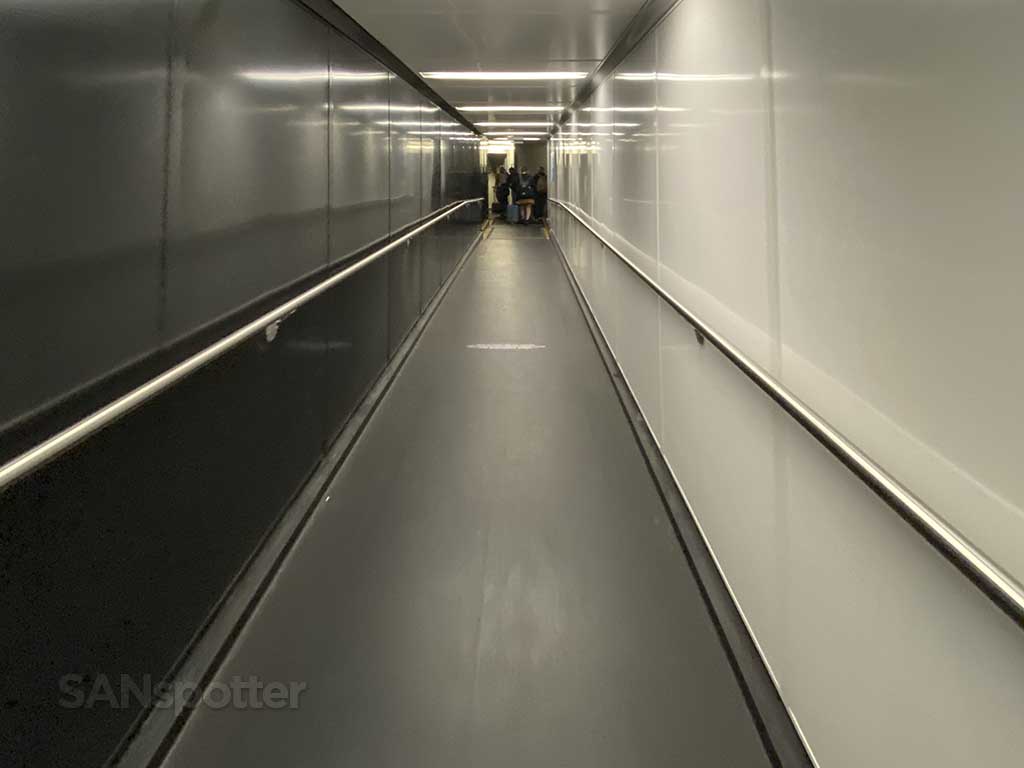 My first impressions of Delta 767-300 premium(ish) economy
You know that feeling when you already know what to expect, but you're secretly hoping for a surprise? That's exactly what I was feeling as I stepped onboard this aircraft and got my first look at the seats. I knew exactly what I was getting into, but that didn't stop help me from feeling disappointed when I finally sat down.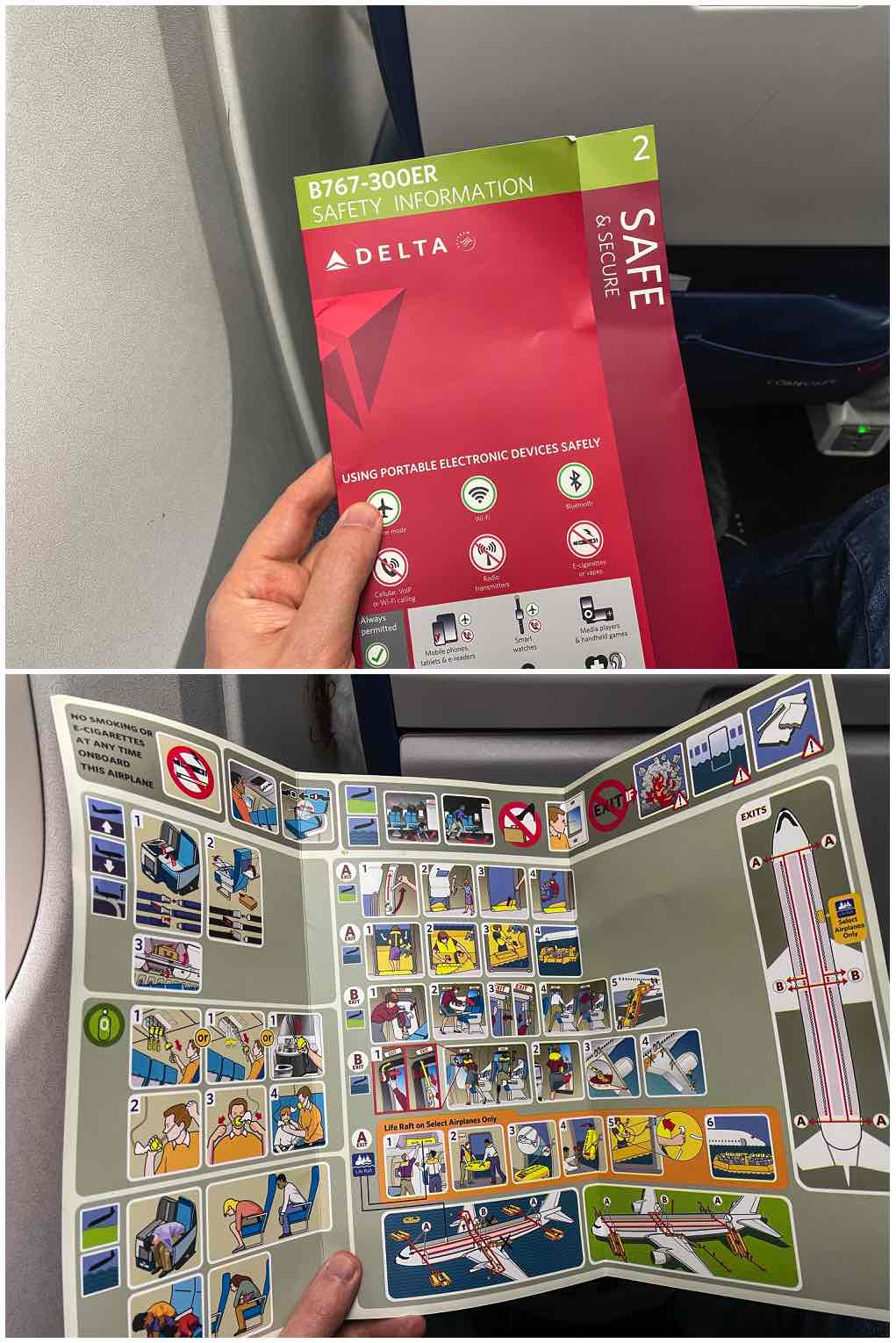 How are Comfort Plus seats on the Delta 767-300 different than the regular economy seats?
Unfortunately, Comfort Plus seats on the Delta 767-300 aren't physically different than regular economy seats. Yes, there are a few extra inches of legroom, but everything else is exactly the same.
You'll get the same video screen, the same power ports, the same armrest, the same seat cushions, and the same seat materials. In other words, it's all the same.
The departure out of San Diego
The problem with early morning departures out of San Diego this time of year is that it doesn't start getting light until about 6:45 AM. We pushed off the gate at approximately 6:25 AM, so there wasn't much to see until we reached the threshold of runway 27.
What is Comfort Plus in-flight entertainment like on the Delta 767-300?
Remember what I said about the video entertainment in my Delta 767-400 economy review? The exact same thing applies for the 767-300 as well. It's the exact same video screen, with the exact same video entertainment system. Which is totally fine, because Delta Studio is one of the best in-flight entertainment products in the business.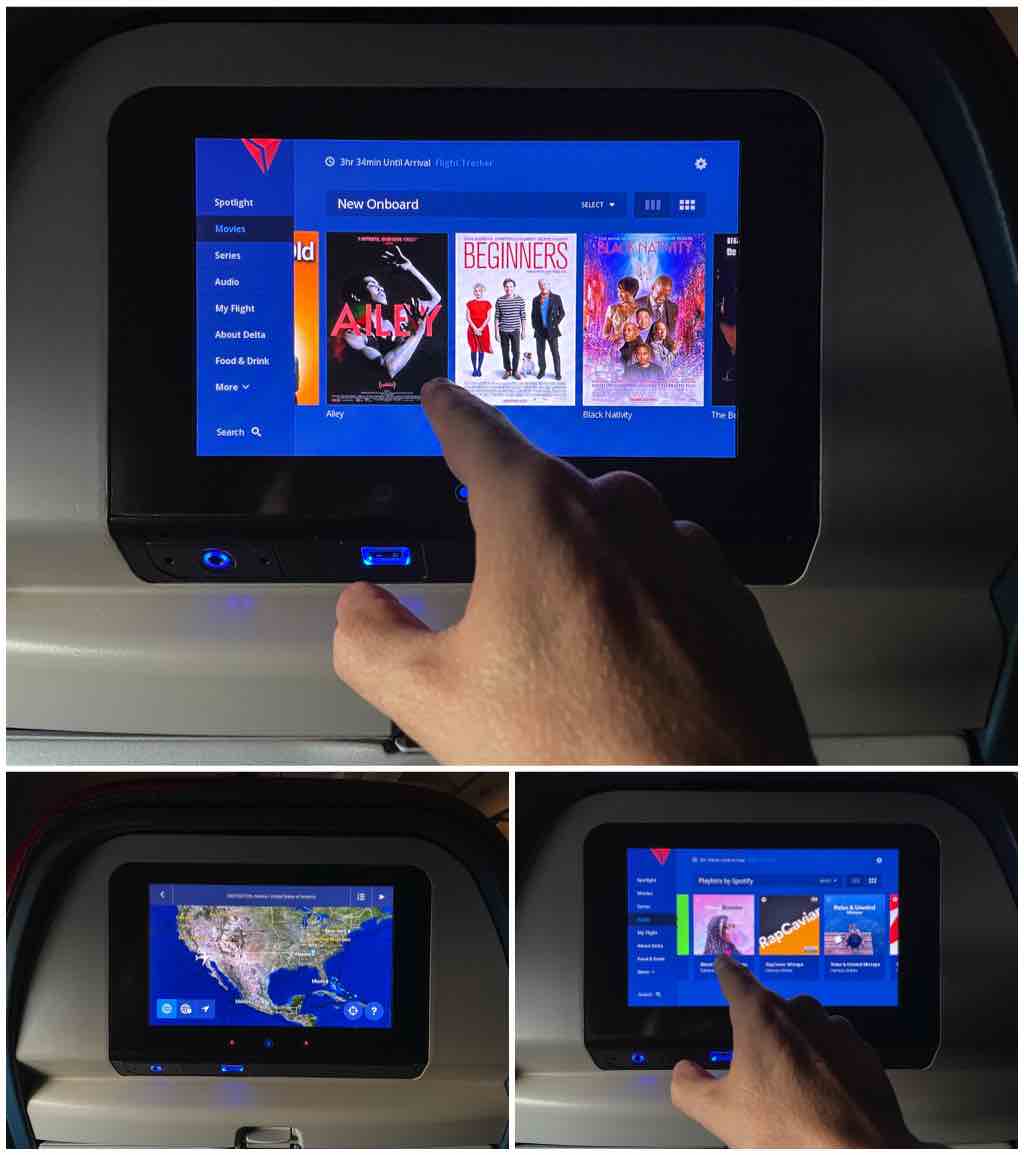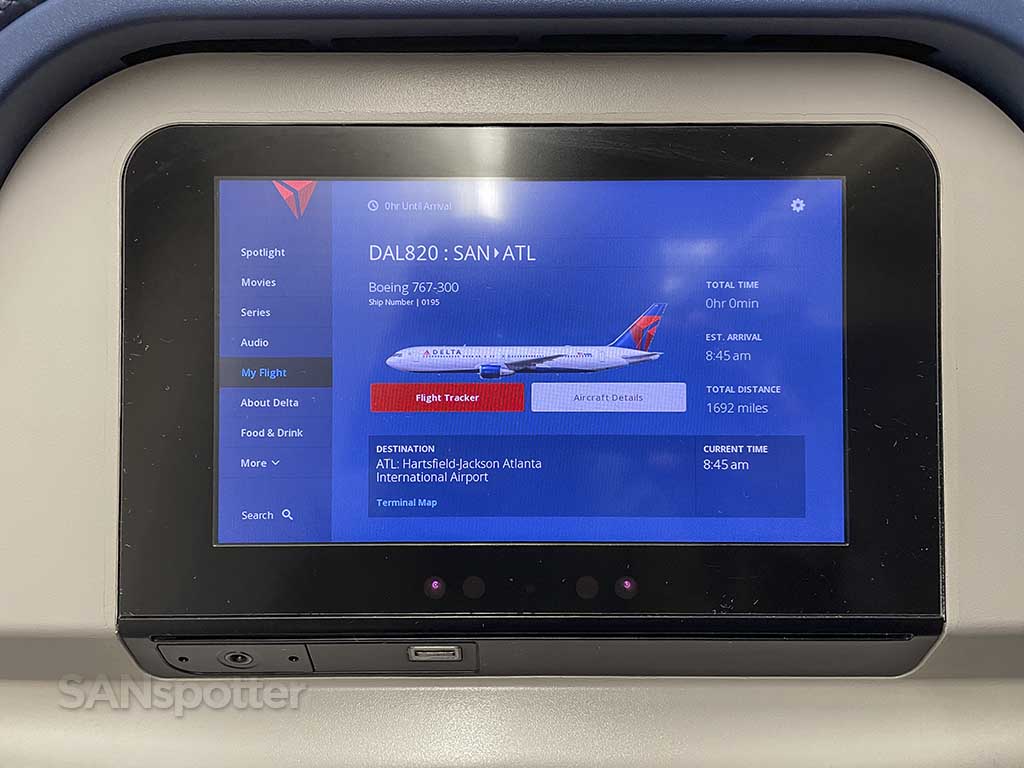 What kind of food does Delta serve in Comfort Plus on the 767-300?
The only kind of food that you're going to get in Comfort Plus on a Delta 767-300 (or pretty much any other aircraft in their fleet) is a couple of bags of snacks and a complementary nonalcoholic drink. We weren't even offered the option to purchase food off of an in-flight menu, which was slightly disappointing considering how badly I was in need of breakfast.
Are Delta Comfort Plus seats on the 767-300 worth it?
Honestly, I'm not sure that I would pay extra for Comfort Plus on the 767-300 again. The only real benefit that I truly appreciated was the few extra inches of legroom.
Boarding ahead of the regular economy passengers didn't feel all that special. And since there was no extra food provided, it's hard for me to justify the extra price over basic economy.
The arrival into Atlanta
The skies were completely clear as we made the descent into Atlanta, and visibility was pretty much unlimited. Well, I was at the mercy of what my aging eyes could actually see through my usually-filthy glasses, but it was fun to get a good look at northern Georgia again. It had been a while since my last visit.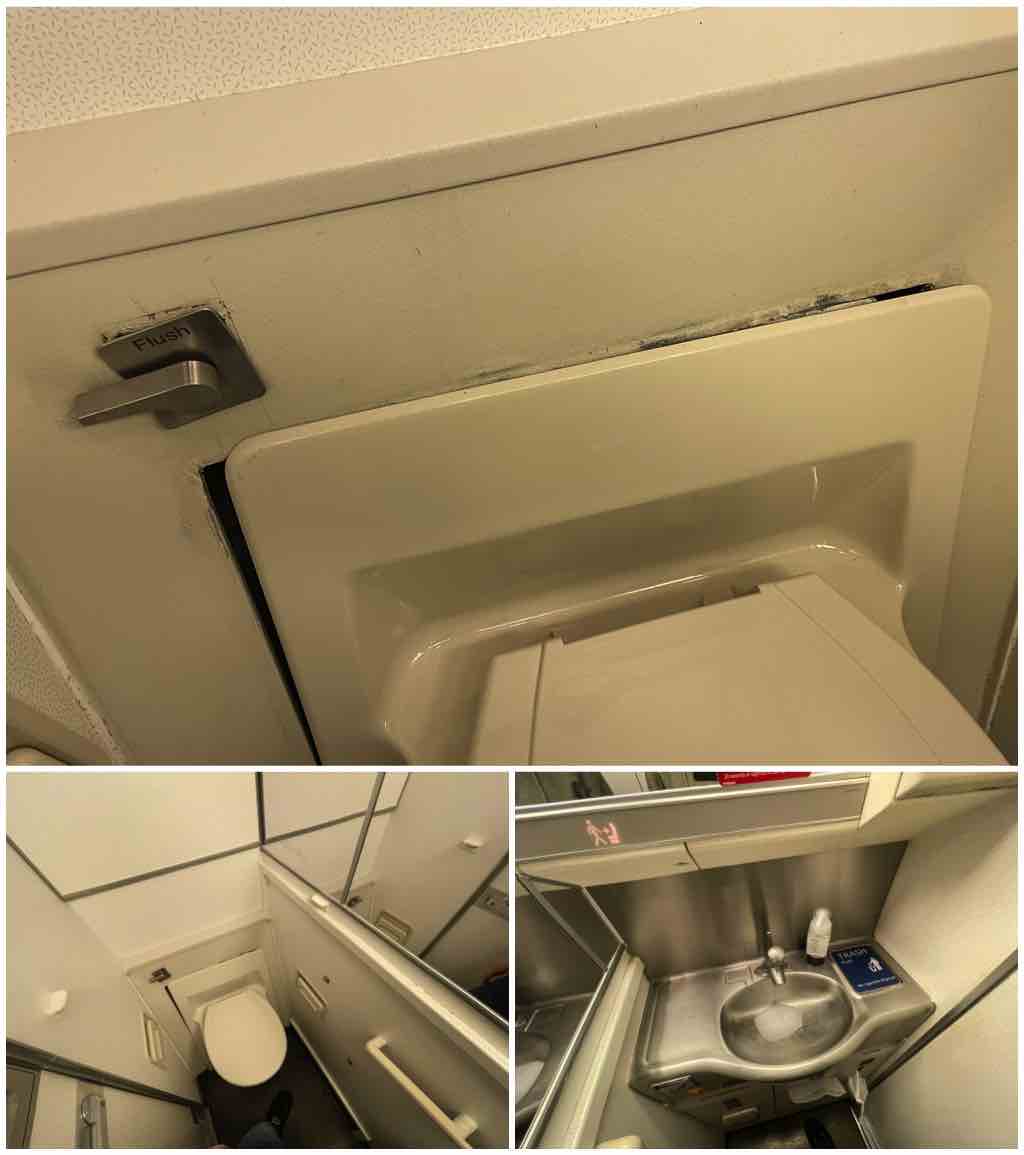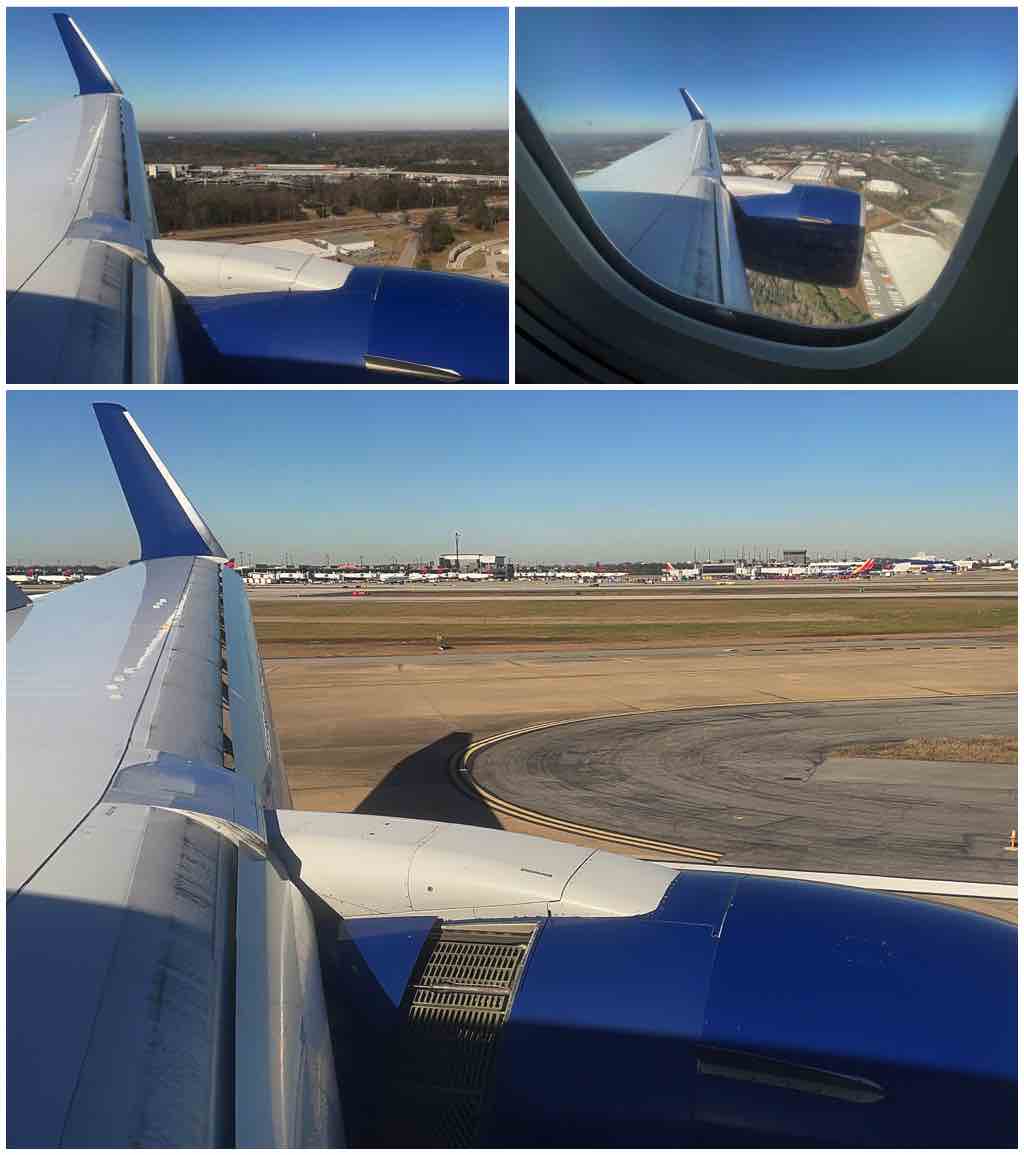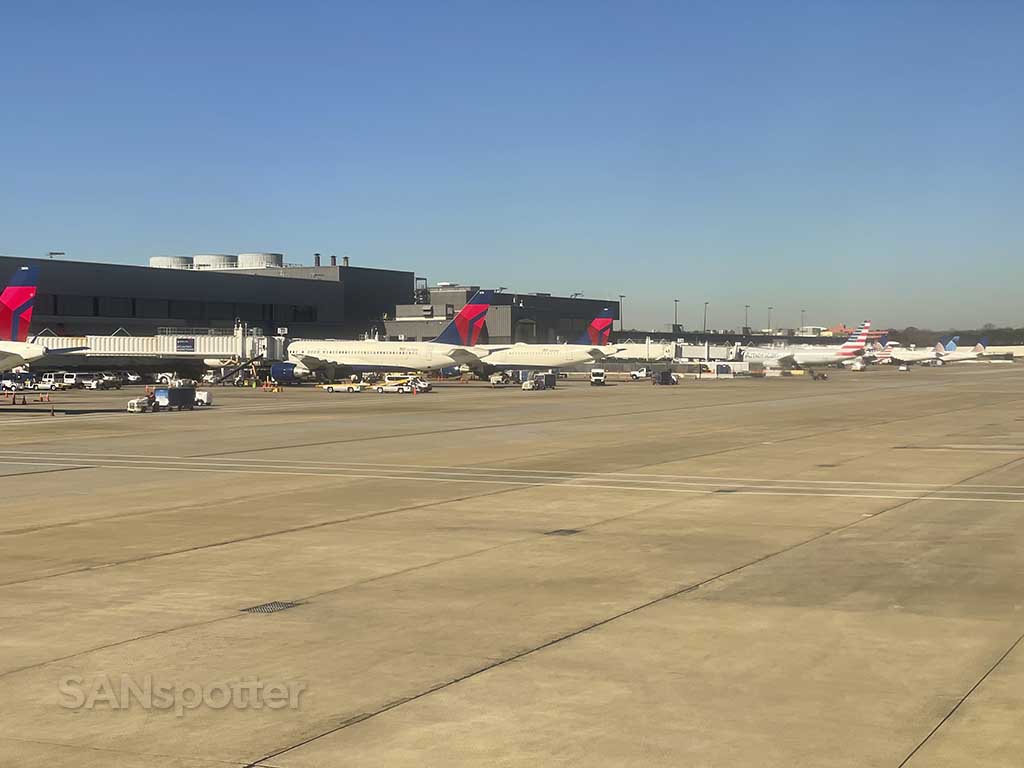 Pros and cons of Delta 767-300 Comfort Plus
Wait! Before you spend your hard-earned money on Delta Comfort Plus, there are some very important things you need to know about what you're actually going to get. It's a decent product for sure, but if I'm being honest, I can't say that I'd be all that tempted to do it again on the 767-300.
Pros
The few extra inches of legroom really do make a big difference on longer flights. Being able to stretch out (just a little bit more) was nice on this 4-hour flight from San Diego to Atlanta.
Delta Comfort Plus passengers get to board before any other economy class passenger. This is nice since the overhead bins on the 767-300 are slightly smaller than more modern aircraft, and you'll have a much better chance of finding a place for your carry-on bag.
There are USB and full-size electrical outlets at every seat.
Cons
Technically, Comfort Plus is not premium economy. Delta Premium Select is their true premium economy product, and this is most certainly not that.
The Comfort Plus seats on Delta 767-300 are normal economy seats. There are no physical differences in size.
The food you'll get is exactly what you'd get in basic economy class. A bag (or two) of snacks along with a complementary drink will be served shortly after takeoff. If the flight is long enough, you'll get another small snack and drink before landing. But that's it.
The Comfort Plus seats on the 767-300 are not as nice-looking as the ones that are on other (newer) Delta Aircraft. Be sure to check out my Delta A321 Comfort Plus review to see what I mean…
There are no extra / priority perks for Comfort Plus passengers during the check in process. You'll have to stand in the regular economy class line and patiently wait your turn. RIP to your sanity if it's full flight.