I have a love / hate relationship with Delta 767-400 economy class. On one hand, it might be the best economy class product in the Delta Air Lines fleet. On the other hand, it just might be the worst.
What I think of it ultimately comes down to how I'm feeling the day of the flight. If I'm in mega-nerd AvGeek mode, I love the style (and size) of the 767-400. If I'm tired and I just want to go home, an economy class seat on this airplane wouldn't be my first choice.
I mean, have you seen how many people Delta is cramming into the 767-400 these days? Good luck dealing with that nonsense when you're irritable and moody…
DL350
New York, NY (JFK) – San Diego, CA (SAN)
Saturday, August 21, 2021
Aircraft: 767-432/ER
Registration: N843MH
Duration: 5 hours 50 minutes
Seat: 52G (economy)
The video
Those of you who came from my YouTube channel and have already seen the video, you'll know that I was in mega-nerd AvGeek mode the day of this flight. For those that haven't seen the video yet, here you go:
There's not much that happens in economy class at the very back of a large airplane such as the 767-400, but I did my best. As always, the music play this video and (all the videos on my channel) comes from my bros at Epidemic Sound.
A full review of Delta 767-400 economy class from New York (JFK) to San Diego
If you recall, I wrote a full review Delta 767-400 economy class in 2018. However, that aircraft still had the old interior, and what you're about to see is a completely new product.
Arrival at JFK airport
Technically, there was no "arriving" to do since I stayed the night at the TWA Hotel adjacent to Terminal 5. For those of you who haven't heard me say it before, I'm of the opinion that the TWA Hotel is the greatest airport hotel in the world. Even if you're not an airplane enthusiast, it'll be one of the trippiest (and hippest) hotel stays that you've ever had.
Terminal 4 at JFK
Terminal 4 at the John F. Kennedy international airport is monstrous. Long time readers of SANspotter.com will probably remember my comments about this at the beginning of my JFK Delta Sky Club review. Basically, if you don't like walking, you're not going to like being in Terminal 4.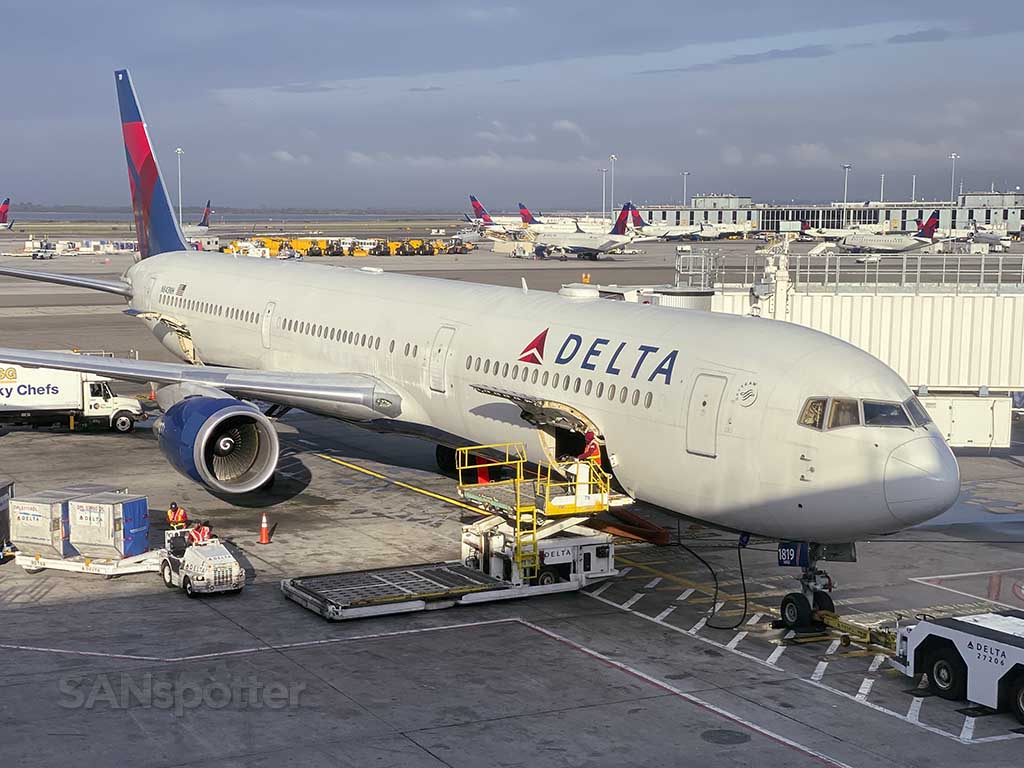 The boarding process for flight number 350 to San Diego
Despite being in a really good mood this particular morning, it was hard not to feel a bit of anxiety in the moments leading up to the boarding process. Due to the fact that I had booked a flight only two days prior, the only window seat available was at the very back of the airplane (next to the toilets).
My first impressions of the all new Delta 767-400 economy seat
Having been on the Delta 767-400 before, I already knew what to expect. Sort of. The seats that used to be on these airplanes weren't all that great. The video screens were small, the seats relatively hard, and they looked extremely outdated.
However, this particular aircraft featured the all new Delta economy seat, and I was very much looking forward to seeing how it felt on a large airplane such as the 767-400.
The departure sequence out of JFK
Just as I have a love / hate relationship with the Delta 767-400, I have a love / hate relationship with the JFK departure process.
On one hand, it's some of the best plane spotting on the planet. On the other hand, the lineup for takeoff can be extremely long at times and it'll feel like it's taking forever.
767-400 economy onboard entertainment
I'm happy to report that the video screens in these new seats are massively better than the old video screens. Do you see what I just did there? I'll give you a moment to appreciate the clever word play that I just unloaded on you before proceeding. Scroll down when you're ready for more…
What kind of food does Delta serve in trans-continental economy class?
Here's an interesting thought: the flight time between New York and San Diego today was 5 hours and 50 minutes. If this was August 21, 1983 instead of August 21, 2021, you would've been served a full meal back here in economy class. And there would have been drinks. And unlimited snacks. And probably some pretty good cigarettes too, for those who wanted them.
Basically, that was a fairly long winded way of saying: we didn't get jack **** on this flight today.
Delta 767-400 economy seat comfort on long flights
Once the snack service was complete, there wasn't much else to do but to sit back and settle in for the remainder of the flight.
Considering that this is an airplane designed for long-haul international travel, you'd be correct in assuming that the seats are slightly more comfortable and spacious than the equivalent economy seats on a domestic aircraft such as the 737-800.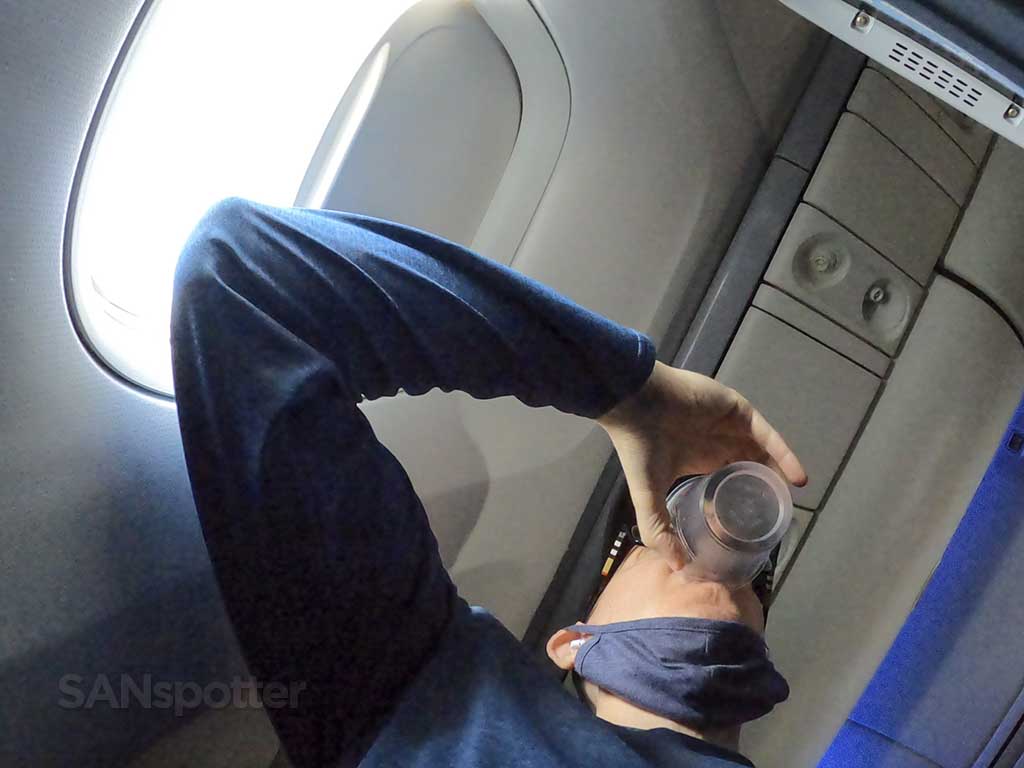 Long story short, it's hard to pick a bad seat on the 767-400 (even in economy class). If you can avoid getting a middle seat, it's likely to be a very comfortable experience.
The arrival into San Diego
After nearly 6 hours of flying, I can conclude that economy class on the Delta 767-400 was pretty decent. No, it's nowhere near as good as Delta One on the 767-400. And it may have been a totally different experience if I was in no mood to deal with the crowds, but I was still feeling pretty good as we made the descent into San Diego.
Pros and cons of Delta 767-400 economy class
This is it. This is the part of the review that I've been waiting for! Economy class on the 767-400 is one of those things that you're either going to love or hate. Here are all the pros and cons to help you figure out which side of the conundrum you're on:
Pros
Delta configures their 767-400s for long-haul international travel. This means that there is more legroom in economy class than you will find on other domestic aircraft (such as what I showed you in Delta 737-800 economy).
If you're the slightest bit claustrophobic, flying on a 767-400 (even in economy) will feel more comfortable than flying on a smaller narrow body aircraft such as an A321 or 737.
Video entertainment is quite good. The screens are large, and there are loads of popular movies and TV shows to choose from. Better yet, these are the same video screens installed in first class on some of the other aircraft in the fleet. Check out my Delta A321 first class review to see what I mean…
There are two aisles in Delta 767-400 economy class. The seats are arranged in a 2-3-2 configuration, which means that there are relatively few middle seats.
Cons
Since the 767-400 is a very large airplane, it can take a very long time to get everyone onboard. Which also means that it'll take a lot of time for everyone to deplane once you reach your destination. RIP to everyone seated in the last section of this aircraft.
The 767-400 is louder than smaller aircraft such as the 737 and A321. Especially behind the wings, which is where economy class is located.