I've been reading a lot of really good Air Tahiti Nui reviews over the past few years, and to say that I've had a bad hankern' to fly this airline is an understatement. They've got one of the best liveries around, they fly to one of the most beautiful places on earth, and the rarity of actually seeing one of these planes (if you don't live near Papeete, Los Angeles, or Paris) gives them a chic "exclusivity" factor that is off the charts.
The romantic part of me always figured that my first Air Tahiti Nui encounter would be an exotic experience from beginning to end. It would start with being wined and dined in a dated but cozy business class seat, followed by a deeply blissful slumber. A deeply therapeutic slumber which would only be interrupted by flight attendants coming by every so often to gently wipe the drool off my chin with flower-scented towelettes.
Finally, the flight would end by stepping off the plane under rainbows and swaying palm trees in Tahiti, only before being whisked away by a friendly (and beautiful) Tahitian taxi driver to my 5-star hotel room featuring private beach access. It was going to be one of the best Air Tahiti reviews ever!
Unfortunately, it didn't work out quite like I thought it would. Instead, I froze my *** off for 10 hours deep in the bowels of a packed economy class cabin on the way to…Paris. Now, I've got nothing against Paris, but it ain't Tahiti. And I didn't sleep a wink either, so I have nothing to report on the drool-wiping techniques of the flight attendants.
I did get stuck in the rear galley all by myself for 25 minutes though, so I guess that'll be one redeeming factor of this Air Tahiti Nui LAX to CDG review…
TN8
Los Angeles, CA (LAX) – Paris, France (CDG)
Sunday, March 10, 2019
Aircraft: A340-313
Registration: F-OSUN
Duration: 10 hours 3 minutes
Seat: 22D (economy)
As I mentioned in the introduction to this post, the fact I was unable to include tropical sunset scenery in my video (like all of the other Air Tahiti Nui reviews on YouTube) was discouraging to say the least. However, in typical SANspotter form, I tried my best to make lemonade out of lemons and ended up having a lot of fun putting this particular video together.
Epidemic Sound, as always, provided the soundtrack, and it's a pretty good one at that. If you need music for your own YouTube videos, it's a source I can't recommend highly enough! Be sure to read my full review if you want to learn more.
Most other Air Tahiti Reviews start with "omg I'm going to Tahiti!", but this one is a little different
Even though I've spent a majority of this review so far appearing to feel sorry for myself for the fact that I was going to Paris and not Tahiti, the truth is that I specifically chose this flight for the sheer novelty of it.
For those that aren't aware, Tahiti is French-owned territory, and therefore, Air Tahiti Nui is just as French of an Airline as Air France is (well, pretty much). LAX is simply a fuel stop between Papeete and Paris, though they do have fifth freedom rights to carry passengers solely between LAX and CDG. Neat huh? I'm eventually going to fly to Tahiti, and when I do, you can bet you're you-know-what that I'll be writing one of those epic Air Tahiti Nui reviews I've always dreamed of writing. But for today, it's simply going to be a review of a peculiarly neat (and somewhat oddball) route.
The departure out of LAX today was scheduled for 12:25PM, and the check in counters opened at 9:30. My flight from SAN arrived at 7:30, so I had plenty of time to stand in line and think about why didn't even check to see if there was a way to check in online. A few taps of my iPhone revealed that yes, it was possible – but not within 36 hours of departure. Any time before that would have been ok, but 36 hours was the cutoff. Huh? No matter though – I was the second person in line and waited patiently for the counters to open.
Flying economy class meant no lounge access, and to make matters worse, my Priority Pass membership wouldn't even get me into the coveted KAL lounge. Yep, mid-mornings are off limits to lowly Priority Pass card holders such as myself, which is entirely due to the 12:30PM Korean Air flight to ICN and those passengers having priority access.
How I get into airport lounges
Access 1300+ airport lounges worldwide with Priority Pass
Access to over 1300 airport lounges around the world, regardless of airline flown or class of ticket.
Complimentary snacks, drinks, and meals.
Digital entry for instant access through the dedicated Priority Pass app.
Check it out!
Note: I may earn a commission if you make a purchase, at no additional cost to you.
In cases such as this, there's nothing "Priority" about my membership and I'm just a regular shmuck who has to hang out in the main terminal with everyone else. Yet another reason why this isn't going to be one of the most epic Air Tahiti Nui reviews ever.
When it comes to hanging out in Airport terminals, the Tom Bradley here at LAX is not a bad place to do it. It's large and modern, and it gives me an irresistible urge to go back in time, track down that Tom Bradley guy, and shake is hand for whatever it was that he did to get a beautiful airport terminal such as this named after him.
"Ladies and gentleman, it is our pleasure to welcome you to Air Tahiti Nui flight number 8 to Paris – Charles de Gaulle"
Thankfully they didn't finish that welcome message with a snarky reminder that it would be a lot more fun going the other way (to Tahiti). Instead, it was business as usual here at gate 156 and I was getting excited about adding my name to the list of other bloggers who have already written Air Tahiti reviews. Not that I think that a TN review is the defining objective for any legitimate travel blogger or anything, but this is an airline I've always had a major crush on.
Seeing the interior of one of these old Air Tahiti Nui A340s for the first time was an odd sensation. On one hand, it was exactly like I imagined it would be with palm tree murals and tropical colors everywhere. On the other hand, I was not expecting the large seat-back video screens with USB ports. Seriously – I walked onto this airplane fully expecting to end this flight with a dead phone battery, but seeing those USB ports was a satisfying feeling like none other.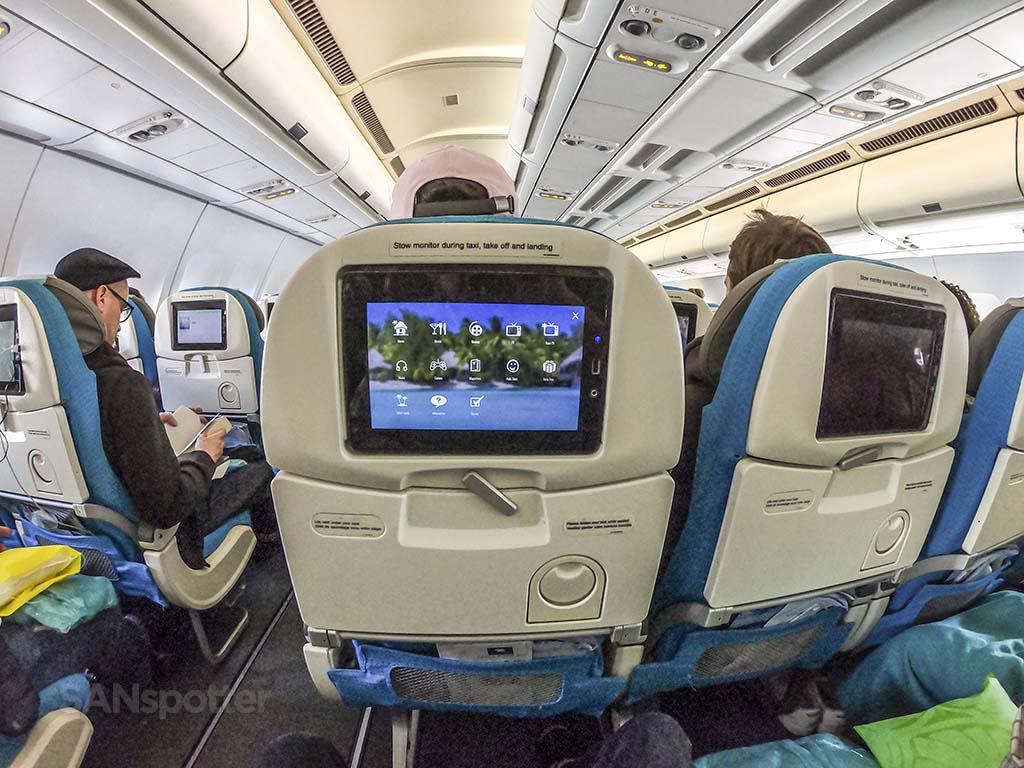 Another surprise was the fact that there were amenity kits and thick blankets at every seat. I was totally expecting paper thin blankets and crunchy pillows, so right away I was silently cursing myself for not making the effort to review Air Tahiti Nui sooner. This is a legitimate (and very competitive) airline between LAX and CDG and I can't believe it took me this many years to figure it out.
What better way to start a long haul flight than by getting stuck in the galley all by myself?
Immediately after takeoff, I had the brilliant idea of getting up to use the lavatory before the service started. After all, if I wanted to add my name to the list of others who have already written great Air Tahiti Nui reviews, I needed to be comfortable.
I walked all the way to the rear of the aircraft, where there are two lavatories separated by a large galley. There were two flight attendants preparing service carts for the initial drink and snack service, and I didn't think anything of it as I pushed the door of one of the lavs open and stepped inside.
I wasn't in there for more than two minutes, but apparently the flight attendants were quicker than I was and they had started the service from both the front and back of the aircraft simultaneously. There were three service carts in each aisle (at the front, mid cabin, and rear), totaling six that were completely blocking the path to my seat.
The flight attendant nearest to me saw me standing there looking sad and dejected, and didn't even offer to let me by.
Have a seat there on the jump seat and I'll let you by soon…
"Soon" actually meant 25 minutes and I ended up getting a really good tour of the rear galley of this A340-300. It also meant missing out on the snack service altogether, but at least I was able to start this Air Tahiti Nui review off with a semi-embarrassing bang.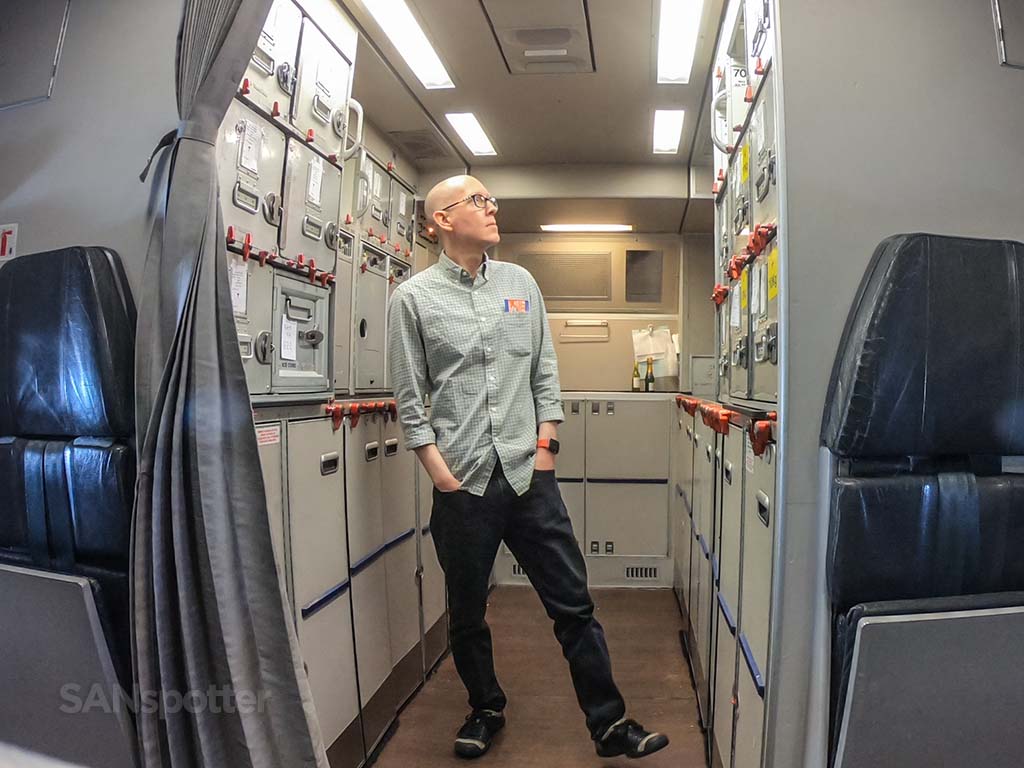 Further proof that Air Tahiti Nui economy reviews aren't necessarily about the food
Thankfully I made it back to my seat in time for the lunch service to start. If there's one thing I can say about this Air Tahiti Nui crew, it's that they were extremely fast and it was easy to miss out on stuff if I was being careless (and you've already seen that I was).
There were no menus distributed back here in economy class, but we had the choice of Chicken or Beef. When are airlines going to get adventurous and offer things like Buffalo and Emu instead? Heck, this is a Tahitian airline after all, so where was the Mahi-Mahi option? Just sayin'.
I went with the Chicken, and it was ok. At least there was some tropical color to it (which was probably just food coloring for all I know). It wasn't anything special, and I've certainly had better food in economy class. Still, to this day, economy class food on Turkish Airlines is my all time favorite.
The time between meals was largely a blur, for several reasons. First, it was absolutely freezing for the entire flight, and people were pulling their winter jackets out the overhead bins and strapping them on with vigor. I didn't have any winter clothes with me, so I had no choice but to just sit and suffer. How come I've never read about this in other Air Tahiti Nui reviews? Second, I watched a few really good movies which held my attention (Bohemian Rhapsody was brilliant BTW), and the flight was pretty much over by the time I was movied-out.
The lights came on with two hours of flying time remaining, meaning that it was time for another bland meal. Hey – I'm just being honest here, since my hopes weren't very high after the mediocre lunch they served. Air Tahiti Nui reviews aren't complete without a few complaints about the food, right? I'm just doing my part…
As expected, breakfast was so-so and it did its job of keeping alive until my next meal. That's all one really needs in a tray of airplane food anyway, right?
Enough about the food. Let's wrap this review up.
Our arrival into Paris was uneventful and right on time, which now that I think of it, is probably the best way to describe this entire Air Tahiti Nui economy class experience. I highly suspect that arriving into Papeete rather than Paris would have put me in a more enthusiastic mood to close out this review, but "uneventful and right on time" is a good thing is a grand scheme of things.
More than anything, my curiosity for Air Tahiti Nui has only grown stronger, and now I'm especially eager to try their new 787-9 (in both economy and business class) to see how it compares to this legacy A340 product. Not only do I have high hopes it being more comfortable (with better food), I'm also chomping at the bit to write one of those sexy Air Tahiti Nui reviews I've always dreamed of. The kind where I end up in Tahiti and not Paris…