The older I get, the more I'm starting to understand my tendency to kick the can down the road for as long as I can. I am way behind on my car maintenance, my list of home repairs that need to be done is embarrassingly long, and there's that pesky Korean Air Lounge review that I've been meaning to do since like… forever. Thankfully, one of my New Year's resolutions is to stop reduce procrastinating, so here we go with the long-awaited SANspotter-style KAL Lounge (LAX) review.
What's so special about the KAL Lounge?
Depending on who you ask, the LAX Korean Air (KAL) Lounge is the best lounge in the entire airport. It's not the biggest, nor the fanciest – but it consistently offers travelers a luxurious oasis to retreat to (with some Instagram-worthy views of the main terminal down below).
Located on the 5th floor of the Tom Bradley International Terminal, the lounge features a wide variety of comfortable seating options. Of course it also features a decent spread of food, high style and design, and a reputation grand enough to brag to your friends about where you hung out before your flight . Essentially, it's the perfect place to begin a long haul journey out of Los Angeles.
How to access the KAL Lounge at LAX
Getting access to the KAL Lounge at LAX is relatively easy compared to some of the other airline lounges here. As a matter of fact, you don't even need to hold status on any airline or alliance to get inside.
Here are the current 3 ways to get into the KAL Lounge – any one of these will get you in:
You have to be a SkyTeam Elite Plus member
You need to be traveling in business or first class on a SkyTeam partner airline. For example, I briefly visited this lounge before flying to Mexico City in business class on an Aeromexico 787-8. It was basically the best way ever to kick off a trip to Mexico.
I've had the opportunity to hang out any handful of really great lounges at LAX, and I'm here to tell you that the KAL lounge is one of the best (even better than the Star Alliance First Class Lounge). How so? Well, allow me to break down all the reasons, organized neatly into several main categories – starting with where it's located:
Location of the KAL Lounge
After clearing the security checkpoint of the Tom Bradley International Terminal, follow the crowd into the main entrance. As of this writing, there's only one way into the place so everyone passes through the same entryway.
Immediately upon entry into the main area, turn right and you'll see a pair of escalators and a bank of elevators. Take either up to the 5th floor. FYI, the main level of the Tom Bradley International Terminal (where all the gates are) is actually the 4th floor, so you only need to go up one level to reach the lounges.
Once off the escalator or elevator, turn right and walk down the long narrow hallway past the British Airways / Oneworld lounge. The KAL Lounge will be on your left in about 200 feet or so.
Note that the entrance to the KAL Lounge at LAX is somewhat subdued, and it's a little hard to miss if you're not paying attention. Yes, I am embarrassed to admit that I walked right past it my first time…
KAL lounge LAX first impressions
I'll be honest. I wasn't all that impressed the very first time I walked into this Korean Air Lounge. Longtime leaders of SANspotter.com know that I have a tendency to build up my expectations a bit too much nearly every time that I try a premium product for the first time, so my first experience with this visit wasn't all that different. Yeah, I read far too many glowing reviews of this lounge beforehand, which screwed my reality. Just a bit.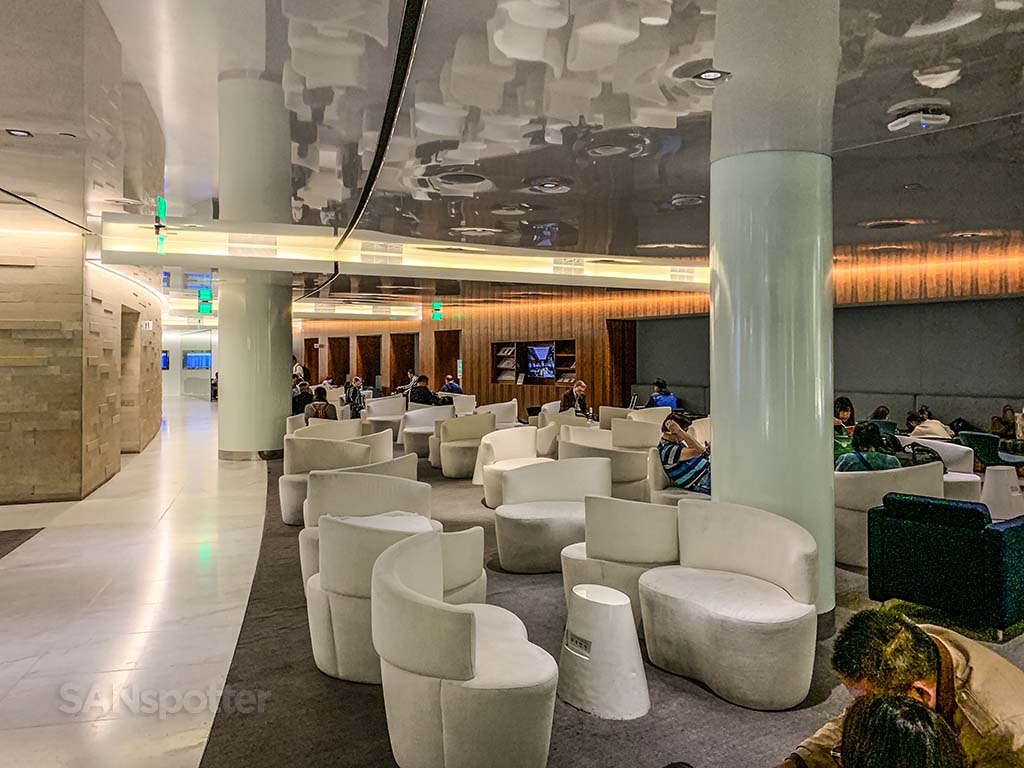 If you're curious, I felt that it was a bit small and cramped. Yes, the entryway is slightly tight, but don't worry. The space opens up quickly and it won't feel as confined the further you go in.
The LAX KAL Lounge is a pretty nice place to hang out once you get over the fact that it's not an overly huge space with incredibly high ceilings or anything.
What's the food like?
Since I figure that most people who are furiously typing "KAL Lounge LAX" into their internet browser are mostly just looking for pics of the food, let's just get that over with right off the bat:
As you can see, the food in the Korean Air Lounge isn't all that remarkable if I'm being honest. I was certainly expecting more on my first visit here, since most of the other reviews that I read claimed this one to be the ultimate business class lounge in the Tom Bradley International Terminal.
If I'm keeping score (and I kind of am), I consider the food in the Star Alliance Business Class Lounge (located just a few hundred feet away) to be much better when it comes to food. The spread over there is tastier and has a wider variety of options.
How about the seating options? Is it comfortable?
In a nutshell, yes. Assuming the place isn't overly crowded and there are plenty of open seats, it's highly likely you'll find a comfortable place to relax.
My only main issue with the seating options here at the LAX KAL Lounge is the fact that there are very few power outlets (it's an issue I had in the American Airlines Flagship Lounge at JFK as well). There are none to be found anywhere near the really comfortable lounge chairs – it's only the really uncomfortable hard chairs that have the USB outlets and electrical power ports nearby.
To make matters worse, very few of them seem to ever work. In the three times that I've visited this lounge, only once have I been able to find a USB port or electrical outlet actually charged my phone.
This is why I always recommend traveling with a rechargeable power brick. You'll never be at the mercy of trying to dealing with annoying broken power outlets, and it's a total lifesaver if you ever find yourself way out in the boonies with a dead phone.
If I had to replace the one I already have...
Anker PowerCore 20,100mAh Portable Power Bank
Ultra-High Capacity: Weighs as little as a can of soup (12.5 oz) yet charges a smartphone almost seven times, and a full size tablet twice.

High-Speed Charging: PowerIQ and VoltageBoost combine to deliver the fastest possible charge.

Recharges itself in 10 hours with a 2 amp charger.
Check Price on Amazon
Note: I may earn a commission if you make a purchase, at no additional cost to you.
KAL Lounge (LAX) pros and cons
As you've already read, there are definitely some things to like and to not like about the KAL Lounge at LAX. Here area few more neatly-organized points which I hope will help you to decide whether or not this lounge is worth visiting:
Pros
The KAL Lounge is very stylish, and there are a wide variety of seating options which should satisfy everyone.
Generally, this is one of the quietest business class lounges at LAX. In comparison, the United Club in terminal 7 seems like a nightclub compared to this.
The terrace overlooking the main terminal is phenomenal. It's not exactly a quiet place to hang out, but it sure is stylish and fun.
Cons
The KAL Lounge gets extremely busy twice a day (which coincides with the double-daily Korean Air service to Seoul). Because of this, you can expect complete chaos from 10 AM to 12 PM and 9 PM to 11 PM every single day. Be prepared.
The food offerings are surprisingly lackluster for a lounge of this caliber.
The entire floorplan is a bit condensed, which makes it feel more crowded than it actually is.
LAX KAL Lounge FAQs (stuff you really ought to know)
All of the pictures and detailed descriptions above should give you a pretty good sense of what the Korean Air Lounge at LAX is like. However, sometimes it's just easier to read through a list of frequently asked questions (FAQs), so that's what I'm going to do for you right now:
Where exactly is the KAL Lounge at LAX?
Getting to the KAL Lounge is extremely easy. As I've already mentioned, it's located on the 5th floor (one level above the main floor), and is accessible via either an escalator or elevator. Both take roughly the same amount of time since you only need to go up one floor anyway. Once off the escalator or elevator, it's approximately a 90 second walk following the hallway on your right.
Does it get really crowded during peak times?
Yes! I've already mentioned how crazy it gets in the hour or so leading up to one of the double daily Korean Air departures out of LAX, and long story short – you were going to have a really difficult time finding a place to sit during those times. You should also know that they run out of food very quickly during these peak hours, so you're gonna have to get aggressive if you want to score something to eat before it all disappears.
It's important to know that it gets busy other times as well. After all, this lounge allows full access for business and first class passengers of other SkyTeam airlines, so it's going to get crowded if there's a group of SkyTeam partner flights bundled together around the same time.
So…when is the best time to visit?
In my experience, early mornings between 8 and 9 AM and mid to late afternoon 3 to 5 PM is when the KAL Lounge at LAX is the quietest.
Is it possible to access the KAL Lounge if you're departing from another terminal at LAX?
Yes. Sort of. To be more specific, as long as you're flying out of terminals 4-7, you will have access to the Tom Bradley International Terminal and the KAL Lounge via a secure underground walkway. Note that there is no secure walkway between the international terminal and terminals 1-3, so you're out of luck if you're not departing out of terminals 7-4.
Which is better? The Star Alliance Business Class Lounge or the KAL lounge?
I may end up doing a completely separate post on this topic (since it's a good one), but given the choice, I'd personally rather hang out in the Star Alliance Lounge. Long story short, the food is better over there, and I slightly prefer the more varied types of seating (much of which is very private).
Is it worth it to buy a day pass to the KAL Lounge?
As long as you avoid the peak hours that I mentioned above, then yes. Otherwise, it's not really worth it in my opinion.
Note that you'll get the most bang for your buck visiting the Korean Air lounge in off-peak times, since you won't have to fight anyone for the few last scraps of food. You'll also have a much better chance of getting a comfortable seat with a power outlet adjacent to it.
Is the Wi-Fi any good?
The jury is still out on this one. I've personally made three separate visits to the KAL Lounge over the past year, and once the Wi-Fi was very good. Another time it was slow, but workable. The last time it didn't work at all.
I should note that the time that it worked the best was when the lounge was extremely crowded. It was roughly 10:30 PM (right before my Xiamen Air flight to Xiamen) and there were a lot of people in there gobbling up as much food and Internet as they could before their long flight.