01. Xiamen Airlines 787-9 business class Los Angeles to Xiamen
02. Xiamen Airlines 737-800 business class Xiamen to Chengdu
03. Sichuan Airlines A330-200 economy class Chengdu to Shanghai
04. Hainan Airlines 787-9 economy class Shanghai to Seattle
Is there anyone else out there like me who gets excited when flying an airline with a name that's really hard to pronounce? I'm writing this review from the comforts of home after returning from an amazing Xiamen Airlines business class journey 10 days ago, and after two amazing segments on this airline I still can't pronounce it in a way that doesn't make me sound like an ignorant tourist.
Anyway, some of the best flights of my life have been on airlines I can't pronounce properly (every Asiana flight I've ever taken has been amazing) so I was especially looking forward to this one. Despite a handful of negative reviews I've read/watched lately…
MF830
Los Angeles, CA (LAX) – Xiamen, China (XMN)
Wednesday, May 1, 2019
Aircraft: 787-9
Registration: B-1566
Duration: 13 hours 58 minutes
Seat: 14A (business class)

The video for this flight ended up being one of my longer ones, but that was only because I couldn't resist stuffing it full of footage showing how amazing of a flight it was. The flight attendants were amazing, the food was really good, and the seat was nothing short of perfect for a 14 hour overnight journey across the Pacific.
One of my favorite parts about creating videos is finding just the right music to set the mood. And remember what I said about sounding like an ignorant tourist in the introduction of this review? Well, it was really hard for me not to pour through Epidemic Sound's extensive library of international music and stuff it with cheesy sounding Oriental sounds that would make pretty much any Chinese national cringe. Maybe I'll try it for the review of the XMN-CTU segment, but not for this one.
This Xiamen Airlines business class review begins deep in the bowels of the Tom Bradley International Terminal
Just like the kick-off flight for my previous trip, this review begins in the ticketing hall of the Tom Bradley International Terminal at LAX. However, the difference this time was that I arrived at 8 PM, and the place was an absolute zoo. Compared the last time, when it was 8 AM and the place was as empty as ghost town. FYI, there are a large number of transpacific flights that depart LAX around midnight, so the place gets pretty busy in the late evenings.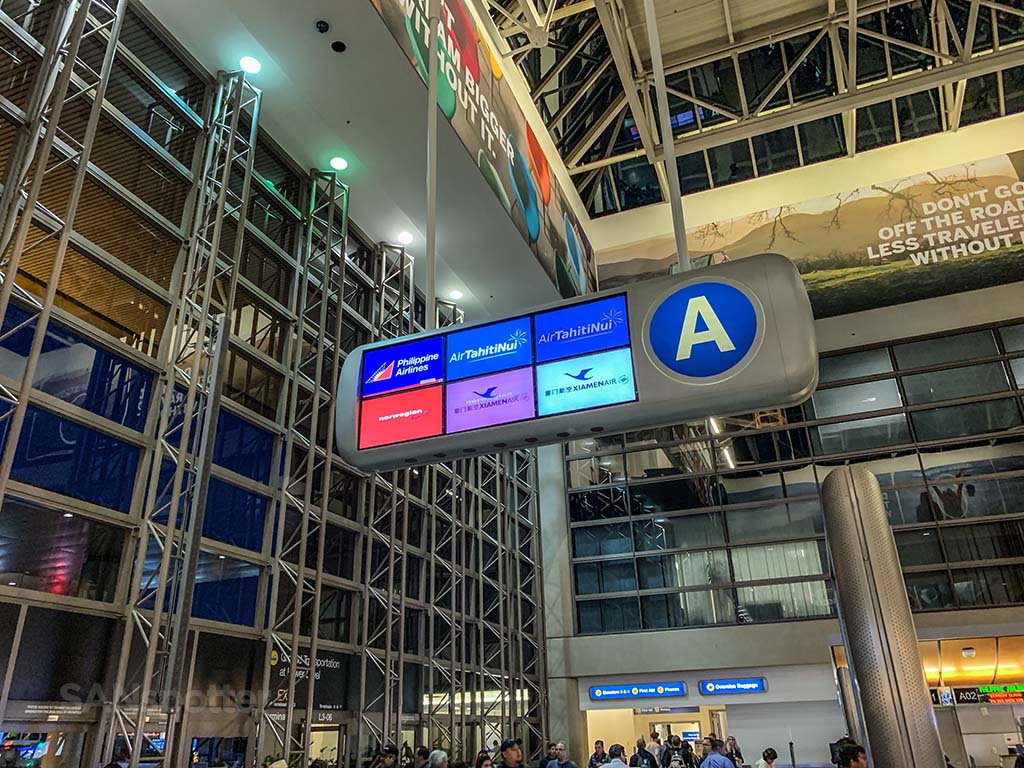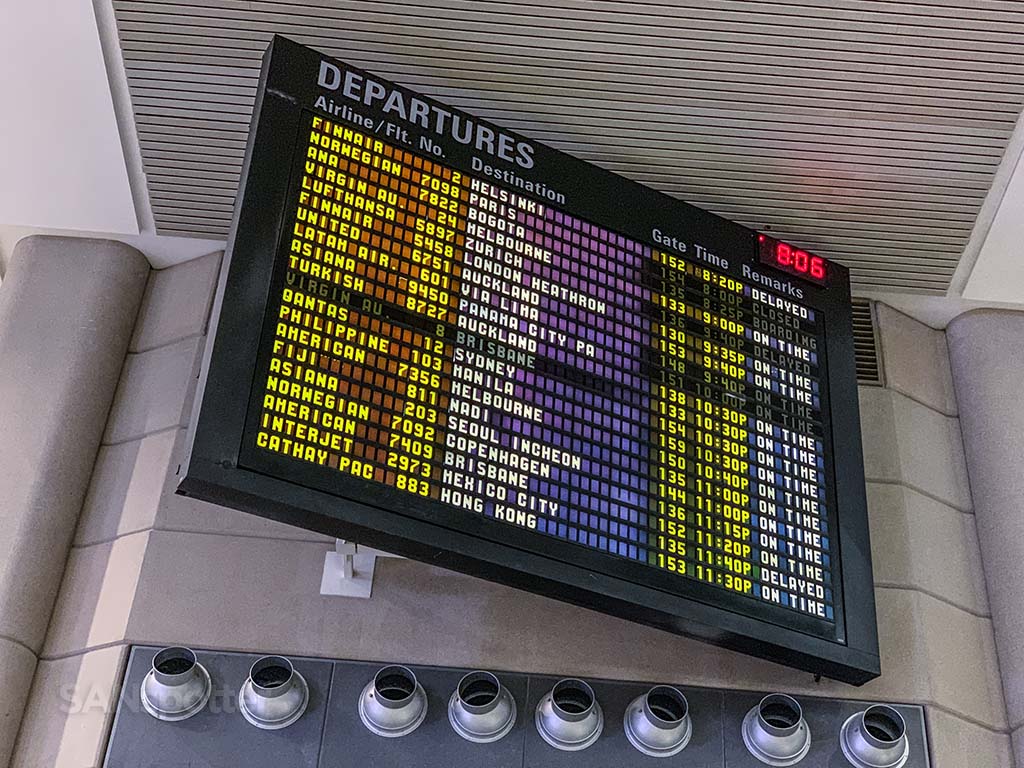 The Xiamen Airlines check in counter was scheduled to open at 8:45 PM, but the line started forming about 8 PM and I figured that it behooved me to grab a spot of my own in the main queue before things got too unwieldy.
Yes, I did have a business class ticket, but there were no signs showing dedicated lines for premium passengers. Therefore, I stood there in the main line popping my head up like a meerkat every five minutes or so to see if they opened up a separate lane somewhere.
Yes, it is a little bit embarrassing to start this Xiamen Airlines review with the admission that I (a business class passenger) stood in the economy class line to check in. However, I was proudly able to save face by jumping into the business class line once they opened it up just a few minutes before starting to check passengers in.
It was a little bit frustrating that they didn't create a business class line until right before they started the check in process, but whatever. It wasn't the best way to start my first ever Xiamen Airlines business class experience, but I'll let it slide.
Finally, after years of failed attempts, I get to see (and experience) the notorious KAL Lounge!
All Xiamen Airlines business class passengers get complementary access to the Korean Air (KAL) lounge located on level 5 of the Tom Bradley International Terminal. This is arguably one of the best lounges in all of LAX, and it's the one that I've been trying to get into unsuccessfully for several years now.
I've tried to get into this lounge on three separate occasions in the past using my Priority Pass membership. The first time was was exactly one year ago before my Emirates flight to Dubai. I didn't have anything on me which showed my priority pass credentials, so they didn't let me in. Next time was right before my Air Tahiti Nui flight to Paris several months ago. Unfortunately, that was during a time when access to the lounge was limited to Korean Air passengers only – which happens several times a day in conjunction with Korean Air flights to ICN. But this time, the stars were perfectly aligned, and I was finally granted access.
How I get into airport lounges
Access 1300+ airport lounges worldwide with Priority Pass
Access to over 1300 airport lounges around the world, regardless of airline flown or class of ticket.
Complimentary snacks, drinks, and meals.
Digital entry for instant access through the dedicated Priority Pass app.
Check it out!
Note: I may earn a commission if you make a purchase, at no additional cost to you.
Unfortunately, just like like most other special moments in my life, I built the KAL lounge up far too much in my mind so I was naturally disappointed once I stepped foot inside. Yeah, it was really nice. But it certainly wasn't as nice as I was imagining.
Despite the minor letdown, being able to step inside the coveted KAL lounge for the first time was one of the most exciting things about this Xiamen Airlines business class experience. I was almost more excited about finally getting past the front desk of that lounge than I was being wined and dined in a fancy seat all the way to China. I realize this isn't going to be the case for most people flying Xiamen Airlines business class out of LAX, but please have patience as I gush over this lounge experience.
In summary, two things disappointed me about this KAL lounge:
The food. There wasn't very much of it, and what was there wasn't very high quality IMHO. It was certainly edible, but I'm of the opinion that the Star Alliance Lounge upstairs on level 6 has a much better spread of food.
The size. The fact that I've been building this place up far too much in my mind is precisely why it felt small to me. I'm sure of it. The entire lounge is a giant "L" shape, with a small balcony overlooking the main terminal at the far end. It was nice, but…the United Club over in terminal 7 felt bigger to me. Not that size matters or anything, but I had visions of this being the biggest and grandest lounge at LAX. It isn't.
For the record, I'm not complaining! It probably sounds like I've got a stick up my butt and I can't enjoy anything in life, but that's (mostly) not true. It was really nice having lounge access before a long flight, and it was a much more comfortable place to be than out mingling with the masses in the main terminal. However, this is a review after all, and it's fun to sit on my perch (this blog) and try to be critical.
I finally got to see the dark side of the Tom Bradley International Terminal
I guess I've been nothing short of lucky each and every time I've flown out of the Tom Bradley International Terminal since the grand reopening several years ago. Other that that one time arriving from Vienna on Austrian Airlines last year, I've never once had to experience the dreaded remote gates. It was kind of a bummer that I was going to be reacquainted with them right before this Xiamen Airlines business class experience.
For those who aren't in the know about all things LAX, the second phase of the TBIT is still very much under construction. This second phase is vitally important to this airport, because there simply aren't enough gates available at the main terminal during peak hours. This terminal extension will add a large number of much-needed gates, and will completely eliminate the need to do what it is I am about to show you.
My gate for this evening's flight to Xiamen was 142 – a basement gate located at the far north end of the TBIT. Getting there required following a really tight maze of corridors, several of which cut directly through the middle of gate areas for flights departing to Mexico and Latin America. Who knew that this Xiamen Airlines business class flight was going to be such a cultural experience?
Once through all the tiny hallways and crowds, it opened up all at once to reveal a large open room with a handful of gates. It literally felt like a bus station – especially with all the busses parked outside, and as expected for such a dumpy setup, there was no place to sit. That didn't bother me all that much anyway since I was going to be sitting for the next 14 hours anyway and it was probably best to pace around and get the blood flowing as much as possible.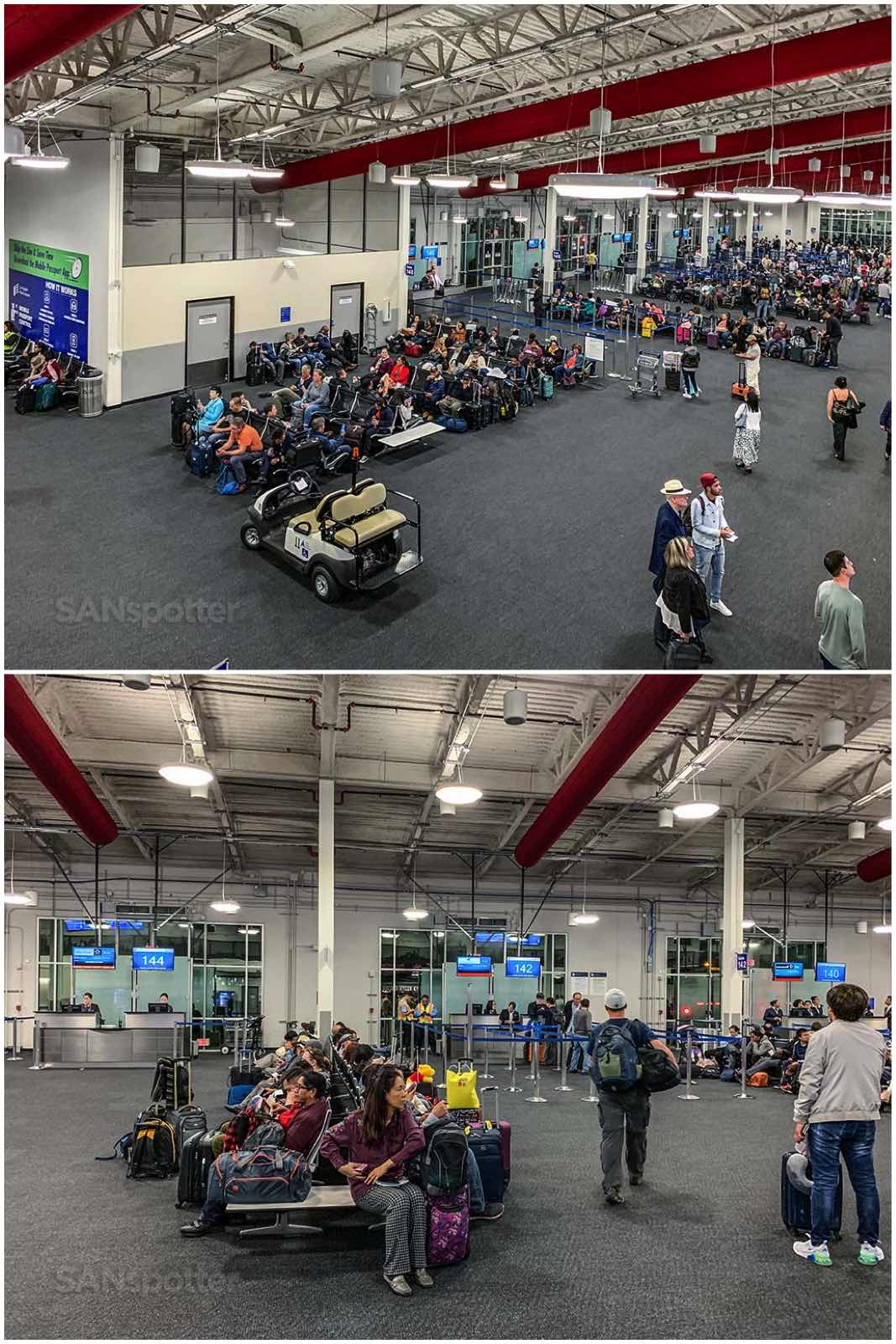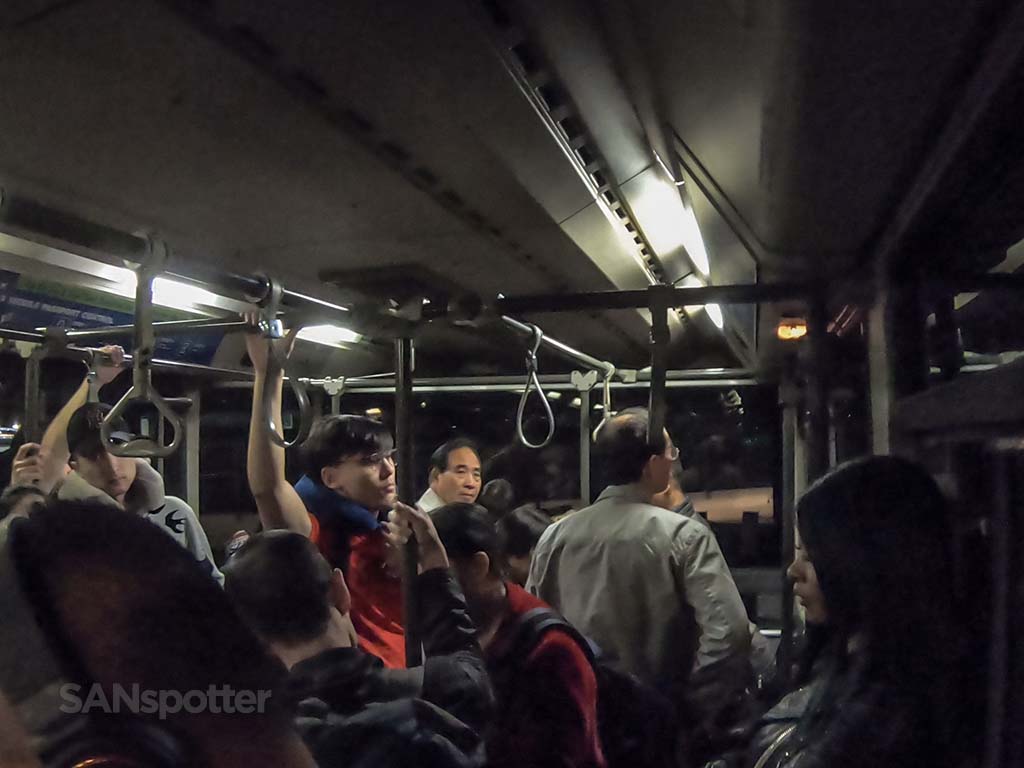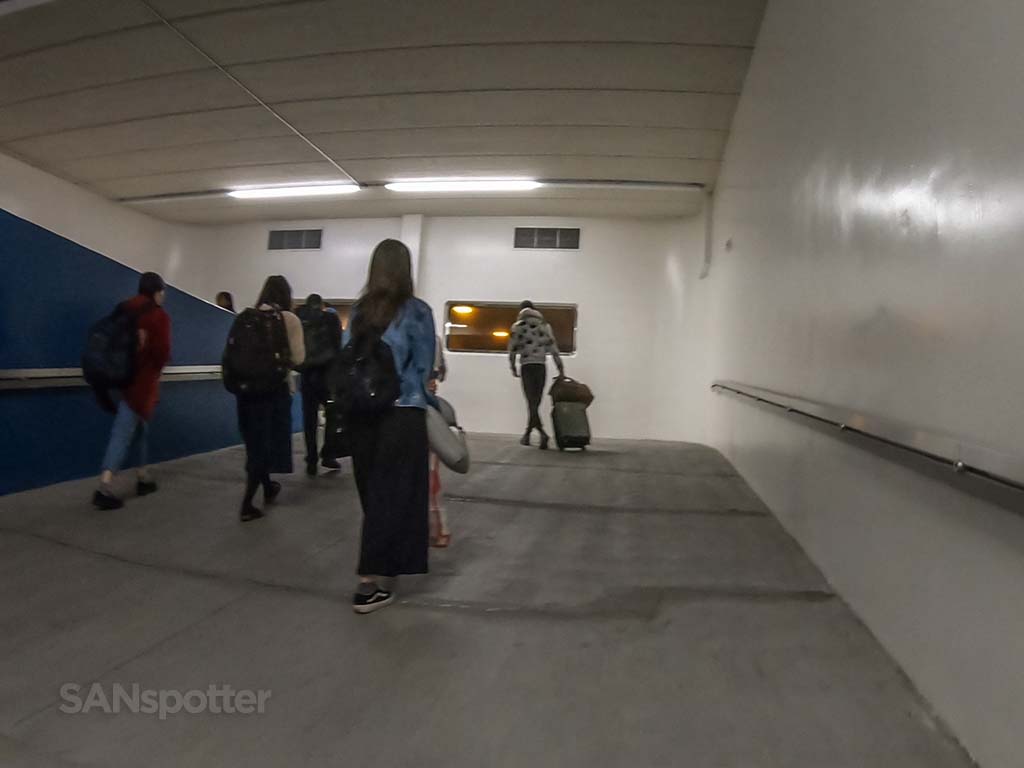 I'm not really sure what the rationale is for assigning these bus gates to specific airlines (or flights), so there's really no way to telling if you're going to experience them yourself on your next flight out of LAX. The good news is that they are going away soon(ish), so we won't have to put up with it for much longer!
My very first look at Xiamen Airlines business class
Once off the bus and onto the plane, things took a massive turn for the better. I've heard mixed reviews about Xiamen Air's business class product (which makes sense considering how inconsistent Chinese airlines can be), so seeing this first hand was something I was quite looking forward to.
Xiamen Air is part of the SkyTeam Alliance, which was enough of a data point to put my mind at ease about a lackluster (and perhaps unsafe) product. I mean, I suspect that the requirements for joining one of the biggest airline alliances on the planet must be quite strict, so…this cant be all that bad. Right?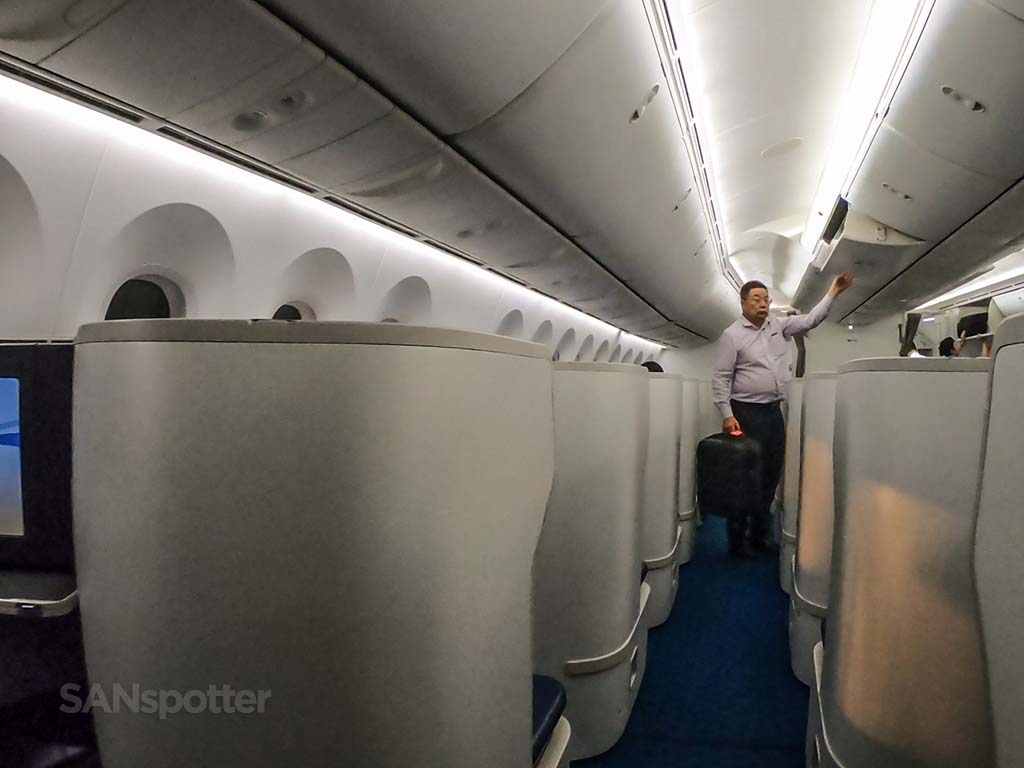 My first impressions of the seats were positive. They were stylish, clean, and I really appreciated the 1-2-1 layout in this cabin. For comparison's sake, the business class layout on the Air China 777-300/ER (a plane which also serves LAX) is 2-2-2, which is not as comfortable IMHO.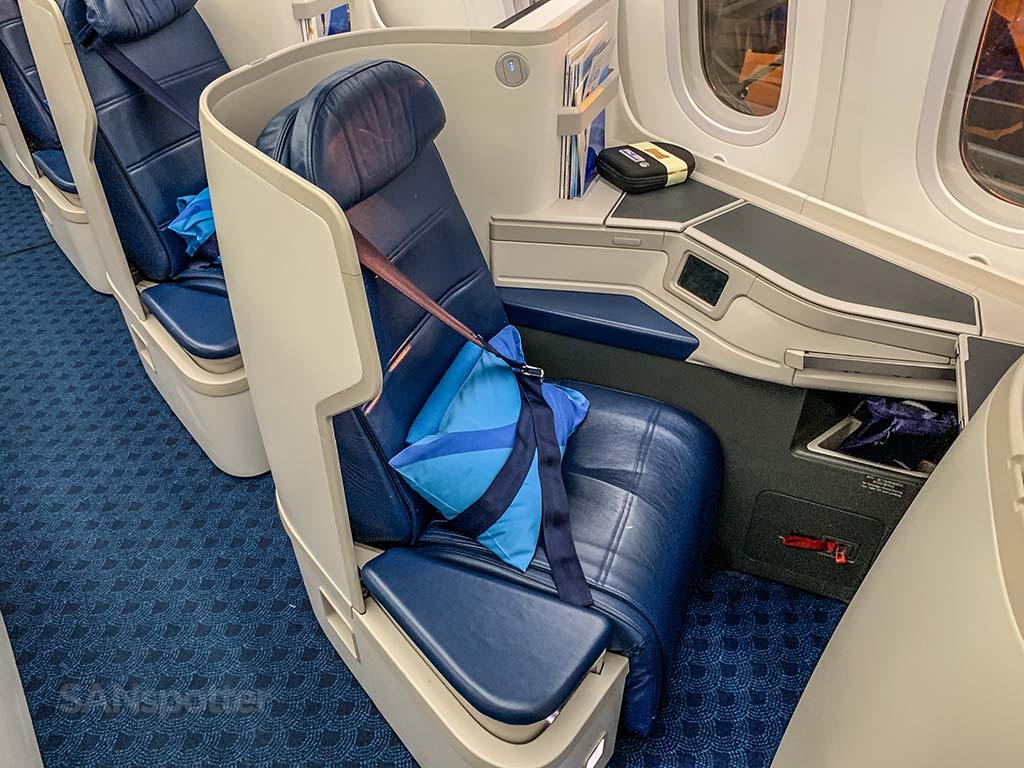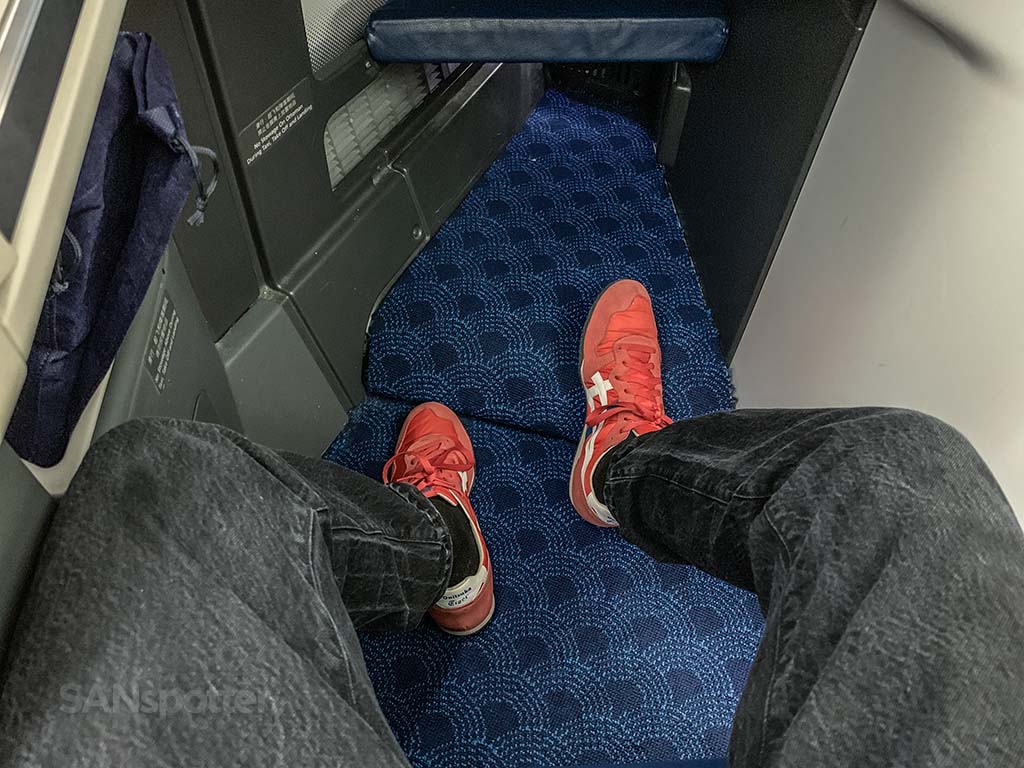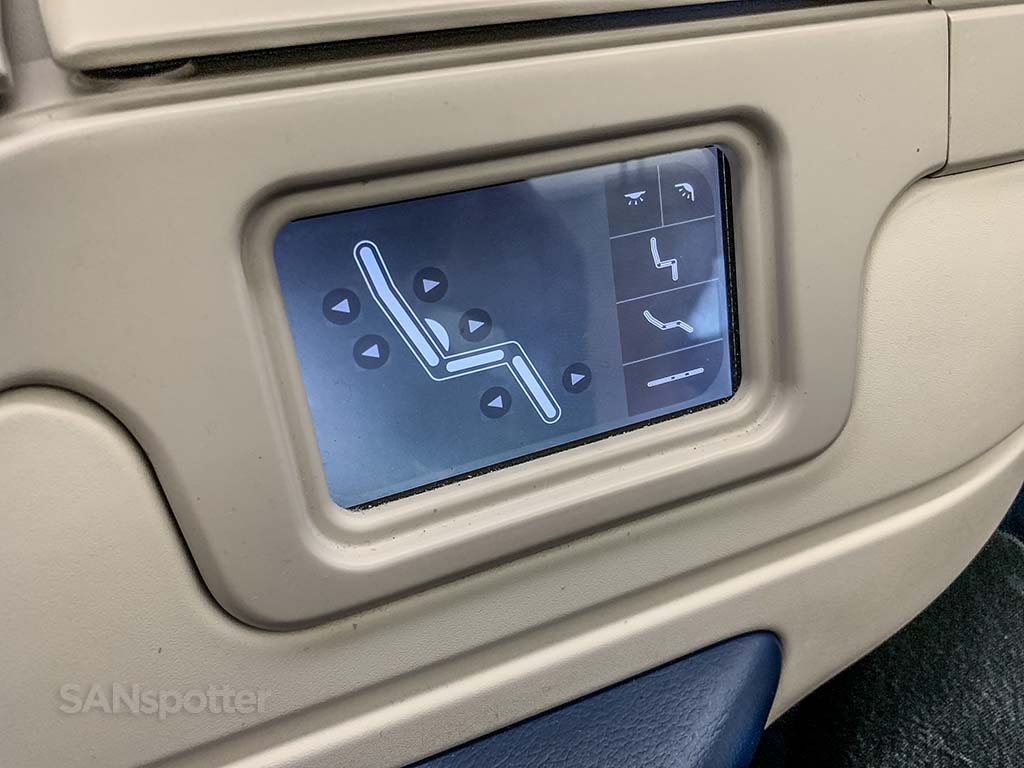 Something else I quite liked was the fact that the flight attendants were extremely proactive. Almost to the point of being annoying since I was busy trying to get footage for this review. Ha!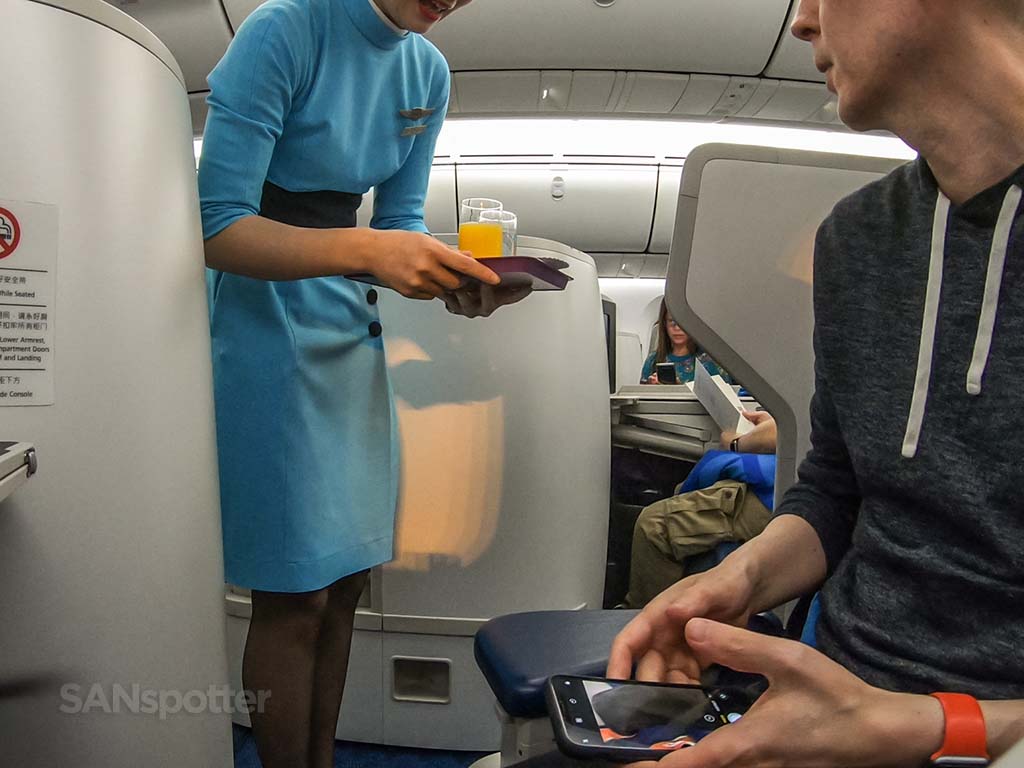 The flight attendants always seemed to appear at my seat (with a wet towel or drinks) just as I was concentrating deeply on my b-roll – which isn't something I think is fair to complain about. I know. But it's fun to share the struggles of getting content for airline reviews…
The business class cabin ended up being completely full this evening, which isn't shocking considering the late departure time and overall length of the flight. I imagine this is a popular flight for business travelers, as it allows them to work a full day in LA, get a full night of sleep on the plane, and arrive fresh(ish) in China two days later bright and early for another full day of work.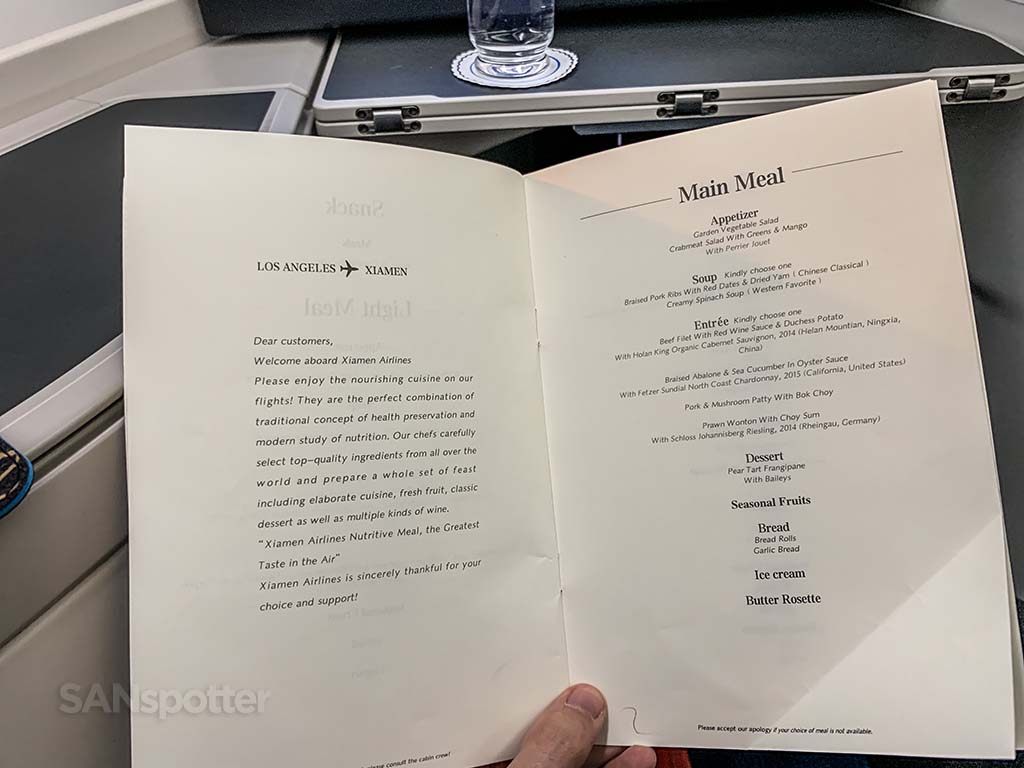 So…what's it like departing LAX at midnight?
It's been a very long time since I've had a midnight departure out of LAX, and I've forgotten how busy it is here in the wee morning hours. Being wickedly tired while having to deal with all that busyness is stressful, I'm not going to lie – but the fact that I was firmly wedged into a comfortable Xiamen Airlines business class seat was a nice consolation prize.
Since there were no views to the outside world as we taxied out to 25R for departure, I focused on the little details I hadn't had the chance to check out earlier.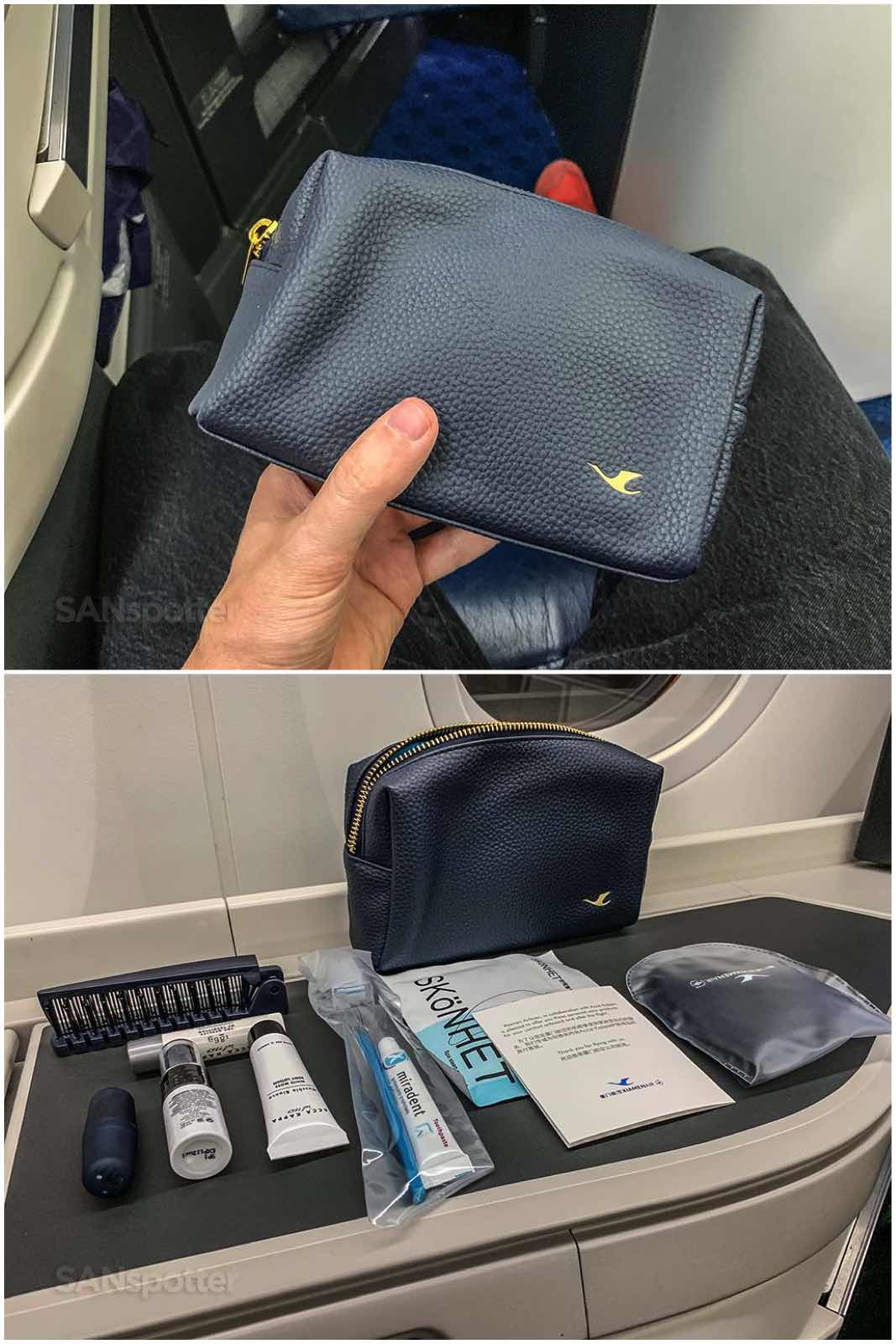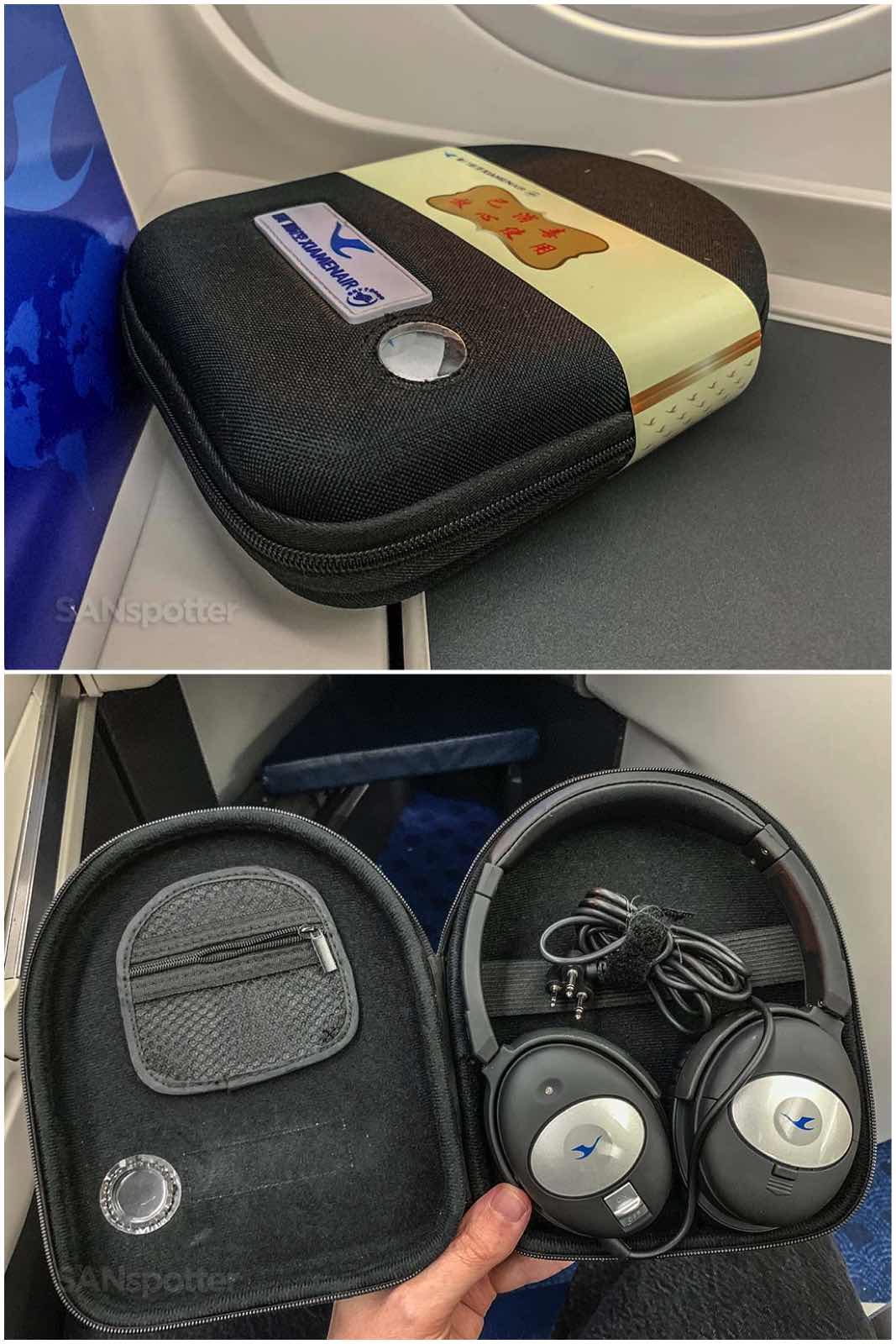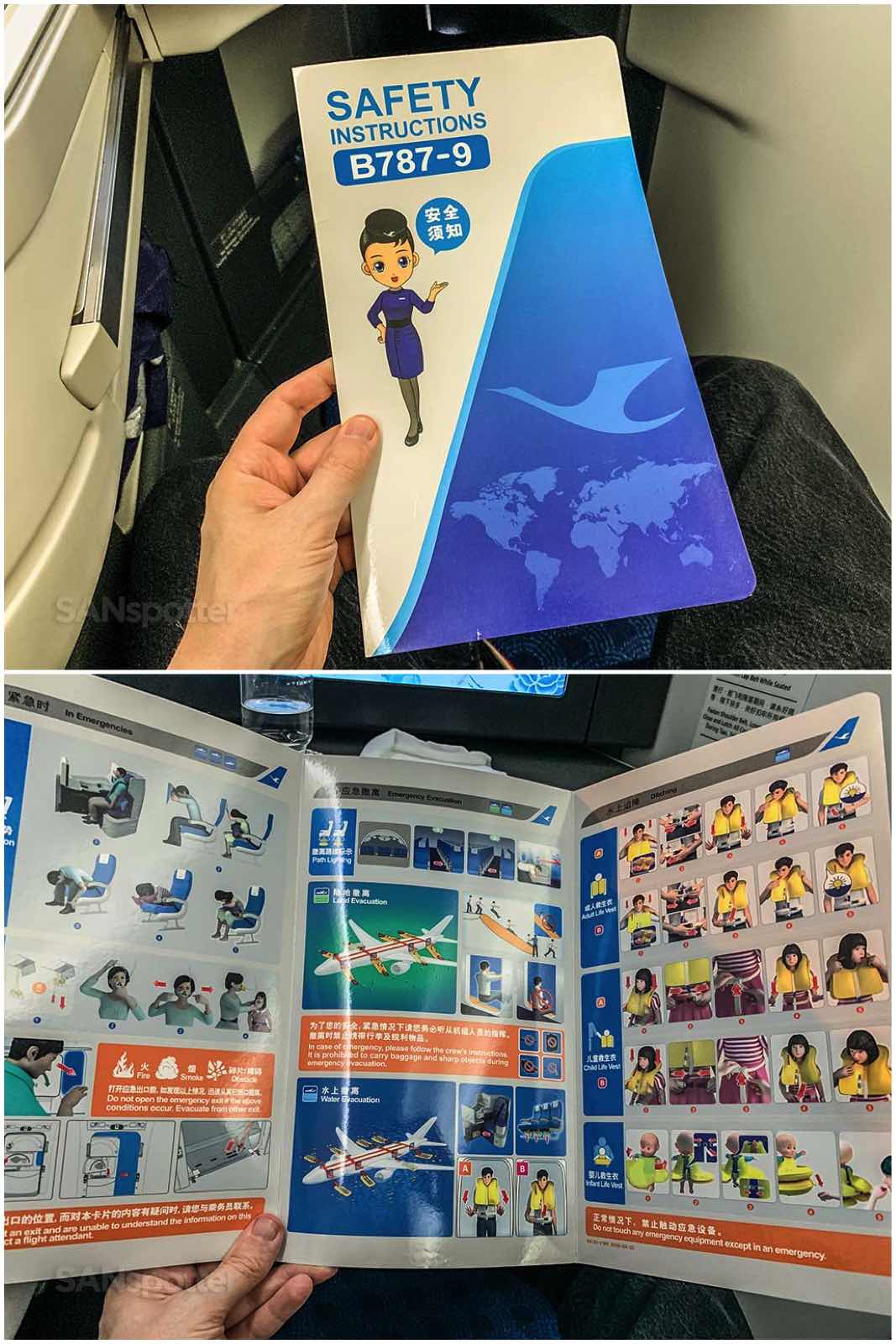 By the way, how many of you remember when I vowed to never again to take such a late night flight after that incredibly painful SGN-ICN redeye on Vietnam Airlines a couple months ago? Well, that was different. Sure, this Xiamen Airlines flight departs LAX far later than I'm normally comfortable with, but it's 14 hours long. Theoretically, that allows for a full 8 hours of sleep while still being awake long enough to enjoy the experience of flying business class.
I say "theoretically" sarcastically though, since I didn't sleep very well on this flight. More on that later…
The food in Xiamen Airlines business class is surprisingly good
After a somewhat mediocre flight in Air China business class from Beijing to Los Angeles several years ago, I really wasn't expecting much in terms of food quality. Thankfully I didn't have to wait until very long after departure to find out that it was actually really good.
As expected with such a late night departure, the cabin service started very quickly and I had a bowl of nuts and a drink beside me within 15 minutes.
Since dinner orders were taken on the ground while back at LAX, the flight attendants didn't have to waste very much time coming through the cabin again trying to figure out what everybody wanted to eat. They already knew, and it was probably cooking even before takeoff.
This dinner service was my favorite part about this Xiamen Airlines business class experience. Yeah, that KAL lounge back at LAX was kind of nice, but I really wasn't expecting such a good meal on this airline. Maybe it's because I've read / watched terrible reviews from others lately, but my expectations weren't very high.
Food quality was excellent, and it was just the right amount for being served well after midnight. Actually, I probably could've passed on the meal altogether considering that it was pushing 1 AM by the time I stuffed that first fork full of food into my mouth. I can't remember the last time that I ate a meal this big that late – probably not since my college days.
Once I ate all that I could, I figured it was probably wise (and sensible) to not go for the ice cream that they were offering. A fruit plate did the job just fine, and I was perfectly content with that.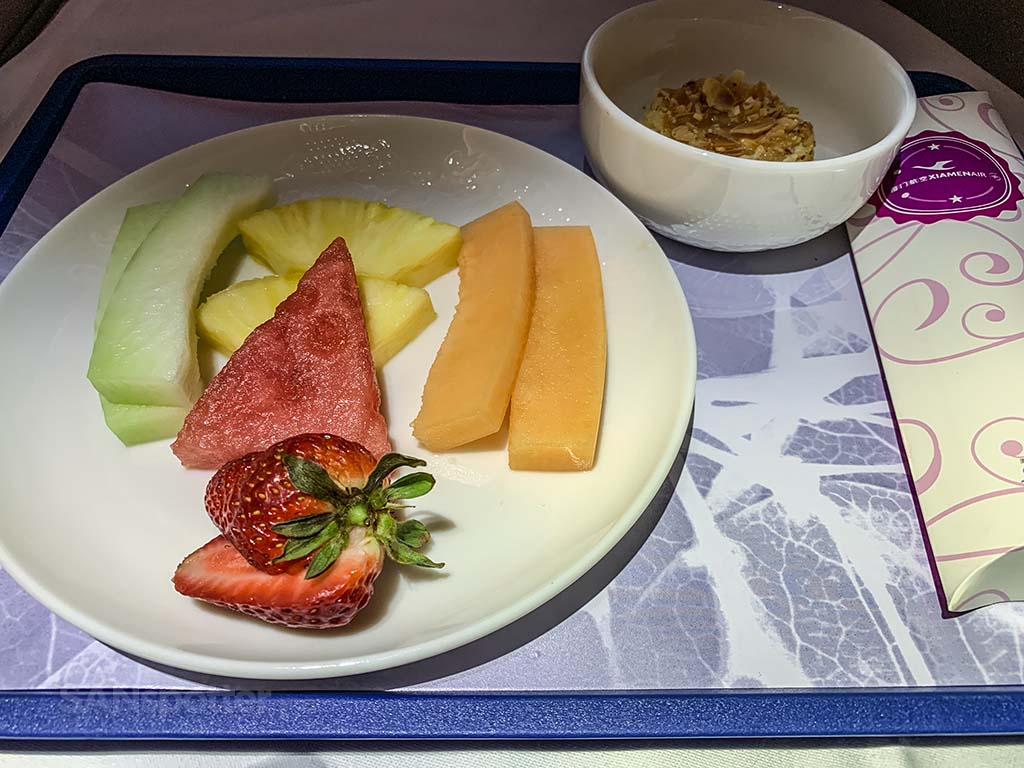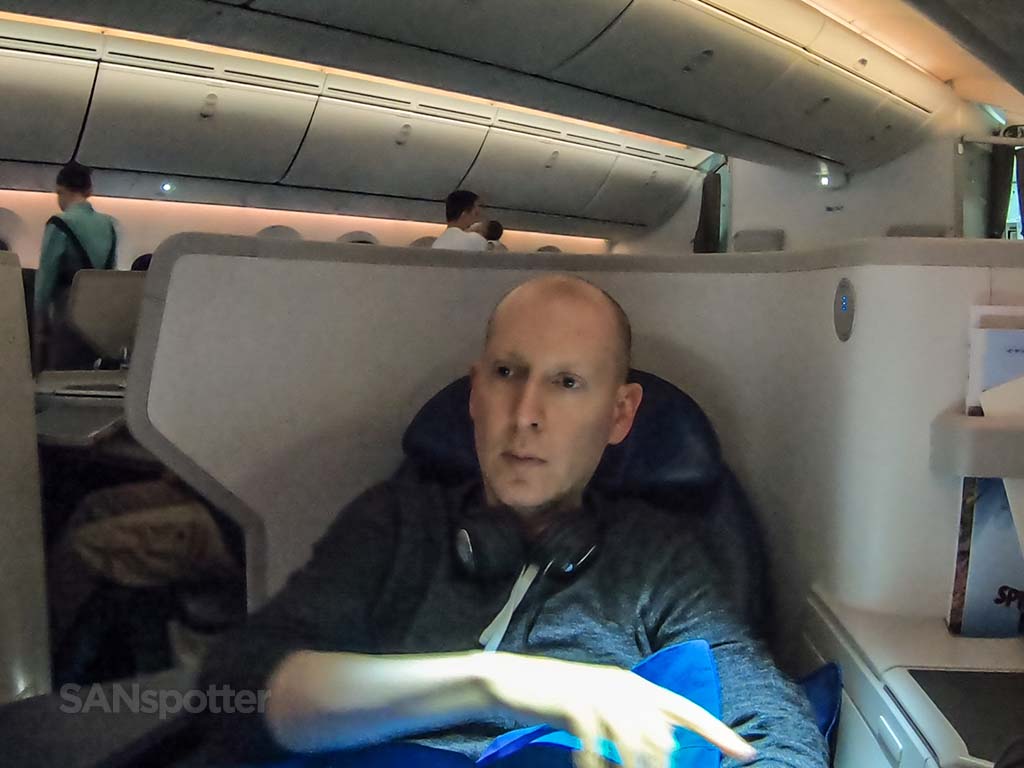 Ahhh, 14 hours of blissful sleep in business class!
Hardly. I don't know what my deal was, but even after eating such a big meal I wasn't feeling very tired at all. I was incredibly sleepy right before getting on the plane a few hours ago, but I was wide-awake now and all I really felt like doing was watching movies. Which is really weird for me because it's not very often that I watch movies at home.
I did my best to try and get comfortable, but all I could do was toss and turn all night. And if I'm being honest, I couldn't even calculate how many hours of actual real sleep I managed to pull off. Definitely two, but probably not three.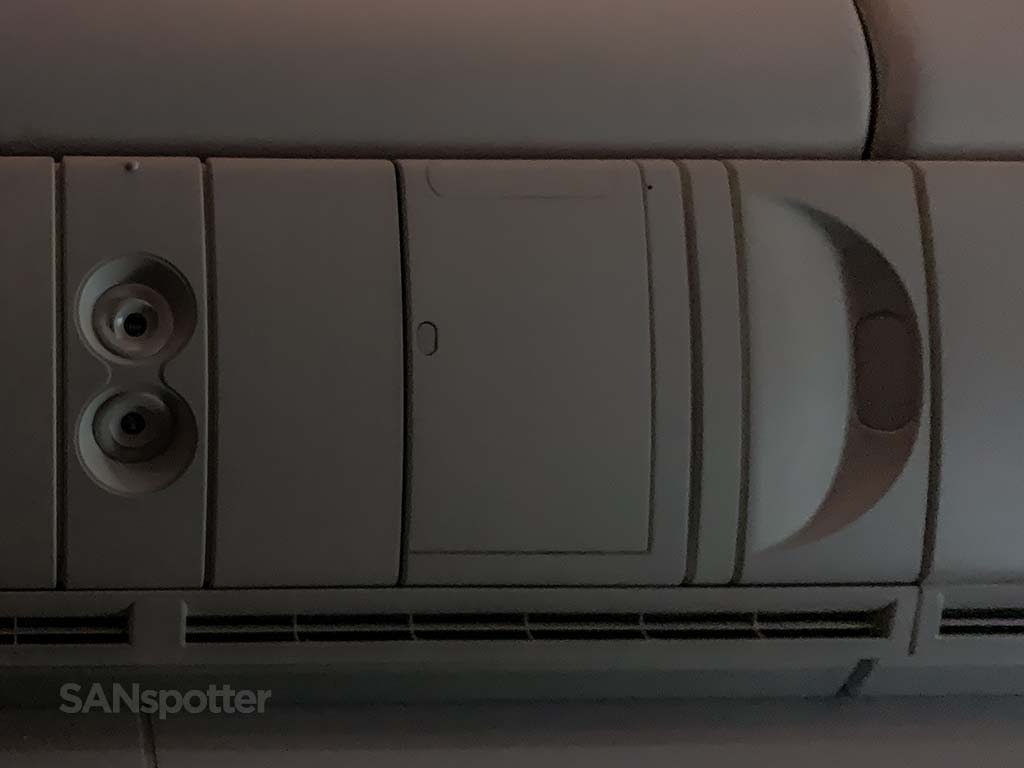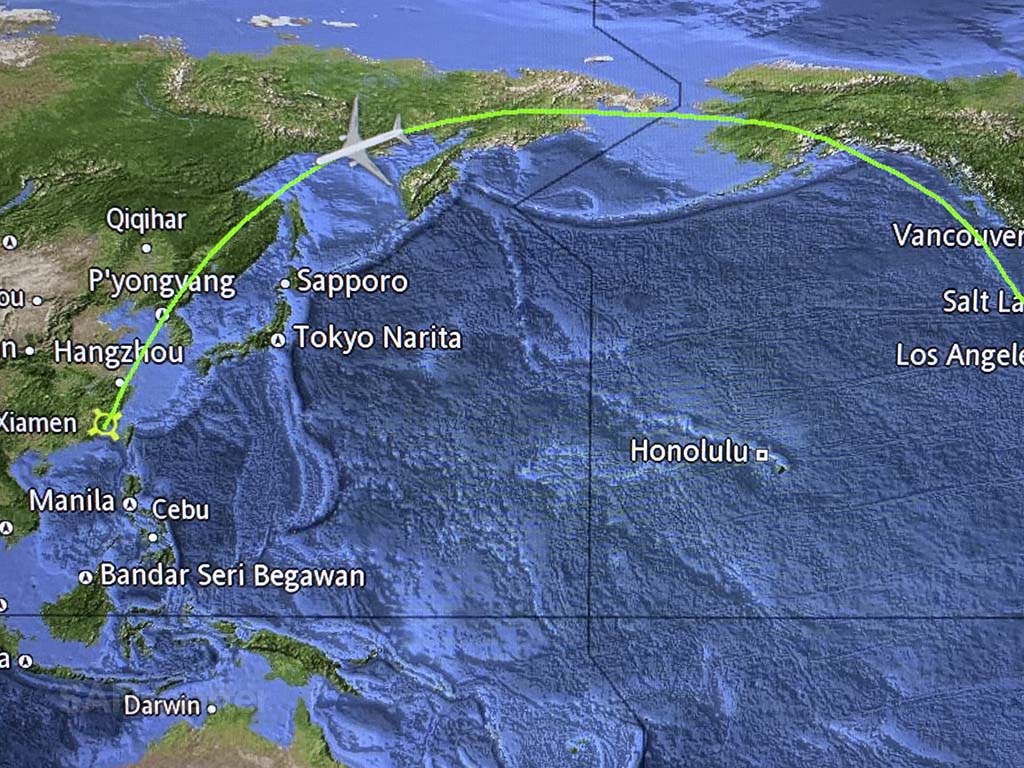 I do need to mention that my lack of sleep had nothing at all to do with the quality of Xiamen Airlines business class. This is an incredibly comfortable premium airline product, but for some reason or another I just couldn't slow down enough to get any meaningful sleep. I suppose if I was a regular business traveler on this route and I did it all the time, I would've dozed off upon sitting down at LAX and slept all the way to China.
I spent the entire eight hours between the first meal service and the second just fidgeting and getting up every now and then to go for a walk. It was hardly the most restful business class experience that I've had over the years.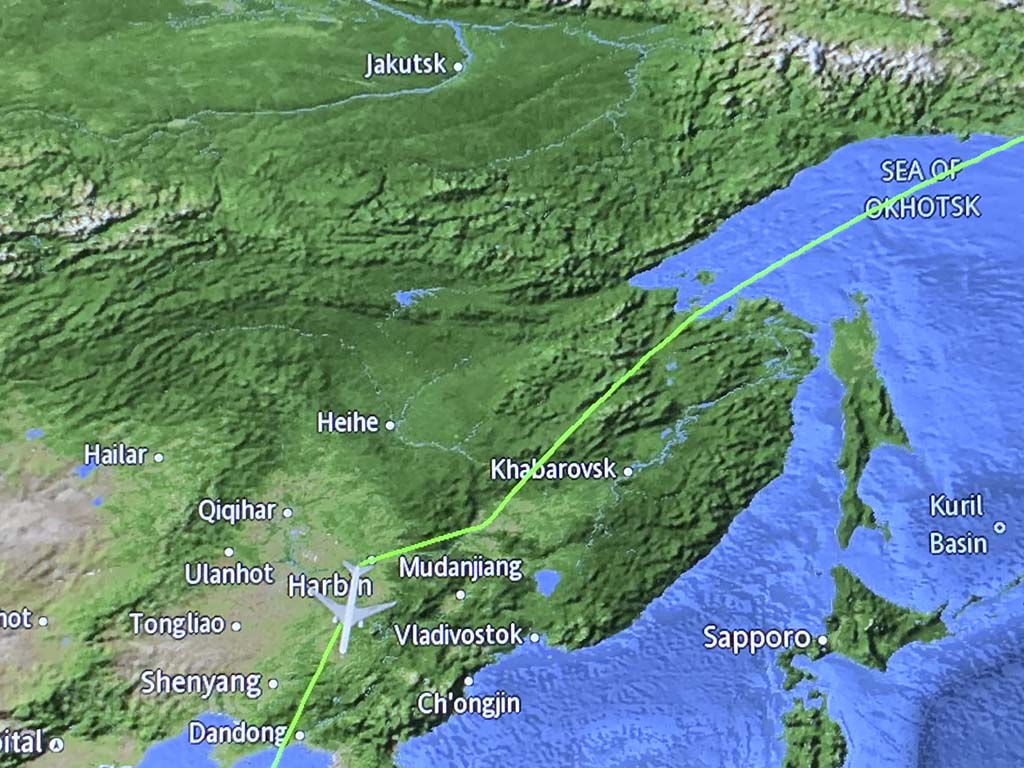 It's time to eat again
Despite feeling rather lousy for not being able to sleep, I was actually starting to get hungry again by the time they turned the cabin lights on to begin the second meal service. Yes, there was a midflight snack offered a few hours ago, but I passed on it completely knowing that it would be more beneficial for me to try and sleep instead. Which, as I've already mentioned, didn't work out at all.
I decided to go with the Chinese breakfast option, and it was a good one. Xiamen Airlines flight attendants do such a good job preparing these meals that I knew I would've liked the western option as well – but I personally feel it's sacrilege to eat a western meal on an Asian airline.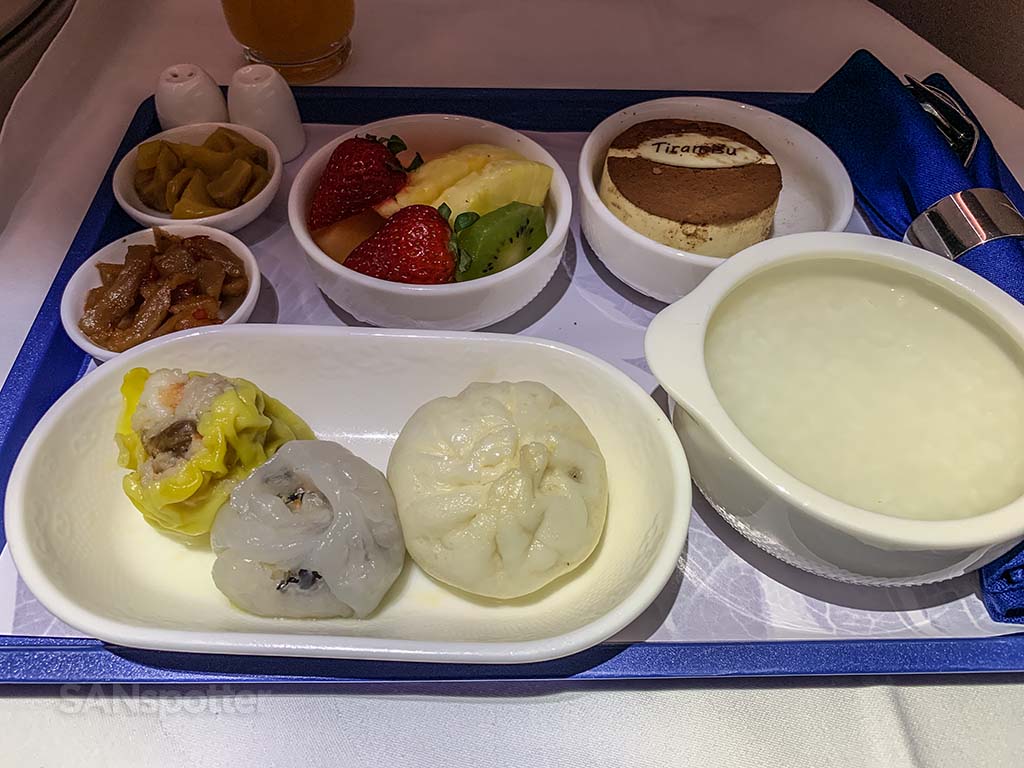 My only complaint about the breakfast service was that it was a bit too small for my liking. Yes, I probably should have had the mid flight snack they offered, but just know that this second meal may not be enough for you if you choose to skip the snack as well.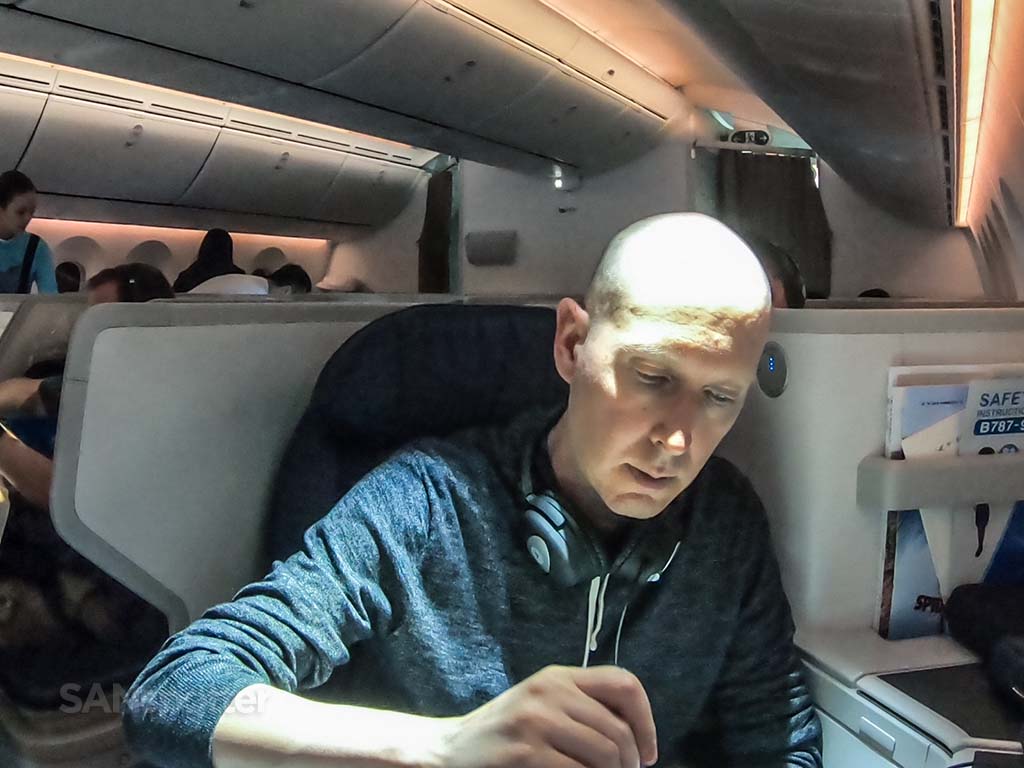 On a sidenote, the sun was starting to come up over my left shoulder just as I was finishing the meal, and it was spectacular.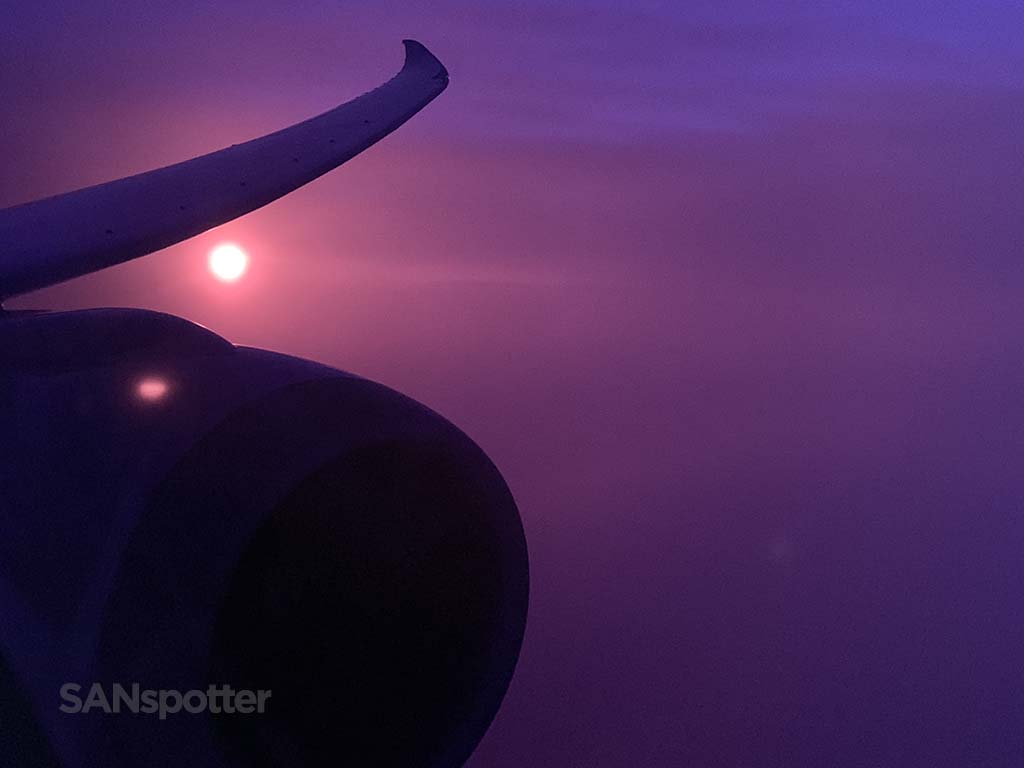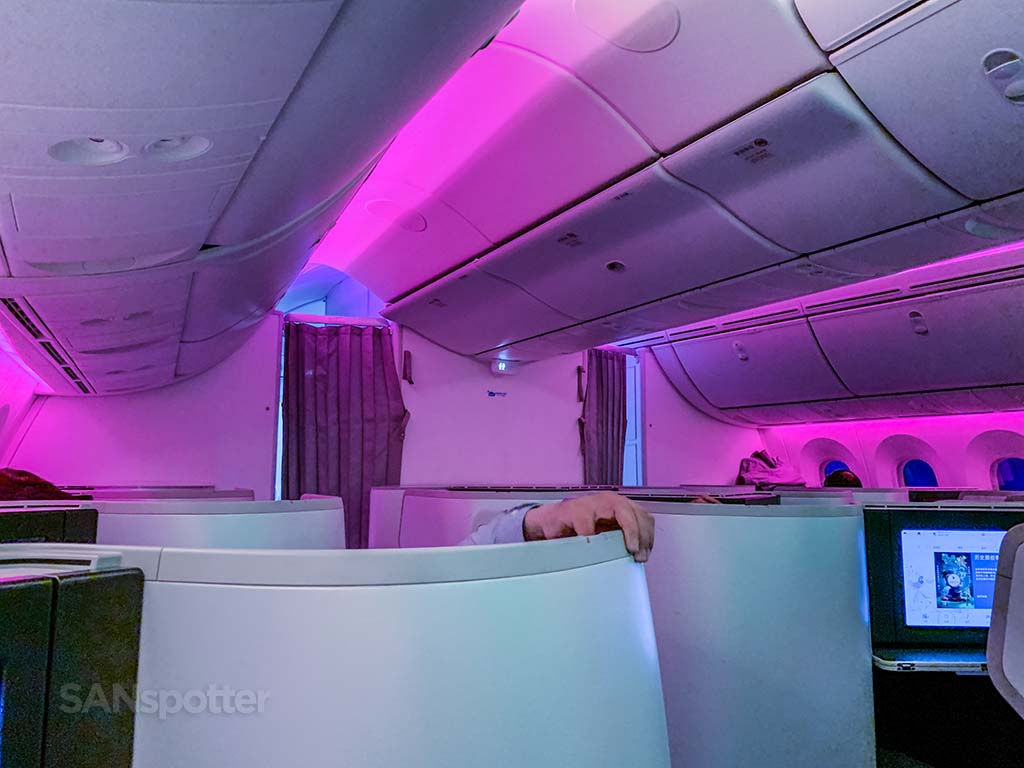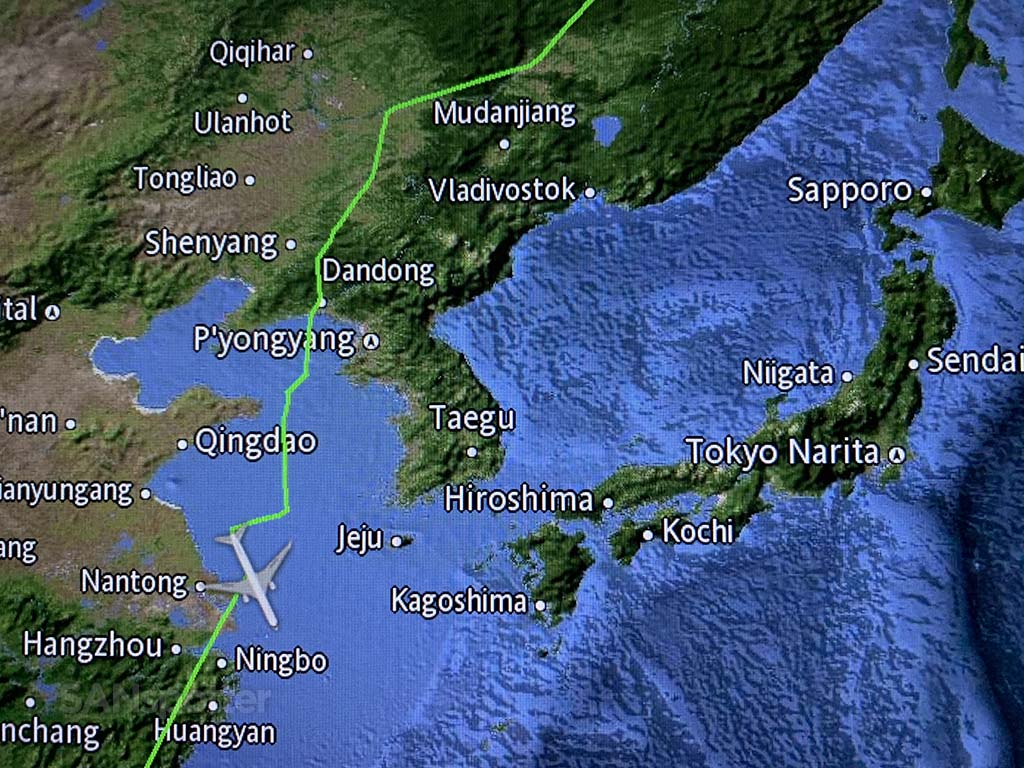 Final thoughts on Xiamen Airlines 787-9 business class
Is it just me or is arriving in China after a really long flight a special feeling all it's own? The hazy skies and mountainous terrain are a spectacular combination in my opinion, and I love flying to this part of the world.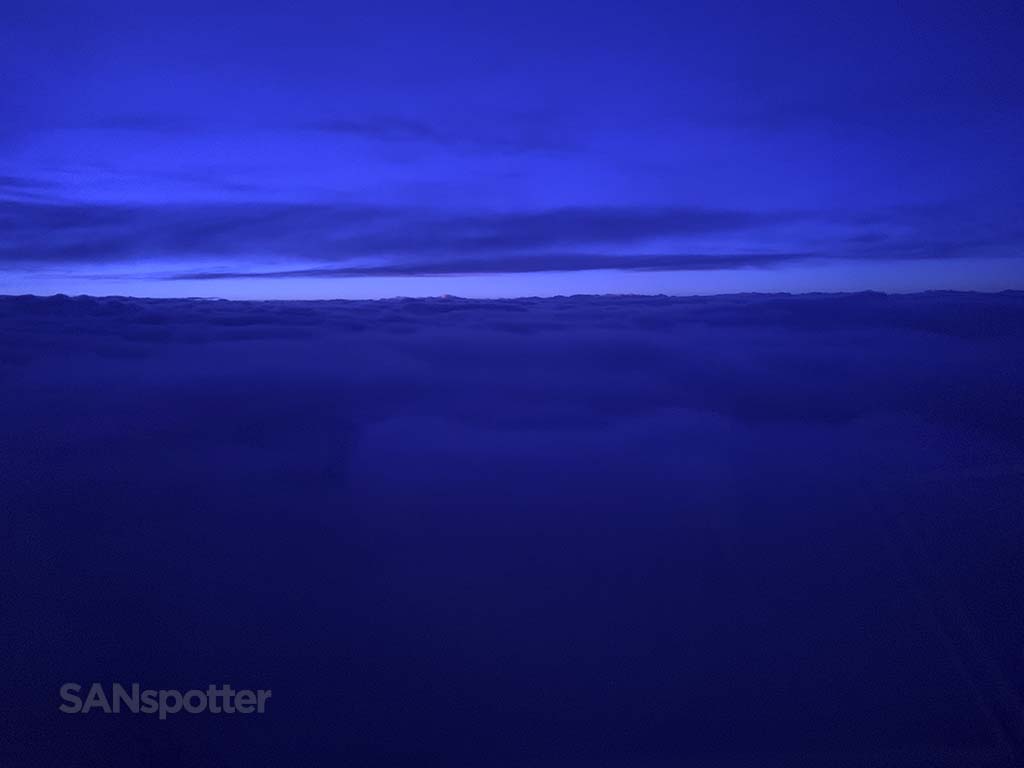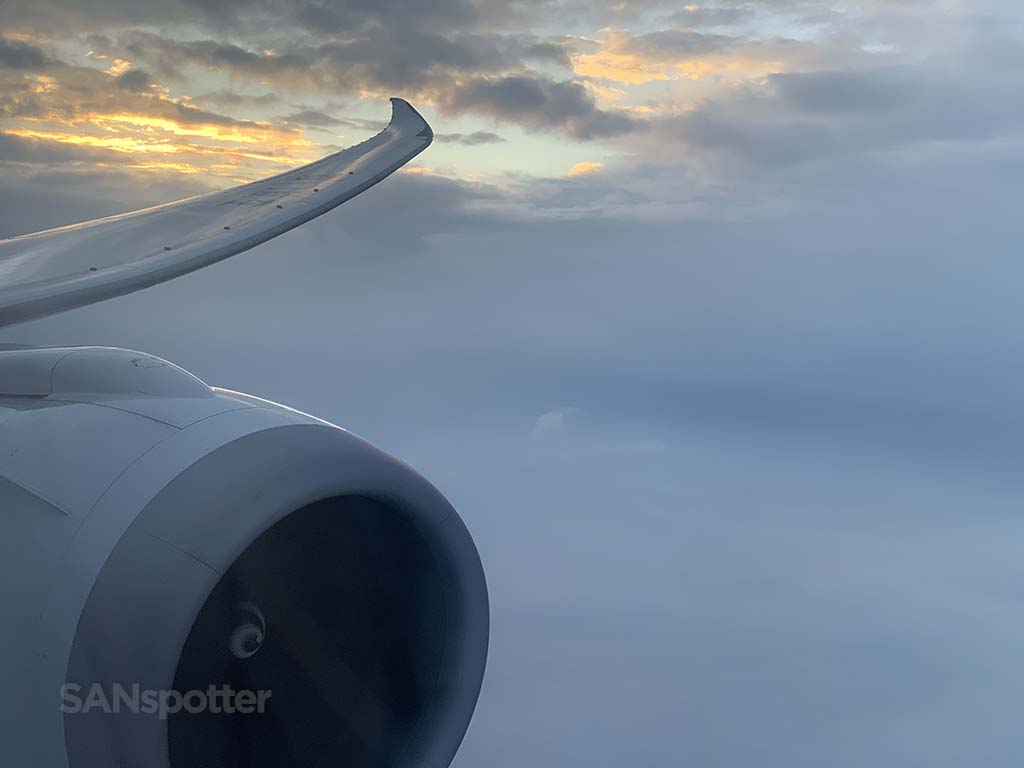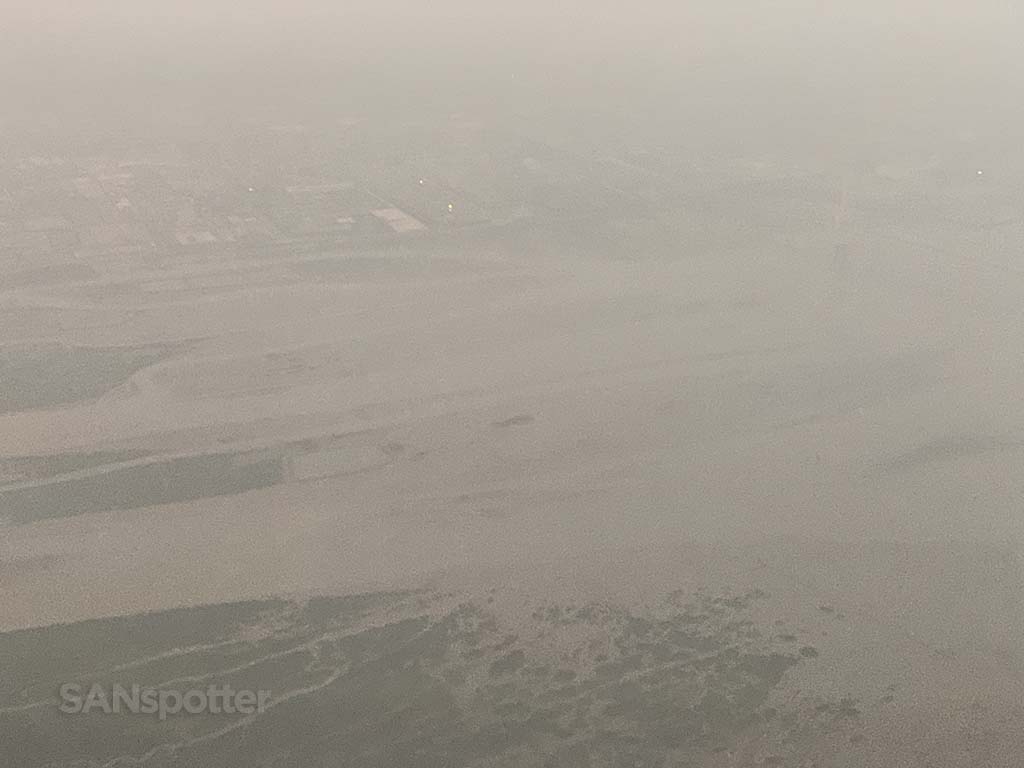 Xiamen Airlines business was really impressive to me for several reasons. First of all, this was the best Chinese airline crew that I have ever experienced. That China Airlines flight from Taipei to Seoul a few years ago was really good too, but this crew really felt world class and competitive with the business class crews of Emirates and Philippine Airlines. I wouldn't go as far as to say that there is good as JAL business class crews, but I was still quite happy impressed.
Another thing that really impressed me was the fact that they seemed to be doing everything by the book. I didn't see any employees cutting corners with anything both on the ground or in the air, which is especially reassuring. There's been quite a few reports of questionable safety "issues" when it comes to Chinese airlines lately, and thankfully I didn't see anything out of the ordinary.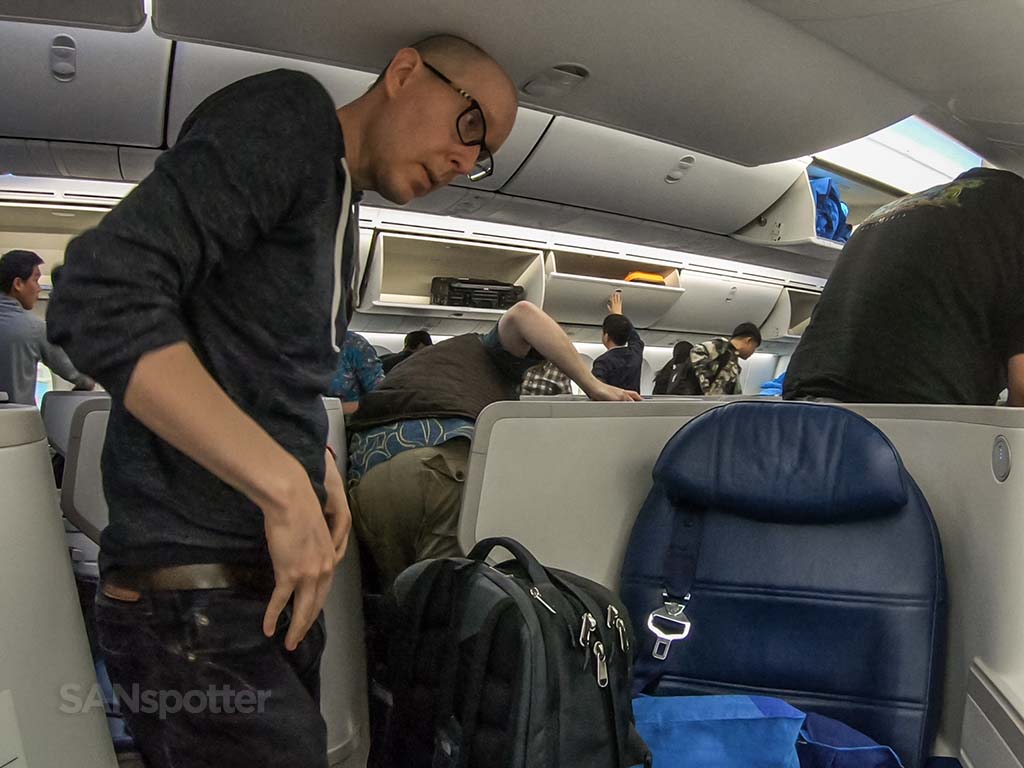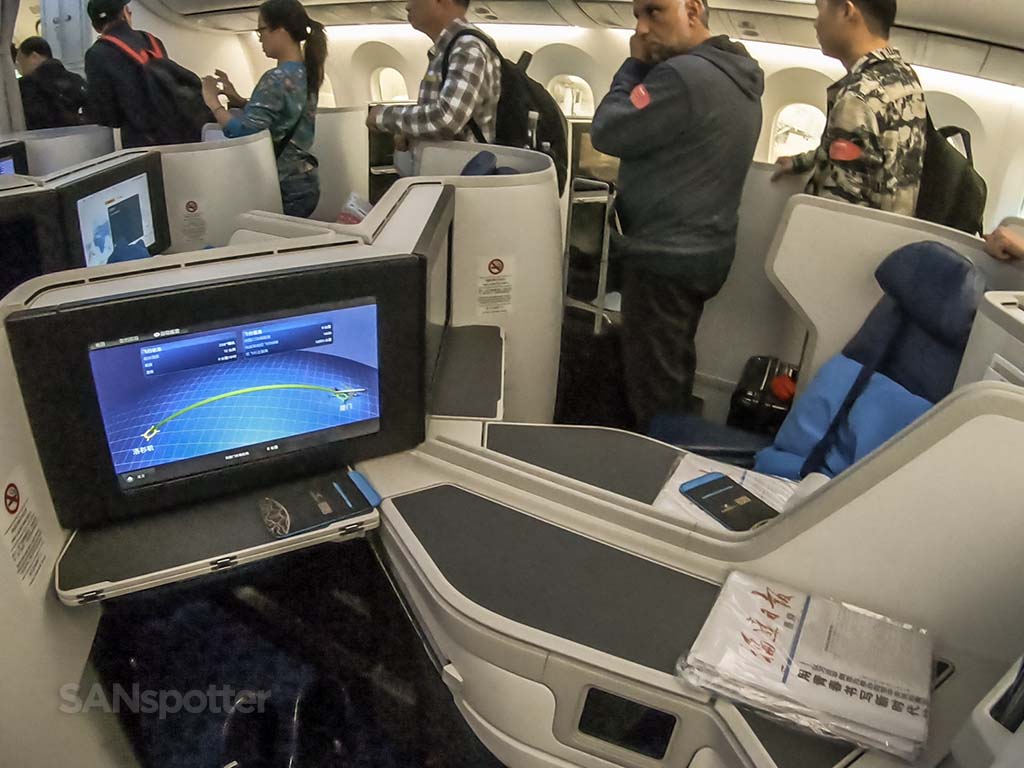 I walked off this flight in Xiamen feeling really happy that I discovered a new airline that I really like. At least I thought I did at that particular moment.
I know that one flight is hardly enough to make an informed decision about an entire airline, but I had one more Xiamen Airlines business class flight coming up in a few hours (going over to Chengdu) which would help me solidify my thoughts. That review is next…