01. Xiamen Airlines 787-9 business class Los Angeles to Xiamen
02. Xiamen Airlines 737-800 business class Xiamen to Chengdu
03. Sichuan Airlines A330-200 economy class Chengdu to Shanghai
04. Hainan Airlines 787-9 economy class Shanghai to Seattle
Although nobody had to drag me out of Chengdu against my will (United Airlines style), it was a highly disappointing feeling knowing that it was time to leave this amazing city. I loved every minute of my stay, and I did spend a bit of time trying to come up with a clever plan to delay this Sichuan Airlines review by at least a day or two.
However, as you're about to read, Chengdu was all but a distant memory as soon as I got my first taste as to what economy class is like on this airline. Yup, nothing will obliterate sappy sentimental feelings swimming around in my brain like a good flight can!
3U8965
Chengdu, China (CTU) – Shanghai, China (PVG)
Saturday, May 4, 2019
Aircraft: A330-243
Registration: B-6517
Duration: 2 hours 2 minutes
Seat: 17A (economy class)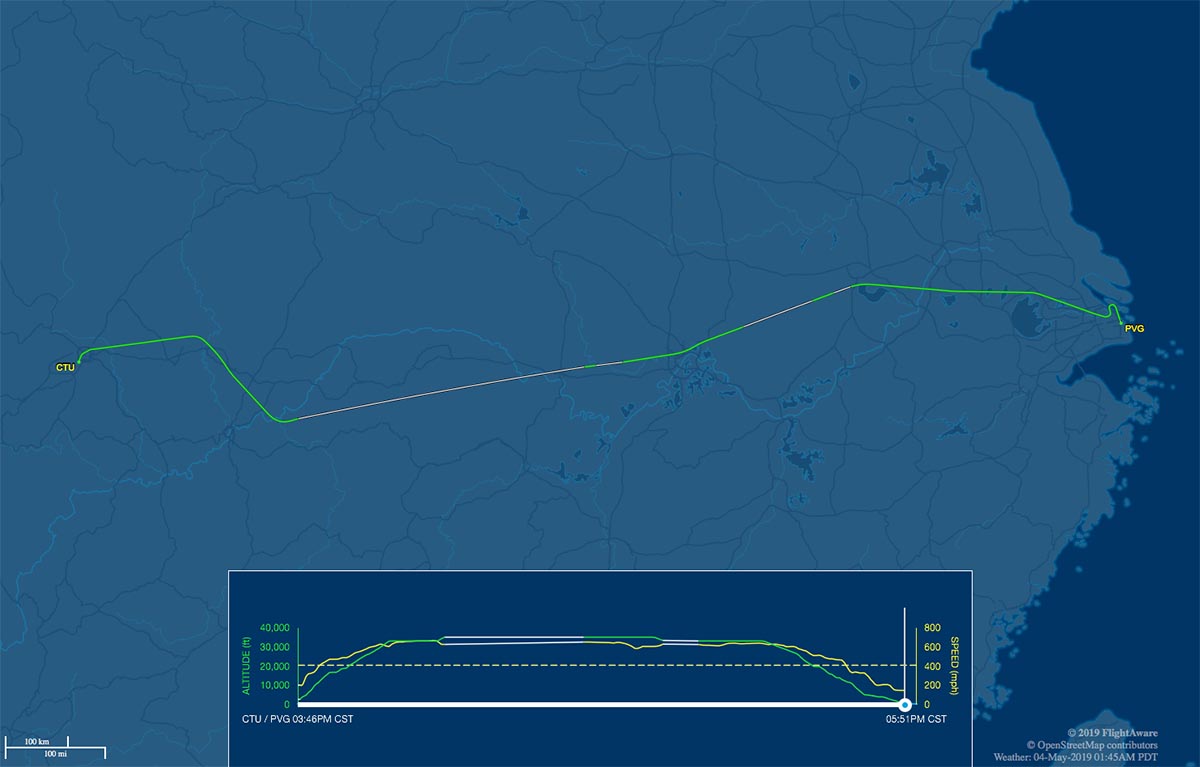 I had an extra little bit of fun with the video for this flight. Instead of doing just a typical review showing the process of what happened from beginning to end, I decided to call out six different ways that this big little airline from China impressed me. Yeah, it's still considered to be a traditional review, but Sichuan Airlines is so good that I felt like it was necessary to tell the world how good they actually are. And no, they didn't pay me to create an obnoxiously gushing video.
Overall it was a really fun video to make. However, a few days after I put it all together I watched it with a fresh set of eyes and a clear mind. My immediate reaction? Wondering why I chose some of the music I did. As you all know by now, I get all of my music from Epidemic Sound, and sometimes I get carried away picking some weird stuff that just doesn't belong in an aviation video. This was one of those occasions. Oh well.
The Sichuan Airlines ground experience at Chengdu
I loved everything about my experience in Chengdu. It's an amazing city full of culture and history, and so far I think it's one of the most beautiful Chinese cities that I've ever seen. That's why I was very sad to have to leave.
My brief experience with this airport two days ago was short…but positive. Not only was I extremely jet-lagged after such a long flight from LAX via XMN, all I wanted to do was get to the hotel as fast as possible so I could kick back and relax. I wasn't completely out of it though, and I did take notice of how nice of an airport it was. And I'm happy to report that those same feelings came rushing back as the taxi cab pulled up to the domestic departures doors.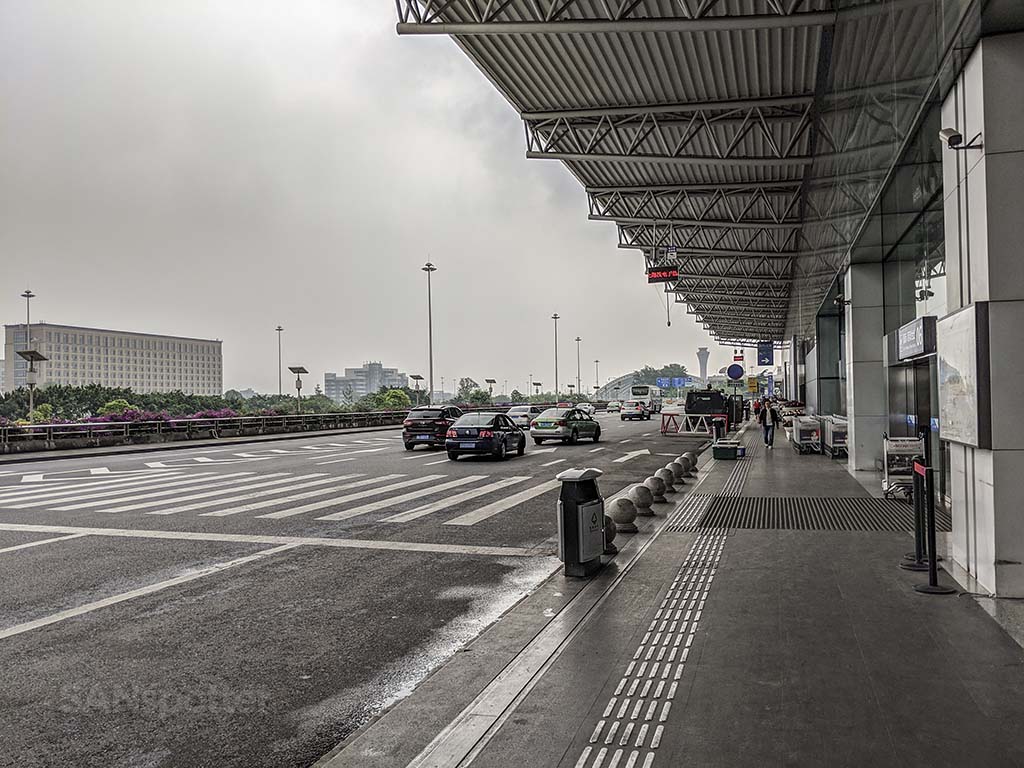 Part of me was kind of expecting this Sichuan Airlines review to start out in a negative way. The Chinese aren't necessarily known for having refined processes in place for moving massive crowds through something as technical as a busy international airport, but right away I found the experience to be pleasant and easy.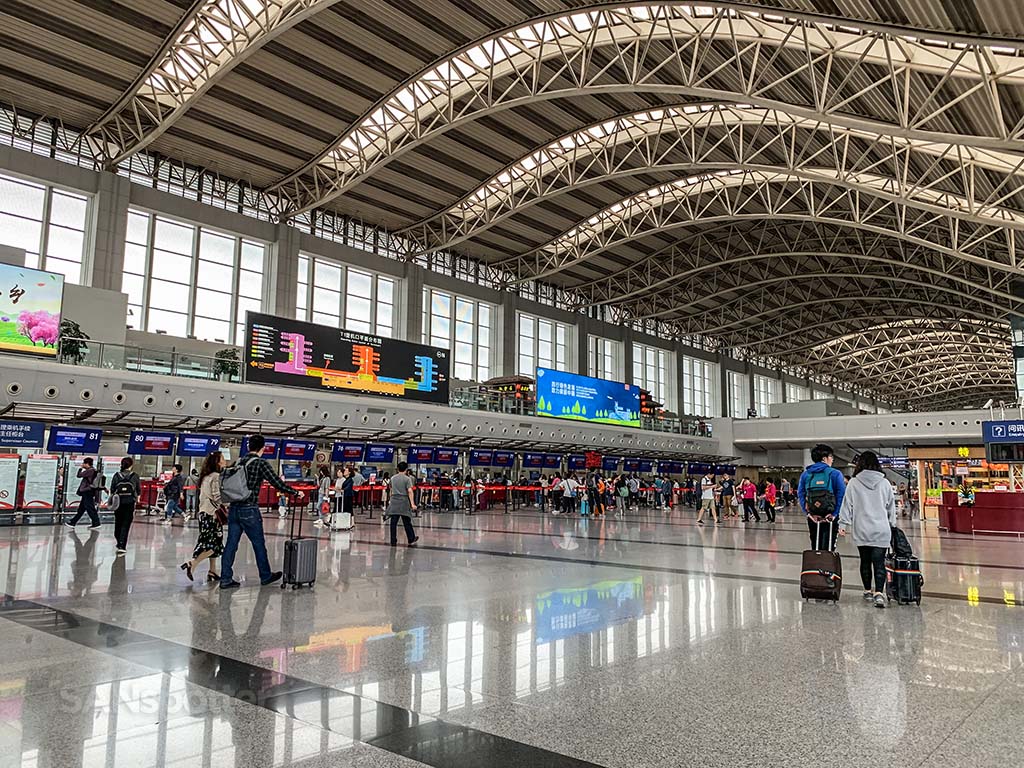 I especially liked the check in process. For some reason or another I was unable to use the kiosk to check in, but that didn't matter. There were rows upon rows of occupied check in desks, and all Sichuan Airlines passengers were free to use any of them to check in for any flight. It's a pretty convenient system that I've never seen anywhere else in the world. Yeah, it probably does exist in many places, but I've been too dense to notice I guess.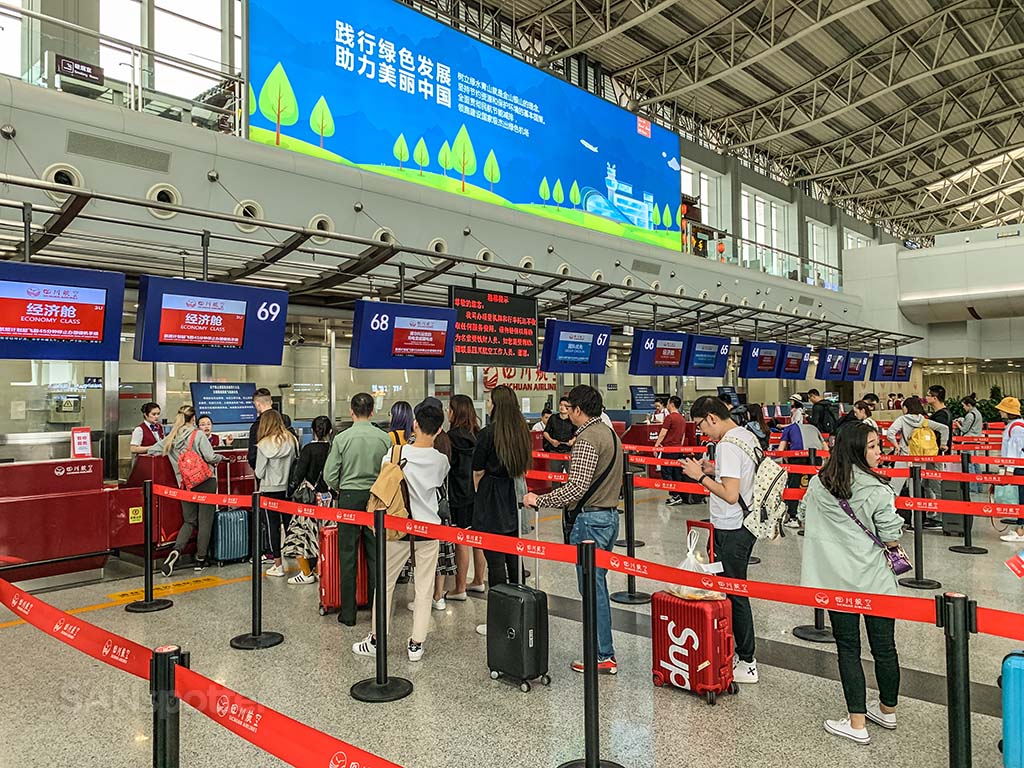 Quite thankfully, I had a boarding pass in hand within minutes of joining a queue, and this SANspotter-style Sichuan Airlines review was officially underway. I love it when things go better than planned!
There's not much to do inside the Chengdu airport terminal if you've got a long layover
I thought I was being smart by arriving at the airport early enough to allow for a painful check in process. Nope, I'm not overly negative or anything. I'm just prepared! Anyway, since it was so easy to obtain a boarding pass and get through security this morning, I found myself inside the main terminal with almost 3 hours to kill and nothing to do.
It probably would've helped if I had lounge access, because from what I could see of the Sichuan Airlines lounge, it looked really nice. I could see plenty of happy people sitting in comfortable leather chairs eating what looked to be very delicious food. Meanwhile, I was stuck outside trying to find a quiet place to sit and relax as I waited for my flight.
It should be noted that it is indeed possible to walk between main sections of the terminal, so if you're the kind of person who likes to walk instead of sit, you're gonna love the Chengdu airport.
Finally – boarding time!
The most interesting thing about the boarding process this afternoon was the fact that they appeared to initiate it before the plane even arrived. At least that's what it seemed like, as I couldn't really tell because all the announcements were made in Chinese and I'm just a dumb American who couldn't understand any of it.
The plane eventually did arrive though, and I wasn't all that happy when it did. You see, when I booked this flight several weeks ago, it was listed as an A350-900. I was super ecstatic about that, especially since chances were really high that it would be one of those amazing looking panda-themed planes. However, the aviation gods were frowning upon me today and my ride to Shanghai was going to be an A330-200.
As miffed as I was about the aircraft swap, I was still pretty excited about what was about to happen, so don't worry – this Sichuan Airlines review isn't going to get all pissy and negative from here on out.
Unlike my flight from Xiamen to Chengdu two days ago, boarding announcements were made in both Chinese and English. Therefore, it wasn't necessary for me to guess when it was time to jump in line. It's a lot more fun when I actually know what I'm doing!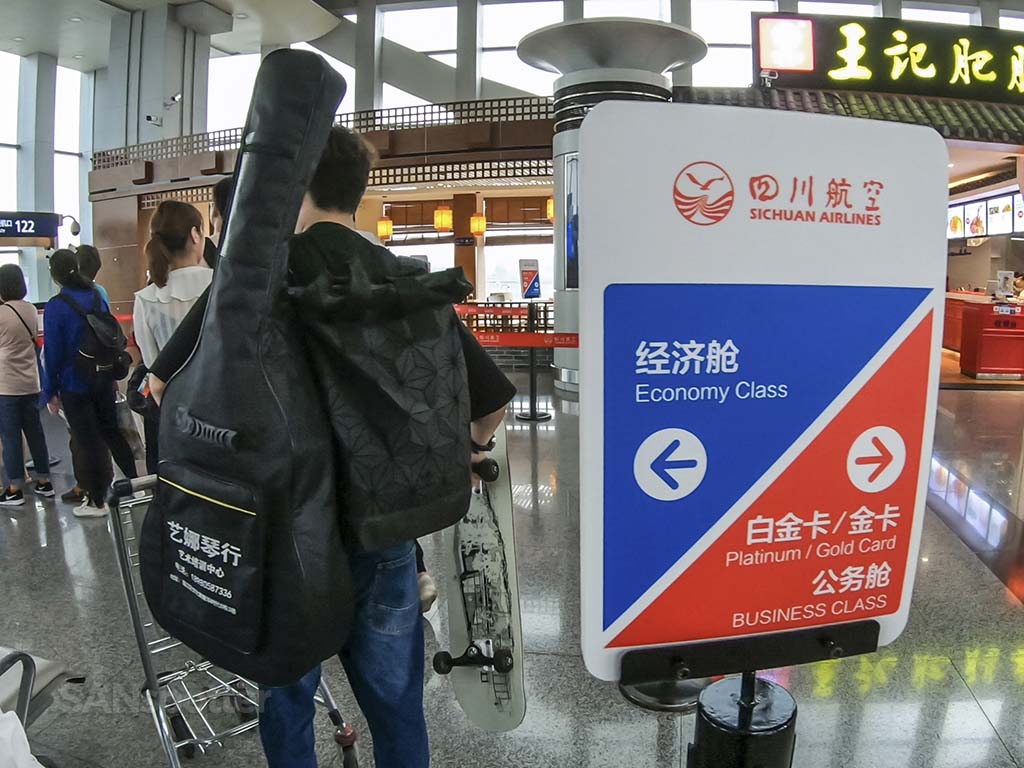 A350 or not, stepping onto a Sichuan Airlines flight for the very first time was…fun.
Wanna know the quickest way to turn a frown upside down? Happy flight attendants greeting you at the door of your flight to Shanghai will do it in an instant.
Happy flight attendants greeting me at the door is also a great way to ensure that I will write a very positive Sichuan Airlines review. I mean, there's no way I could have possibly been all pouty and negative when the cabin crew made such a big effort to keep the mood light.
As far as seeing the interior of this Sichuan Airlines A330 goes, it was a joyfully quirky (but satisfying) experience. Anywhere else in the world, I would have probably wrinkled my nose and squinted my eyes upon the realization that the aircraft I would be flying in sported a neon red color scheme. But this is China, and if I'm being honest, I would expected nothing less. Yeah, I love the color red and I thought that this interior with all that red fabric on the seats and the floor was totally awesome.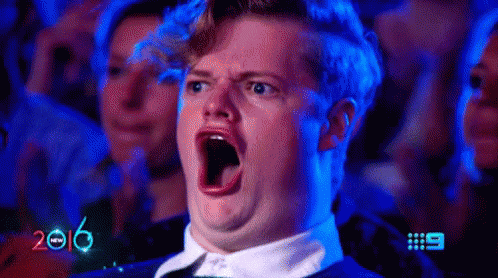 The other thing that impressed me about the interior of this airplane was the fact that these economy class seats were generally very comfortable. They were also fully-stocked with all the electronic gadgets I would come to expect for an airplane configured for long-haul international travel. Yep – the USB ports and large (vibrant) video screens at every seat were a very welcome sight.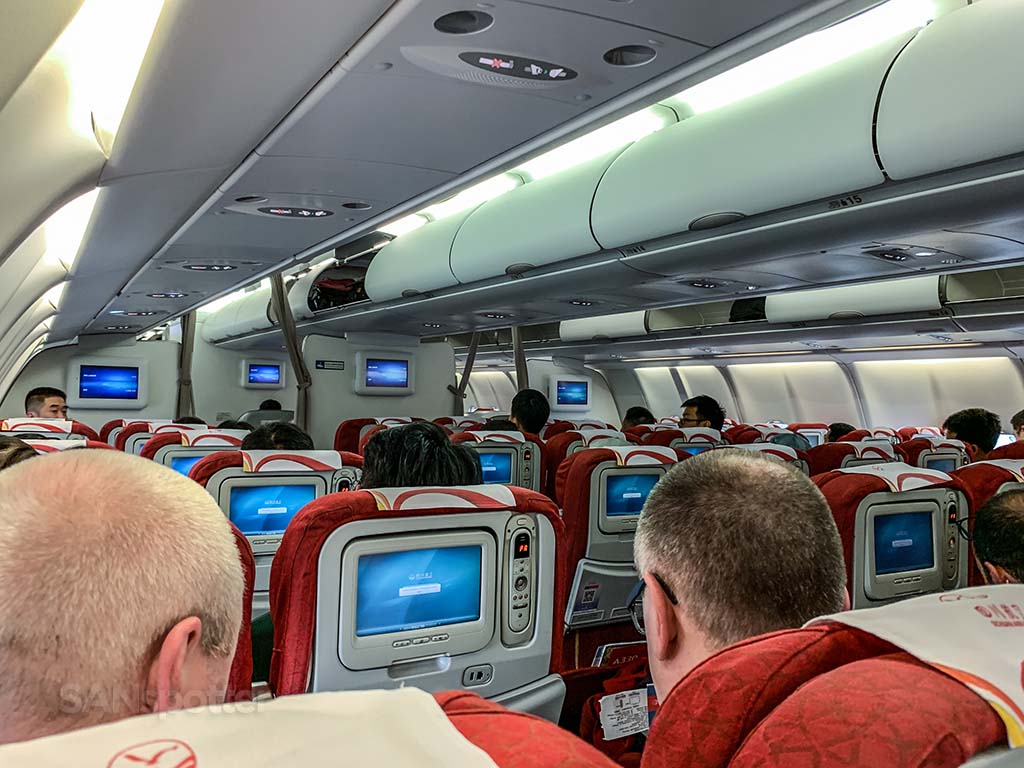 I went into this Sichuan Airlines review thinking that I would have lots to say about how weird and uncomfortable things were, but so far, that isn't the case. Yeah, it's a little bit quirky with all the red, but I like a little quirk in my airline travel from time to time.
The departure sequence wasn't all that exciting
Our departure out of Chengdu this afternoon was gloomy – as expected. However, no airline review worth a darn would be complete without a few pics of how it all went down, so here you go. Well, perhaps "went down" is the improper terminology to use in an article about air travel, but…you know what I mean.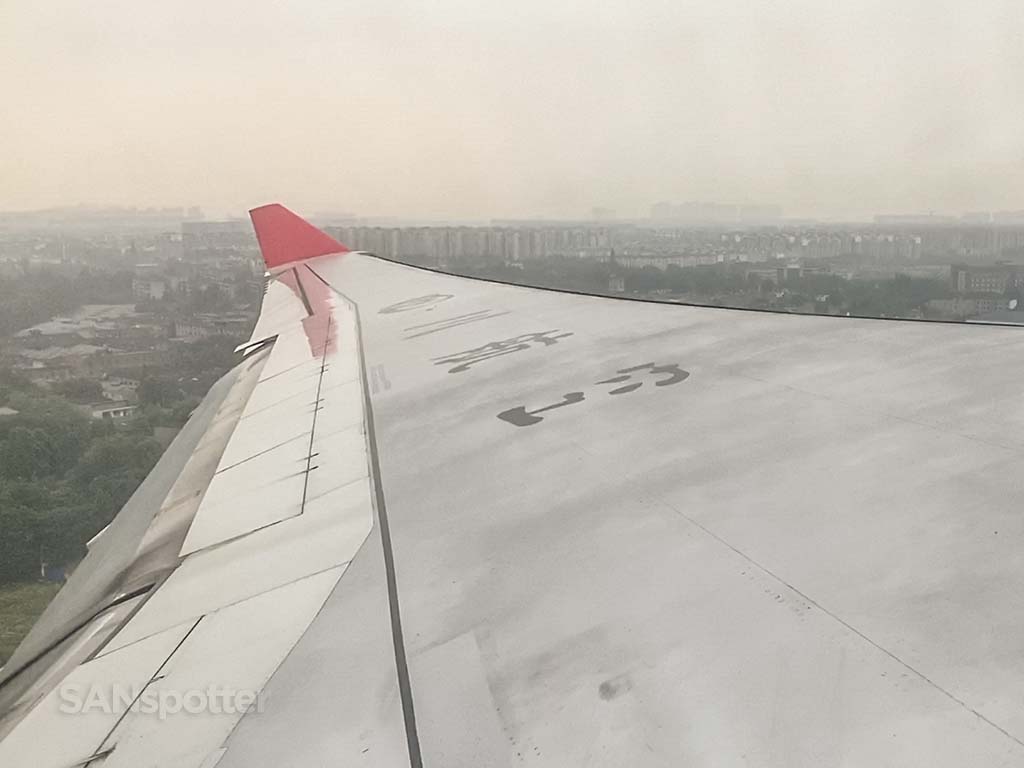 Wait a sec – is this Sichuan Airlines review about economy class…or business class?
Once we broke through the haze and were cruising under sunshine and blue skies, the cabin crew began the service and things got good.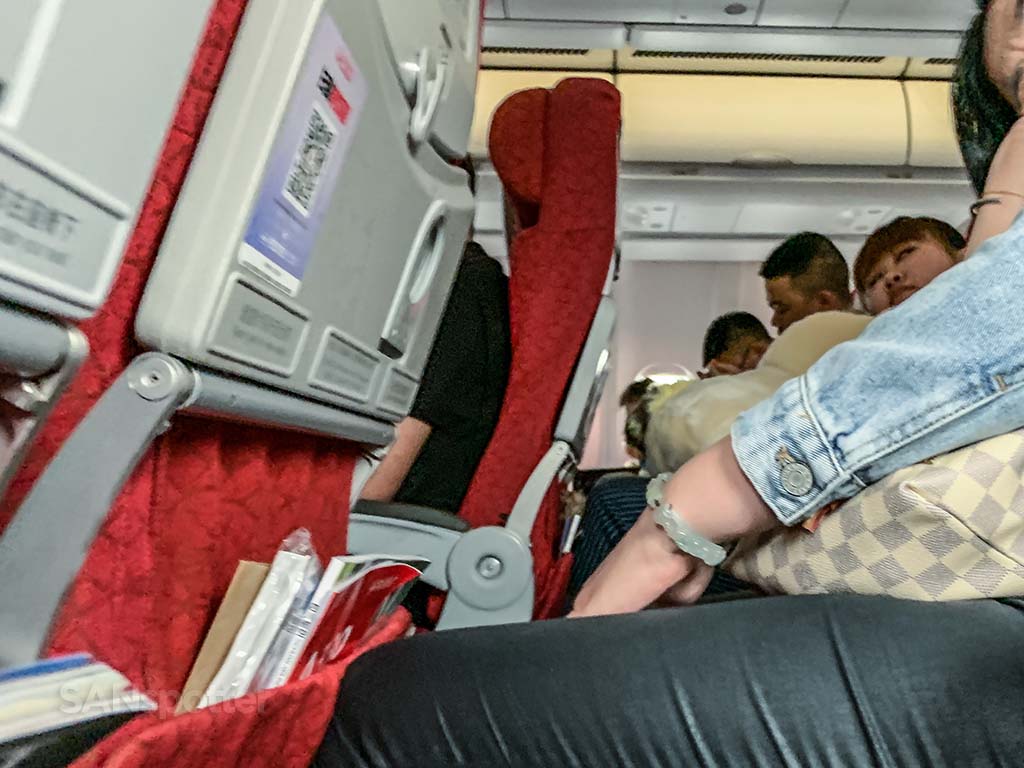 The first thing we were presented with was a full-size bottle of water. This was absolutely mind-blowing to me considering that we wouldn't even get a full bottle in first class on a domestic flight within the United States. Yeah, you could probably get it if you asked begged, but most airlines are trying to cut costs any way possible and well…that's just the way it is.
Following the bottle service (lol) was the distribution of complementary earbuds for the entertainment system. Again, something you'd normally have to pay for back home in the US. Even in economy class.
As I sat there scrolling through the movie selections with that bottle of water family in hand, I couldn't help to think that this was going to be an overly positive Sichuan Airlines review. Almost to the point of being disgustingly positive.
I definitely wasn't expecting this level of service in economy class on a domestic Chinese flight. How could this possibly get better?
It gets better
With a scheduled flying time of only 2 hours and 2 minutes, I wasn't expecting much from the meal service. At best, I figured we'd be thrown some kind of sandwich and a cookie, just like the kind we pay nine dollars for on any domestic flight in the United States. Oh how wrong I was.
Now that I think of it, this was probably the largest meal I had ever been served in economy class on any flight anywhere in the world. Including long-haul international flights.
I liked how there were two separate parts to the meal service:
The first part was a large box full of cold items such as bread and fruit.
The second portion was the steaming hot tinfoil container stuffed full of Sichuan-themed goodness. Not only that, the flight attendant came back with extra seasoning (straight from the bottle) for anybody who wanted it – which is a perk I've never seen out of outside of business class anywhere. For the record, it looked deadly spicy, and I politely declined.
I thought all Chinese airlines were supposed to be really bad?
The hour and a half or so after the meal service went by in a flash. I spent most of that time talking with my seatmate, who just so happened to be an entrepreneur from Australia visiting China on business. Those of you who know me well are aware of the fact that I tend to keep to myself much is possible during flights, but she was really interesting and it was an incredibly inspiring conversation. Unfortunately, that distraction meant that I wasn't able to get as many pics for the last portion of this Sichuan Airlines review as I would've liked. Oh well.
Several things were running through my head as we made descent into Shanghai. First, the skies were clear and the sun was shining bright, which was completely weird to me because I had never seen anything like that in China before. It's normally hazy as heck whenever I'm here, so seeing the sunshine like this was definitely an odd (but welcome) sensation.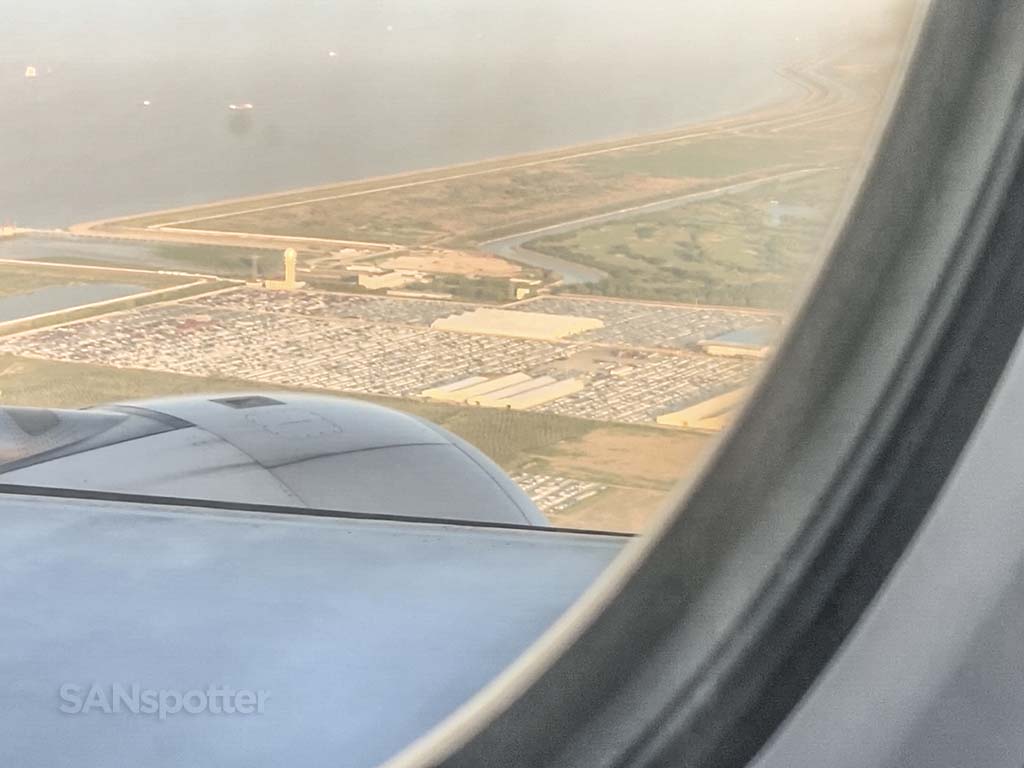 The other thing running through my mind was the fact that I have yet to experience a bad (or even frustrating) situation on any Chinese airline. My first ever flight on Air China back in 2014 was good. My China Airlines flight in 2017 was awesome. And, if you've been paying attention, you'll know that my Xiamen airlines flights from Los Angeles to Xiamen and Xiamen to Chengdu two days ago were spectacular. What's with all the hate I've heard about Chinese airlines lately?
My best guess is that it's mostly from people who haven't flown a Chinese airline in many years, and they're holding firm to the negative opinions they've had of them from so long ago. Which is completely understandable considering how bad Chinese airlines used to be.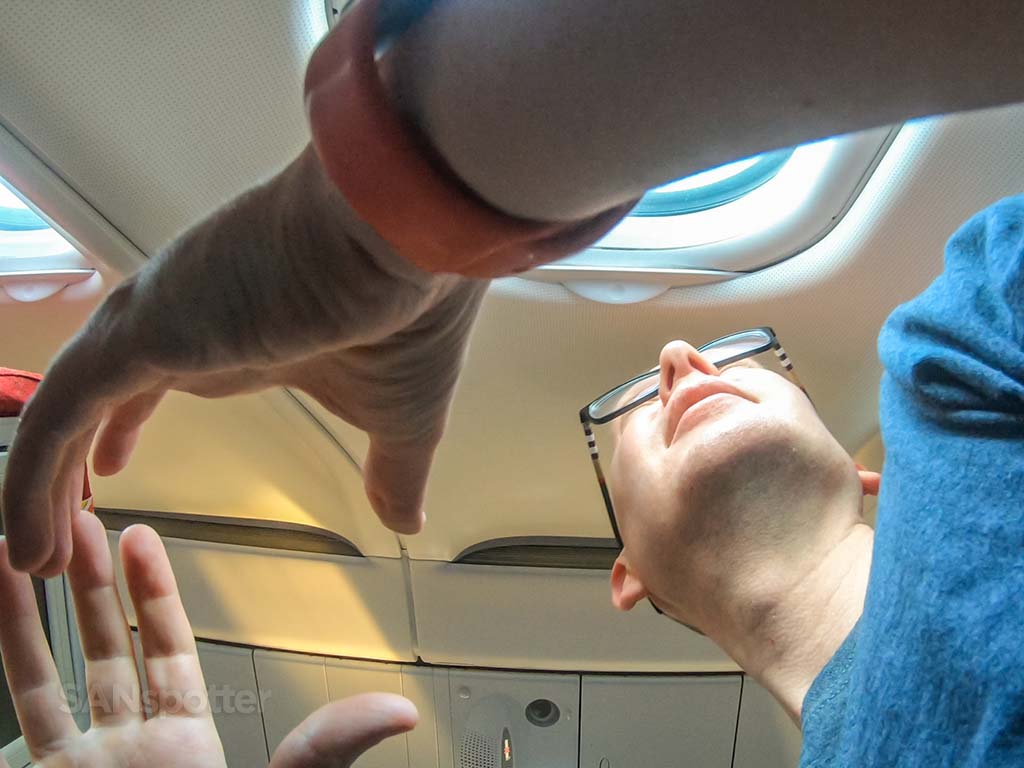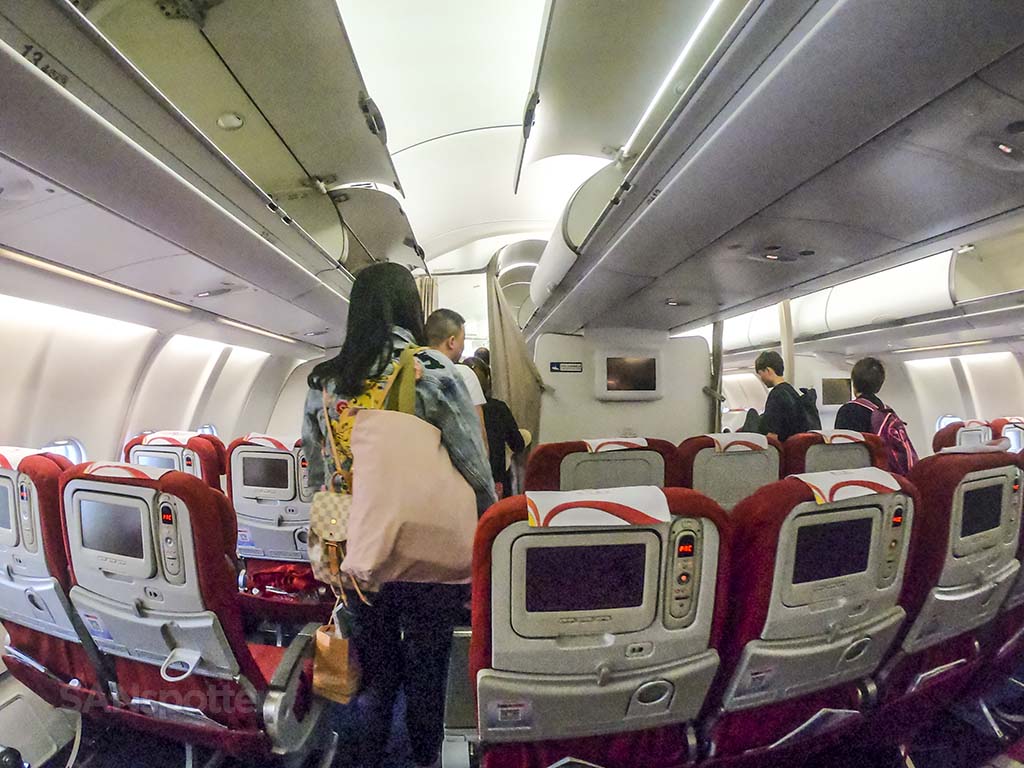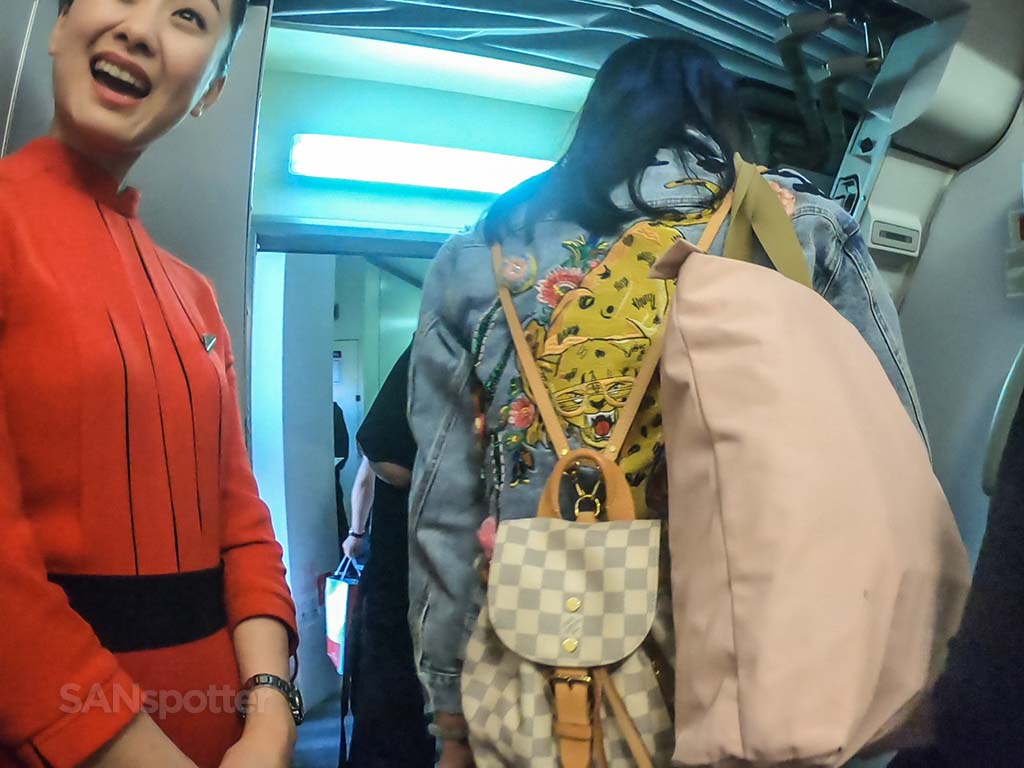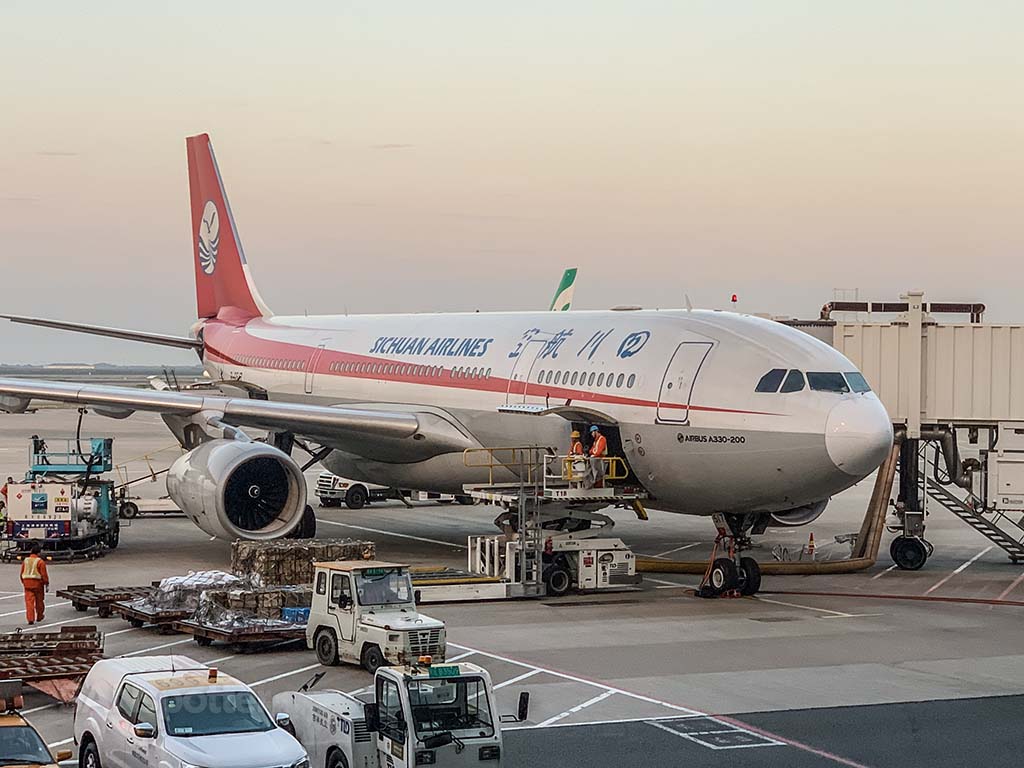 Anyway, I'm ending this Sichuan Airlines review on an extremely positive note. I arrived in Shanghai comfortably, safely, well fed, and on time. Another way of saying that is: "holy crap Sichuan Airlines is good!"
Little did I know that I was going to have yet another amazing Chinese airline experience on a flight back home to the US just two days later…