01. Xiamen Airlines 787-9 business class Los Angeles to Xiamen
02. Xiamen Airlines 737-800 business class Xiamen to Chengdu
03. Sichuan Airlines A330-200 economy class Chengdu to Shanghai
04. Hainan Airlines 787-9 economy class Shanghai to Seattle
Every now and then I get comments on my videos from people who have no idea how difficult it is to create these airline reviews. The only thing they see is me flying around in business class, making comments about the things that happen along the way. "Get a real job" they say – or even worse: "people like you disgust me". Well, to those fine folks, all I can say is that you're really gonna hate this Xiamen Airlines review.
MF8441
Xiamen, China (XMN) – Chengdu, China (CTU)
Thursday, May 2, 2019
Aircraft: 737-800
Registration: B-1301
Duration: 2 hours 36 minutes
Seat: 12A (business class)
Getting footage for flights that happen immediately after a long haul international segment (such as the 14-hour LAX-XMN flight I just stepped off off) is never easy. The last thing I feel like doing is filming more stuff and taking more pictures! The resulting trip reports and reviews aren't usually up to the caliber of quality I strive for, but I do my best with the footage I have.
Unfortunately, this video definitely falls into the "I could've done better if I was more awake" category. Oh well. Gee – do I know how to motivate people to click on links, or what?
One of the biggest challenges of this particular Xiamen Airlines review video (compared to my previous one) was trying to pronounce "Xiamen" correctly. I didn't quite get it right last time, but I got a lot of really good help in the comment section of that video. Hopefully I did better this time. As always, I get my music from Epidemic Sound (a place which I highly recommend for other YouTubers in need music for their own videos).
First impressions of the Xiamen airport
Once past customs and the security checkpoint after deplaning from the flight from LAX, I was really happy to be walking around the main terminal and getting the blood flowing through my veins again. I wasn't necessarily craving lounge access this morning. Just walking around and getting the chance to stretch out a bit was good enough.
Unfortunately, it was a bit too early to check in for my connection to Chengdu so all I could do was hang out in the ticketing hall for a bit and catch up on work stuff.
It took about an hour of waiting to be able to check in, and finally having a boarding pass in hand marked the official start of my second ever Xiamen Airlines review. If this experience was going to be anything like my first, I was in for a real treat this morning.
The Xiamen Airlines Lounge at XMN is weird…but totally worth visiting
As I was having fun zipping through the terminal on the moving walkway, I spied signs pointing to the Xiamen Airlines business class lounge. As I said – I wasn't necessarily feeling an overwhelming urge to sit in a lounge for a few hours, but I figured it would be perfect trip report fodder. I headed that way like a man on a mission.
Of all the interesting airport lounges I've visited over the years, this one was (by far) the weirdest – and most interesting. It was also really comfortable and an excellent place to get some work done. But…it just felt…odd.
It's hard to put into words exactly, but the place felt overly extravagant. As a matter of fact, it was giving me sensations not unlike what I experience when looking at pictures of Donald Trump's apartment in New York. It's nice, but…a little bit (ok, a lot) overkill. My sincerest apologies to the airport and airline executives for mentioning Trump in this Xiamen Airlines review, but there's just no other way to get my point across.
Another weird (but really good) thing about this lounge is the food. It's been a long time since I've had a traditional Chinese breakfast, and as much as I love a good Chinese meal, a plate of eggs and potatoes would have really hit the spot. Instead, I was forcefully reacquainted with the food of this region.
The meal was delicious (I even went back for seconds), but I was hoping to be able to overindulge in eggs just as I had in the SYD Air New Zealand Lounge back in February.
The fun part of this Xiamen Airlines review (boarding the plane!)
Sitting in the lounge for two hours was fun, but it got to the point where it was getting so busy and noisy that I figured I'd have more fun wandering the terminal instead. There was only an hour or so to go before they started boarding the flight, so it wasn't a big deal to cut my lounge time short.
Besides – what good is an Xiamen Airlines review if I can't say anything about the terminal at XMN itself? Not like there's anything really amazing to mention about it or anything. It's certainly nice, but there aren't very many quiet places to sit in quiet solitude during peak hours. I ended up sitting in a high-traffic spot in front of a souvenir shop while I waited for my flight to board.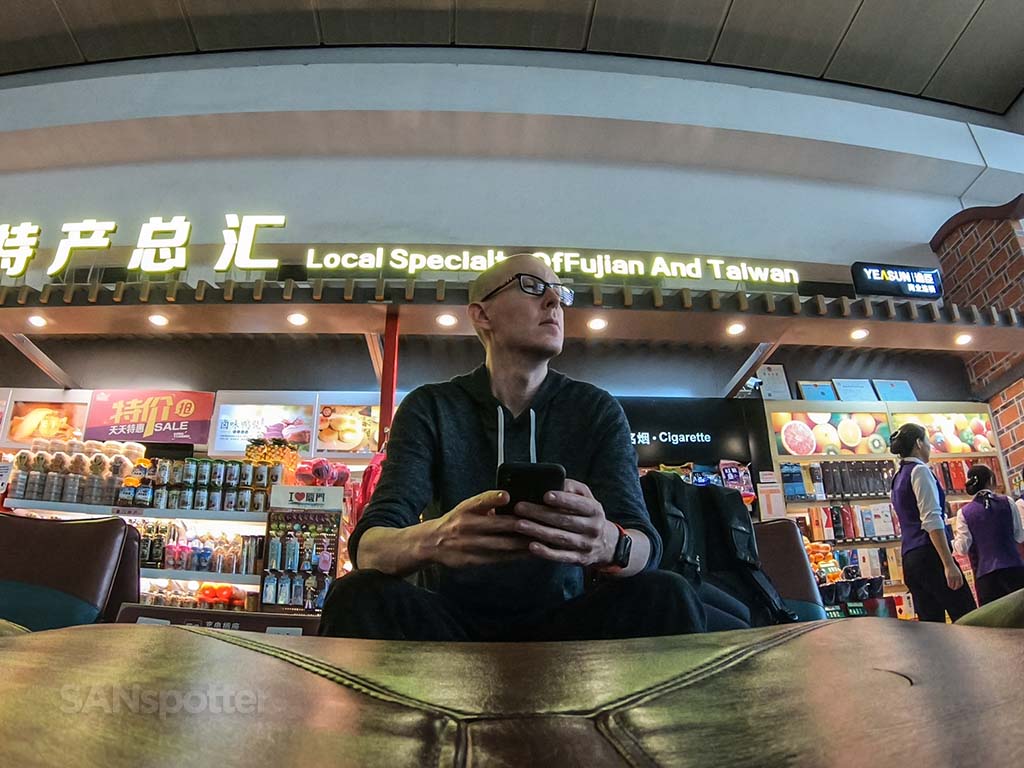 Boarding a flight in a country where I understand none of the language is always hilariously good fun. A single high-volume (and very intense) announcement was made in Chinese precisely at the scheduled boarding time, which was followed by a mad rush of passengers towards the gate door. I understood none of it, but wasted no time fighting for my own space in line.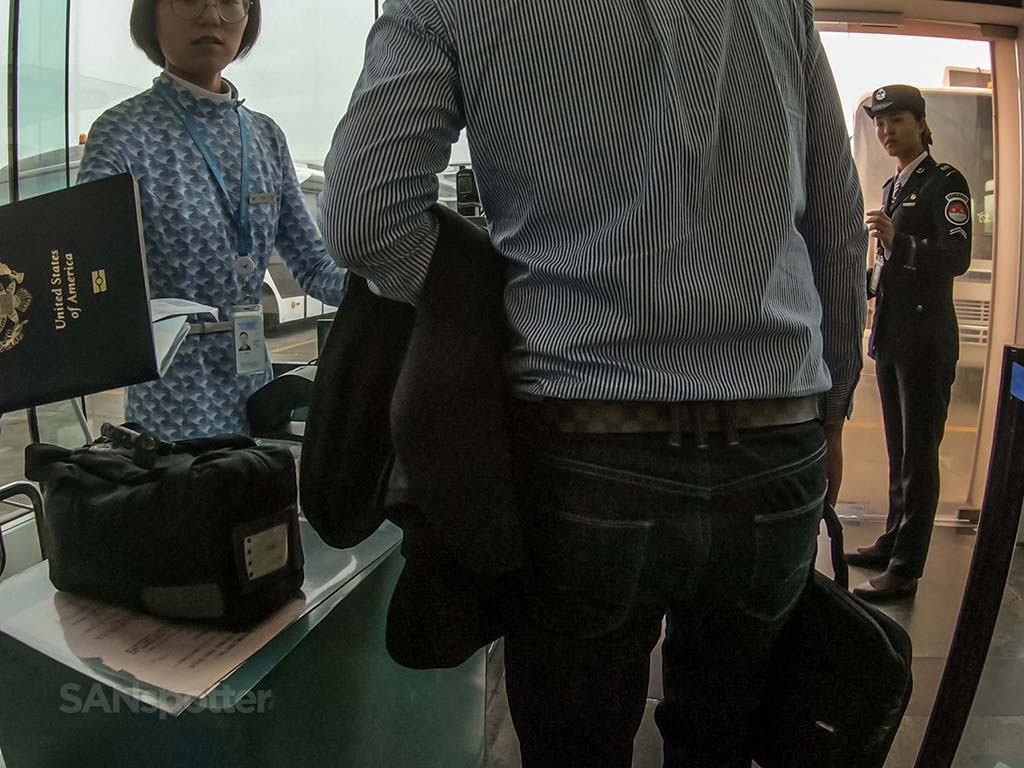 Our gate today was a bus gate – which seemed odd considering that the stairs leading to the jet bridge which led to the plane was connected directly to the terminal. Thankfully I've reached a point in life where I don't dwell on the things I can't understand, and any questions and/or concerns about the design of this terminal evaporated quickly as I worked on getting more content for this Xiamen Airlines review.
Welcome aboard Xiamen Airlines flight number 8441 to Chengdu (it's better if you read that with a thick Chinese accent)
Before continuing, I think it's important to let you know that this flight was supposed to be a 787-8. That's what it said it was going to be when I made the reservation 4 weeks prior, so you can imagine the disappointment I was feeling as I stepped onboard this 737-800. However, it's really hard to hold a grudge when there are really friendly flight attendants there to greet you with a smile.
As expected, the business class cabin of this aircraft was hardly anything to get excited about. It wasn't any nicer than what I experienced in Alaska Airlines 737-800 first class six months ago, though I will give them extra credit for the generous application of neon blue seat fabric. Still, I can't help but to think that a Xiamen Airlines 787-8 review would be much more fun. And a heck of a lot more interesting.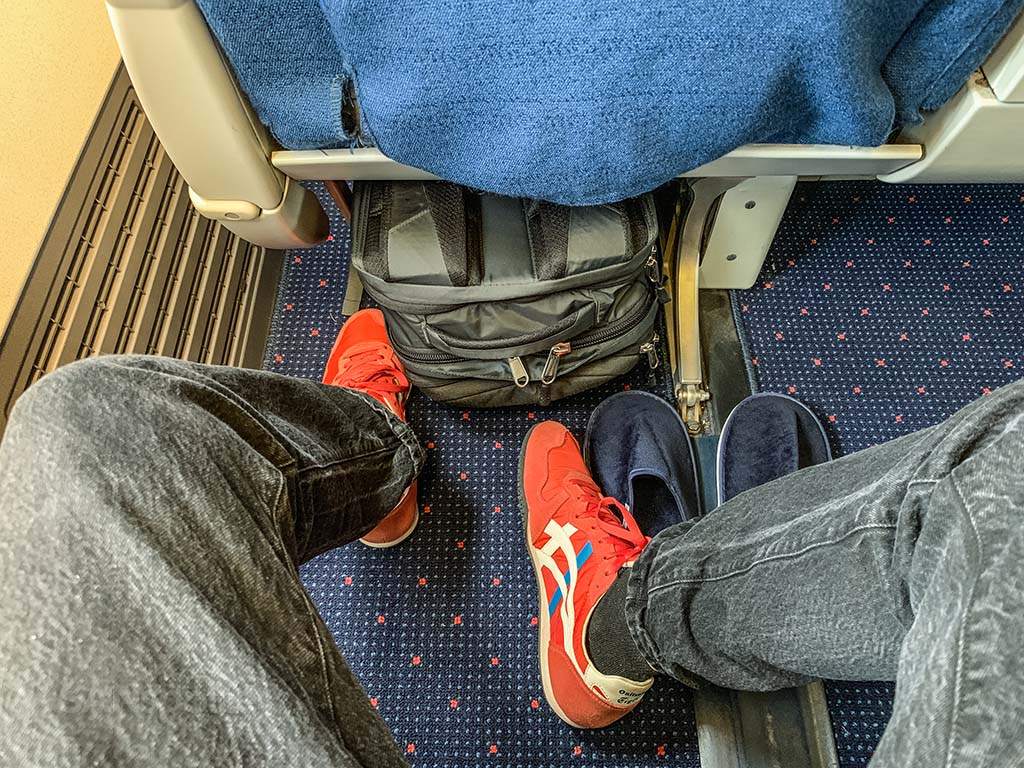 Just as the pre-departure service was on my flight from LAX to XMN last night, the flight attendants were extremely proactive and offered me the following (in this exact order):
Cold towel
The latest copy of The Beijing Review (opened to page 1)
Slippers (unpackaged for me and placed directly at my feet)
Drinks (a choice of orange juice or water)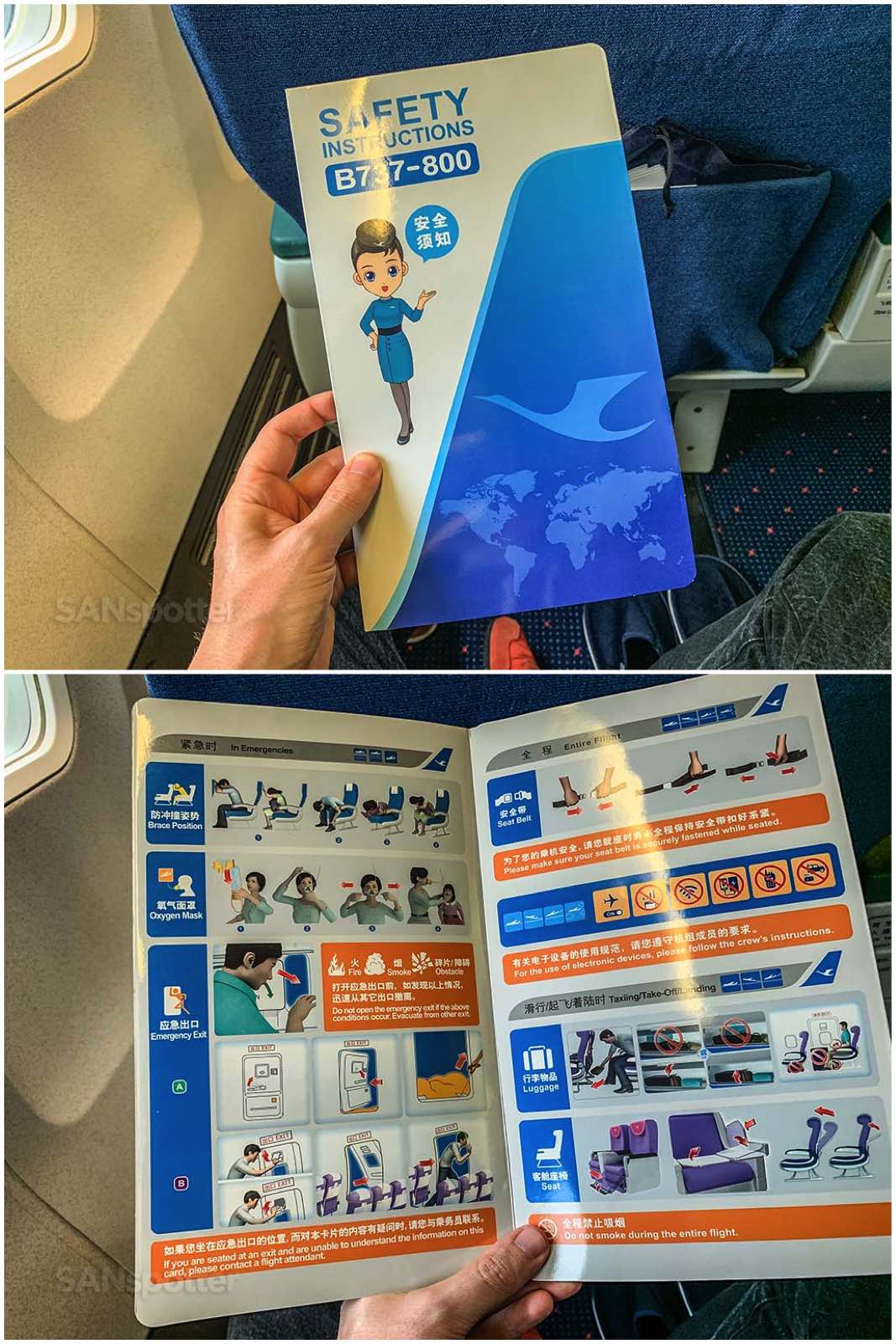 I've heard mixed reviews of Xiamen Airlines lately, but from where I was sitting, I was starting to think that this may be one of the best airlines I've ever experienced. The business class seats on this rinky-dink 737 weren't anything special, but the service was just as good as what I experienced in JAL international business class (which is saying a lot considering how good JAL is). I wouldn't go as far as to say it was as good as what I experienced in Qatar business class, but it was something special nonetheless.
Our departure out of XMN was fairly routine, right down to the thick layer of haze which prevented any really amazing departure pics. There's more detail in the video than what I'm showing here, but trust me – you're not missing much.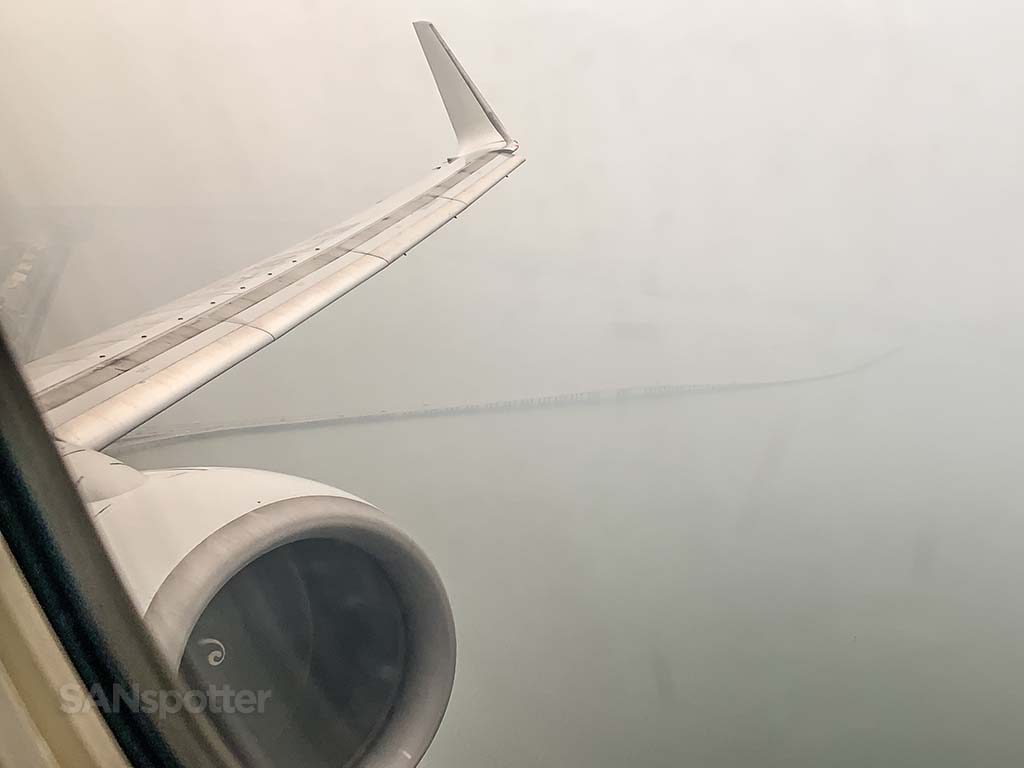 If you're hungry, Xiamen Airlines business class isn't such a bad place to be
I'm always paranoid about putting on slippers until the plane is hurtling towards cruising altitude (you never know when something is going to go wrong), but it felt great once I traded my trusty red travel sneakers for those navy blue slippers.
As far as I could tell, there were two meal choices on this flight over to Chengdu this morning: Chinese and (kinda) western. Would it be a proper Xiamen Airlines review if I chose the (kinda) western option? I think not. Therefore, my mind was made up even before I looked at the menu!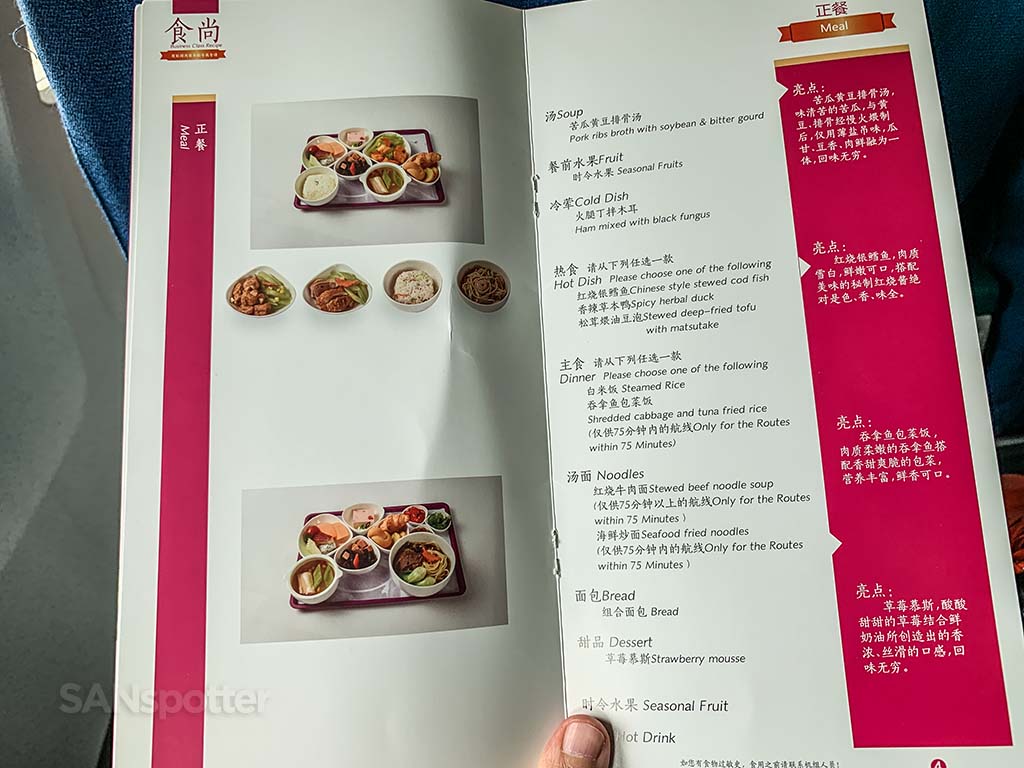 On a side note, it's always funny when I inform an Asian flight attendant that I prefer the "traditional" option because most seem surprised (and delighted) that I would be so bold. At least that's my experience…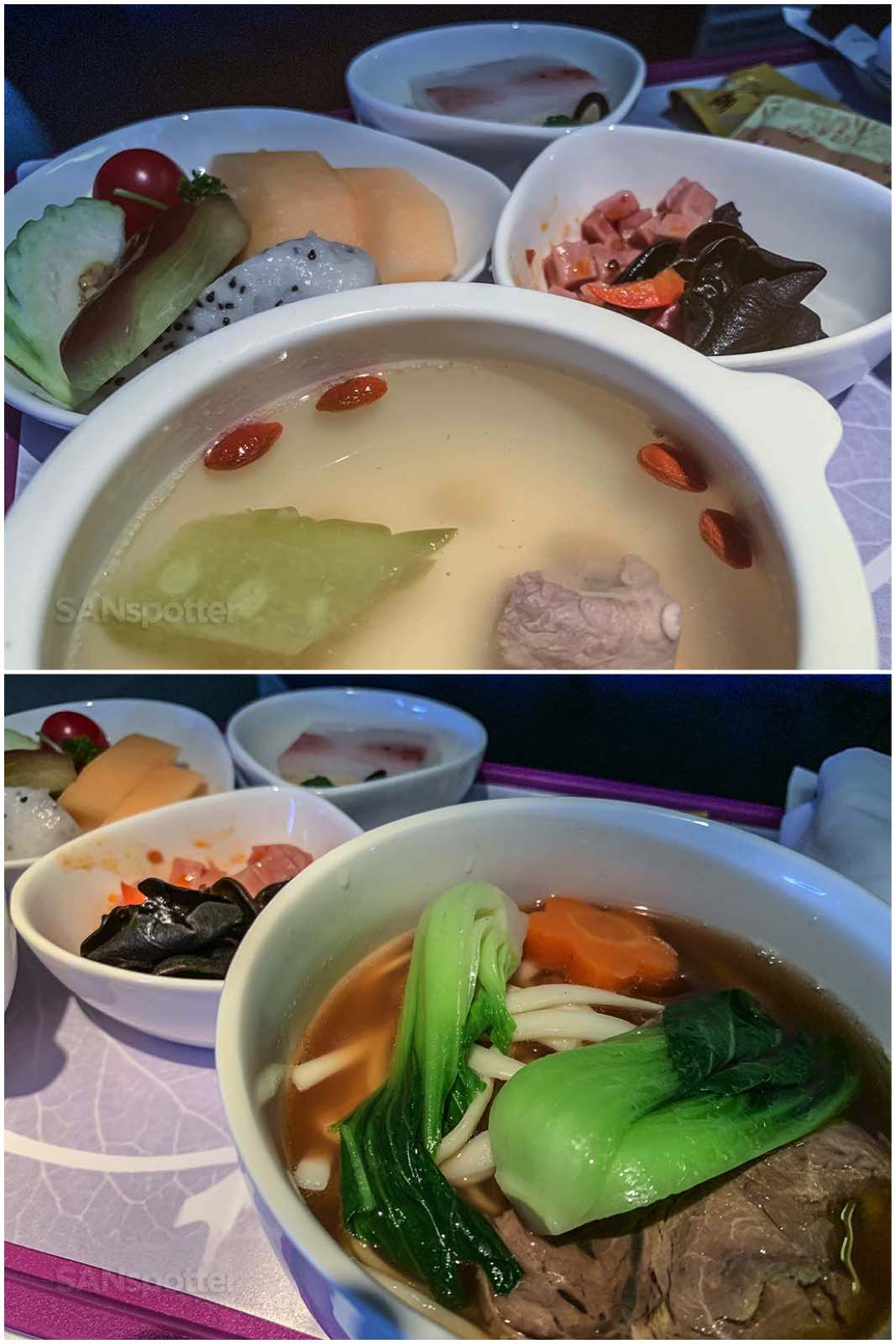 The food (all of it – right down to the last grain of rice) was incredibly good. Much better than what I experienced in China Airlines business class between Taipei and Seoul a few years ago. And probably equal to the food in China Airlines regional business class.
Part of the reason for the meal being so good was the fact that it was somewhat light. I'm not the biggest fan of really heavy airline meals (like I recently experienced in Vietnam Airlines regional business class), and I found this to be the perfect balance of quantity vs weight. Well done Xiamen Airlines!
Babies in business class are completely irrelevant when you're seriously jet lagged
As luck would have it (if you can consider it luck), there were two babies in this business class cabin this morning. Both were in the first row, along with their stressed-out looking parents. This did give me cause for concern when boarding the plane back in Xiamen, but I'm at the point in my trip reporting career now where I welcome such "challenges".
Trip reports are far more entertaining when things go wrong (such as the birdstrike I experienced on a United 747-400 out of SFO), and I was secretly hoping that this Xiamen Airlines review would involve projectile-vomiting babies and ear-pearcing screams all the way to Chengdu. Not that I like that kind of stuff, but it certainly helps to keep things interesting.
Unfortunately, I've got nothing interesting to report about rogue babies and parents who failed keeping them under control. They slept like babies (ha!) for most of the flight – just as I did thanks to a heavy case of jet lag that was slowly creeping up on me.
Sleep is the enemy of the airline reviewer unfortunately. I've got to stay awake and keep taking notes (and pictures) of everything that happens. I kept chanting "It's gonna be the best Xiamen Airlines reviews ever!" over and over as I slapped myself across the face to prevent myself from falling asleep.
One final note about this "babies in business class" thing As it pertains to this particular flight. The two flight attendants working the business class cabin this morning were absolutely phenomenal in helping those stressed-out parents getting situated with everything they needed for a comfortable flight. In my opinion, they went far above and beyond the call of duty to take some of the load off of the parents.
Not much is ever said about that kind of thing in the reviews that I read (especially not Xiamen Airlines reviews), so I just thought it was important to call that out. These flight attendants were amazing.
What is Xiamen Airlines domestic business class entertainment like?
You've probably noticed by now that there weren't any video screens carved into the back of those 1990's era seats. It's hard not to notice stuff like that these days, especially when airlines like Delta are putting really large video screens in thier domestic US first class product (as you can see here in my Delta A321 first class review).
Anyway, just as I experienced in Alaska Airlines 737-900 first class between Orlando and San Diego, the flight attendants handed out portable video players which were stuffed full of good movies and TV shows.
I personally didn't find the quality of the catalog to be on par with a western airline, but that is to be expected since this is China after all and they heavily promote Chinese movies and television dramas. If you're curious, I acted like an ignorant American and watched "Johnny English Strikes Again."
The quality and performance of these portable video tablets was really good. The only real complaint I have is the fact there was no way to hang it on the back of the seat in front of me. Every other viewing location I tried (on the tray table and center arm rest) was nothing short of awkward.
The descent and landing into Chengdu
By the time we started the descent into Chengdu, I couldn't help but to think that Xiamen Airlines is the best airline that nobody has ever heard of. You may recall that I was thinking something along those same lines at the end of my Xiamen LAX-XMN review, but now that my second flight on this airline was complete, it was pretty much set in stone.
Was I just really lucky on these two flights? Maybe. Keep in mind that not everyone is having equally good experiences on Xiamen Air. For example, fellow YouTuber Josh Cahill had a horrible experience a short while back. His problem was mostly with ground employees – which you can learn about in this video:
I personally feel that the things he experienced were appalling and highly unfortunate. But based on the great experience I've had with Xiamen Airlines, I tend to believe that he unluckily crossed paths with a bad employee who needs to be retrained (or flat out fired). All of the Xiamen Airlines employees I encountered both in Los Angeles and Xiamen on this trip were some of the friendliest and most helpful airline employees I've ever met. I really hope Josh gives this airline another chance!
Anyway, landing in Chengdu was really interesting. I've never been this deep into China before, and everything that I've heard about this amazing city has been, well…amazing.
The airport seemed to be quite interesting as well. I didn't expect it to be as large as it was, it was really neat to see all the different kinds of traffic here (both international and domestic).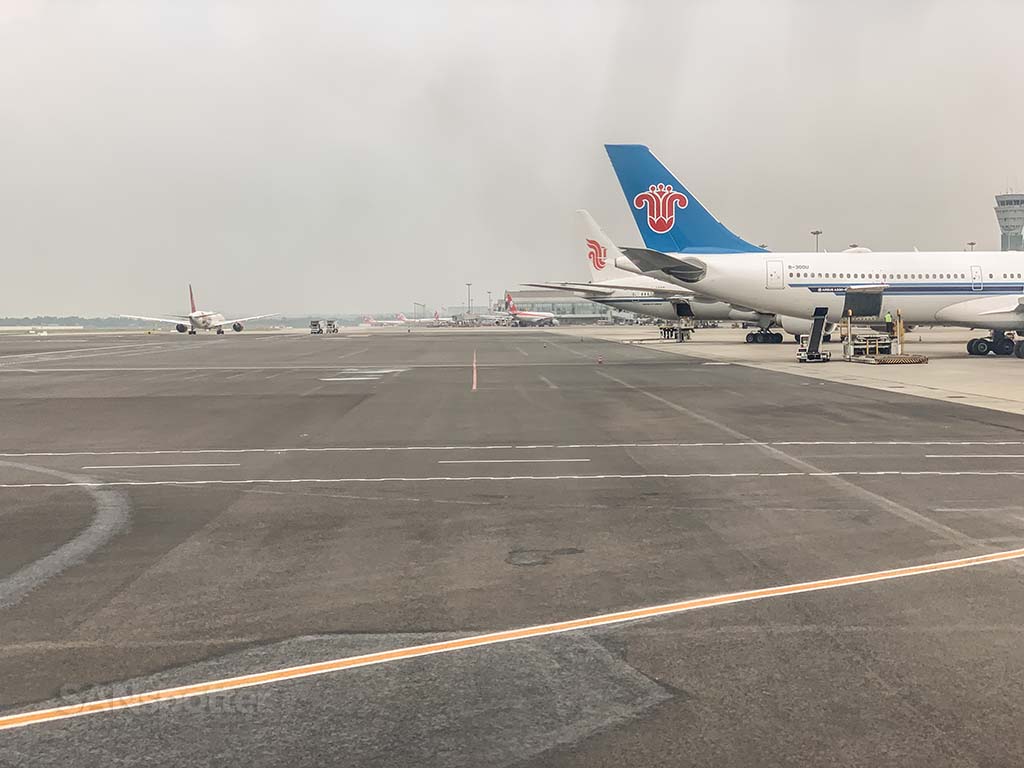 Excuse me while I end this Xiamen Airlines review on an extremely positive note
There are so many things that Xiamen Airlines is doing right. From the professionalism of the cabin crews to the food they serve at mealtime, I was impressed with all of it and I'm very much looking forward to flying with them again.
My only real criticisms don't really have anything to do with the airline at all. You see, the only point during this journey from Los Angeles to Chengdu where I felt slightly out of place and confused was at the Xiamen airport. Yeah, it's a nice enough facility, but it's definitely showing it's age and I didn't really care for how small and cramped it was. It's felt like a dark and gloomy place – at least compared to other big and beautiful airports in China such as Beijing and Shanghai.
I know. I probably sound really nitpicky complaining about such petty things, but this is an Xiamen Airlines review afterall and I am struggling to find ways to be critical. If the only thing that I've got to piss and moan about is the airport, I'd say that they're doing pretty darn good.
Anyway, it felt really great to walk off the airplane in Chengdu. As much as I enjoyed my Xiamen Airlines experience, it had been an extremely long journey from Los Angeles (San Diego actually) and I was very much looking forward to getting out of airplane mode for a few days. Yeah, flying all this way in business class was fun, but as I said in my video: flying is flying no matter which class it is and you'll always end up dead tired at the end of your journey no matter what.
Thanks again to Xiamen Airlines for an amazing experience. One of these days I'm going to get around to creating an official "best of" airline list with with super-nerdy SANspotter rankings. If I were to do it right now, Xiamen Airlines would be sitting up there towards the top in one of the three highest positions. I'm sure of it.