01. Delta Air Lines 717-200 economy class San Diego to Los Angeles
02. Air Canada 787-9 economy class Los Angeles to Toronto
03. Air Transat A330-300 economy class Toronto to Montreal
04. Air Canada A330-300 economy class Montreal to Vancouver
05. Alaska Airlines 737-800 first class Vancouver to Seattle
06. Alaska Airlines A319 first class Seattle to San Diego
Be honest. When's the last time you were disappointed that your upgrade cleared and that you had to give up your primo seat in economy class? Believe it or not, that's exactly what happened to me for this short 30-minute flight down to Seattle. Sure, it's always nice to write reviews about Alaska Airlines first class, but I had other plans and this unexpected upgrade threw me for a loop.
The thing is, I had a perfectly good window seat just ahead of the wing reserved – but my upgrade bumped me up to an aisle seat in row 2. That's perfectly fine for feeling privileged and special, but it's no good for making videos. If you didn't know already, takeoff and landing footage is a key element in all of my trip report videos and my new seat assignment wasn't going to allow for it.
I thought about challenging it, but I couldn't come up with a way of standing my ground without sounding like a total idiot. Demanding to be downgraded to economy class would have likely put me on a list of some kind, and when it comes to air travel and "lists" it's probably wise never to end up on one.
AS706
Vancouver, BC (YVR) – Seattle, WA (SEA)
Saturday, December 1, 2018
Aircraft: 737-890
Registration: N531AS
Duration: 27 minutes
Seat: 2C (first class)
As always, let's kick things off with the video before getting into the meat of this post. There's a bit of a spoiler in the title though, so make sure you cover your eyes as you read it. 🙂 Thanks as always to Epidemic Sound for providing the beats!
The Alaska Airlines first class ground experience at YVR
Unfortunately, it wasn't until about 1 hour before the departure of this flight that I knew that I was going to be living the high life up in first class. I had a 4 hour layover after my Air Canada A330-300 economy flight from Montreal that morning (which was way overkill since 1 hour layovers are possible in Vancouver), so three of those hours were spent wandering around the main terminal like a lowly economy class passenger.
You know – keeping busy with things like trying to find empty gate areas to relax in. Eating obscenely overpriced airport food. And getting reacquainted with the neon blue carpet here.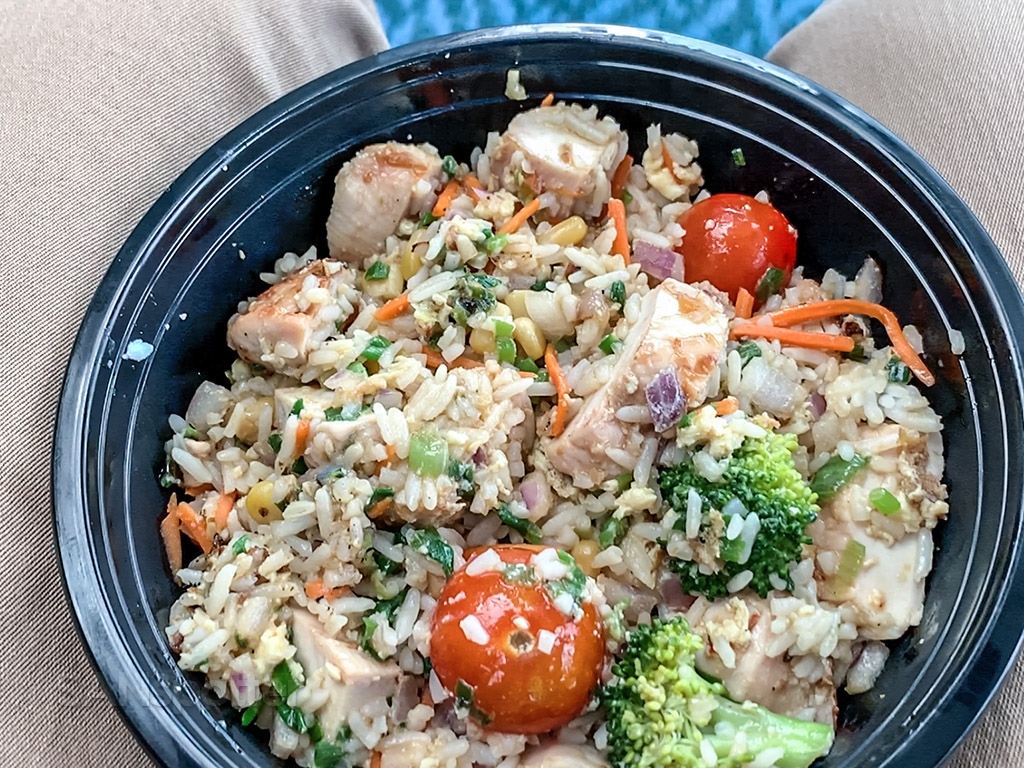 Even after all that time wasting, I still had three full hours to kill. Thankfully there is a Priority Pass Lounge here (the Plaza Premium Lounge located adjacent to gate 87), so I decided to duck in there for a bit and fill my belly with even more food. It wasn't like I was hungry or anything – I just enjoy taking full advantage of my Priority Pass membership whenever I can that's all.
I didn't know it at the time, but this is the official partner lounge for Alaska Airlines first class passengers here at YVR. So that means I would have ended up here anyway if I knew that I had been upgraded earlier.
How I access airport lounges
Get lounge access with Priority Pass – save up to 10%
Access to over 1300 airport lounges around the world, regardless of airline flown or class of ticket.
Complimentary snacks, drinks, and meals.
Digital entry for instant access through the dedicated Priority Pass app.
Check it out!
Note: I may earn a commission if you make a purchase, at no additional cost to you.
Don't expect much in Alaska Airlines first class between Vancouver and Seattle
A big part of my disappointment for being upgraded was the fact that this was a short 30 minute flight and that there was likely to be no extra service at all. On flights as short as this, it doesn't really matter if you're in economy or first class. It really doesn't.
Of course it's fun to text friends and family with something like "I'm just about to hop on a first class flight to Seattle, so let's sync up later" but the reality is that there's nothing that the flight attendants can do in that short amount of time that will make it an experience to remember.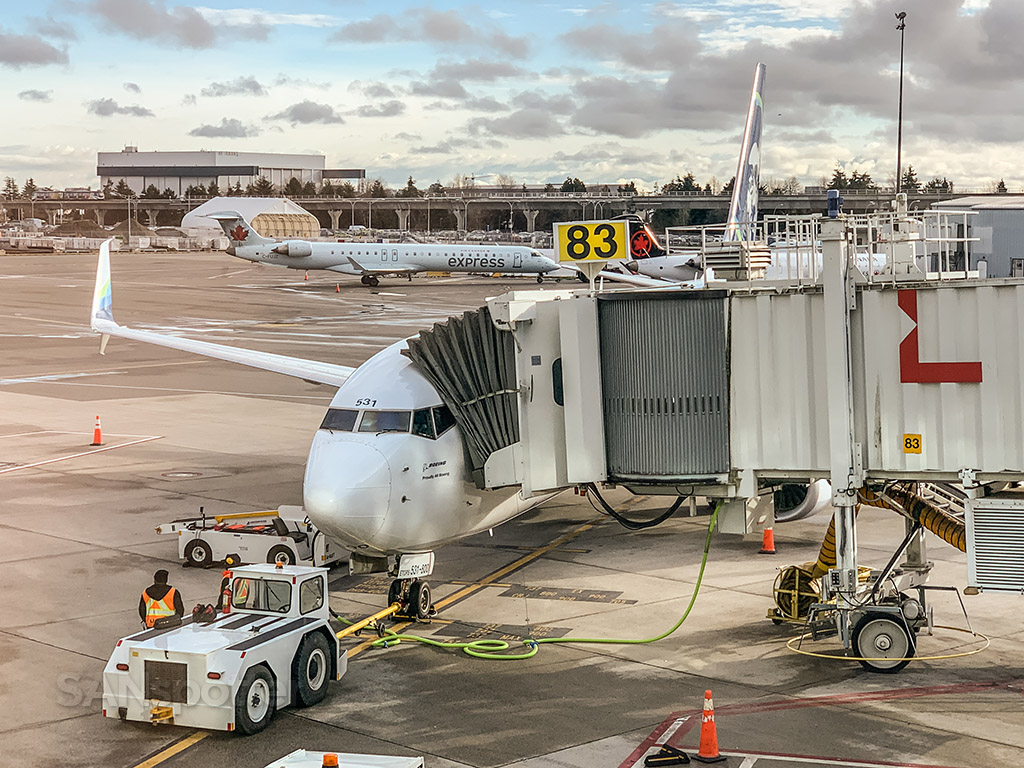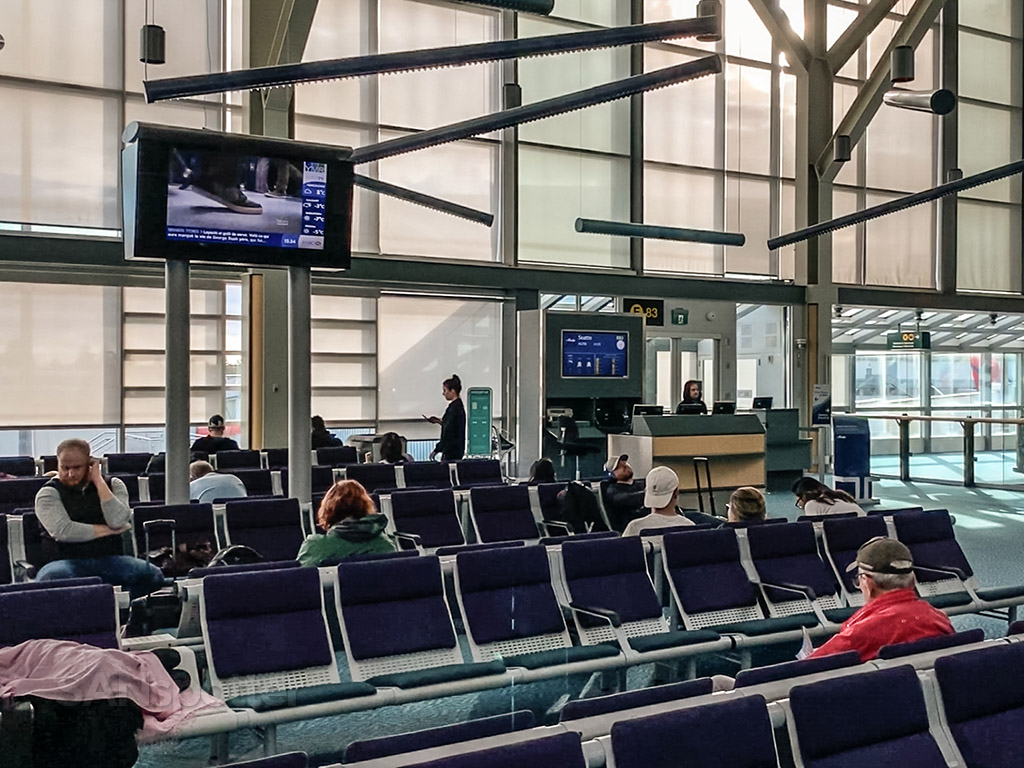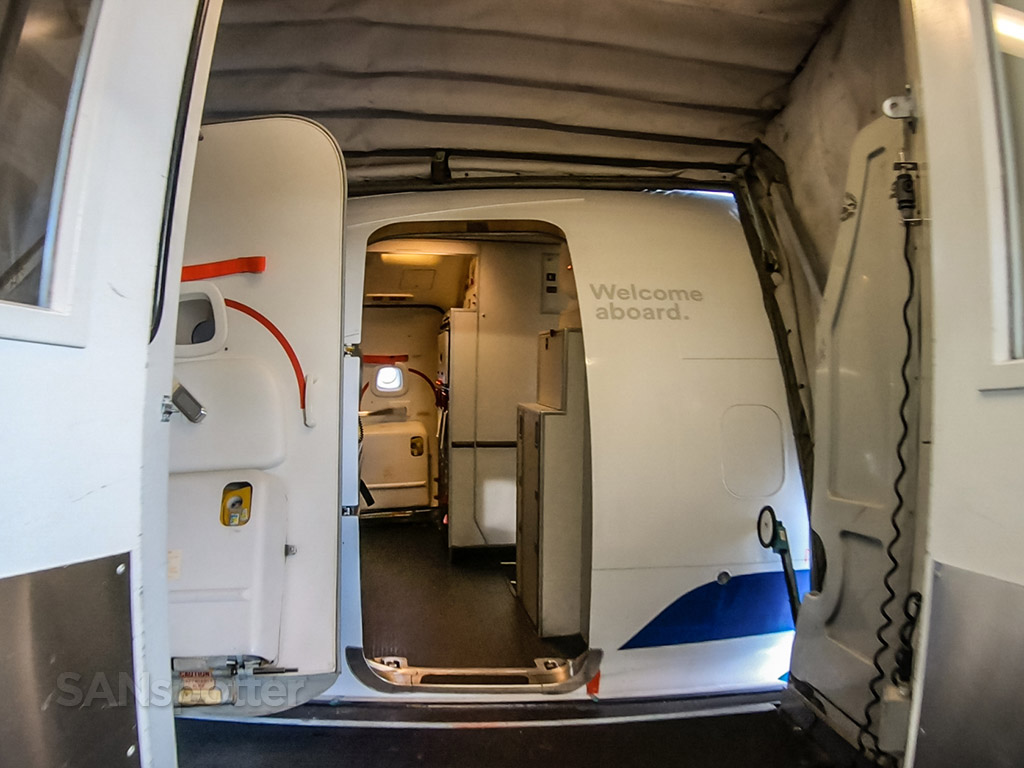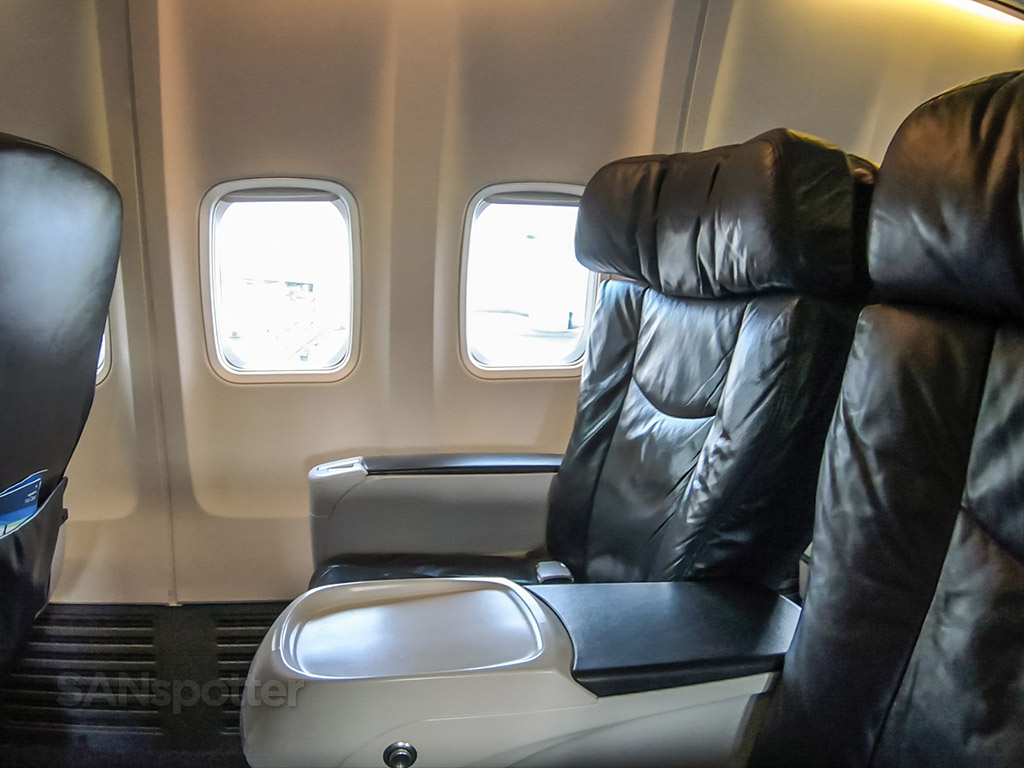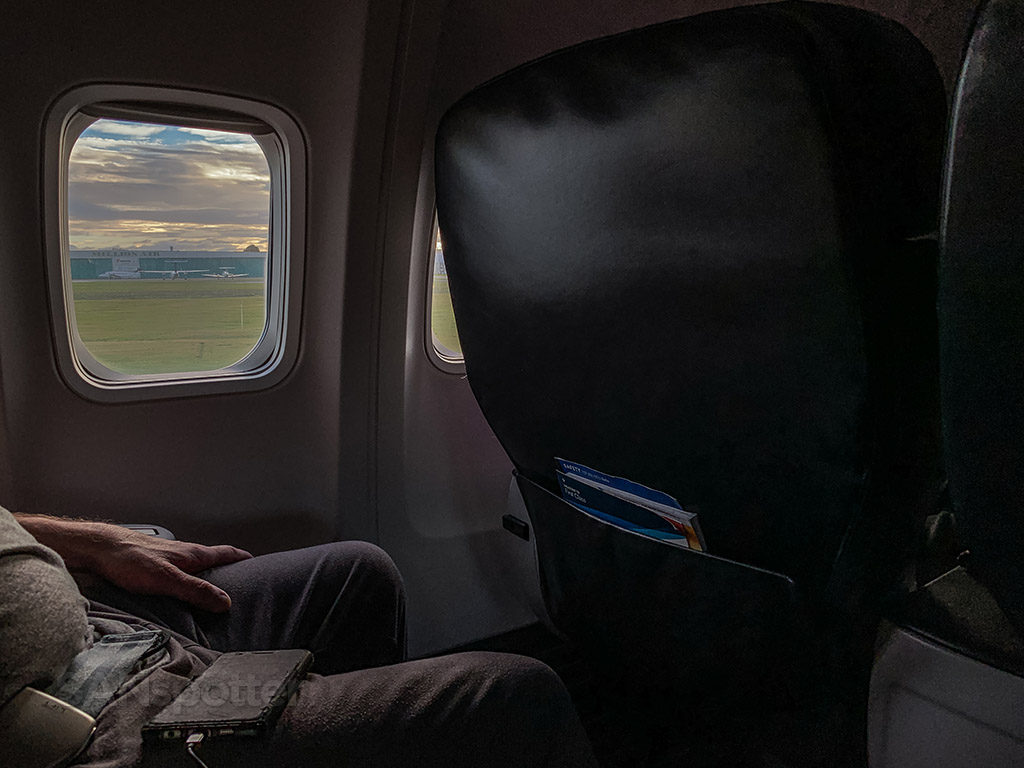 Despite expecting very little, it ended up being worse than that. The flight attendants remained seated for the entire duration of the flight and never once did they come through the aisles asking if we needed anything.
The lack of a snack of some kind was surprising, but the fact that they made no effort at all to offer an ounce of "first class" service was surprising. Perhaps I was still bitter about not being able to get any takeoff or landing footage for my video? Maybe. All I do know is that I'm a much happier guy when I'm in a window seat popping miniature pretzels into my pretzel hole.
What are the advantages of Alaska Airlines first class between Vancouver and Seattle then?
I've spent a vast majority of this post whining and complaining about first world problems, so it's safe to assume that most of you are thinking that Alaska Airlines first class is worthless on short segments such as this. And you'd be right for the most part.
However, there are a few reasons why it's still worth it. First, being towards the front of the plane (without having to fight for overhead bin space) is a blessing when you've got a tight connection to make upon arrival. Having to wait for everyone else to deplane as you watch the minutes tick away is stressful as heck when you've got a plane to catch! This isn't a problem if you're seated in one of the first three rows.
Second, a bigger seat is always better – no matter how long the flight is. I used to be one of those people who didn't care about seat size, but after injuring my back right before my flight to San Francisco on Icelandair, having the extra room to get comfortable (and look like an old man doing it) is much appreciated.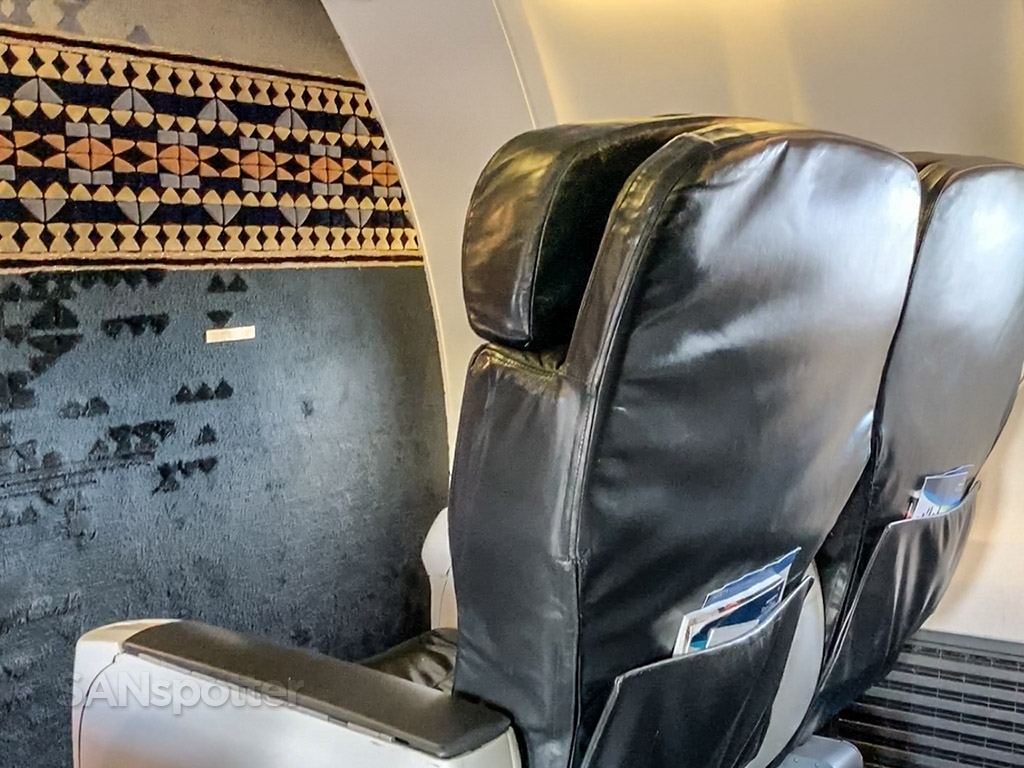 Last but not least, it's fun to feel important as the economy class passengers sulk by on the way back to their seats in the bowels of the plane. Don't pretend you disagree. You know you like it!
Conclusion
This isn't the first Alaska Airlines review I have ever written (SAN-MCO and SAN-KOA are two of my most recent), and up until this point I've never had anything bad to about this airline. And to be fair, I didn't think that this quick little jaunt down to Seattle was all that bad actually – the crew was extremely friendly, the plane was clean, and we arrived on time. That's all that matters anyway.
But that's not to say that I don't think they could have done a better job this time. Alaska Airlines first class (from what I've heard and experienced) is getting better and better every year, but the lack of service on this particular flight leads me to believe that they've still got a few kinks in the system that need to be worked out. The least they could have done was throw a few bags of pretzels at us.