01. Delta Air Lines 717-200 economy class San Diego to Los Angeles
02. Air Canada 787-9 economy class Los Angeles to Toronto
03. Air Transat A330-300 economy class Toronto to Montreal
04. Air Canada A330-300 economy class Montreal to Vancouver
05. Alaska Airlines 737-800 first class Vancouver to Seattle
06. Alaska Airlines A319 first class Seattle to San Diego
Remember 10 to 15 years ago when the only way to fly between SAN and LAX was on tiny (and usually really smelly) turboprop aircraft that would rattle the fillings right out of your teeth? The first one or two times was kind of fun, but it got old once I realized that it was causing more frequent trips to the dentist. And I hate going to the dentist.
Thankfully it's 2018 now, and the current selection of flights between San Diego and Los Angeles doesn't have me holding my jaw in fear. United has been running 737's between SAN and LAX for several years now (both 737-800's and -900/ER's), while American has been offering the ERJ-175 with a proper first class cabin. That's a huge upgrade from the old United Express EMB-120's and Saab 340's that used to buzz-bomb this route on a daily basis.
Even more interesting is the fact that Delta has jumped into the mix, as they've been running their own metal between these two city pairs for several years now (mostly with the ERJ-175). It used to be that they'd codeshare with American, so you'd always get stuck on an American Eagle Saab 340 against your will if you were flying up to make a Delta connection up at LAX. And that was never fun.
But now, every once in a while, they throw one of those quirky 717-200's on this route and I couldn't help but to give it a proper SANspotter try.
DL1750
San Diego, CA (SAN) – Los Angeles, CA (LAX)
Thursday, November 29, 2018
Aircraft: 717-2BD
Registration: N953AT
Duration: 49 minutes
Seat: 26E (economy class)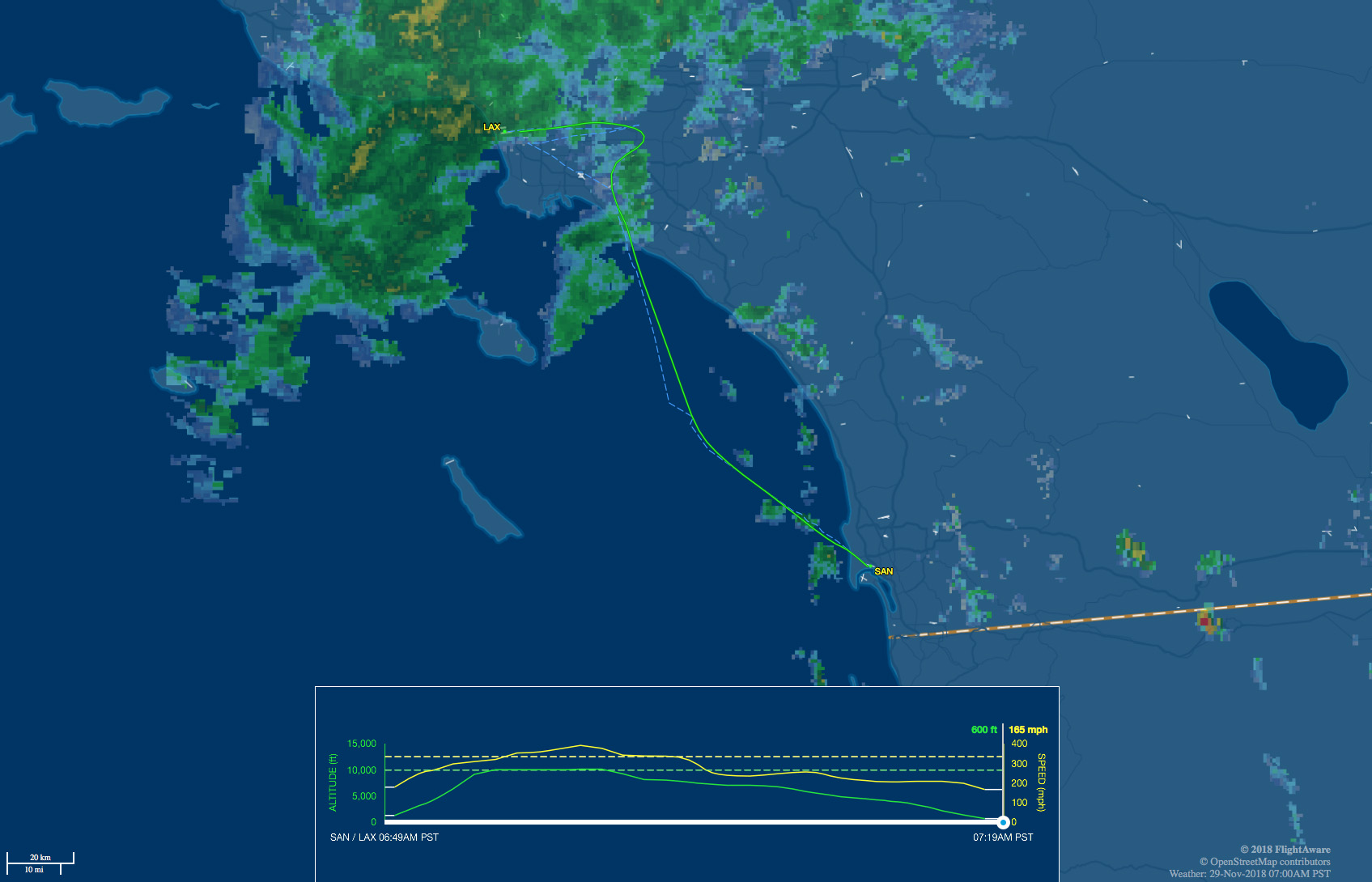 The 5 things you need to know about Delta 717-200 economy class service between San Diego and Los Angeles
1. It's not a regular thing so grab it when you see it
I first noticed that Delta was running 717's between SAN and LAX earlier last year, and I was super excited to try it. Unfortunately, this particular trip was the only time I have seen it pop up in my flight search when I needed a quick hop up to LA. It's basically as rare as affordable heath care in the US, and I haven't studied the schedules deeply enough to be able to figure out if there's a pattern of when it goes away and comes back.
Long story short, if you have any amount of AvGeek in you (or you are the kind of person who hates small planes), this is the option you need to choose. It's the best one on the SAN-LAX route right now, by far.
2. Bigger plane = better opportunity for upgrades and empty seats next to you
One of the obvious reasons for this being the best flight option from SAN to LAX is that it's a larger plane than the majority of regional jets that are flying this route at all hours of the day. With more seats available, the odds are better that you'll score that upgrade or have an open seat next to you in economy class.
This particular flight was on a Thursday morning (6:20am departure time), and I'd say it was 50% full. If that. I had an entire row to myself and there was only one person behind me, so it ended up being a really comfortable ride up to LA.
3. Bigger plane = takes longer to get on and off
The only real downside to being on anything larger than a regional jet on a route as short as SAN to LAX is the fact that it just takes longer to get everyone on and off. There's no getting around that unfortunately (no matter how clever they get with boarding zone shenanigans). It's just a matter of physics. Even a dumb art school graduate like me knows that.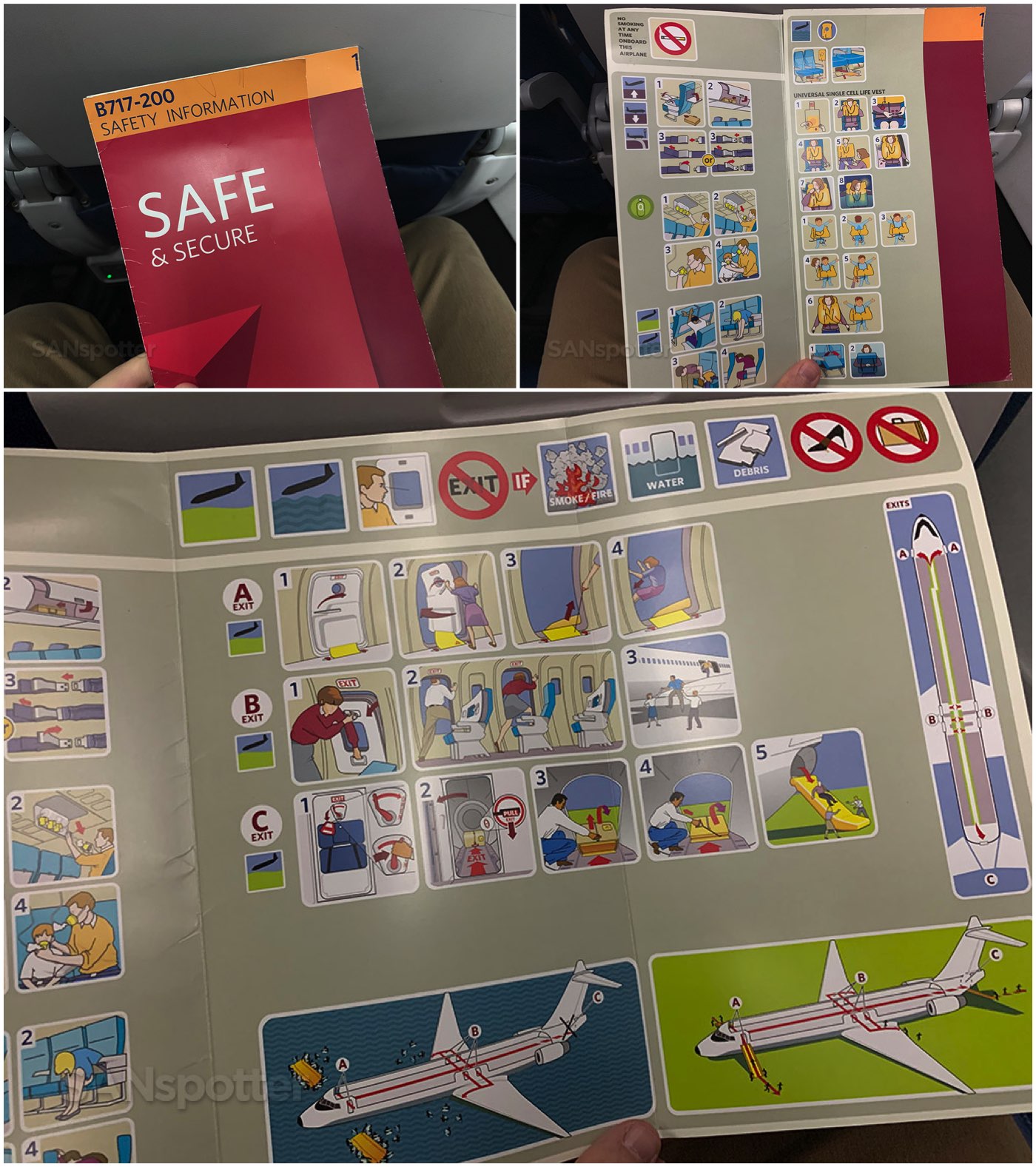 Thankfully it was a really light load this particular morning and I had a 3.5 hour layover before my Air Canada flight to YYZ, so I wasn't feeling any pressure at all. Throw in a full load, a delay, and a tight connection into the mix, and…well…don't forget to pack your Peptol Bismol.
4. Row 26 has the best views of the engine
If you're reading this blog (and you've made it this deep into this post), there's a pretty good chance that you're at least somewhat of an airplane nerd. And there's nothing wrong with that. Be proud of who you are! There's absolutely no shame in admitting that you want to look out the window to see the engine spinning a mere meter from your AvGeek face.
So yes – the best engine view row on the Delta 717 is row 26. Row 25 is too far forward (though acceptable if it's the only option left), and row 27 is too far back since the engine will block much of your view to the outside – and you won't even be able to see inside the engine, which is the whole point. Oh – and no, it's not too loud in this row. Sure it's more noisy than it would be at the front of the plane, but it won't give you a migraine.
5. If you have the choice between a United 737 and a Delta 717, take the 717
I've had the opportunity to ride the United 737-800 in economy between SAN and LAX a handful of times (both directions) and my only complaint about it is how long it takes to get everyone on and off the plane. The seat pitch on those UA birds isn't the best either, but it doesn't matter much since it's a short flight anyway.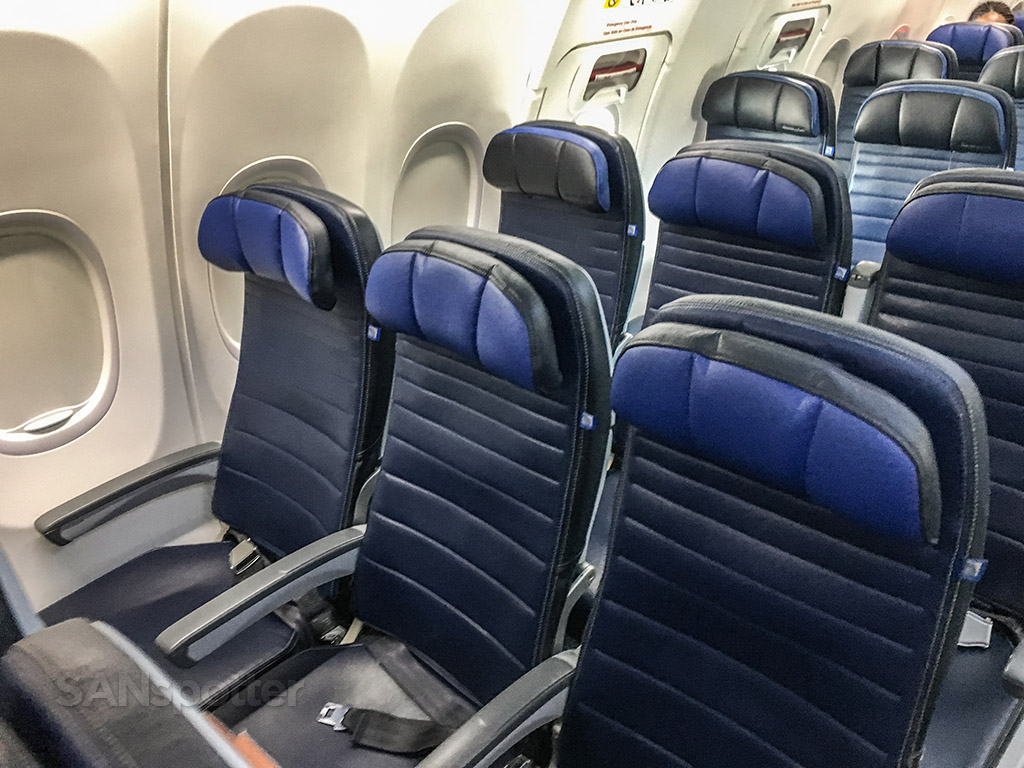 Personally, I consider the Delta 717 to be the more comfortable aircraft for two reasons: first, economy class is a 2-3 layout, which feels more spacious than the 3-3 layout on the United 737's. Second, the first 1/3 of the 717 cabin is whisper quiet due to the engines being all the way in the back. The Delta 717 clearly wins.
So there you have it
The Delta 717 definitely feels special (and a bit of an oddball) on this high-traffic San Diego to Los Angeles route, and it certainly more comfortable than any competitive regional jet option. In my opinion, it's the right-size aircraft for SAN-LAX, and the one you'll want to choose if it's available. Yes, there is enough demand to fill a 757 every two hours or so, but there comes a point where it takes longer to board the plane than it does to fly the route, and that's never a good passenger experience.