As I was standing in line waiting to check in for this short United 737-800 economy class hop down to San Diego, I swear that I saw a pompous dude with an Emirates boarding pass snicker at me as he walked by. And I didn't even challenge it.
I knew full well that economy class on the UA 737-800 isn't anything to be proud about. I totally deserved being looked down upon by anyone holding a more exotic boarding pass than I.
UA1568
Los Angeles, CA (LAX) – San Diego, CA (SAN)
Wednesday, May 30, 2018
Aircraft: 737-824
Registration: N77542
Duration: 28 minutes
Seat: 27F (economy class)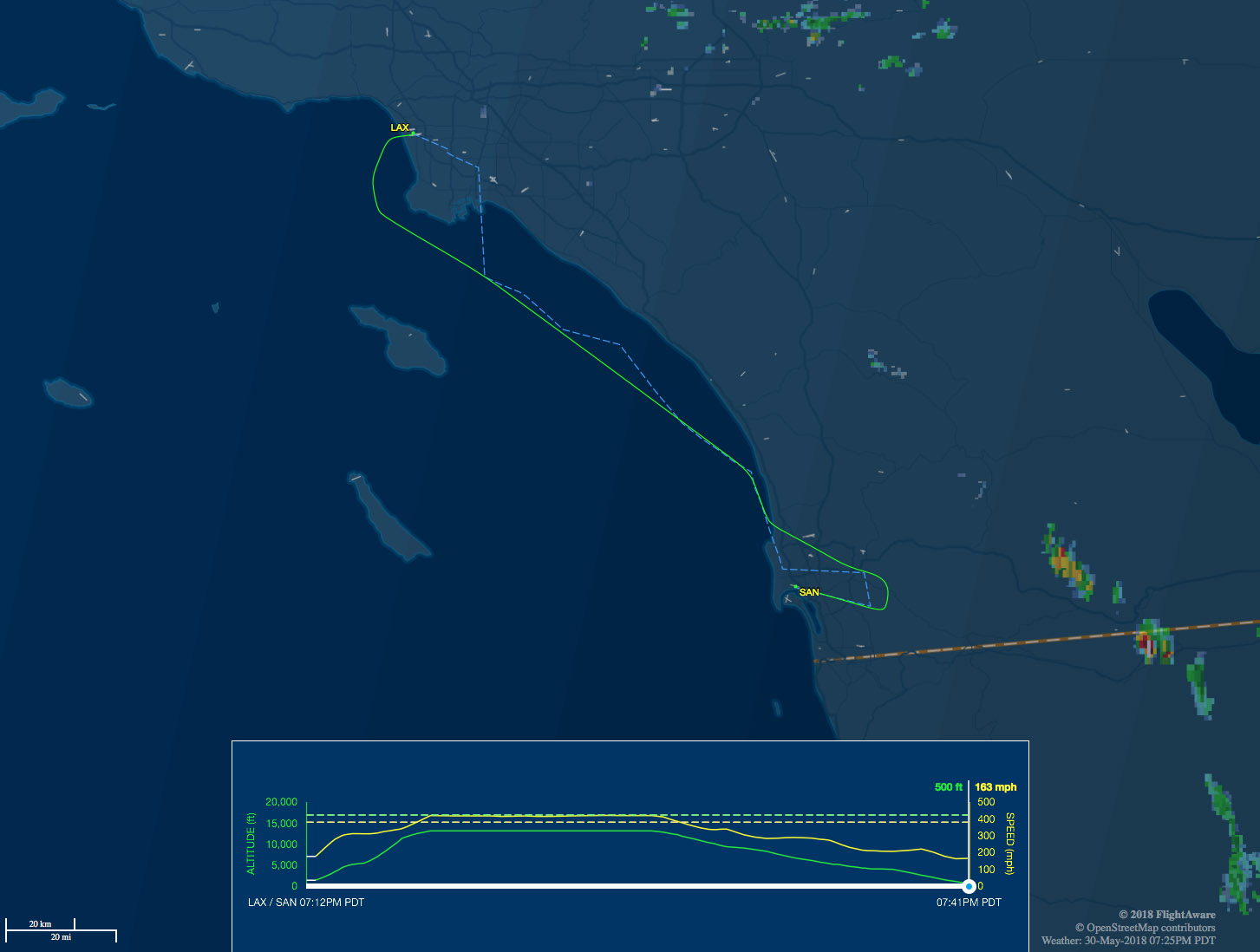 The fact that I was able to check in and clear security with over an hour and a half to go before departure was a bit unexpected and very much appreciated. The LAX international arrivals procedure usually takes quite a bit of time, and I thought for sure that I would be cutting it close in order to catch my UA flight down to San Diego this evening.
As luck would have it, I managed to get through passport control, customs, and the domestic security checkpoint at terminal 7 all within the span of 45 minutes. That's got to be a record of some sort – I'm sure of it. Does Guinness not keep track of international to domestic connection times at LAX? If they don't, I think they should because I do believe that what I achieved on this day was noteworthy and significant enough to be documented in the history books.
Finding yourself stuck in terminal 7 at LAX with a lot of time to kill isn't so bad actually if you've got access to the really nice and recently-renovated United Club. This is the same lounge that I said so many good things about last fall before my trip to New York, so it was nice to go back and get reacquainted with it for a while and catch up on some work.
Things just kept getting better the closer it got to flight time. As I was pacing around waiting for boarding to commence, I realized that there weren't many people in the gate area and that it was going to be a very light load down to San Diego this evening. Not that it matters all that much for just a 25 minute flight, but having room to spread out a little bit on the final segment of a very long and exhausting trip is always very much appreciated.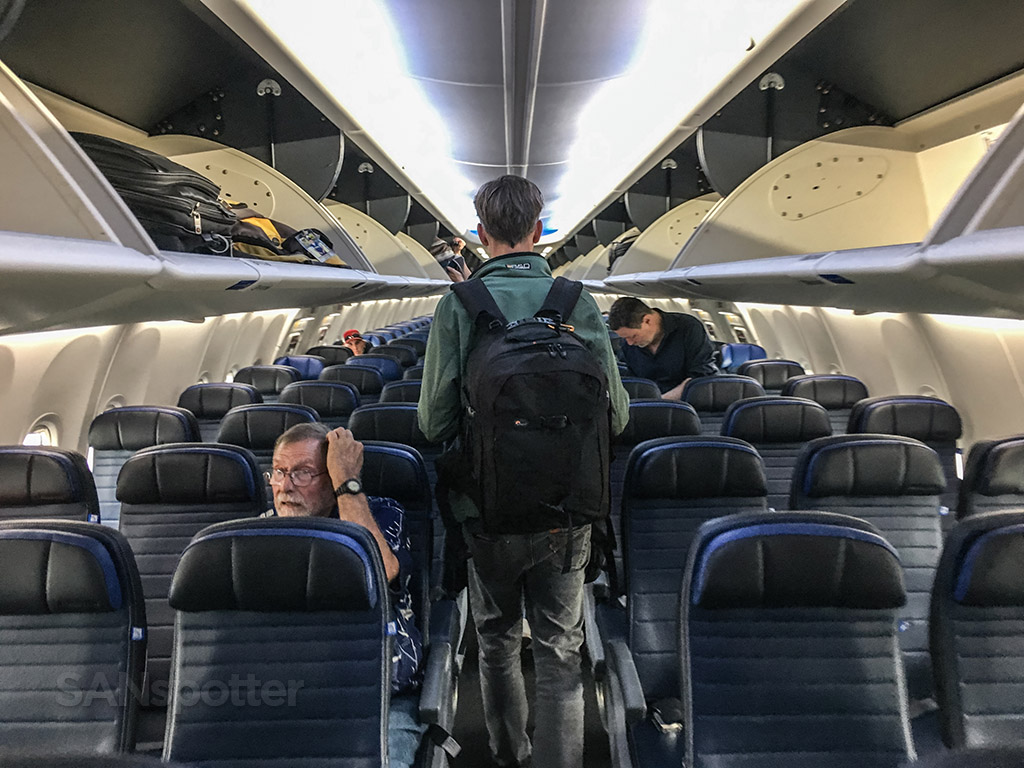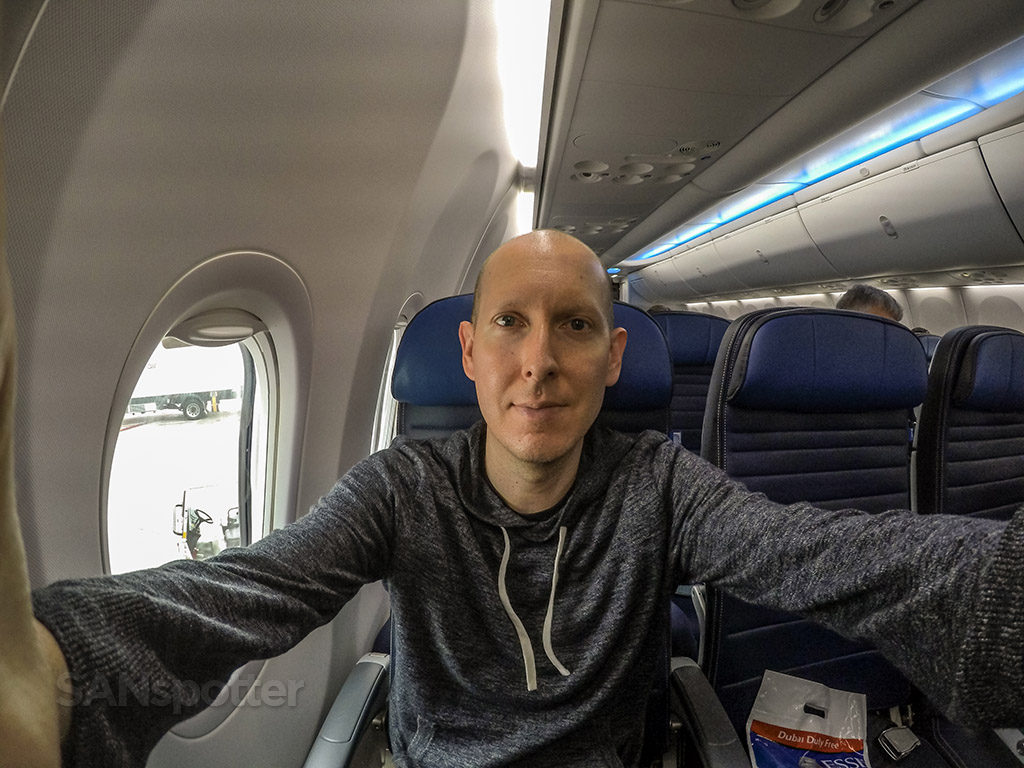 Once boarding was finalized and the forward boarding door was shut, the person sitting next to me (there's always someone sitting next to me) bolted for a better seat. I also took a moment to wish that the guy with the Emirates boarding pass who snickered at me several hours earlier could see me now.
The space between me and the seat in front of me wasn't much to brag about, but I could spread my wings (and legs) like a Pterodactyl and not be able to touch anybody or anything! Economy class travel isn't always glamorous, but sometimes it all works out and I was really quite comfortable all alone way back here in seat 27F.
And just so I'm totally clear, it was comfortable enough for economy class. It wasn't anywhere near as nice as what you saw in my United 737-800 first class review.
My iPhone had just stopped smoking by the time I pulled her out again and started ripping off photos of the departure sequence (sorry buddy!). Window seats on the left-hand side of the aircraft are the best when departing runway 25R at LAX, and I was super stoked to have a window that was crystal clear and free of scratches and dirt. Unfortunately, May Gray was in full effect, so even though I would have a really good view of the terminals as we took off, Mother Nature would not be providing much in terms of beautiful evening sunlight.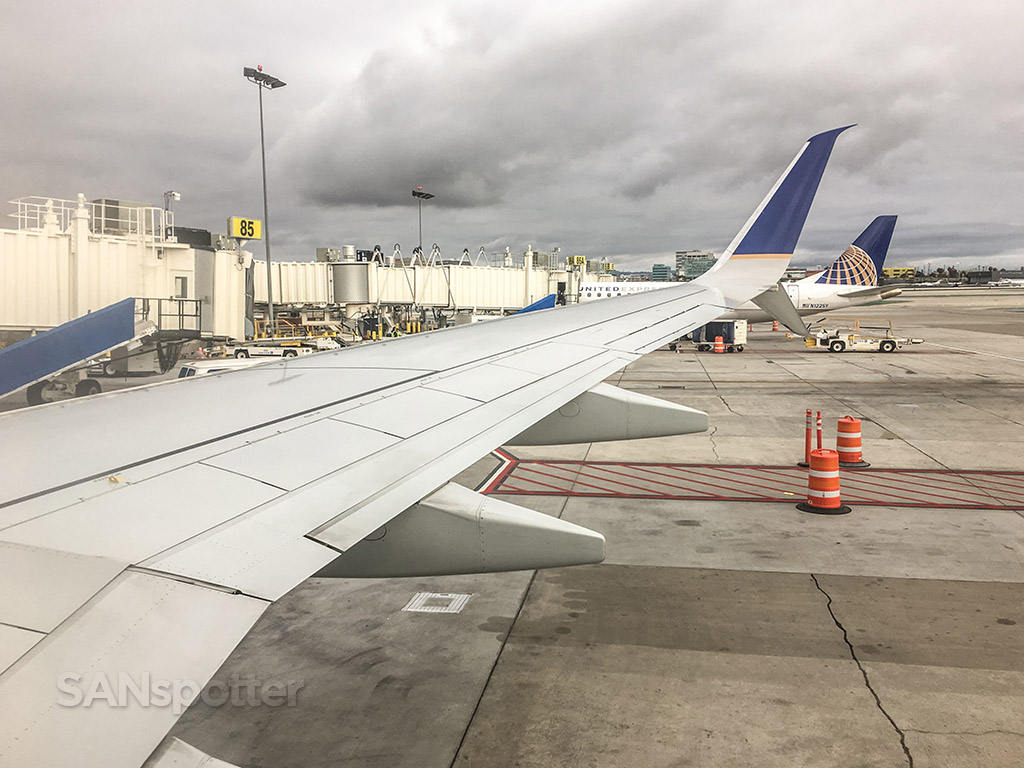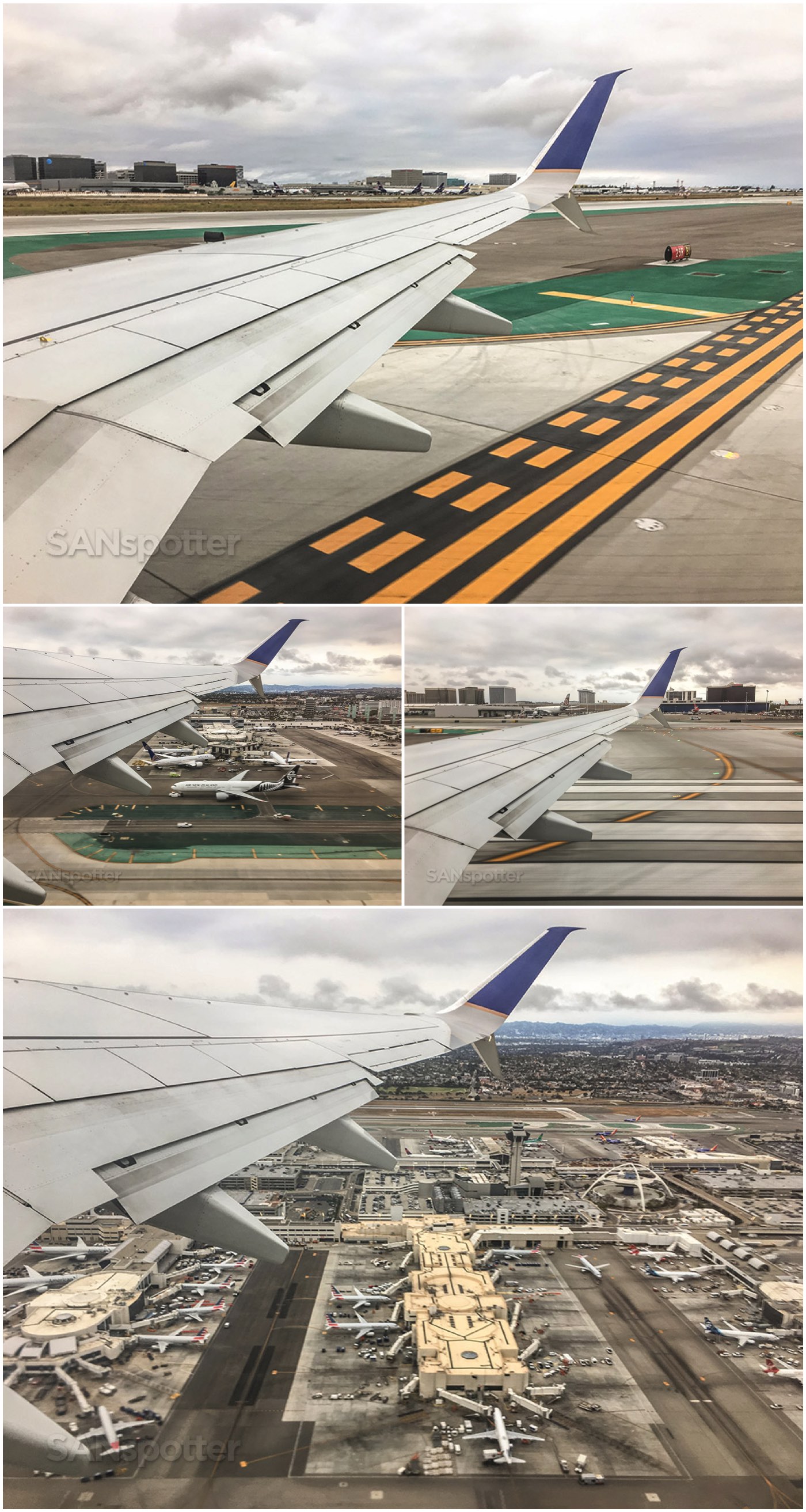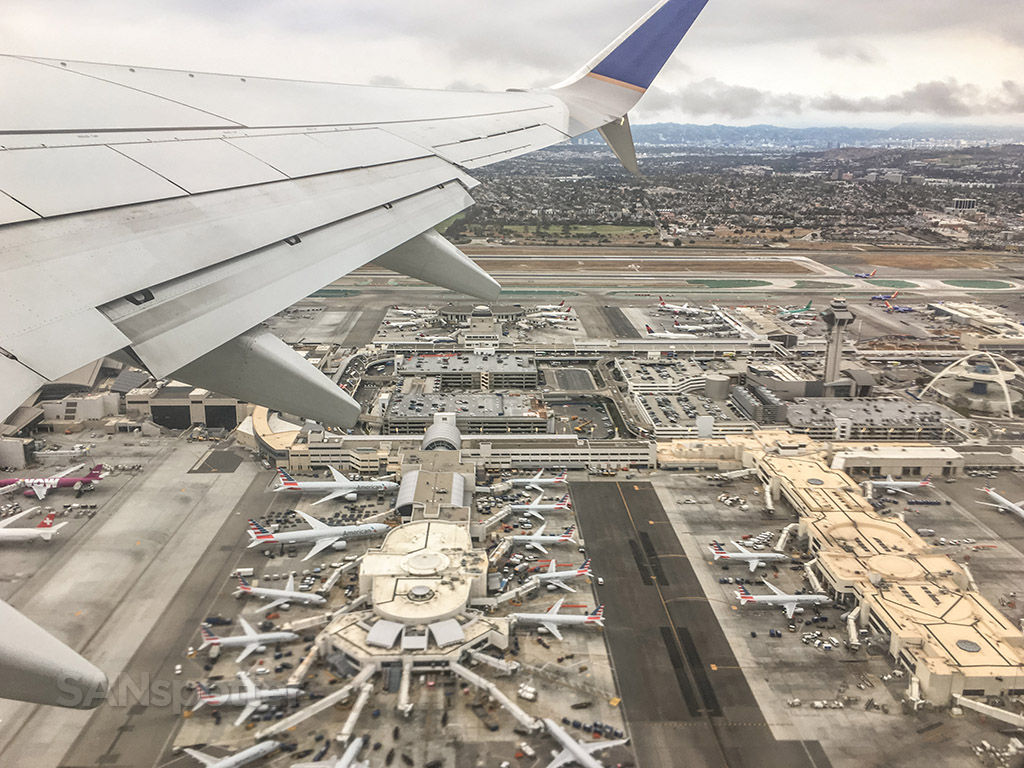 The flight attendants working this evening's flight down to San Diego must've been really happy about the light load, because they came through the aisles several times with drinks and snacks – which I'm guessing wouldn't have been possible if every seat was occupied. Just for the record, I was pretty much sick and tired of airplane snacks at that point (having just flown all the way from Dubai), so I passed and simply enjoyed the view out the window instead.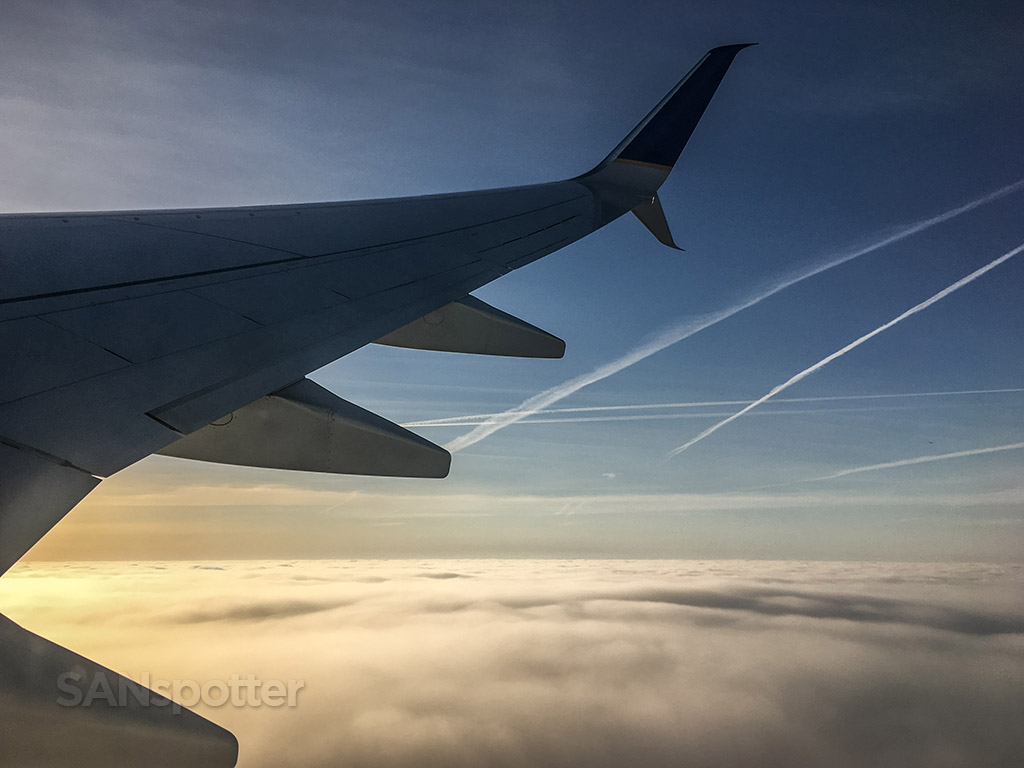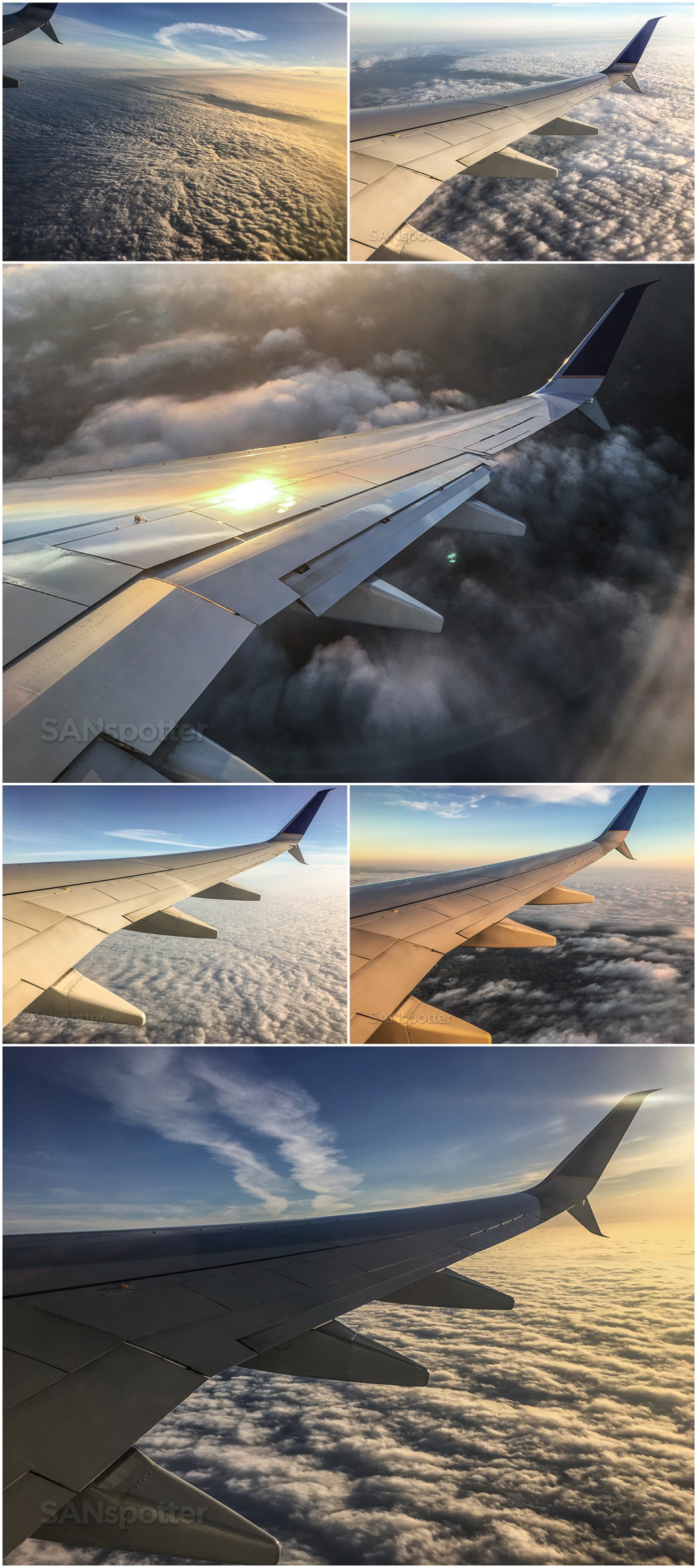 Even though the marine layer was hanging really low and heavy over Southern California this evening, it was bright and sunny above the clouds and seeing the sunshine for just a few minutes was very refreshing. But then – it was back to reality as we made the approach into San Diego and had to dip beneath that gloomy layer of clouds.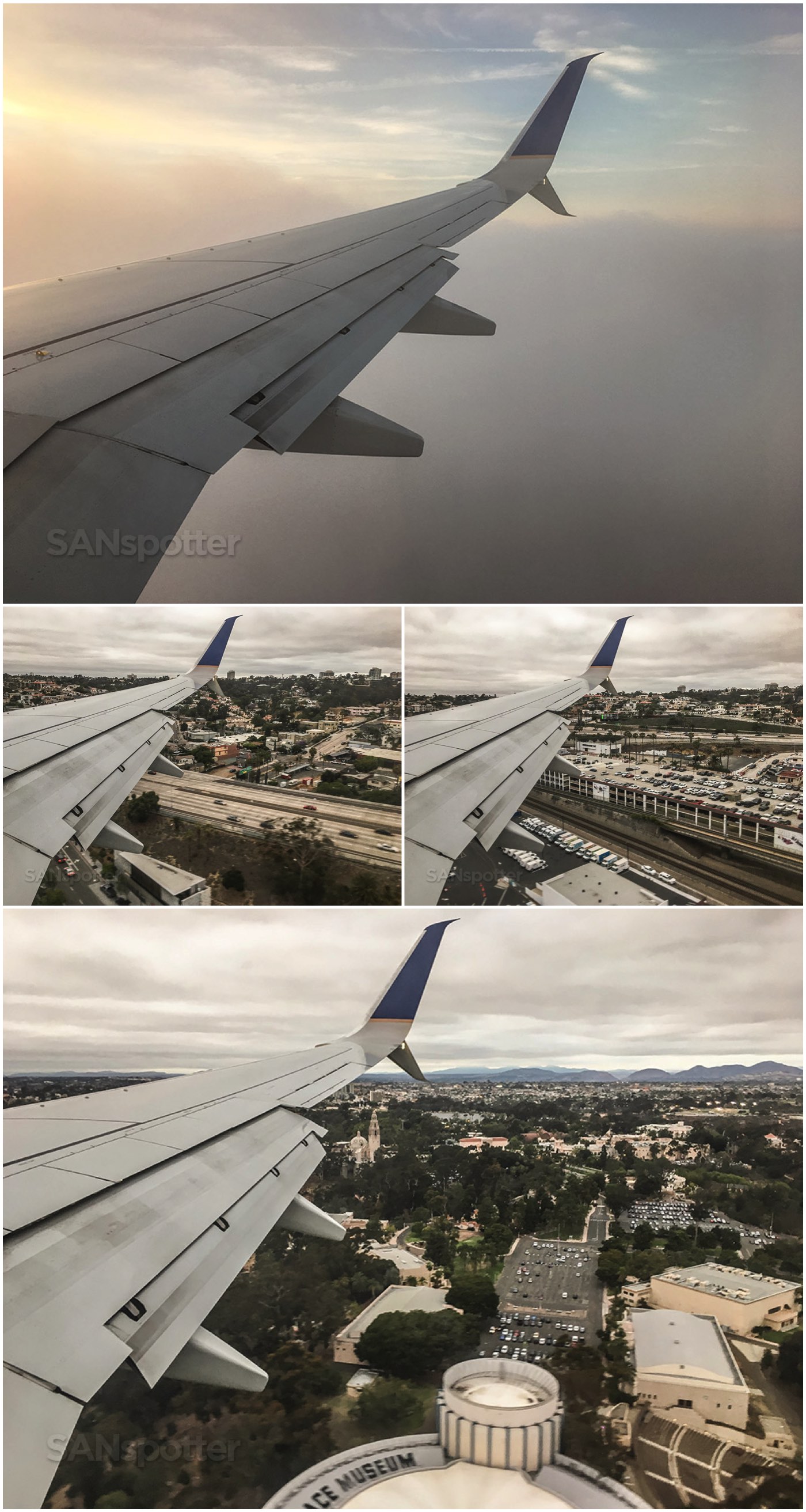 The cloudy skies hanging low over San Diego upon arrival couldn't put a damper on my mood at all, because this trip to Dubai had been an amazing experience that went much better than I ever could have expected. I always feel a sense of achievement and proudness (is that a word?) after really big trips like this, and it's hard not to walk off the airplane and out of the airport feeling like I have successfully crossed a major life goal off my list.
What about other travelers? I would imagine that some feel a bit of disappointment and sadness upon returning home after such an epic adventure, but I've never been one to feel that way. If anything, homecomings like this just add fuel to the fire which causes my wanderlust to burn in a rage much more intense than before.
Someone call the fire department, because I'm headed back to the airport soon…