Wouldn't it suck if, due to unforeseen reasons, Singapore Airlines scraps their A350-900ULR (Ultra Long Haul) business class product for good? And that I totally wasted my time writing all of this? And that my blog dies a horrible death, and then I won't be able to feed myself and…
Yikes. Let's just do the review and hope for the best.
SQ38
Singapore (SIN) – Los Angeles, CA (LAX)
Monday, January 27, 2020
Aircraft: A350-941ULR
Registration: 9V-SGB
Duration: 14 hours 13 minutes
Seat: 15K (business class)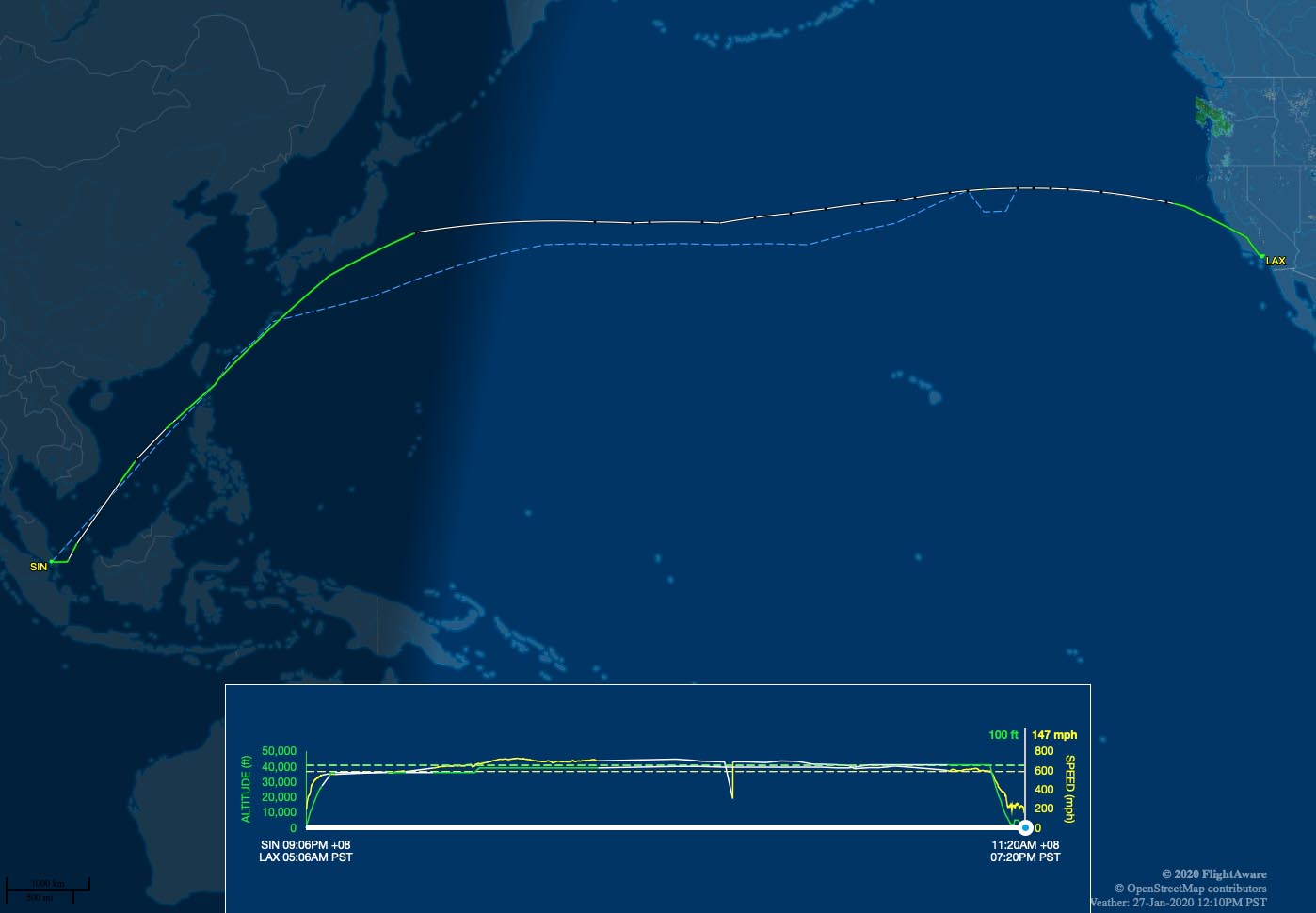 The full video review of my flight from Singapore to Los Angeles
To be honest, it would've been absolutely no problem for me to have made this Singapore Airlines business class review video 45 minutes long. I most certainly had enough footage to do it, and the challenge was real trying to parse it all down to less than 15 minutes.
That being said, I still felt like I was able to accurately document the Singapore airlines A350 business class experience in just 12 minutes and 38 seconds. I mean, anything longer than that would've just been repetitive footage of myself saying "oh my God" over and over again.
Finding just the right music to match my overexcited feeling was absolutely no problem with Epidemic Sound. Their vast library of YouTube friendly music made easy work of trying to find just the right music (and sound effects) for conveying exactly how spicy and hot that main entrée was at the 7:13 mark.
Full transcript of my video review (with pics!)
For those of you not familiar with the way I do things, the following is a full transcript of the video I created for this flight. Do be sure to watch that if any of this looks interesting…
Arrival at Changi Airport (Terminal 3)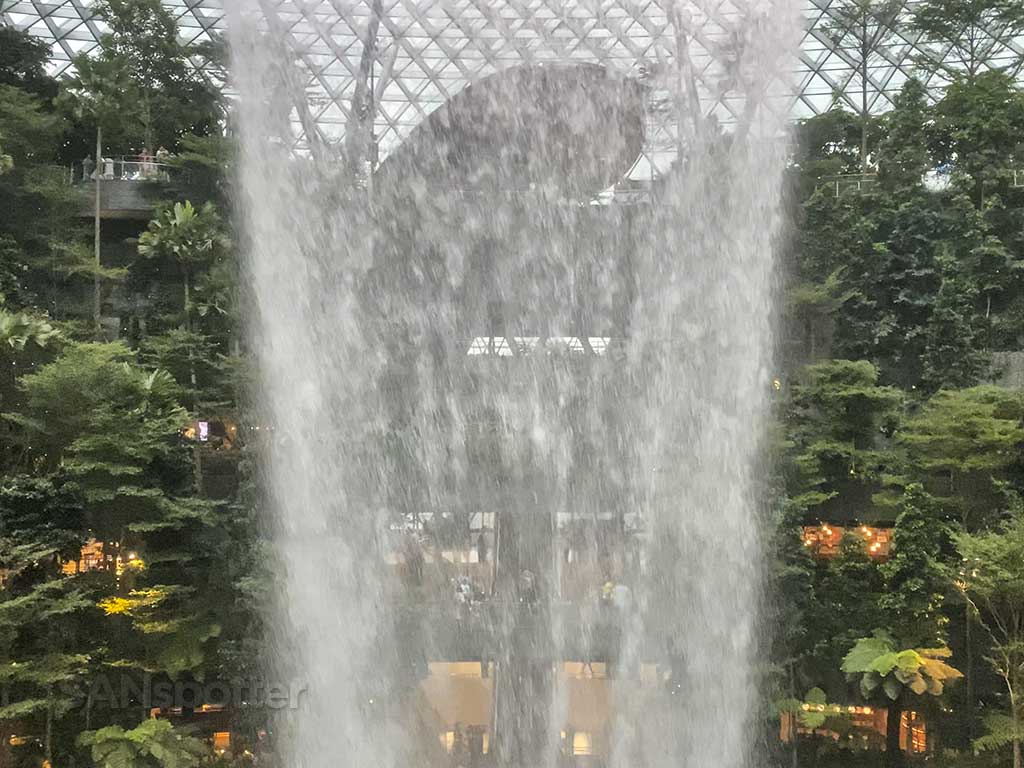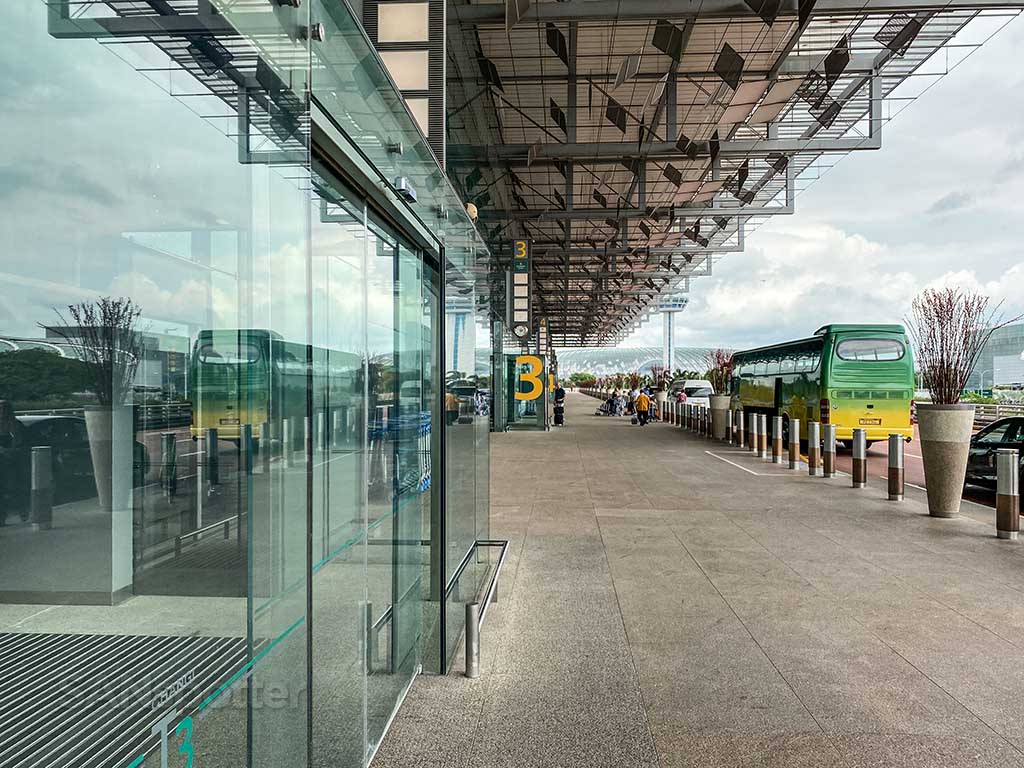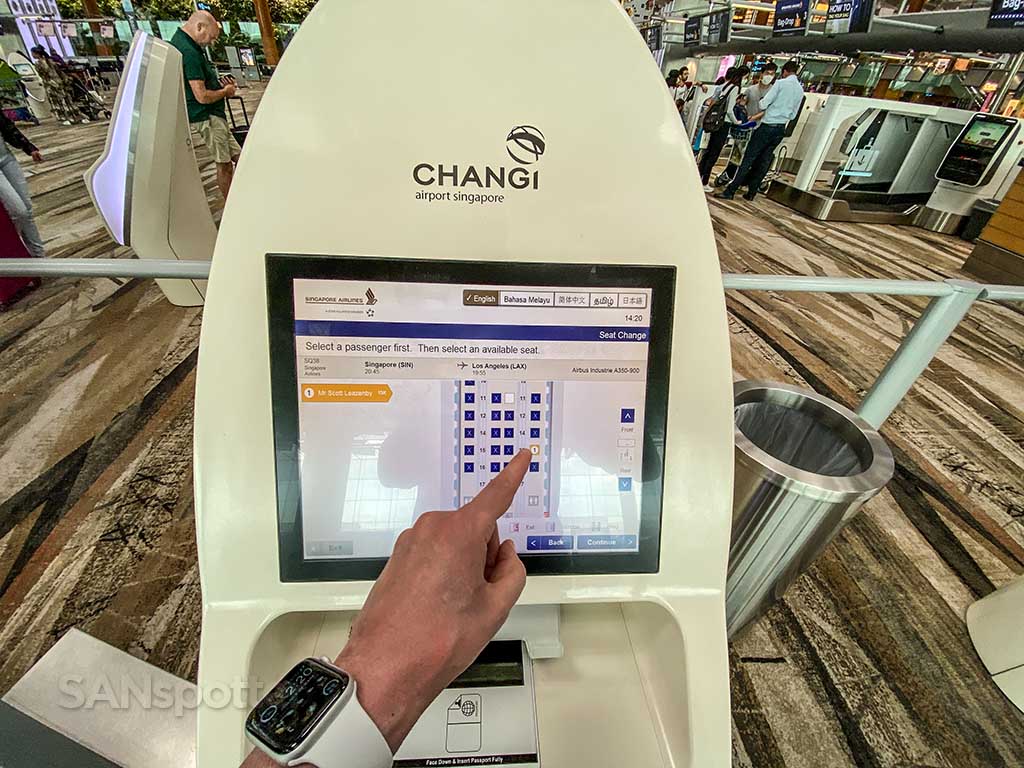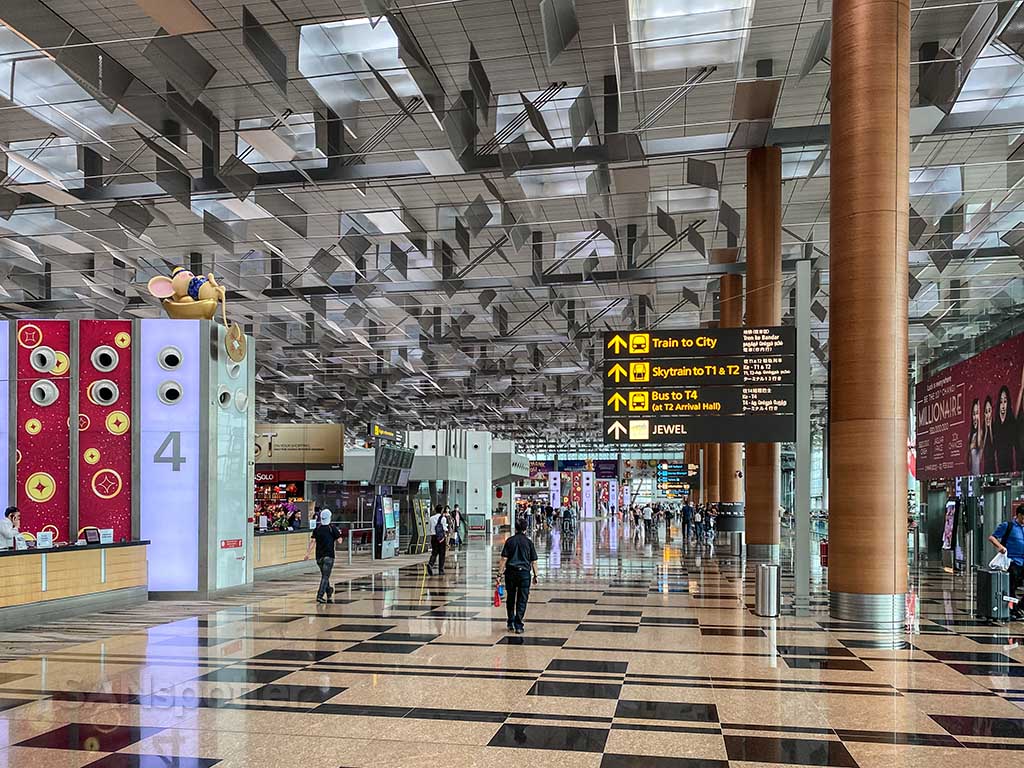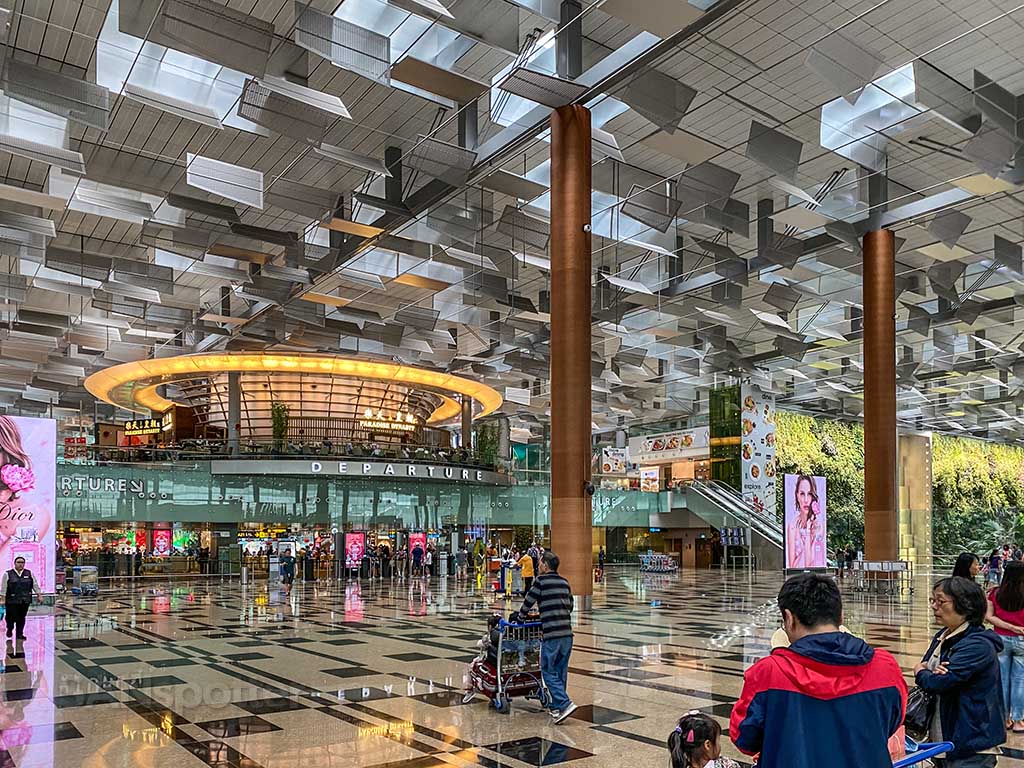 The amazing SilverKris lounge at SIN
Anyway, this is an amazing lounge, and I will be posting a completely separate (and more thorough) review of it soon. Do stay tuned…
The pre-departure experience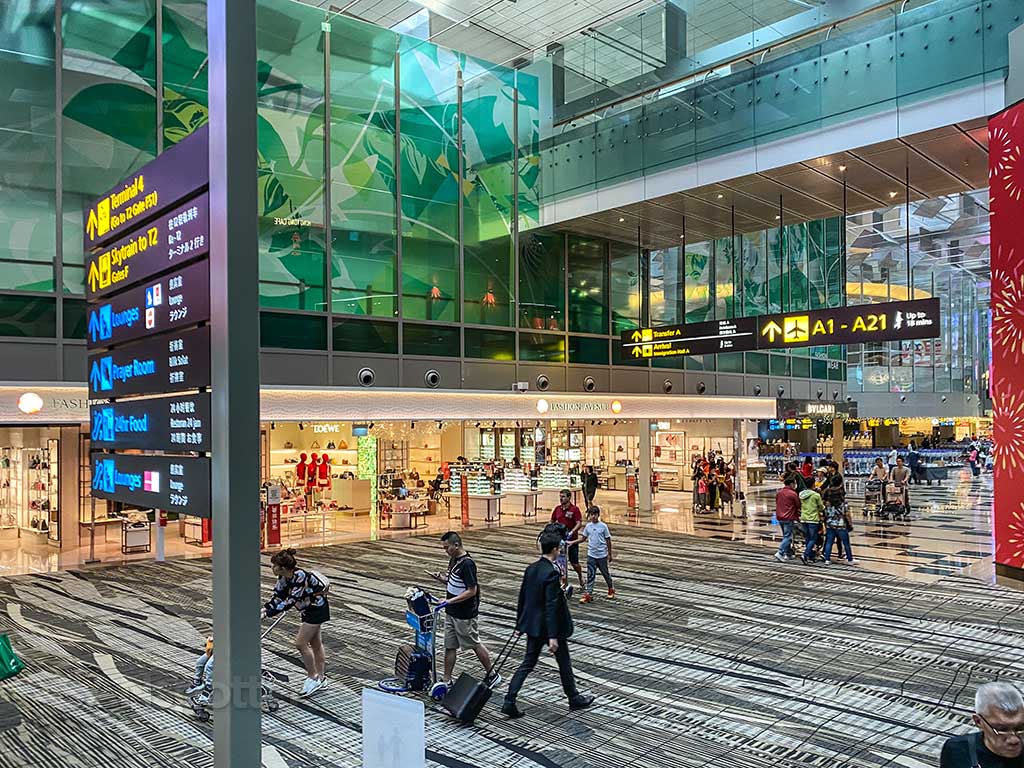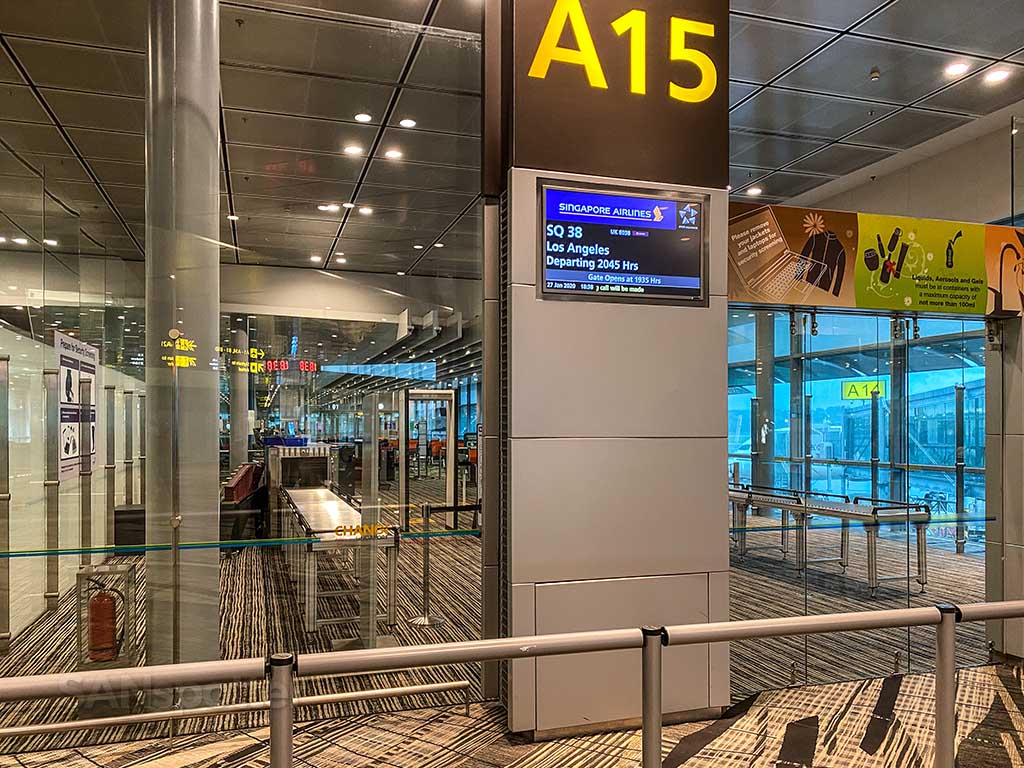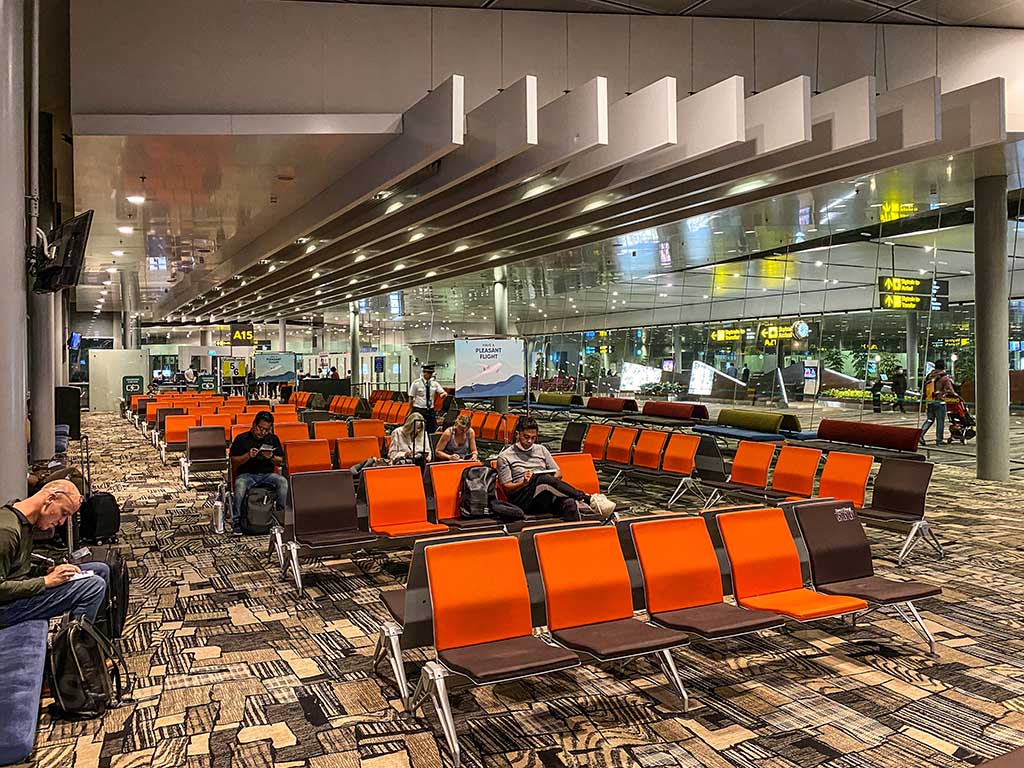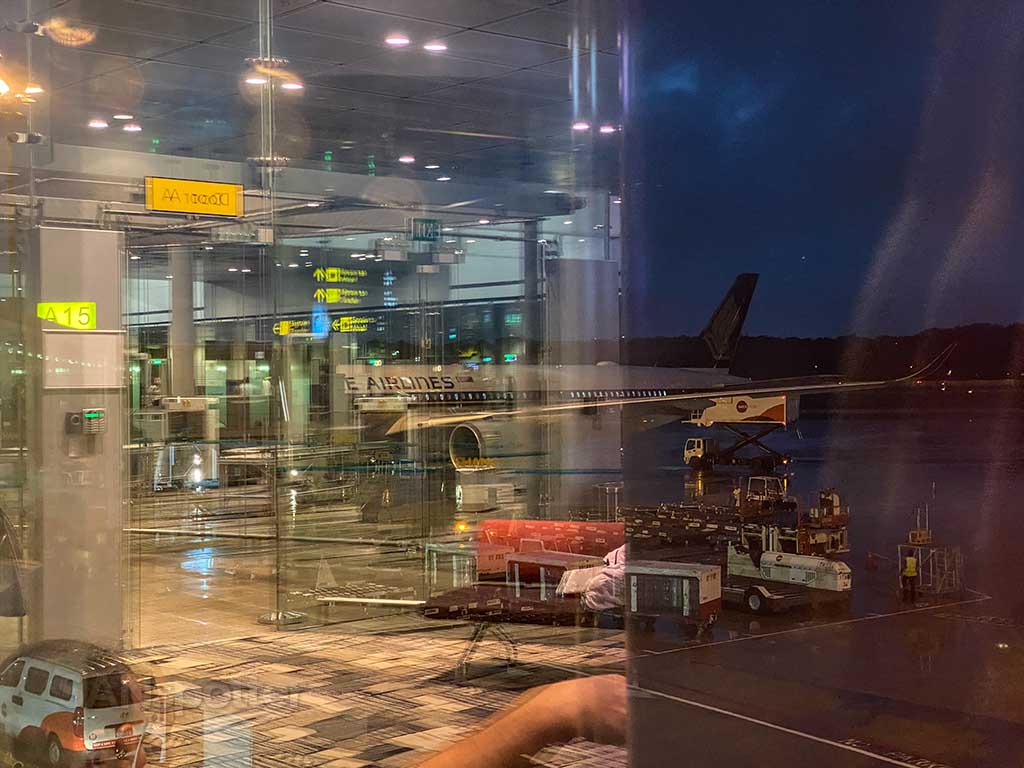 Boarding flight number 38 to Los Angeles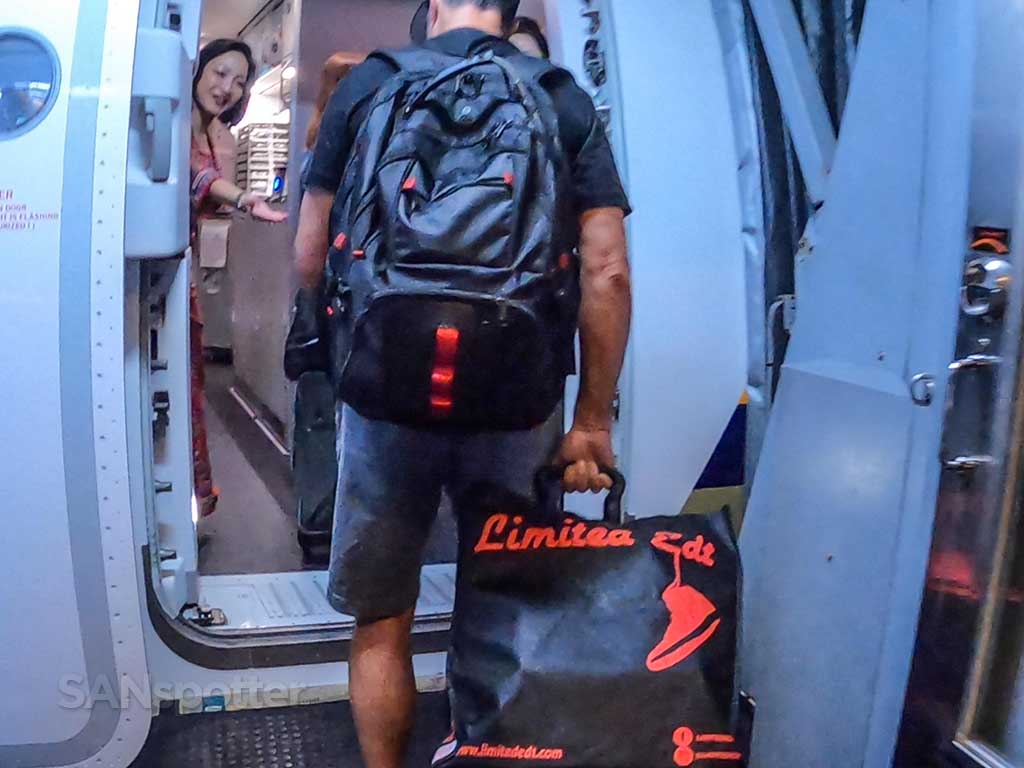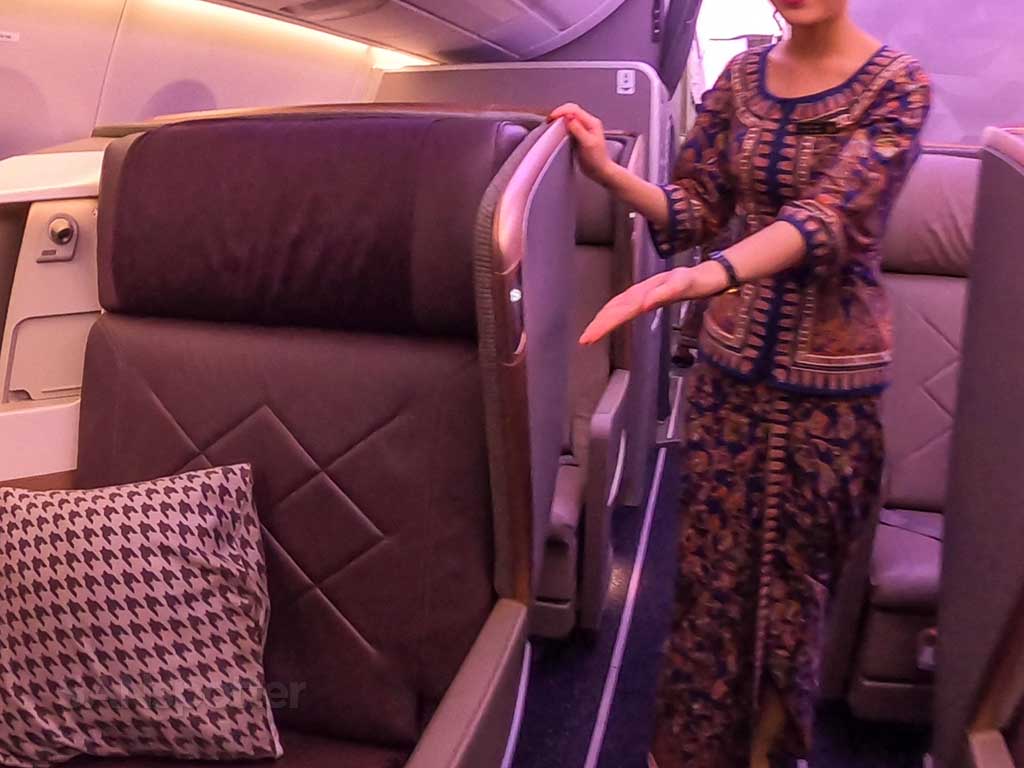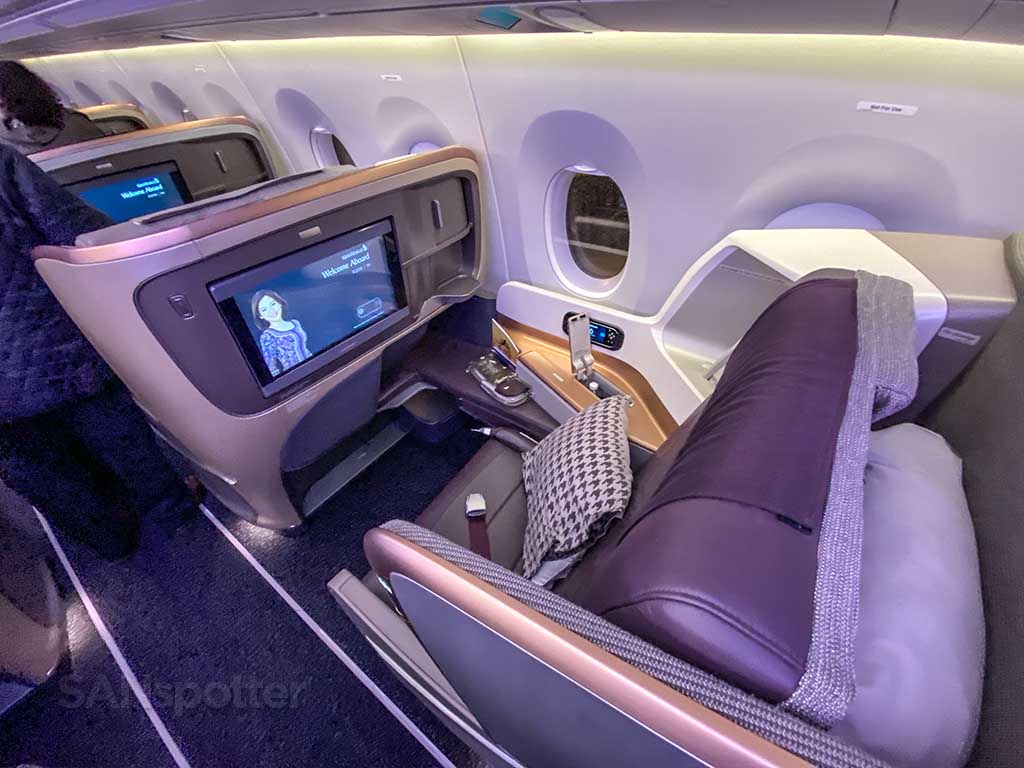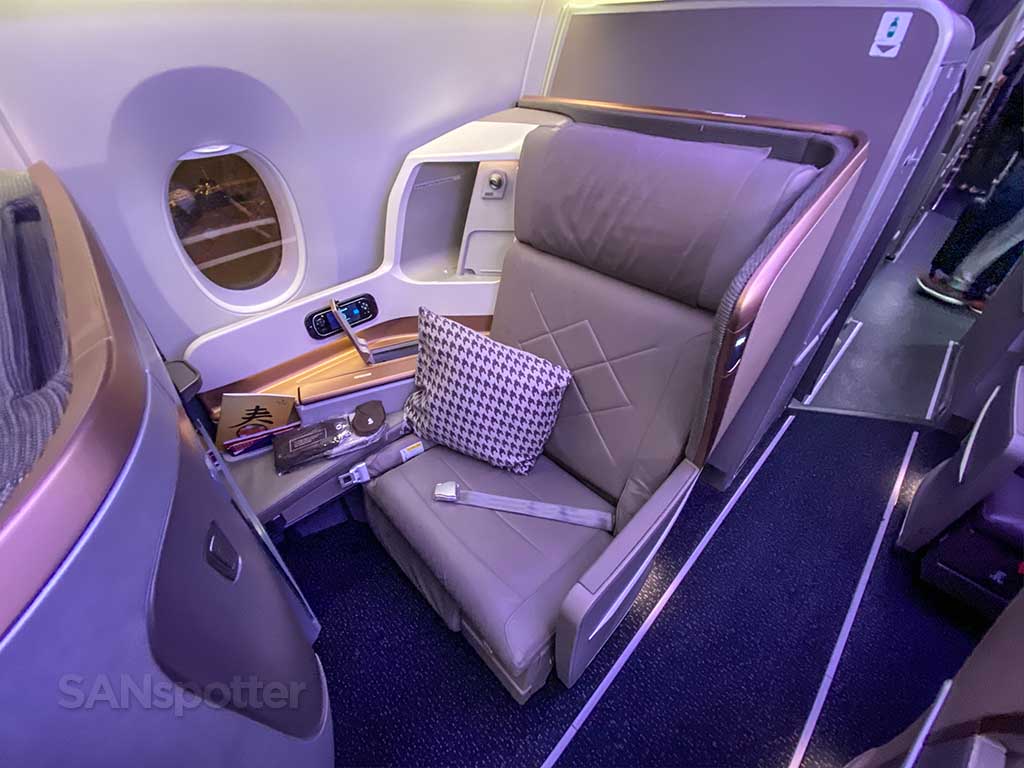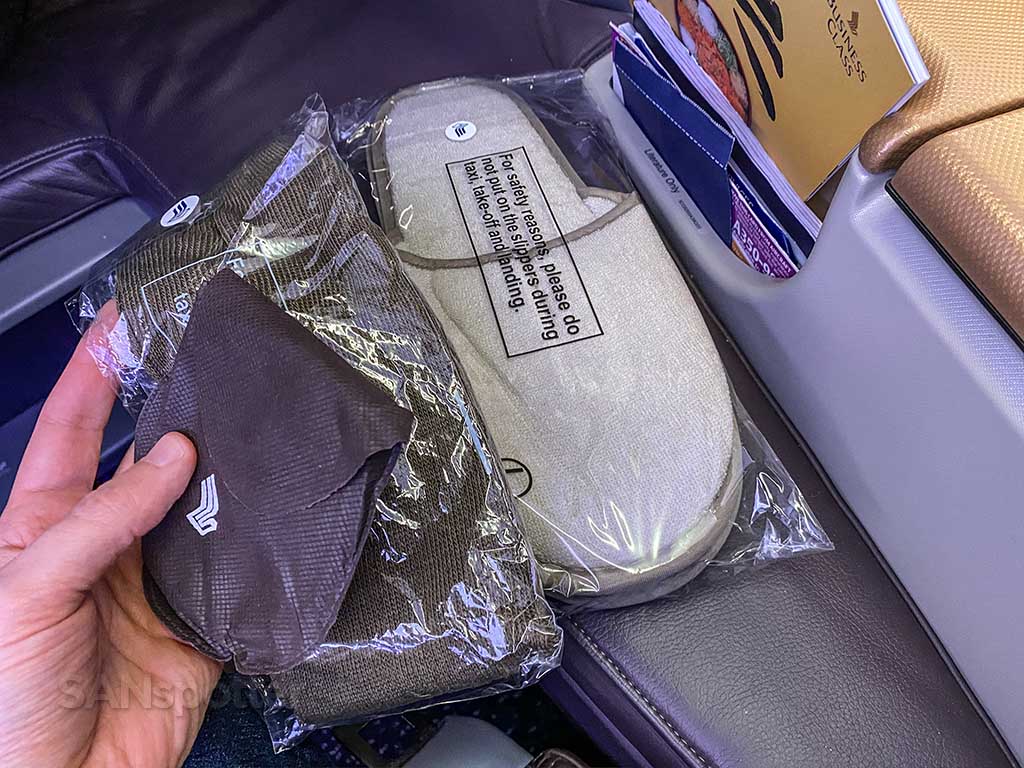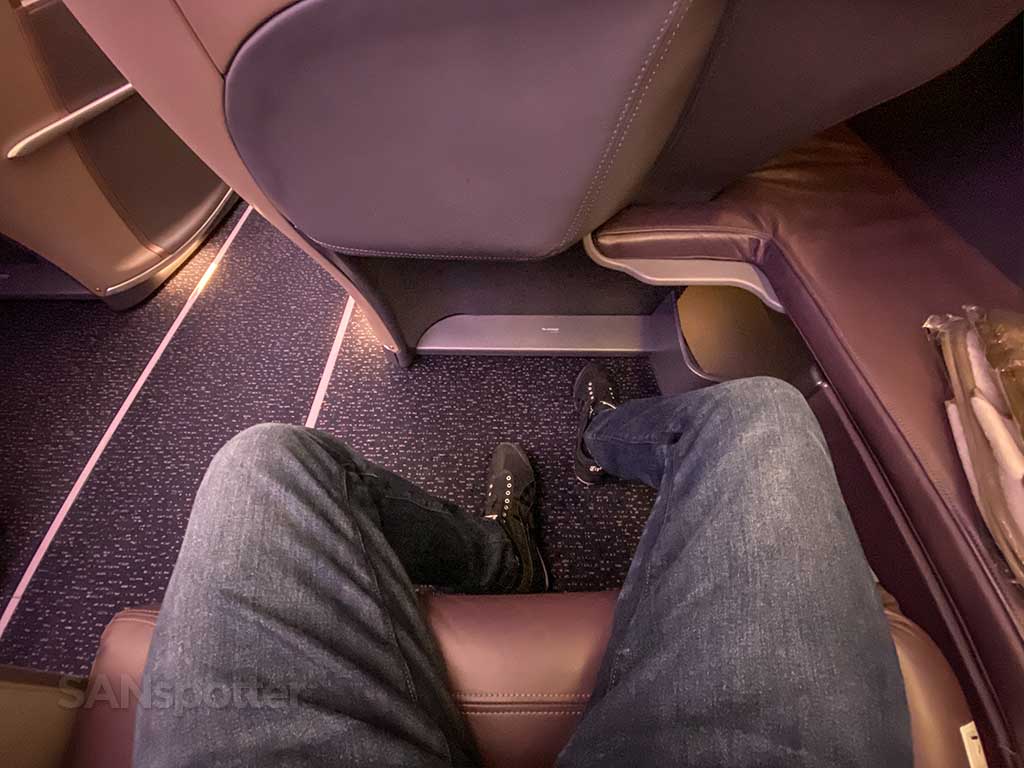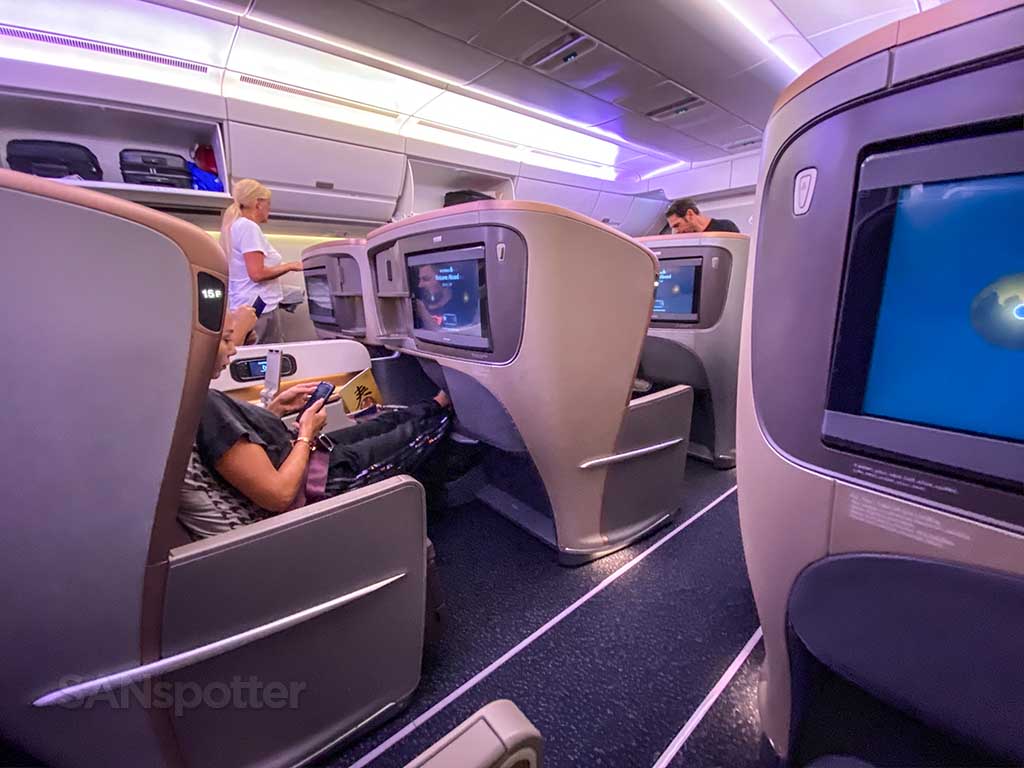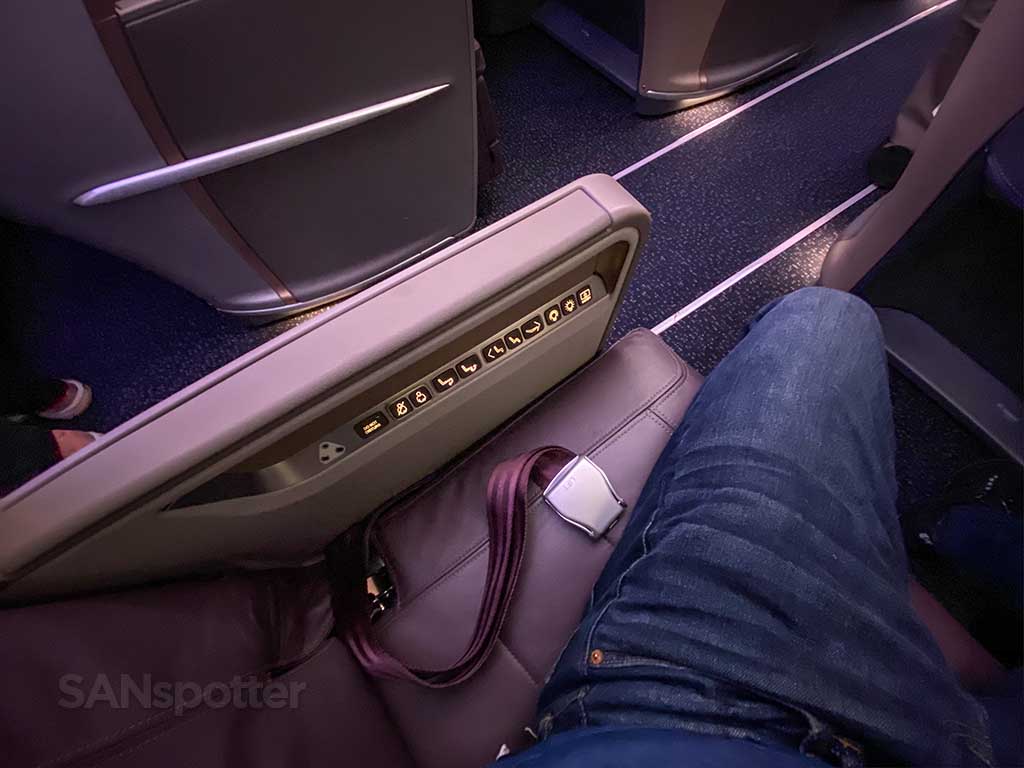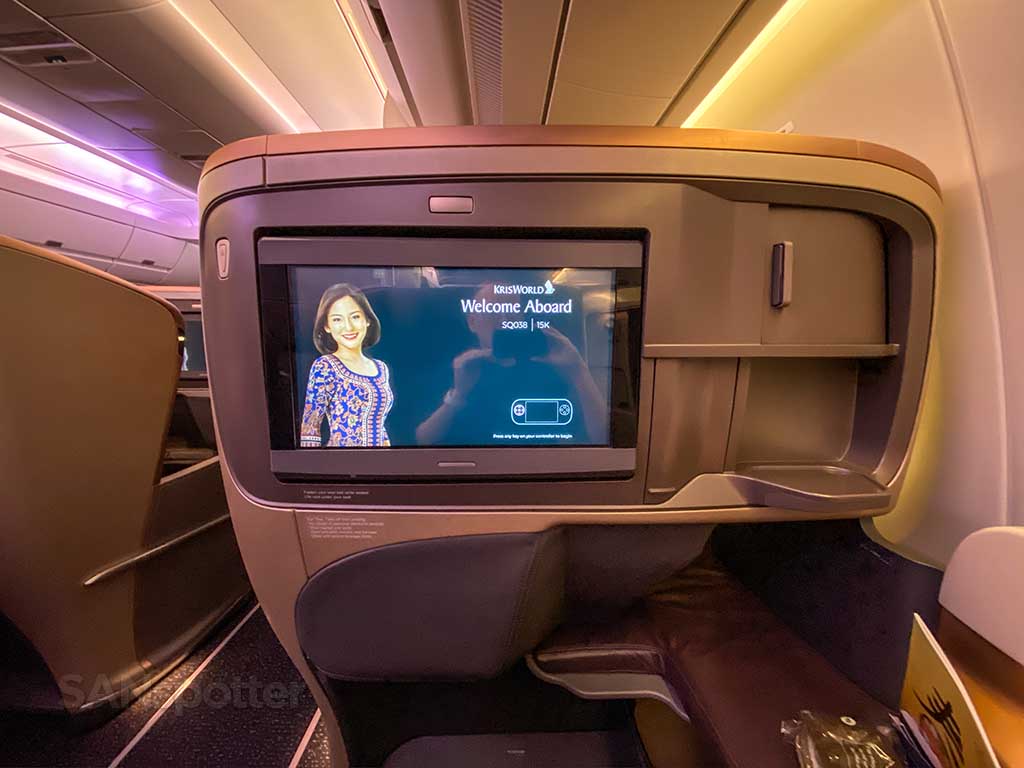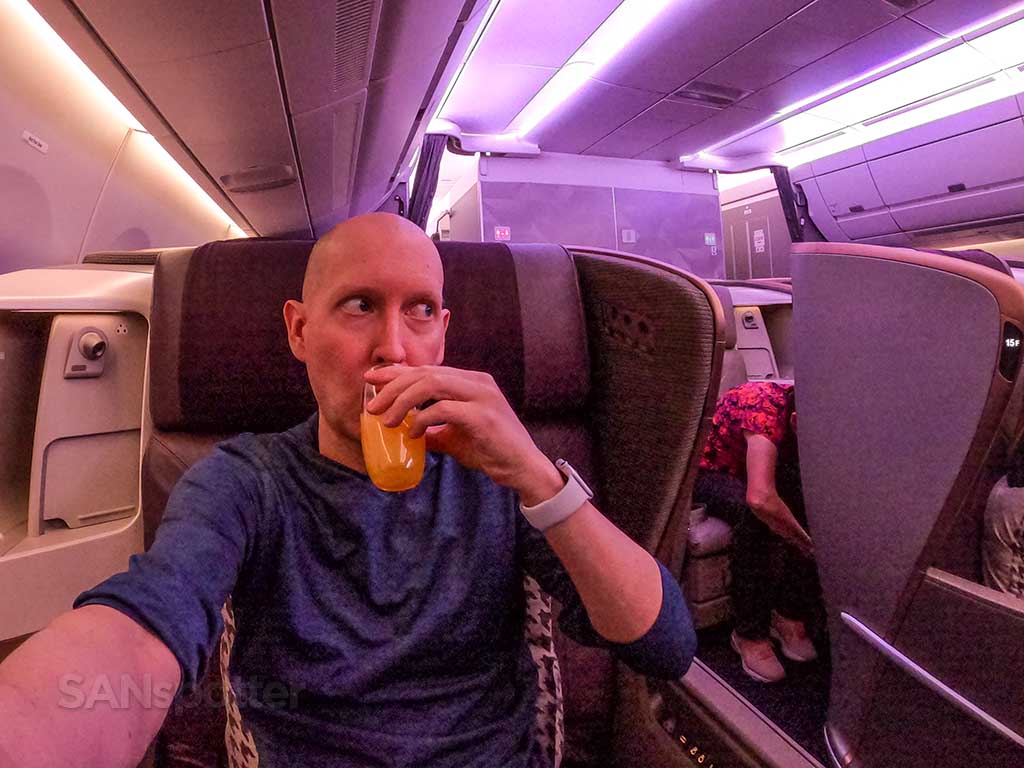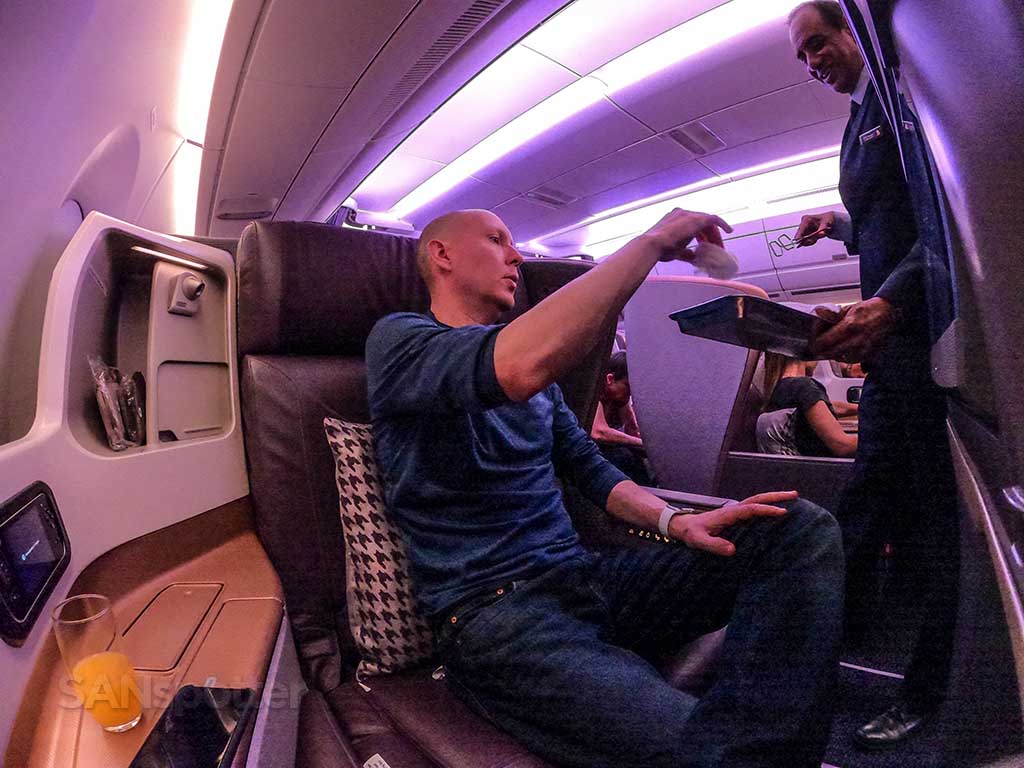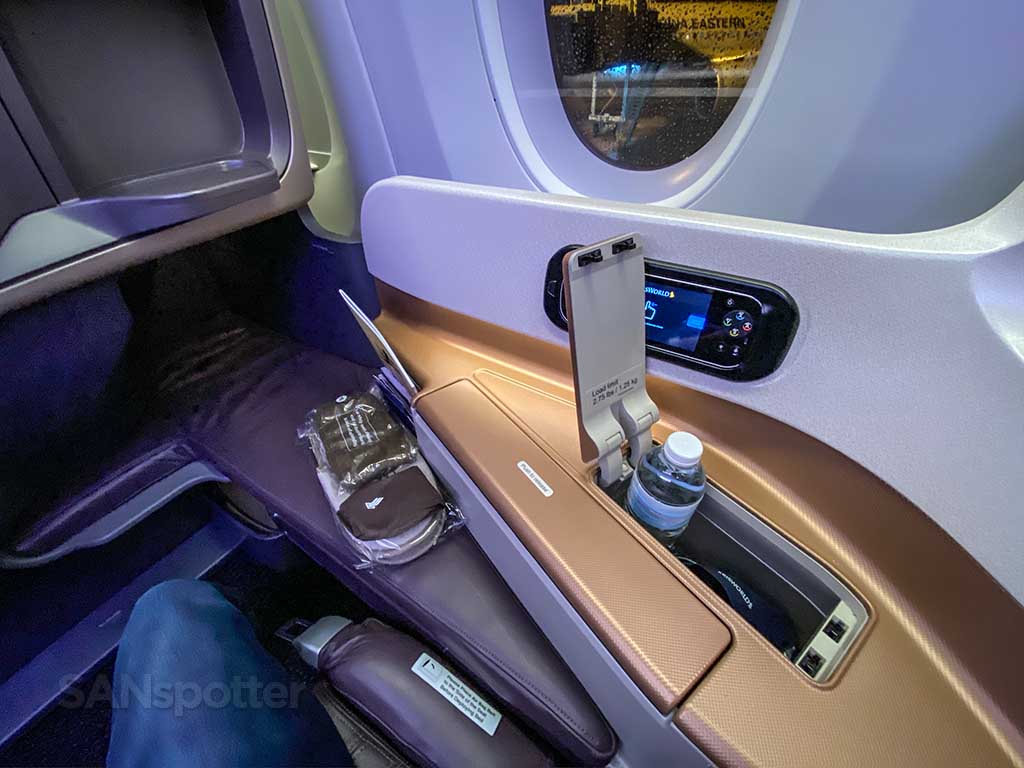 The first moments in the air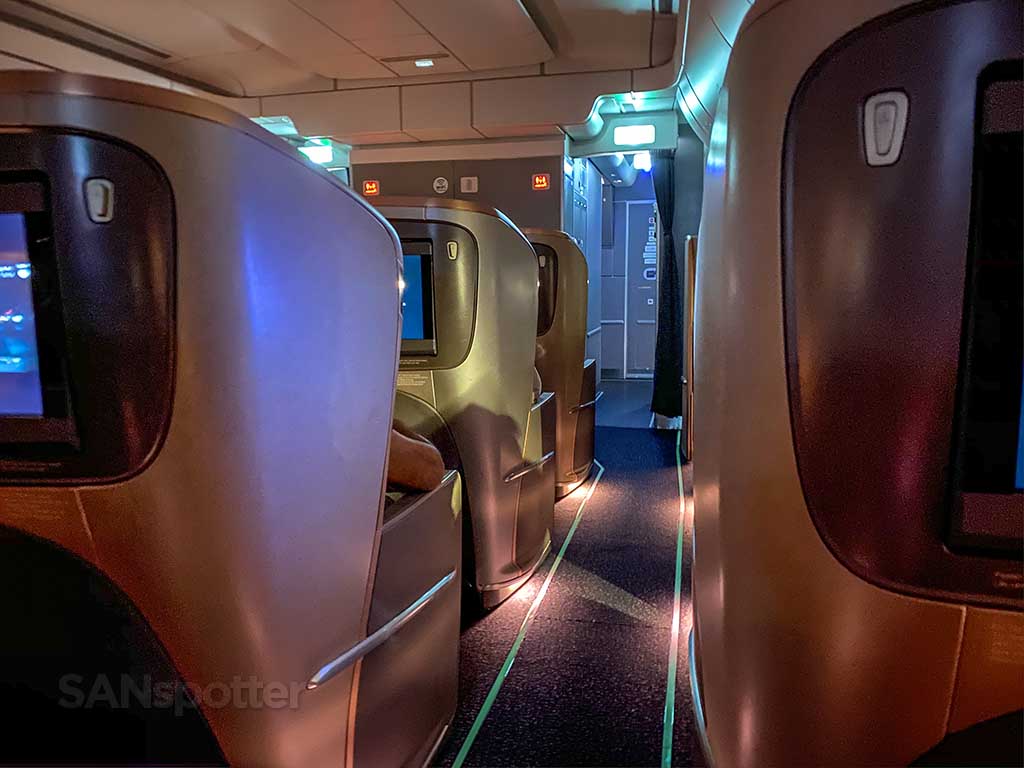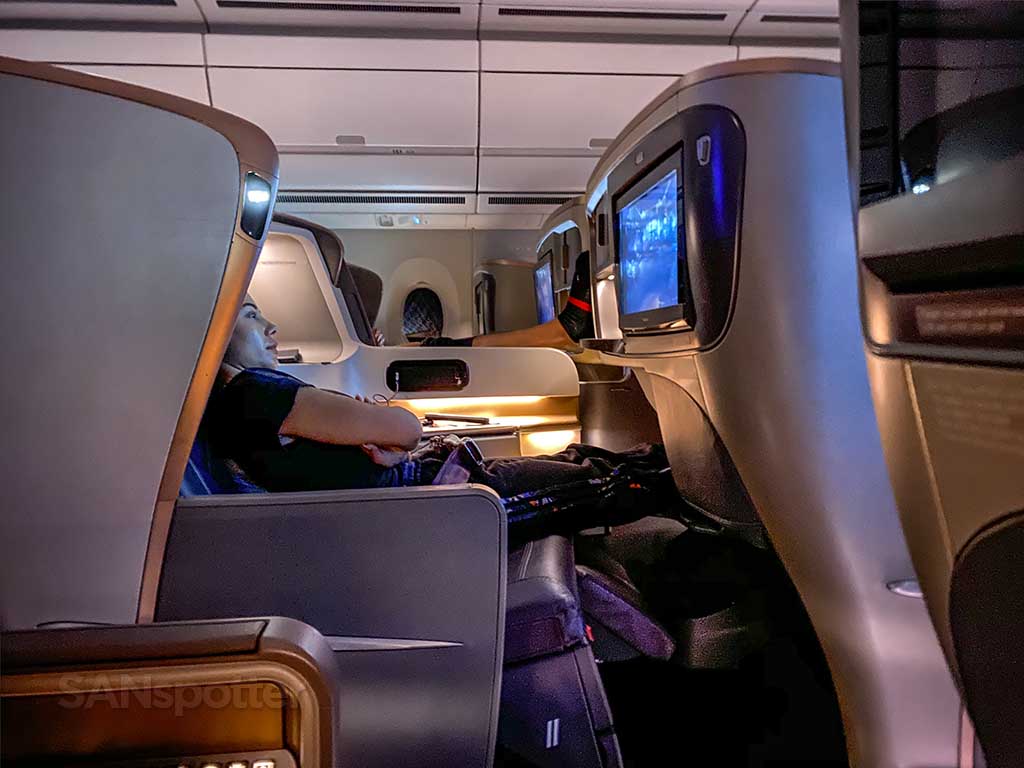 The dinner service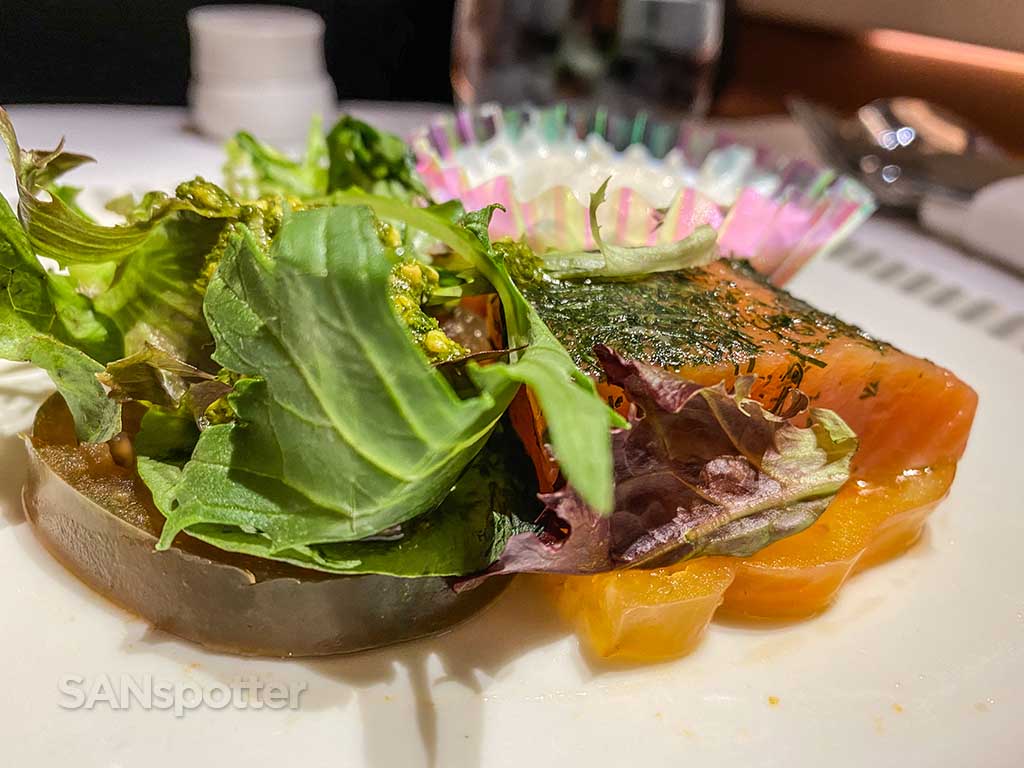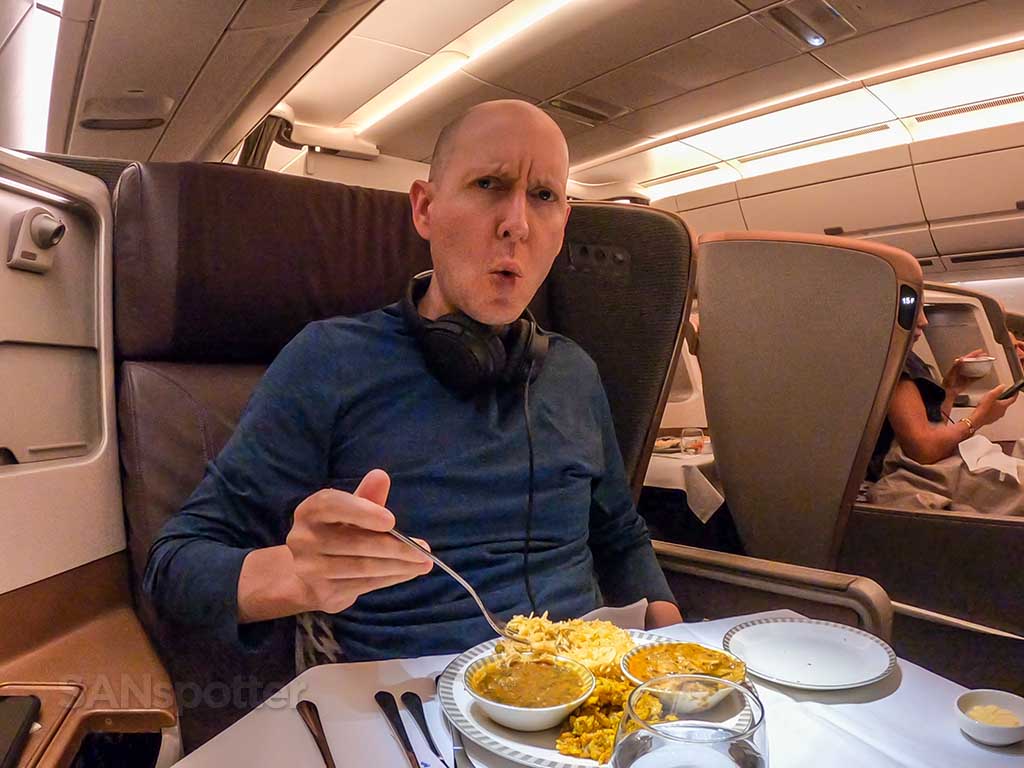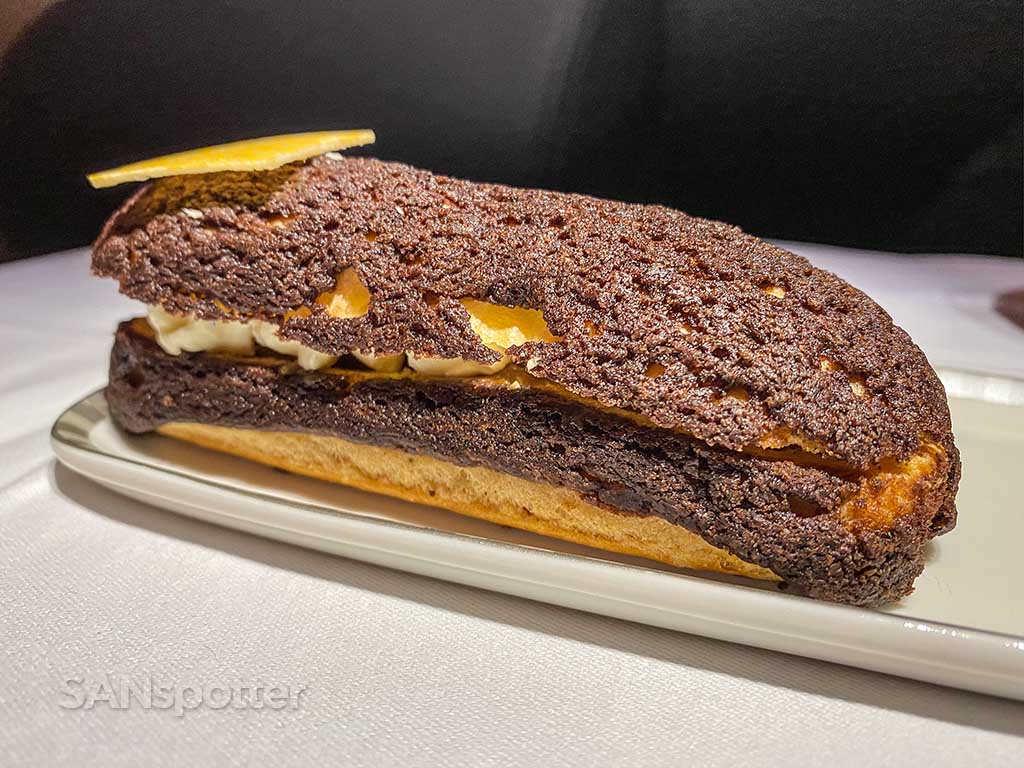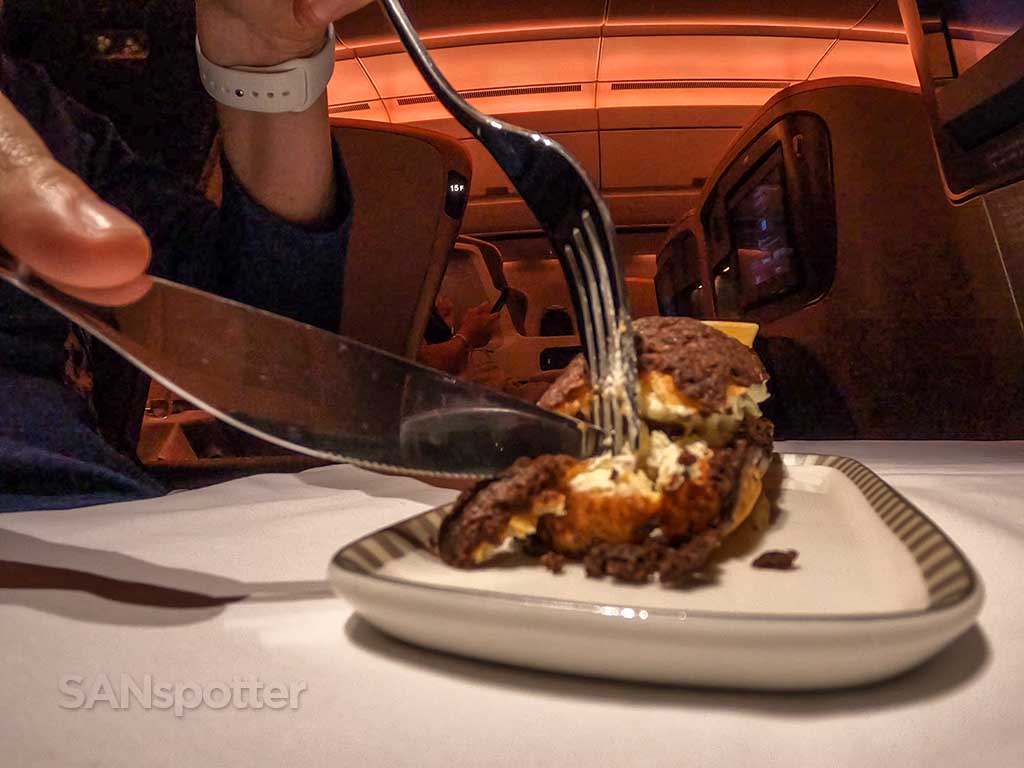 Well, that didn't go quite as expected. I'm drenched in sweat, my nose is still runny, and…my insides hurt. There's no telling what the aftermath will be, but let's just hope we make it to LA before things get ugly!
The second meal service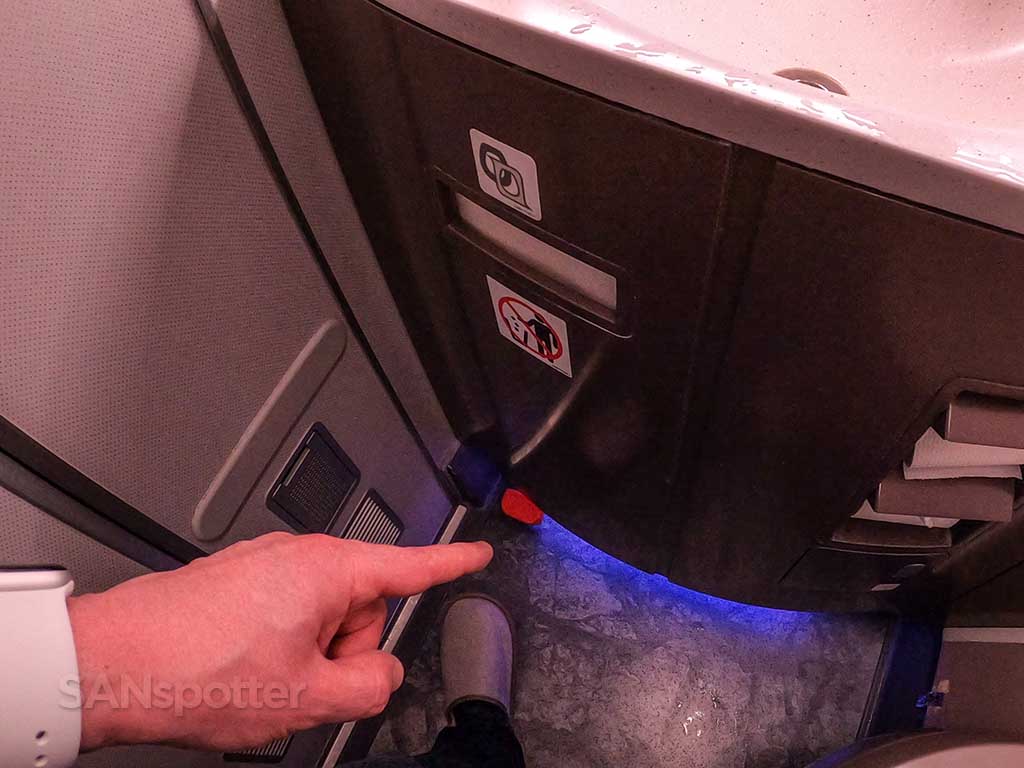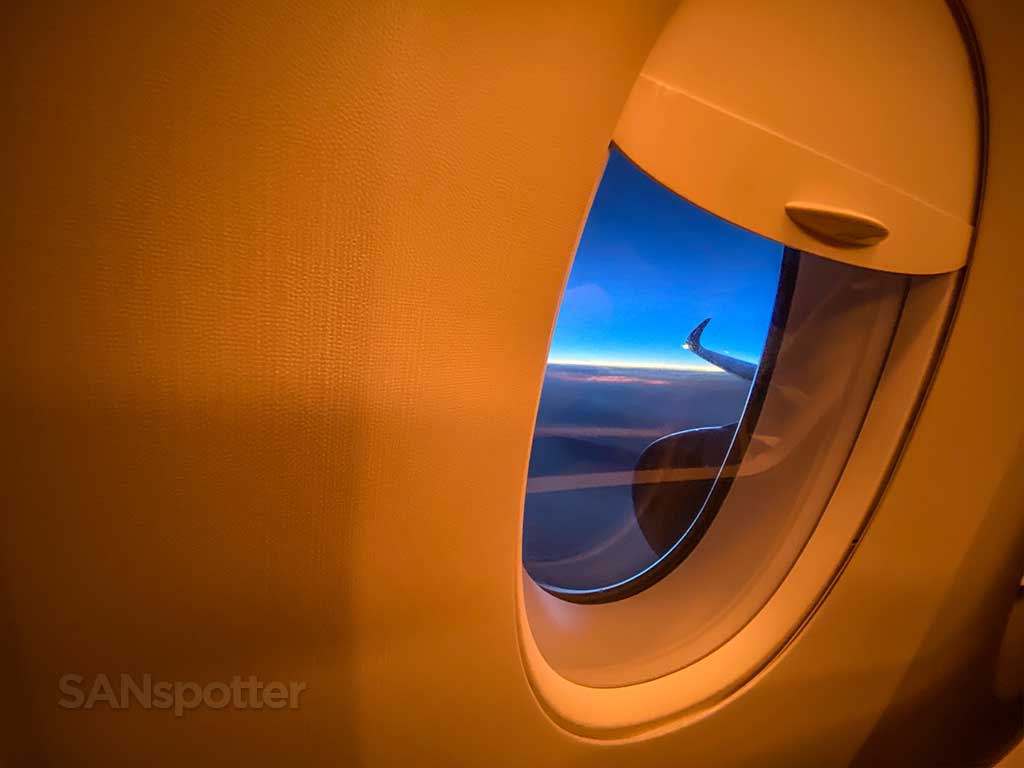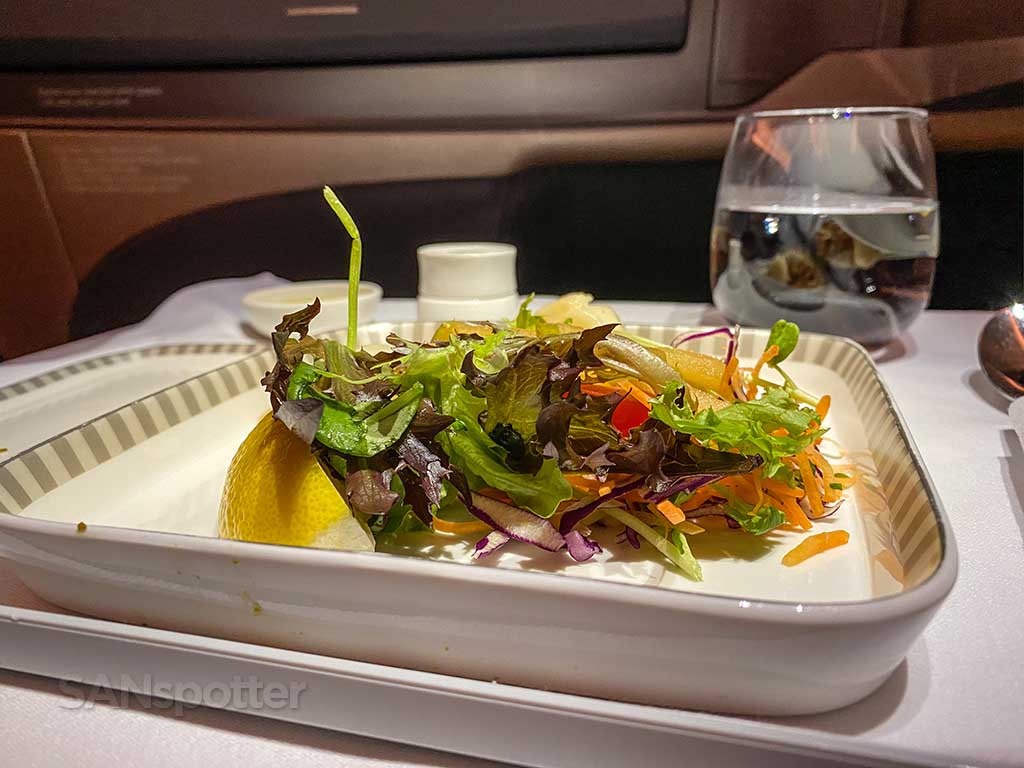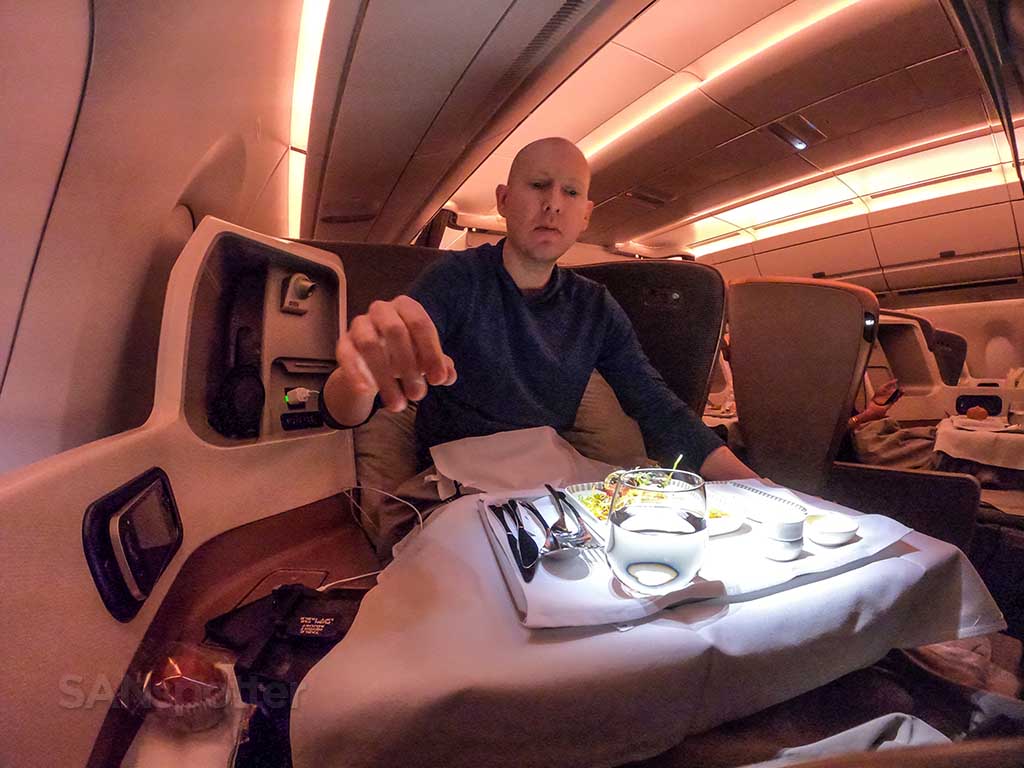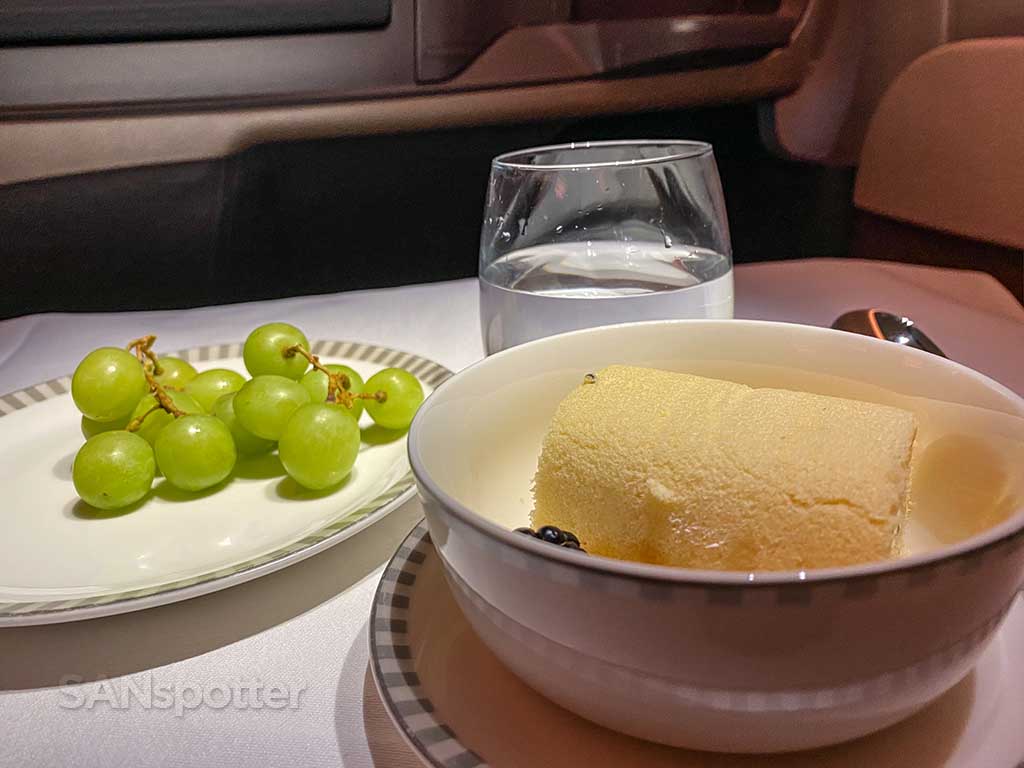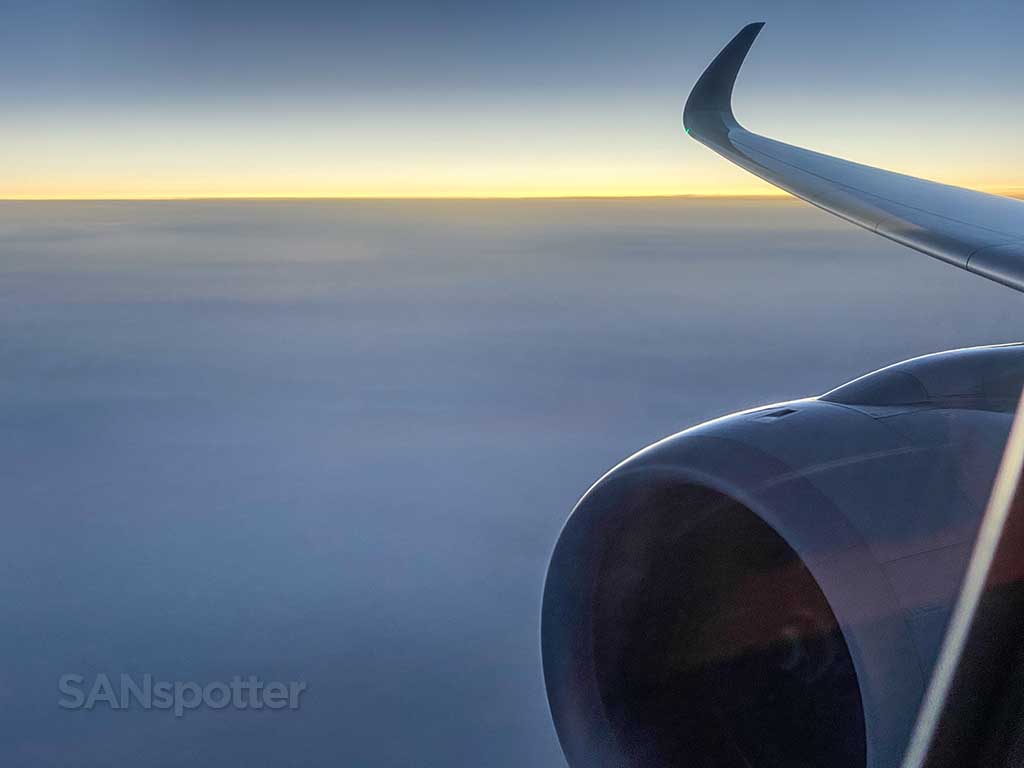 Arrival in Los Angeles (and final thoughts)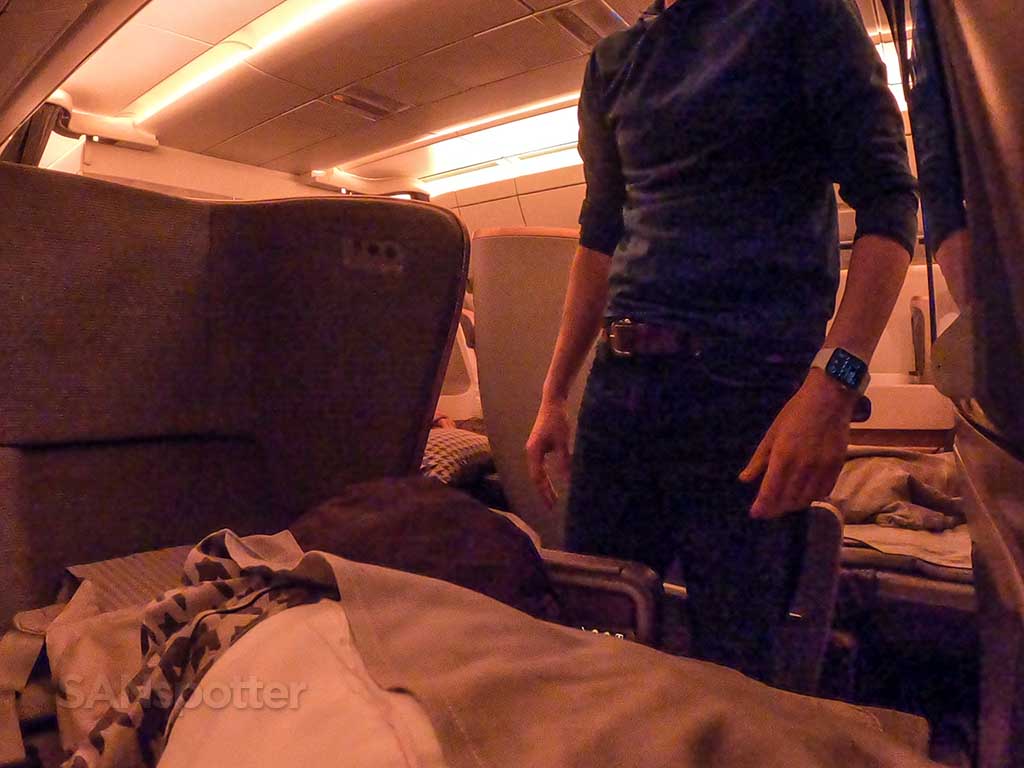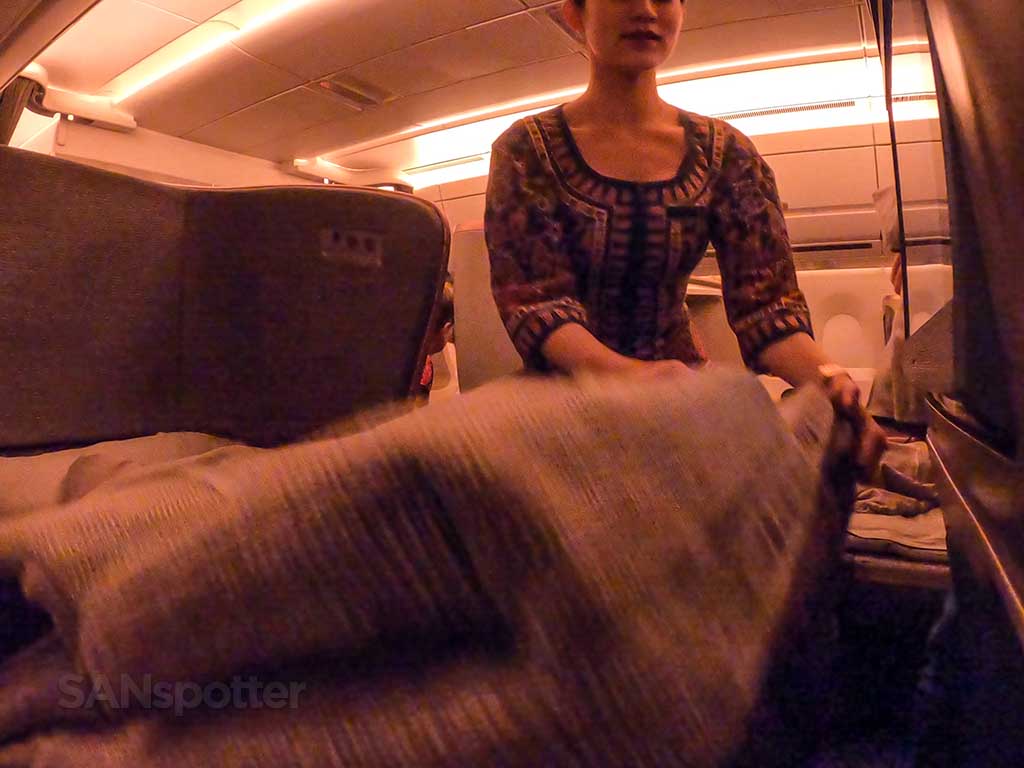 He simply informed us we were coming in too high and much too fast, and we had to go around and try again. Now, I appreciate the honesty of him admitting to his error, but that was slightly more information than I needed to know.
Despite the heat, I will say that the Singapore Airlines A350 Business class product is one of the best premium airline products I've ever tried. I will be doing this again. Without the spicy chicken of course.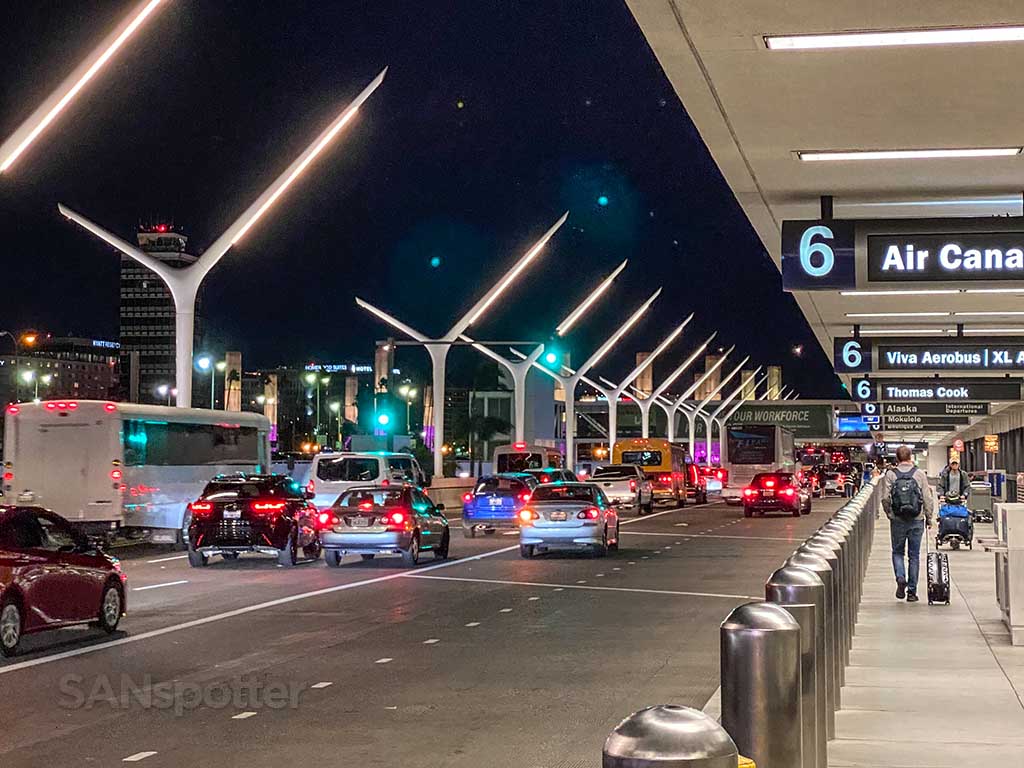 By the way, it goes without saying that I can't wait to fly in Singapore Airlines Business class again. It's pricy though, so I'll need to come up with some clever ways of making it happen. Have you ever wondered how to buy a plane ticket for someone else? Just asking. You know…just in case you want to fund my next Singapore Airlines flight or something. lol
Singapore Airlines A350 business class FAQs
Were all the words and pics above not enough to answer your questions about Singapore Airlines A350 business class? Well, you've got nothing to worry about! Below is a complete list of the most common questions that I've received about this amazing product, and because I'm such a nice guy, they include answers as well.
And before you all start thinking that I'm too big for my own head, notice that I didn't say "Dear Leader". I just said "nice guy" – that's all.
Is Singapore Airlines A350 ultra long haul business class worth the cost?
Ab-so-freaking-lutley! That's just my opinion anyway, but I do need to break that down a little bit more. More specifically, I fully believe that paying up to $3500 for a one-way segment in this ultra long-haul business class product is a fair price to pay.
Some may skoff at that and think that no seat on any airline is worth that much, but it's just a matter of perception. I'm not rich and I most certainly cannot afford to pay $3500 for a one-way airline ticket. However, if I was rich like Sam Chui (or just a very well-paid businessman), it's a reasonable price to pay for this product.
Do I think it was worth the 95,000 Kris Flyer points that I exchanged for my experience? yes. I really do, even considering that's usually considered quite high for a single business class award redemption.
My butt would definitely pucker a whole lot more if I had to pay more than $3500 or 100K in points to get a ride on the Singapore Airlines A350-900 in the front cabin.
Is the quality of Singapore airlines business class decreasing?
If it is, I certainly wouldn't know it. My flight from Guangzhou to Singapore was my first ever segment on Singapore airlines, and this flight from Singapore to Los Angeles was the second. The first flight was good, but this flight was nothing short of phenomenal. Easily one of the best business class experiences of my life. Yes, maybe even better than Qatar Airways business class – which is saying a lot.
The food, the professionalism of the cabin crew, seat comfort, and the quality of the in-flight entertainment made it a truly enjoyable experience. If Singapore Airlines business class used to be better than this, then I guess I was really missing out.
Isn't the Singapore Airlines A350 business class seat too awkward for long-haul?
Travelers seem to be divided about the seat that Singapore airlines chose to use for their ultra long-haul business class product, and I totally understand the debate.
It's awkwardly wide, it folds to a lie flat position in a very unconventional way, and the sleeping position is angled inward. Not only that, returning it to a fully upright position is a chore, so most people just end up sitting on top of the flat seat during the second meal service towards the end of the flight. You know how we all used to sit around on the floor in kindergarten during snack time? That's kind of what it feels like during the second meal service.
Despite the awkwardness, the seat itself is quite comfortable. I slept very well, and it wasn't all that difficult to find a very relaxing reclined position shortly after takeoff.
The best way I can describe it is just say that it felt like a bench seat in an old Lincoln town car or something. For comparison sake, the business class seats on British Airways feel more like seats you would find in a sports car. They're deep, have gobs of side bolstering, and you don't move around a lot when the plane goes through turbulence.
If you enjoyed riding around in your grandpas old land yacht when you were a kid, you'll definitely enjoy the Singapore Airlines A350 ultra long haul business class seat.
Will picky eaters be satisfied with the menu?
As a somewhat picky eater myself, I would say that yes – absolutely! The problem is that it didn't occur to me that the Malaysian option would be deadly spicy, and wouldn't you know it: that was the option I chose for the dinner entrée.
Next time I fly Singapore airlines business class, I'm definitely going to choose one of the other options. Not only that, because of my inability to handle spicy food, I'm most certainly going to ask for the least spicy option. Call me a wimp if you will, but I ain't taking no chances!
How did I feel after being on a plane for 15 hours?
Remarkably well actually, and it wasn't just because the fact that I was in business class. The Singapore Airlines A350-900 (ultra long haul version) configured in a two-class layout consisting of business class and premium economy. There are no regular economy seats on this airplane, which makes the entire experience feel quite business jet like.
There's lots of room to spread out, and you won't be tripping over dead bodies and severed heads whenever you take a walk to the back of the plane.
Humidity levels are much higher on the A350 compared to other aircraft, which also helps the feeling of arriving fresh after a long flight.
Don't worry. You're going to be fine.
How much did I pay for this business class flight from Singapore to Los Angeles?
Paying for Singapore airlines business class is usually a very spend he experience. Especially on ultra long flights such as the Singapore to Los Angeles route! However, I only paid $50.31, and believe me – it was worth every penny.
More specifically, I cashed in 95,000 American Express Membership Rewards points. The $50.31 was the taxes and fees portion of it.
As a reminder, American Express is partners with a wide variety of airlines from all over the world, and I was able to convert points to Singapore Airlines Kris Flyer at a one to one ratio. FYI – the transfer of the points took approximately 24 hours to complete.
Building large stock piles of Amex Membership Rewards points is fairly easy for me since I carry both the American Express Platinum and Business Blue cards. The Platinum gives me 5X points on all airfare spend, which for a frequent flyer like me, adds up quick!
How I pay for all my travel expenses
The American Express Platinum Card
100,000 welcome points (woo-hoo!)
Earn 5x points on flights and prepaid hotels
$200 hotel credit + $200 airline fee credit + $155 Walmart credit + $240 digital entertainment credit (and much more)
Transfer points to a wide variety of global airline and hotel partners
Sign me up!
Note: I may earn a commission if you make a purchase, at no additional cost to you.
On the other hand, I use the Blue Business card for non-travel purchases, since it gives me 2X points on everything. And I do mean everything.
Pros and cons of Singapore Airlines A350 business class
Just as I mentioned in my recent review of Singapore Airlines 787-10 business class, coming up with a list of cons that didn't make me sound petty was really hard. The Singapore Airlines A350 business class experience is downright phenomenal, and well… let's just jump right into the pros and cons:
Pros
Everything you've heard about how spectacularly good long-haul Singapore airlines cabin crews are is true. The cabin crew on this flight was phenomenal, and I was treated like a king all the way from Singapore to Los Angeles. Every single crewmember that I interacted with on this flight was extremely happy, helpful, and did everything they could to make sure that I was having a good time. In other words, it was basically the polar opposite of what I experienced in Xiamen Air business class from Los Angeles to Xiamen last year.
Singapore airlines business class food is really good. However, as you saw in the video, I picked a choice that was slightly too spicy for me and I didn't particularly enjoy my dinner entrée. That being said, the quality and presentation were excellent, and the second meal service just prior to landing was everything I hoped it would be and more.
The business class configuration on the Singapore Airlines A350 is perfect for long haul. The seats are large and spacious, and there's plenty of room for everyone to spread out. it should be noted that the A350s that are used on this route are designated as "ultra long-haul" variants, which means that there is no economy class on these planes. It's all business class and premium economy.
Video entertainment in Singapore airlines A350 business class is quite good (even better than what it is in there 787-10 regional business class product). The personal video screen is massive, and it's stocked with an Impressive collection of video titles from all over the world. The only time that I've ever been more impressed with the wide variety of movie and TV choices to choose from on a flight was in Cathay Pacific business class from New York to Vancouver last year.
Cons
The business class seats on these ultra long range A350s are indeed nice, but so very awkward for two reasons:
First, they are incredibly wide, and it feels like sitting on a couch rather than sitting in a seat. If anything, it reminded me of riding in an old car from the 70s or early 80s with those big cushy bench seats that didn't hold you in very well in the corners.
Second, the way they converted into a flatbed was confusing. Most other airline business class seats convert to the lie flat position by extending the seat pan forward while the seat back reclines flat. In the case of the seats on the A350, it's the seat back which folds forward to create a completely flat surface to lie on. This wasn't intuitive at all, and I needed help from a flight attendant to figure it out. And then, when it was time to put the seat back into an upright position at the end of the flight, I needed help once again to figure out where the latch was to release it from its life flat state.
And since I'm complaining about the seats, I should probably mention that the effort it took to get the seat into a lie flat position in the first place was such a big deal that it wasn't worth it to convert it back up to upright during the meal service. Therefore, I spent the entire second meal service sitting on a flat seat with my legs crossed just as I was sitting on the floor eating a graham cracker snack back in kindergarten.
Whew. That was a lot of complaining wasn't it? Don't get me wrong, because I personally felt that the pros outweighed the cons on this particular Singapore airlines business class flight, but somehow I wasn't able to condense those cons into short succinct sentences. I should probably figure out how to do that if I ever plan to take those travel blogging thing seriously…