I know the feeling all too well. Sitting alone and confused while booking tickets for a flight, staring at the screen trying to justify to yourself if business class is worth it or not. We've all been there.
Personally, I value comfort and convenience more than money (to a point). I have no problem paying extra for a business class seat if it will help to ease the stress of a hectic trip.
That being said, there are some times where I just can't justify the expense. It's rare, but it happens.
How I decide if business class is worth it
I'll be honest – it's not very often that I'll decide that business class isn't worth it. It happens sometimes (and I'll explain those reasons in a moment) but for the most part:
I'll always opt for business class if the cost to do so isn't completely obscene. I understand that everyone's definition of "obscene" is different, so there's a pretty good chance that you might think I'm crazy for paying what I pay sometimes for the upgrade.
I'm of the age now where business class on long haul international flights is more of a need than a want. I had no problem flying around the world in economy class back in my 20s, but my body can't handle that sort of abuse anymore.
If I have no choice but to take an inconveniently timed flight (such as 5:30 AM or 1 AM), business class is worth it so that I'll be able to recover at least a few hours of sleep.
Special occasions are also a great reason to choose business class. It's OK to splurge every now and then, so don't feel guilty about spending more for a nice business class seat on a trip you've especially been looking forward to.
If it's a long flight that occurs mostly during daylight hours, business class is generally worth it because you'll be awake to experience more (food, in-flight entertainment, drinks, etc).
Some airlines have far better business class seats and service than others – and for me, it's worth trying at least once just to see what it's like. For example, choosing business class over economy in Qatar Airways or Singapore Airlines is a no-brainer. You just know it's going to be a five star experience, and you'll have an interesting story to tell for the rest of your life.
I realize this won't apply to everyone, but it's worth noting since it's one of the reasons why I fly business class so often: Basically, I review airlines for a living, and business class reviews get a lot more eyeballs than economy class reviews.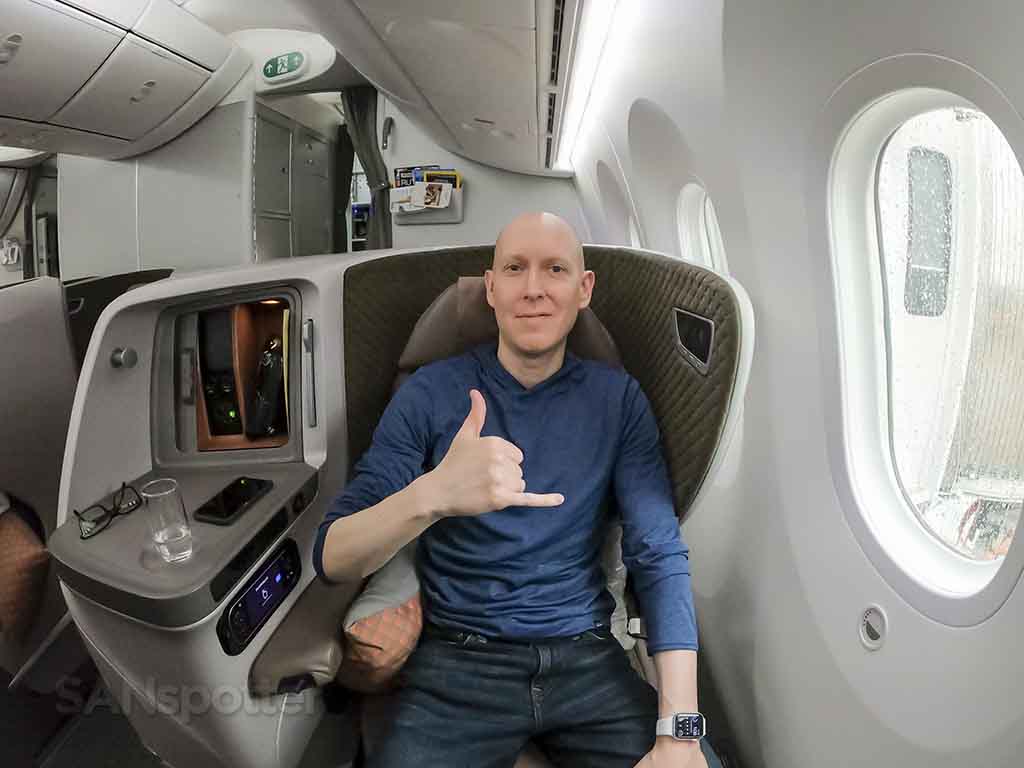 Examples of business class experiences that were worth it:
Spending $1000 for a last-minute upgrade for Emirates A380 business class (Los Angeles to Dubai) several years ago was money well spent. That's a 16 hour flight, and I felt as if I was getting a good deal considering how comfortable and well-fed I would be for that length of time. It should also be noted that $1000 was a steal considering that those seats can normally go for more than $10k on ultra long routes such as LAX-DXB.
Spending 95,000 American Express Membership Rewards points for Singapore Airlines A350-900 business class from Singapore to Los Angeles was totally worth it. Again, this was an extremely long 15 hour flight, and the cabin service wish like nothing I have ever experienced.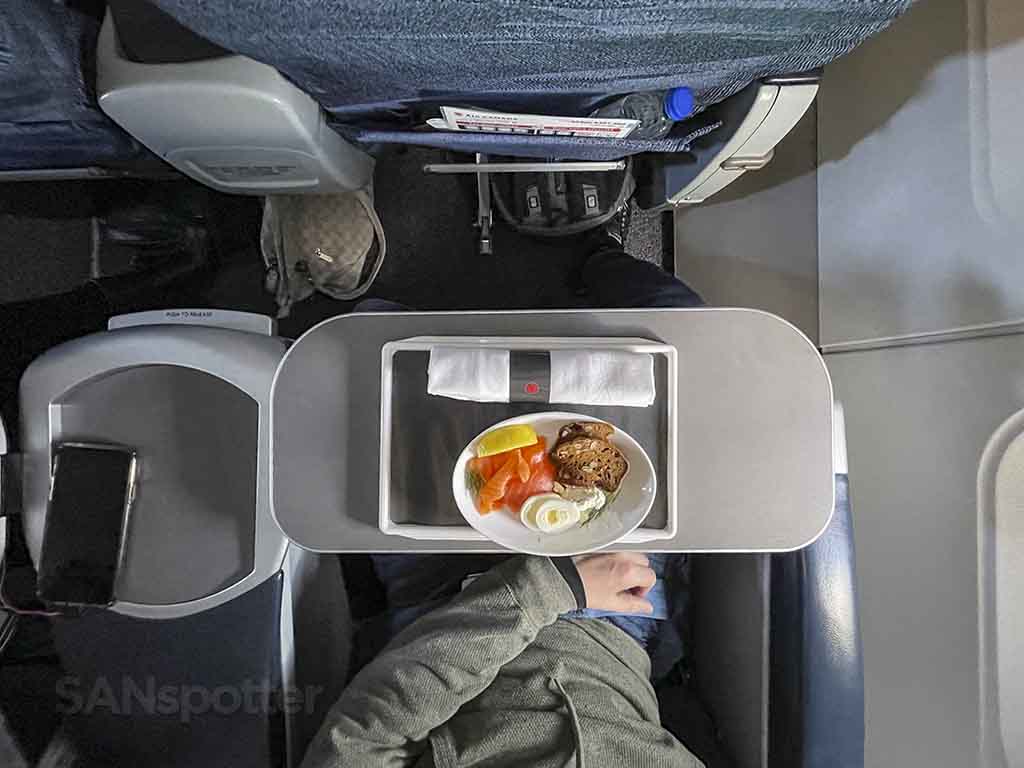 How I decide if business class is not worth it
I'm a bit more loose with my money when it comes to travel compared to others, I know. I have friends and family who think paying for anything more than a basic economy seat (for a flight of any length) is a total waste of money.
After all, in the grand scheme of things, even the longest flights in the world are relatively quick. Some people just can't stand the thought of paying a lot of money (or points) for something that only last a few hours. I understand that, but as I said, I value my comfort and time more than dollars.
That being said, there are some instances where I think that business class isn't worth it:
There comes a point where it's just too expensive to justify. For example, a quick search on Delta.com for flights from the US to Europe using SkyMiles always gives me a migraine. It's not uncommon to see the cost of a Delta One ticket from Atlanta to London (or any major European destination) for 350,000 SkyMiles. That's insane. Delta One is good, but not that good.
If I know that the aircraft that I'm flying on doesn't have very good business class seats, I'd be tempted to skip it altogether if I knew that I could get an exit row seat back in economy class instead. Be careful though – exit row seats aren't always as nice as they may seem.
An example of a business class experience that was not worth it:
My TAP Portugal A320 business class experience from Frankfurt to Lisbon a few years ago was not worth it at all. FYI, business class seats on intra-European flights are exactly the same as economy class seats.
Not only that, even though the middle seat is supposed to stay empty, a lonely husband took it upon himself to sit in the one next to me so that he could be next to his wife (who was seated in the aisle seat). They were both dead asleep the entire way.
It felt exactly like economy class, and it was a total waste of money. I should've just flown economy class instead.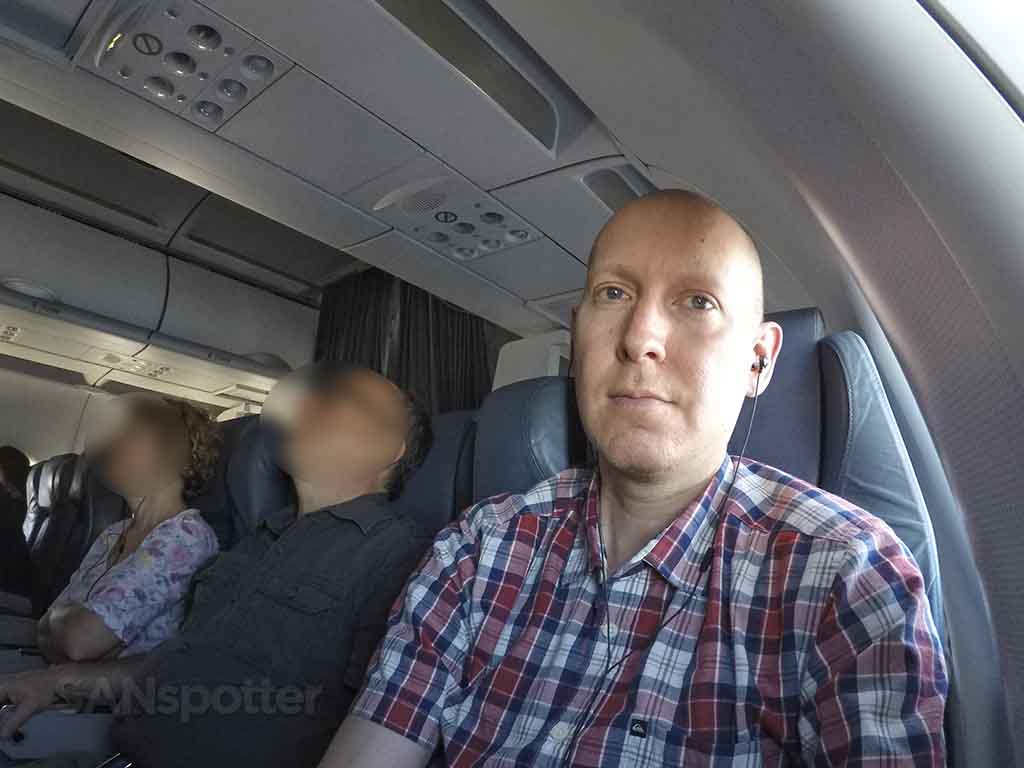 Let's be honest – how much better is business class compared to economy?
Most airlines seem to be stuck in a never ending race to the bottom when it comes to business class. Sure, we've seen some international business class products continue to get better and better, but at the same time, domestic business class (in airlines from all over the world) keeps getting worse.
On long-haul international flights, business class is almost always worth it. You'll get a lie flat seat with a decent amount of privacy. You'll also be fed one or two meals depending on the length of the flight. These meals will be far better than what you would receive in economy class.
On domestic flights in all parts of the world, business class isn't all that much better than economy (in my opinion). You'll get a slightly wider seat, nearly the same amount of legroom, and (if you're lucky) a decent meal. Because of this, there are many times where I tend to think that domestic business class isn't worth the additional cost over economy.
Have I ever regret spending more to fly business class?
Other than my example of a disappointing business class experience above, I've never regret spending extra (whether it be money or points for business class).
Personally, I'm happy that the memories I have from each and every one of my business class experiences will live with me forever.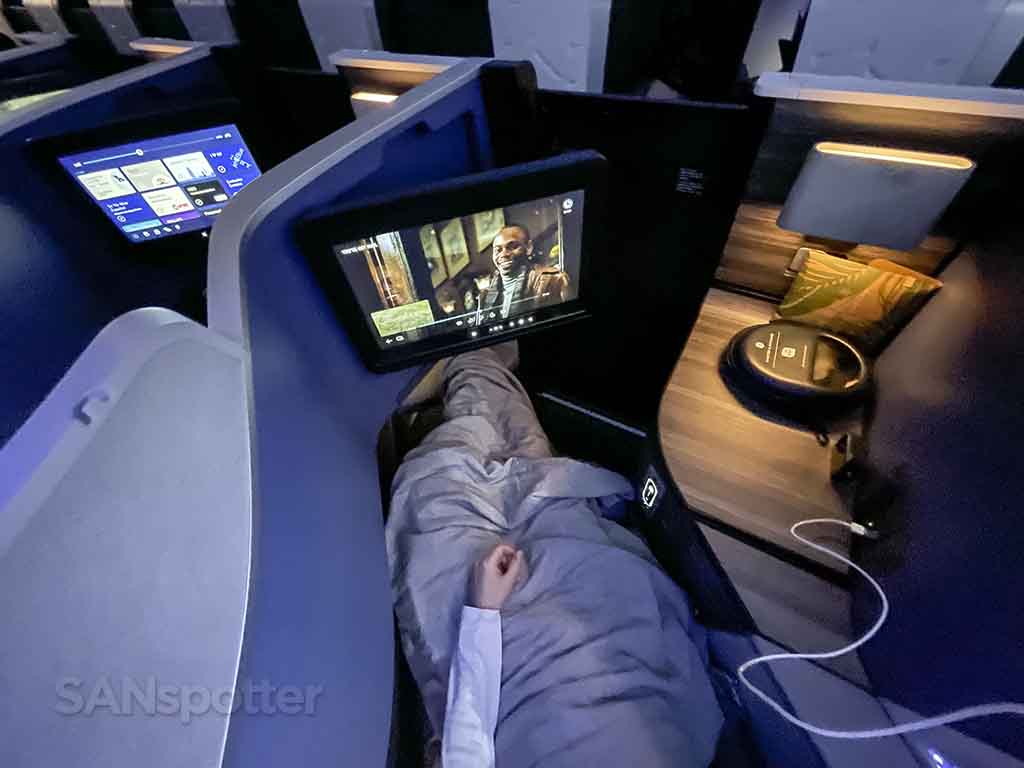 I know many people who consider flying to be a necessary (and annoying) thing to get them to wherever it is they need to be. It's not only until after arrive that they can start enjoying themselves. I'm not like that. I enjoy flying just as much as the destination itself, and therefore, I am willing to splurge to make the experience as enjoyable as possible.
Even on the rare occasion where a business class product didn't live up to my expectations, I don't usually regret it. I chalk it up as a learning experience and consider it another interesting travel tale to tell somewhere down the line.
Pros and cons of flying business class
If you've reached this point in the article and you're still not sure if you can justify business class for your next trip, this handy list of pros and cons includes a bunch of stuff that you might not have thought of. I hope it helps you to make a decision:
Pros
If you're paying with money instead of points, the bonus points you'll earn will be massive. Not only will the airline give you up to 2X the number of miles flown, you can even earn up to 5X the dollar amount that you spent if you use a reward-based card such as the American Express Platinum. That's what I do, and the points add up fast.
Airport lounge access is a really nice perk when flying business class. For example, I never would've been able to hang out in the Air New Zealand Lounge at the Sydney Airport if I never flew Thai Airways business class from Sydney to Bangkok.
You'll be the first on and off the plane.
Having a lie-flat seat will help ease the pain and suffering of flying through multiple time zones.
Sometimes, it just feels good to spoil yourself. Every long-haul business class flight that I've ever experienced left me feeling happy to have had the chance to try it.
Cons
Having a lie-flat business class seat on a long haul flight isn't a cure for jet lag. Yes, it will help, but it's still mentally and physically draining to fly around the world – no matter how comfortable the seat is.
Other than the memories, you can't take it with you. Some people have a hard time justifying spending thousands of dollars for an experience that lasts mere hours. If you're that type of person, business class might not be worth it for you.
Sitting in business class is not a guarantee of a comfortable flight. For example, in China Eastern 777-300/ER business class from Los Angeles to Shanghai, the person sitting two rows behind me had a crying baby that screamed bloody murder for nearly the entire flight. It happens sometimes.