Even before putting together this big trip to Australia and Asia, I knew that I wanted to write a Thai Airways review. No, not because I think that mango and sticky rice is quite possibly the best food combination ever created in the history of mankind. It was because I once voluntarily chose to decline being rebooked on a Thai Airways 747 after an unfortunate Northwest Airlines flight cancellation to BKK out of NRT many years ago.
Long story short, that canceled flight ruined the timing of my already tight itinerary (back when a demanding day job controlled my schedule), and I asked Northwest to send me back to LAX instead because I couldn't risk missing another day of work.
Missing out on that Thai Airways 747 has been haunting me for years, and it was time to put those demons to rest. Not before feeding them a generous serving of mango and sticky rice first of course….
TG476
Sydney, NSW (SYD) – Bangkok, Thailand (BKK)
Sunday, February 3, 2019
Aircraft: 747-4D7
Registration: HS-TGB
Duration: 8 hours 45 minutes
Seat: 14A (upper deck business class)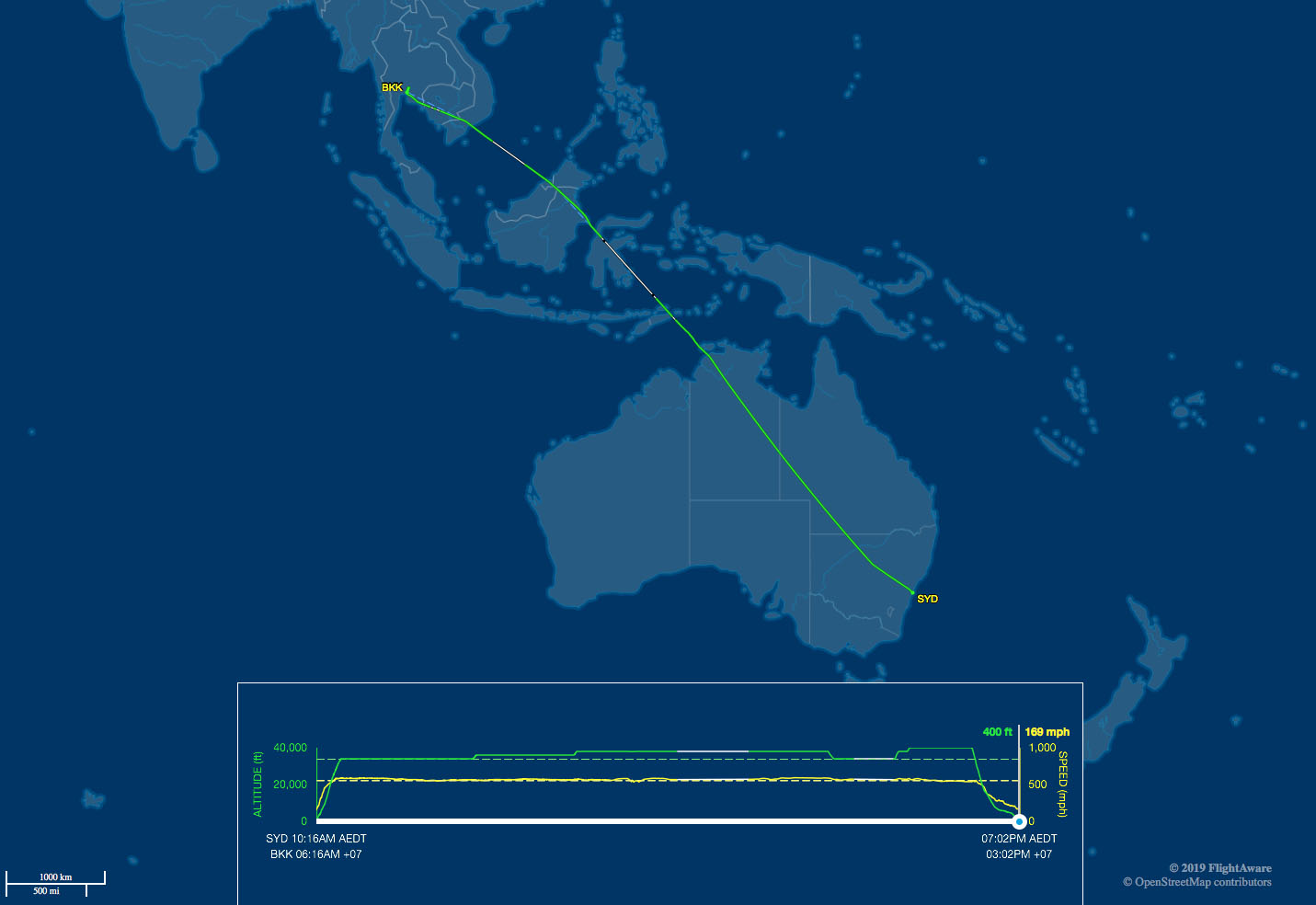 The video for this flight up to Bangkok took a little bit more time to edit than usual. You see, this was such an exciting flight for me that I went a little bit overboard with the process of getting footage and I ended up shooting more than I could ever possibly use. I'm not sure why it was such a good idea to give myself the frustration of having to sort through all of it and pick only the most relevant stuff, but I can be a total ******* to myself sometimes.
The good news is that finding just the right music for this video was very easy (as usual) thanks to the massive library of YouTube-friendly tracks over at Epidemic Sound.
Here we go with the Thai Airways review that I've always wanted to write
FYI, most of my flight choices these days are determined by how beneficial they would be to my blog and YouTube channel. From a business and brand building point of view, it doesn't really benefit me all that much to create extensive content about older (and soon to be retired) airline products. That being said, I threw logic and reason into the wind when booking this particular flight because I really wanted to write a fun Thai Airways review. More specifically, a review of a beautiful old (I mean "mature") Thai 747.
After attempting a world record attempt for the most scrambled eggs consumed by one grown man in a single setting up in the Air New Zealand lounge, I hobbled my way down to the main level of terminal 1 and took my place in line. There was still about 20 minutes to go before boarding for this flight to Bangkok commenced, but it seemed as if everyone was as anxious as I was to experience this 747. Or perhaps they were all as anxious as I was to write an epic Thai Airways review?
I've flown a lot of really good business class products over the years, but there was something about this particular flight that had me more excited than usual. It might have been the possibility of being served an endless supply of mango and sticky rice the entire way to Thailand. Or maybe it was the "upper deck" thing? I don't know. I've only experienced the upper deck of a 747 once before between San Francisco and Seoul, but I have had really good mango and sticky rice too many times to count. I can assure you that both are worth getting excited about.
Do you have any idea how amazing Thai Airways boarding experience is?
Stepping onto a Thai Airways aircraft was not something I was quite prepared for. Don't get me wrong – I was beyond excited about it, but I was certainly not prepared.
The first thing I experienced was an assortment of cabin crew members bowing at me as if I was the most exciting and amazing creature they've seen all day. Being the realist I am prevented me from letting my imagination run too far, and I quickly reminded myself of the fact that the entire crew gets paid to act like that. As much as I would have liked to think that they were *really* happy to see me, chances are high that they just wanted to get everyone the **** onboard and go the **** home.
The business class seats in these old Thai Airways 747s definitely have that "retro" vibe going on – but in a good way. Unlike some really old and stale business class products I've flown recently (such as the TAP Portugal A330 from Lisbon to Toronto), these Thai Airways recliner seats are draped in a beautiful concoction of squishy purple cloth and wood-like hard surfaces. Emphasis on the "like" since I highly doubt it's actual wood. But at least it looks nice!
As expected, that Thai Airways hospitality started with a bang and I had a refreshing drink in hand and a friendly welcome from the purser within the first three minutes.
As we were rolling out for departure, I was thinking that it was almost a shame to have to get pics and video footage for a trip report since I knew it was going to be an awesome flight. It would've been nice to sit back, relax, and enjoy this to its fullest but…I just couldn't let you guys down like that. On with the review!
The food portion of this Thai Airways review (is amazing)
This flight up to Bangkok was scheduled for just over eight hours, which meant that there would be two full meal services en route. Lunch was served within 25 minutes of departure from Sydney, and as expected, it was remarkable. If I'm being completely honest, it was the service and the professionalism of the cabin crew which made it feel so special. The food was really good of course, but the flight attendants were extremely friendly and proactive for the entire duration and I never once had to ask for a refill or top off of anything.
The only criticism I have of the lunch service is the fact that mango and sticky rice was not on the menu. How is that even possible for Thailand's national airline? If the cabin crew wasn't so on top of things and amazing in every regard, there would be the potential for this Thai Airways review to go south right about this point. I mean, it should be obvious by now how bad of a thing I've got for that sweet yellow fruit from the tropics, so the fact that it wasn't even an option left me a bit disappointed.
The second meal service was served with roughly two hours of flying time remaining, and was much lighter in substance. And trust me – that's a really good thing since lunch was fairly significant and I wasn't even hungry at all as they were coming through the cabin taking orders. I opted for the chicken fried rice, which actually ended up being fried chicken in regular rice. Go figure.
Chicken and rice somehow ends up being the food that I eat most often everywhere I go, and based on my other experiences with this simple yet delicious dish all over the world, I'd have to say that this was just so-so. Maybe because I wasn't hungry at all and I was just forcing myself to eat it, but let's just say that I've had better. Whatever. Just as it was with the first meal service six hours ago, the cabin crew did an amazing job getting everyone fed.
What's the final verdict on Thai Airways 747-400 business class?
As I mentioned earlier, writing a review on Thai Airways business class is one thing. Writing a review about a Thai Airways 747-400 is another thing altogether. You see, all these old 747's are definitely showing their age. As much as I love this airline and want to say really good things about it, the truth is that this business class product just can't compete with modern equivalents.
The seats are old and squishy, and they even look like they're from a different era altogether. Yes they're super comfortable and they still recline very deeply even if they don't go all the way flat, but this configuration simply isn't competitive anymore – especially when today's business class customers expect a lie flat seat on any long haul flight.
Thankfully the cabin crew is what made this experience so special (and memorable) for me. The people of Thailand are some of the friendliest on earth, and I felt the kindness and warmth within every cabin crew member I had an interaction with. These are people who truly love their job and helping others, which blows my mind considering how different things are here back at home in the US.
I'm not saying that we don't have friendly flight attendants here in America, but they are much harder to find and it's almost impossible to find an entire airplane full of 'em at once.
Anyway, the verdict is that the 747 itself was a bit of a downer, but the cabin crew made it an exemplary experience. Can you imagine what would happen if you combined a modern and technologically advanced aircraft with a crew of the same caliber? Well, stay tuned because my review of Thai Airways A350 business class is coming up next…
Assuming that BKK security is efficient as everyone says it is of course. If I can't make my connection, this trip report stops here.