Trying to decide whether or not if paying the premium for Thai Airways A350-900 business class was killing me. On one hand (if the rumors were true), the food would be excellent. The cabin crew would be happy, attentive, and extremely helpful.
On the other hand, have you priced Thai business class recently? It's not cheap. It's matter fact, I'd even go as far as to call it "spendy" (which is what I usually label anything I really want, but really can't afford).
Long story short, it was one of the best splurges of my life.
TG409
Bangkok, Thailand (BKK) – Singapore (SIN)
Sunday, February 3, 2019
Aircraft: A350-941
Registration: HS-THD
Duration: 2 hours 2 minutes
Seat: 17A (business class)
My full review of Thai Airways A350-900 business class from Bangkok to Singapore
As I was Googling how to spell "Suvarnabhumi" just now, I noticed a clip of text proclaiming it as the 9th busiest airport in the world. And I totally believe it too considering how long I had to walk to my gate after clearing security. All I'm going to say is that Bangkok airport security is extremely efficient.
This isn't the first time I've been to BKK, so it's massive size and stunning architecture didn't shock me as it did the first time I was here (back in 2008). This is easily one of the most beautiful airports in all the world, and it was unfortunate that I didn't have time to enjoy it on this layover.
Making the experience somewhat less enjoyable this time was the fact that the air conditioning wasn't working as it should have been. It was as hot and miserable inside just as it was out on the tarmac.
And if tens of thousands of sweaty people rushing around in close proximity (brushing sweaty arms up against one another) sounds hellish, I'm here to confirm it. Nothing will make you cringe faster than wiping the sweat of a complete stranger off your arm as you run to your gate.
This is a beautiful and stunningly designed airport terminal though, so at least I had something nice to look at as I was dealing with mopping up random stranger sweat off my arm.
The boarding process
Boarding for business class passengers began right on time. I was still in shock from the fact that I actually made this connection, and if anything, that just made the process feel more exciting then it actually was..
Seat overview
As much fun as I had in Thai Airways 747-400 business class between Sydney and Bangkok, the hard truth is that it's a fairly lousy business class product. Of course the cabin crew was nothing short of fantastic (and the food was pretty good too), but the recliner seats are old and simply not competitive anymore. This is not the case with the A350.
Thai Airways business class is just about perfect on the A350. The layout is an industry standard 1-2-1, draped in beautiful purple fabrics and wood accents. Combine this with the legendary Thai onboard service, and it's a product I'd be more than happy to fly long haul.
Departing Bangkok
That "One Night in Bangkok" song from the 80s was playing (loudly) in my head as we rolled out for departure. Anyway, because you're reading this, you already know that we departed on time and without any issues. A hard man wasn't made humble somewhere in a shadowy back alley on the streets of Bangkok this night.
The food (and cabin service)
Just when I thought I couldn't eat anymore airplane food (I started the day in Sydney), I was faced with the conundrum of eating (or not) on this relatively short flight down to Singapore. Once we were in the air and screaming towards cruising altitude, the flight attendants kicked of the service with drinks and little bags of nuts.
The dinner service followed very quickly after, though it's important to mention that even though we had a choice (a Thai or Western option), there were no menus distributed. A flight attendant simply appeared at my seat, asked "whaddya want?" (in the sweetest Thai way possible), and then scurried off to the galley to retrieve it.
Overall I'd give this meal service 3.5 out of 5 stars. It did seem a bit rushed and robotic, which is entirely understandable considering how short of a flight this was. But the food was delicious! It was also much milder than the super-spicy fare I had on the SYD-BKK leg earlier in the day, which made this delicate white boy quite pleased.
In-flight entertainment
Although this was much too short of a flight to fully test out the video entertainment system, I can assure you that it would be an excellent companion on a long haul flight. Most of the movies and TV shows were Asian, with a smattering of Hollywood titles mixed in. Most importantly, the screen was large and vibrant, and scrolling through the menu items (either with the remote control or touchscreen) what is fast and snappy.
The descent and arrival into Singapore
The descent and landing into Singapore was fantastically stunning. Mother Nature really put on a show with an unforgettable hot and humid sunset – which I suppose happens fairly regularly in this part of the world. Remind me again why I don't live here?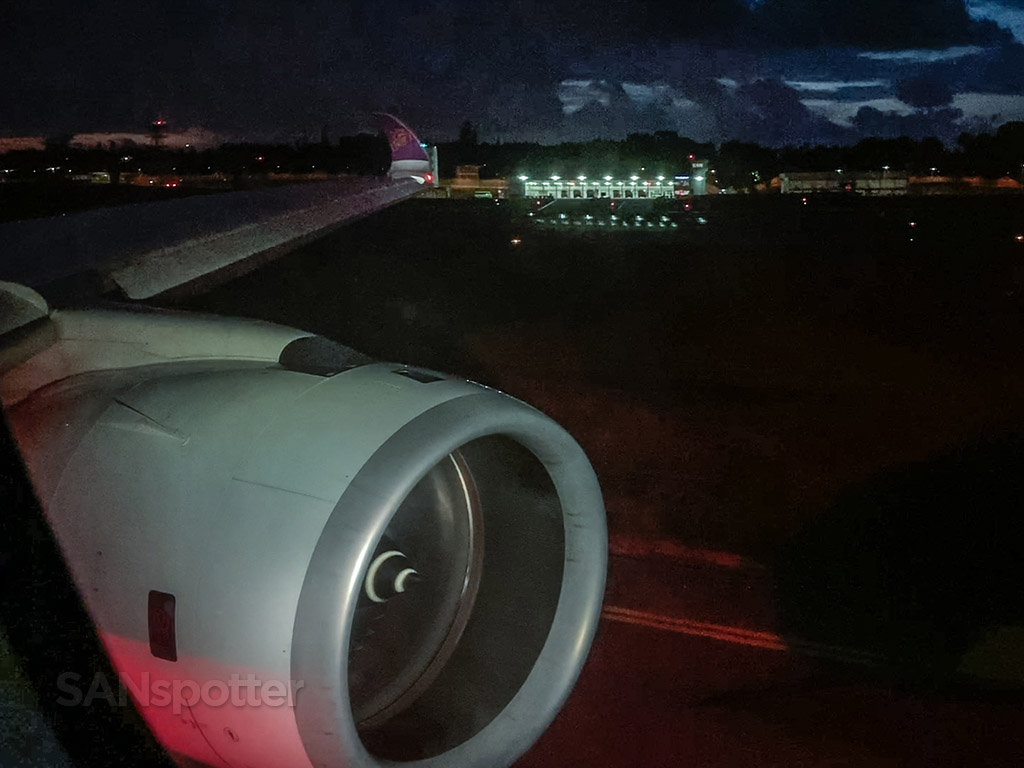 Is Thai Airways business class something I can confidently recommend?
The fact that Thai Airways has recently failed yet another FAA safety audit means that I've been getting a lot of comments from people saying they'd never set foot on this airline until they get thier act together. But having experienced two magnificent Thai Airways flights back to back on the same day, I'm not one of those people.
Sure, they might have a few problems and some inconsistencies that they need to figure out. But it's not like they're crashing airplanes and killing people, so until that starts happening I will continue to be a huge Thai Airways advocate. Especially for their business class product!