I didn't realize it at the time, but thanks to COVID-19, this EVA Air premium economy review would be my last for the remainder of 2020. I had an inkling that things were about to change, but I had no idea the severity of the situation while sitting on this 12 hour flight over to LAX.
As someone who reviews airlines for a living, this was a big deal. I knew that I was on the brink of being grounded for a while. But hey – is there any better way to end a nerdy AvGeek career than by flying EVA Air premium economy from Taipei to Los Angeles?
Thank God it didn't end on a 25-minute United Express CRJ-200 hop. That would have been really embarrassing.
BR006
Taipei, Taiwan (TPE) – Los Angeles, CA (LAX)
Monday, March 2, 2020
Aircraft: 777-35E/ER
Registration: B-16729
Duration: 11 hours 37 minutes
Seat: 24D (premium economy)
The video
One of the biggest disappointments about this video was the fact that it was going to be my last airline review for a good long while. That and the fact that I had just started to get things figured out.
I had recently upgraded to shooting in 4K. I bought an expensive new laptop for the sole purpose of editing content while traveling. Most importantly, the process of actually getting the footage wasn't so stressful anymore. I was finally starting to learn what kind of footage does and does not work well for my style of airline reviews. Then, it all came to a grinding halt.
Looking back on the video of this EVA Air flight to LAX, it makes me think that I didn't appreciate travel as much as I should have while I was able to do it. I miss flying. A lot. Especially after an amazing flight such as this!
The soundtrack for this video (just like my entire catalog of videos), came from Epidemic Sound. They're pretty much the best in the business when it comes to providing quality music for Youtubers of all kinds.
Full transcript of the video – with loads of pics and bonus content!
Finally, an EVA Air review which allows me to spew AvGeek sauce in a way I've been wanting to do for a very long time! Yeah, EVA Air to LAX has been on my bucket list for a very long time, and I was really excited to have finally gotten the chance. Please excuse any excessive AvGeekery from this point forward…
Arrival at Taoyuan Airport
Let me say this: even though I was extremely excited about my first ever long-haul EVA Air premium economy experience, it wasn't all that easy to get out of bed and to the airport.
This was the final segment on what had been a very long journey so far, and with the spread of COVID-19 getting scarier and scarier by the hour, things weren't quite as exciting as it may have seemed. That being said, I was still looking forward to this in a very big way.
The Plaza Premium lounge
EVA Air premium economy passengers don't get complimentary lounge access, but thanks to my Priority Pass membership, I was able to get into the Plaza Premium lounge located on the upper level of terminal 2. It was a fairly decent lounge as far as Plaza Premium lounges go, and I will say that it was much better than having to hang out in the main terminal for several hours before the flight.
How I get into airport lounges
Access 1300+ airport lounges worldwide with Priority Pass
Access to over 1300 airport lounges around the world, regardless of airline flown or class of ticket.
Complimentary snacks, drinks, and meals.
Digital entry for instant access through the dedicated Priority Pass app.
Check it out!
Note: I may earn a commission if you make a purchase, at no additional cost to you.
Why is it so hard for me to sit in the lounge for more than an hour?
Once I had a belly full of good food, I was starting to feel restless. I guess the excitement of doing my first ever EVA Air premium economy review was getting to me.
Boarding for EVA Air flight number 6 to Los Angeles
Although the COVID-19 pandemic hadn't yet taken hold of the world, there were still signs that it was coming here at TPE. In order to get into the gate area, temperature checks and masks were required. It seemed strange of the time, but little did I know that this will be the new normal in the very near future…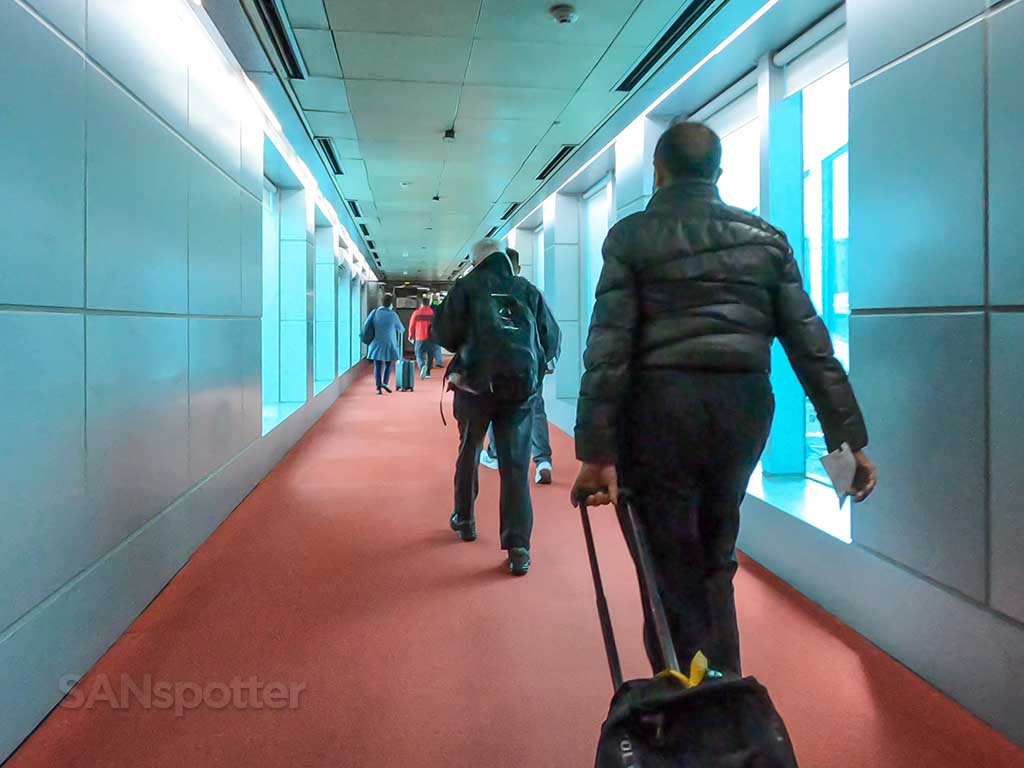 My first impressions of EVA Air 777-300ER premium economy
To be honest, I wasn't completely blown away until I sat down. Walking onto the plane and seeing the premium economy product wasn't all that exciting, and at first I thought I was in for a very lackluster 12 hour flight over to Los Angeles. But then I sat down, and I started getting excited again.
The seats are good. Really good. They may be even more spacious than the seats you'll find in ANA 777-300ER premium economy (which is saying a lot).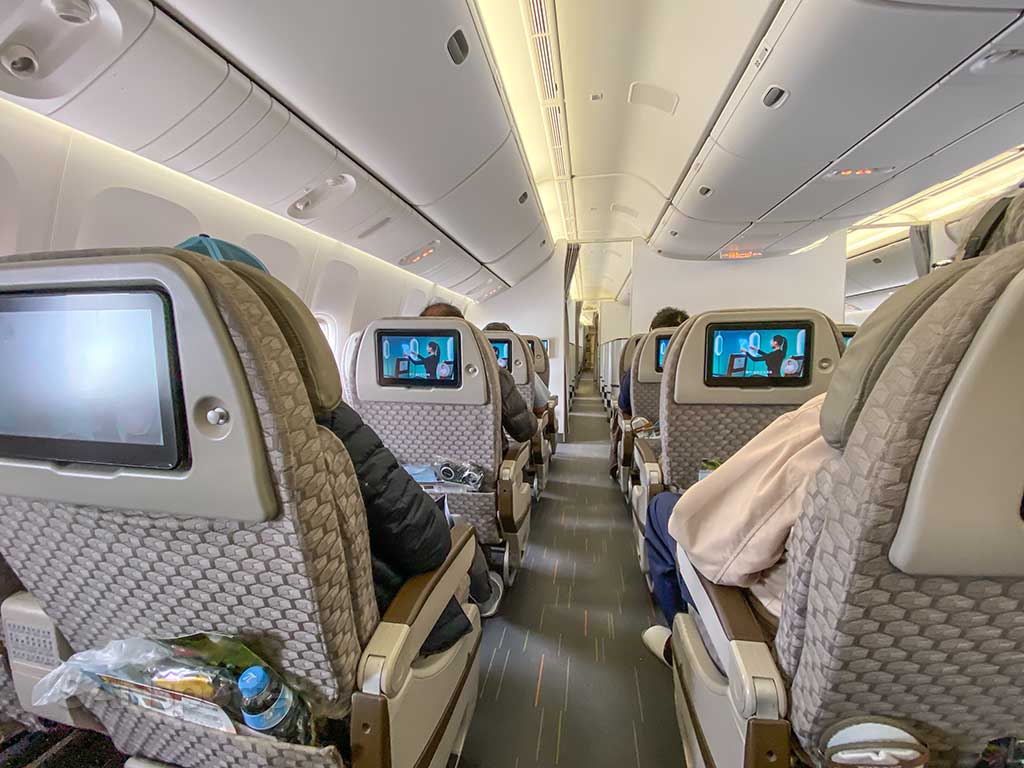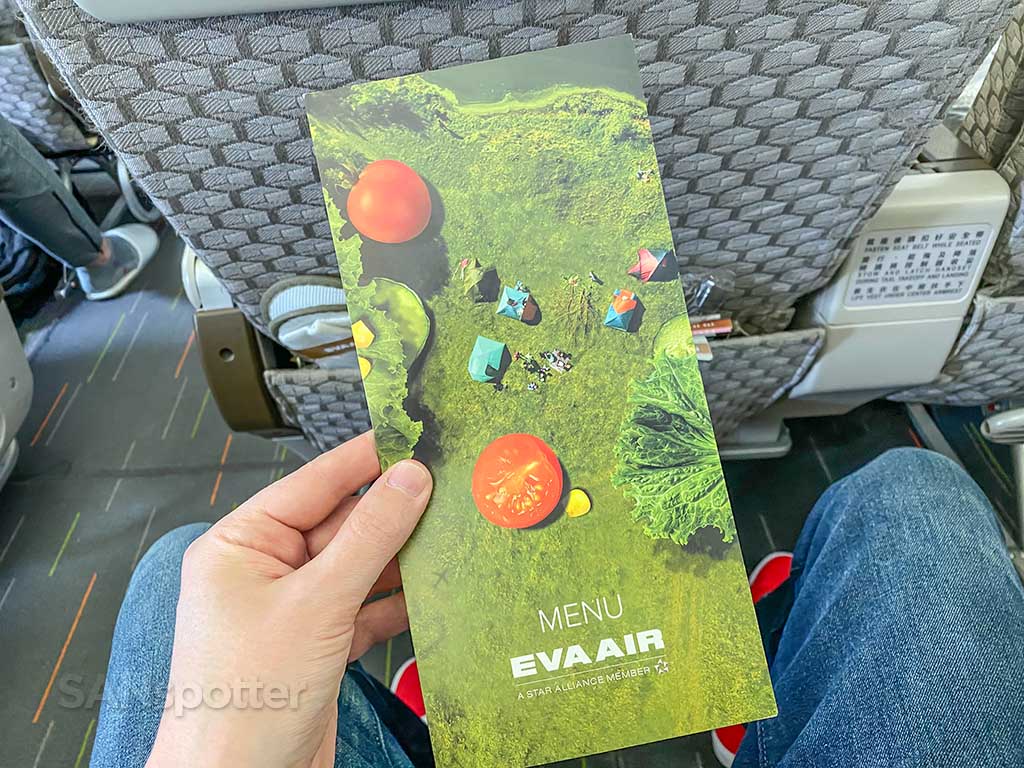 In the air now and getting settled in for the long transpacific journey
Just like most of my other flights and this trip to Asia and back so far, I had multiple seats next to me wide-open. There was plenty of room to spread out. For anyone who has experienced anything similar, isn't it a joyous feeling knowing that you won't have to rub elbows with a complete stranger for the next 12+ hours?
What's the food like in EVA Air premium economy?
That's exactly what I was dying to know. Not only was I extremely hungry as they came down the aisles with food cart, I had absolutely no idea what the food was going to be like. I'm just gonna let the pictures with captions do the taking (the captions will help too lol):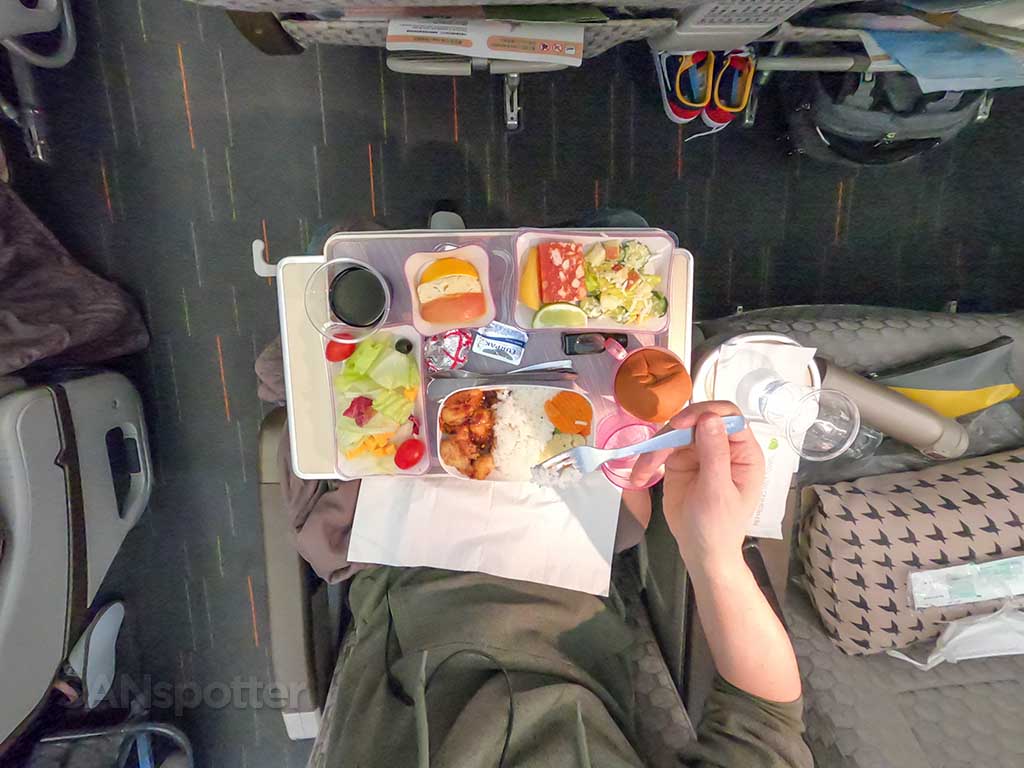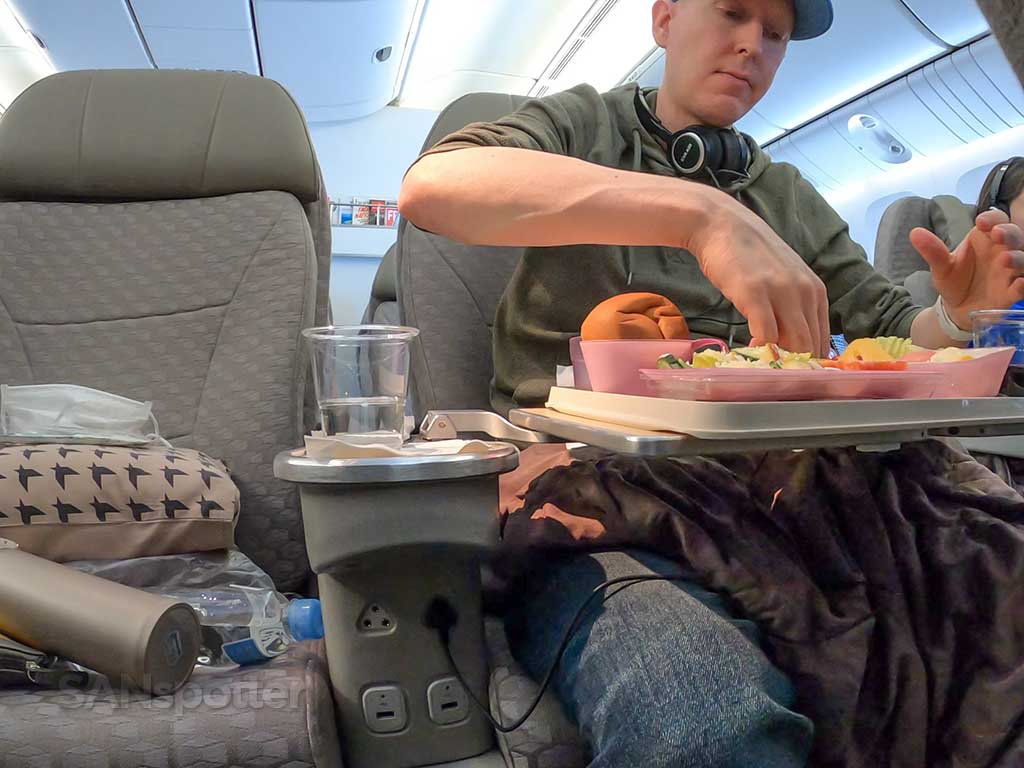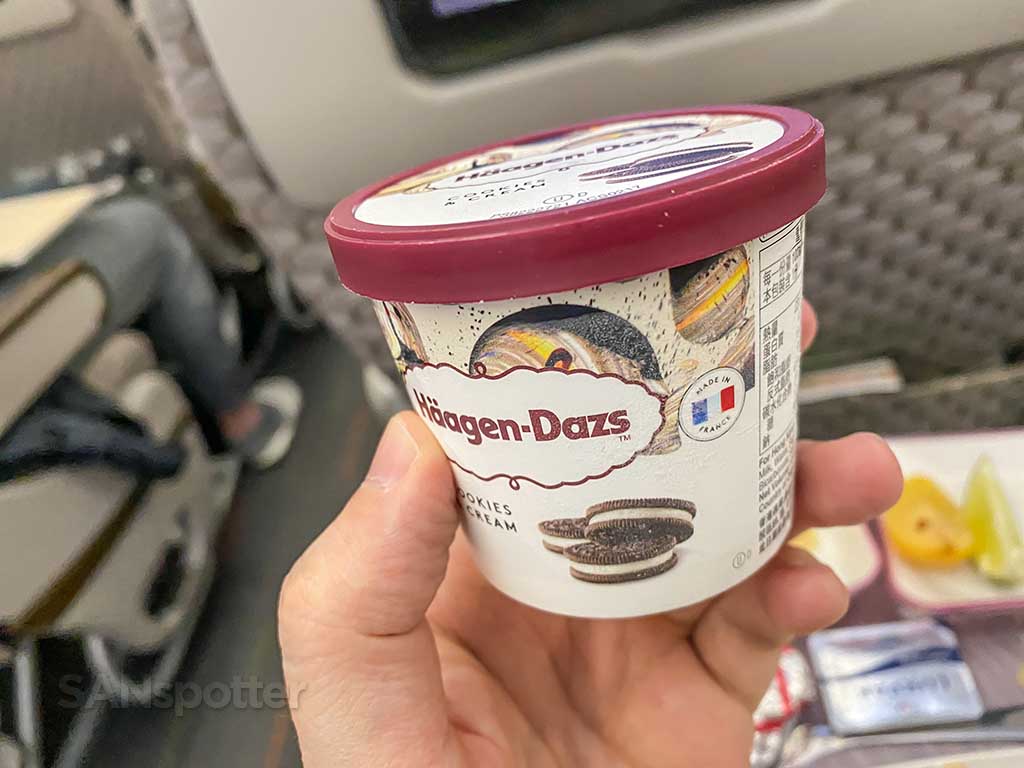 How comfortable is premium economy for relaxing and sleeping?
Very good actually! No, these are not lie-flat business class seats, but they are leaps and bounds better than the standard economy seats. It was very easy to get comfortable and relax after the meal service.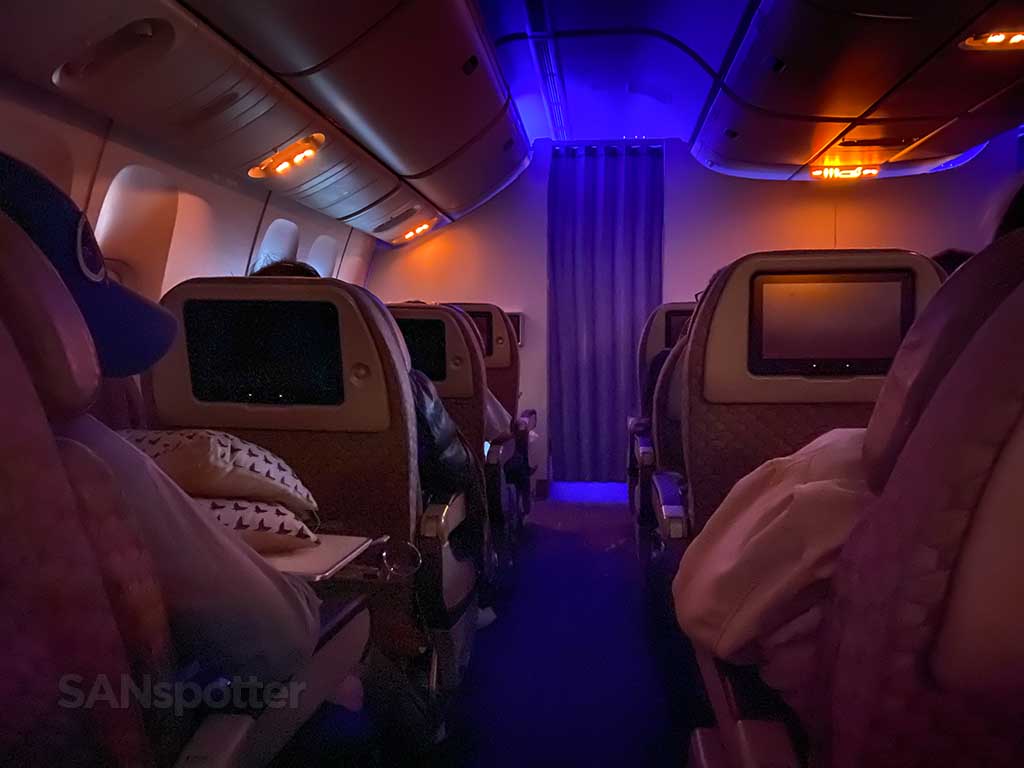 What was the second meal service like?
Honestly, there had been so much food consumed on this flight that I wasn't even in the mood to eat once they started serving the pre-landing meal. However, I am the kind of person who will eat anything put in front of me (anything except mayonnaise that is). Even if I'm completely full and there's no room left in my belly. Believe me. I'll make it happen. Except if it's mayonnaise.
Final thoughts on EVA Air and their long haul 777-300ER premium economy product
Remember the short haul EVA Air business class review that I wrote several years ago? Well, this premium economy experience was better than that. Everything about this flight was perfect, and there really isn't much that I can think of that would've made it better. Slightly higher quality food perhaps?
Sure. But in my opinion, it wasn't necessary. The food was fine, and a perfect complement to everything else. Now, let's bring 'er home to Los Angeles…
Honestly, I never would've imagined that I'd be grounded for the rest of the year after this. Yes, I know. Planes are still flying and there is nothing stopping me from getting on a plane and flying around the US today. But for now, I'm content to sit on the sidelines and wait. I'll be back in the air again eventually, there's no doubt about that.
Until then, I can just sit and dream what (and when) my next airline review going to be…
How much did I pay for this EVA Air premium economy flight from Taipei to Los Angeles?
Not as much as you would think. I think. I purchased this as a one-way ticket since the the first portion of this journey (AirAsia from Penang to Kuala Lumpur and AirAsia X from Kuala Lumpur to Taipei) was purchased separately on evaair.com. The grand total for TPE-LAX? $743.78.
As you'll see in the pictures below, that was an incredibly good deal. EVA Air premium economy is extremely good! I'd even rank it as high as QANTAS 787-9 premium economy. Maybe even British Airways A350-1000 premium economy as well. Keep reading to find out why…
Because I purchased this ticket with my American Express Platinum Card (which gives 5X points on all airfare purchases), I earned a grand total of 3,720 Membership Rewards points for this segment. Cha-Ching!
How I pay for all my travel expenses
The American Express Platinum Card
100,000 welcome points (woo-hoo!)
Earn 5x points on flights and prepaid hotels
$200 hotel credit + $200 airline fee credit + $155 Walmart credit + $240 digital entertainment credit (and much more)
Transfer points to a wide variety of global airline and hotel partners
Sign me up!
Note: I may earn a commission if you make a purchase, at no additional cost to you.
Pros and cons of EVA Air 777-300ER premium economy
My primary goal for this EVA Air premium economy review is to stay fair and impartial. That's going to be an extremely difficult thing to do considering how fantastic or flight this was, but I'm going to try my best. Yeah, it'll be a challenge, but I I don't want to be known for EVA Air reviews that sound too gushy or anything. That would be gross.
Pros
All the rumors you've heard about EVA Air being one of the best airlines in the world are true. Everything about this flight was perfect. From the cabin crew, to the food, to overall seat comfort, I didn't have much to complain about. Much like the regional EVA Air business class experience I had a few years ago.
Legroom in EVA Air premium economy on the 777-300ER is phenomenal. Seatguru.com says that there is 38 inches between the seats in EVA Air premium economy, but I'm here to tell you: it felt double that. Wait a sec. Am I sounding overly gushy already?
The food was excellent. It compared in quality to British Airways premium economy food, although not quite up to the standards of what I was served in QANTAS premium economy.
The seats had plenty of recline (far more than a regular economy seat) and it was fairly easy to sleep in them.
Cons
Although I didn't experience it on this particular flight, Eva Air long haul premium economy is typically very expensive. As a matter of fact, I've tried booking this exact flight before many times, but I was always scared away by the high prices.
Because these premium economy seats recline more than regular economy seats do, it can still feel really annoying (and invasive) if the person in front of you reclines their seat to the maximum amount.