As you read through this Lufthansa A350-900 premium economy review, it's important to keep in mind how much of a value it represents. You'll appreciate it a lot more that way.
No, the seats aren't as nice as what you'll find in premium economy on other airlines. The food isn't all that great either.
However, it's a far more comfortable option than basic economy (for only a bit more money) and it would be foolish not to appreciate that it even exists at all. Not even a little.
LH467
San Diego, CA (SAN) – Munich, Germany (MUC)
Tuesday, April 11, 2023
Aircraft: A350-941
Registration: D-AIXH
Duration: 10 hours 31 minutes
Seat: 15D (premium economy)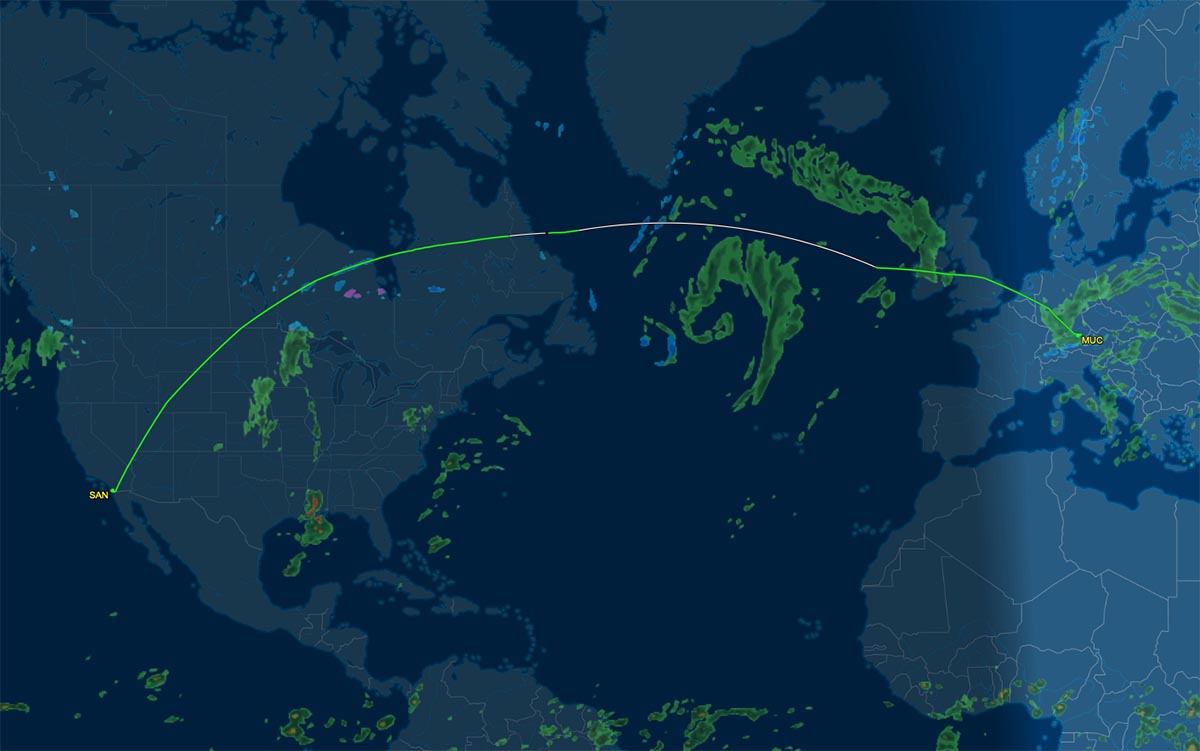 My full review of Lufthansa A350-900 premium economy from San Diego to Munich
I know, right? As a San Diego based airline reviewer, it's been absolutely criminal of me to delay a review of this service for so long. The truth is that I was holding out for business class. And when I got tired of waiting for a good deal to pop up, I decided to plow forward with the next best option: premium economy.
But it doesn't end there! keep scrolling to read a much more detailed review of the experience (with tons of pics and additional information):
Arrival at the airport
Lufthansa's San Diego to Munich flight departs at 5:15 PM. That's a lot later in the day than I normally like to begin a long journey, but exceptions have to be made sometimes.
It felt a bit out of my wheelhouse to show up at my home airport at 2 PM. I'm a morning person, and I much prefer starting early. How do some people function so well later in the day?
The Lufthansa ground experience at the San Diego Airport
Lufthansa operates out of Terminal 2 West at the San Diego International Airport. The flight to Munich was departing out of gate 48, which is a gate I've flown out of many times before (to Atlanta, not Munich).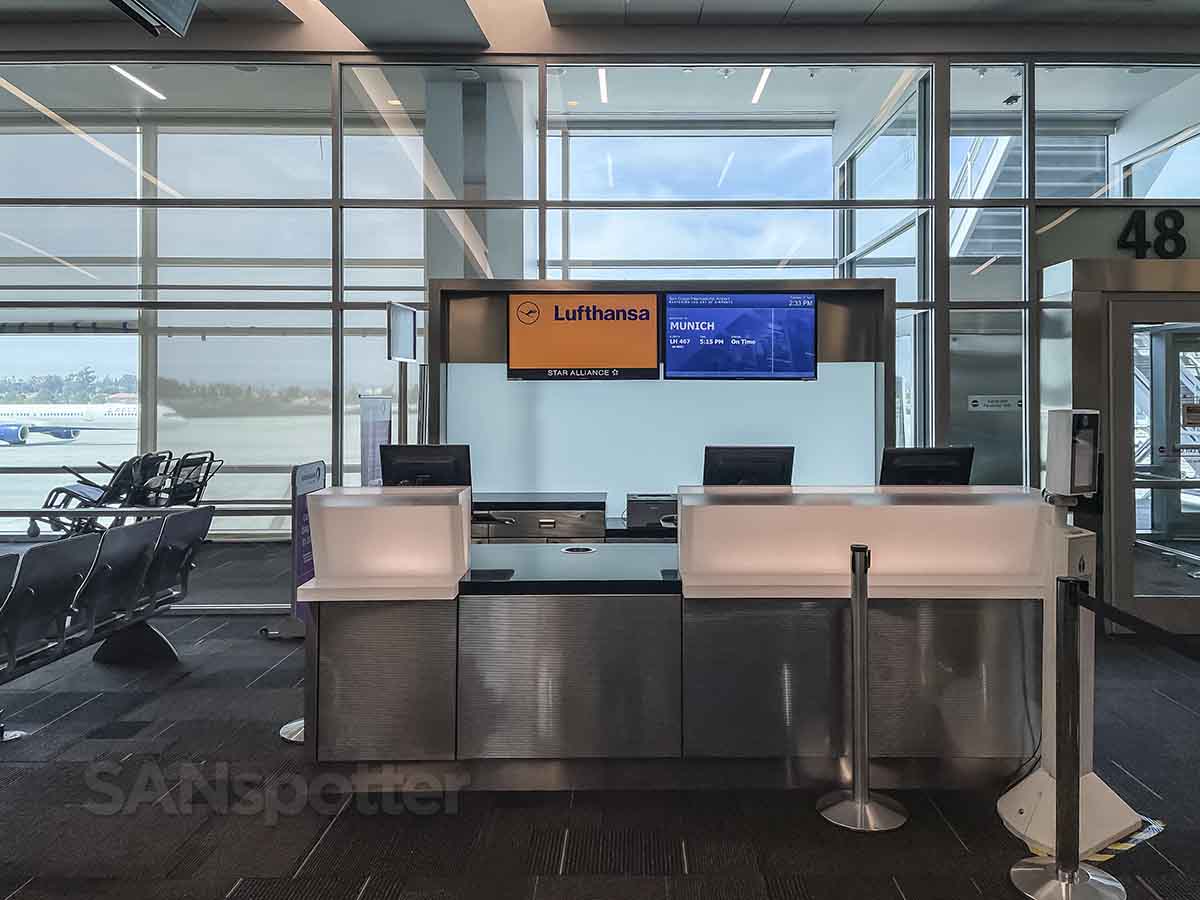 If by chance you have the kind of status on Lufthansa that would get you into lounges, you can use the United Club located on the second level (above the food court). I have no such status, so I was relegated to hanging out in the main terminal instead.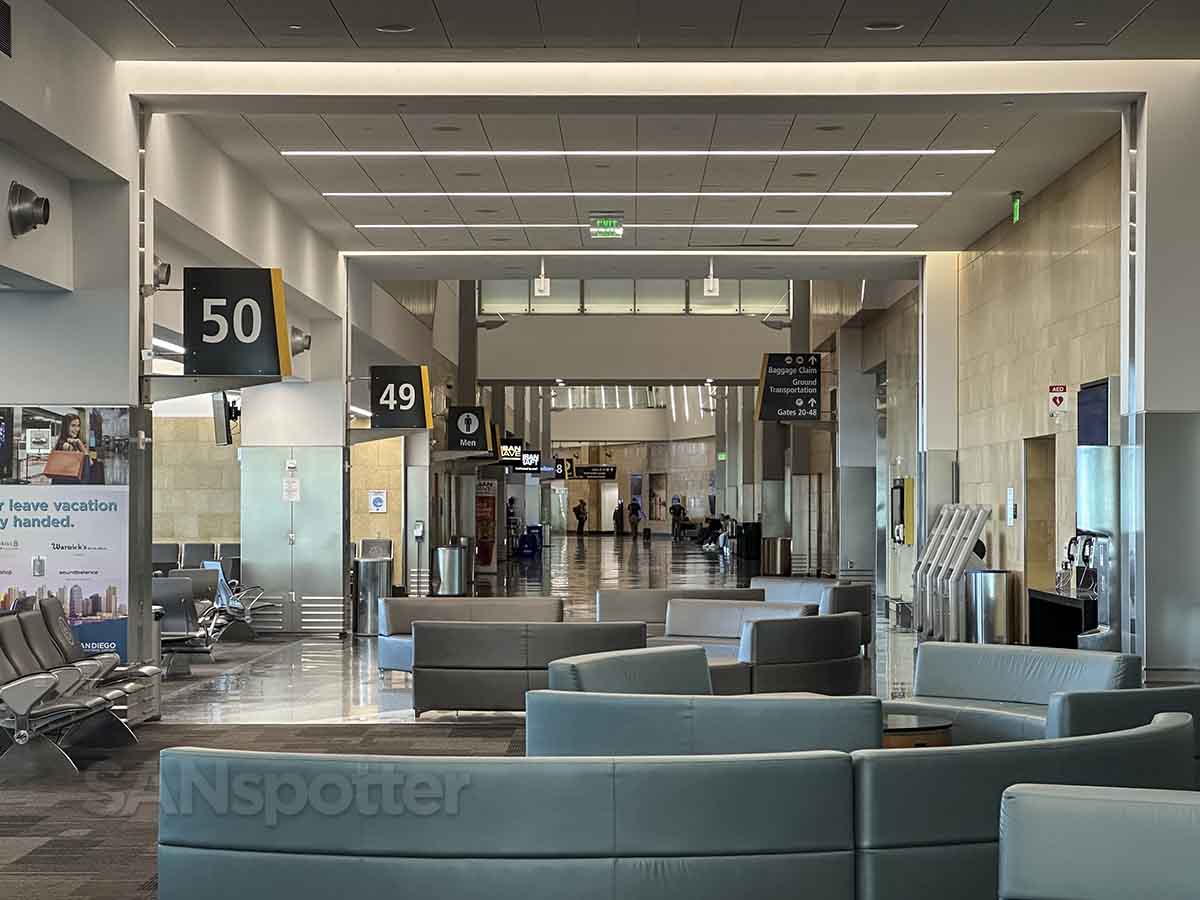 The boarding process for flight number for 467 to Munich
Remember when I flew Lufthansa A340-300 economy class from San Diego to Frankfurt? That was also in April, and the load factor on that flight was low. The gate area for this flight to Munich however, was packed. It was standing room only, and it was fairly obvious that this was going to be a very full flight.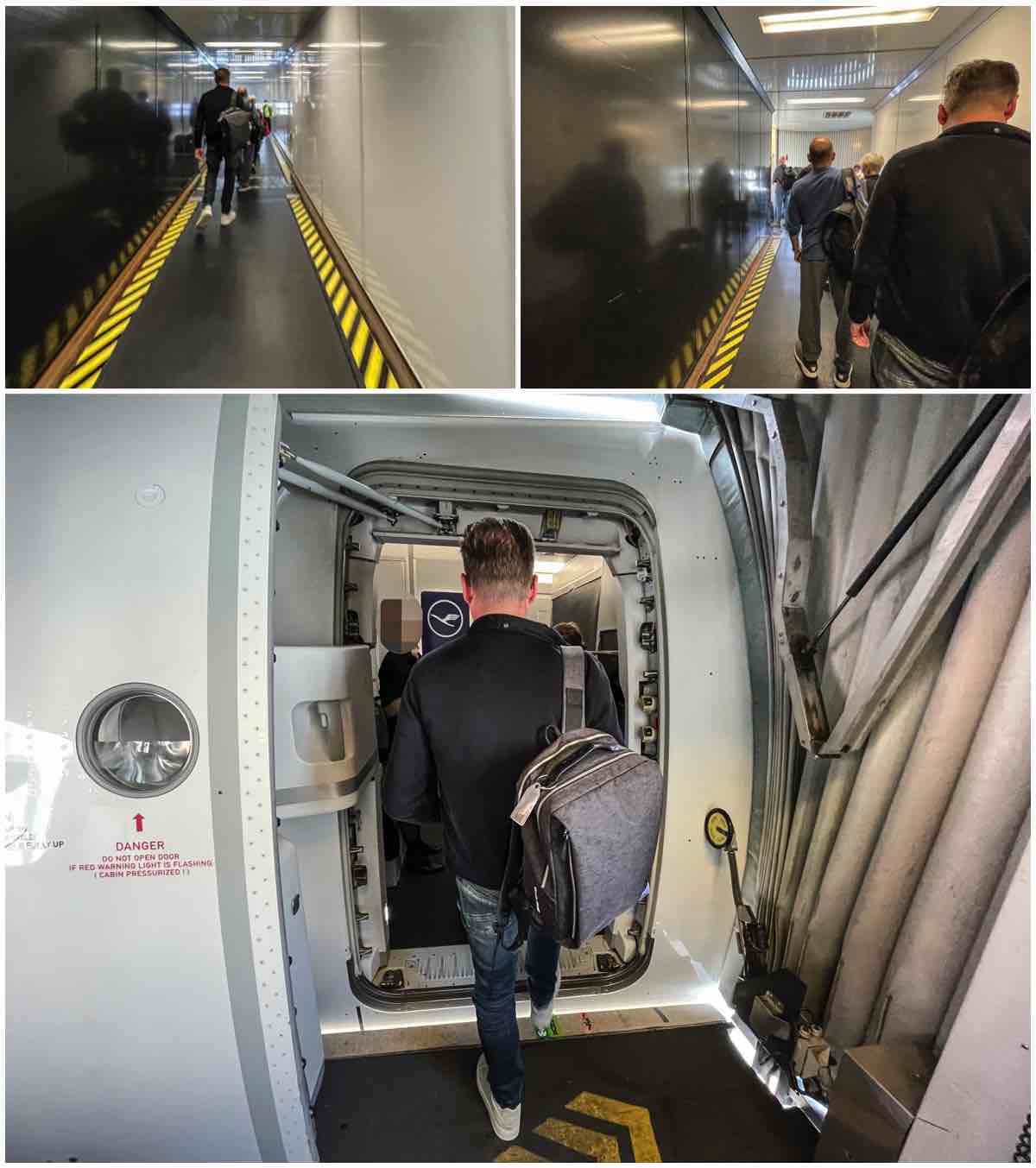 My first impressions of Lufthansa A350-900 premium economy seats
I know it makes me sound snobbish when I say stuff like this, but I'm going to say it anyway: I wasn't all that impressed when I saw the premium economy seats for the first time.
Yes, do I realize that these are the older style Lufthansa premium economy seats, and newer versions are on the way. That said, I didn't get hit over the head with any of the "wow" factor I experienced when seeing EVA Air 777-300/ER premium economy for the first time.
The best way to sum up my initial impressions is to say that it looked (and felt) like Lufthansa A319 economy on steroids. The basic colors and textures were the same, but there was a lot more room to stretch out.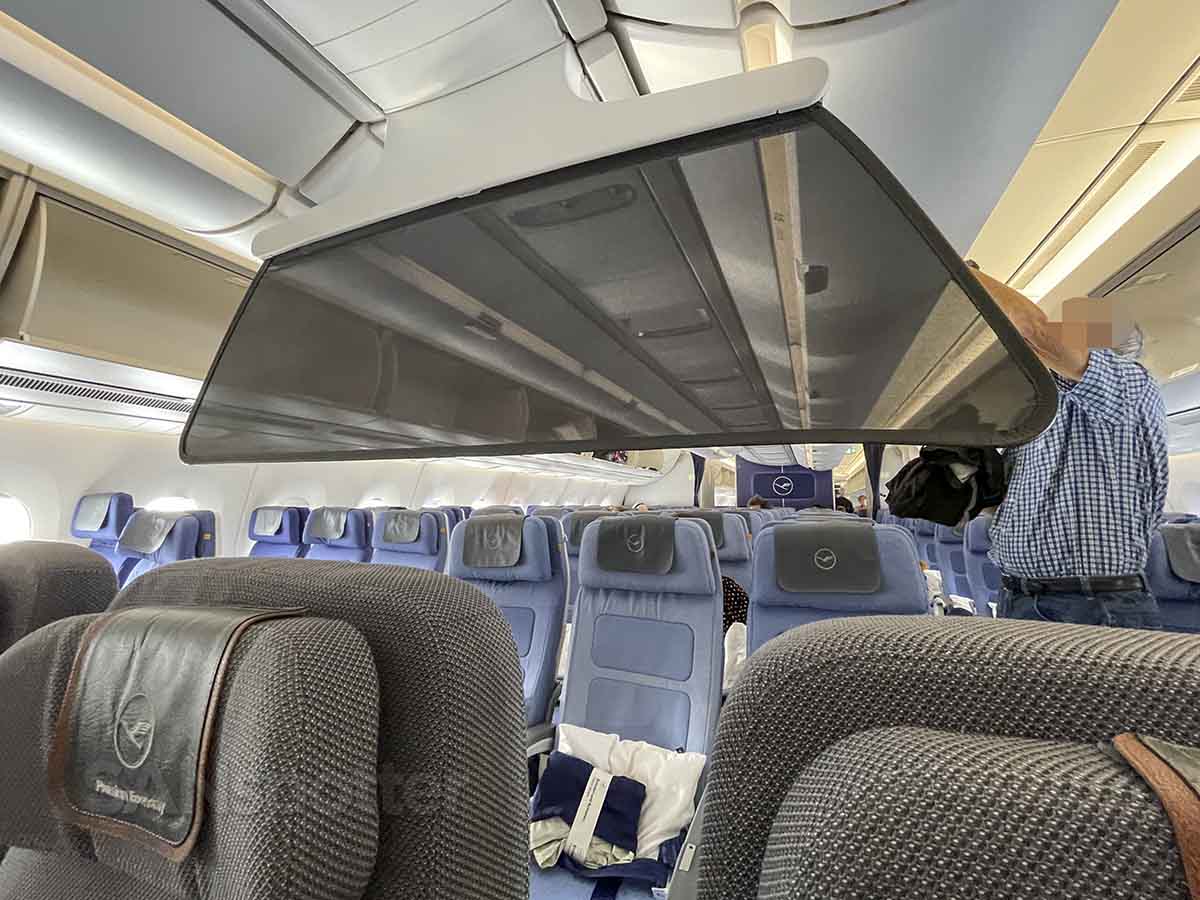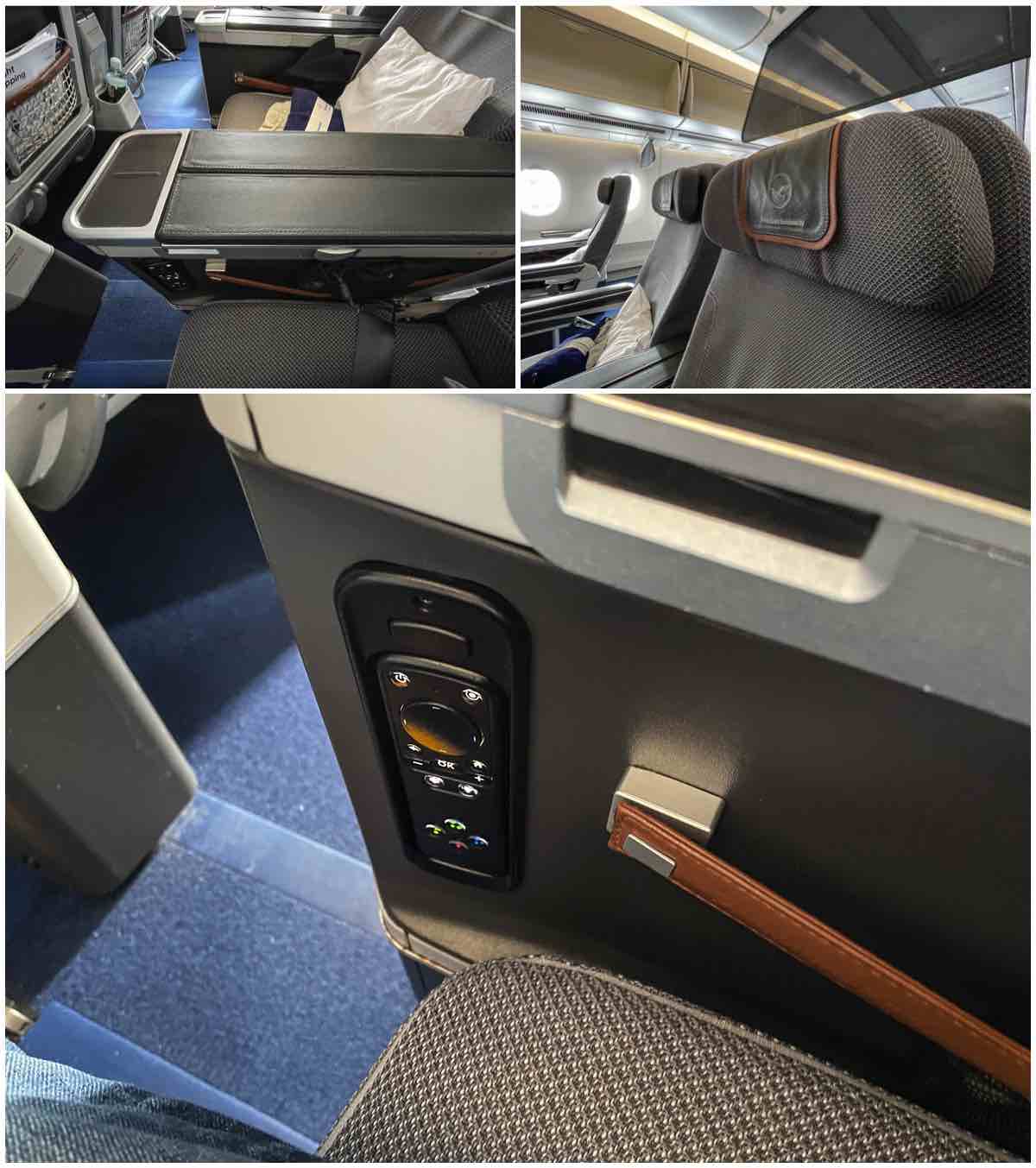 Amenities
Once of the nicest things about flying Lufthansa premium economy is the amenities it comes with. In addition to a high quality blanket and pillow, you'll also get a bottle of water and something they refer to as a "travel kit." It contains a toothbrush (and toothpaste), eye mask, socks, ear plugs, and a disinfectant wipe.
I didn't even get an amenity kit in ANA 777-300ER premium economy recently, so props to Lufthansa for going above and beyond.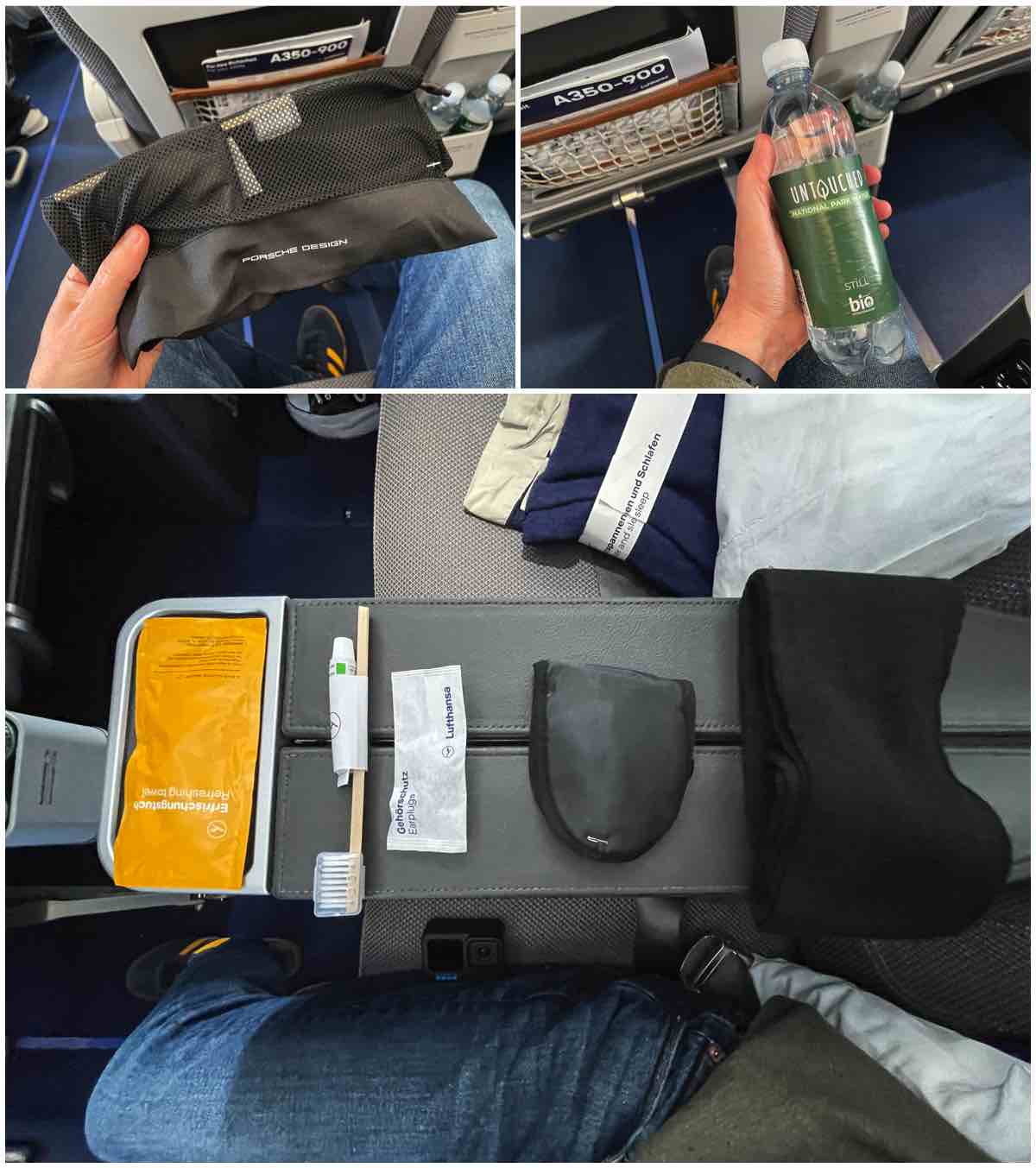 The departure out of San Diego
It used to be that being stuck in the middle seat meant that there would be no departure pics for the review. Now, thanks to modern technology, it's possible to watch the play-by-play directly from the video screen right in front of your face. How cool is that?
For the record, pushback and departure was exactly on time. As it should have been considering how well Germans tend to adhere to posted schedules.
In-flight entertainment
The age of these premium economy seats became obvious once I started poking around with the in-flight entertainment system. Yes, the video screens are large and bright, but the user interface is quite dated (and not very feature rich).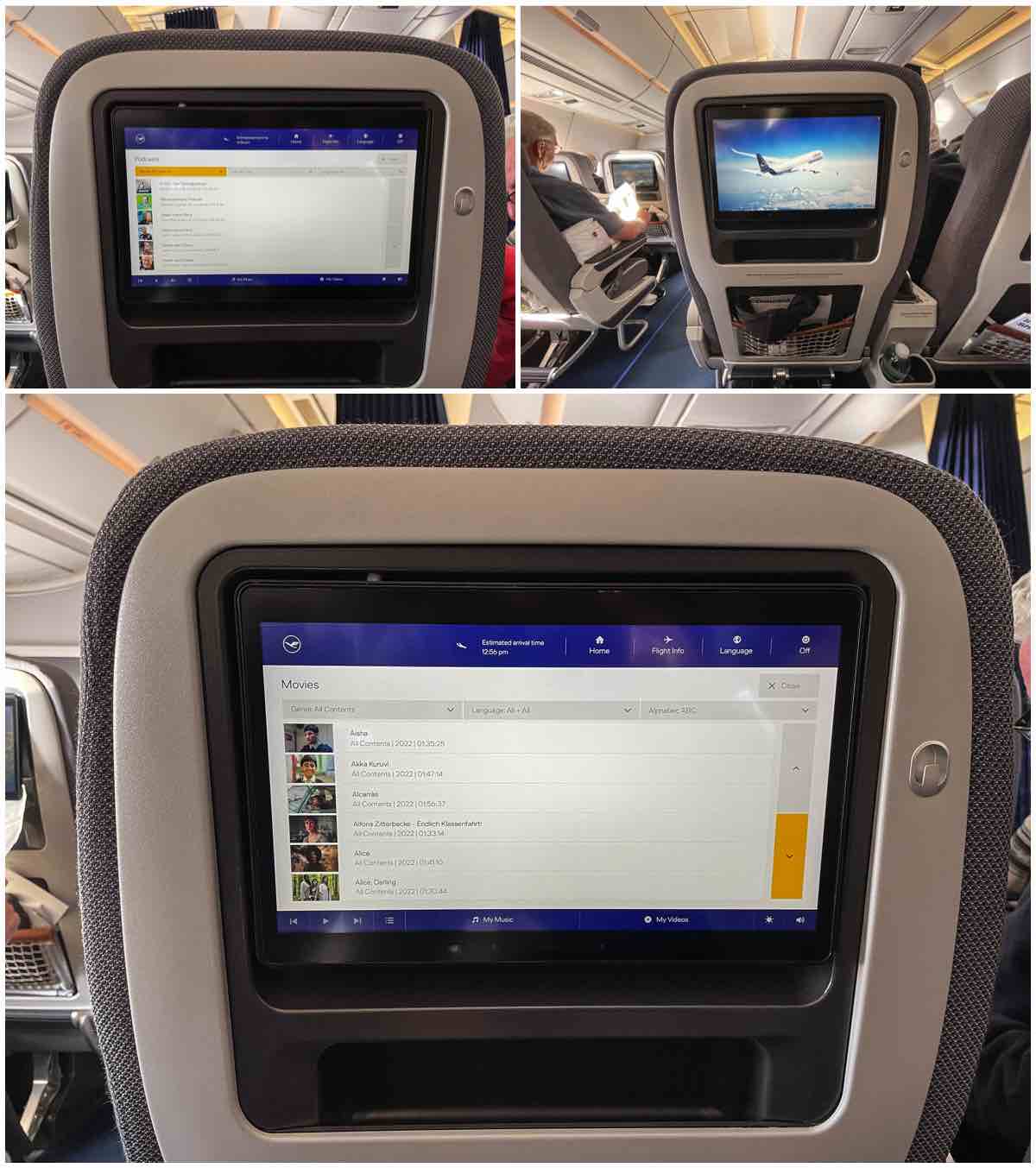 Did you know that Lufthansa doesn't provide noise canceling headphones for guests in premium economy? I didn't.
On one hand, I was slightly disappointed as the flight attendant handed me that little bag of disposable earbuds (the same as I recently got in a Sun Country Airlines Standard seat).
On the other hand, the audio port in my seat was jammed full of unidentifiable gunk. There was no way to plug in a pair of headphones anyway, so at least I didn't have to use them.
The dinner service
I was so naive. Or was I? All I know is that I was expecting a really delicious and well-presented meal. Is that too much to ask when seated in premium economy?
Long story short, the food was presented on a single tray, and it wasn't all that "premium" IMHO. It was essentially a basic economy class meal served in slightly nicer dishware. I found it to be absolutely nothing like the quality of food I was served in Qantas 787-9 premium economy a few years ago.
How comfortable are the premium economy seats for sleeping?
Come to think of it, the amount of sleep but I was able to get in these seats just might be the most impressive part of this review.
Thanks to the generous amount of recline, I was able to get solid hour and a half of sleep during the overnight journey. I know it doesn't sound like much, but it was a lot more than I was expecting (which was basically zero).
The seats are relatively soft, legroom is excellent, and I appreciated the steep angle of recline.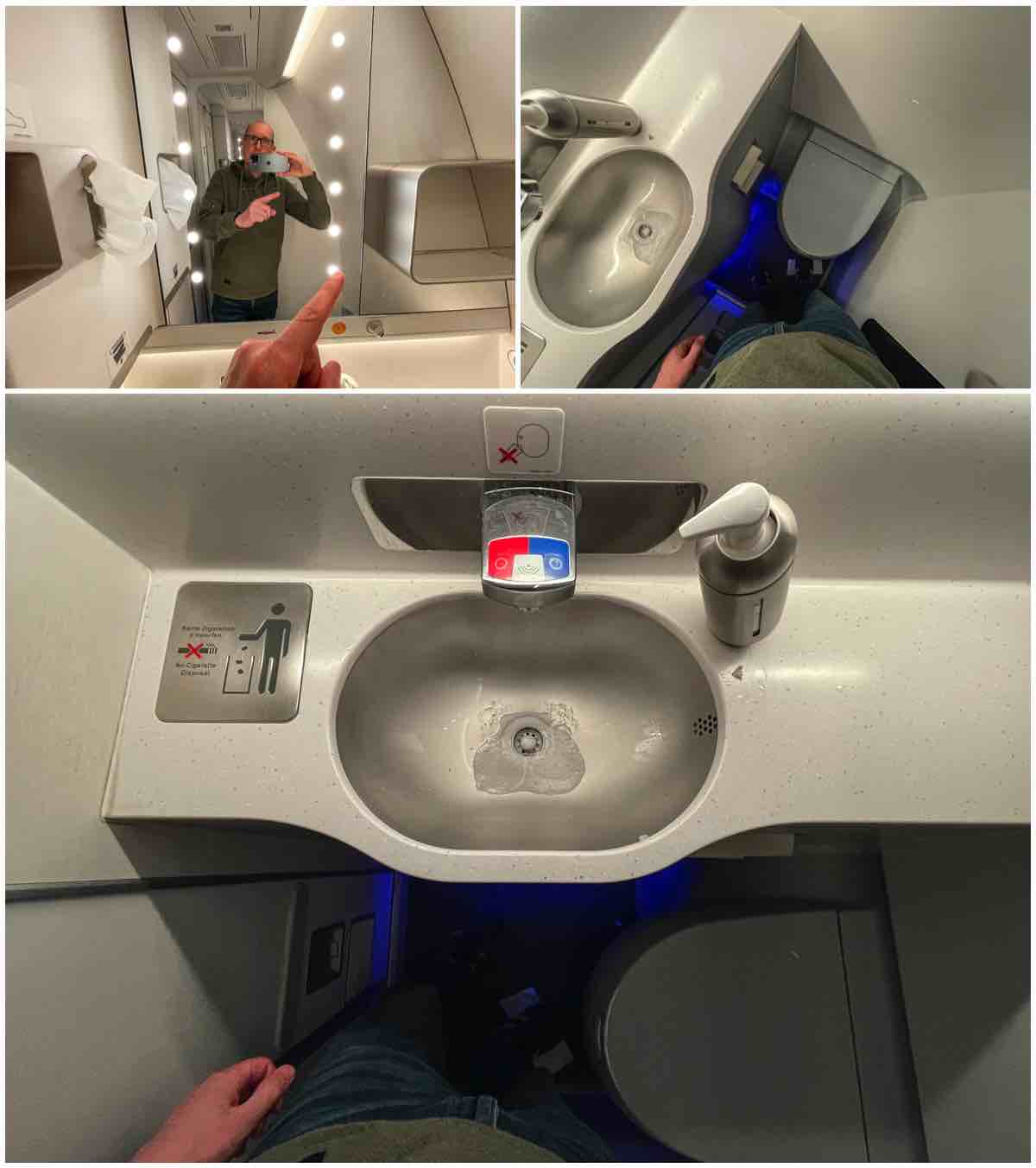 The second meal service
If you were disappointed with the pics of the dinner service, guess what? You're not going to feel any better once you see what they served for breakfast. Everything came on a single tray (economy class style), and it wasn't all that substantial.
In summary, it was just another basic economy meal served with real cutlery (and slightly fancier dishware). "Premium" food it was not – but that's not to say that it wasn't edible. I ate every last bite, and I'm not afraid to admit that it tasted pretty good.
The arrival into Munich
Are onboard cameras not the greatest invention ever? Despite being stuck in the center section, I was still able to see the entire approach and landing from my seat thanks to fairly high-resolution cameras attached to the exterior of the aircraft.
Pros and cons of Lufthansa A350-900 premium economy
Yes, I realize that this is the outgoing premium economy product (a new one will be taking its place soon). I also realize that there was a lot to criticize about the service I received on this flight. In-flight entertainment was mediocre, the food was so so, and the flight attendants were generally OK.
That said, I would have killed for a premium economy experience this good during my early days of travel. Although it's easy to be a critic, it's important to understand and appreciate how far we've come. It was pretty darn nice in the grand scheme of things.
Pros
I found the seats to be spacious and comfortable.
Leg room is excellent, and never once did I feel like my legs were cramping up – even though I chose to put my carry-on bag under the seat in front of me.
Seat recline is generous enough to make real sleep possible.
Being seated near the front of the aircraft means being one of the first to be served at meal time.
Cons
The food isn't much better than what you would get back in economy class.
There's no hard separation between premium economy and economy. Without a bulkhead wall, there's no way to filter out the noise from economy class.
These older style premium economy seats are showing their age with lots of scuffs, scrapes, and defects. I couldn't even use the audio jack in my seat (because it was filled with gunk grotesque enough to keep me from messing with it).