Can you remember the last time that someone told you to stay away from the bare-bones Standard seats on the Sun Country 737-800? I can't, so I had to have a go of it myself.
The Standard seats are Sun Country's most basic offering. Legroom is extremely tight, there are no video screens, and if I'm being honest, they are about as old and ugly as I am.
But that's not important. The main purpose of this review is to prepare (and toughen up) your immune system to be able to handle the mysterious stains you'll find around your seat. There will be stains.
SY1606
Boston, MA (BOS) – Minneapolis, MN (MSP)
Monday, March 13, 2023
Aircraft: 737-8Q8
Registration: N805SY
Duration: 2 hours 33 minutes
Seat: 20F (Standard seat)
Those of you with a short attention span will be happy to know that I also shot a full video showcasing how the Sun Country Standard seat compares to the more premium seating option:
A full review of my Sun Country 737-800 Standard seat experience from Boston to Minneapolis
For those of you who haven't been paying attention, Sun Country Airlines is now an ultra low-cost carrier. Their old first class product is long gone, but their basic economy offering isn't all that much different. The seats are a lot thinner now, but that's basically it.
Arrival at the Boston in Logan International Airport
I spent the night at the Hilton attached directly to Terminal A at BOS. Yeah, even though I had to hoof it all the way over to Terminal E to catch this Sun Country flight to Minneapolis, it was still an extremely convenient 10-minute walk (at most).
Inside terminal E at BOS
So yeah. Sun Country is currently operating out of Terminal E at the Boston Logan International Airport. I found it to be a peculiar place for them to be, since this is a primarily international terminal hosting world-class airlines such as El AL, Qatar, and Lufthansa. How they ever decided that Sun Country is worthy of their presence is beyond me.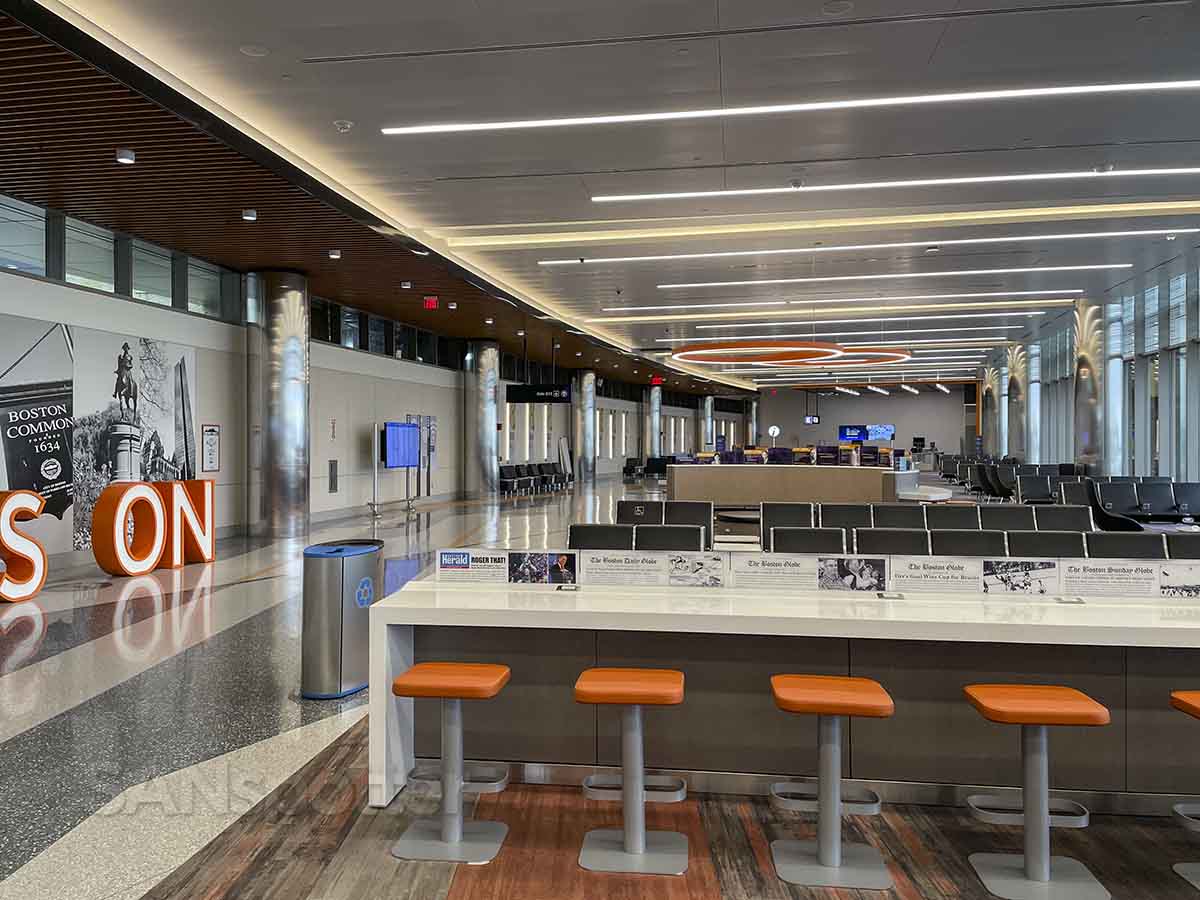 The boarding process for flight number 1606 to Minneapolis
My flight to Minneapolis was departing out of gate E4 this morning. It just so happened to be one of the gates where it was impossible to see the aircraft from the terminal windows, which was more than a minor bummer for this self-proclaimed (and very hardcore) AvGeek. Come on man!
At least they started the boarding process right on time. Sun Country's on time performance isn't anything to rave about, but they were pretty much on the money this morning.
The seats
It's not very often that I'd advise against reading any of my airline reviews from years past, but whatever you do, stay away from my old Sun Country 737-700 economy review. It's gong to be like a kick to the gut when you realize that those older basic economy seats were a lot more comfortable than the new ones I'm about to show you.
About those stained walls
OK. I totally get that airplanes become old and worn out. It's the natural progression of life, and nothing stays new and young forever. However, I can't for the life of me figure out how they let the interior of this particular 737-800 get so bad.
The floors were grimy, and the stains on the walls (and ceiling) had me recoiling in fear. I was basically afraid to touch anything – which automatically earns it the status of being every bit as disgusting as what you saw in my Hawaiian Airlines 767-300 economy review.
The departure
I'll admit it. I was hoping for a crystal clear morning, which would have provided excellent views of the city skyline in the distance as we departed. It wasn't meant to be – but it was still a very scenic taxi out to the threshold of Runway 9.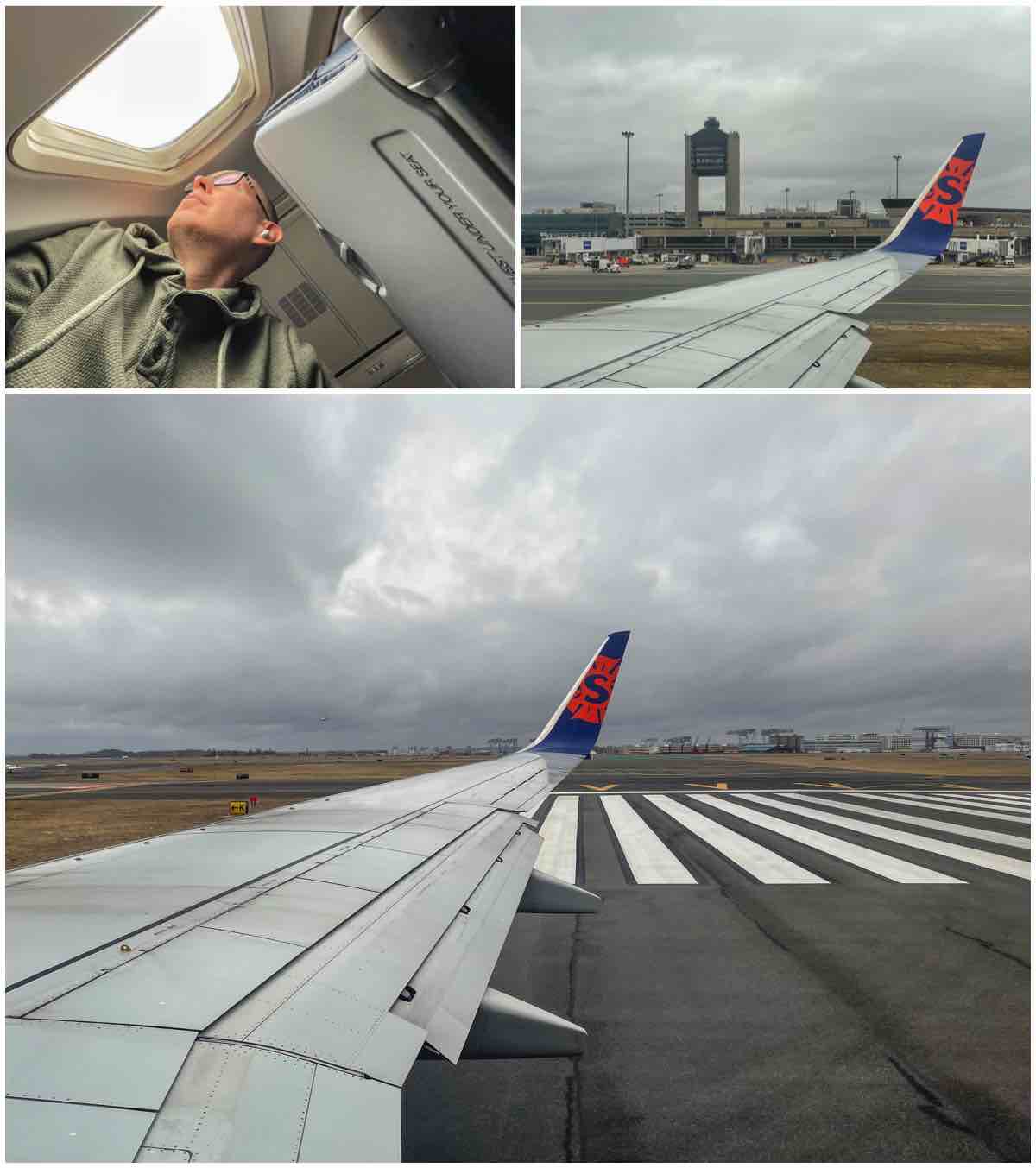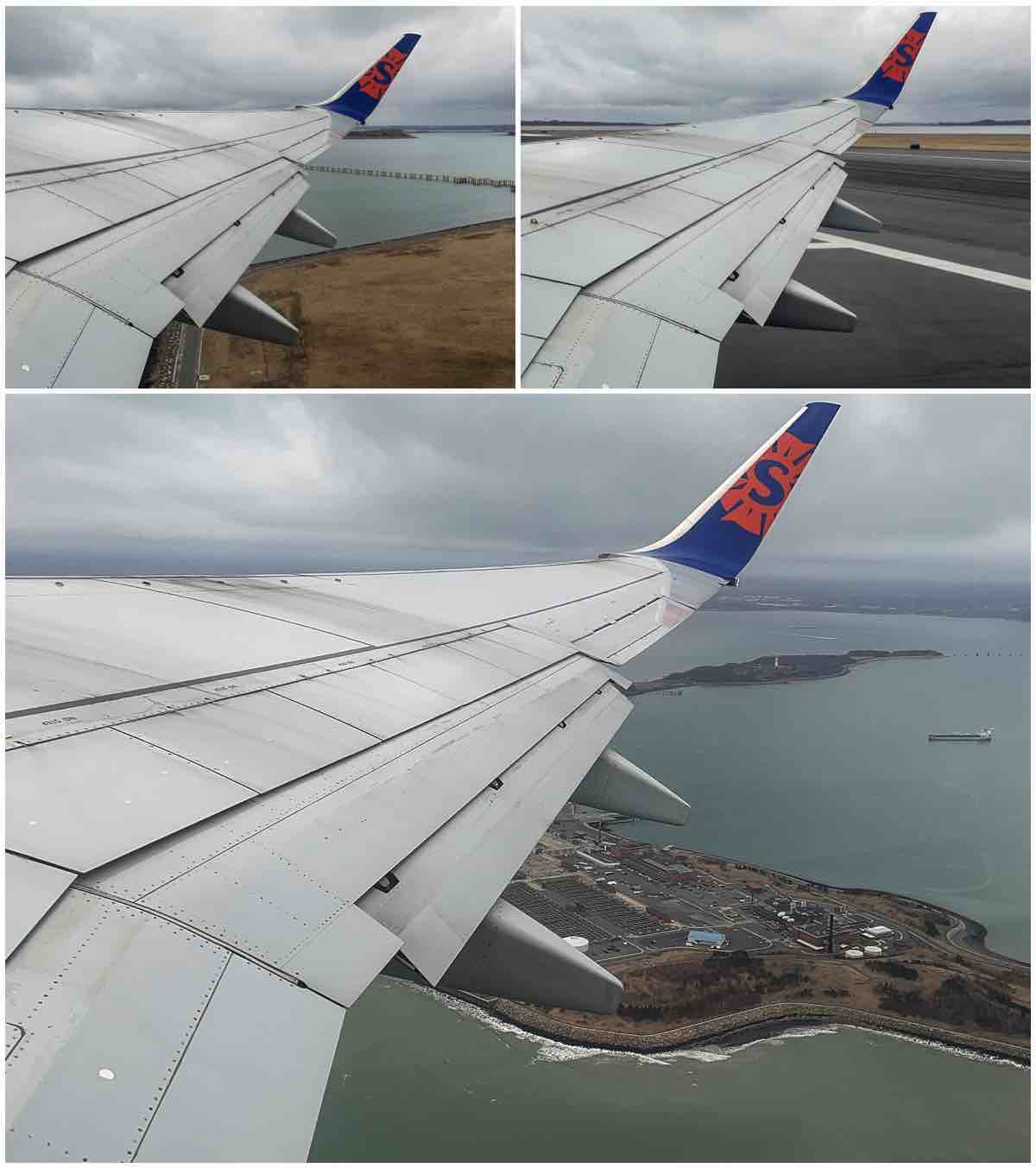 For those of you who'd prefer to watch a video of the full taxi and takeoff, your wish is my command:
In-flight entertainment
The hell? If there is one thing that I was absolutely not expecting to be included in my Sun Country Standard seat experience, it was a really good streaming in-flight entertainment product. There are no video screens in the seats, but their streaming video service is as well-stocked as it is on any other major US airline. Who would've thunk it?
The food
Unlike the in-flight entertainment, the cabin service was pretty much what I expected it to be. There were a wide variety of complementary drinks available, as well as a decent selection of premium drinks that you had to pay extra for.
Oh – I'm not a beer drinker, but there was some Minnesota-based beer on the menu that looked interesting. I'll bet that stuff is a big hit (for those that are willing to pay for it that is).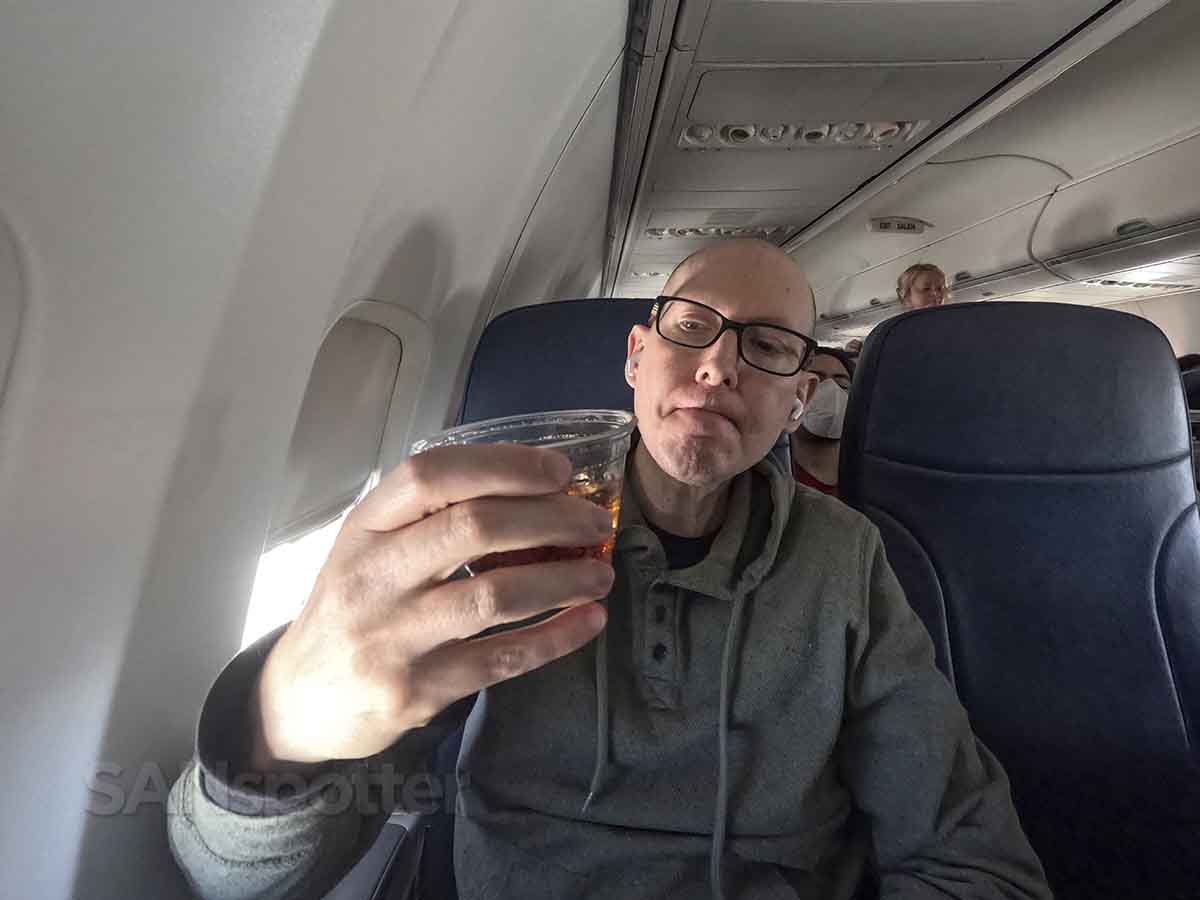 Seat comfort
As I mentioned at the top of this review, the Sun Country Standard seats are exactly as advertised. Come to think of it, "Standard" might be too luxurious of a word. These are terrible seats to be stuck in on any flight over 2 1/2 hours in my opinion.
Leg room is extremely minimal, and my knees were hurting in less than an hour after departure. Anyone over 6 feet tall is going to be completely miserable in these seats.
The arrival into Minneapolis
I love flying into Minneapolis in the winter time. It's been a while, but as a resident of San Diego who never sees snow anymore, it's always nice to get a reminder of what winter used to be like. It was a beautiful descent and approach all the way in to Runway 30R at MSP.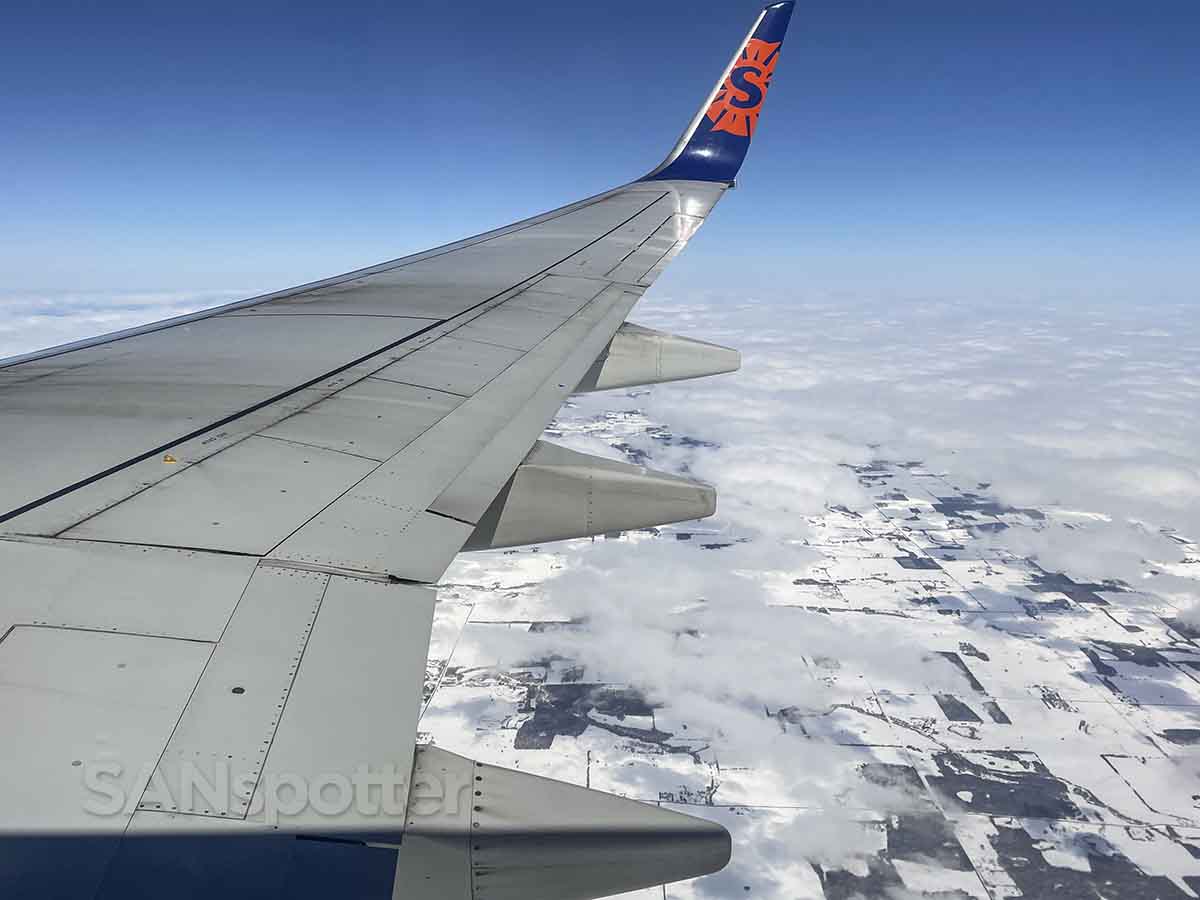 Pros and cons of the Sun Country Airlines 737-800 Standard seats
In my opinion, the best thing about the Standard seats on Sun Country is how affordable they are. It's a perfectly good option for anyone trying to save as much money as possible. If that's your primary goal, you won't be disappointed. Those of you with more discerning tastes probably aren't going to like them.
Pros
At least it's affordable. It'll most likely always be your cheapest option.
There are USB power outlets at every seat! This is surprising considering that even Southwest Airlines doesn't offer this yet.
You'll get a free drink (the non-alcoholic kind). Not only that, their menu of premium drinks (for purchase) is unique and kind of impressive.
Streaming video content is free!
Cons
The legroom (or the lack thereof) is downright torturous. RIP to anyone over 6 feet tall.
Sun Country doesn't seem to pride themselves on the cleanliness of their aircraft. Their 737-800's are getting on in years, and the interiors have the battle scars to prove it. They're filthy.