The most appropriate way to describe the "Best" seats on the Sun Country 737-800 is to say that they're the equivalent of the best seats down at your local automotive repair shop. They're not very comfortable, but it'll be your best option given the circumstances.
Sun Country claims their Best seats to be exactly that. It's their premium seating option with the main benefit being a bit of extra legroom. Hard emphasis on the word "bit."
Yes, I can vouch for the benefits of the extra legroom thing after my experience of sitting in a "Best" seat for 3 1/2 hours on a flight from MSP to SAN. Everything else though? Meh.
SY407
Minneapolis, MN (MSP) – San Diego, CA (SAN)
Monday, March 13, 2023
Aircraft: 737-8Q8
Registration: N809SY
Duration: 3 hours 24 minutes
Seat: 4F (Best seat)
If you really want to understand what the Best seats are like, be sure to check out the video I created which shows how they compare to the most basic seat that Sun Country has to offer:
A full review of my Sun Country Airlines 737-800 best seat experience from Minneapolis to San Diego
Having just experienced the Sun Country 737-800 Standard seat on a flight from Boston, I was ready to give their premium seat a try on my connecting flight to San Diego. Well, I was as ready as I could ever be for an ultra low cost airline seat, but you know what I mean.
A few words about the Humphrey Terminal at the Minneapolis Airport
Sun Country operates out of the "other" terminal (Terminal 2) at the Minneapolis International Airport. Officially known as the Humphrey Terminal, all you really need to know is that it's the non-Delta one.
In addition to Sun Country, it's also occupied by Southwest, JetBlue, Alligiant, Frontier, and IcelandAir. It's not a bad little airport terminal if I don't say so myself.
The boarding process for flight number 407 to San Diego
Holding a seat assignment for a Best seat on any Sun Country Airlines flight will automatically put you in the first boarding group (Zone 1). After families with small children (and those needing extra time), it's go time.
Boarding started right on time, and I ended up being one of the first on the plane today. So far so good…
My first impressions of the Sun Country 737-800 Best seat
Truthfully, the Best seats on the Sun Country 737-800s are exactly that. They are indeed better than the Standard seats, so they're technically not lying. It's wise to keep your expectations in check though.
Yeah, the Best seats are just a run-of-the-mill ultra low cost slimline seat with just a few inches of extra legroom. Those few inches do make a difference though. And of course that's what she said. Why wouldn't she?
One of the most surprising things about these seats is that they include USB power outlets (which are located between the seats near the floor). It's a perk that not all ultra low cost carriers provide, so kudos to Sun Country for being so generous.
The departure
Don't let all that sunshine and blue skies in the following pics fool you. It was 28°F when we pushed off the gate, so you bet your bananas that I was happy to be a passenger inside the plane and not a ramp worker out there in the elements.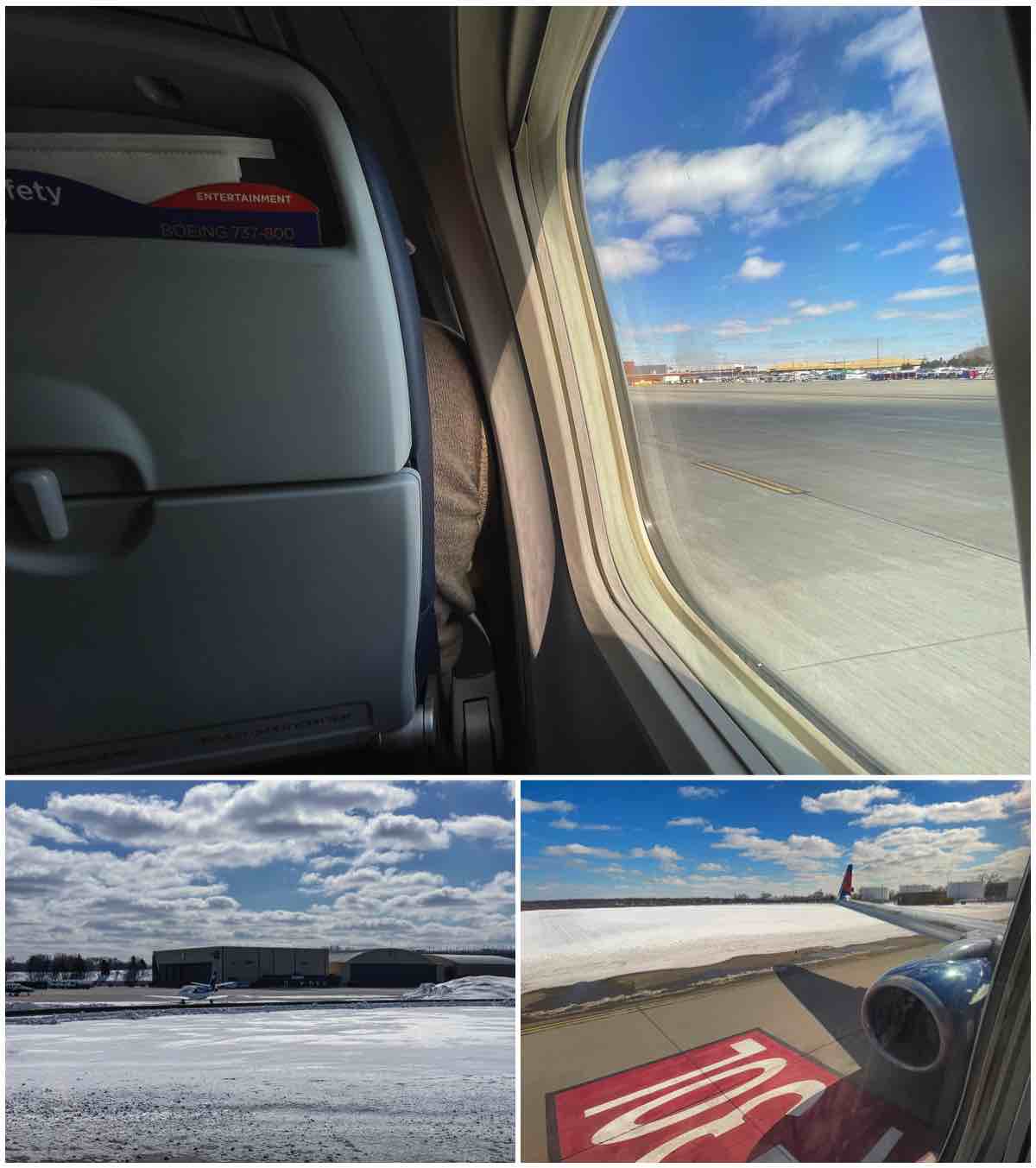 It was a beautiful departure off of Runway 30L. Snowy and sunshiny departures are always the best.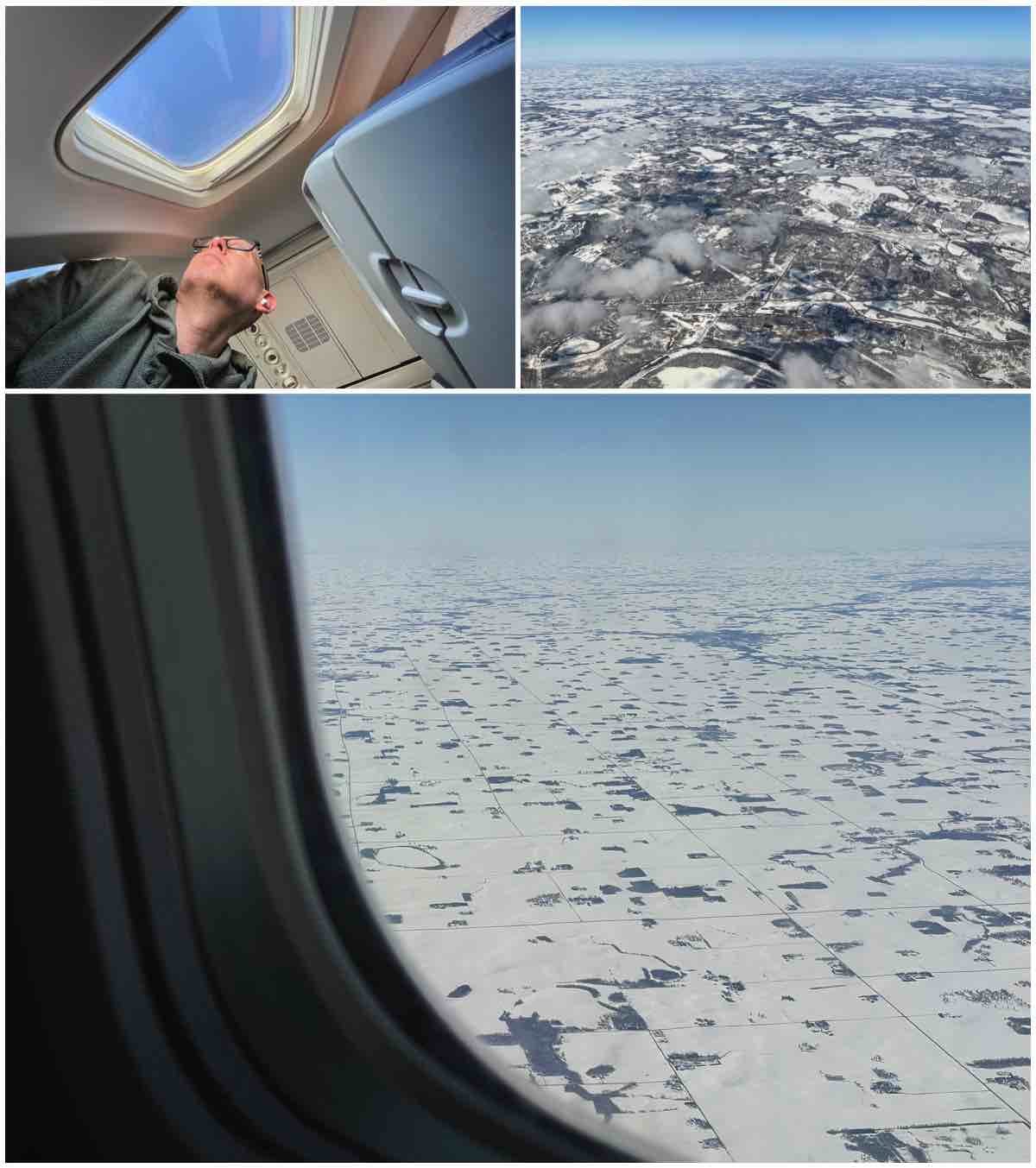 It was a scenic taxi and takeoff to say the least. I even recorded a full video of it, which you can watch below:
In-flight entertainment
As you saw in my review of the Standard seats, Sun Country has a robust and well stocked in-flight entertainment product. It's a streaming service of course, as there are no video screens integrated into the seats.
No matter though. There's loads of great movies, TV shows (and even magazine) to peruse. I promise you'll find something enjoyable enough to take your mind off how uncomfortable the seats are.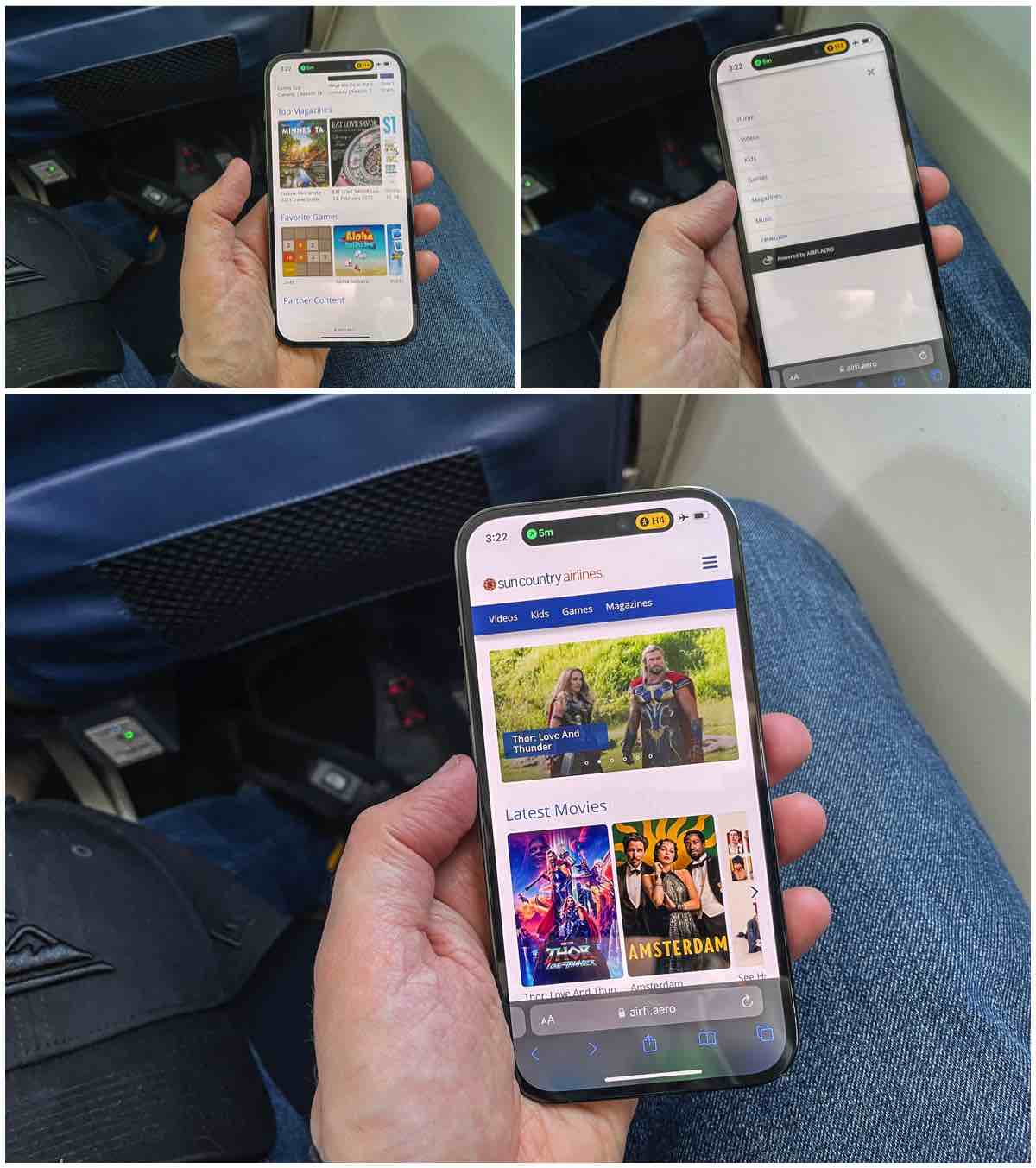 The food
I knew that I would get a free non-alcoholic drink on this flight, but I had no idea that Sun Country served complementary snacks to passengers in the Best seats.
The look on my face must have been hilarious as the flight attendant handed me a bag of pretzels. And they weren't just regular pretzels either. They were Dot's Homestyle Pretzels (which are basically the best pretzels ever).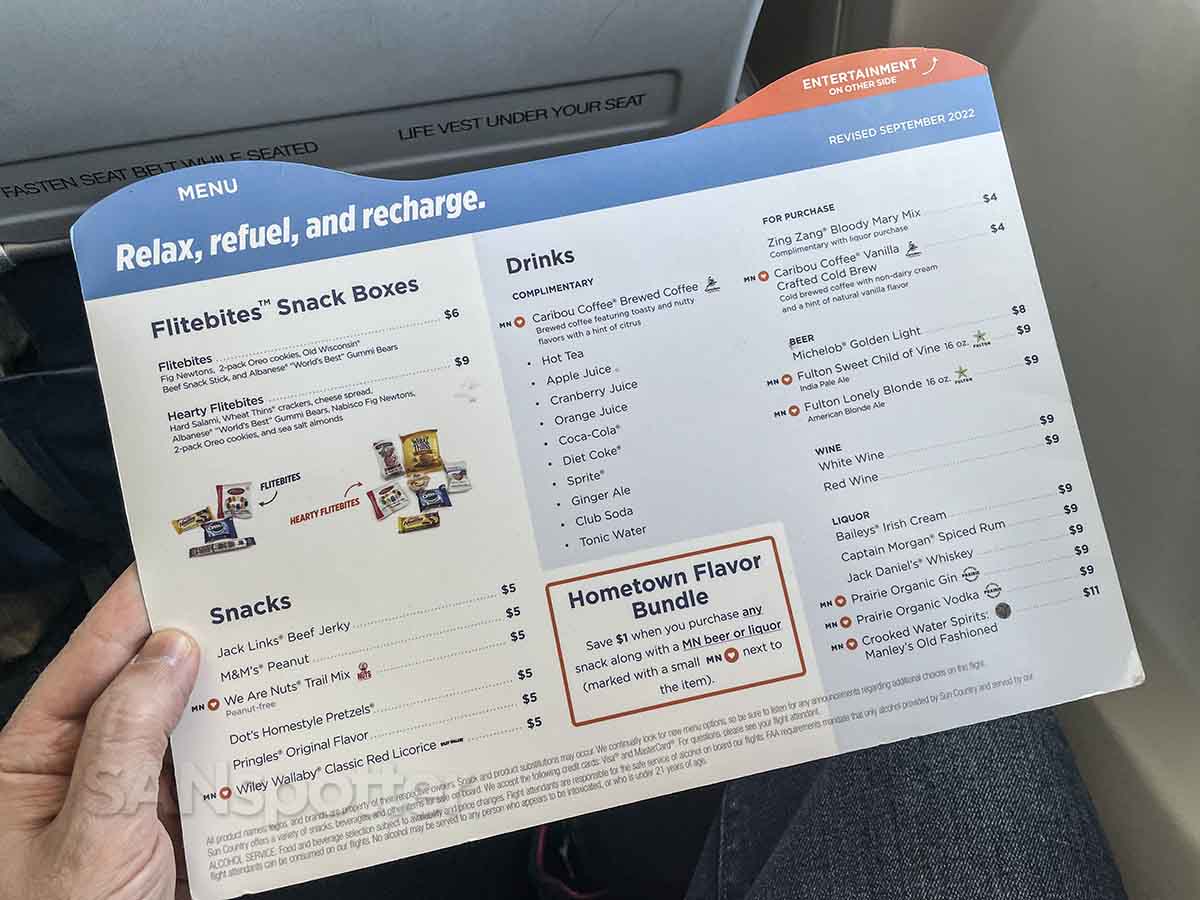 Of course, alcohol and more substantial food is available for purchase. None of it is cheap though, so bring a lot of cash (or a credit card with a high spending limit) if you think there's a chance you'll want to buy a better snack.
Are the Best seats more comfortable than the Standard seats?
Yes and no. Yes, it's a more comfortable experience overall thanks to the added legroom. But no, the seats themselves aren't actually any better. These are not the same cushy first class seats that Sun Country used to have! They're just same run-of-the-mill ultra low cost carrier slimline seats that you'll find way in the back of this plane.
The arrival into San Diego
One of the things that made our arrival into San Diego so interesting on this day was the fact that everything was so green. Southern California had been pounded by strong rain all winter long, so the hills were definitely alive with lush vegetation. It doesn't happen often.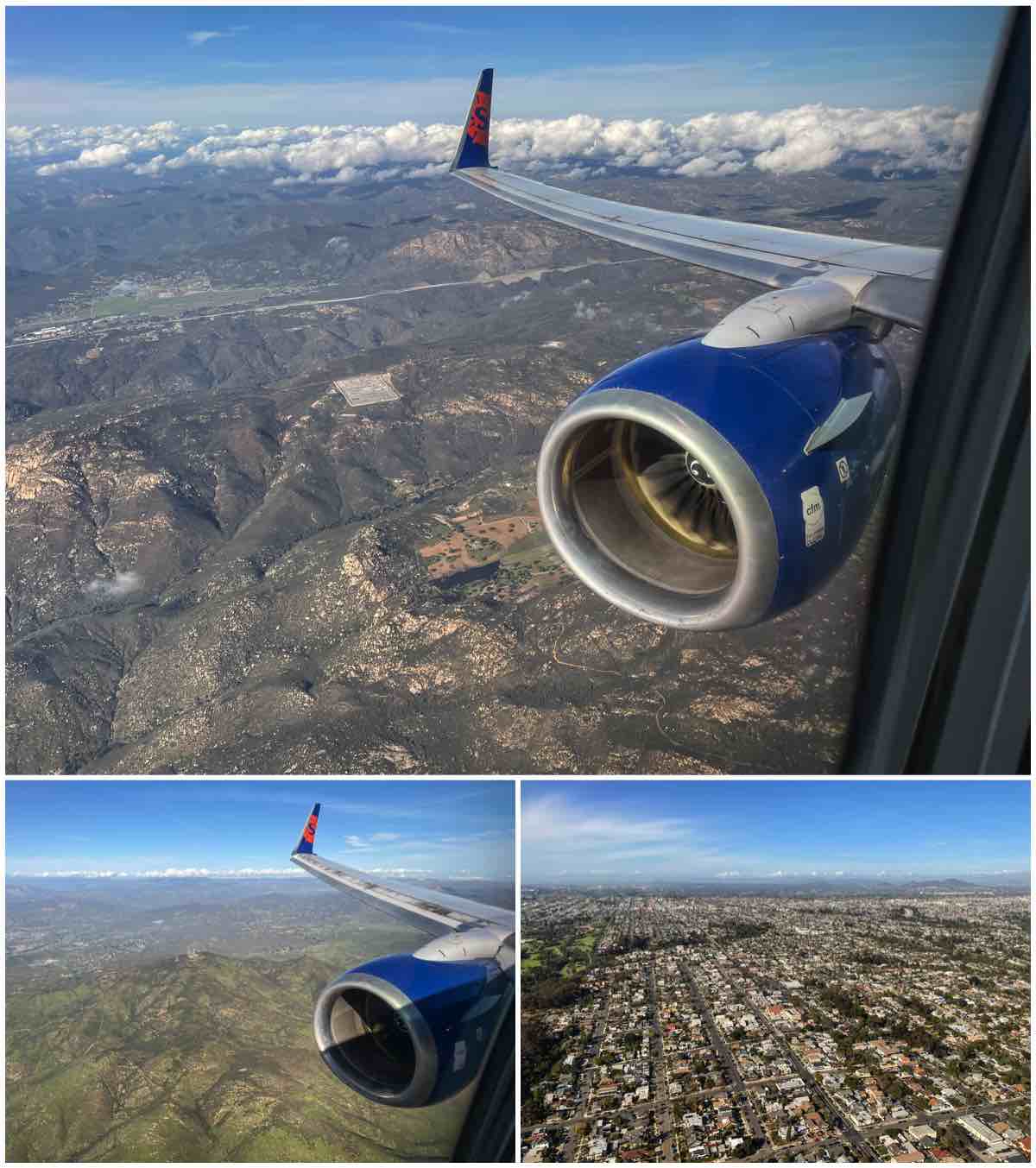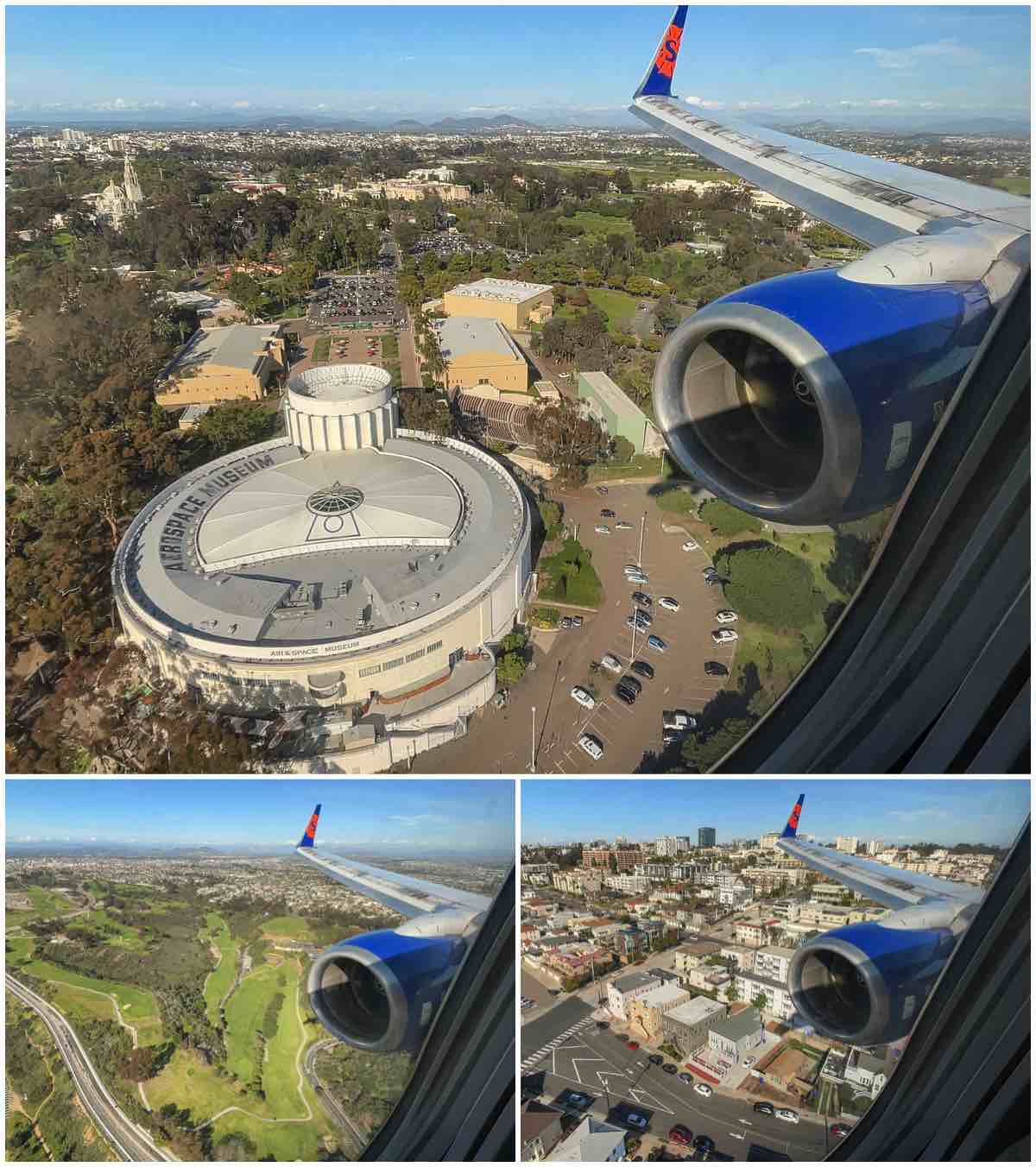 All the pros and cons of the Sun Country 737-800 Best seats
Long story short, you'd be a fool not to shell out a little extra cash for a Best seat if you can afford it. No, the seats themselves aren't all that comfortable, but the extra legroom can make a big difference.
Pros
It's usually not all that more expensive to upgrade to the Best seats (which makes this an excellent choice for traveling in relative comfort for an absolute bargain).
Free snacks! You'll also get a free bag of pretzels (or equivalent) plus a non-alcoholic drink – which is a nice compliment to the extra legroom.
Speaking of the extra legroom, it's definitely enough to make a difference. Crossing your legs will be easy if you're under 6 feet tall, which for me, makes all the difference on longer flights.
Cons
The seat itself is horrifically uncomfortable. It's narrow, thin, and there is no bolstering to speak of. It's pretty much like sitting on a bench.
You'll have less of a chance of the seat next to you being open if you're traveling by yourself. It's usually very cheap to upgrade to the Best seats, which results in many takers.