I know the feeling. After a long and arduous search for flights, Delta A321 economy ends up looking to be your best option. But you have concerns.
Luckily for you, I just flew economy on the Delta A321 for the 5th time since 2016. I'm happy to report that it's a still fine choice with excellent in-flight entertainment, extremely clean cabins, and high-quality free snacks.
You're certainly not going to impress anyone though. Expect to instantly lose everyone's attention when you tell them what you flew in on.
DL809
San Diego, CA (SAN) – Atlanta, GA (ATL)
Monday, December 26, 2022
Aircraft: A321
Registration: N383DZ
Duration: 3 hours 50 minutes
Seat: 22B (economy)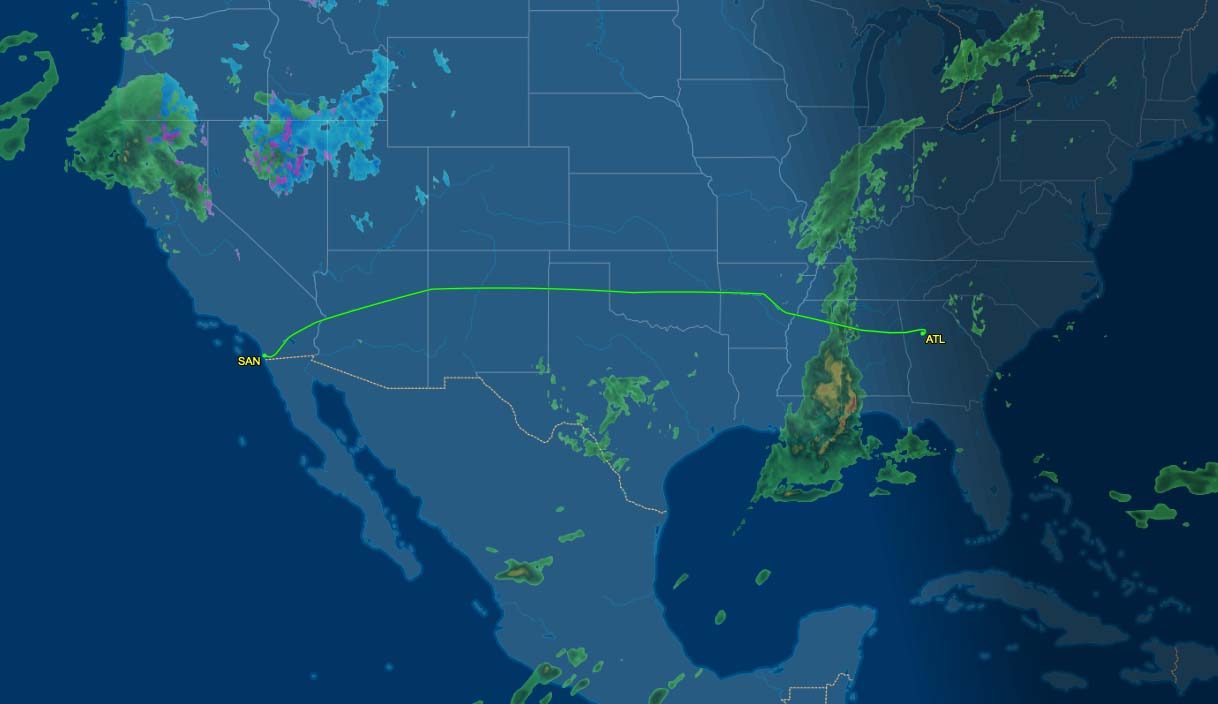 My full review of Delta Air Lines A321 economy from San Diego to Atlanta
It's not like I went out of my way to fly Delta A321 economy class. It just happened to be the flight that best fit my schedule, and given the circumstances, it would have been irresponsible to choose anything else.
This was a trip to go visit my family in Florida for the holidays. Being there on time was more important than trying to get there on a unique (and fun) aircraft type.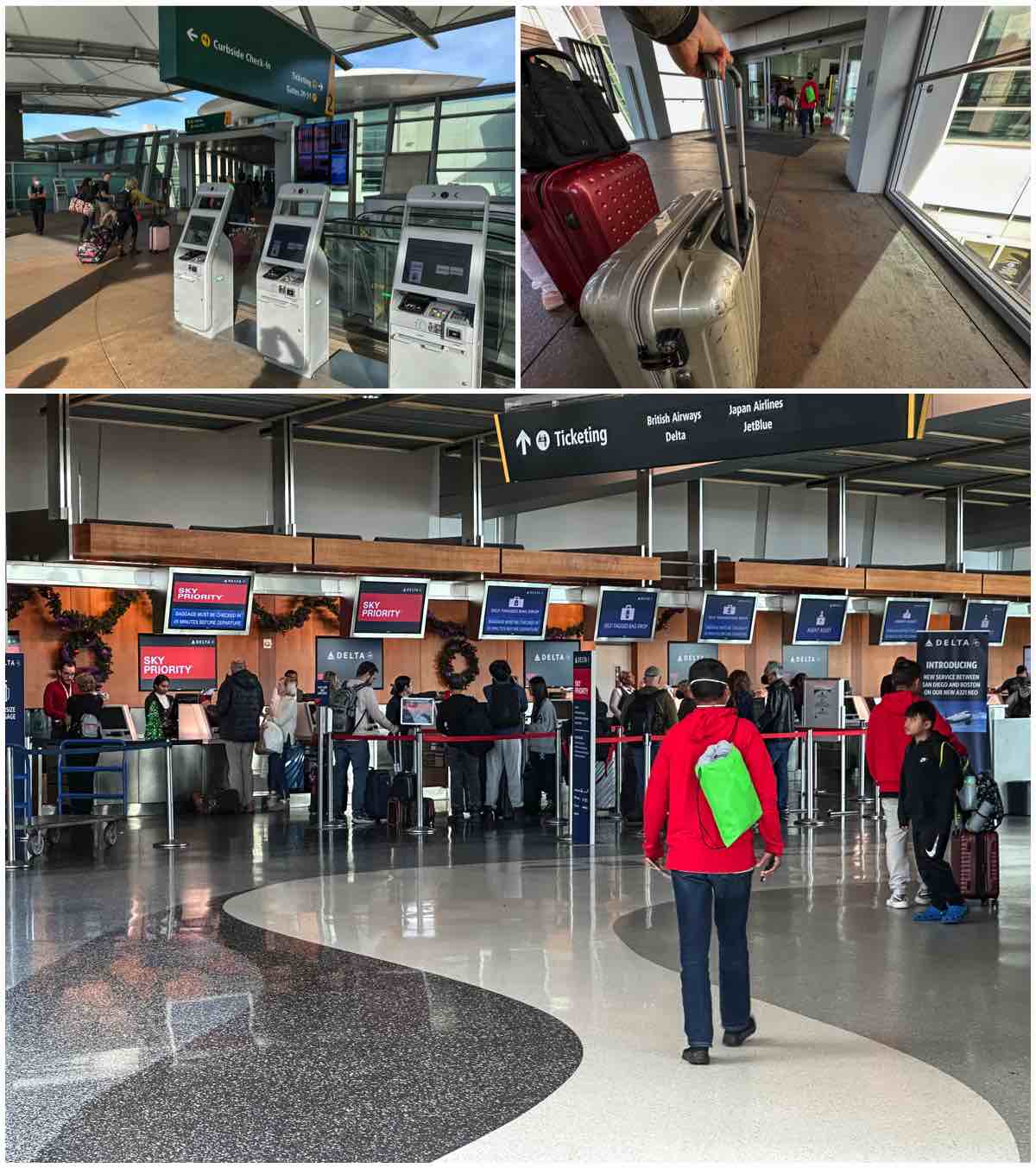 Checking in
Checking in for Delta economy class at the San Diego International Airport is fairly straightforward. First, proceed to the kiosks to get your boarding pass and bag tags.
After that, take your luggage (with the tags attached to them) to the baggage drop queue. If the lines aren't long, it'll be fast and easy. If not, may God have mercy on your soul.
Hanging out inside Terminal 2 West
I didn't have access to the Delta Sky Club here in San Diego this morning, so I headed straight for Starbucks instead. The line was moving at a glacier-like pace, but no matter.
The architecture of Terminal 2 West here at SAN is magnificent. It's the perfect distraction from being ticked off by slow moving coffee lines.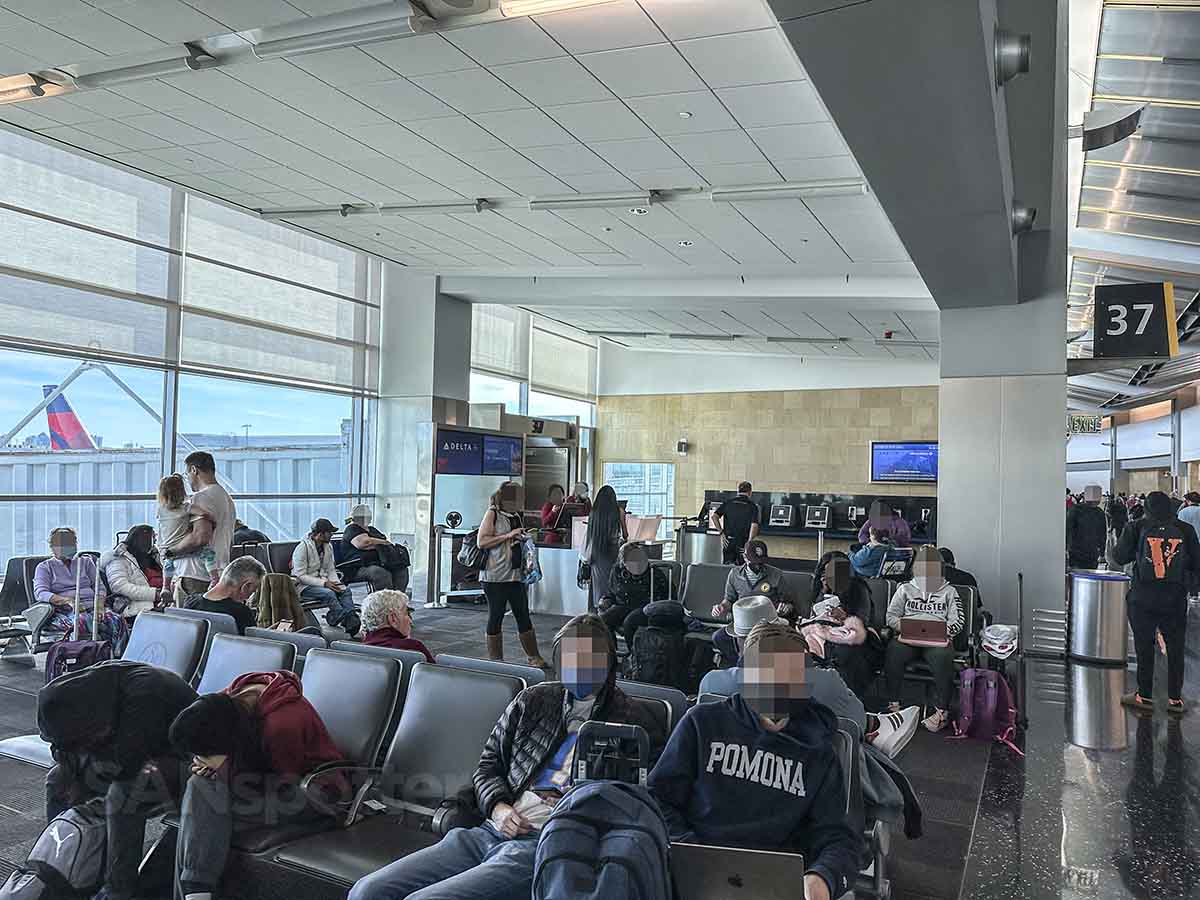 The boarding process for flight number 809 to Atlanta
Our flight was departing out of gate 37 this morning. It's a relatively small gate, and we had to wait a bit to board even though (thanks to my Delta SkyMiles Silver status) we were in the Main 1 group. I'm not exaggerating when I say that more than half the plane was already on board by the time they called our zone.
My first impressions of the Delta A321 economy seats
Having flown economy on the Delta A321 a handful of times before, I already knew what to expect before sitting down. It's a fairly basic seat with decent padding – but at least there are large videos screens (with an equally excellent video entertainment system).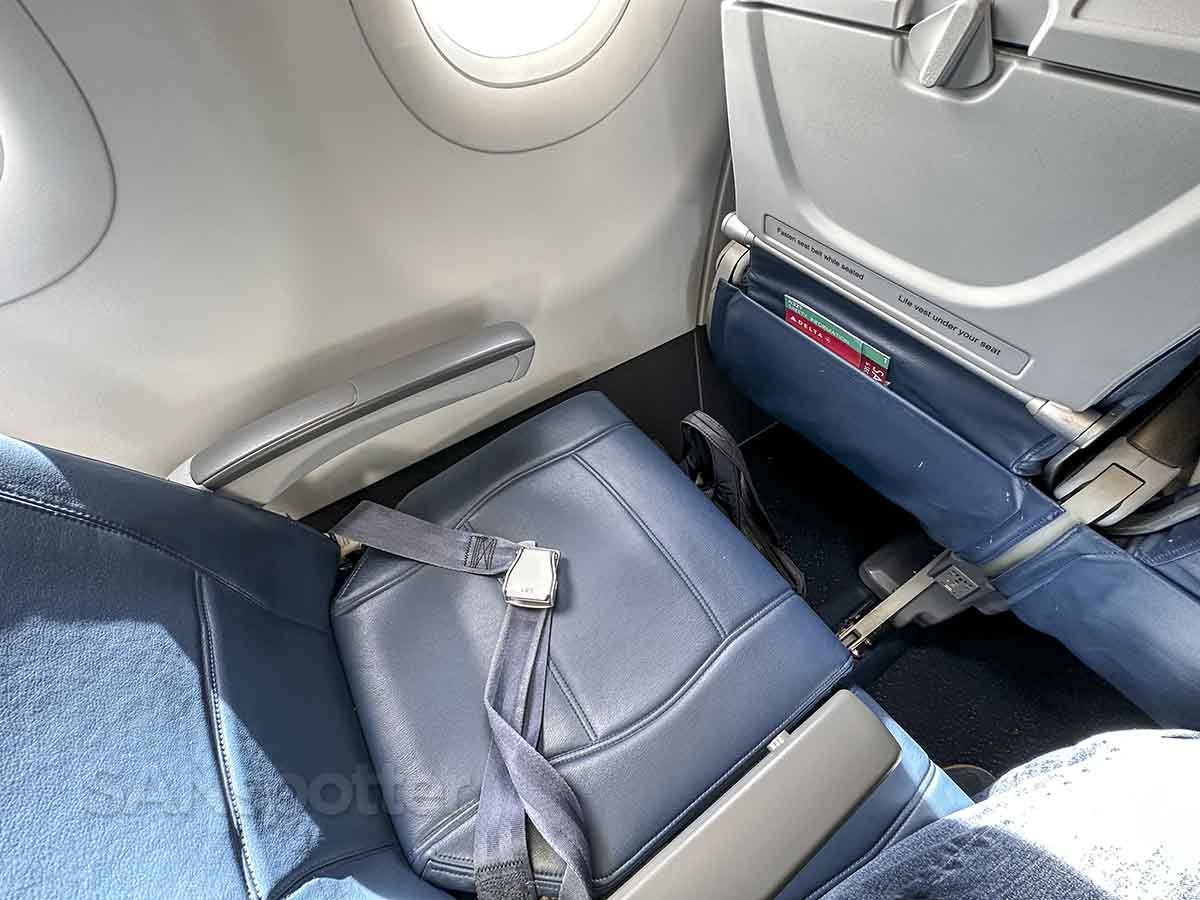 The departure
For an AvGeek like me, being stuck in the middle seat is torturous. It's even worse if you're an introverted AvGeek, because you feel really uncomfortable looking across the lap of your seatmate to the window during the departure process.
Oh well. I've seen the view departing SAN literally hundreds of times, and I'm willing to bet I probably didn't miss much this time. Unless a unicorn ran across the runway or something. There's no way of telling if that happened or not.
In-flight entertainment
Good news: the in-flight entertainment system is the exact same as what you will find in both Comfort + and first class on the A321. Delta Studio is awesome, and it's always nice to see it being updated with fresh new content from one flight to the next.
It's also worth noting that Delta is still providing complementary earbuds in economy class. Remember when they used to charge for these things?
The food
As you might expect, the only free food you'll get in Delta A321 economy is a beverage and a small snack. At least it's free, right? They also offer more substantial snacks (things like fruit and cheese plates and snack boxes) for an additional cost. I went with the fruit and cheese platter for $11. But of course I did.
It should be noted that thanks to my American Express Platinum Card, the fruit and cheese platter was on the house. Well, it's one of the perks I pay for in the annual fee, but it feels good to automatically get reimbursed for frivolous expenses such as this.
How (un)comfortable are the seats?
Here's the deal. If I can survive 4 1/2 hours in a middle seat from San Diego to Atlanta, you're going to do fine in an aisle or window seat on a flight from Atlanta to Orlando (or equivalent). The seats are fine. They are the exact same seats you saw in my Delta A321 Comfort + review, and nothing has changed since then. They do the job.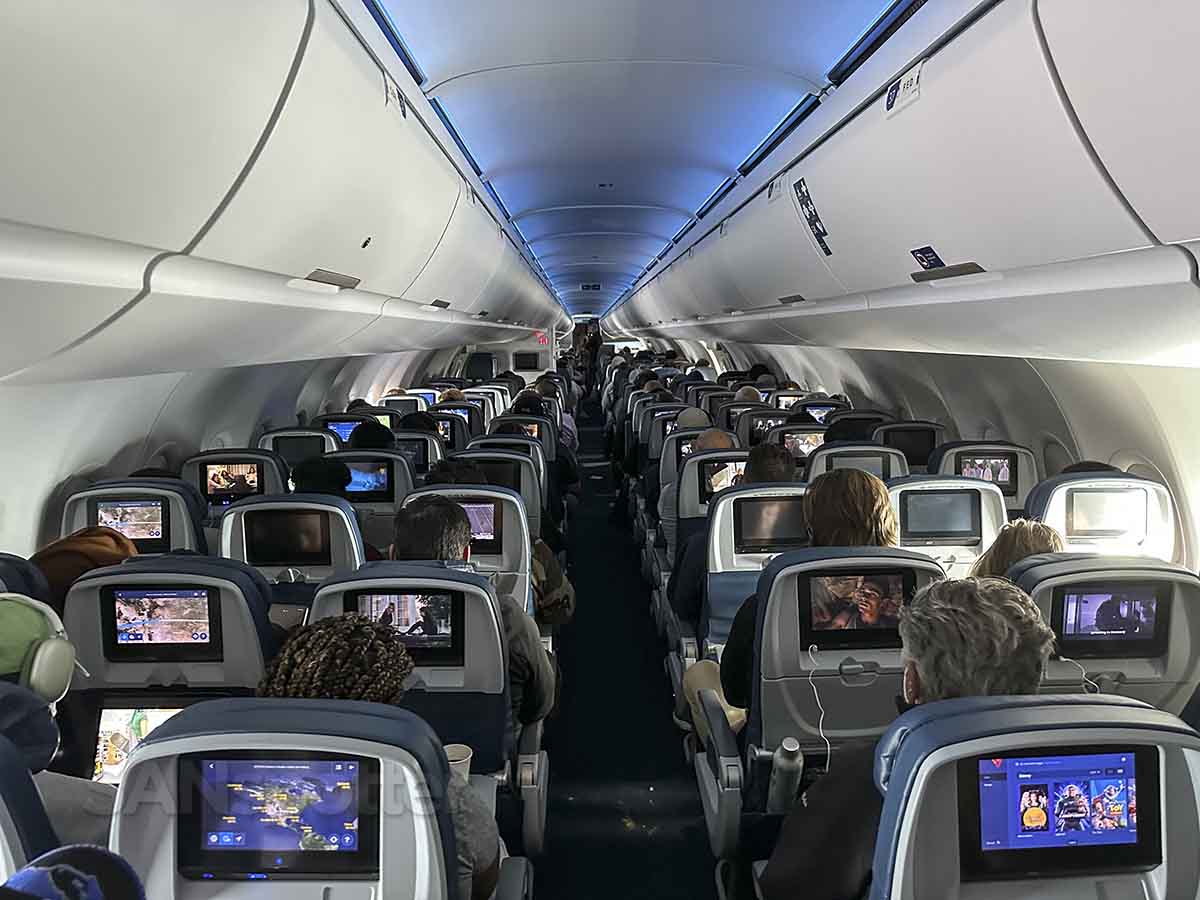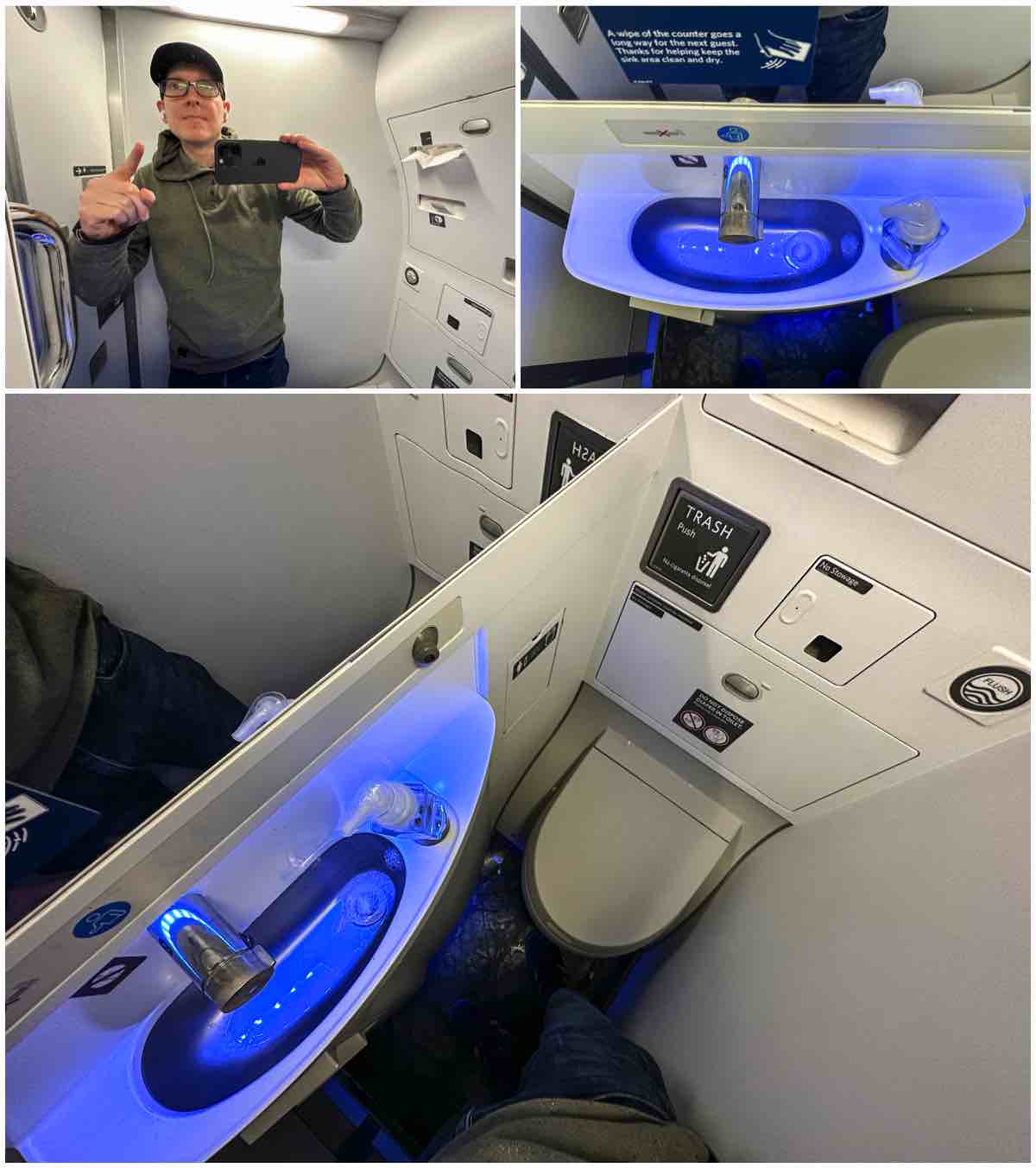 The arrival into Atlanta
Once again, being stuck in the middle seat without a view to the outside world was torturous. That said, at least it seemed to be a relatively quick descent and landing into ATL. Even the taxi to the gate was relatively short.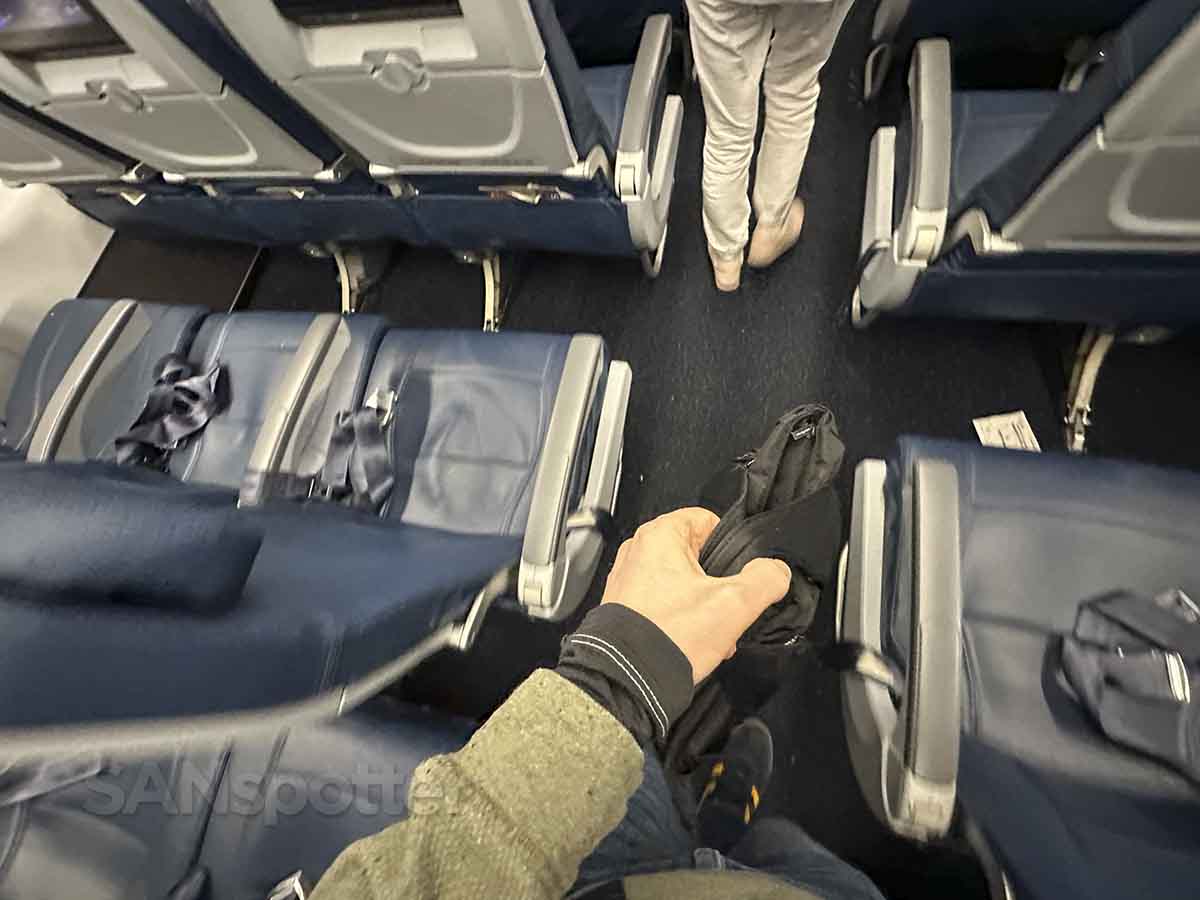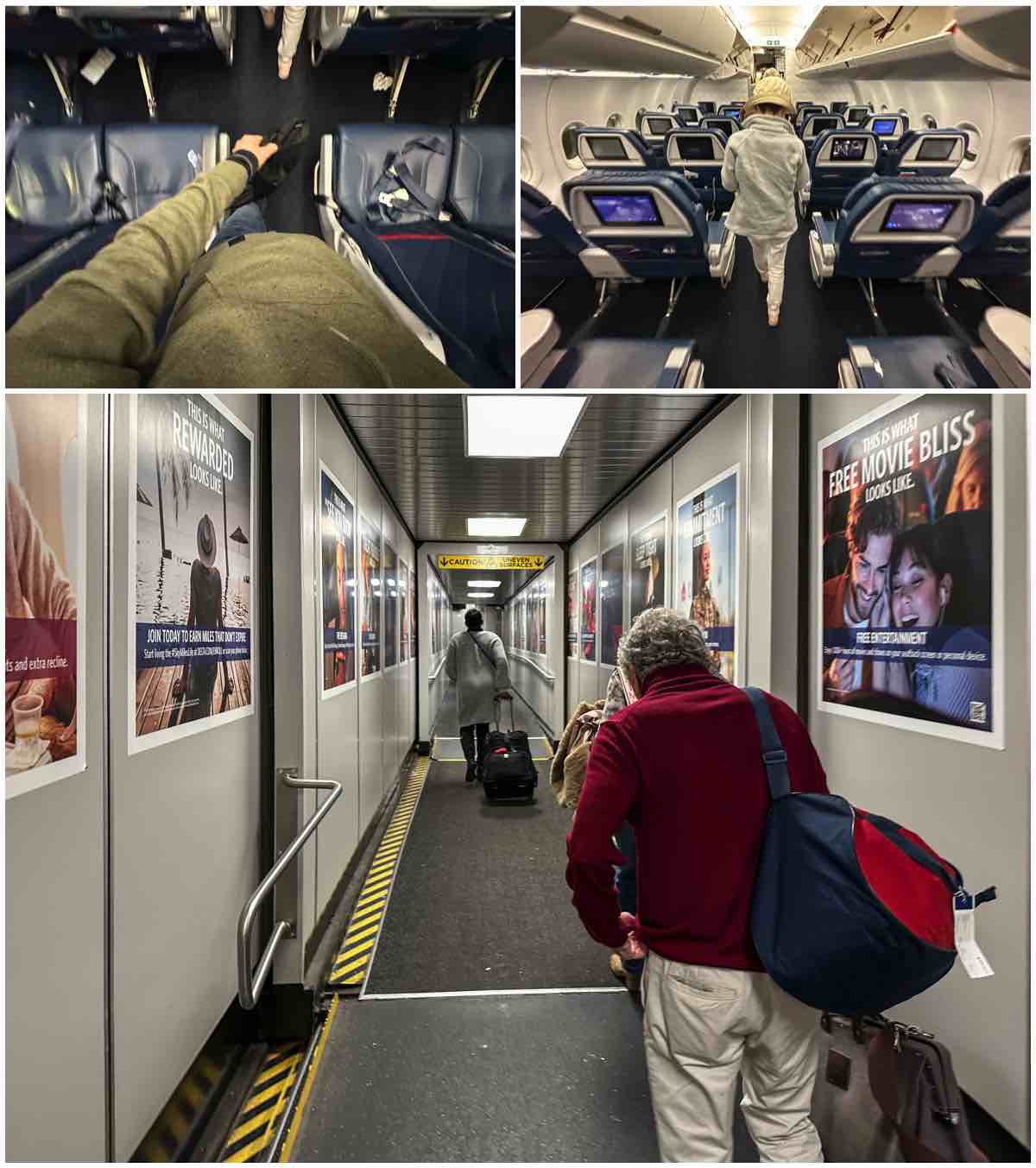 Pros and cons of Delta A321 economy class
The thing about flying Delta Air Lines economy class is that the experience is nearly exactly the same across the entire fleet of aircraft. I mean, if you read my Delta A220-300 economy review, you'll already know what the pros and the cons:
Pros
Consistency! IMHO, the Delta Air Lines customer experience teams are (and have been) nothing short of genius. Economy on the A321 is just as good as it is on any other aircraft in the fleet.
They won't nickel and dime you for everything. Things like earbuds, drinks, and snacks are still very much complementary.
No matter how uncomfortable the seat may be on longer flights, the in-flight entertainment system is so good that it will distract you from the fact that you can't feel your butt anymore.
Cons
The seats are hard! This probably won't be that big of a deal for those of you with some junk in the trunk, but for scrawny little dudes like me, they become a little painful after the second hour of flight.
The Airbus A321 is a long aircraft, and you're gonna be waiting a while to deplane if you're seated near the back.