Amsterdam to San Francisco is pretty much the perfect route for KLM 777-200 business class IMHO. Clocking in just over 10 hours, It's long enough to enjoy the excellent onboard service, but short enough to not feel stuck if you absolutely hate it.
Warning: those KLM 777-200s still have the old business class seats – so there is a chance that you might not like it.
Personally, I didn't think it was that bad. Yes, the 2-2-2 seating layout is a bit old-school, but so am I. It would be hypocritical of me to hate on it.
KL605
Amsterdam, Netherlands (AMS) – San Francisco, CA (SFO)
Aircraft: 777-206/ER
Registration: PH-BQF
Duration: 10 hours 2 minutes
Seat: 2K (business class)
The video
Not to downplay what I'm about to show you in words and pictures, but the video I made for this KLM 777-200 business class experience does a much better job of showing what it was actually like:
As you can see, the cabin crew did an excellent job of making up for a mediocre seat. If that wasn't enough to convince you, keep reading…
My full review of KLM 777-200 business class from Amsterdam to San Francisco
I arrived in Amsterdam from Paris in KLM 737-800 business class. It was the perfect appetizer for the KLM long-haul business class experience, and I walked off that flight and into the Amsterdam Airport feeling really excited about what was to come.
How good is the KLM business class lounge in Amsterdam?
Really good! The KLM Crown Lounge located between Terminals E and F is fantastic. So fantastic as a matter fact, that it deserves its own post. You can read my full KLM Crown Lounge review (coming soon) for more details, but for now all I'm going to say is that it was a great place to kill some time (and eat like a pig) before the flight.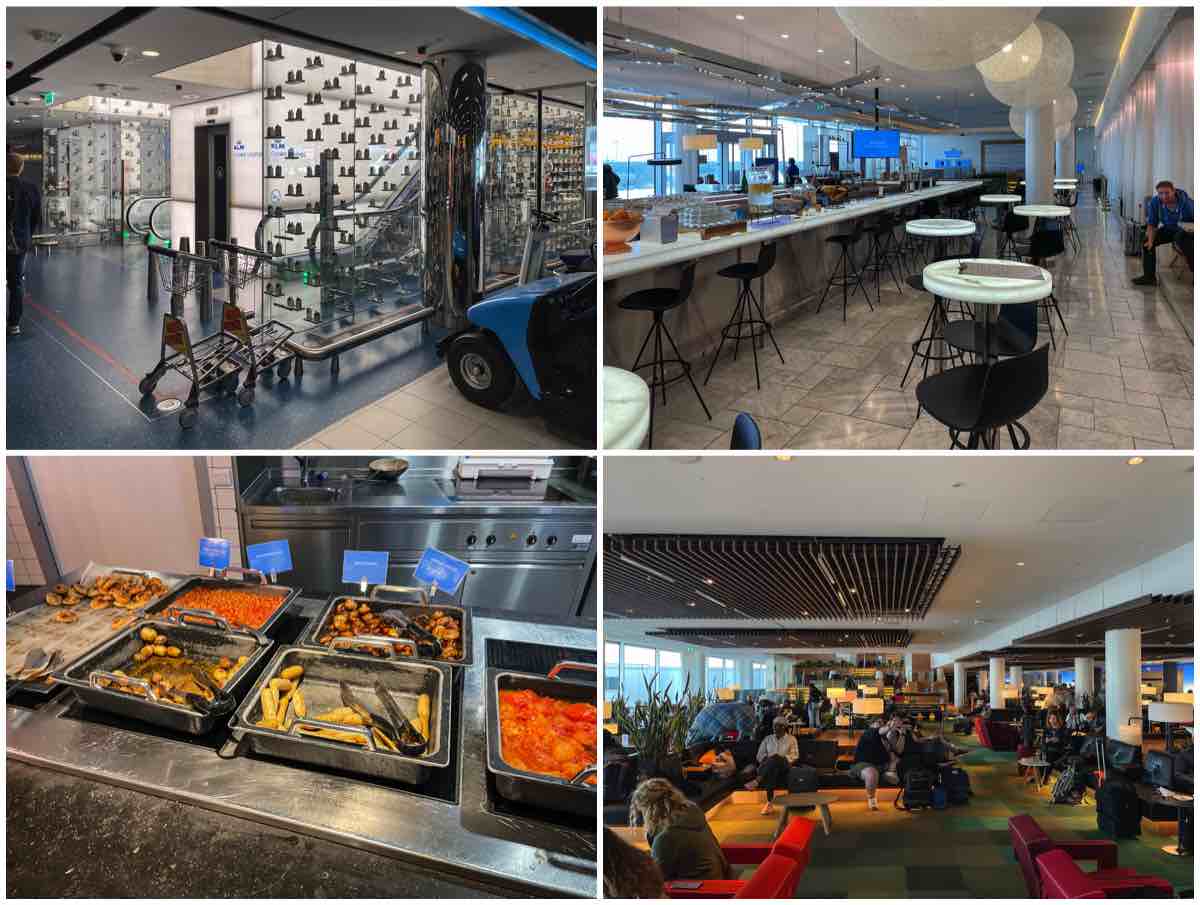 What terminal do KLM international flights depart of out of at AMS?
All international flights on KLM (and SkyTeam partner airlines) depart out of terminals E and F in Amsterdam. AMS is a beautiful airport, and an excellent place to eat and shop before a long flight. I actually spent more time walking around that I did inside the lounge. It's that nice.
The boarding process for KLM flight number 605 to San Francisco
I guess I was feeling lucky today. Our flight to San Francisco started the boarding process right on time, just as the flight at an adjacent gate to Orlando was going on it's third hour of delay. Ouch.
Boarding was done by zone numbers, and Zone 1 meant Zone 1. The only people who boarded before Zone 1 were passengers needing assistance.
My first impressions of KLM 777-200 business class
I've heard a lot of good things about KLM long-haul business class. Unfortunately, not much of it concerning the 777-200. These airplanes feature a old-style business class seats in a 2-2-2 configuration. There are two sections of business class, divided by a galley. My seat was in the forward section.
I think it's worth noting that "vintage" seats aren't always bad. Sure, these do look a bit past their prime, but I felt blessed to be seated where I was given the alternative (economy class).
Business class on the Air France 777-300/ER is well past it's prime as well, but if I enjoyed that, I can surely enjoy this.
The departure out of Amsterdam
Despite all the negative things I've heard about the Amsterdam Airport over the past year or so (cancellations and delays have been brutal), this particular experience was going smashing well.
We pushed off the gate right on time, and the weather looked to be setting up perfectly for a very scenic takeoff and climb out over the North Sea.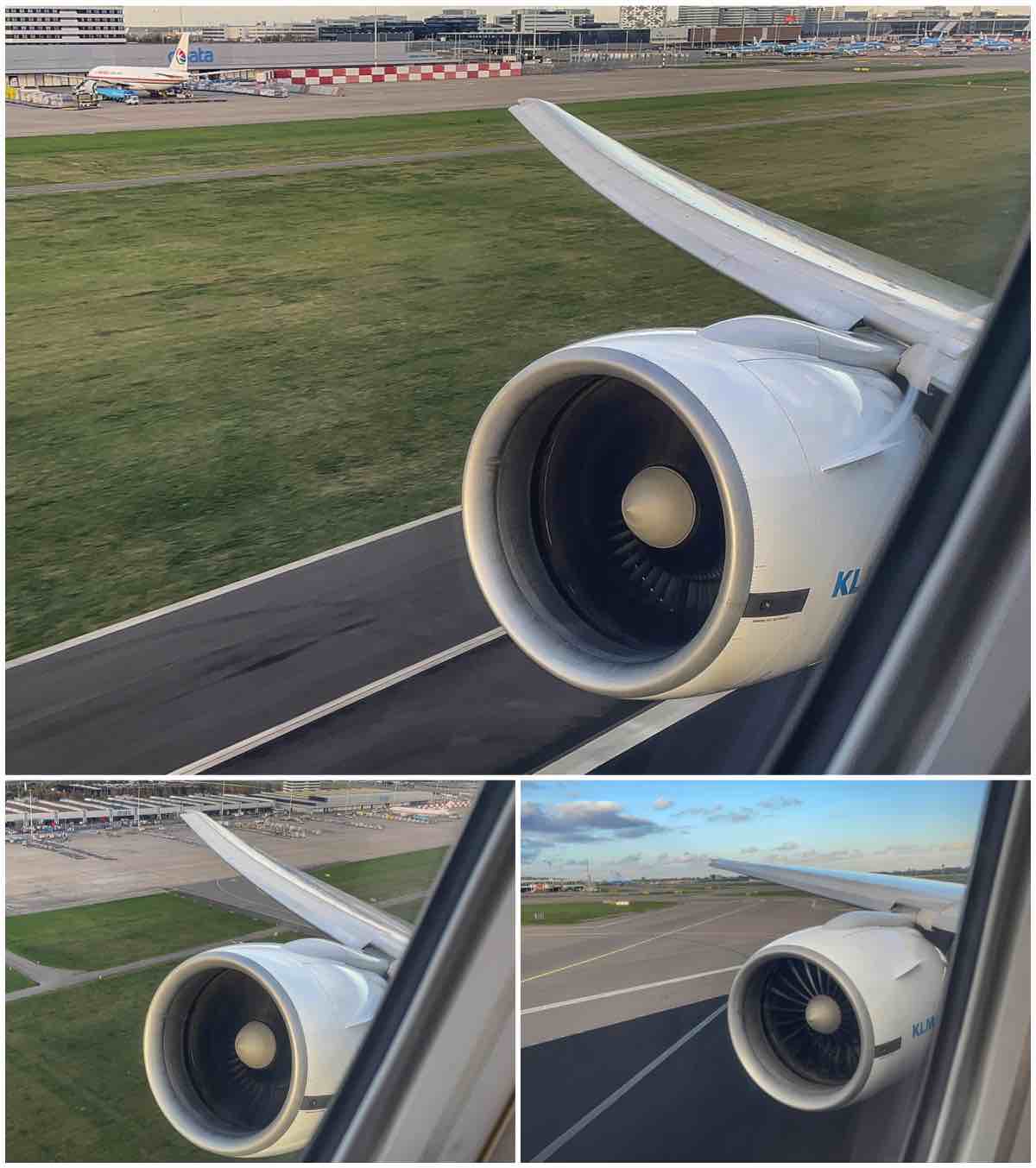 In-flight entertainment
I'll admit it. The in-flight entertainment in KLM 777-200 business class surprised me (in a good way). Even though the seats look old and crusty, the video screens are large and bright.
Not only are these screens large and bright, I was really happy to see such a large offering of recent movies and TV shows from Hollywood. It didn't take me long to find something good to watch – but it was a bit of a struggle to pick just one thing.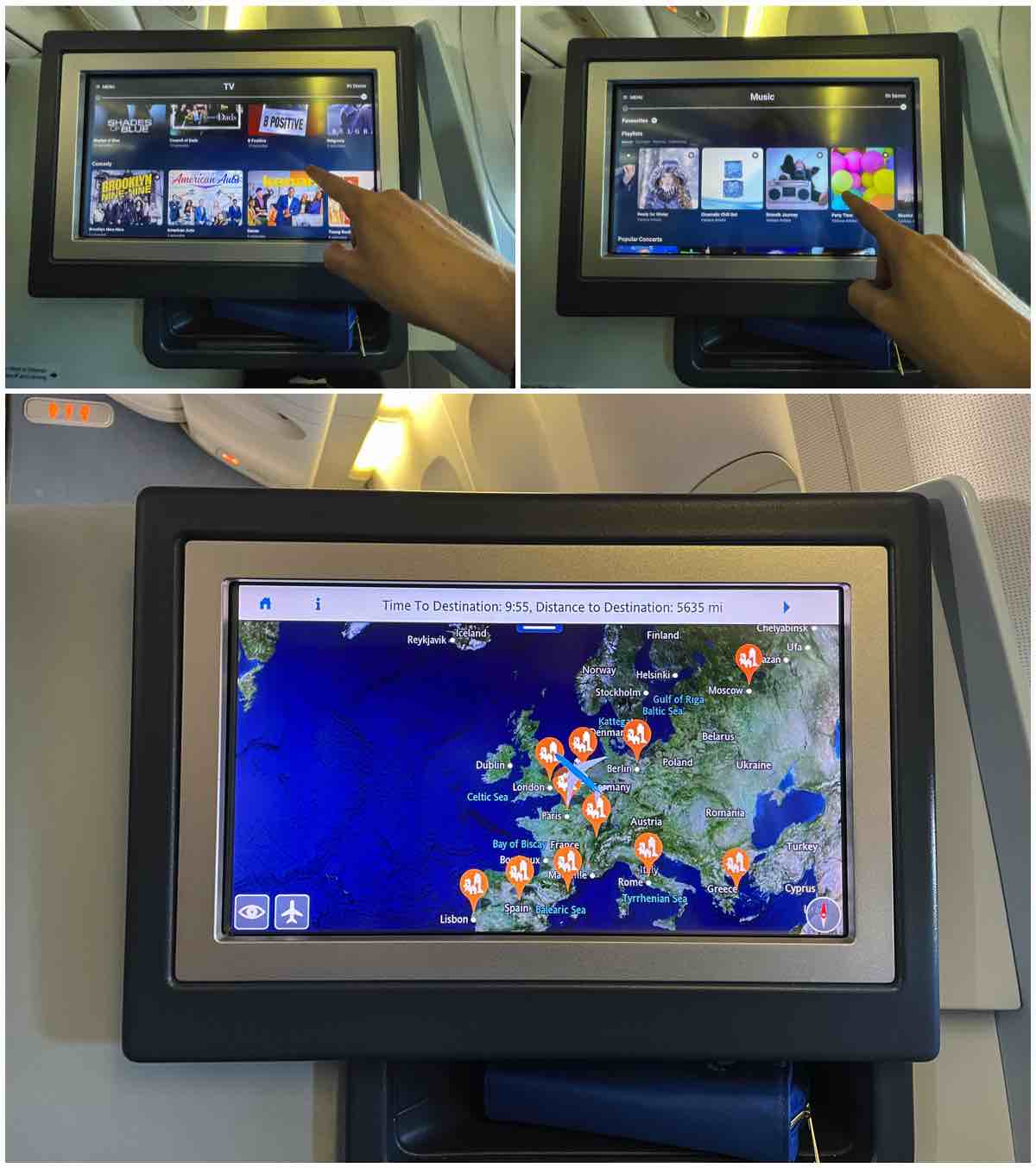 If the video screen is too far to reach from your seat, there's a handy remote control which will allow you to access all the main features.
The noise canceling headphones were also very good, though the audio connection port (located just over the shoulder and directly behind) is a bit difficult to reach.
The dinner service
The dinner service was where this KLM business class review went "meh" to "whoa" for me in an instant. The cabin crew was absolutely fantastic and, it felt like they were tripping over themselves trying to ensure that everybody had exactly what they wanted to eat and drink. It really felt like a fine dining experience.
How comfortable are the seats?
If the business class seats on the KLM 777-200 hundred look familiar, they should. Not only did you see them in my Aeromexico 787-8 business class review, you also saw them in my American Airlines Flagship Business Class review as well.
Despite the lack of privacy, these are excellent lie flat business class seats – and I'm of the opinion that they are really comfortable to sleep on. My only real complaint is that lack of privacy.
What it's like between meal services
I normally don't sleep all that well on airplanes, and I usually get up once an hour or so and walk around between meal services just to see what's going on. The overnight ambience on the KLM 777 (in all classes of service) is quite nice if you're awake and unable to sleep.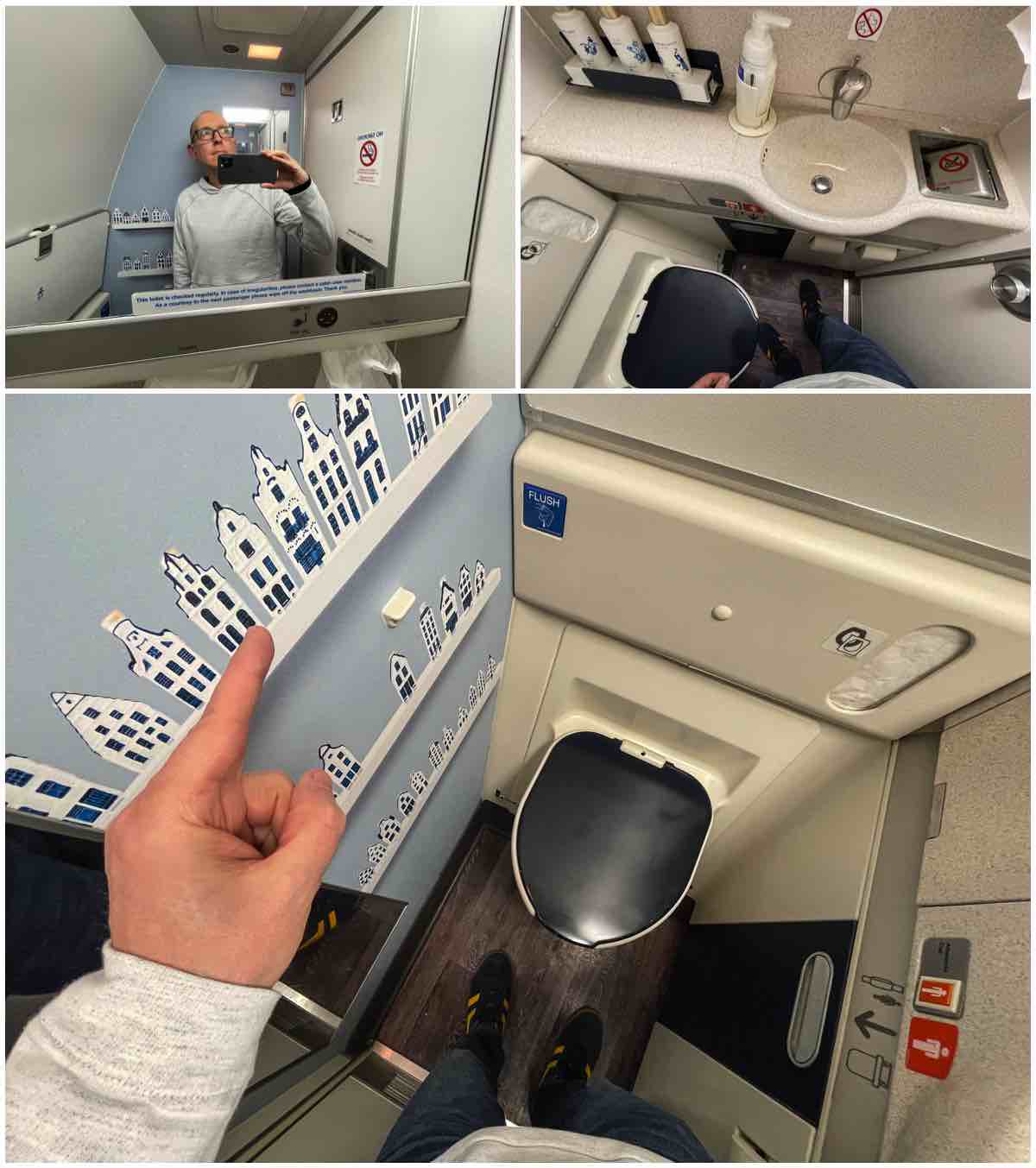 The second meal service
Approximately one hour and 45 minutes prior to landing, the cabin crew turned the cabin lights on to begin the second meal service.
Our choices consisted of a hamburger or an empanada. I went for the hamburger, though what I received was not exactly what I had in mind. Yes, it was incredibly tasty, but I should've known better to expect an American-style burger on a Dutch airline.
The descent and landing into San Francisco
As a testament to how much I enjoyed the KLM long-haul business class experience, I was actually quite surprised when we began the descent into SFO. This flight went by extremely quick (thanks in large part to the excellent cabin crew), and I was really wishing that it could've gone on for another two hours.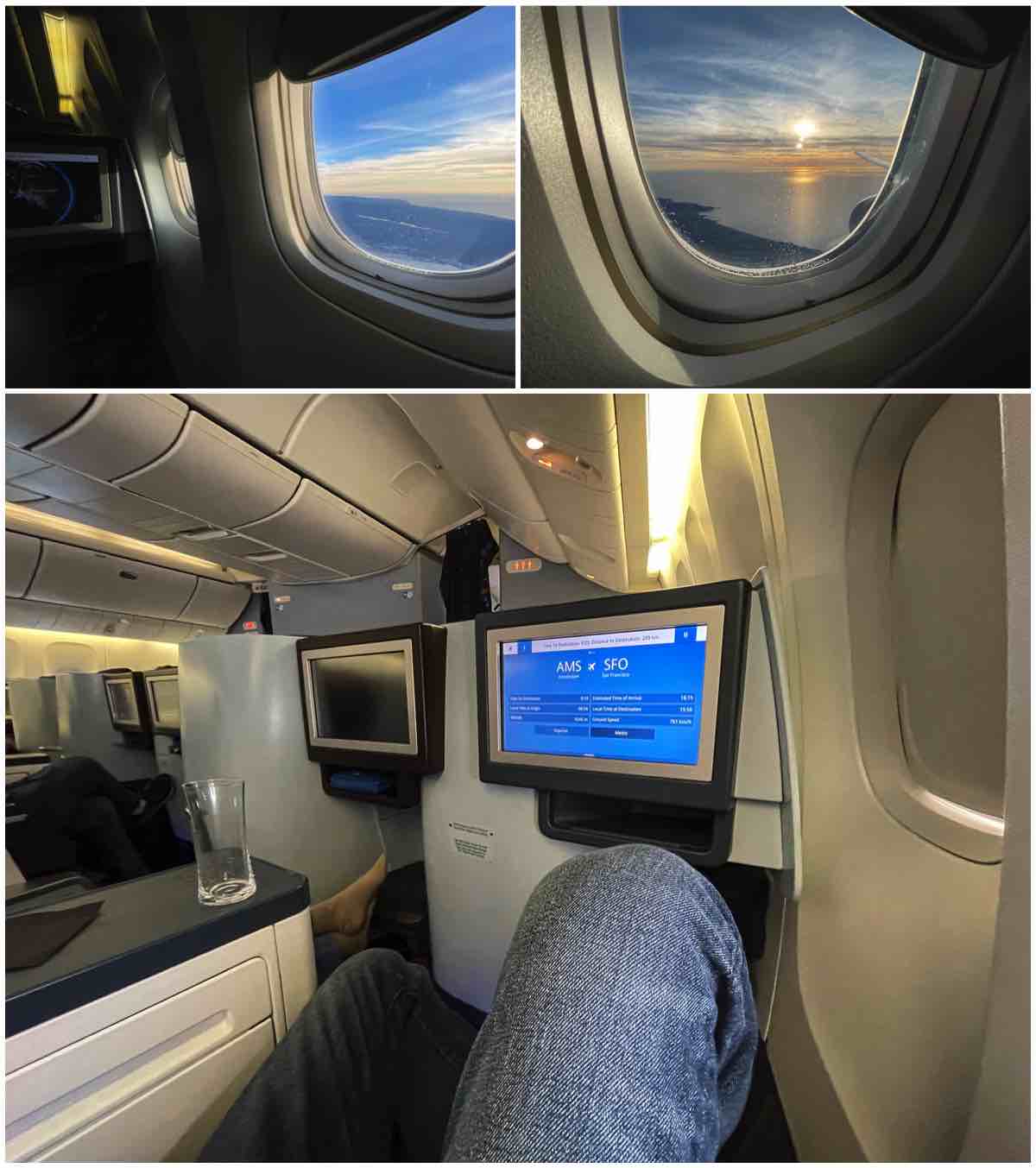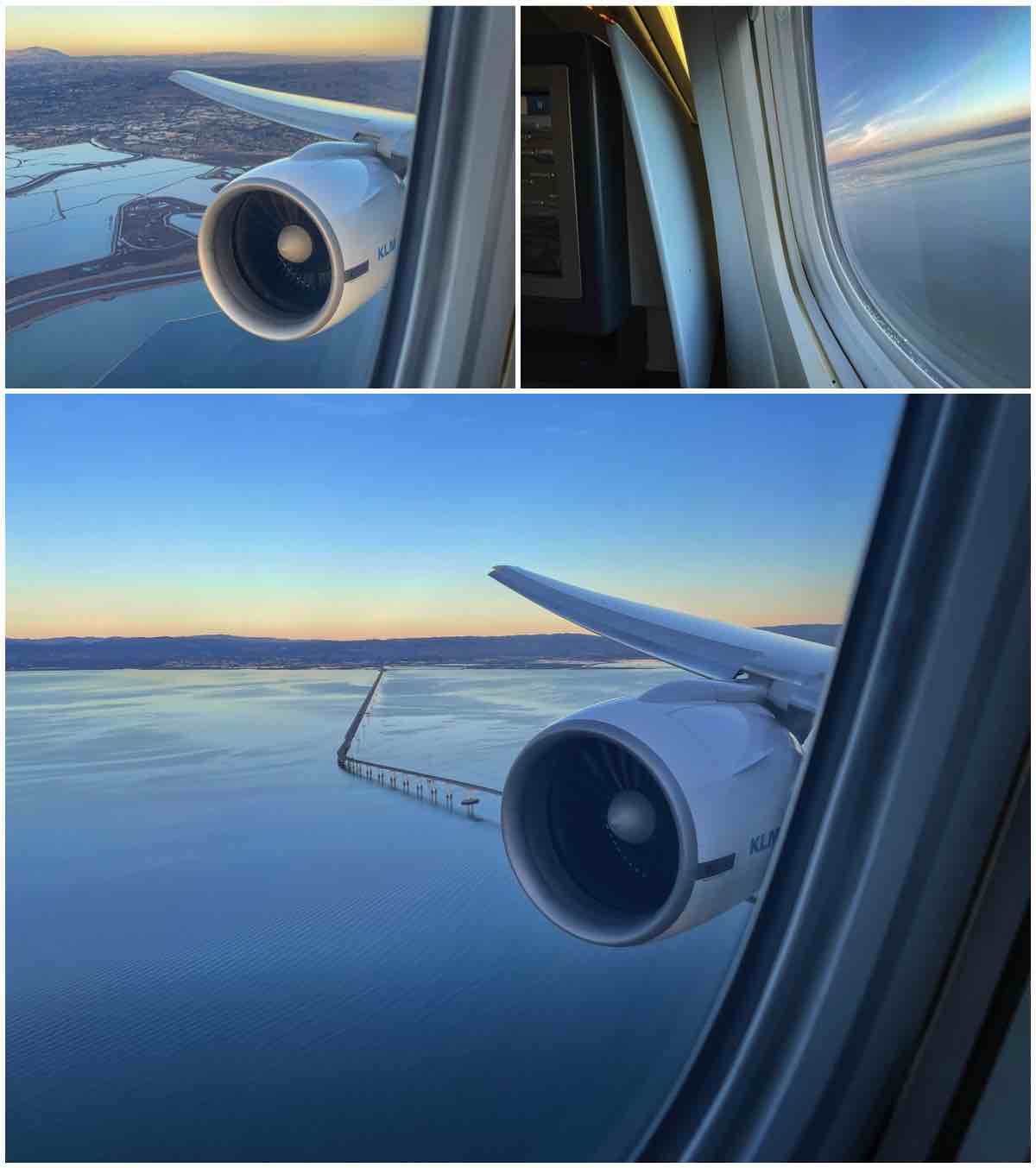 Pros and cons of the KLM 777-200 business class experience
The business class seats you'll find on the KLM 777-200 aren't for everyone. If you are the type of premium flyer who will only accept the latest and greatest seat, you're not going to be happy. You will, however, enjoy the cabin service. I can almost guarantee that. That said, here are all what I consider to be the pros and cons:
Pros
Business class is split up into two separate cabins on the 777-200, and both cabins feel small and intimate. It's very cozy experience.
Although window seat passengers don't have direct aisle access, it's extremely easy to step over the legs of the person in the aisle seat without disturbing them.
The video screens in these seats are fantastic, and they don't seem anywhere near as old as the seat itself.
The selection of TV shows, movies, podcasts, and music is outstanding.
The food is very high-quality. A lot higher than I was expecting, actually.
Cons
It's an old and tired looking business class product.
Despite what I said above about window seat passengers being able to step over the legs of the seatmate, it's still annoying (for both you and them).
Window seat passengers might be annoyed by the location of the overhead cabin lights. I had one shining down directly on me, and it was a distraction during the dinner service.
There is very little privacy in these seats. Not only that, the brightness from your seatmate's video screen will be annoying if you're trying to sleep.