Sometimes it's important to take a moment to appreciate how well premium airline cabins have evolved over the years. That's what this particular Air France 777-300/ER business class review is all about.
What you're about to read is a comprehensive review of the old (outgoing) Air France 777 business class product. The seats look somewhat dated (and they're falling apart), but at least they're still comfortable.
I'd like to think of this as required reading for anyone about to try the all new Air France business class seats for the first time. It'll be impossible for you to complain once you fully understand what it used to be like…
AF84
Paris, France (CDG) – San Francisco, CA (SFO)
Friday, April 14, 2023
Aircraft: 777-328/ER
Registration: F-GZNE
Duration: 10 hours 37 minutes
Seat: 16L (business class)
My full review of Air France 777-300/ER business class from Paris to San Francisco
Full disclosure: I had a pretty good hunch that the aircraft I would be flying on would have the old business class seats. There simply aren't that many Air France 777s that feature the new seats yet, and I don't even think they operate those aircraft to San Francisco yet.
BTW, I booked this reservation for only 135,000 Flying Blue points. It was basically a steal considering that every other Air France flight to the US that day was 300,000 points (or more).
Arrival at the Charles de Gaulle Airport in Paris (was a mother******)
Immediately after arriving from Munich in Air France A220-300 business class, I followed the signs for international connections with great anticipation. That all came to a screeching halt once I realized that I had to go through a very long passport control line. It got worse once I realized that it was hardly moving at all.
For anyone wondering: you don't normally have to go through customs when making international connections in Europe. You almost always have to go through passport control though, and that's what totally derailed me this time.
Long story short, I made it to my flight with no time to spare. They basically shut slammed the door behind me. So much for having a few minutes to relax before the flight!
First impressions of the old Air France 777-300 business class seats
Upon stepping onboard, it became blatantly clear why this was the cheapest flight I could find using points to the US. Yup – this particular aircraft was still sporting the old business class seats.
To say that the seats looked worn out and run down is an understatement, although I will admit that I appreciated the 1-2-1 layout. At least it wasn't anywhere near as vintage looking as what you saw in my KLM 777-200 business class review.
The amenities
Crusty old business class seats or not, Air France does really well with amenity kits in my opinion. The one they provided us on this flight was as stylish and useful as you might expect to be. For the record, the amenity kit was already at the seat when I arrived. They don't hand them out during the boarding process.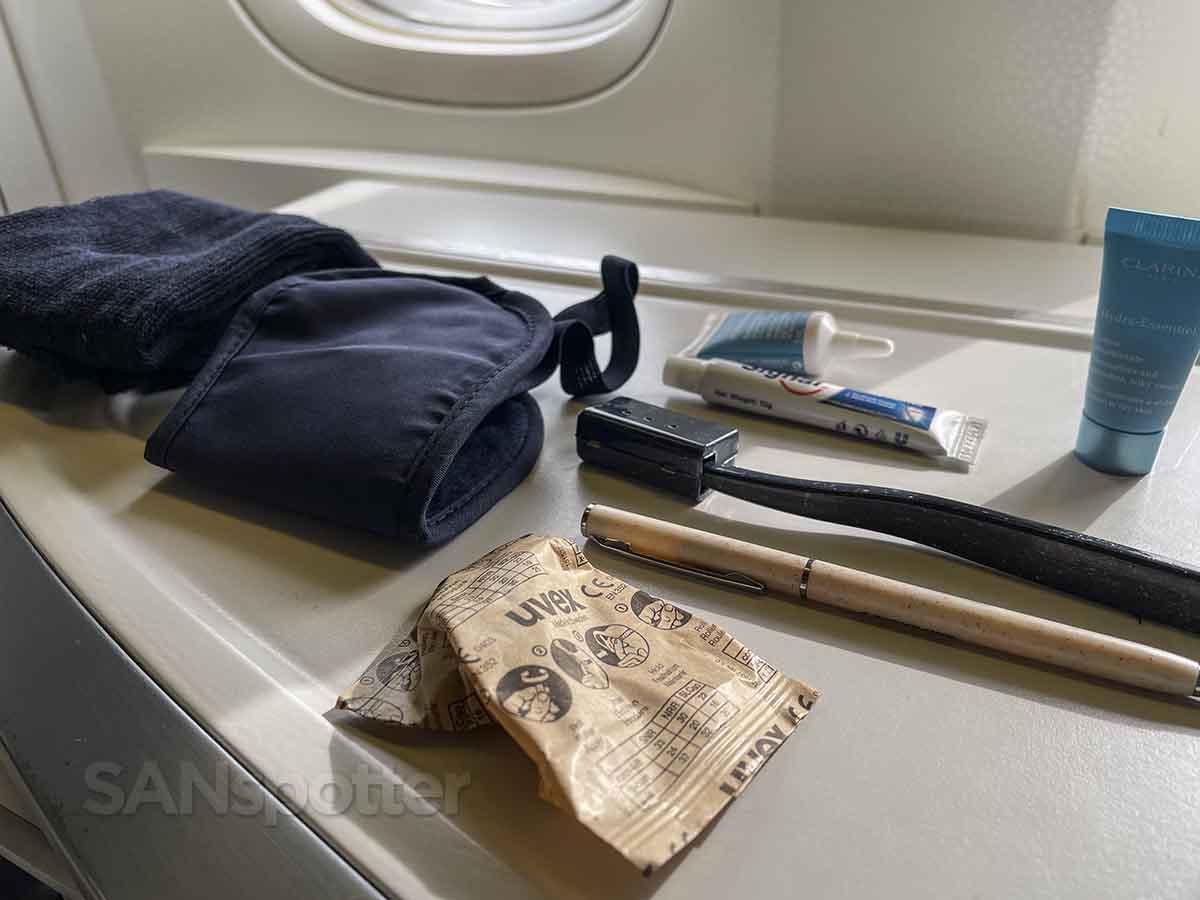 Departure
Pushing off the gate was the first time in over 90 minutes that I was able to breathe a sigh of relief. Nearly missing this flight (and then working hard to get all the pics and the video of the seat) really took it out of me.
Just knowing that I didn't miss the flight (along with getting all the content I needed for the review) was a glorious feeling indeed. Here are the sights and sounds of the departure out of CDG this morning: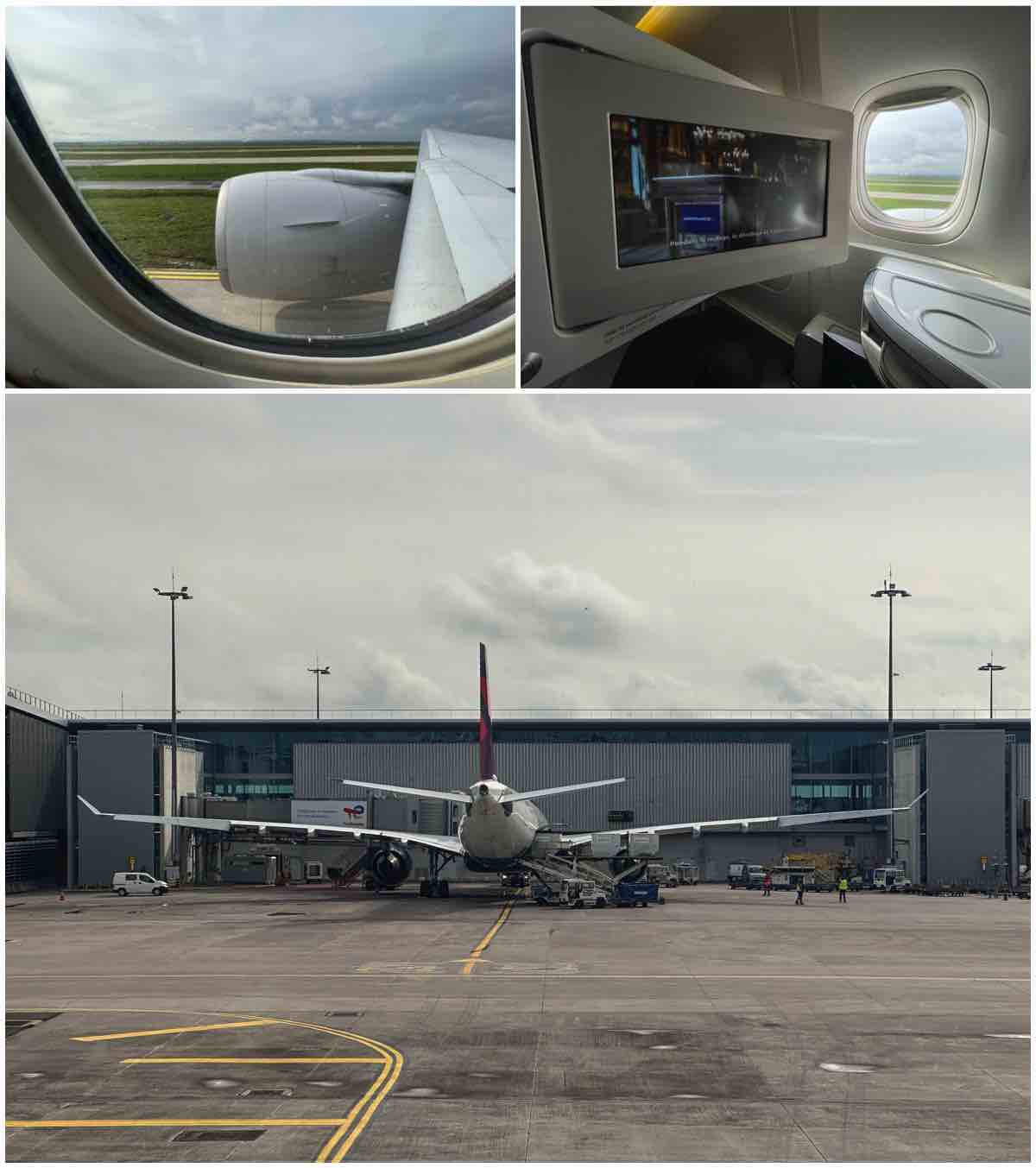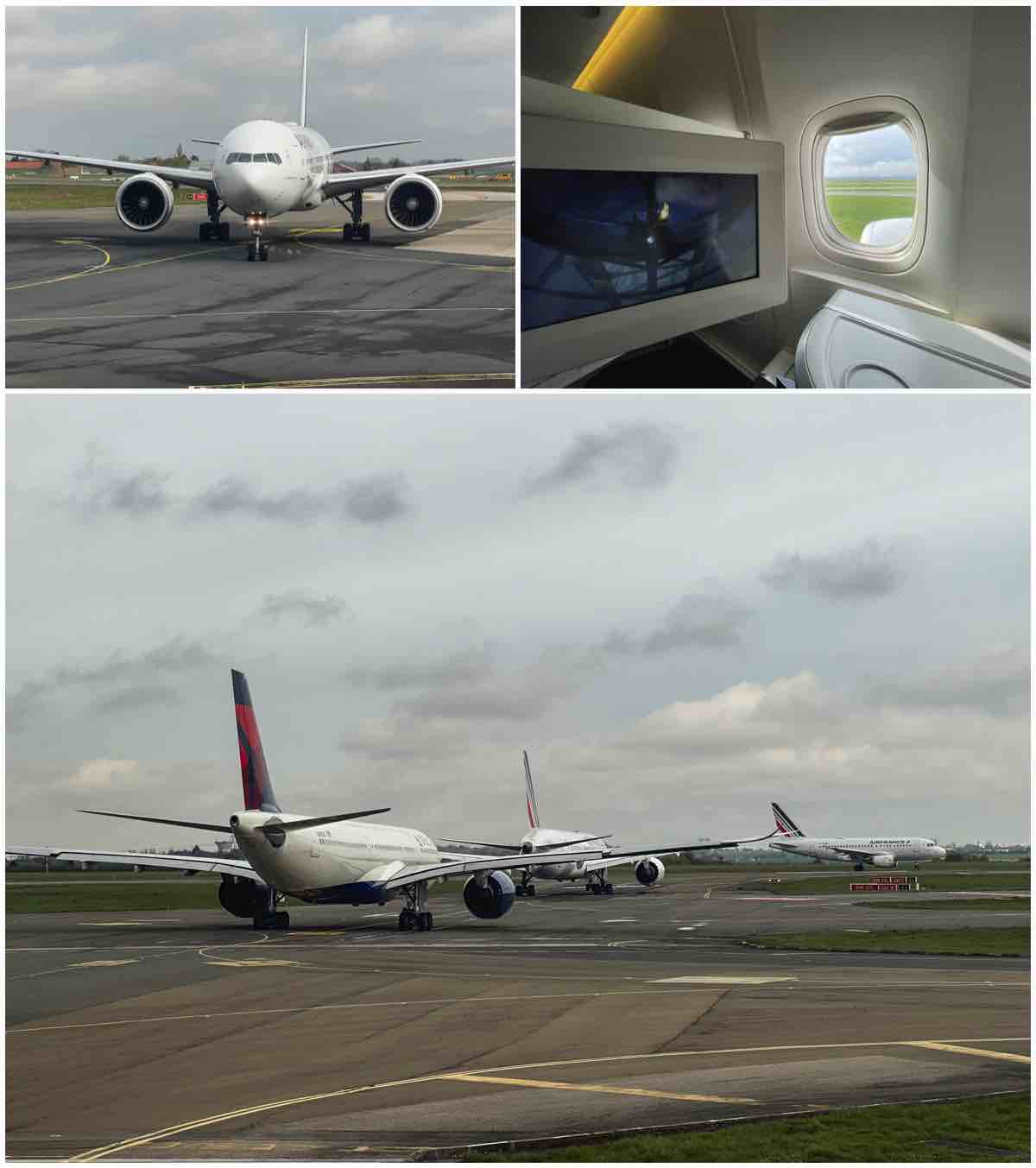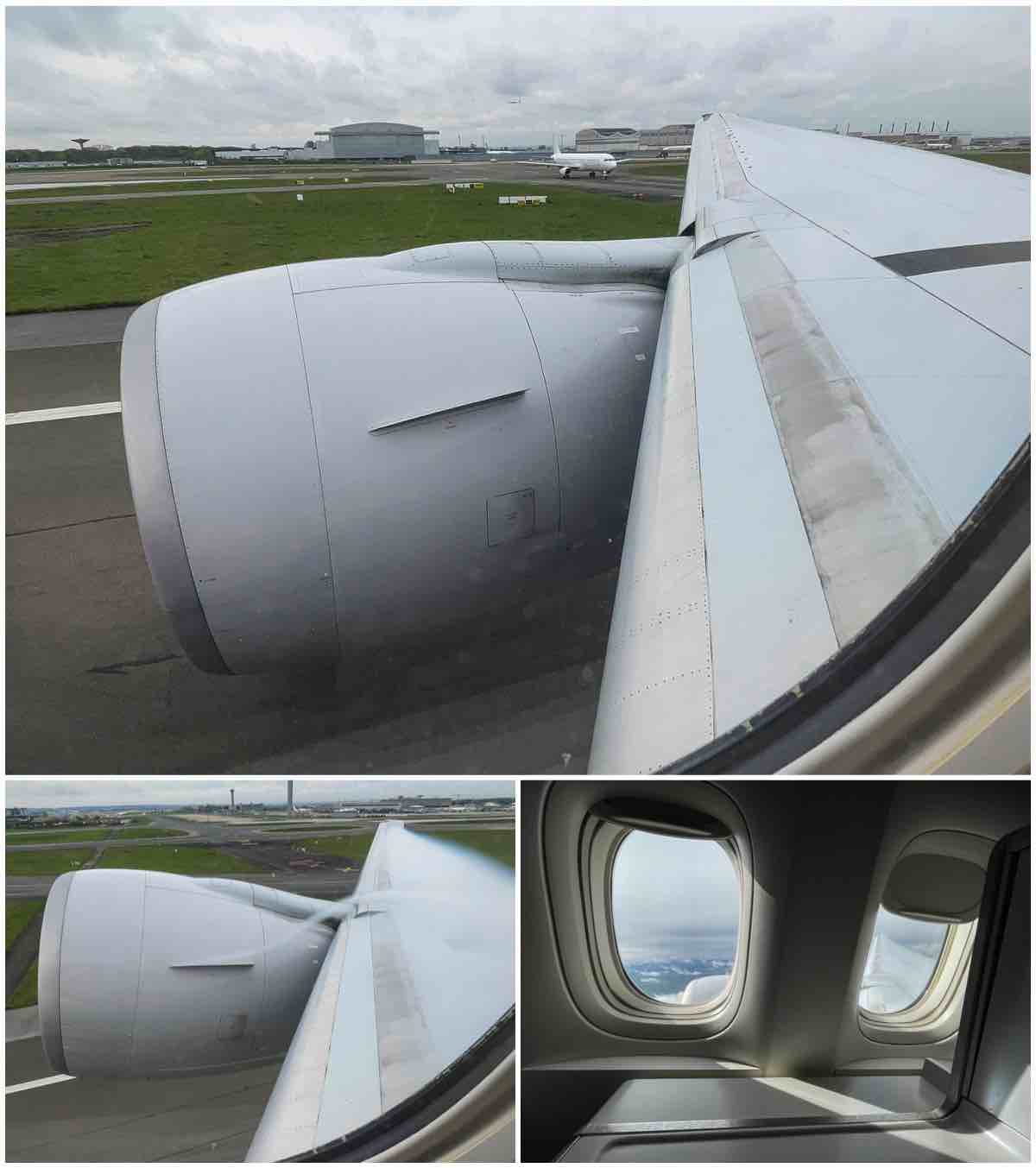 Here's the full taxi and takeoff video (which is always more exciting than just looking at pictures with stupid captions):
In-flight entertainment
There's not much to say about the in-flight entertainment on these old Air France 777's that isn't obvious by looking at the following pictures.
One hand, the screen is relatively small and low contrast compared to the video screens in modern business class seats.
On the other hand, it features a really good catalog of content that'll please nearly everyone (I'm sure of it).
The best way to sum up these video screens (and the catalog of movies and TV shows) is to say that it's exactly the opposite of what I recently experienced in Aeromexico 787-8 business class. In that case, the screens were phenomenal but the content was lacking.
Audiophiles (or at least those of you who like to be able to hear what you're watching) will appreciate the noise canceling headphones. They were decent.
The first meal service
This being my first ever flight in Air France long haul business class, I was very much looking forward to the meal. I've heard nothing but good things about Air France onboard service over the years (especially in regards to food), so couldn't wait to experience it for myself. Check this out: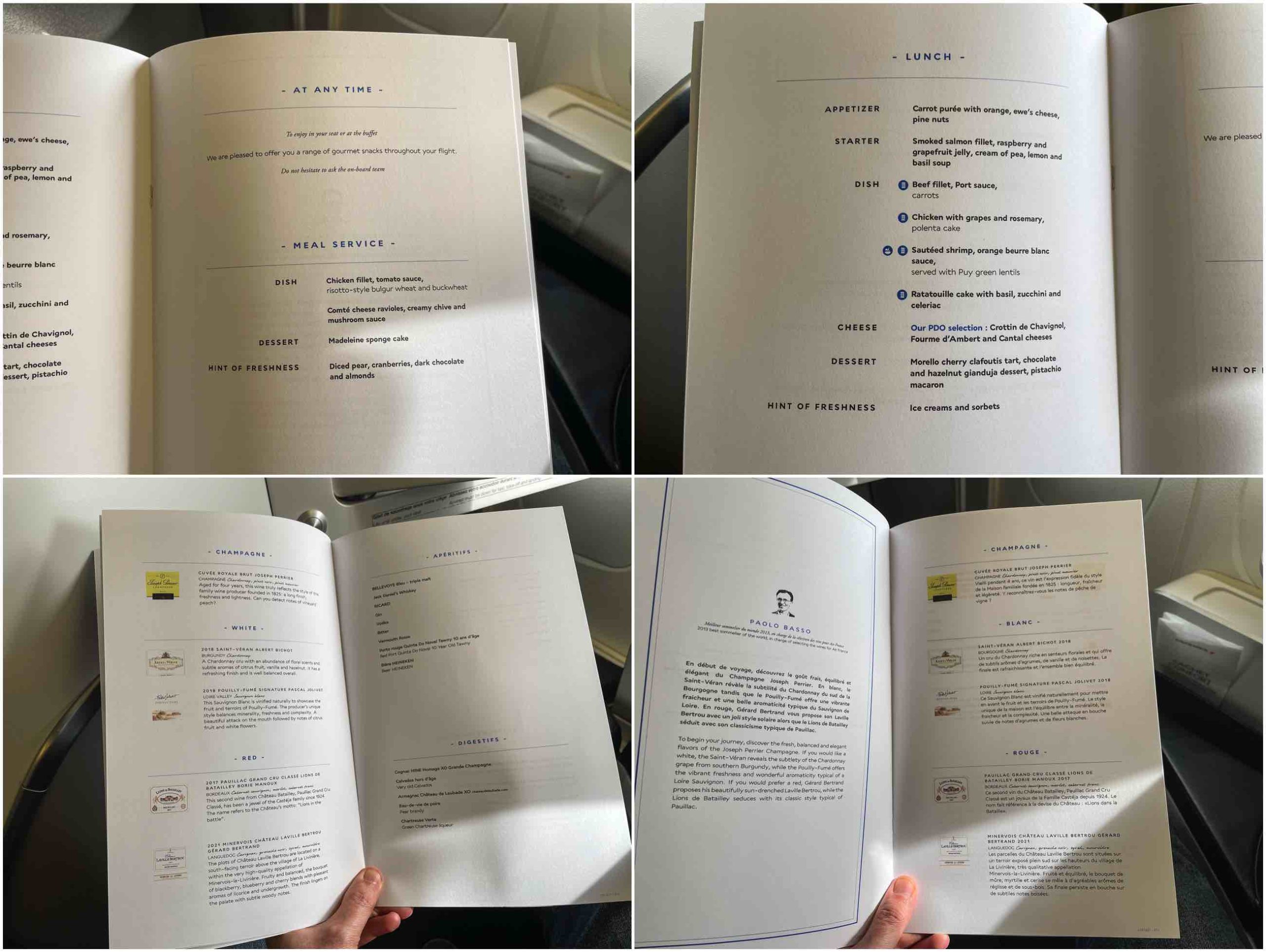 Testing out the lie flat seat
I'm not normally able to sleep at all on daytime flights from Europe to the US, but I was very much looking forward to it this time thanks to the crippling jet lag I suffered on this trip.
Say what you will about how ugly and crusty these old seats look, but it was a perfectly fine place to lay my tired body and soul. Yeah, the seats are a little lumpy (and narrow), but that didn't stop me from getting a solid three hours of sleep.
Taking a walk around the cabin
Three hours of sleep on an airplane is nothing short of a miracle for me, so I chalked that up as a win. I spent the remaining hours before the second meal service walking around the aircraft, getting a little work done, and gently snoozing. These Paris to San Francisco flights are quite long, so there's a lot of dead time to fill.
The second meal service
The fact that I had to go back and look at my pictures (and video) of the second meal service to write this portion of the review tells you everything you need to know about it. I honestly couldn't remember what they served. I had no recollection of it being inedible slop though, so I guess that's a good thing.
The descent and arrival into San Francisco
The weather was looking nothing short of spectacular as we began the initial descent into SFO. I was quite happy about this, because there are basically only two types of weather in San Francisco: sunny and warm, or foggy and cold.
I do believe I was smiling as we were making the final descent into SFO.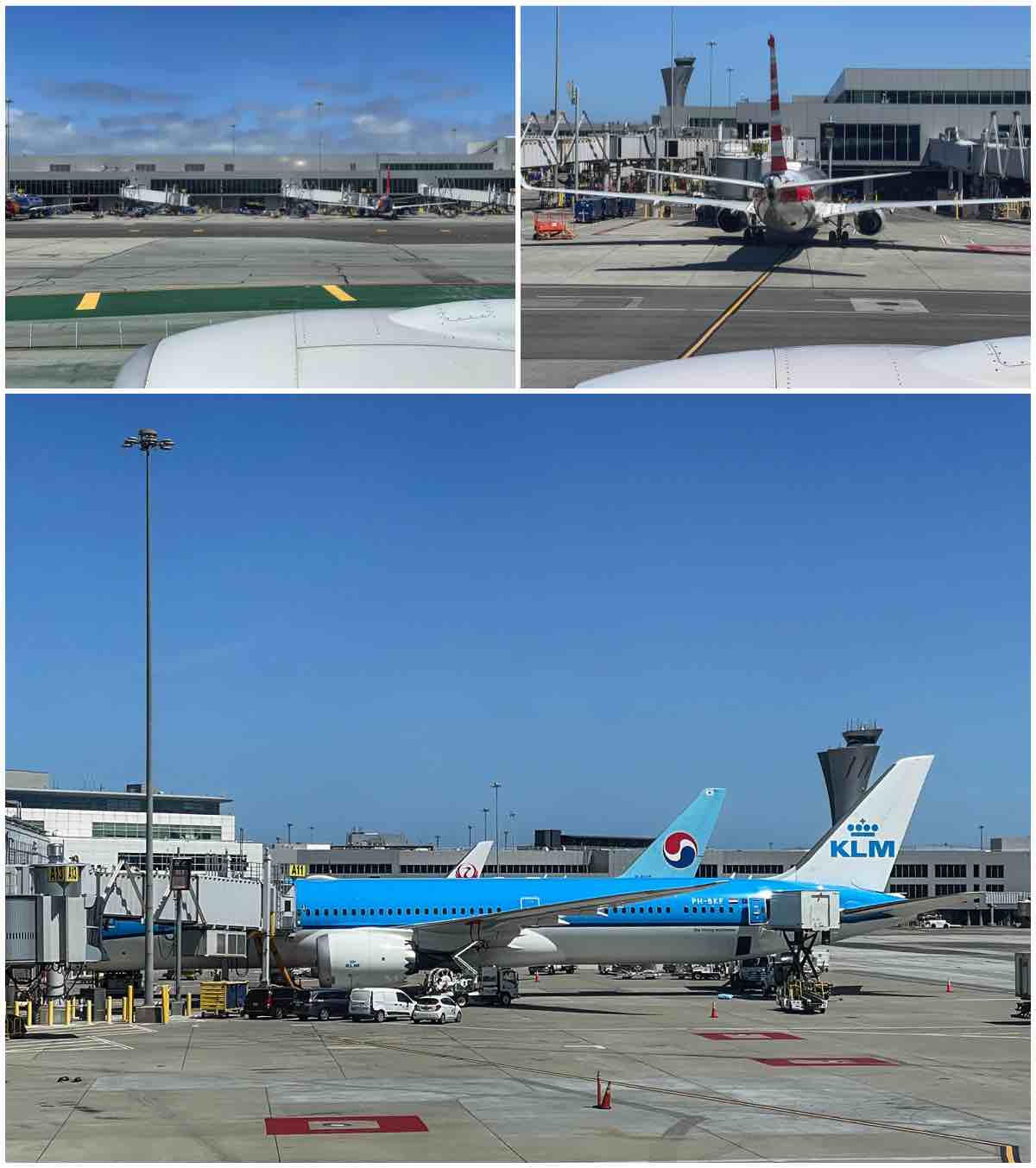 Well, that was fun! I'm not afraid to admit that this was a flight that I enjoyed quite a bit. As an experienced airline reviewer, it wouldn't surprise me a bit if you think that I'd snub my nose at anything less than the latest and greatest business class seat.
However, I found these old seats to provide a perfectly comfortable and pleasant experience throughout every phase of the journey.
One final last bit of advice: SFO international to domestic connection times aren't that bad. I find it to be one of the best airports to get through customs and immigration quickly, and this time was no exception. I made it through the entire process in less than 20 minutes.
Perhaps they can give the folks at CDG a few pointers on how to move people through passport control without any fuss…
Pros and cons of the old Air France 777-300/ER business class experience
Before getting to the individual pros and cons, I'm just going to leave you with this: a lie flat seat is a lie flat seat. It doesn't matter what it looks like as long as it lies flat and provides the means for a few hours of deep sleep without interruptions. That's exactly what I got, so I guess I can't complain.
Pros
Despite how old it looks, it's still a very comfortable long-haul business class seat.
The 1-2-1 configuration is perfect for solo travelers and couples alike.
Privacy is pretty good for such a vintage seat. It's not perfect, but it's hard to shake a fist at.
You'll still get the latest and greatest onboard service from the cabin crew (which is very good IMHO).
Cons
Expect to have to deal with panels falling off and latches on the doors and armrests not working like they should.
You know how old cars rattle and buzz while going over even the smallest bumps? These old seats do the exact same thing.
You'll be far less likely to impress your followers on social media by posting a selfie taken from one of these old seats compared to the new ones. The horror!