It's not very often that I look forward to a 7 AM flight (especially when suffering from crippling jet lag). However, the anticipation of flying Air France A220-300 business class was enough to get me going with a spring in my step and a giant smile on my face.
As you're about to see in this review, things didn't go as well as I had hoped. Yes, it was a great flight with decent seats, tasty food, and a happy flight attendant.
The only problem is: I've had better.
AF1123
Munich, Germany (MUC) – Paris, France (CDG)
Friday, April 14, 2023
Aircraft: A220-300
Registration: F-HZUO
Duration: 1 hour 11 minutes
Seat: 3F (business class)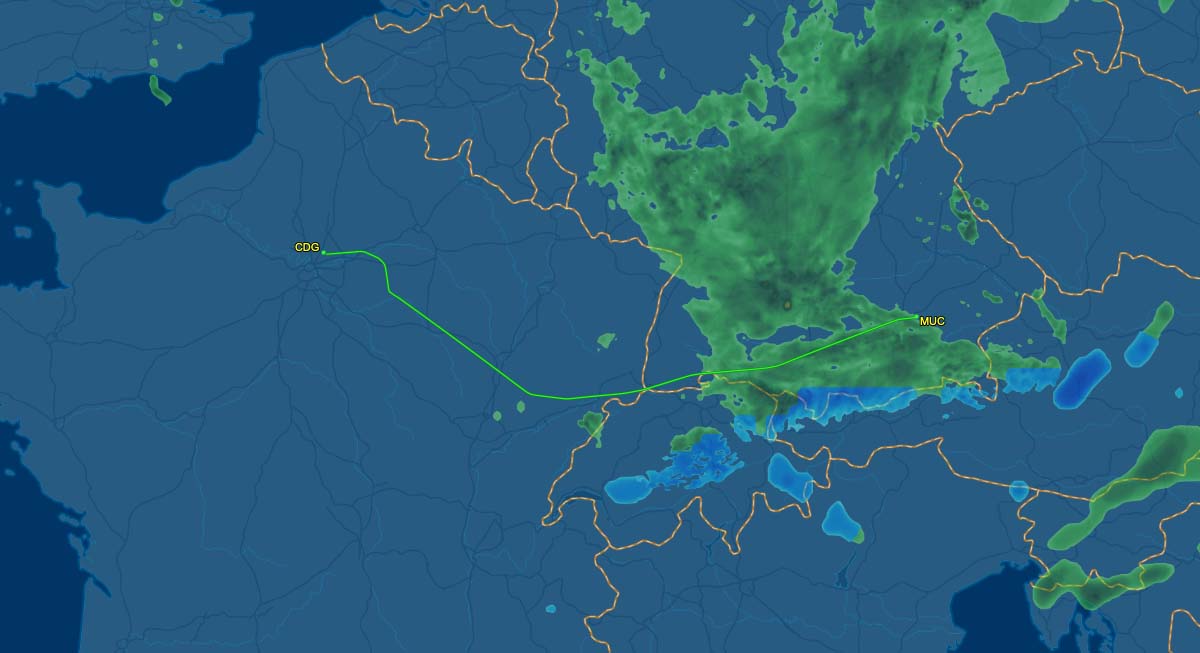 My full review of Air France A220-300 business class from Munich to Paris
7 AM flights suck no matter what, but they're far worse when you only got about an hour of sleep and leading up to it. Jet lag is a mofo!
Thankfully, I stayed at the Munich Airport Hilton (which is connected directly to the airport), so it was just a 10 minute walk over to Terminal 1 to catch this flight. Actually reaching the Air France check in counter was another story…
Arrival at MUC Terminal 1
The Air France ticket counter is located at the far east end of Terminal 1 is it the Munich Airport. That's especially worth mentioning if you're coming from the Hilton.
In that case, it pretty much doubles your walk time since you've got to walk the entire length of T1. It's extremely long, and there was a moment that I thought for sure it was going to go on forever.
Lounge access
Air France business class passengers flying out of Munich have access to the Air France KLM Lounge located on the second level of Terminal 1 near the D gates. It's an OK lounge with really good food. The food is all that really matters though, right?
The boarding process for flight number 1123 to Paris (Charles de Gaulle)
Screw Murphy and his stupid law. Why is it that whenever you need a flight to be on time, it'll definitely be running late?
I had a fairly tight connection to make in Paris, so it was absolutely brutal to stand there at the gate as the boarding time came and went with no announcement from the gate agents. I wasn't expecting to have to clench my butt so tightly so early in the day!
My first impressions of the business class seats on the Air France A220-300
The business class seating configuration on the Air France A220-300 is nice. It's a 2-3 layout, which means that couples traveling together can do so comfortably on the right side of the aircraft.
On the left side, solo travelers can choose either the aisle or the window seat feeling happy knowing that the middle seat is going to be blocked.
I think one of the most interesting thing about these seats is the fact that everything about them (colors, textures, etc) were unmistakably "Air France." It would have been extremely easy to identify what airline I was flying just by looking around the cabin.
This was essentially a "lite" version of what you saw in my Air France 777-300 business class review. Without the wear and tear of course.
Business class in Europe is weird. Yeah, I certainly liked what I saw as I was getting situated and ready for takeoff. But let's be real. These seats are nearly identical to the ones you saw in my review of the Breeze Airways "Nicer" seat (which was pretty darn far from being a luxurious experience).
The departure
Despite the low energy boarding process by the gate agents, we managed to push off the gate right on time. Of course, the weather was looking terrible, so we weren't exactly out of the woods yet. I crossed my fingers (and toes) as tightly as I could as we taxied out to the runway in the pouring rain.
In-flight entertainment
Much like how it is on all European airlines, there are no video screens in business class. That said, Air France has a really nice streaming in-flight entertainment offering, which is a lot like any of the streaming services you'll find on airlines back home in the US.
The only problem is that it requires a dedicated app to access it, which I didn't have the forethought to download before the flight. Oh well.
I was surprised to see that full Wi-Fi access isn't included with business class. Messaging is free, but web browsing (and streaming) is not. You're gonna have to shell out at least 5 big ones (the Euro kind) to stay connected while in flight.
The food
I really need to learn to control my expectations. For some reason or another I assumed the food on this flight was going to be fantastic. You know, that gourmet French food thing and all.
Well, the breakfast they served wasn't anywhere near as good as what I got in KLM 737-800 business class just six months earlier. It tasted fine though, and it was enough to keep me going for another few hours. That's a win I guess.
Seat comfort
Those of you who skipped right to this section to find out how comfortable the seats are will be a little bummed out I think.
Intra-European business class is essentially intra-European economy class – with just a bit more legroom. It's the exact same seat. That said, they do block the middle seat (which actually helps quite a bit to make it a more comfortable experience).
The arrival into Paris
The weather wasn't looking all that much different than it was back in Munich as we dropped into the clouds on approach into the Paris Charles de Gaulle Airport. The rain and fog was fierce, but I was feeling great knowing that we were exactly on time and that I wasn't going to miss my connecting flight.
In hindsight, I was being overly naive again, because things didn't go exactly as planned.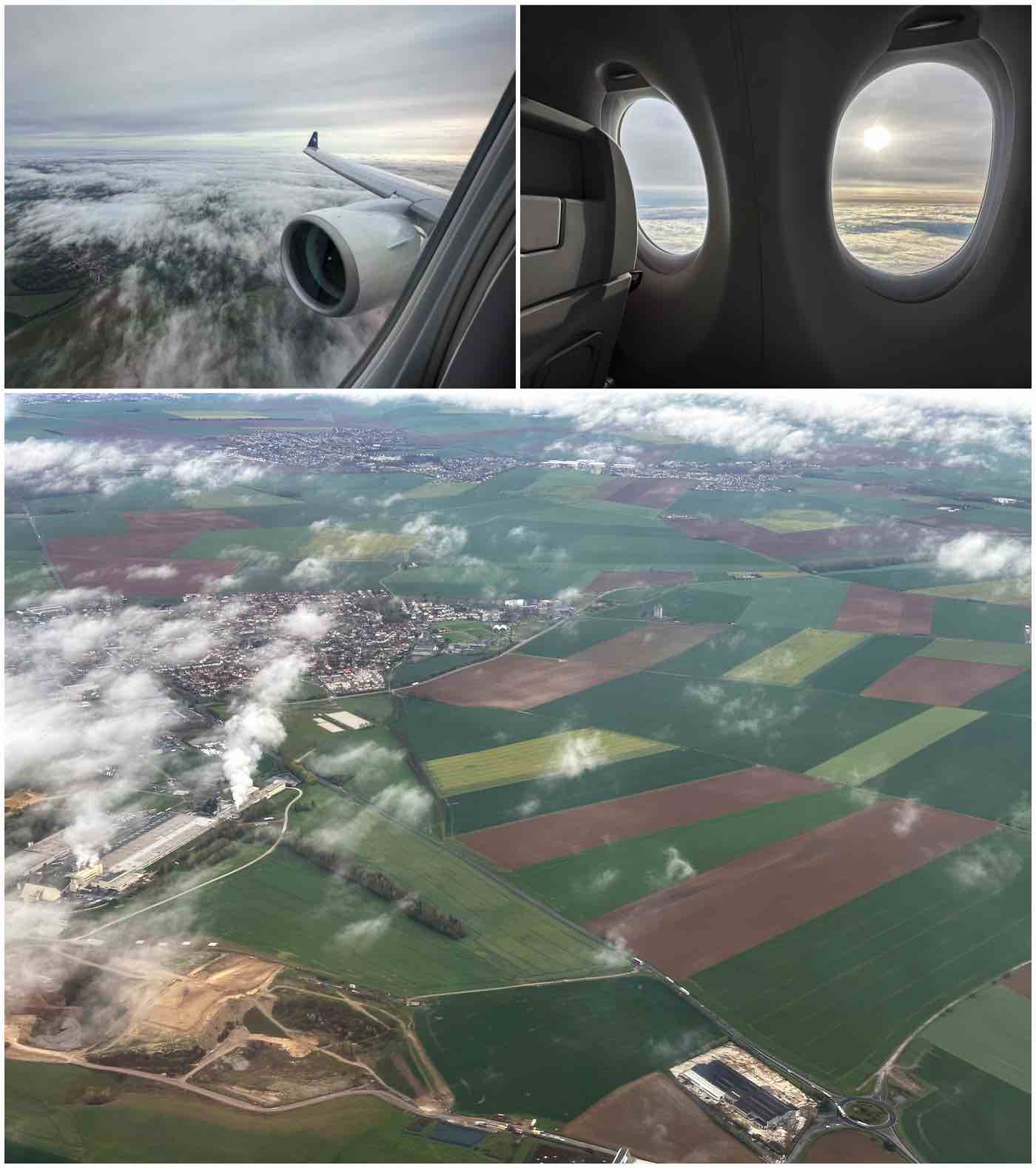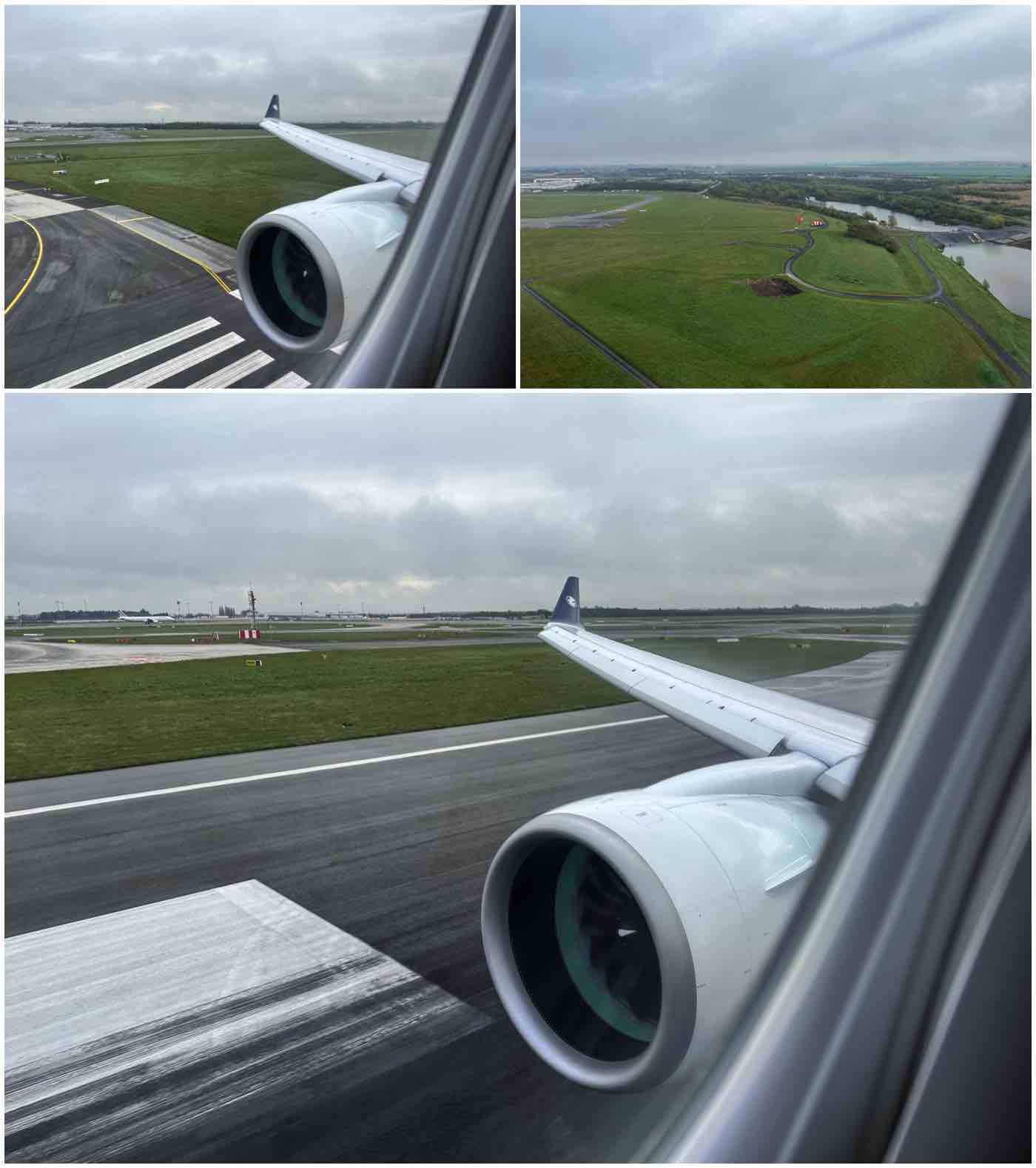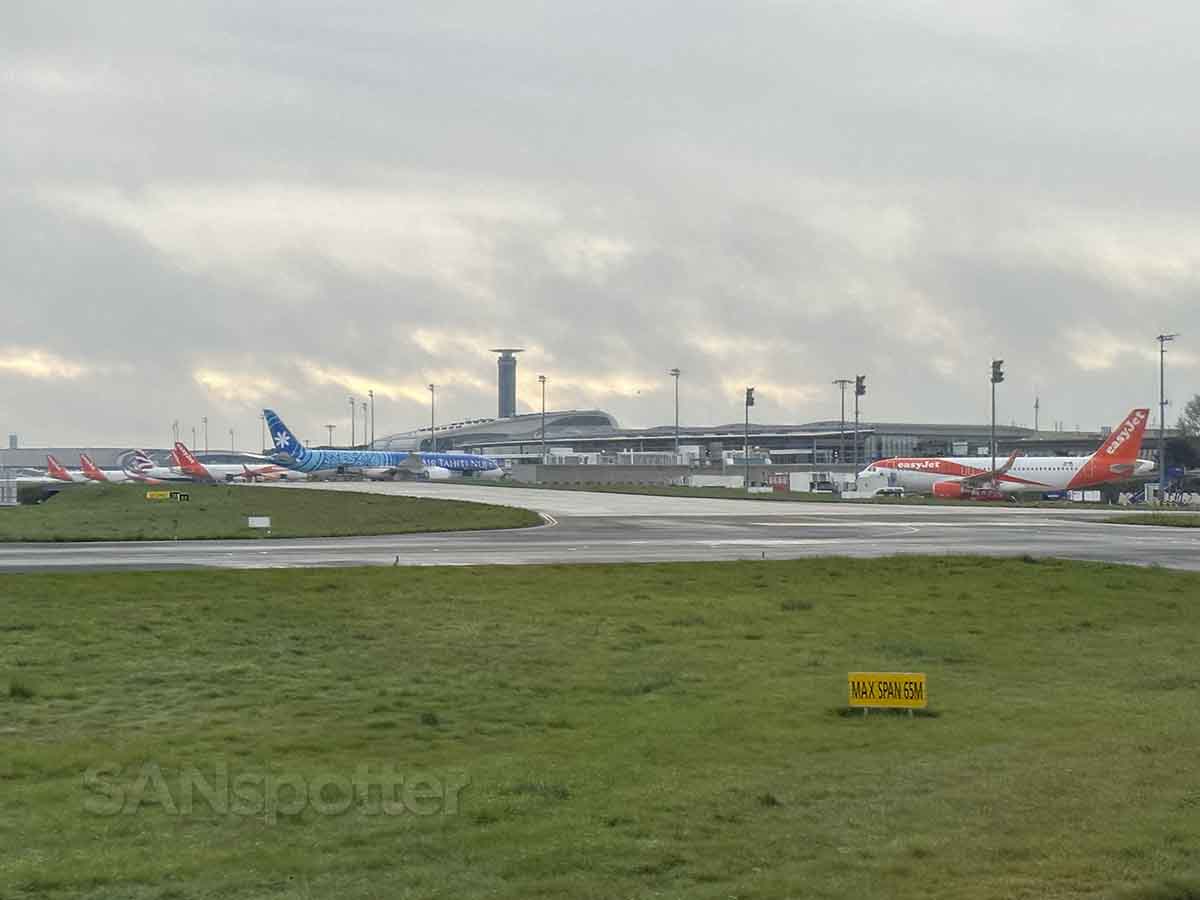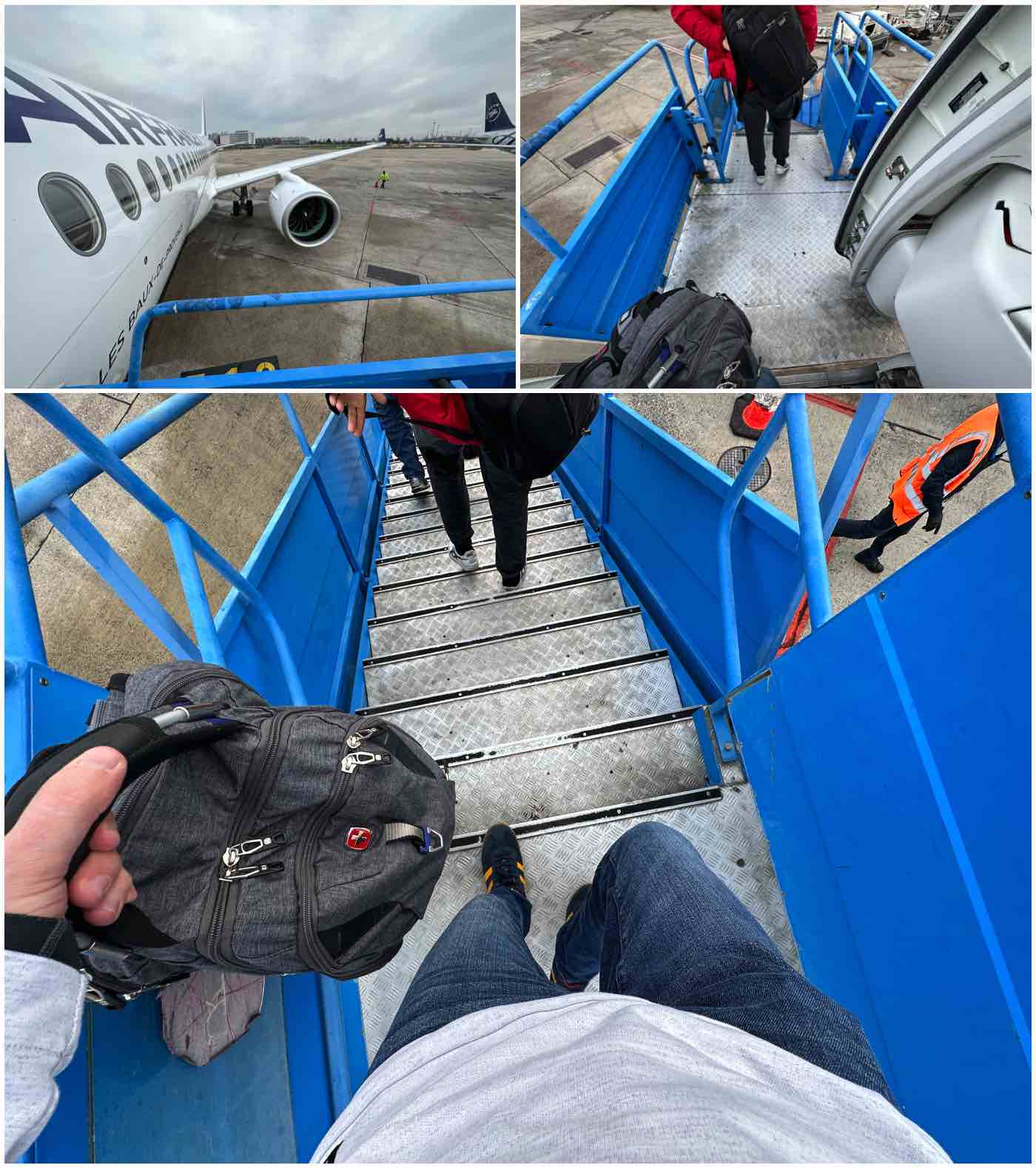 Pros and cons of Air France A220-300 business class
For short flights such as this one from Munich to Paris, I actually don't mind the fact that the business class and economy class seats are nearly the same. Having a guaranteed empty seat next to me is enough to make it worth it in my opinion. Otherwise, here are all the specific pros and cons:
Pros
The A220 is a relatively new aircraft to the Air France fleet, so everything looks (and feels) shiny and new.
The 2-3 seating configuration is great for both solo travelers and couples.
You'll be served a full meal – or at least a very substantial snack. It doesn't matter how short the flight is.
The added legroom was noticeable. It makes a difference!
Cons
It doesn't feel all that "premium" if I'm being honest, but that's no fault of Air France. It's just the way that intra-European business class is these days.
Accessing the in-flight entertainment requires downloading and installing a dedicated app.
Wi-Fi isn't free, and it'll be very expensive if you need to use it.