My discovery of the Air France KLM Lounge at the Munich Airport (MUC) was kind of an accident. I had no idea that it even existed until I saw the signs for it while waiting for a flight to CDG on Air France.
Truthfully, the only redeeming thing about this lounge was the food. It wasn't a very comfortable place to do any serious lounging in my opinion, but I certainly appreciated a full plate of eggs and bacon at 6 AM.
My full review of the Air France KLM Lounge at the Munich Airport (MUC)
Yeah. There's an Air France KLM Lounge at the Munich Airport. I certainly wasn't expecting to see it, but I'm not going to fault it for being there. The following is a full review of my experience.
Location
The KLM Air France Lounge is located on the second level in Terminal 1 (near the D gates). Accessing it will require ascending a set of stairs or taking your chances on a sketchy looking elevator.
This lounge is easy to find thanks to all the signs pointing to it, but the actual entrance is another story. It basically looks like the door to where they keep all the janitorial supplies.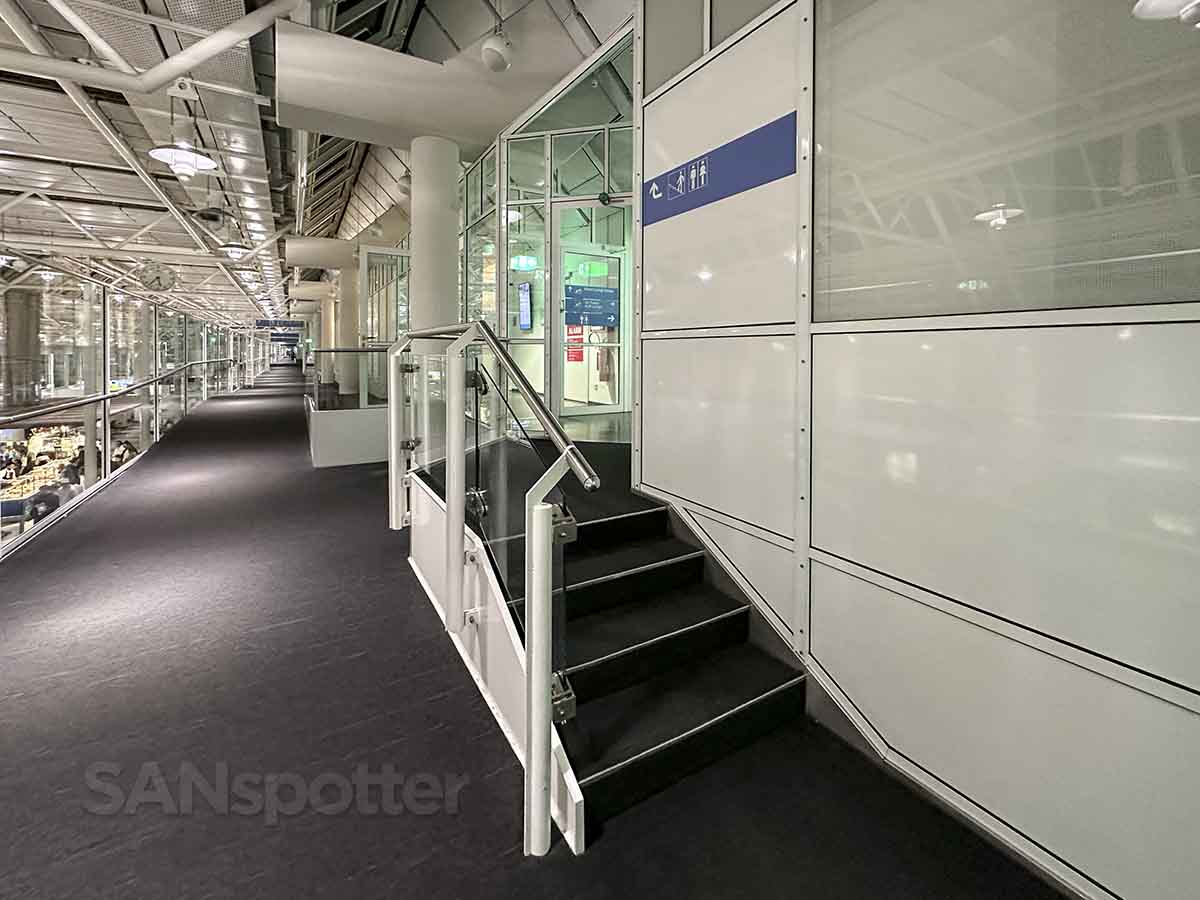 Layout
The best way to describe the layout of this Air France KLM Lounge is to say that it looks and feels exactly like a budget Priority Pass offering. It consists of one rectangular shaped room sectioned off by modular wall panels.
I didn't find it to be a very relaxing environment thanks to how open and exposed everything was. It felt more like a waiting room of some sort, and not a luxurious airline lounge. That said, it did feel like one heck of a nicer waiting room than the Hawaiian Airlines Premier Club at the Honolulu Airport did.
Interior design can be summed up as being 100% Air France. There is nothing that even comes close to hinting that this is also a KLM lounge, which was unfortunate considering how nice my last visit to a KLM Crown Lounge was. Most everything is either blue, red, or white, so…vive la France I guess.
Seating types
It's fairly obvious they tried as hard as they could to make this a comfortable space with many different types of seating. There's workstations (with power outlets), cafeteria style tables and chairs, couches, and cushy seats everywhere you look.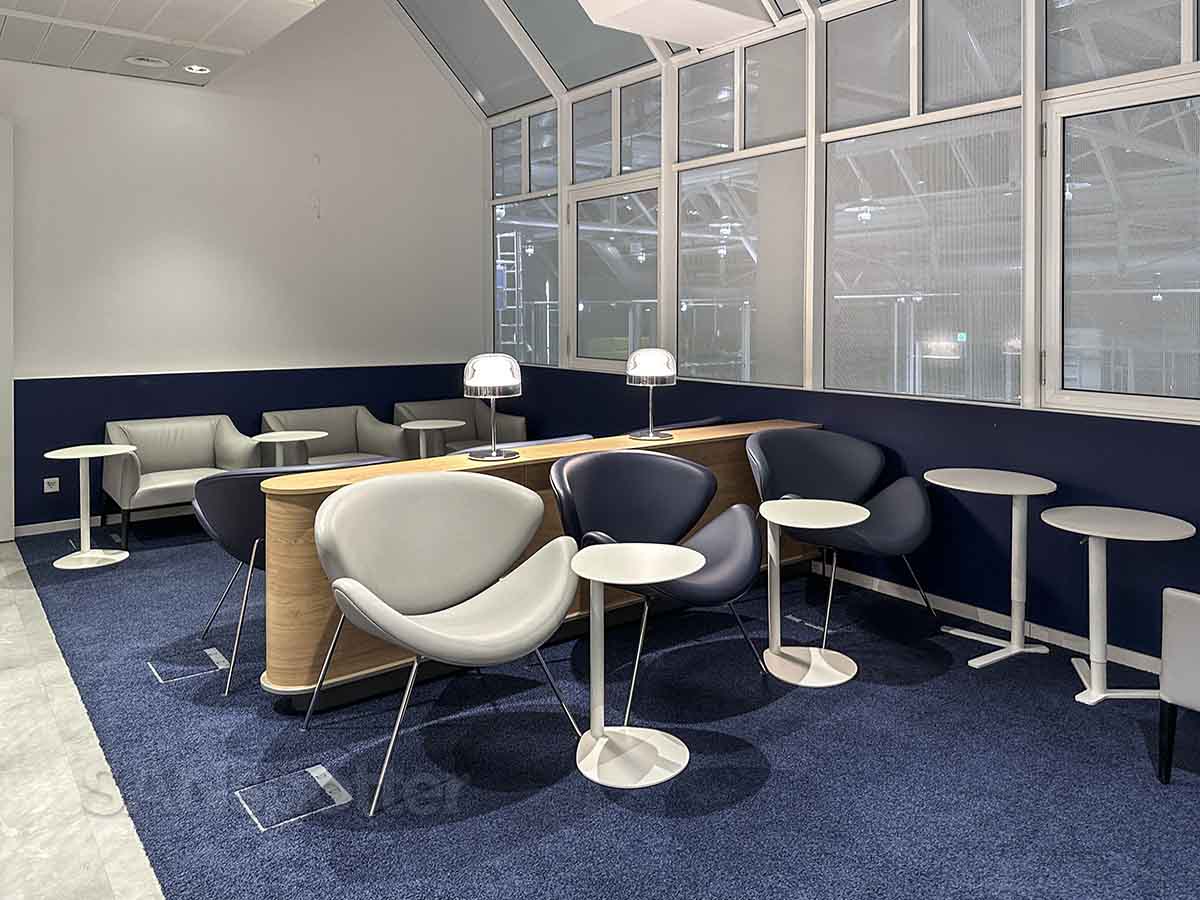 I had no problem finding a comfortable place to sit thanks to being the only one in the place. I would've hated to be in there when it was crowded though. I have no doubt that it would've been extremely miserable.
The food
Ah, yes. The food! If it wasn't for the impressive amount of food available, I could've easily declared this to be one of the most disappointing airline lounges that I've ever been in. However, the food was good enough to make this something special.
Even at 6 AM, there was everything from eggs and bacon to pastries and muffins. All of it was high-quality stuff as well.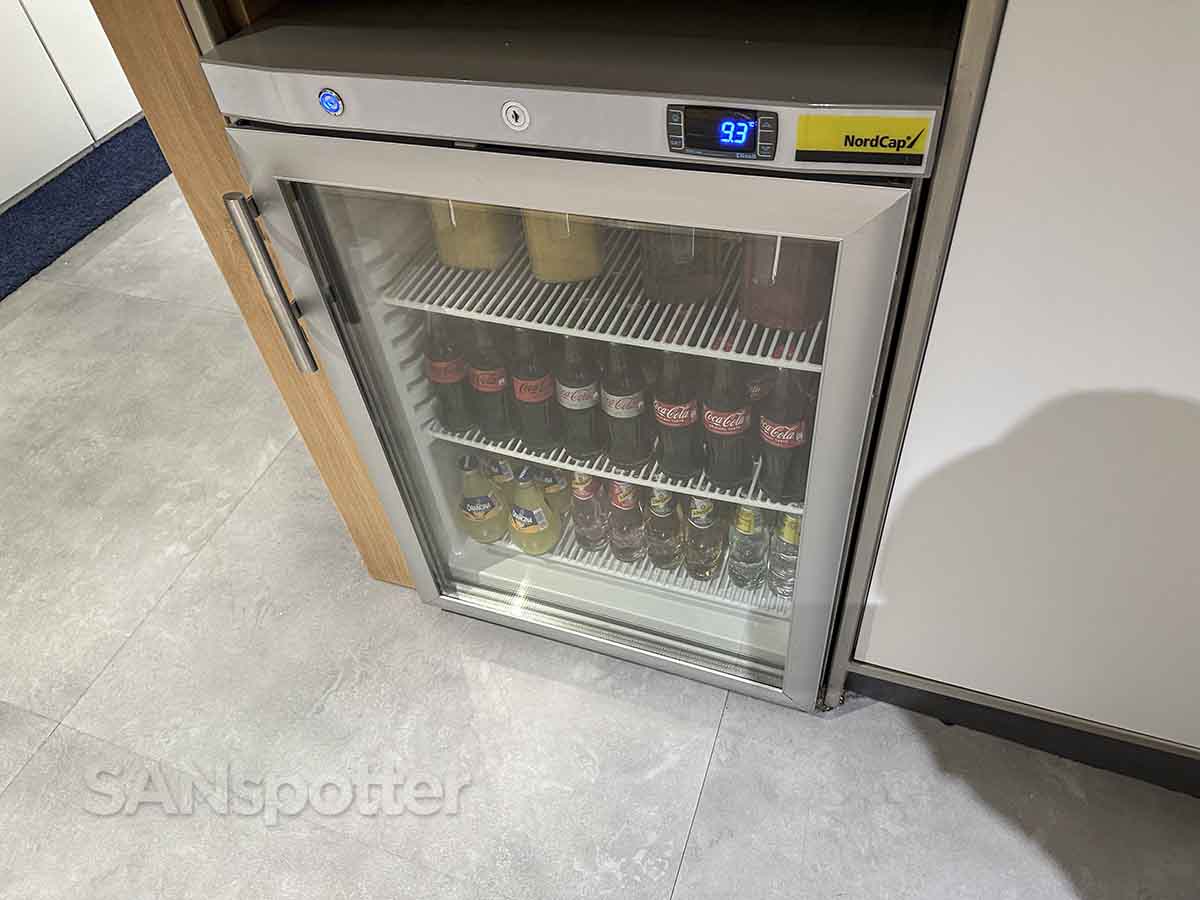 I'm not a coffee drinker, but I assume what they had available was pretty good. As I sat there scarfing down my plate of eggs and bacon, I watched everyone who came in make a beeline straight to the coffee machine. The look of satisfaction on their faces spoke volumes.
How to get into the Air France KLM Lounge at MUC
Getting into the Munich Air France KLM Lounge is extremely easy. All it takes is a business class ticket on either KLM or Air France (no matter if you're flying intra-Europe or beyond). Other ways to get in include:
Keep in mind that entrance requirements and qualifications change all the time, so be sure to check the Air France website for the latest information. And if you're wondering: no, you can't purchase a day pass to enter this lounge. Not that you'd want to anyway.
Pros and cons
Long story short, this is pretty much the opposite of an aspirational airline lounge. If you go because you need a quick bite to eat or a semi-quiet place to get a little work done, you'll love it. If you go for the sole purpose of wanting to feel spoiled and important, you're going to be disappointed.
Pros
The food is impressive! Not only the quantity, but the quality as well.
It's extremely clean and tidy. They maintain the space quite well.
It looks to be fairly recently updated. All the textures and materials seemed fresh and new.
Cons
It feels more like a waiting room than a lounge.
Despite the barriers in between the different sections, it's still going to be noisy at times due to the dense seating layout.
There are no views to the outside world. If you need sunshine to help you unwind and relax before your flight, you're better off finding a quiet spot out in the main terminal next to a big window.