I was so happy to finally be able to give Air Canada 777-300 business class a try. Everyone kept telling me how good it was, and you know what? It turns out they were right.
The seats are fantastic, the food was a step above what I was expecting, and service from the cabin crew just blew me away. It wasn't the US-style (watered down) international business class service that I was expecting.
The only problem was the route I got to try it on. Did you know that it only takes 5 and half hours to fly from Montreal to Paris? That's the automotive equivalent of renting a really fast car on the tiny island of Oahu and not being able to go over 45 miles an hour because of all the traffic.
Which is something else I'm guilty of doing…
AC870
Montreal, QC (YUL) – Paris, France (CDG)
Aircraft: 777-333/ER
Registration: C-FNNW
Duration: 5 hours 35 minutes
Seat: 5A (business class)
My full review of Air Canada 777-300 business class from Montreal to Paris
Right off the bat, let's answer the most important question first. Is Air Canada international business class better than WestJet international business class? Honestly, even though the seats are nearly the same, I'd give the nod to Air Canada for a better overall experience (food, in-flight entertainment, and a stellar cabin crew). Sorry WestJet.
For a more detailed summary of my thoughts, be sure to read my WestJet vs Air Canada comparison.
What lounge can Air Canada international business class passengers use at the Montreal Airport?
There's an Air Canada Maple Leaf Lounge located near gate 52 in the international terminal. That was my first stop immediately after arriving on my Air Canada A220-300 business class flight from San Diego, and yes – it was definitely worth making the beeline for. The food was quite excellent!
A closer look inside the International Terminal at the Montreal Airport
I couldn't deal with the crowds in the lounge, so I ventured back out into the main terminal after scarfing down a hot plate of food. FYI, it's a fantastic terminal for stretching your legs and people watching – as well as getting a hearty bite to eat if you don't have the privilege of having access to the lounge.
The boarding process for flight number 870 to Paris / Charles de Gaulle
It's been a while since I've stood in line to board a long haul international flight. A queue had started to form about 20 minutes before they started the boarding process, and with nothing else to do, I figured I might as well stand in line too.
By the way, the gate that they used for this particular flight (51) was very small. It was much too small for a fully loaded Boeing 777-300/ER IMHO.
My first impressions of the Air Canada 777-300 business class seat
Those of you who don't fly business class often may not realize it, but many airlines share the same seat for their business class products. The particular business class seat that Air Canada chose for their 777-300/ER is one that you've seen many times before here on SANspotter.com – most recently in my WestJet 787-9 business class review.
Thankfully is is a good seat, and I knew right away that I was going to be spoiled rotten all the way to Paris tonight.
The departure out of Montreal
It was well past 9 PM by the time we finally pushed off the gate, and there was nothing but near complete darkness once we rolled away from the terminal.
There wasn't much to see out the windows this evening unfortunately, but when you're sitting in a seat as nice as this one is, it doesn't matter. Plus, the glorious sound from those massive GE engines make up nicely for the lack of visuals.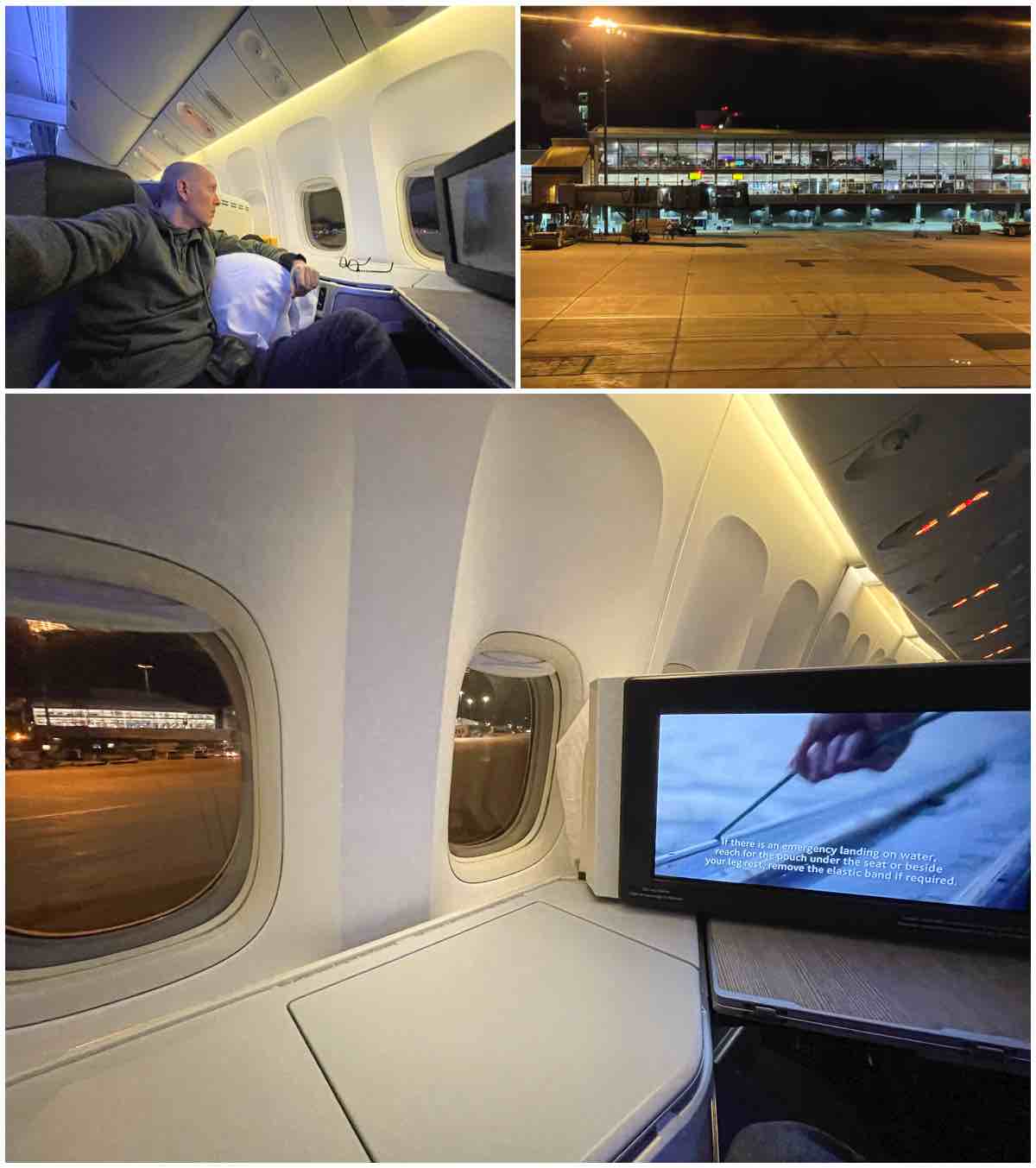 In-flight entertainment
I think if there's one thing about this Air Canada 777-300 business class experience that disappointed me, it would be the entertainment system.
Yes, it was stocked full of the kinds of TV shows and movies I wanted to see, but the user interface (and the screen itself) was getting on in age. To put that in better context, the video screens in Air Canada 737 MAX 8 economy are far superior.
The dinner service
I've been flying Air Canada a lot recently, and in every review, you've heard me say really nice things about the food. It's one of the things that Air Canada is consistently good at, so my expectations were high as the cabin crew began the dinner service.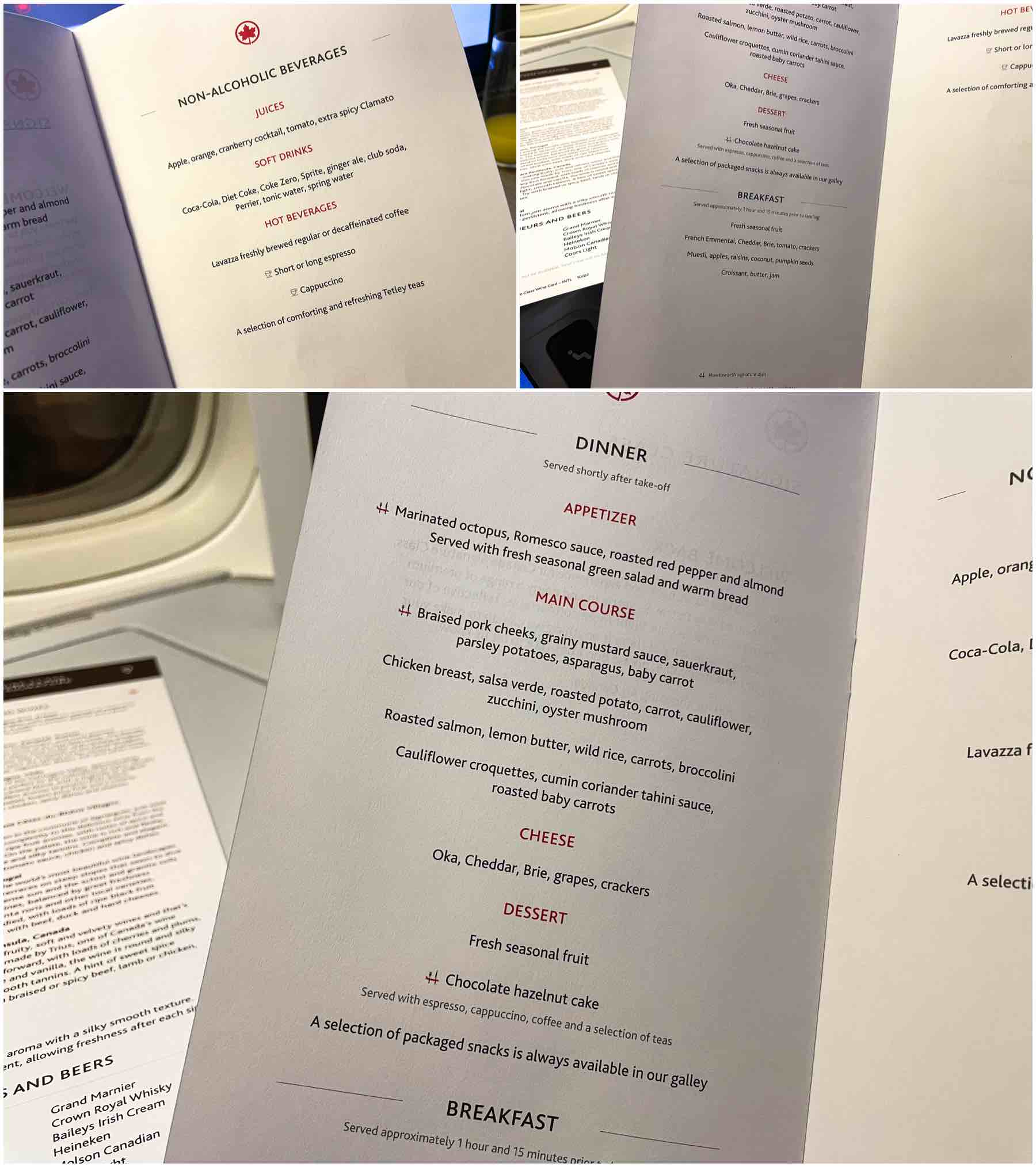 In summary, not only was the food excellent, but the kindness and professionalism of the cabin crew was remarkable. No, it wasn't as great as what I experienced in Asiana A380 business class or anything, but it's still a lot better than what you would get in, say, United Polaris business class.
Testing the lie-flat seat
There was a little over 3 hours of flying time remaining after the dinner service, so lying down to get some sleep was pretty much pointless. It takes me a while to fall asleep on airplanes, and by the time I did, it wouldn't be long until they turned the lights on again for the pre-landing meal.
That said, I aim to do a thorough international business class review, so an honest attempt to test the lie-flat seat was a must.

The second meal service
The cabin crew turned on the lights for the second meal service not long after I finally drifted off to sleep (as expected). Yes, I could've slept through the second meal (especially since I wasn't all that hungry), but I am an airline reviewer after all, so I raised my seat and took one for the team.
The descent and arrival into the Paris Charles de Gaulle Airport
Overnight flights from North America to Europe are weird. Even though I only got less than an hour of sleep on this flight, arriving in Paris in the mid morning hours felt like a completely new day.
Never mind the fact that it was 9 PM in Montreal less than 5 hours ago – it felt like an eternity. That said, it was really nice to see the sun coming up over France again. For those of you keeping score, the last time I flew into Paris from North America was via Air Tahiti Nui A340 economy class. I don't think I have to tell you which experience was better.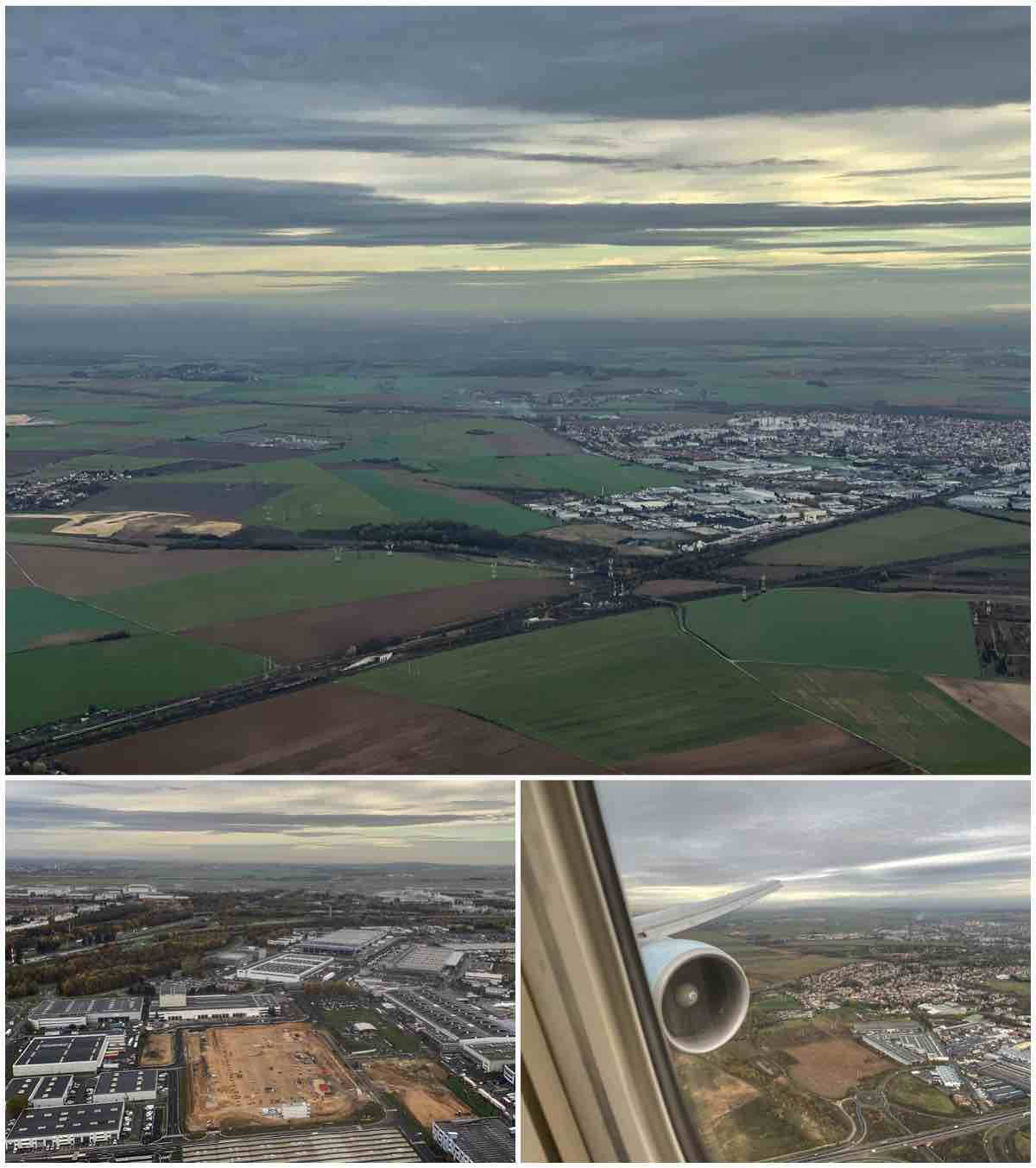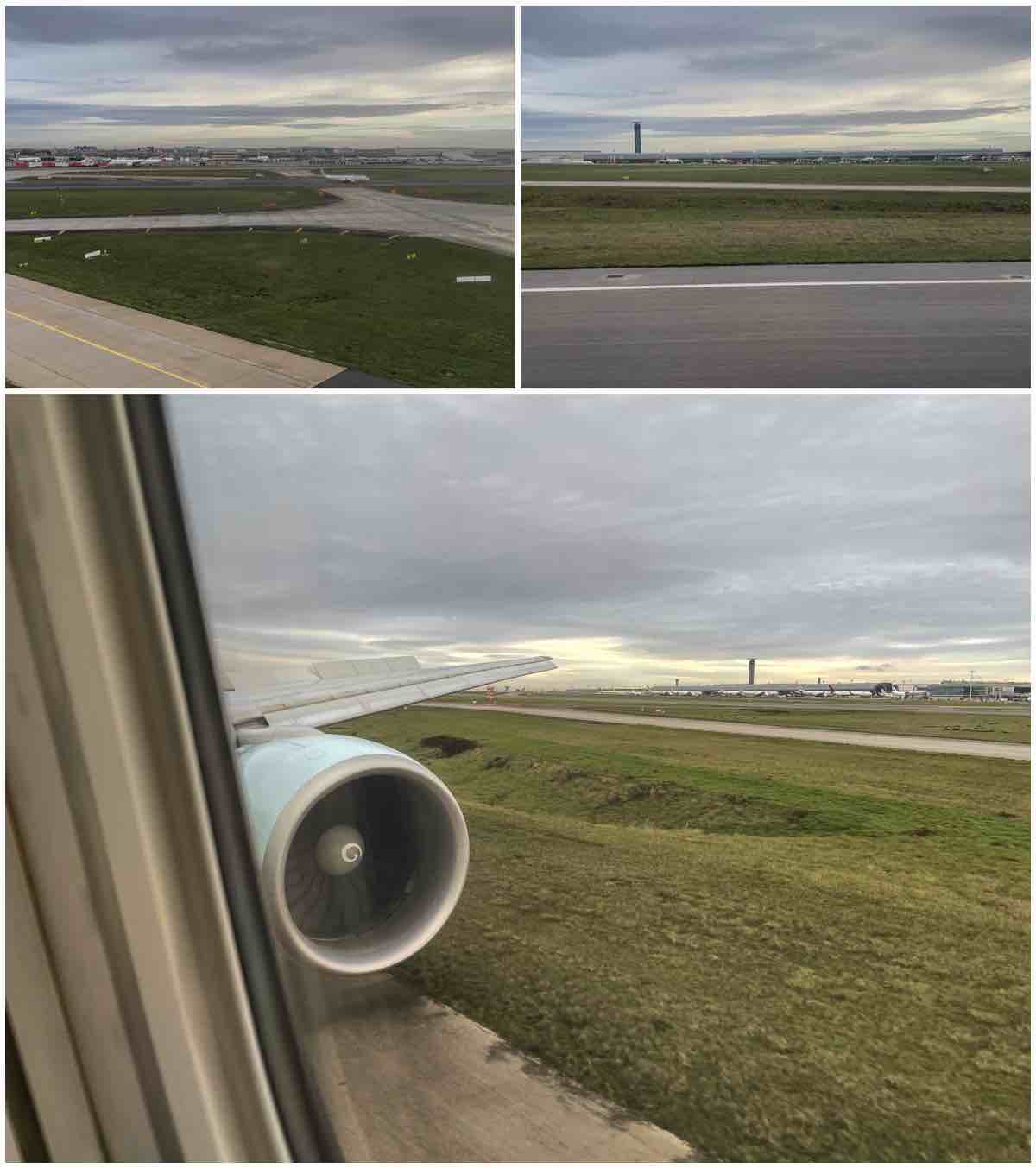 Pros and cons of Air Canada 777-300 business class
This was an amazing experience. Unfortunately, I didn't feel all that amazing since I already knew that I was going to be great before I even stepped foot on the plane. There are worse experiences to have I guess. Anyway, here are what I consider to be the pros and cons of this really great business class product:
Pros
The seat is excellent for long-haul international flights. Not only is it highly-adjustable, it's a really comfortable bed in the lie-flat position.
Seat privacy is excellent. I like shutting myself out from the world on long international flights, and the high walls and partitions of these seats allow you to do that.
The food was excellent. Much better than what you would expect on a US airline.
The cabin crew was top-notch as well. They addressed passengers by name, and everything they did (from presenting the meal choices to serving the food) felt like they had practiced it a thousand times.
Cons
Even though the seat is really nice, it's nearly the same business class seat you'll find on a lot of other airlines. It's not unique to Air Canada.
The in-flight entertainment system (which includes both the video screens and the user interface) is becoming outdated.
The business class cabin on the 777-300 is quite large. This means you might have to wait a while to be served food and drink you're in one of the last rows. Choose your seat wisely!