I recently had a chance to try Air Canada 737 MAX 8 economy from San Diego to Toronto. It was a satisfying experience that surpassed my admittedly low expectations.
Air Canada's newest domestic economy product (as I experienced on the MAX 8) is really good. Seat pitch is a little tight, but the onboard service and in-flight entertainment was fantastic.
Yeah, it was far from being the most luxurious airline experience of my life. It was still fun though, and you wouldn't even have to put a gun to my head for me to do it again.
AC1092
San Diego, CA (SAN) – Toronto, ON (YYZ)
Monday, September 26, 2022
Aircraft: 737 MAX 8
Registration: C-GELQ
Duration: 4 hours 21 minutes
Seat: 27A (Economy)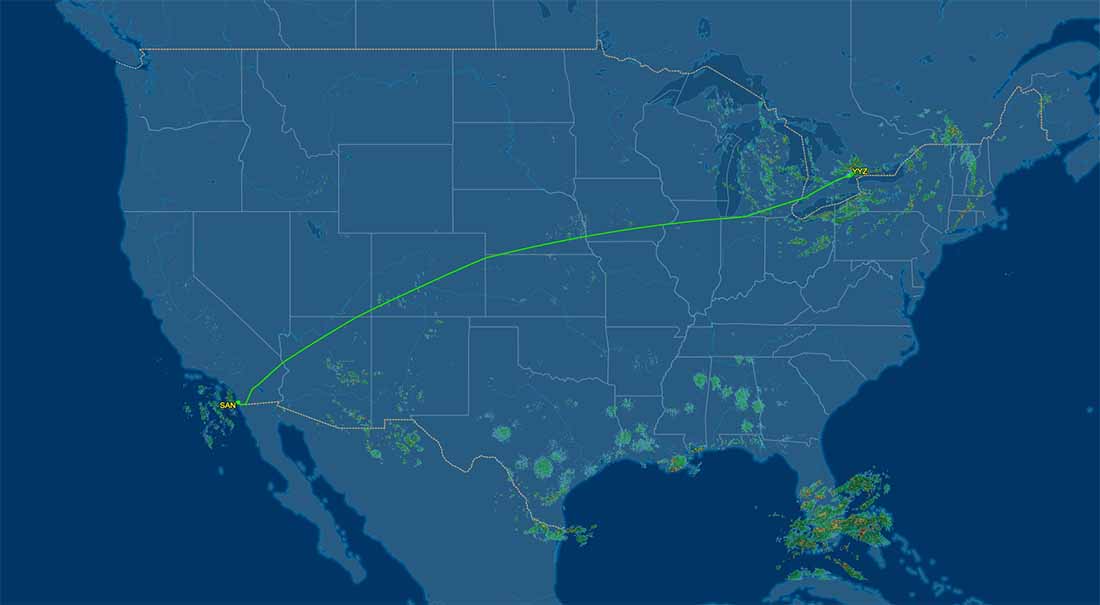 The video
Economy class videos on mainstream airlines such as Air Canada tend not to do very well on YouTube. I decided to go for it anyway, since the MAX 8 features their best economy class product at the moment.
The 4 1/2 hour flight from San Diego to Toronto provided me with loads of footage opportunities, and it ended up being a fun video to put together. Hope you enjoy it. If you didn't, you're probably not going to like the written review below…
My full review of Air Canada 737 MAX 8 economy from San Diego to Toronto
Remember the last time that I flu between Toronto and San Diego? That was in Air Canada Rouge A321 economy, and I'm still scarred from that experience. Thankfully, as you're about to read, Air Canada has redeemed themselves by putting their primary brand back on this popular route. Thank God.
Arrival at the San Diego Airport
Air Canada operates out of Terminal 2 West at the San Diego International Airport (SAN). Their ticketing counter is currently located all the far end of of the terminal however, so RIP to anyone with a lot of luggage to check. It's a bit of a haul.
Waiting (patiently) for the flight
Once through the security checkpoint, you'll have full access to the entirety of Terminal 2. Air Canada economy class passengers don't get lounge access of course, but there are plenty of restaurants and shops to get what you need before your flight. San Diego Airport food is pretty good actually.
If you're simply feeling lazy and unwilling to move, it's not all that hard to find an empty gate to veg out at until the boarding process starts.
The boarding process for flight number 1092 to Toronto
The boarding process started about 40 minutes late. The most satisfying part of the experience was that (unlike how US airlines do it), they used zone numbers that actually meant something.
There was none of that "Premium Elite Diamond-Crusted Unicorn Medallion" BS to sit through before they started with the zone numbers. With my zone 3 boarding pass, I was solidly in the middle of the pack. What a concept!
My first impressions of Air Canada 737 MAX 8 economy seats
Air Canada A330-300 economy class from Montreal to Vancouver was the last time I experienced the lowest level seats on this airline. That was pretty good, primarily because it was an internationally configured aircraft.
This 737 MAX 8 was the first time I ever got to experience a domestically configured Air Canada economy class seat. And you know what? First impressions were good.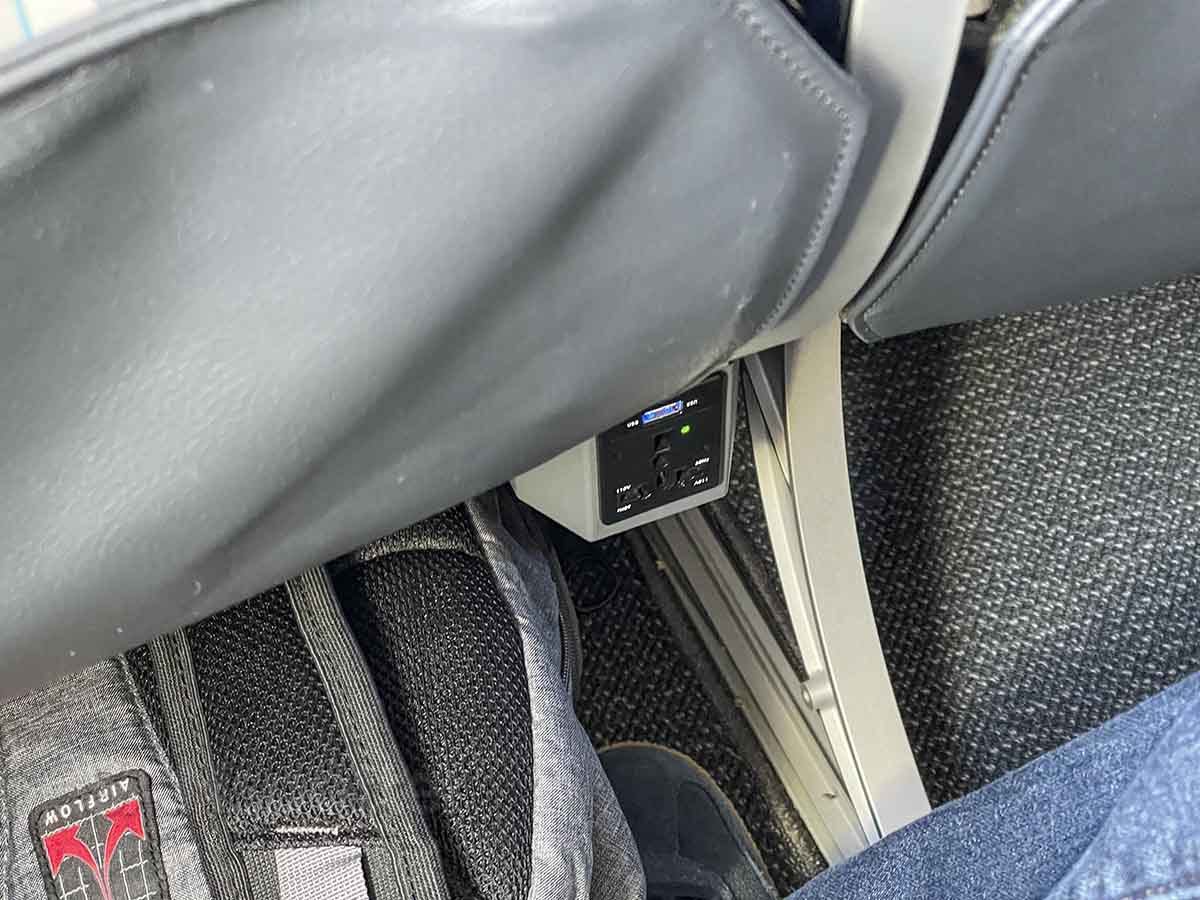 The departure out of San Diego
The fact that there was a problem with the aircraft (one that prevented us from pushing off the gate on time) didn't surprise me at all. It worried the hell out of me, of course, because this was a 737 MAX after all, and I couldn't help but to think back on how many problems this aircraft had at the beginning of its life.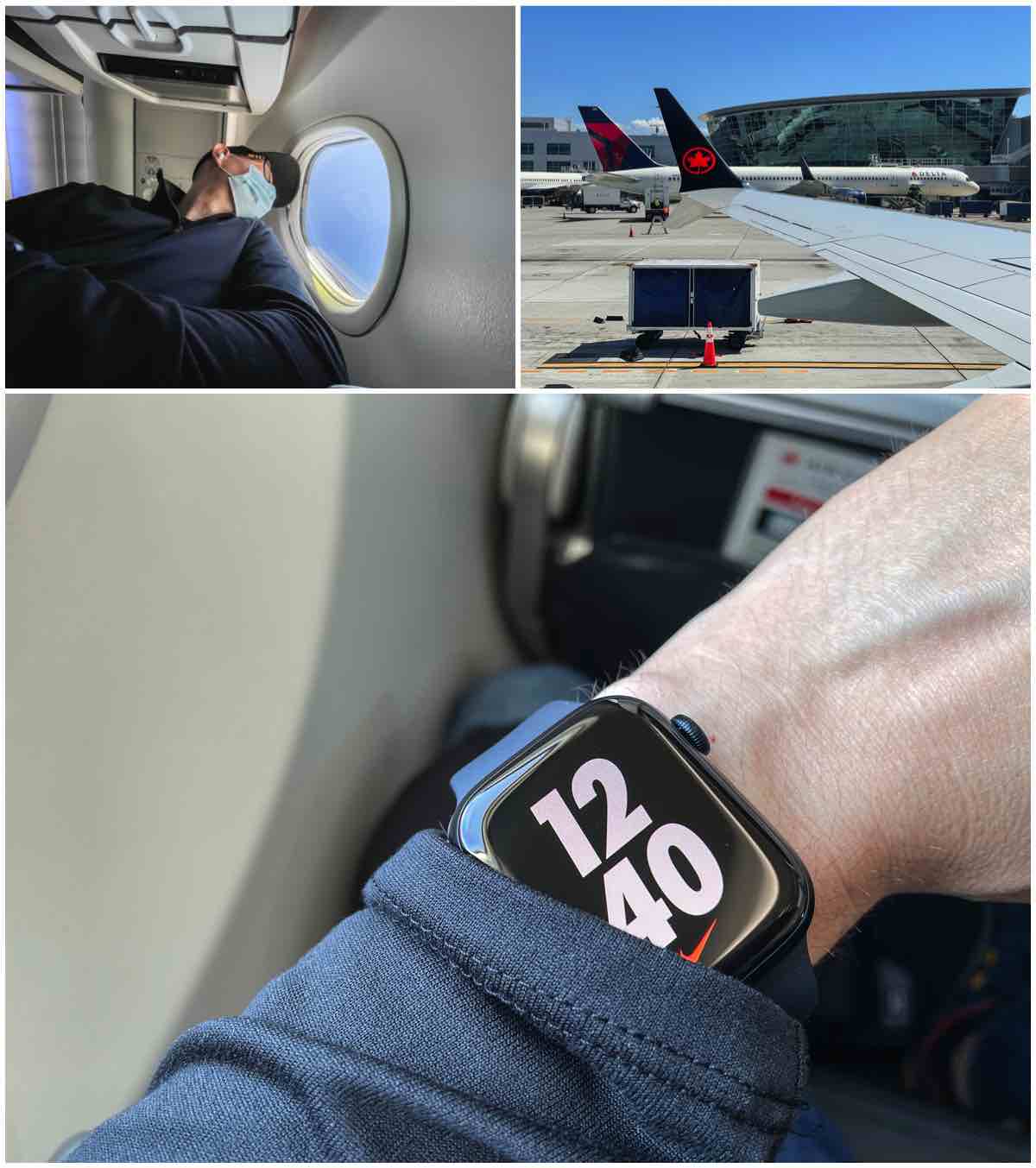 We ended up pushing off the gate about an hour and 20 minutes late. It wasn't a big deal since I didn't have a connection to make in Toronto, but it was certainly frustrating.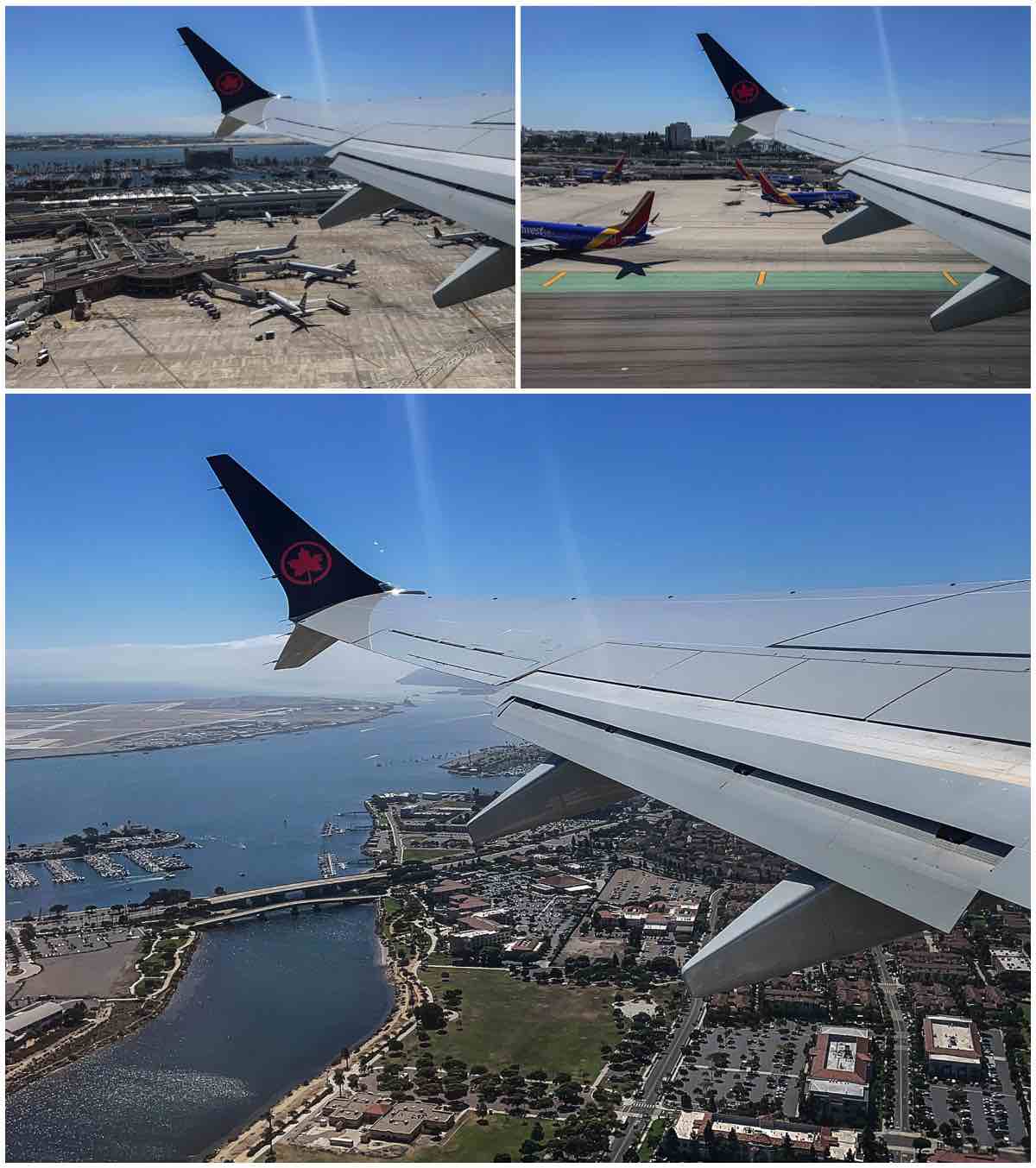 In-flight entertainment
If you read my Air Canada Jazz CRJ-900 business class review, you'll know that I had mixed thoughts about the video entertainment on this airline. The selection of movies and TV shows and music seemed to be good, but the hardware was severely lacking.
I'm happy to report that this economy class experience completely changed my mind. Air Canada in-flight entertainment (in all classes of service) is astonishingly good.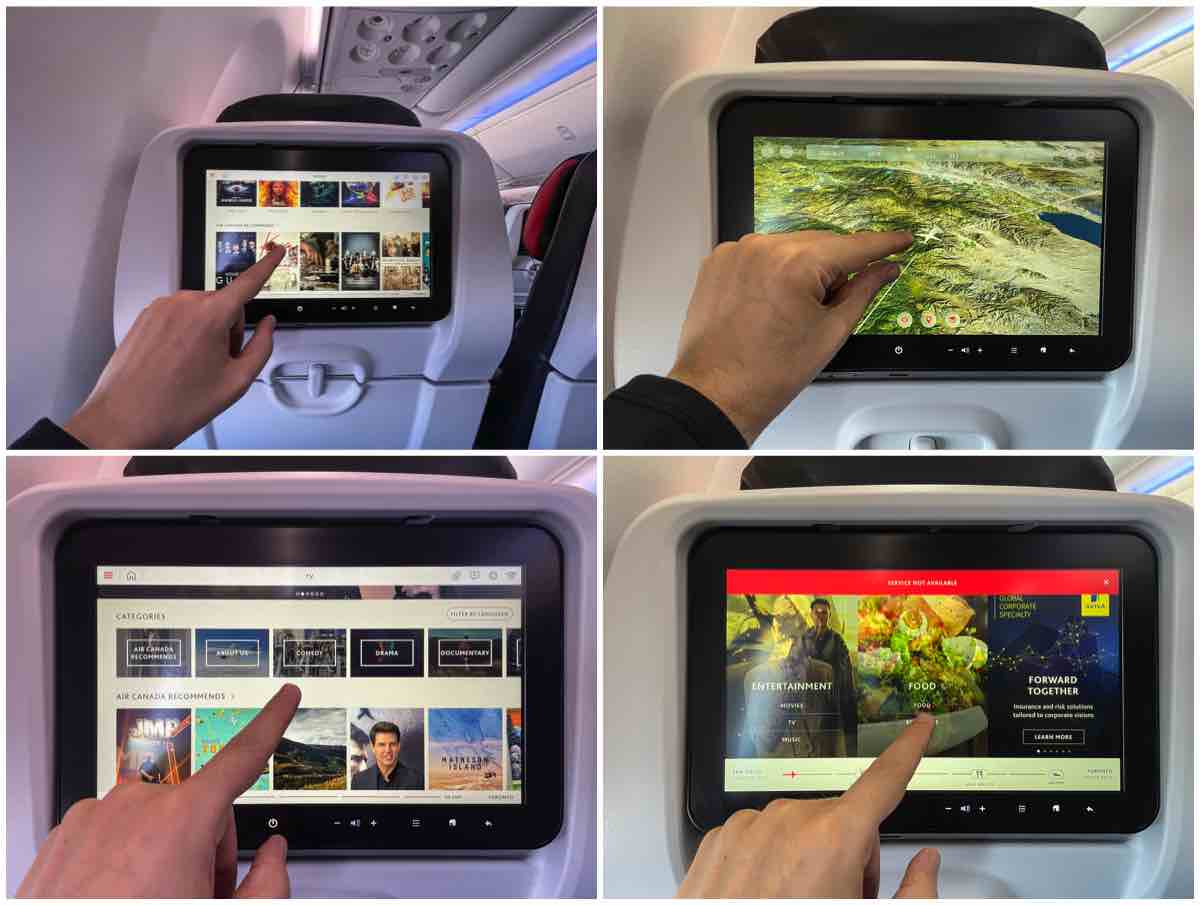 Wi-Fi is available at an extra cost for anyone needing Internet access. I didn't get a chance to try it out, but I didn't see anyone around me throwing their laptops to the floor in frustration due to slow connections.
The food
Non-alcoholic drinks and a light snack are completely free in Air Canada economy class. If you want something more substantial, you're going to have to pay for it. Thankfully the in-flight menu is pretty good, and from what I can tell, they had nearly everything listed in stock.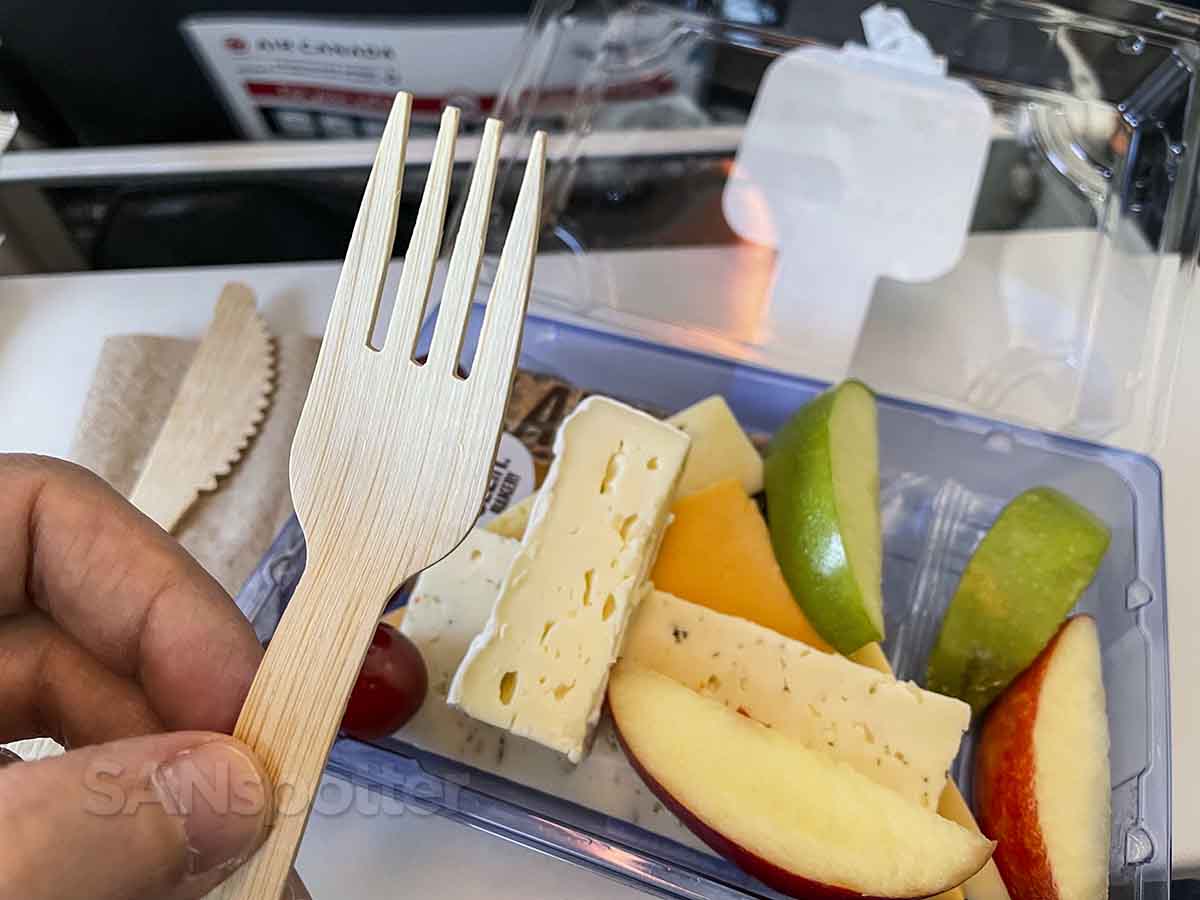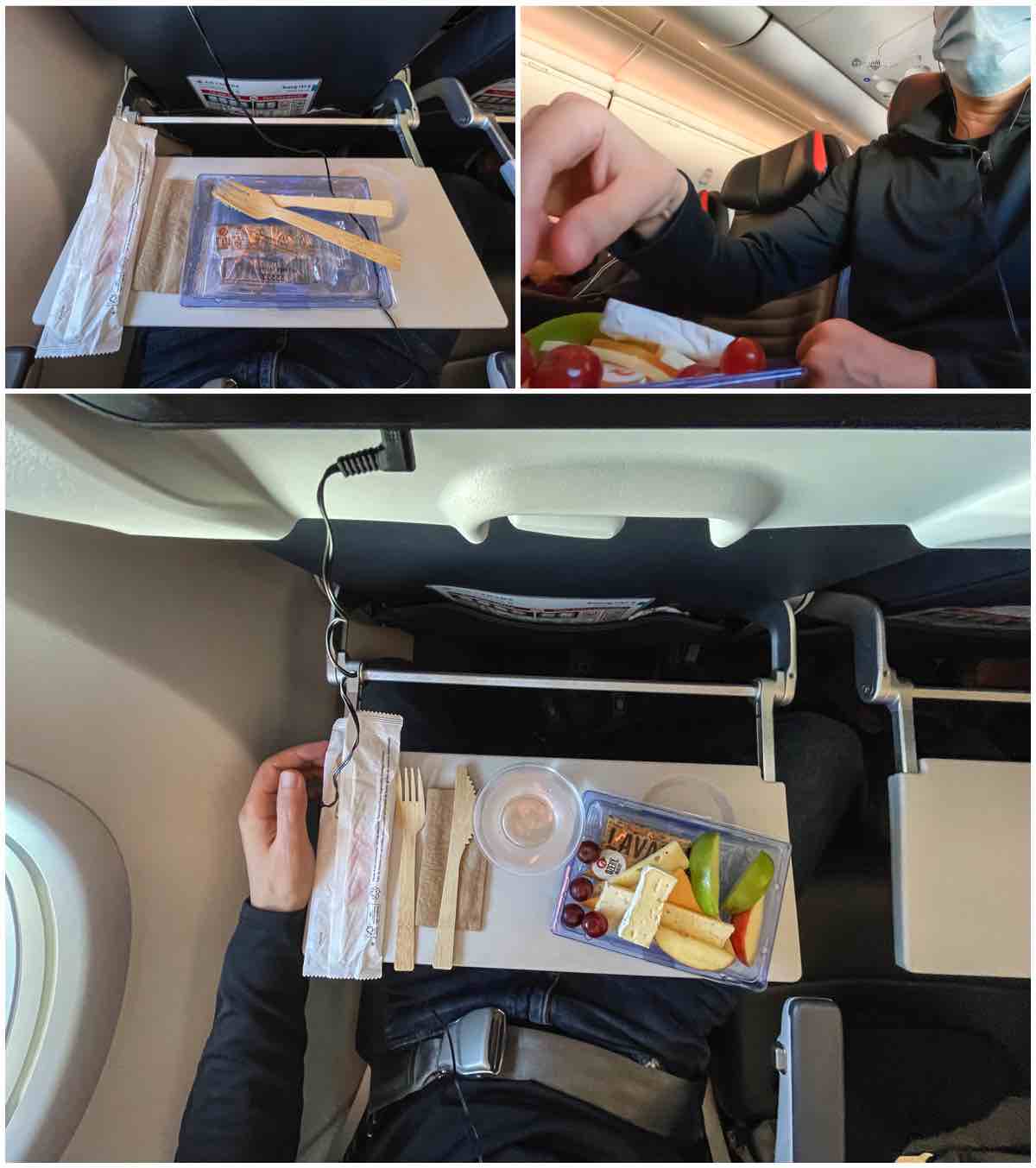 A few words about seat comfort
The total flying time from San Diego to Toronto today was just about 4 hours and 21 minutes. The economy seats on the MAX 8 felt decently comfortable up until about the 3 hour mark in my opinion. After that, the firmness was starting to get a little irritating. Nope, there's not a lot of padding in these seats.
The last hour of the flight (and the arrival into YYZ)
Despite my bony butt giving me signals that it wasn't happy about the lack of seat padding, I was still generally satisfied with the experience. In-flight entertainment was awesome, the food was pretty good, and the flight attendants were very friendly. Can you really ask for anything more in a transcontinental economy class experience?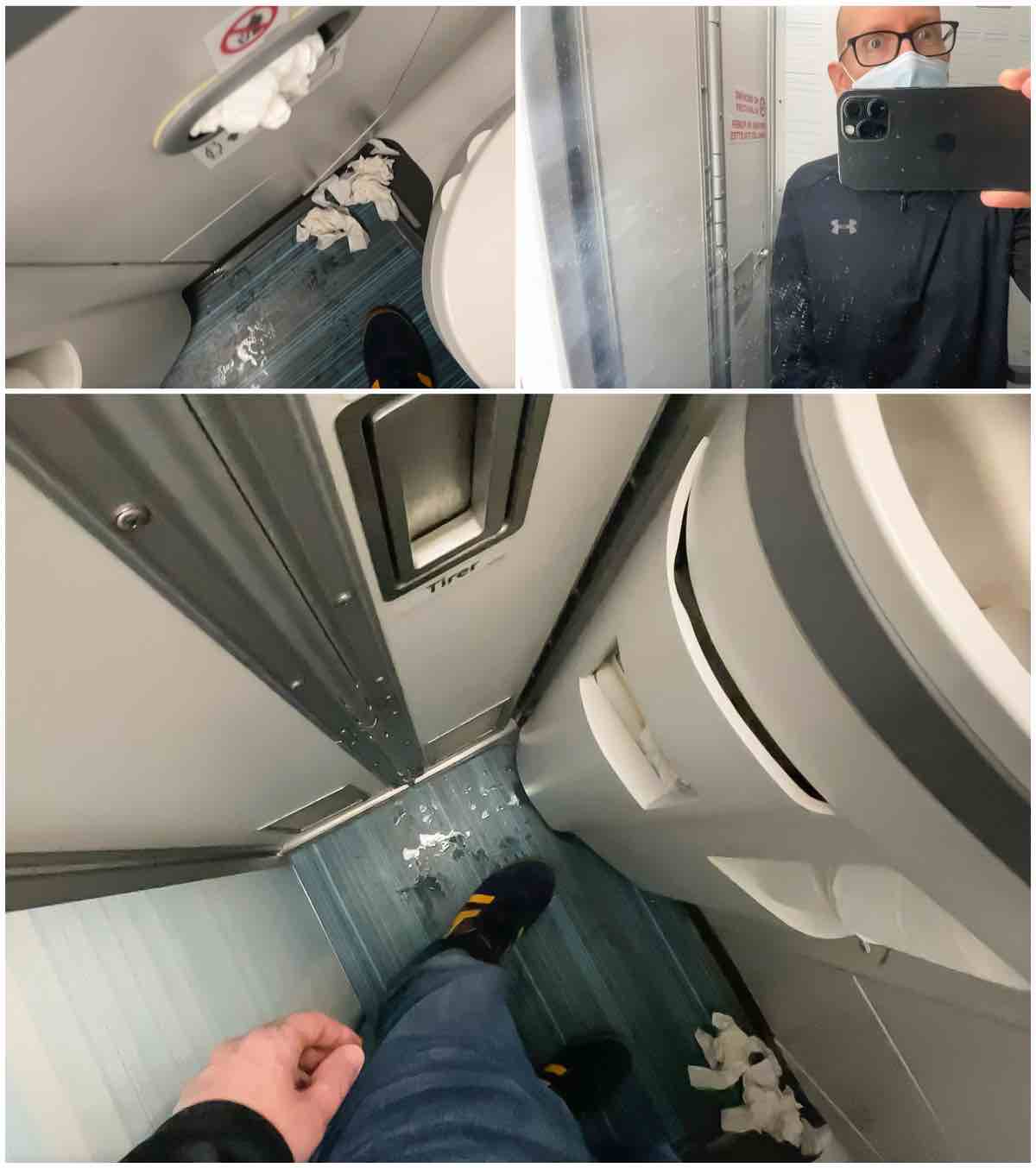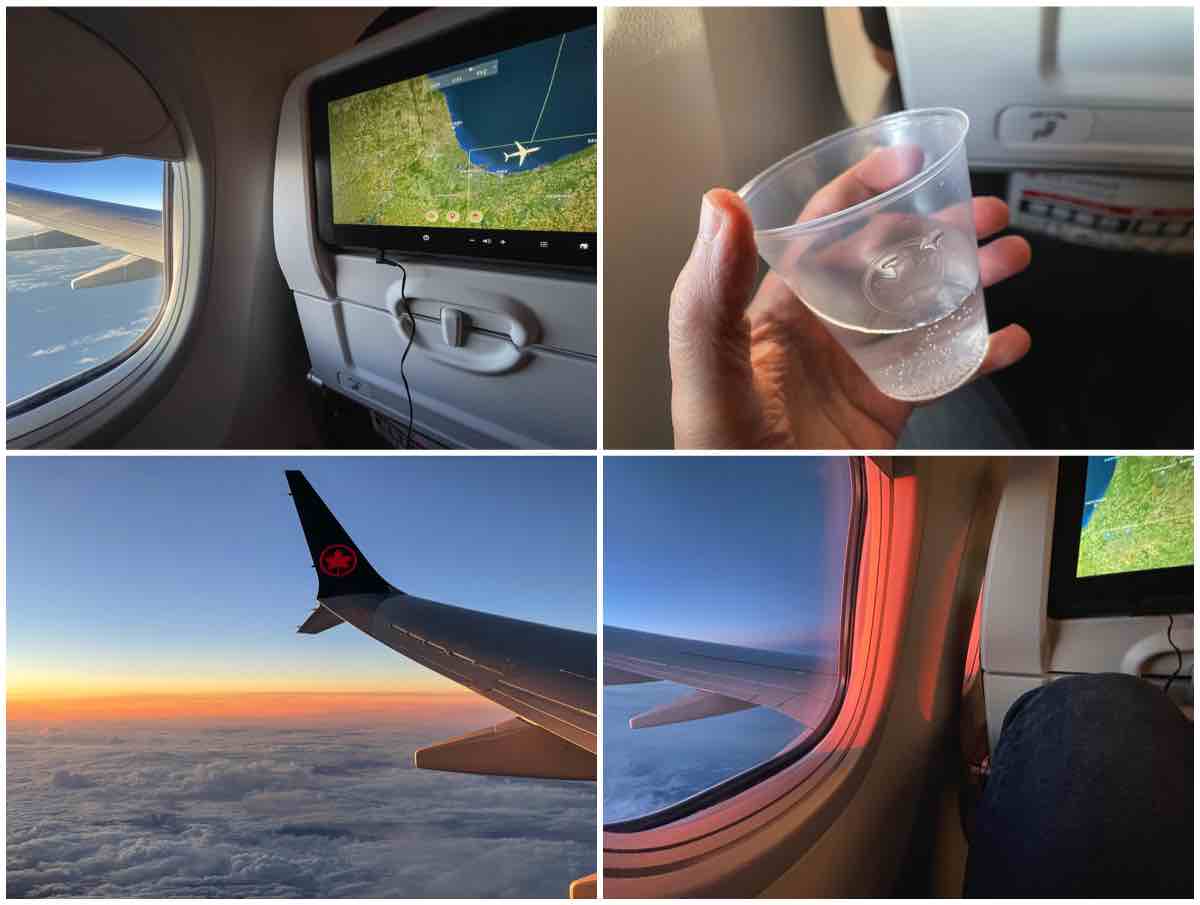 The sun had completely set by the time we started making the approach into YYZ, so it was a dark and gloomy ride all the way in. Nevertheless, it was nice to be in Toronto again. It had been a minute since my last visit.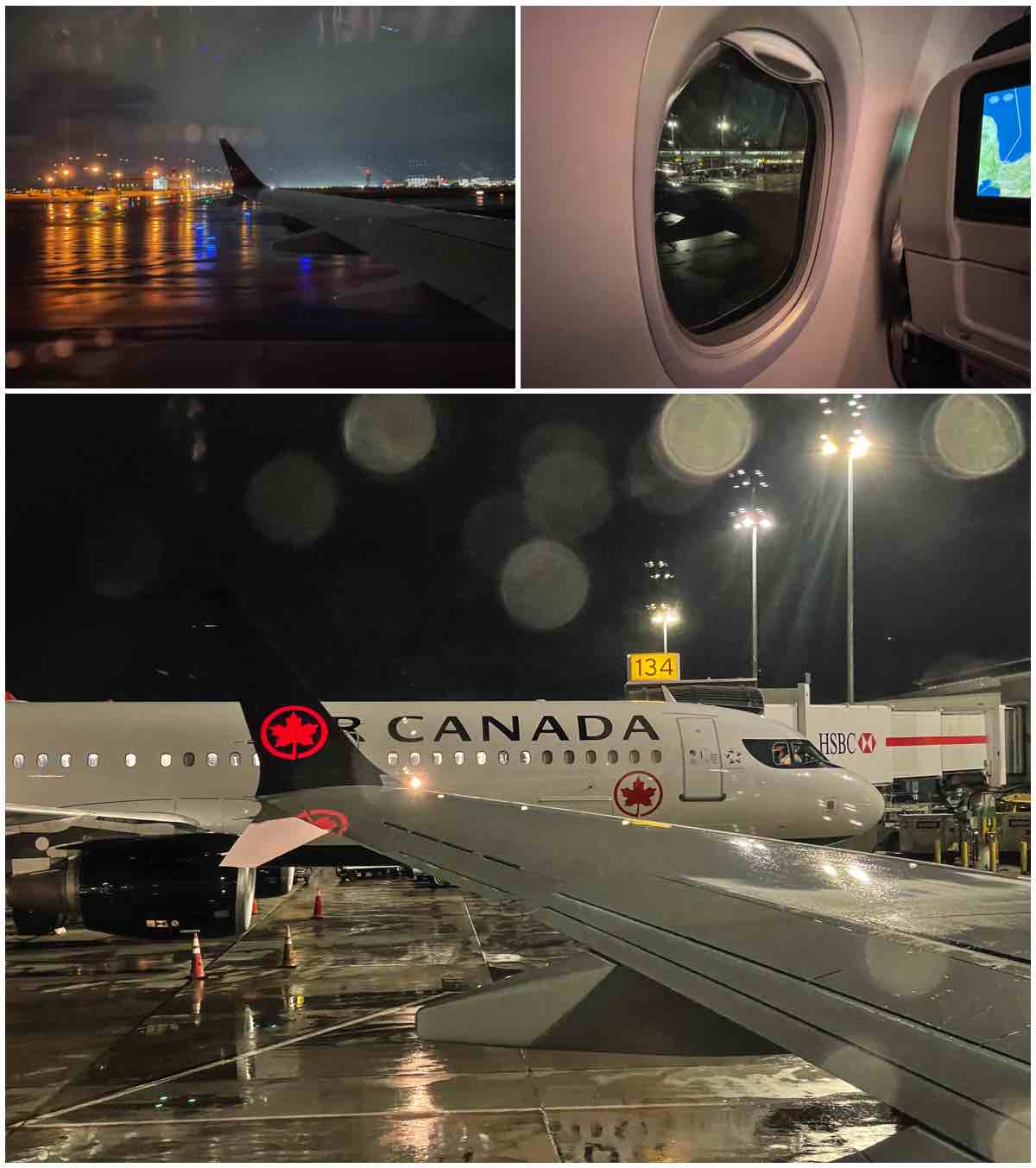 Pros and cons of Air Canada 737 max 8 economy class
If all you're looking for is confirmation that flying on the Air Canada 737 MAX 8 in economy isn't all that bad, you're in luck. It isn't all that bad. It isn't perfect either, so this list of pros and cons ought to set things straight:
Pros
In-flight entertainment is excellent. Compared to WestJet (the other Canadian airline), the selection of movies, TV shows, and music is incredible.
The quality of the food was better than I expected. Of course you're going to have to pay if you want to eat anything off the menu, but rest assured that it's pretty good food.
The seats look very nice in person. The quality of materials they used is about the same as you'll find on other airlines, but the colors and textures make it feel somewhat upscale.
Having multiple power ports at every seat comes in really handy on longer flights.
Cons
Seat pitch (legroom) isn't all that great. It's not terrible, but I've certainly sat in more comfortable economy class seats on other airlines.
Seat firmness might be a problem on longer flights. For what it's worth, I didn't have any issues until more than halfway through the flight. After that, I was more than ready to press the fast-forward button to Toronto.