Even before flying Air Canada 737 MAX 8 business class for the first time, I knew it was going to be great. Unfortunately, this resulted in me being 100% satisfied without being surprised by anything. I hate when that happens.
The business class seats on the 737 MAX 8 (also known as the 737-8) are stylish, fairly comfortable, and the video screens are phenomenal.
The fact that they served a full meal on a 1 hour flight was just icing on the cake. Or, as you're about to see in the pictures, it was more like salsa on the potatoes.
AC201
Calgary, AB (YYC) – Vancouver, BC (YVR)
Wednesday, September 28, 2022
Aircraft: 737 MAX 8
Registration: C-GELJ
Duration: 1 hour 6 minutes
Seat: 4F (Business Class)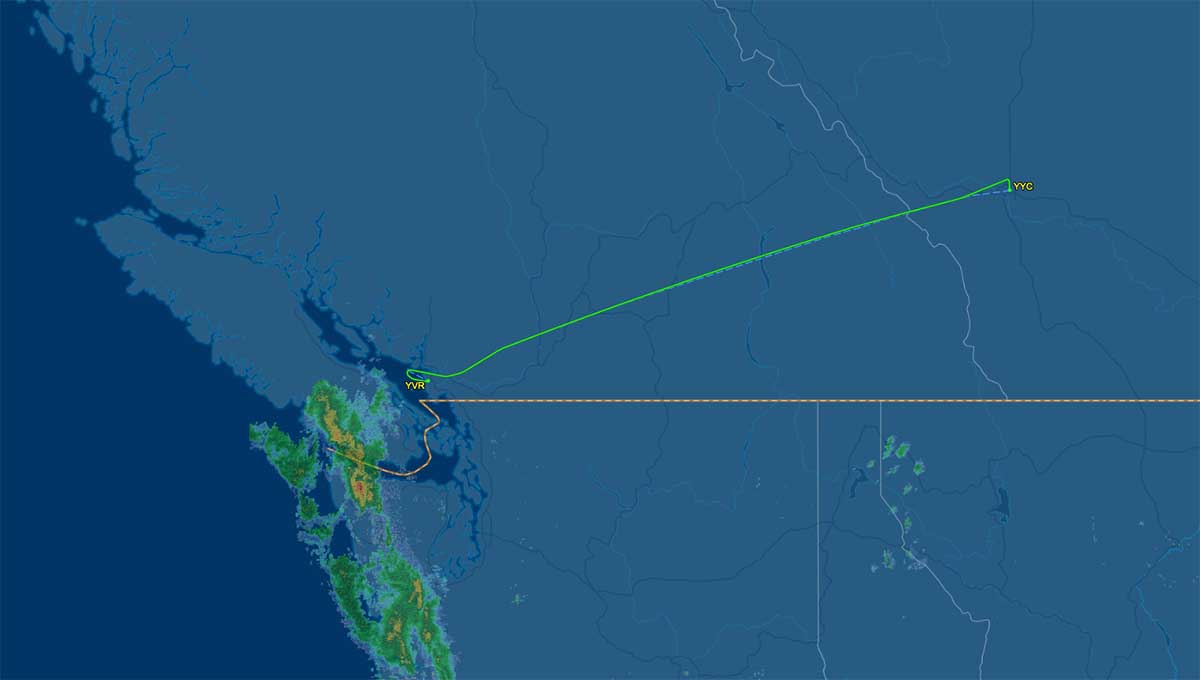 My full review of Air Canada 737 MAX 8 business class from Calgary to Vancouver
The truth is I didn't really want to take this flight. Having flown in on a WestJet 787-9 in business class from Toronto the day before, I stayed the night at the Calgary Airport with the goal of continuing on home to San Diego today. A 6:30 AM flight sounded like a horrible idea, but that was my only option if I wanted to get home at a halfway decent hour.
Arrival at the airport
The Marriott Hotel connected directly to the airport was a lifesaver. I basically rolled out of bed, into the shower, and down into the airport within a span of 30 minutes. Having checked in online for this flight 24 hours prior, I was able to skip the Air Canada check-in queue and head directly towards the security checkpoint.
The boarding process for flight number 201 to Vancouver
After all of the effort I put into getting up so early, I really needed this flight to be on time today. Especially since I knew that I would have to go through US Preclearance upon arrival at YVR. I already know that 1 hour layovers are enough time in Vancouver (for all types of connections), but still. I'm a bit of a worrywart, ok?
The boarding process started right on time. With my Zone 1 boarding pass, I was one of the very first passengers onboard.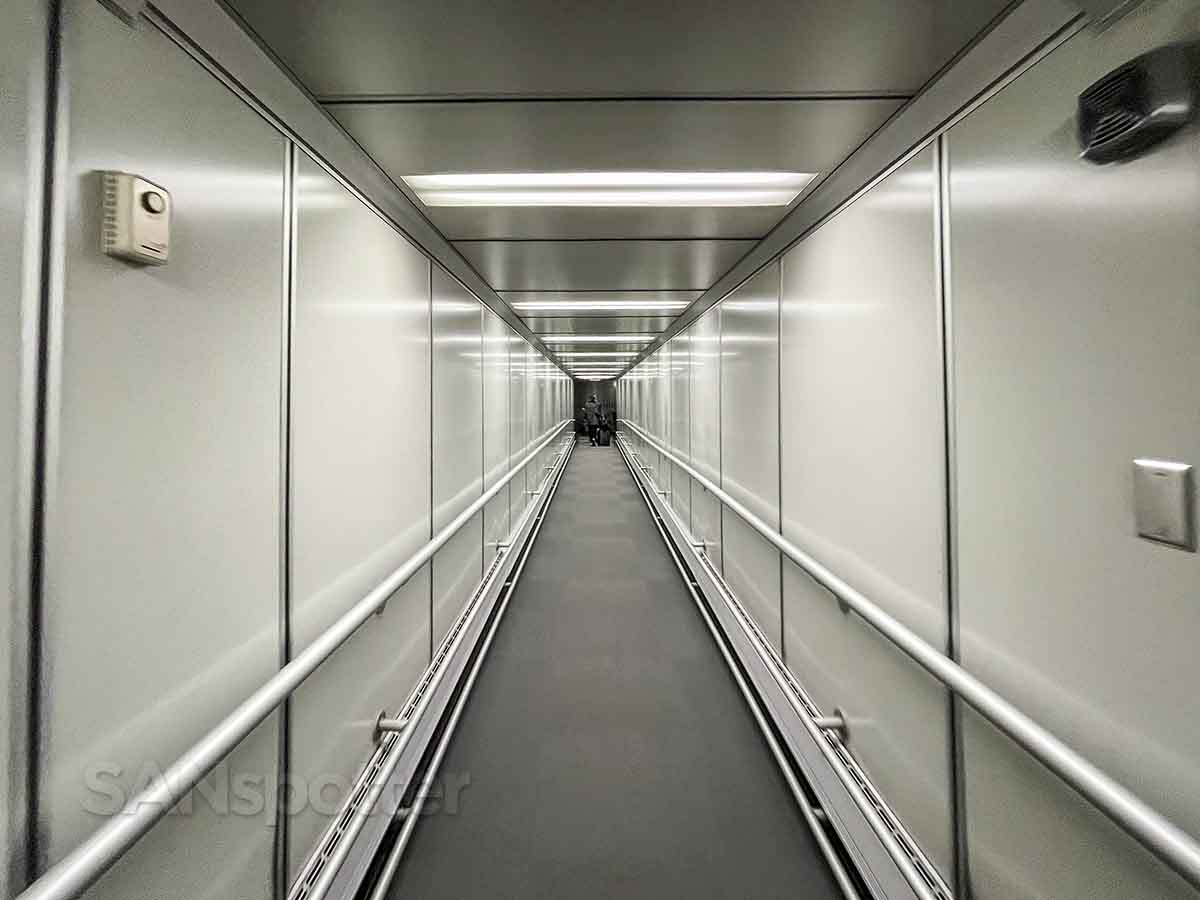 My first impressions of the Air Canada 737 MAX 8 business class seats
Actually, this was officially my second impression. I had the chance to fly on an Air Canada 737 MAX 8 in economy class from San Diego to Toronto two days prior, and I got a pretty good look at the business class seats on my way to and from the bowels of economy.
Long story short, the business class seats on the 737 MAX 8 are really nice.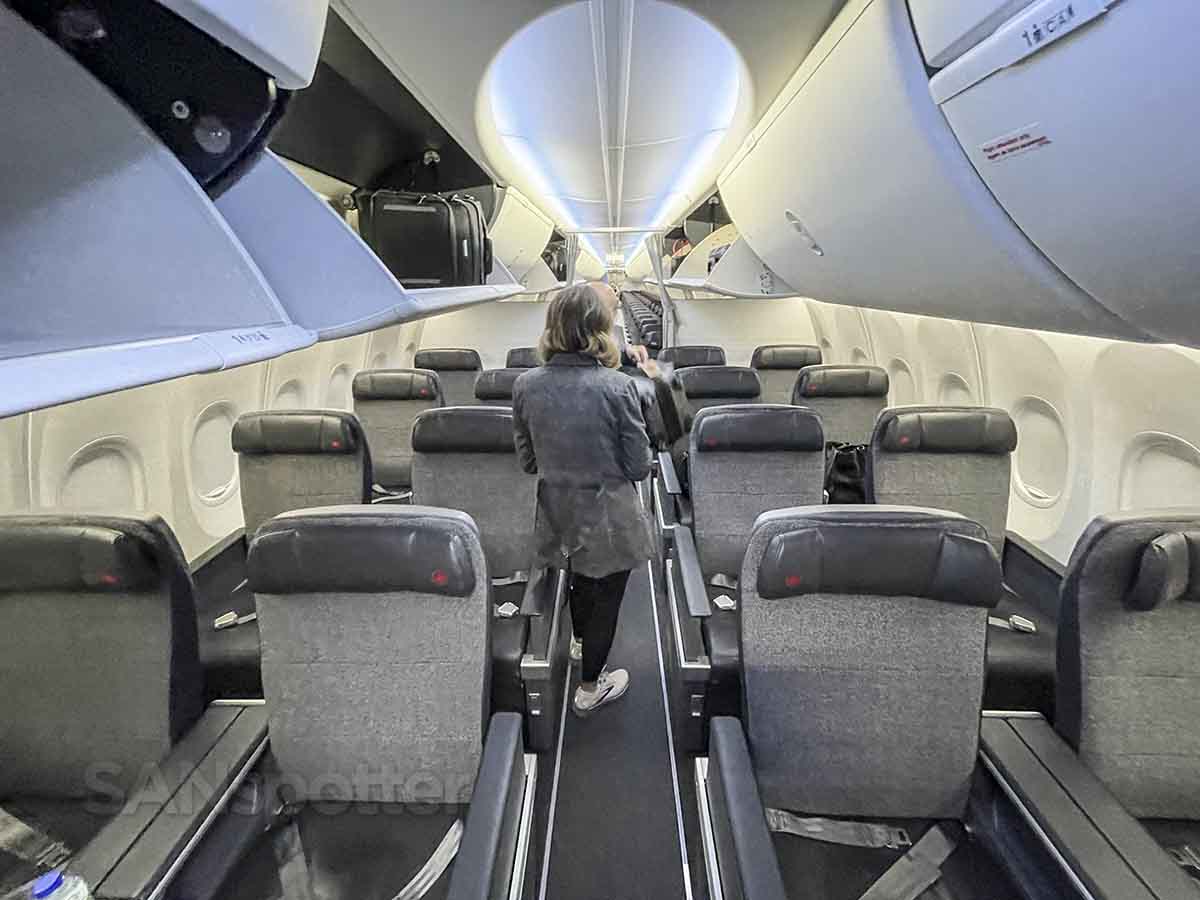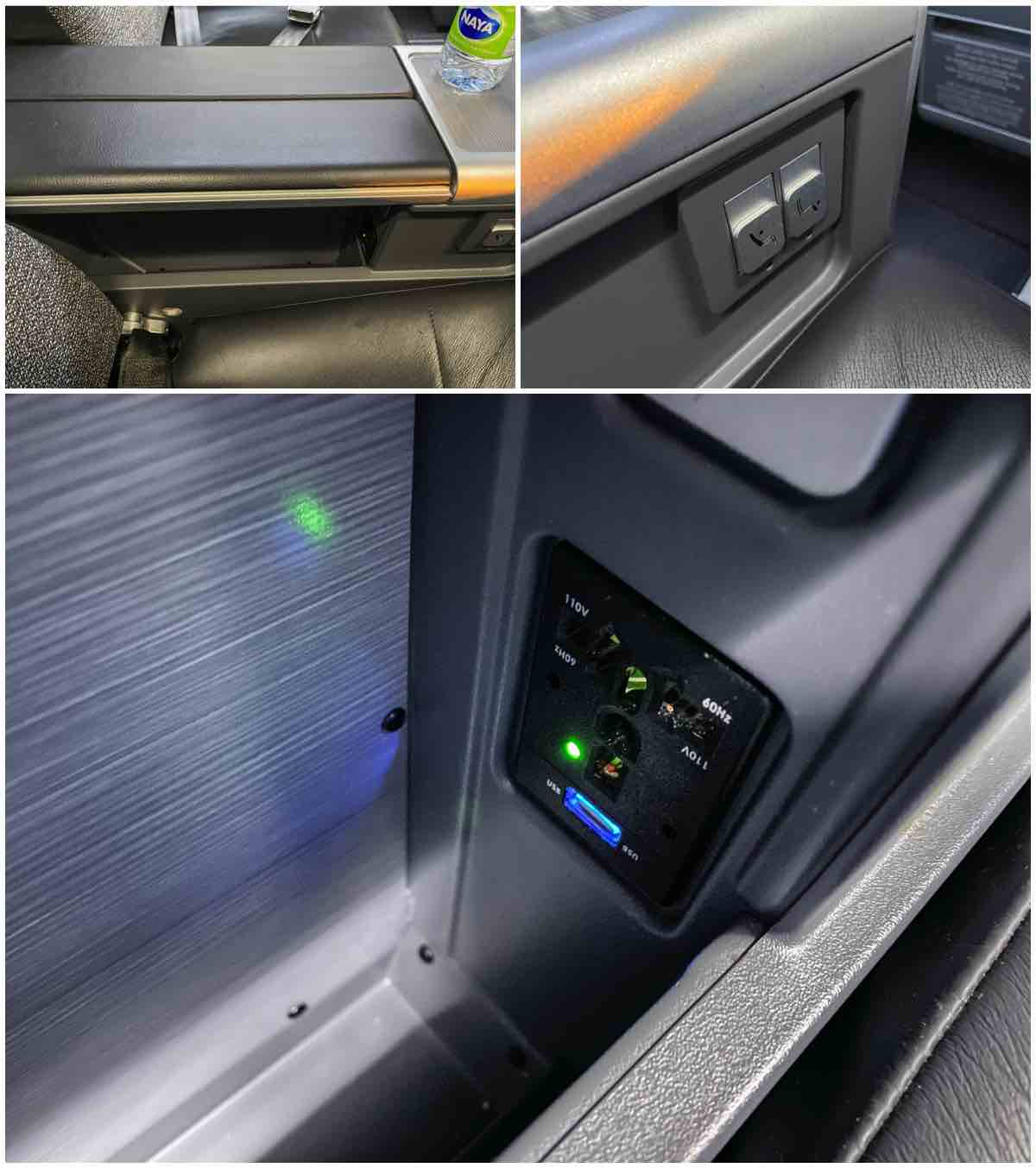 The departure out of Calgary
As happy as I was to be in Air Canada domestic business class this morning, I probably would've been happier in WestJet 737-700 economy on a nonstop flight home to San Diego. After two days of traveling, I was more than ready to be home.
But hey. Business class is never really a bad place to be, so I couldn't really complain. At least not a lot anyway.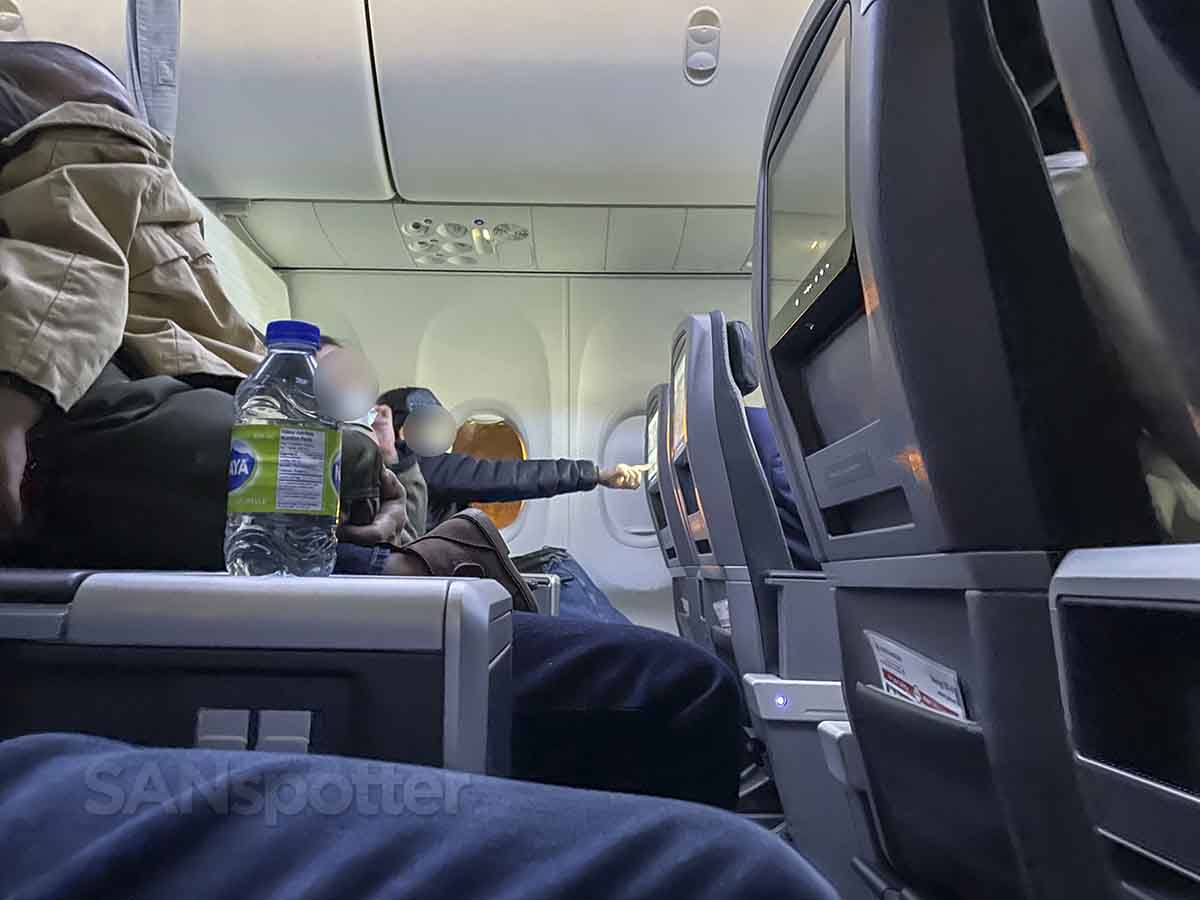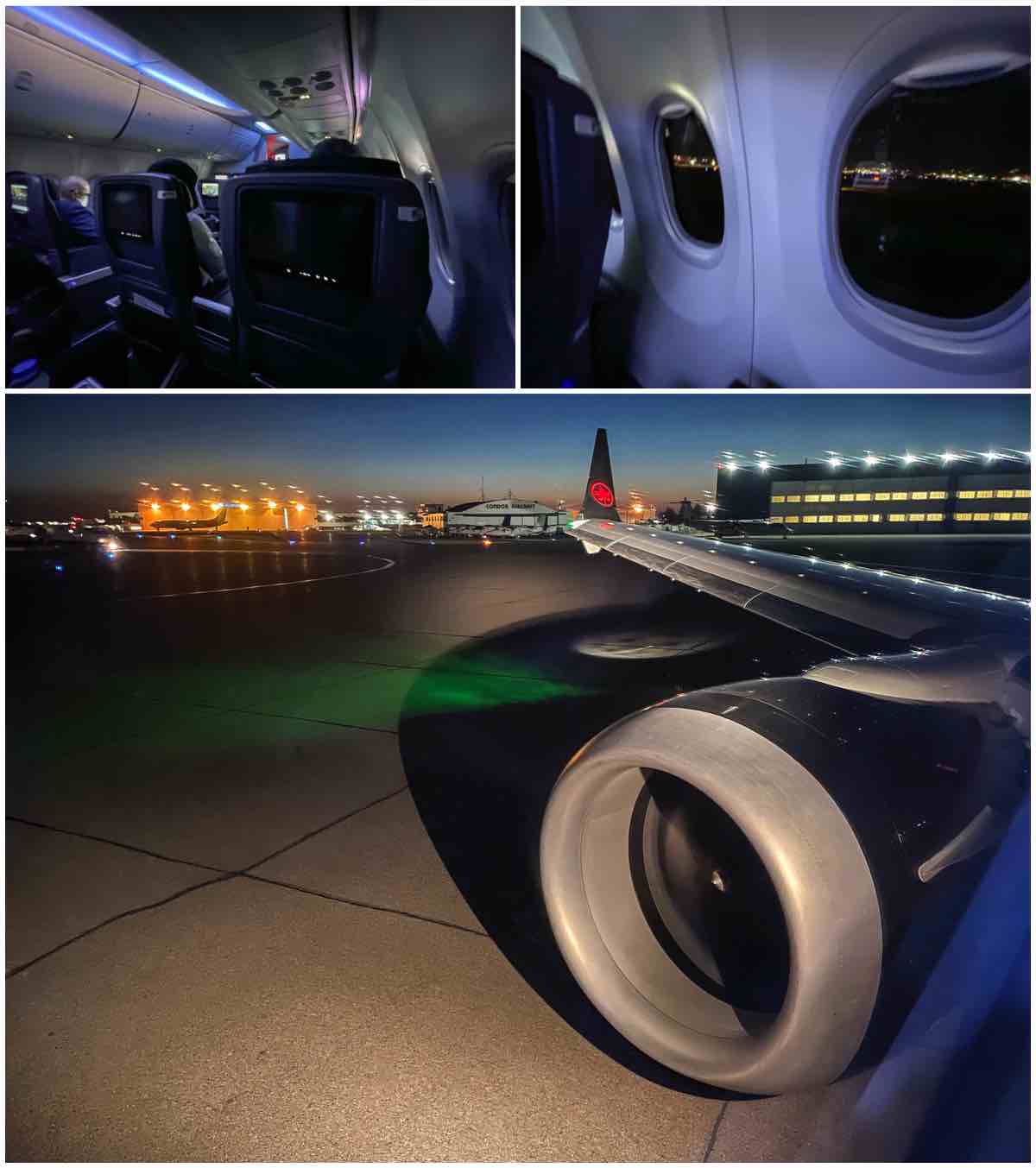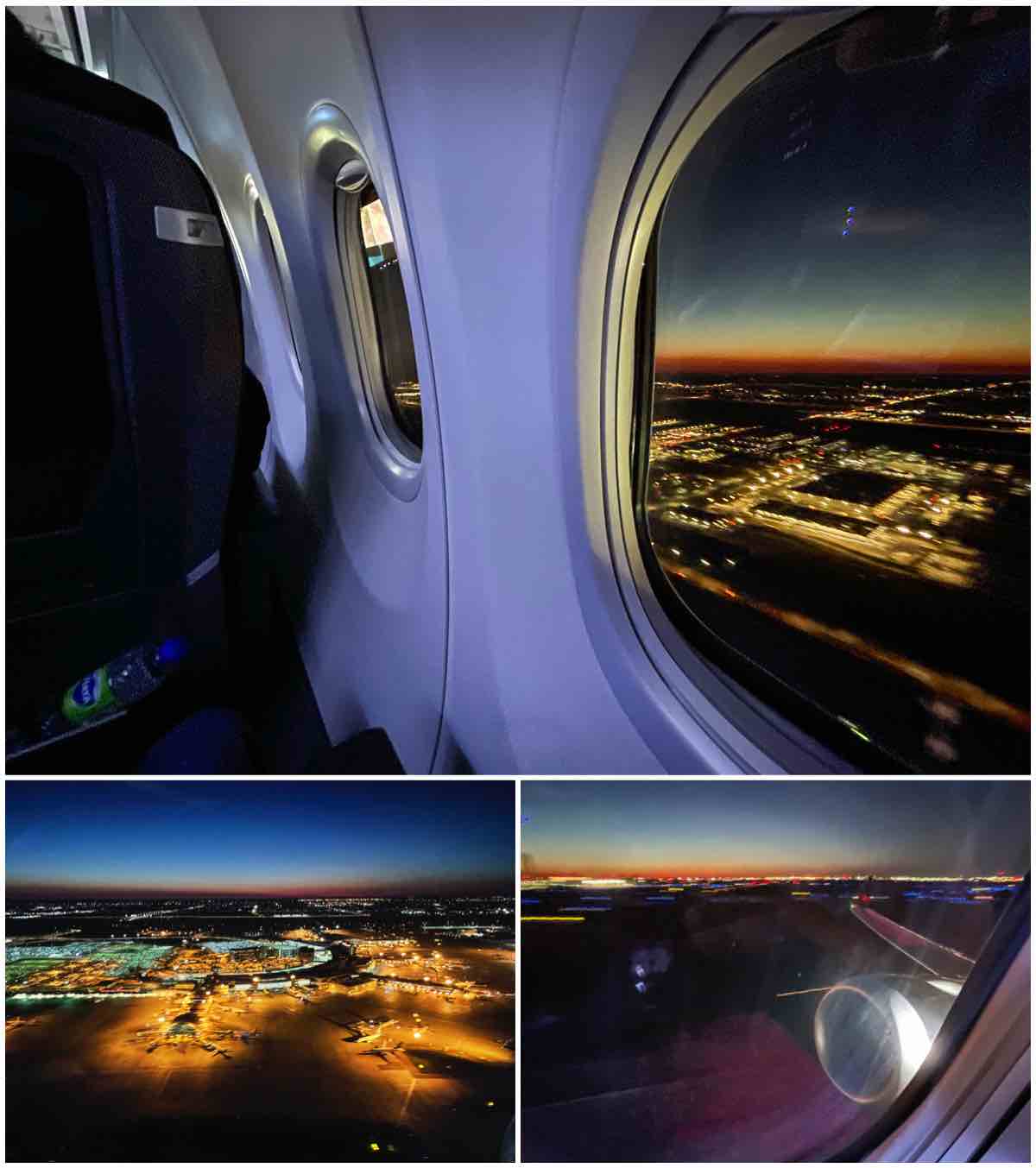 In-flight entertainment
As you saw in my review of Air Canada 737 MAX 8 economy class from San Diego to Toronto, the video entertainment on this aircraft is impressive. The selection of movies and TV shows it's just bonkers (in a good way), and I really like the fact that the video screens are so large and bright.
And it kind of sucks to have to admit this, but…these screens in these seats are much better than the screens you saw in my Air Canada 777-300 business class review.
My only complaint about the in flight entertainment is the audio. I would definitely recommend bringing your own headphones, because the complementary earbuds they hand out are pretty much worthless.
The food
After being served and outrageously delicious snack in Air Canada A321 domestic business class several months ago, I had high expectations for the meal service on this flight. Yes, Air Canada served a full breakfast on this short 1 hour flight between Calgary and Vancouver. And it was pretty good! We can only dream of US airlines being this generous.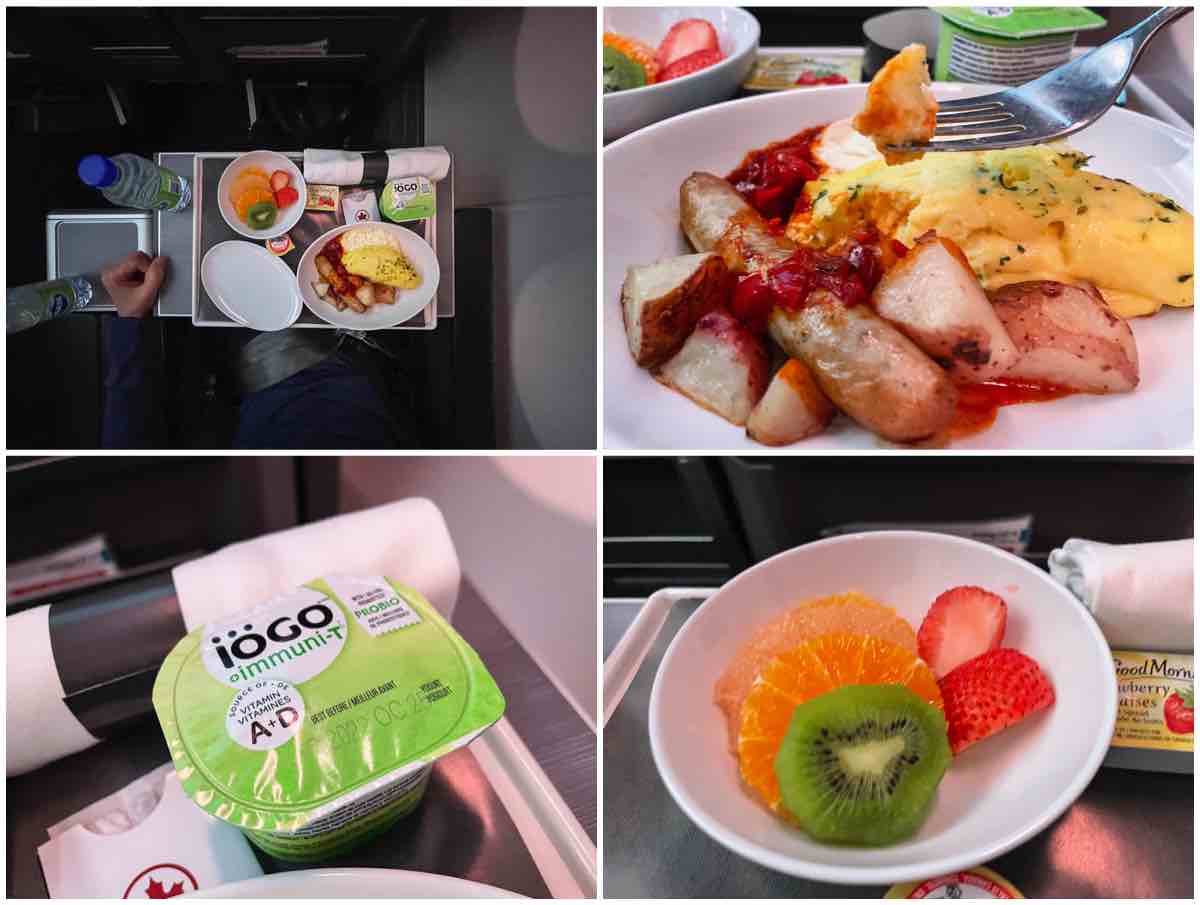 Seat comfort
Although a 1 hour flight was hardly enough time to properly evaluate the comfort of these seats, at least I have the experience to compare them with how the economy seats felt.
Basically, both the business class seats and the economy seats are equally firm. They both lack lumbar support as well. However, the business class seats are much wider with a lot more legroom. This will allow you to squirm around them a lot easier, which will make it easier to find a position that feels good(ish).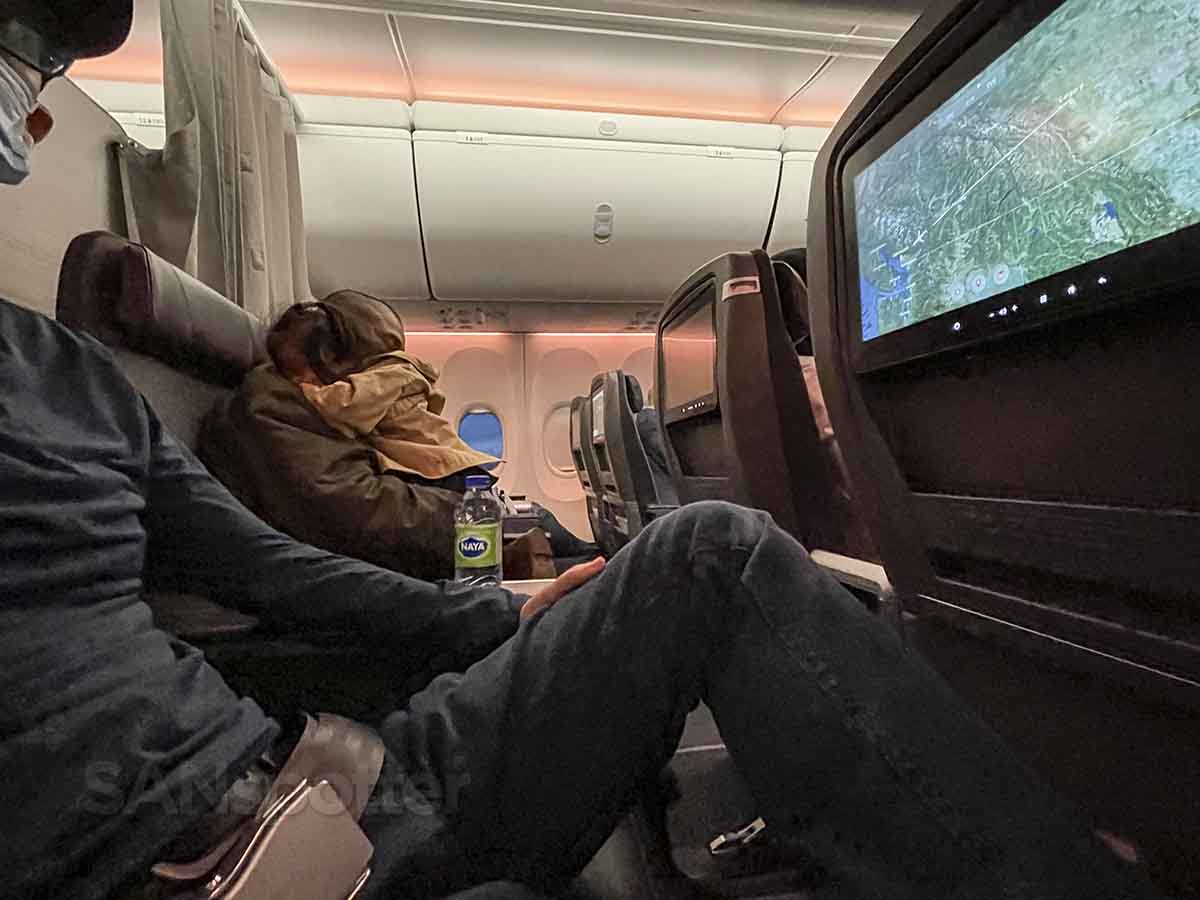 The arrival into Vancouver
The sun was just starting to rise as we began to descent into Vancouver. Anyone who has flown into Vancouver from the east knows how disappointing that is.
You see, the mountains just east of Vancouver are some of the most spectacular on the planet. Skimming over them on the approach into Vancouver can be a life-changing experience. Unfortunately, I didn't see any of it this morning, and my life remains exactly as it was when we left Calgary.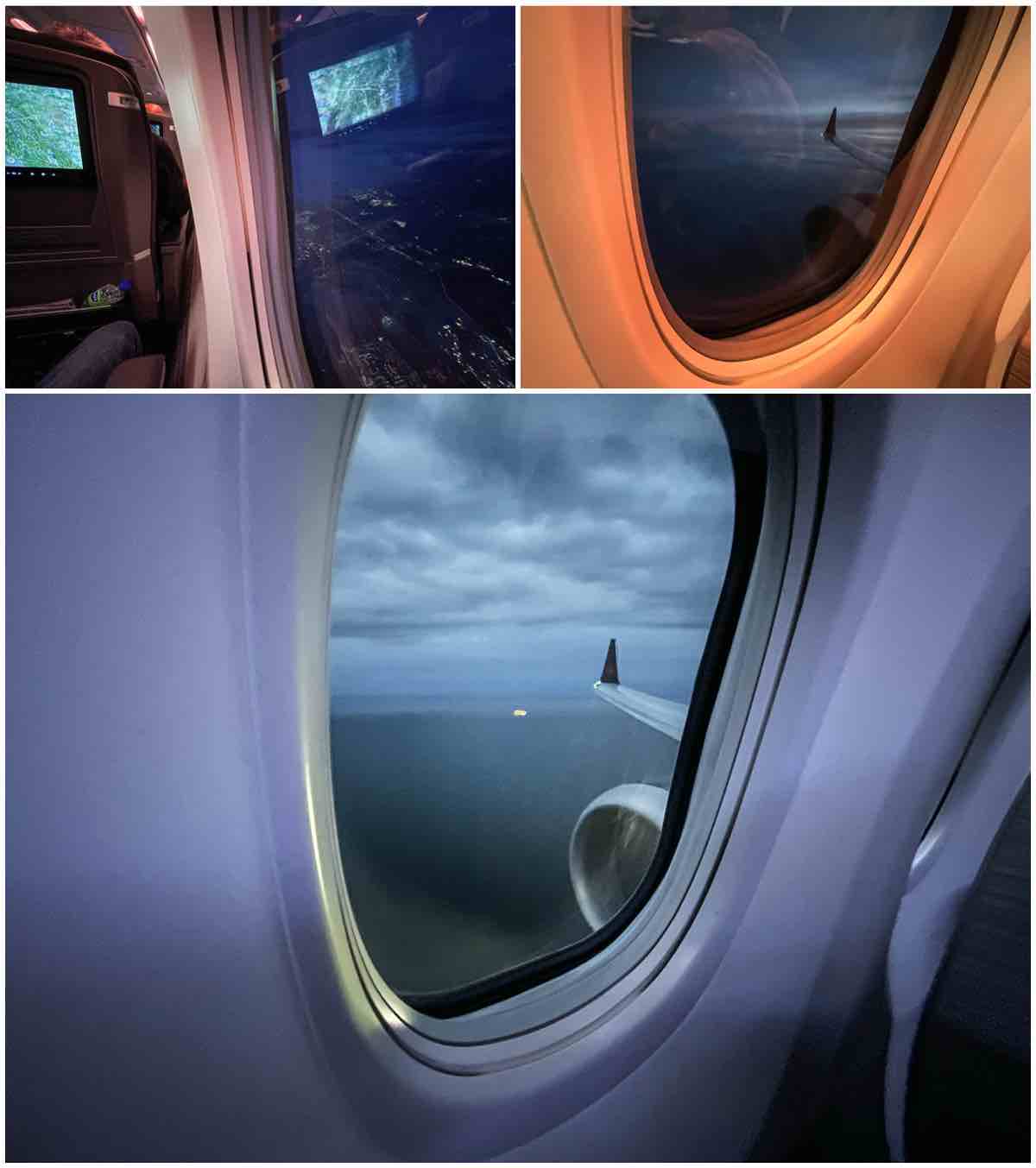 Air Canada 737 MAX 8 business class pros and cons
Honestly, I didn't find the seats on the MAX 8 to be all that comfortable, but there was a lot about this experience that makes me consider it to be one of the best domestic business class products in the world. Let's break it down with a list of the pros and cons:
Pros
It's an extremely stylish domestic business class product. No, that probably won't matter to everyone, but for me, it goes along way towards making the experience feel more upscale.
The video screens are phenomenal. They are bright, extremely responsive, and there is a ridiculous amount of on-demand content available (TV shows, movies, and music).
To this American, being served a full meal on a 1 hour flight felt extravagant. But it was glorious – even at 7 o'clock in the morning.
Cons
These seats aren't all that comfortable on longer flights (something I proved in my Air Canada A220-300 business class review). The lack of lumbar support is a real problem.
I didn't like the fact that they kept the cabin lights on for the majority of the flight (and especially during takeoff and landing).