Prior to getting the content I needed for this Air Canada A321 business class review, I wasn't expecting it to be a very interesting experience. However, after the flight, I couldn't wait to tell everyone about it.
Domestic Air Canada business class is really good. Not only was I served a substantial snack on a short 1 hour and 9 minute flight from Edmonton to Vancouver, it was provided by one of the hardest-working (and happiest) flight attendants I've ever seen.
Sure, the fabric on the seats remind me of my grandfather's sofa. But as an American who isn't used to being wined and dined in domestic first/business class, it kind of made me crush on Canadian airlines more than I already did.
AC245
Edmonton, AB (YEG) – Vancouver, BC (YVR)
Friday, April 22, 2022
Aircraft: A321
Registration: C-GJWI
Duration: 1 hour 9 minutes
Seat: 4F (Business Class)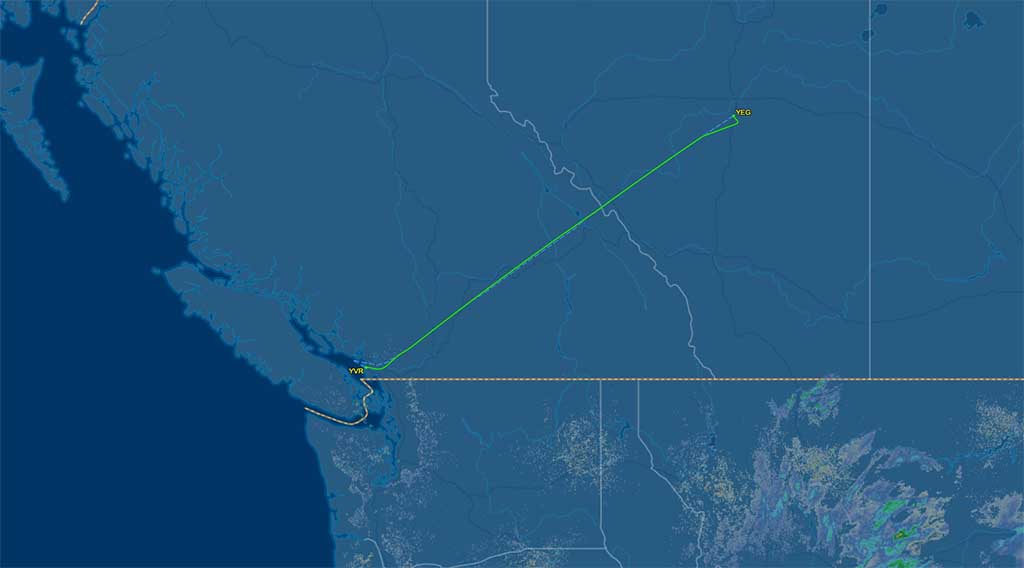 My full review of Air Canada A321 business class from Edmonton to Vancouver
The fact that you've chose to read this airline review over all of the other airline reviews I've posted here on SANspotter.com makes me happy. Why? Well, Air Canada domestic business class was a lot better than what I was expecting. Everyone who skipped over this one (assuming it'd be as dull as an insurance policy) is totally missing out.
Arrival at the Edmonton Airport
Although this flight to Vancouver was scheduled to depart at 4:55 PM, I arrived at YEG at approximately 1:30 PM. That's early even by my standards, but I figured it would give me enough time to get some work done before the flight.
One thing that helped to kill some time was to hang out the Edmonton Air Canada Lounge. It was decent, but not all that luxurious (nor spacious). I probably spent an hour in there before realizing that it would be more entertaining to hang out in the main terminal instead.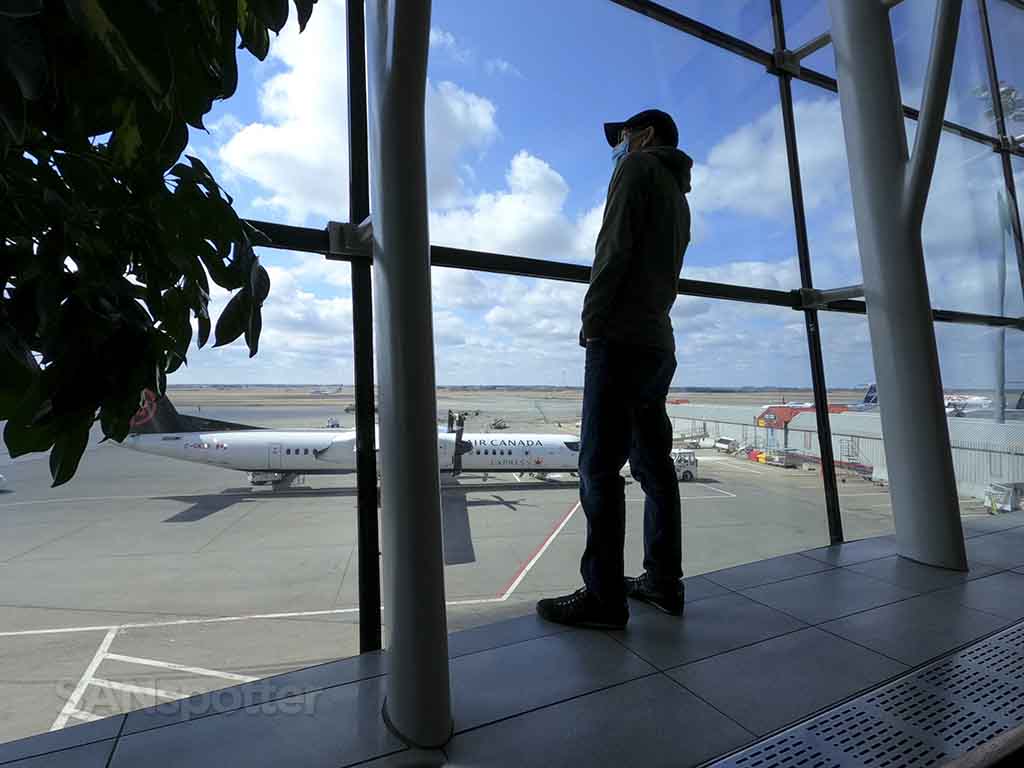 The boarding process for Air Canada flight number 245 Vancouver
Figures. It seems the earlier I arrive at the airport before a flight, there's a higher probability if it being delayed. Today was no exception. On one hand, I was happy that Air Canada was working hard keeping me updated on the delay. Both my email and text messages were being hit with updates every 30 minutes, so that was nice.
What was not so nice was the fact that I was going to have a very tight connection at YVR. Is a 1 hour layover in Vancouver going to be enough time? There was only one way to find out…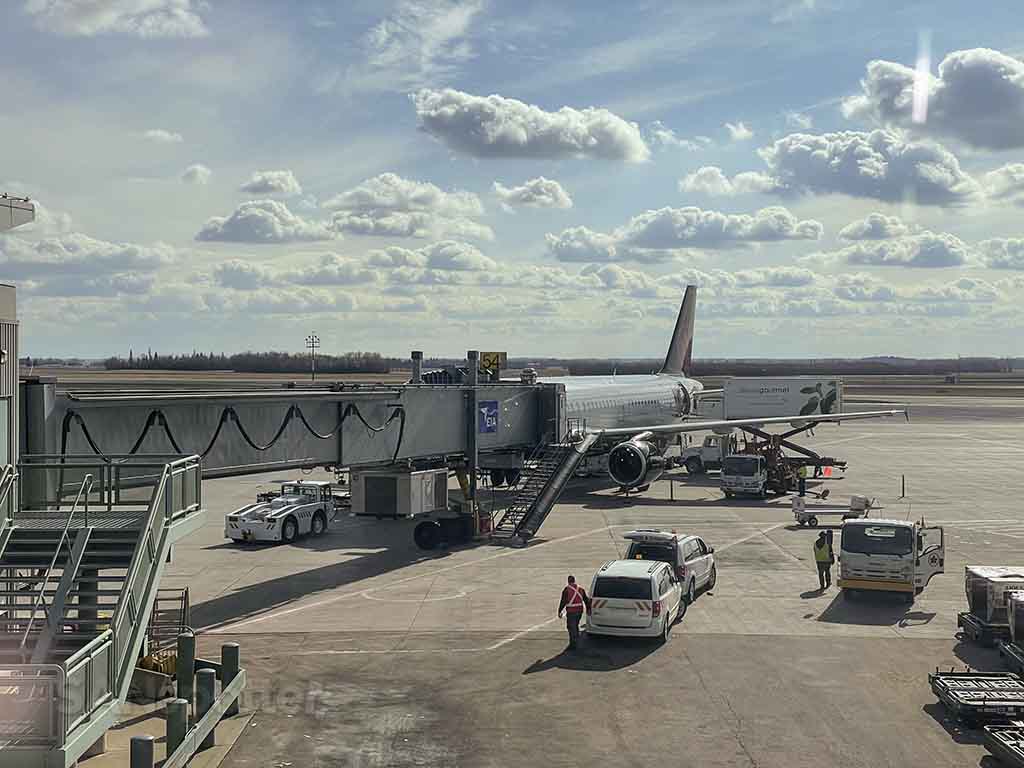 My first impressions of Air Canada A321 business class seats
The thing about the business class seats on these Air Canada A321s is that they remind me a lot of Air Canada A330-300 economy class. And they are nowhere as good as the newest seats (which you can see in my Air Canada 737 MAX 8 business class review).
Basically, the seats are blue, and they are very old. "Vintage" is probably a more delicate way of saying it, but I would suspect that these seats will be replaced with something newer very soon.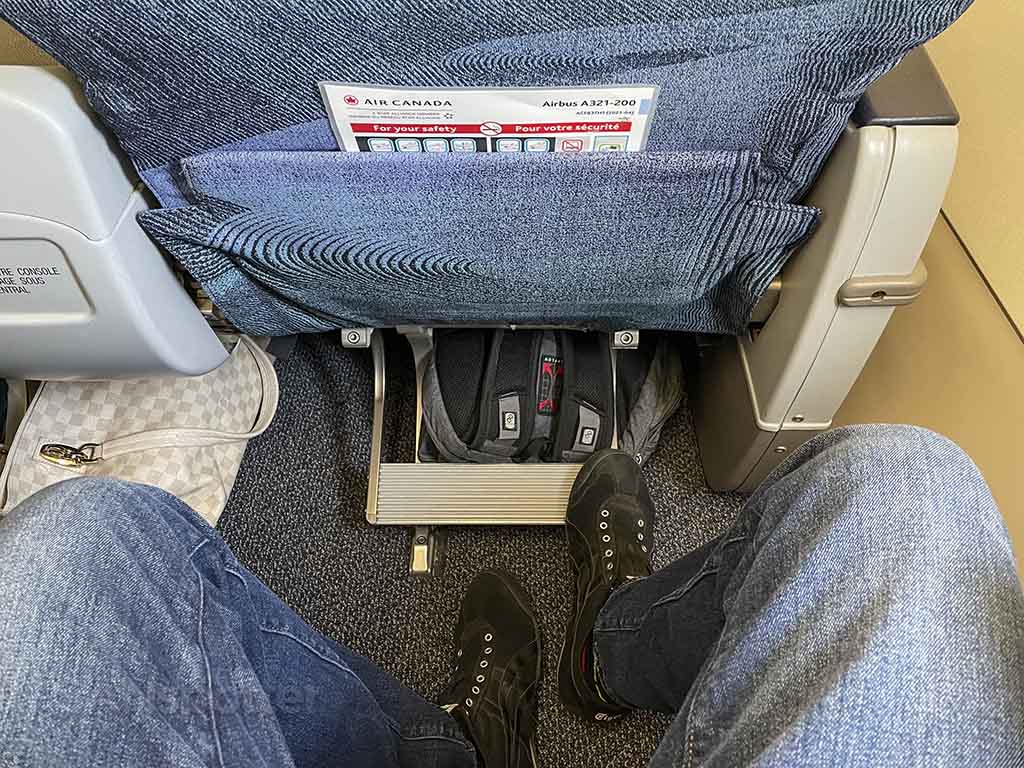 The departure out of Edmonton
Faced with a very tight connection in Vancouver, I couldn't help but feel a little stressed waiting for the plane to push back from the gate. 5:45pm on a Friday afternoon seems to be a busy time at the Edmonton Airport, and we had to wait a bit for other aircraft to get out of our way.
I tried my best not to think about the fact that missing my connecting flight back to the US would screw everything up (including the validity of a Covid test that I had just taken).
What is in-flight entertainment like in business class on the Air Canada A321?
The in-flight entertainment portion of this review is probably the most disappointing. As I noted earlier, the business class seats on these Air Canada A321s are getting a bit on in years. The video screens embedded into the headrests are just as old as the seats are, and if I'm being honest, they aren't very good.
It's not all bad news though. The newest entertainment system (which you can see in my Air Canada 737-8 economy review), is very high-tech and quite good. These A321's will get retrofitted with that system soon!
The Air Canada video entertainment system home screen, complete with a reminder of how boring English sounds compared to French.Although I found the selection of movies and TV shows to be decent, both the screen and the user interface were well past their prime. It was basically an experience straight out of 2005.
On a positive note, the flight attendant was happy to hand out complementary earbuds to anybody that dared to use the video entertainment system.
What kind of food does Air Canada serve on short flights in domestic business class?
Being served any food at all would have surprised me on a short flight from Edmonton to Vancouver. Imagine my excitement when the flight attendant presented me with a tray of a of lox and crackers (among a few other goodies). I sure as heck didn't get anything as close to this fancy in my recent United A319 first class experience!
Despite the rogue Rouge napkin, this was easily the best snack / light meal that I have ever been served on any flight in North America. Ever. And if that wasn't enough, the food I was served on my very next flight (Air Canada Express CRJ-900 business class) was equally impressive. Air Canada – you've seriously impressed me.
How comfortable are the Air Canada A321 business class seats?
Even though I didn't have much to say about how these seats looked, there was one thing about them that helped to make them more comfortable than a lot of other domestic premium seats that I've tried: They were fabric.
Fabric seats are far more comfortable than vinyl seats (in my opinion). They are warmer, I like the fact that I don't slide around as much, and they help to absorb ambient noise in the cabin. I really wish more airlines did this.
In summary, I found these seats be sufficient on this short 1 hour and 9 minute flight to Vancouver. And for what it's worth, I also had the chance to try these same seats in Air Canada A320 business class on a 3 hour flight between Vancouver and San Diego recently. It was comfy AF.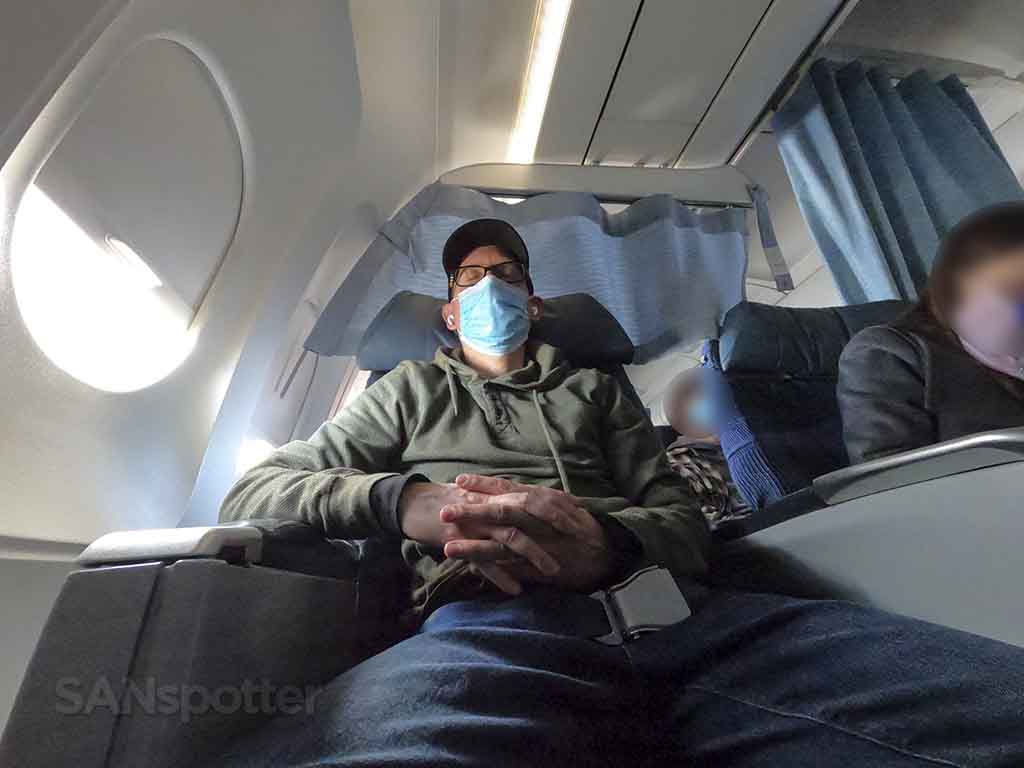 The arrival into Vancouver
Approaching Vancouver from the west is easily one of the most beautiful things I have ever experienced. The western range of the Canadian Rockies is nothing short of spectacular, and even in late spring, it was as snowy and picturesque as always.
If you've never flown into Vancouver before, I can't recommend it highly enough. Put it on your bucket list and thank me later.
I'd recommend watching the full video of the landing (embedded below) to get a sense of how beautiful the city of Vancouver really is. Strap on a good pair of headphones and crank it up:
Pros and cons of business class on the Air Canada A321
I think one of the main things that made this flight so great for me was the fact that my expectations were so low going into it. Domestic Air Canada business class (especially on the A321) didn't seem all that appealing to me beforehand, but I walked off that airplane feeling pleasantly surprised . Here are what I consider to be all the pros and cons about my experience:
Pros
I may be in the minority on this, but I actually really like the old-style fabric business class seats on the A321. As noted above, they are warm, cushy, and dare I say it…cozy.
The food Air Canada serves on short flights is nothing short of phenomenal. It was easily on the same level of quality as I experienced in JetBlue Mint short while back.
For such a vintage seat, the fact that video entertainment even exists at all is worth noting.
Cons
Despite praise I just bestowed on Air Canada for the existence of video screens at every seat, they are pretty terrible actually. Not only is the screen difficult to see in bright sunlight, the user interface is extremely dated and slow.
The business class seats on the Air Canada A321 are nowhere near as nice as the newer-style seats (such as those found on the 737 MAX 8). The A321 will eventually get those seats, but for now, prepare yourself for a "retro" experience.