By far the most impressive thing about the Edmonton Air Canada lounge is that it even exists. I wasn't expecting to find one in my recent travels through YEG, but there it was, and I couldn't resist going in and having a look around.
Just as all Air Canada Maple Leaf Lounges are, the one at the Edmonton Airport is a nice escape from the crowds down in the main terminal. It's a little small, and the food choices are limited, but it's cozy and very well designed.
The fact that they'll even let you in with just a domestic Air Canada business class ticket is icing on the cake. As a US based traveler, I'm not used to airline lounges welcoming domestic passengers with open arms like that. It's weird.
Where is the Air Canada Lounge located at the Edmonton Airport?
The Air Canada Lounge is extremely easy to find at the Edmonton Airport. As a matter fact, I wasn't even looking for it but it was the first thing I noticed once I entered the main terminal.
After you pass through the main security checkpoint, turn left and look for a set of glass double doors (on your left).
The Air Canada brand colors are generally mild, so the main entrance looks more classy than it does "hip". Basically, expecting to see something as swanky as the Virgin Atlantic Club House at LHR is only going to disappoint you.
This Maple Leaf Lounge is located on the second floor, so you'll need to take the elevator (or walk the stairs) after you walk through the glass doors.
Once you arrive at the second floor, the Air Canada lounge will be on your left. There's a Plaza Premium Lounge located on the right (which you can access if you have a Priority Pass membership).
The layout of the Edmonton Air Canada Maple Leaf Lounge
I was so surprised to see a Maple Leaf Lounge at the Edmonton Airport that I didn't even notice how small it was right off the bat. It's about a small as the United club at the San Diego Airport.
The layout of this lounge is relatively simple. It's essentially one large rectangular room with dividers to help break up the space a bit. I don't normally like to hang out in airport lounges (especially ones this small), but first impressions were really good.
There's a separate room for doing work (equipped with computers and printers), a food section located right in the middle, and a "quiet" / cell-free section located at the far end.
I'm not really sure what the purpose of the quiet / cell-free section is, considering the dense seating arrangement. Not only that, the only thing separating it from the rest of the lounge is a thin divider with holes in it – which isn't going to block the noise of someone blabbering on the phone in the main section.
What is the seating like in this lounge?
Despite being such an intimate lounge, there are a good variety of seating options. The majority of the seats in this lounge consist of cushy chairs with small tables attached to them.
There's a small group of lounge chairs arranged around a big screen TV near the food section. Adjacent to that is bar style seating – without the bar.
At the rear of this lounge you'll find the quiet / cell-free section, which consists of large cushy chairs (similar to what are in the main section of the lounge). It was a perfectly comfortable space during my visit, since I was the only one occupying the section.
Because of how dense the seating is (and the fact that all of the chairs facing each other), I can see it being an incredibly awkward place to sit if there's more than three people back there.
Is the food any good?
The food is (and will be) the most disappointing part of this Air Canada Lounge review. During my visit, the only food options available were as follows:
Little bags of potato chips
Granola bars
Pre-made cold sandwiches
Light cold snacks (such as fruit cups, yogurt, etc.)
There was bottled water (lots of it), but if that won't be enough to satisfy your thirst, there was a decent-looking hot beverage machine for things like coffee, tea, and hot chocolate.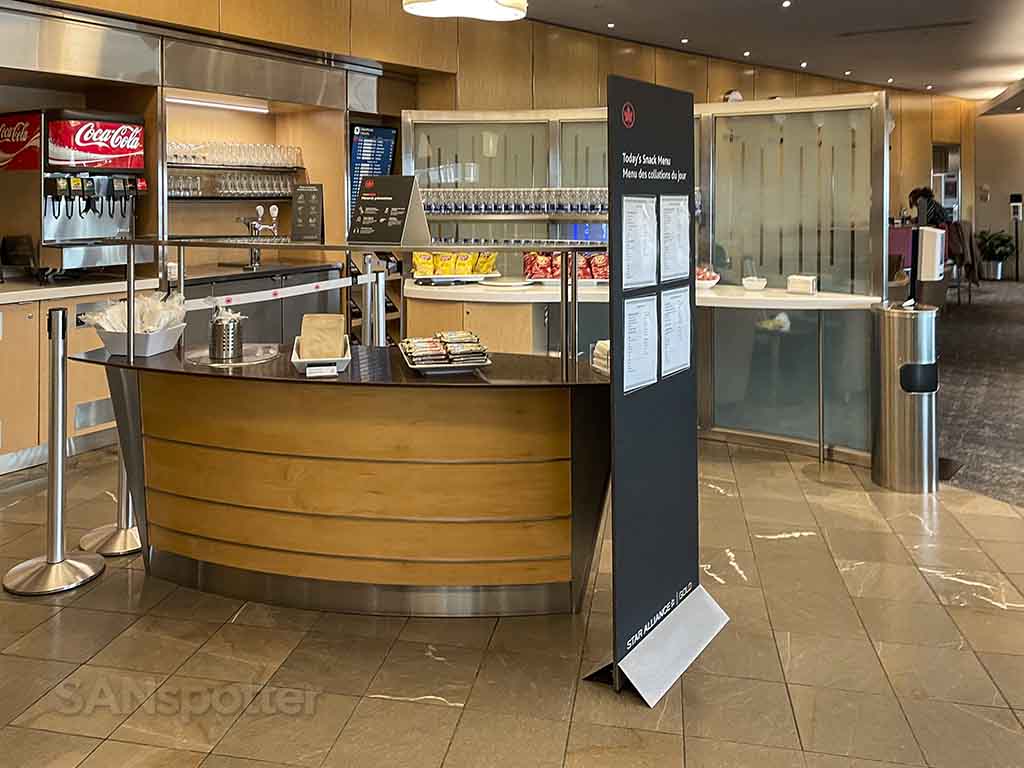 I do have to say that the self-serve booze selection in this lounge was impressive. No, it's not nearly as impressive as something you might expect in a JAL Sakura Lounge at NRT or anything. But for a little lounge at the Edmonton Airport, it was impressive.
It's also worth noting that there was a lounge employee whose sole job was to maintain this area. She was there keeping everything stocked, organized, and tidy during my entire stay.
How to get into the Air Canada Lounge Lounge at YEG
As I mentioned at the top of this review, I was surprised at how easy it was to get into the Edmonton Air Canada Lounge. Lounge access is hard to come by back home in the US, but here in Canada, they are a lot more friendly about it.
Here's how you can get into this particular Maple Leaf Lounge:
A domestic business class ticket on Air Canada is all that's needed. FYI, I was flying to Vancouver in Air Canada A321 business class on this day – and they still let me in.
International business class ticket holders on Air Canada (or any Star Alliance airline) will get you complementary access.
Altitude Super Elite, and Aeroplan 75k, 50k, and 35K members are welcome.
Star Alliance Gold members have full access.
You can purchase an Air Canada Maple Leaf Club membership (or a single-use day pass).
Certain credit cards (such as an Aeroplan Black or Business card) allow complimentary access.
Keep in mind that the entry rules are constantly being revised, so I do suggest having a look at the latest requirements on the Air Canada Maple Leaf Lounge page.
What time of day is this lounge the busiest?
The YEG Air Canada Maple Lounge is notorious for being overcrowded at times. Based on conversations I've had with people who visit this lounge often, there isn't any particular time of day where it becomes the busiest.
Basically, it'll be the most busy in the hour or two leading up to any Air Canada departure. Good luck finding a place to sit in this lounge if there are multiple Air Canada flights leaving at roughly the same time.
What time of day is this lounge the most quiet?
As you've seen in the pics so far, I timed my visit to this lounge perfectly. It was basically at a time of day when there were no Air Canada flights departing at any point within the next 2 1/2 hours.
These are the times when you want to visit this lounge. Unfortunately, due to how often flight schedules change, I can't say with any degree of accuracy what particular times would be the best to visit.
Basically, if you start noticing things getting really quiet in the main terminal, chances are good that it's getting real quiet up in the Air Canada lounge as well.
Pros and cons of the Air Canada YEG Maple Leaf Lounge
Look. The YEG Maple Leaf Lounge is not even close to being a world class airline lounge. However, it's a cozy little spot to sit and unwind with a drink if you can manage to time your visit when things aren't so busy. Based on my experience, here are what I see to be as the pros and cons:
Pros
It's beautifully designed. From the wood finishes to the faux fireplaces, it's a great spot to sit and relax before a flight.
The staff was amazing. Everyone I encountered in this lounge (from the front desk agent to the woman working the food station) was beyond cheerful and helpful.
It's extremely easy to access. A basic Air Canada domestic business class ticket is all it takes to get in.
Although I don't drink, it was hard not to be impressed by the large selection of self-serve alcohol.
Cons
The food selection was a bit disappointing. It's basically just snacks.
It would be a miserable place to sit if it's crowded. The seating layout is extremely dense, and if you're the slightest bit introverted, it's going to feel awkward sitting in such close proximity to complete strangers. I wouldn't go as far to call it as awkward and uncomfortable as the Aeromexico Lounge at the Mexico City Airport or anything, but it's worth noting.