When was the last time that an airline lounge in the US surprised you? If it's been a while (and you're starting to lose hope), I highly recommend checking out the American Express (Amex) Centurion Lounge at SFO. It'll very likely reaffirm your faith in US service culture.
I wasn't expecting it to be so large. The selection of food really surprised me. And never in a million years would I have thought that I'd find a comfortable place to sit and relax in a non-airline branded lounge before my flight.
Amex lounges are no joke. Maybe that's why the lines to get into them are usually pretty long?
My full review of the American Express Centurion Lounge at SFO
I'm such an idiot. I've walked past this particular Centurion Lounge a billion times (give or take) at the San Francisco International Airport over the years, but never had any desire to go in. Now that I've been in there (and have seen firsthand how awesome it is), I can tell you this: don't be like me.
Location
The SFO Amex Centurion Lounge is located in Terminal 3. More specifically, the entrance is pretty much right at the intersection of Terminals F and G.
Its location makes it ideal for anyone flying United or any other Star Alliance airline. Except Air Canada. Air Canada passengers are going to have to walk a really long way to reach it. Womp womp.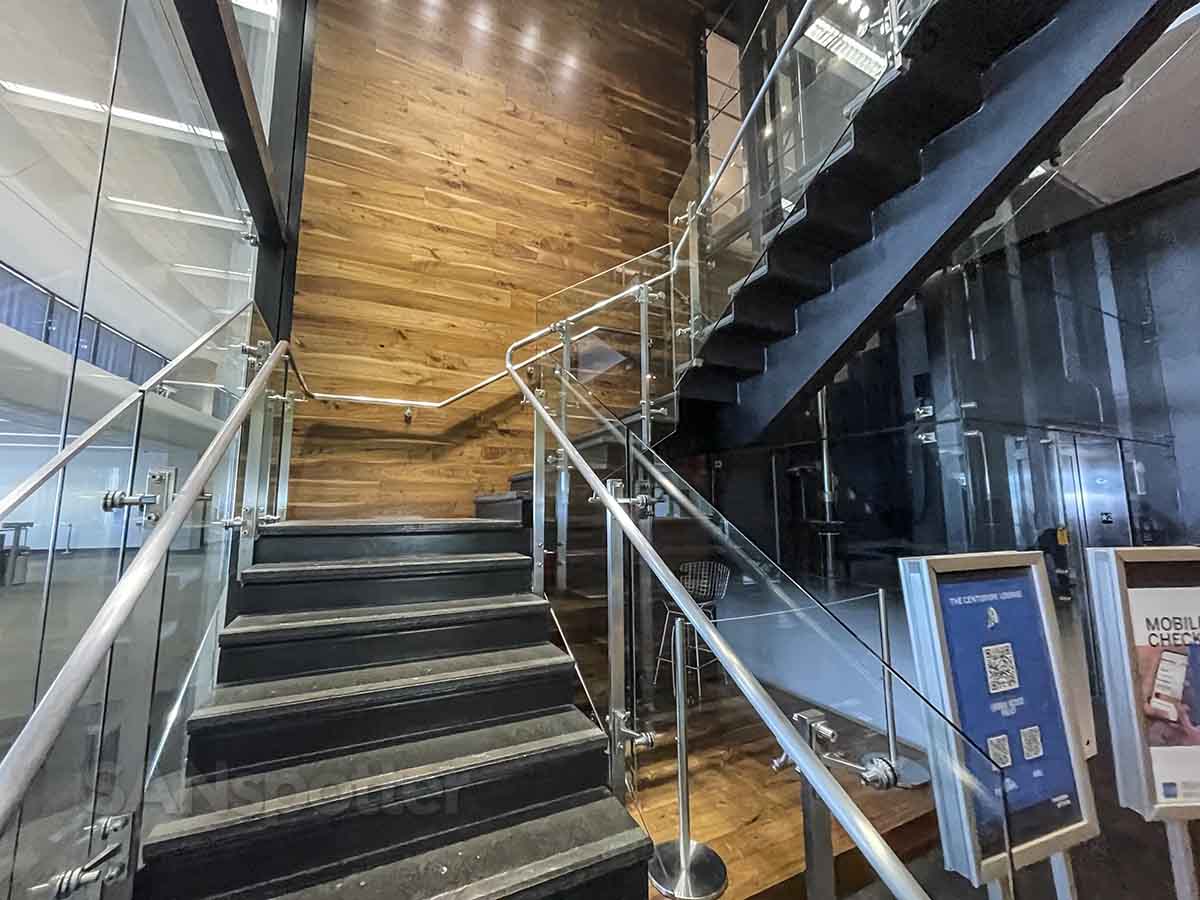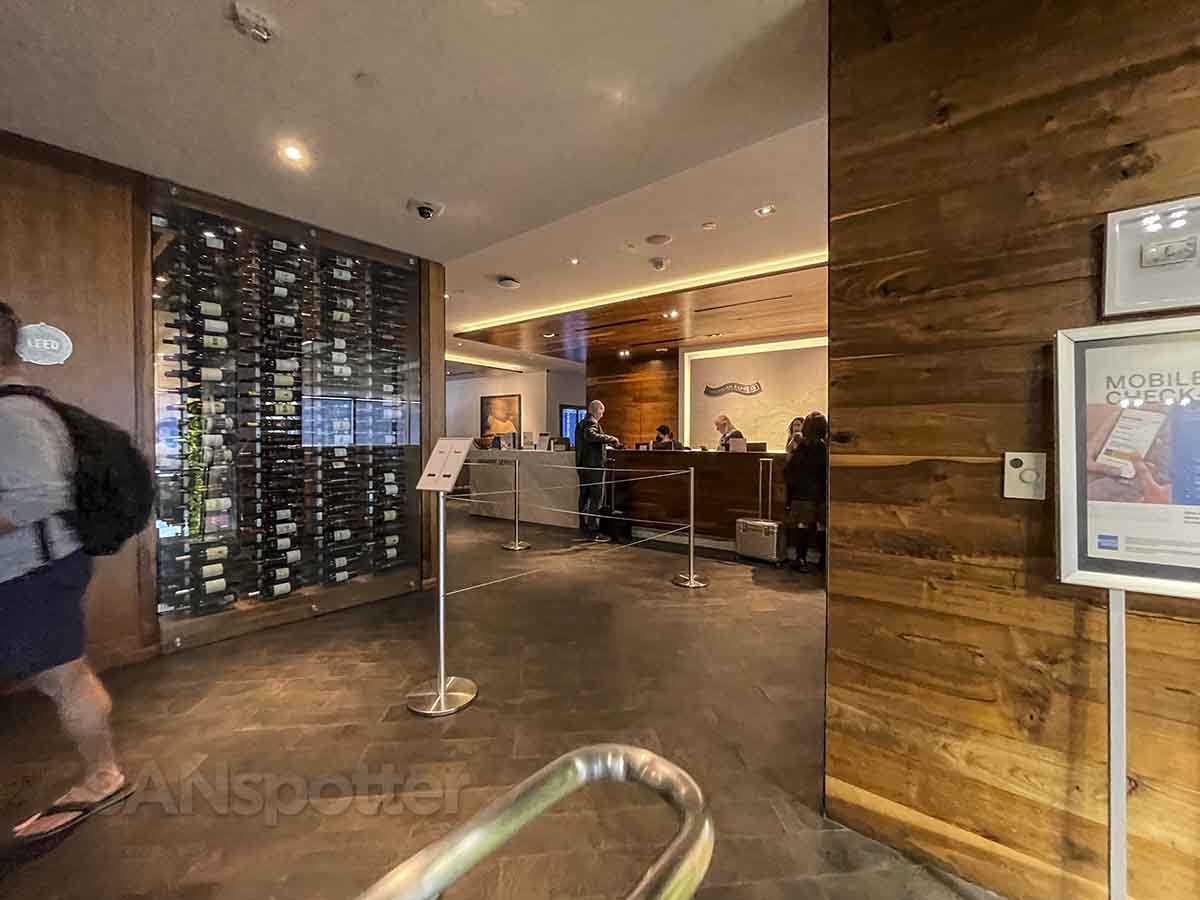 Layout
Looks can be deceiving. From the outside, this Centurion Lounge looks relatively tiny. It's not until you step inside that you realize that it's freaking huge (perhaps even larger than the LAX Centurion Lounge).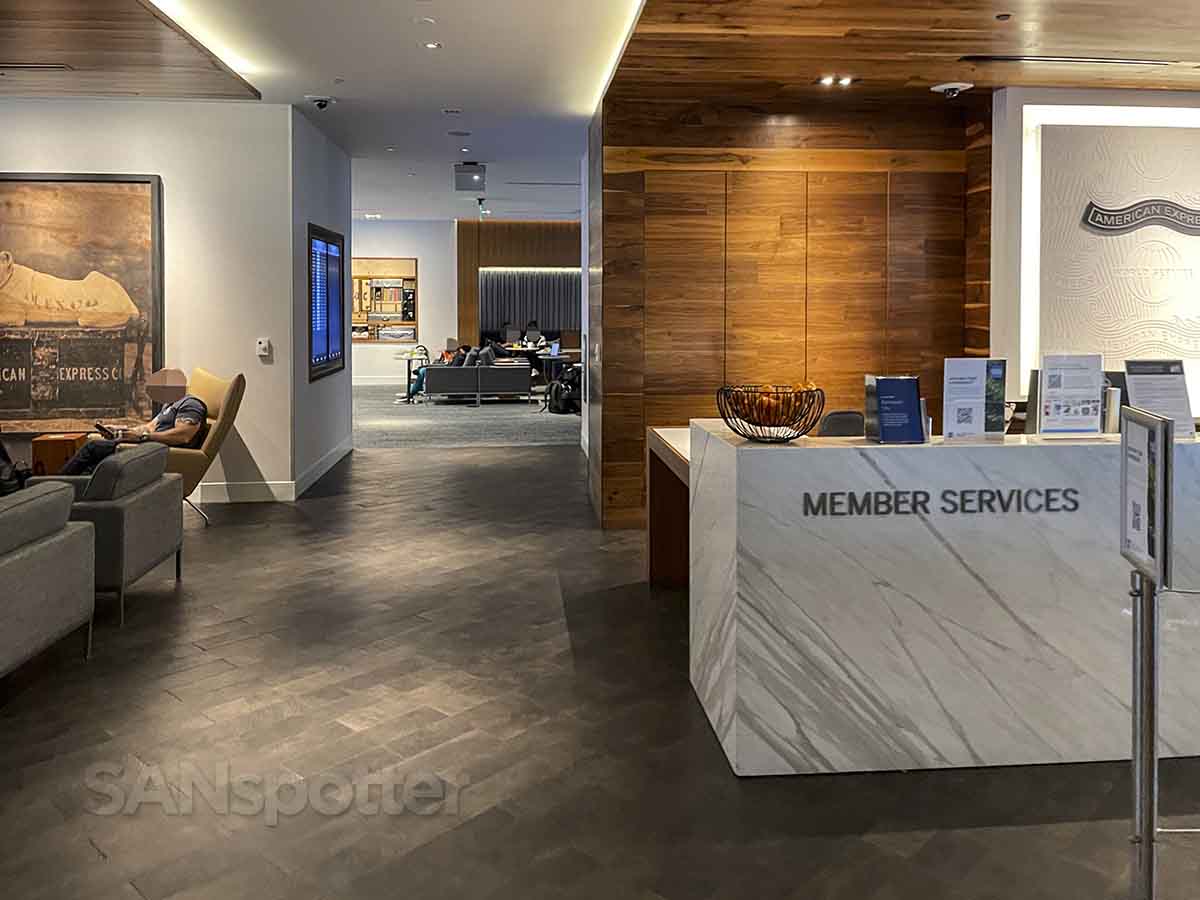 There are basically two separate wings to this lounge (connected by a walkway). Each wing is broken up into a handful of different rooms and lounge areas. Each contains its own bar and food buffet.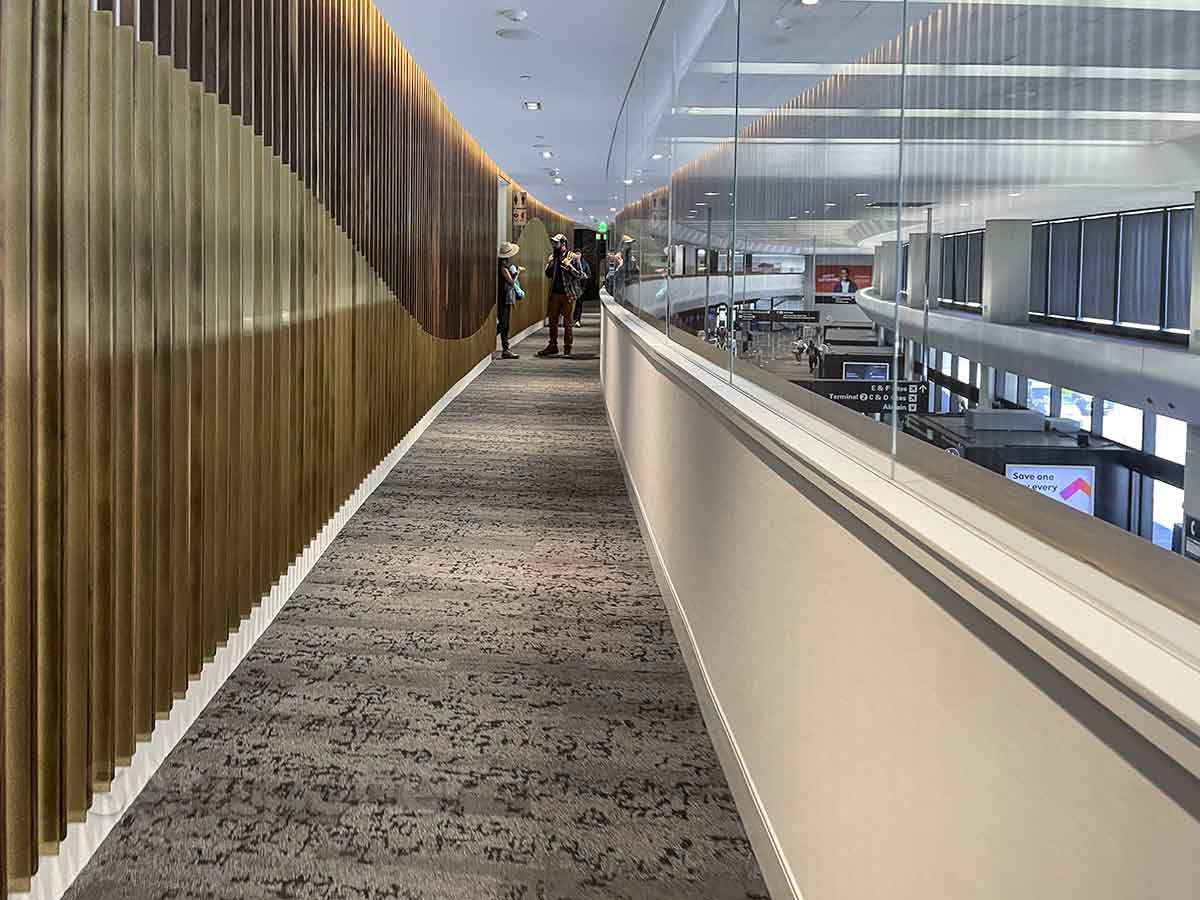 Seating
In my opinion, it's the variety of seating types which makes or breaks an airport lounge. The SFO Amex Lounge delivers, with a wide variety of seating types for nearly any type of mood (or vibe). It's much better than the seating options in the IAH Amex Centurion Lounge IMHO.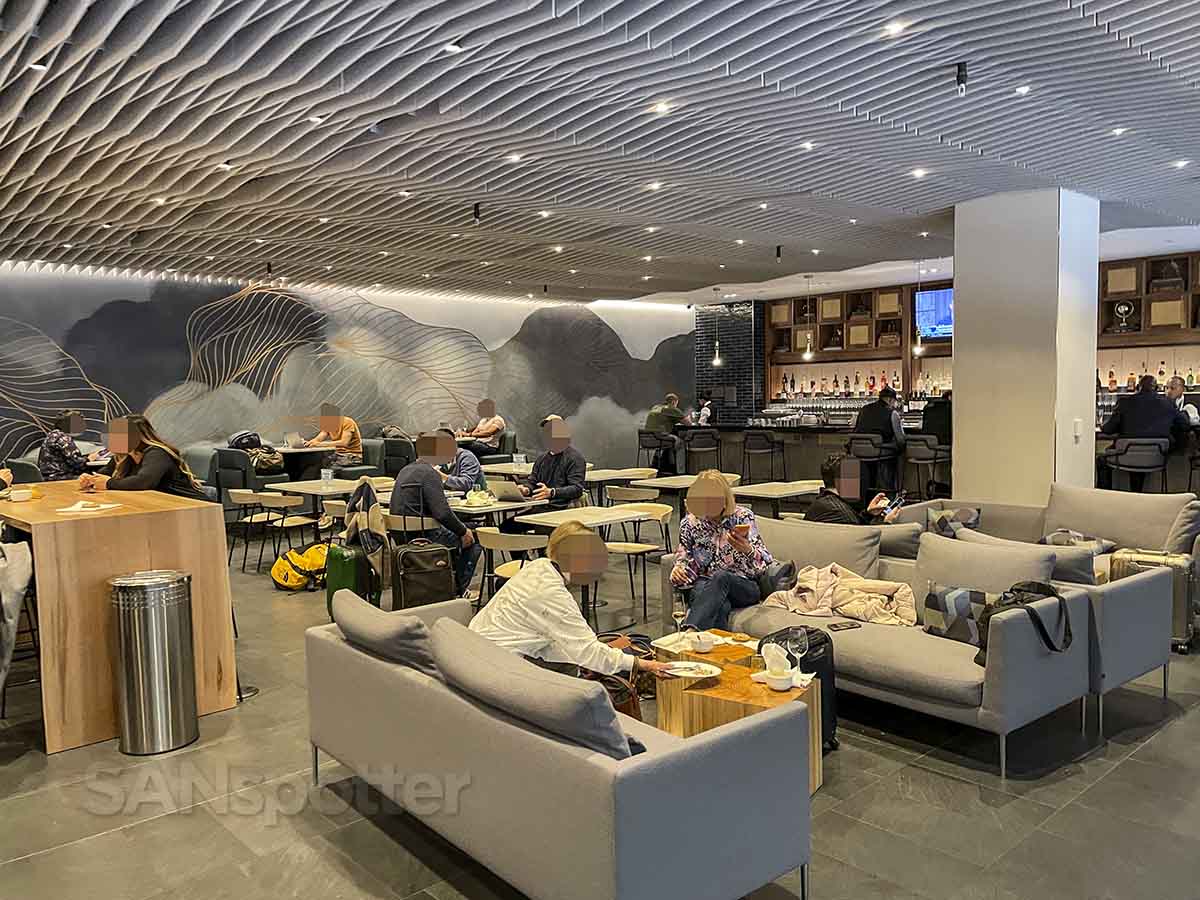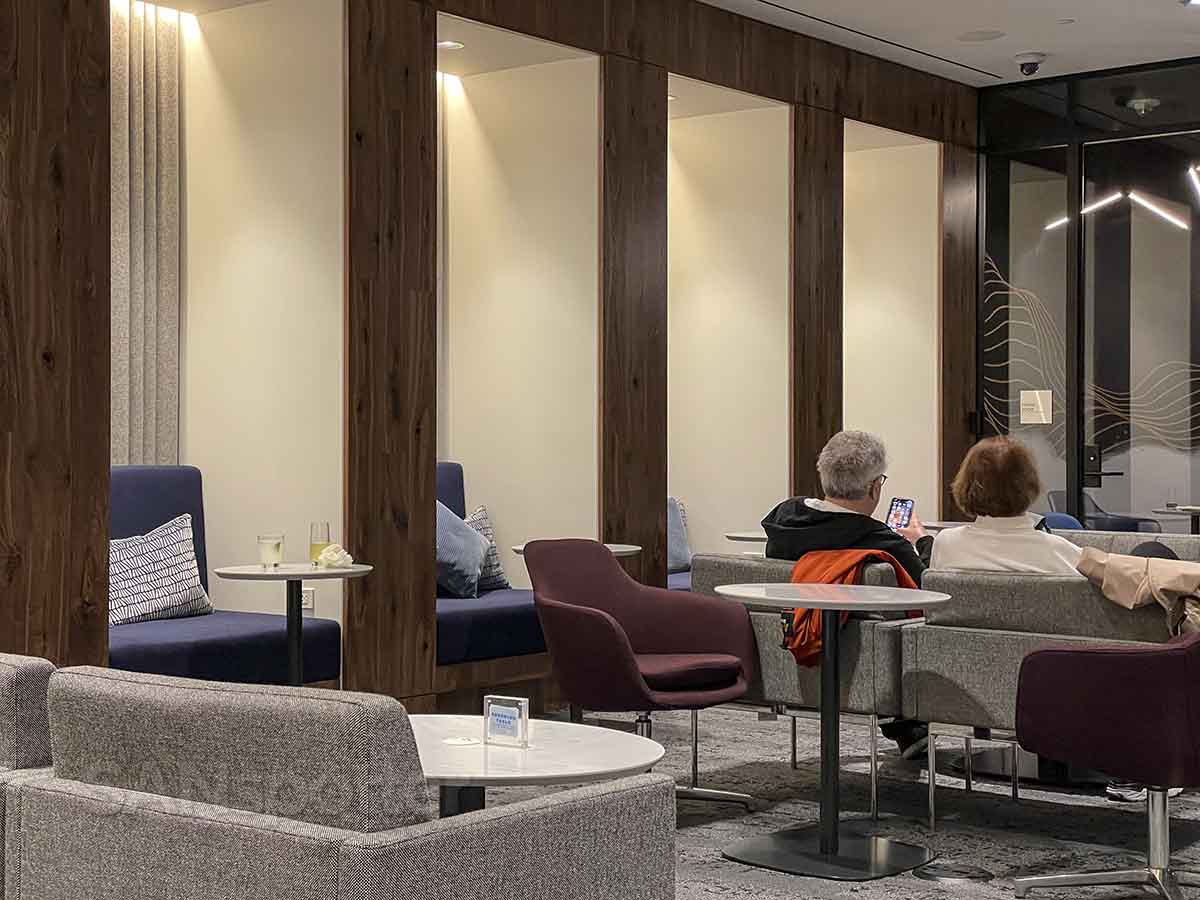 The main reason why I like the seats in this lounge is because many of them are private. It wasn't all that hard for me to find my own little nook to escape to. Introverted life FTMFW.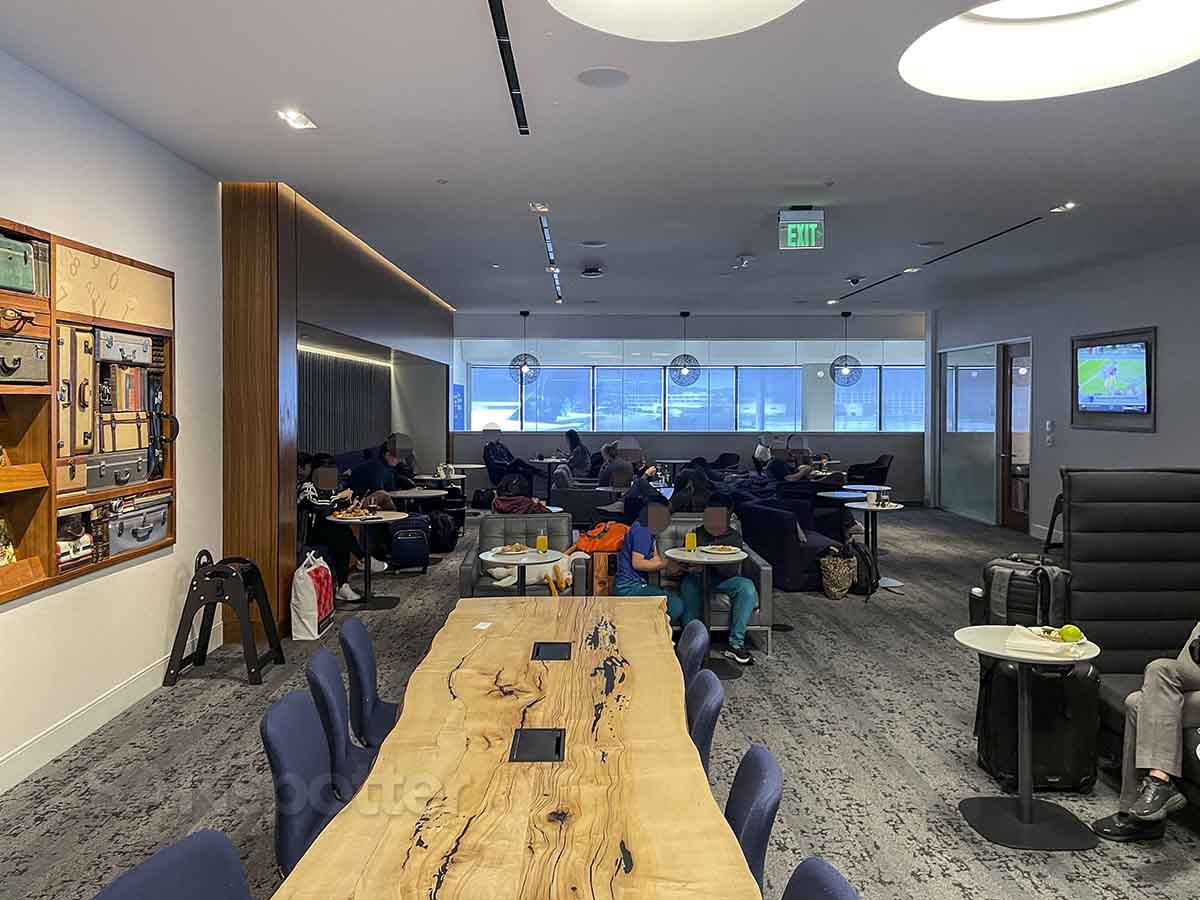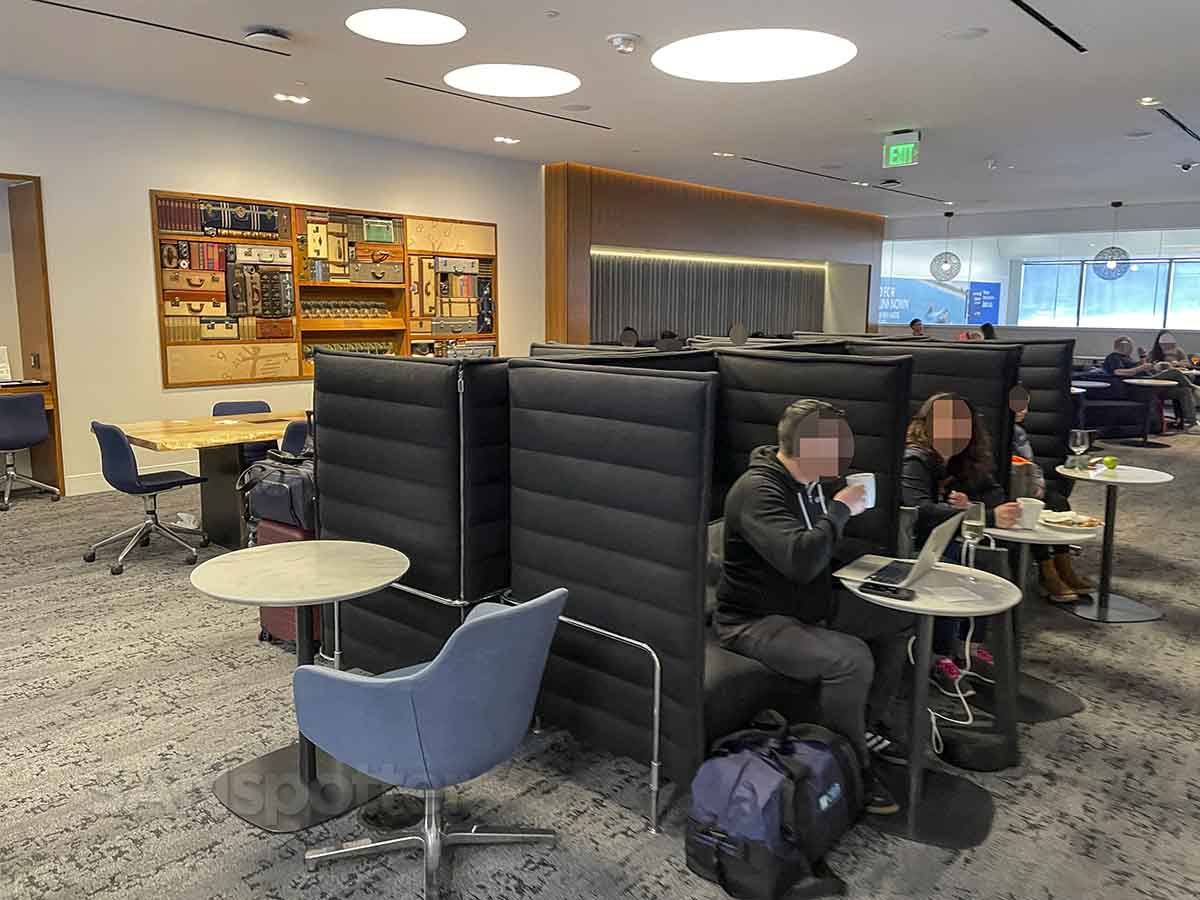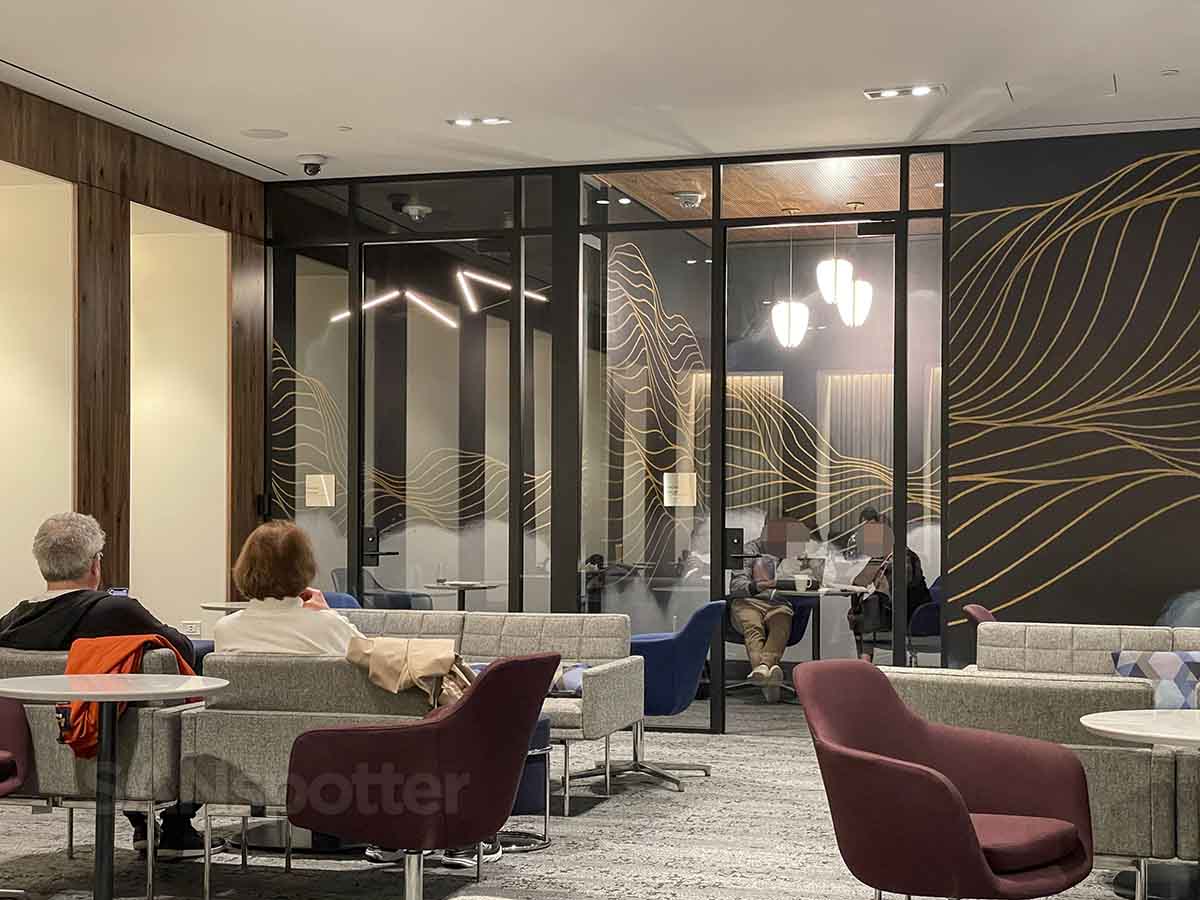 Food
It was the selection of food that surprised me the most. And as I mentioned before, there are two separate self serve food buffets located on opposite ends of this lounge.
Each has its own unique selection of food and drink items, so it deserves you to get up off your lazy butt and check out those before making a selection. Either that or start at one end of the lounge and then just eat your way to the other. You do you.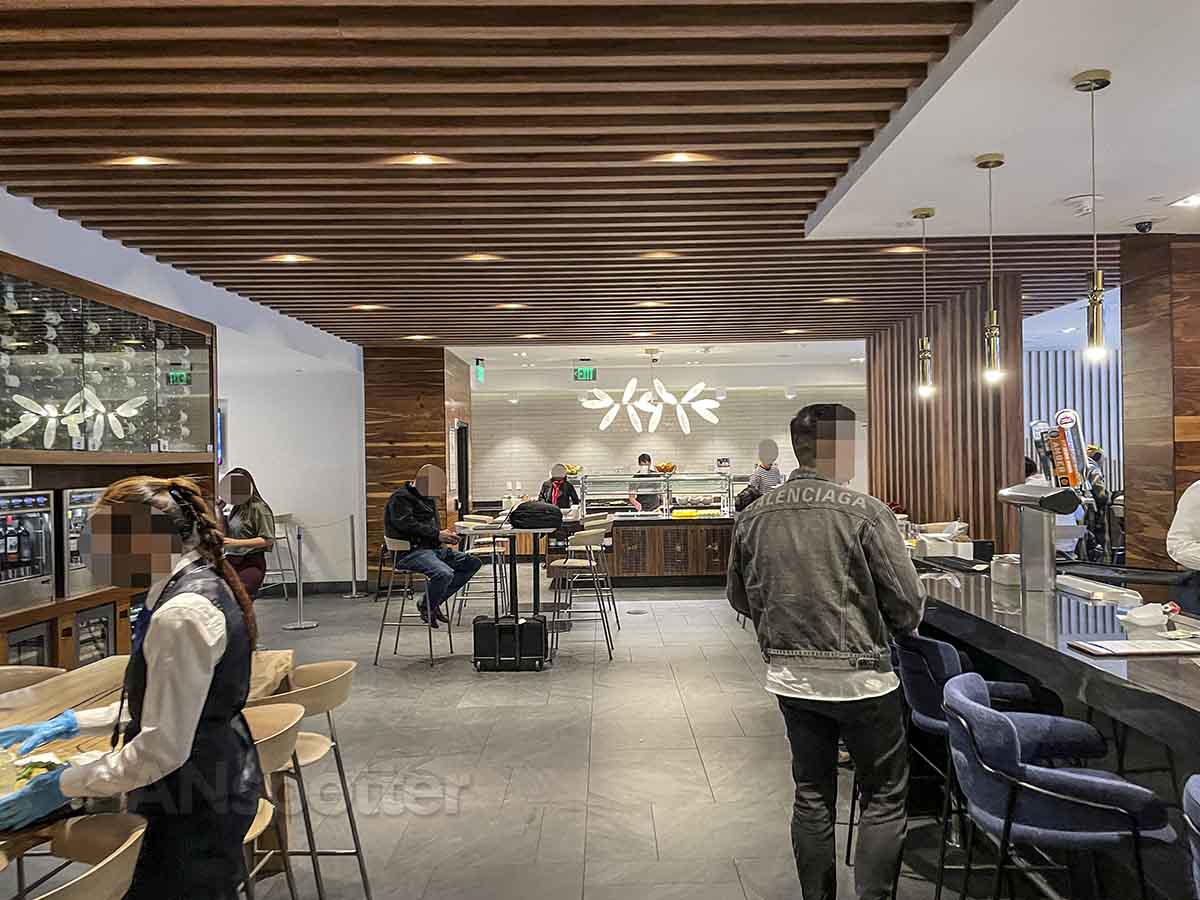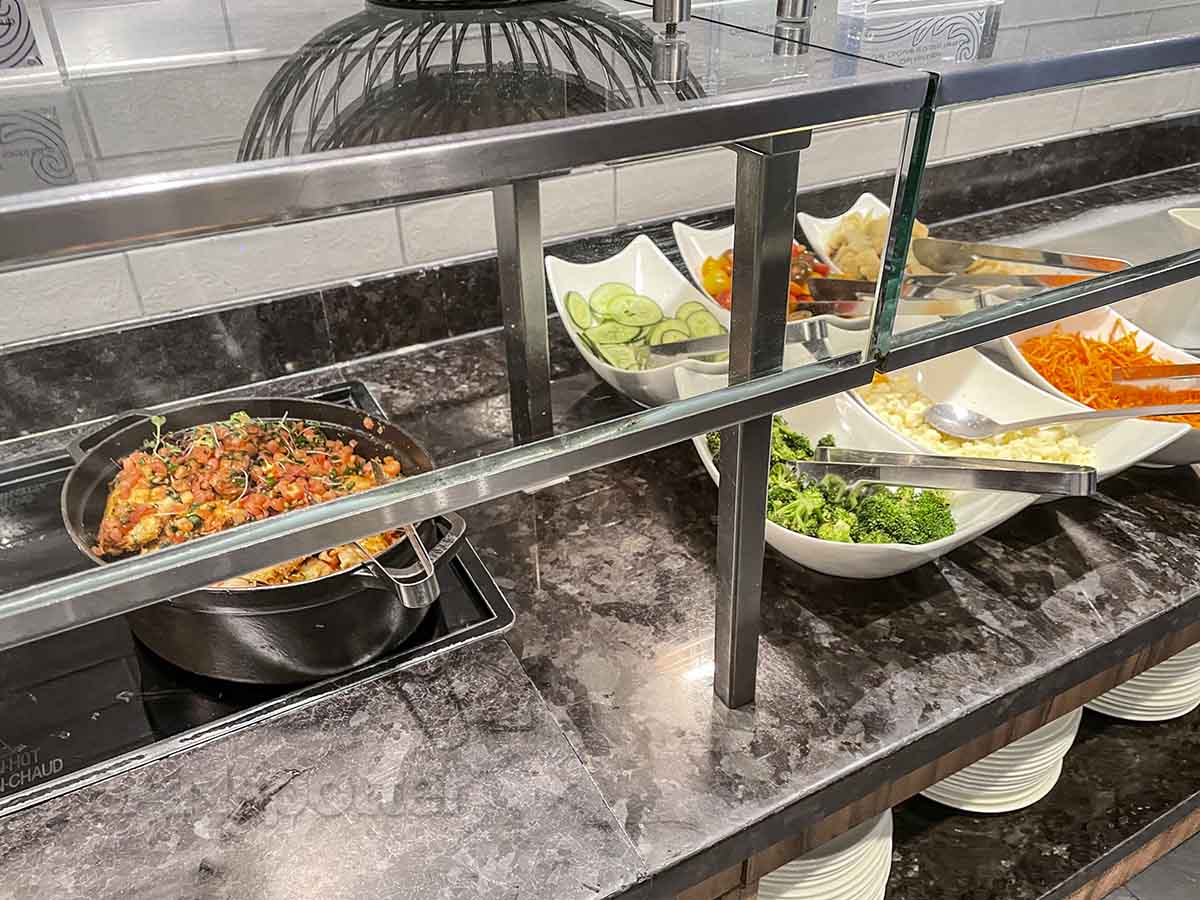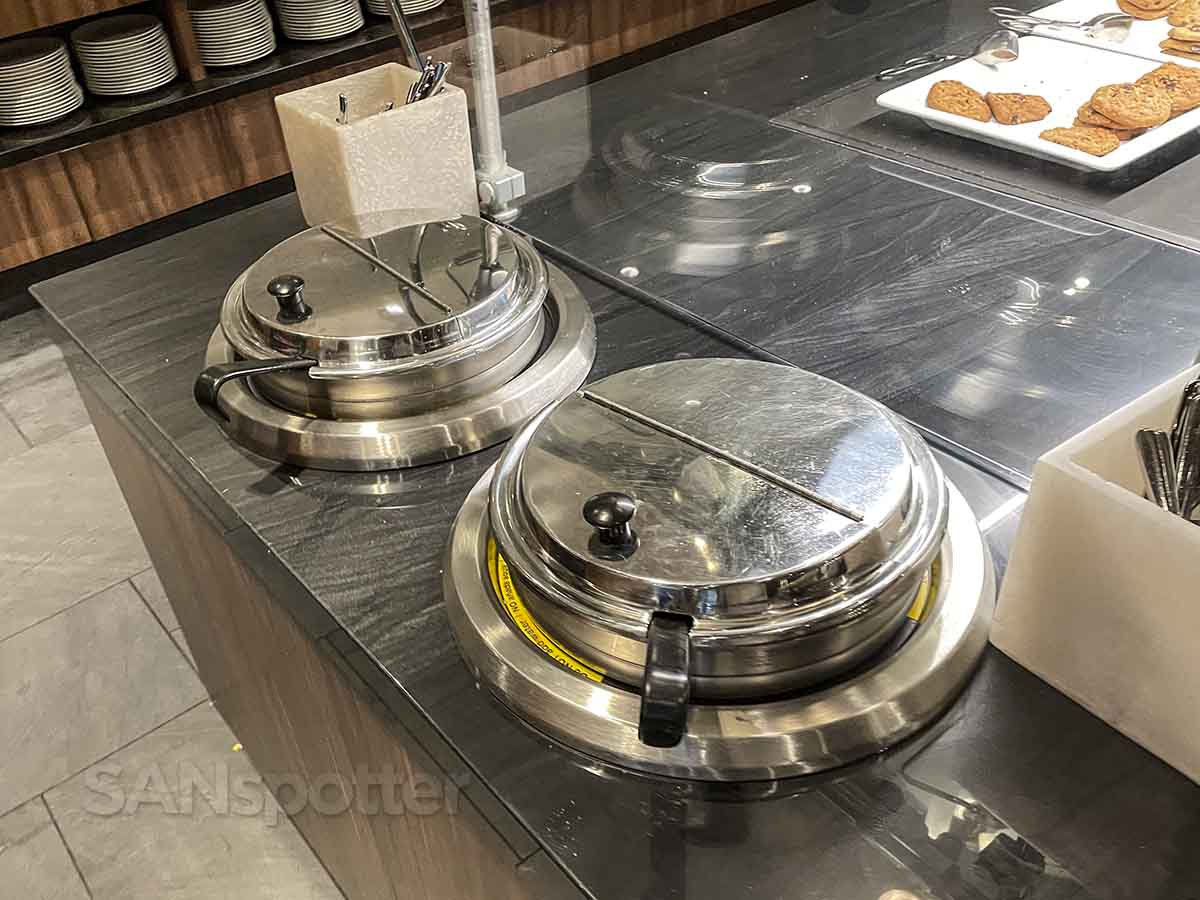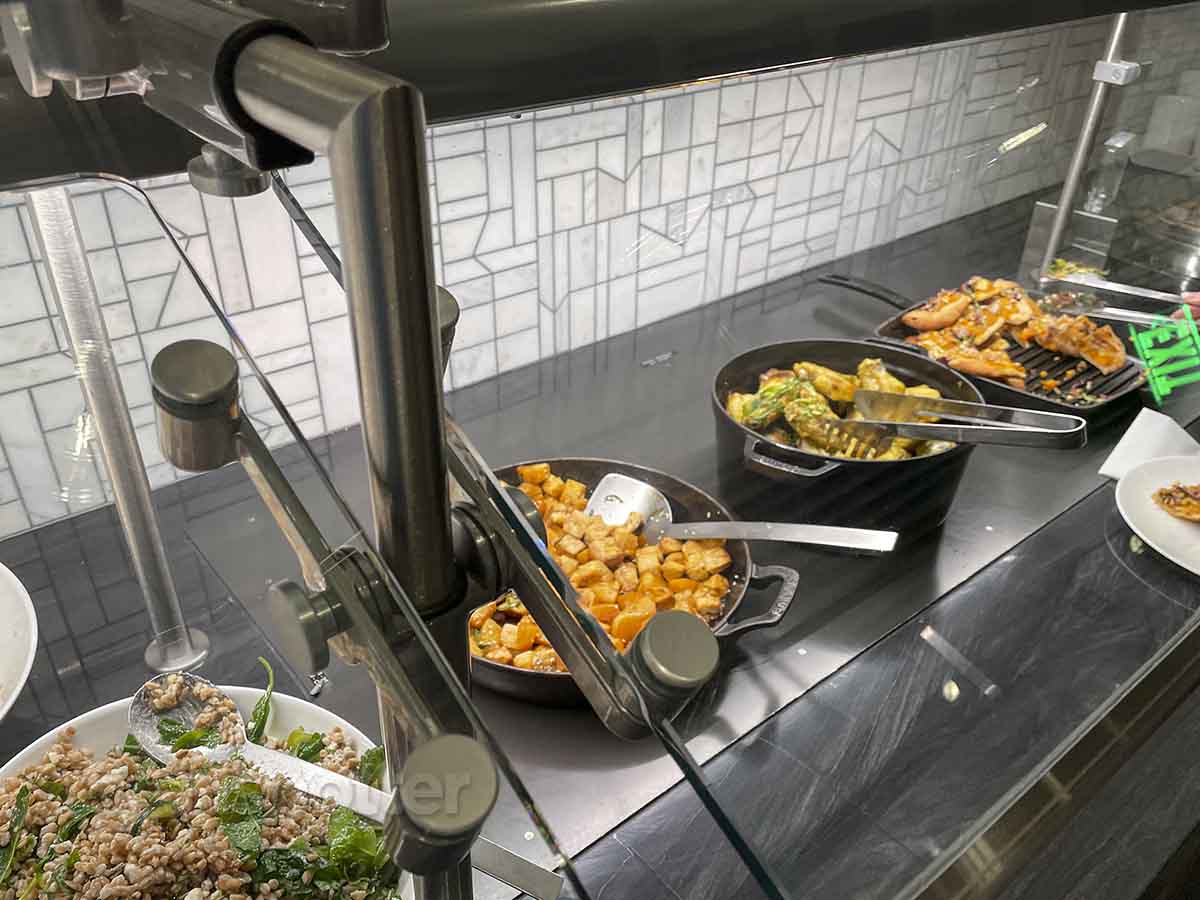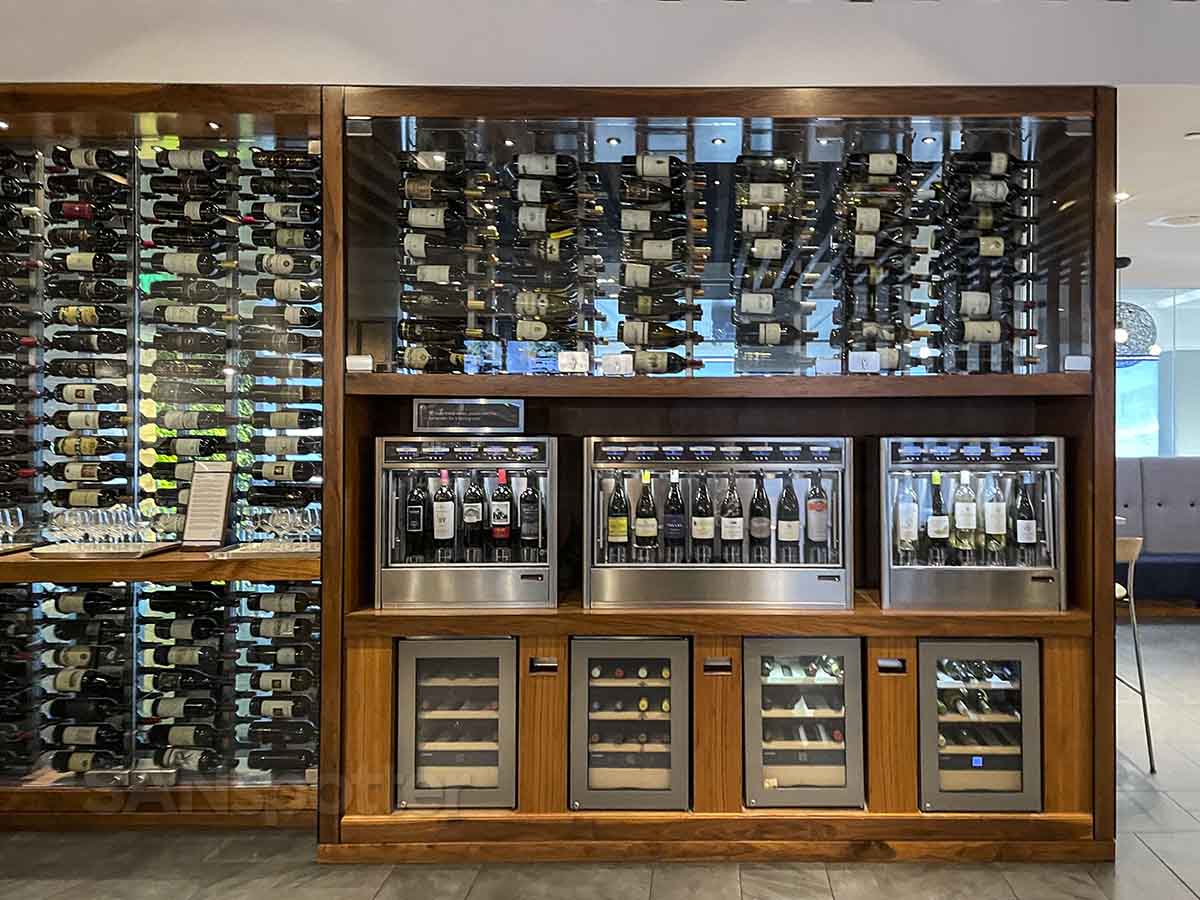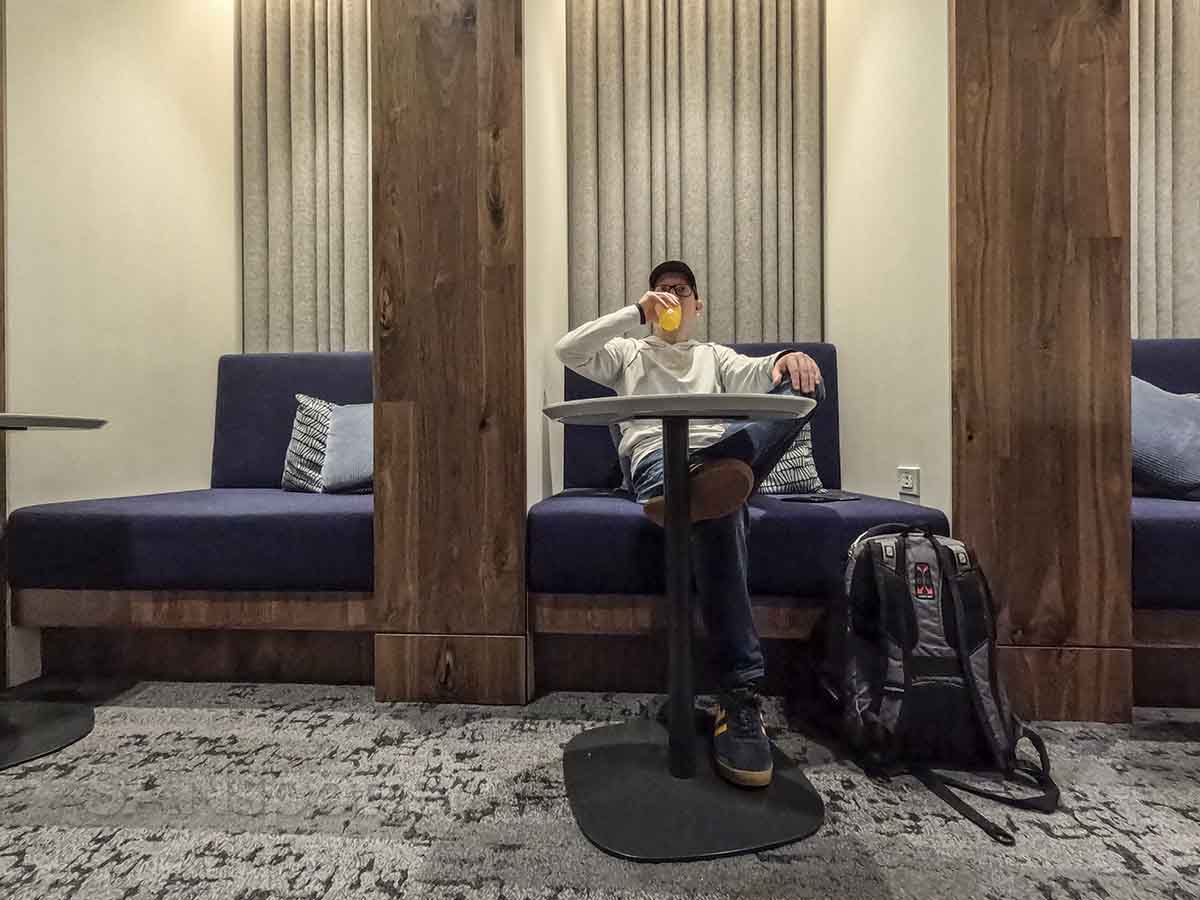 And for anyone wondering: no, there are no made-to-order meal options in this lounge. The only food available is what you see on the self-serve buffets.
How to get in
Getting complimentary access to the San Francisco American Express Centurion Lounge (or any Amex Centurion Lounge for that matter) is fairly straight forward. Anyone with the following American Express cards (along with a same day boarding pass and government issues ID) is welcome:
Business Platinum Card
Corporate Platinum Card
Delta SkyMiles Reserve Card
Delta SkyMiles Reserve Business Card
Centurion Members are also welcome free of charge. And sorry – they do not offer the ability to pay for a one-time access pass.
Anyway, I'd highly recommend keeping an eye on the latest official entry requirements (because things do change from time to time).
Pros and cons of the Amex SFO Centurion Lounge
Even though I'm about to list out some things that I didn't like about this lounge, don't let that dissuade you. This is very much a lounge worth visiting, and I'm not afraid to admit that it just might be one of my favorite in the US at the moment. Here's what you gotta know:
Pros
It's huge. In other words, you're unlikely to feel cramped in this lounge unless it's extremely crowded.
The selection of food is impressive. It's just as good (or better) than what you'll find in most airport lounges in the US.
Drinkers rejoice! The selection of alcohol (and easy access to it) was notable. If you want to get smashed at SFO, I think this is your place.
The architecture and interior design is beautiful. It's easily one of the nicest looking airline lounges I've been in recently.
Cons
I've heard that it gets really crowded at times. This isn't surprising considering how relatively easy it is to get in.
There was a strong "party" vibe going on during my visit. Twice I had to move away from large groups of loud (and very drunk) guests who were being more than a little annoying.