I couldn't help but to feel a twinge of excitement as I was standing there in the bathroom of my hotel room getting ready to begin the day. Never mind the fact that it was only 5:30 AM and the lipstick on the mirror was still tripping me out – today was going to be my first-ever Austrian Airlines experience, and I was very much looking forward to diving into it head first.
After a very long but scenic walk from the hotel over to the airport, it took but just a few minutes to check in for my flight to LAX using one of the multitude of kiosks in the departures hall. I was in such a good mood that it didn't even bother me that two of the kiosks rejected my passport entirely.
It's never a good feeling to have your passport rejected (it hurts just as bad as it did when you were in the 4th grade and the girl you had a major crush on laughed in your face), but the excitement I had burning inside of me kept the positive thoughts flowing while I hopped from kiosk to kiosk until I found one that accepted me (and my passport) for who I am.
There's a dedicated security line for business class passengers here at the Vienna International Airport, which was highly convenient but totally unnecessary this morning since the place was a ghost town and even the regular security line was empty. I will say that those security guys are very thorough though, and I kept thinking positive thoughts of what was to come in the Austrian Airlines business class lounge within just a few minutes (once they were finished fondling my unmentionables).
Keep in mind that I've had exactly zero experience with Austrian Airlines up until this point in my life, but everything I've heard about them over the years has been very positive and lead me to believe that they are one of the world's premiere air carriers. That's why I was so excited about seeing their business class lounge – it just had to be good, and as I climbed the stairs to the upper level here in concourse F where the lounges are situated, I was praying with all my might that it would live up to my high expectations.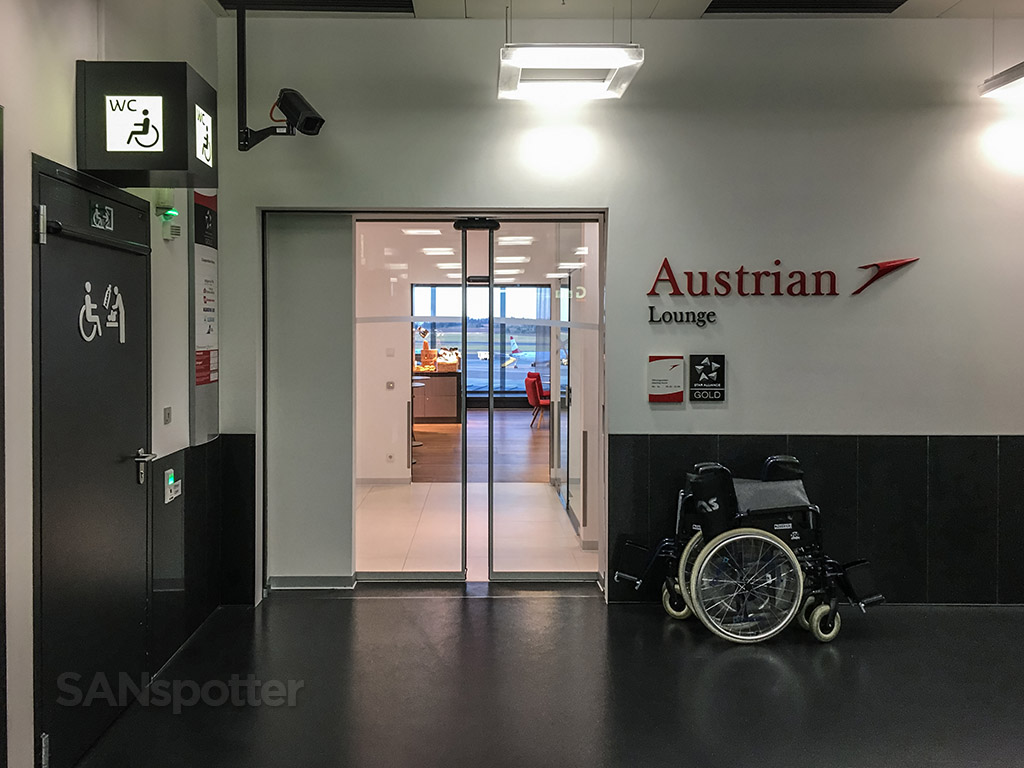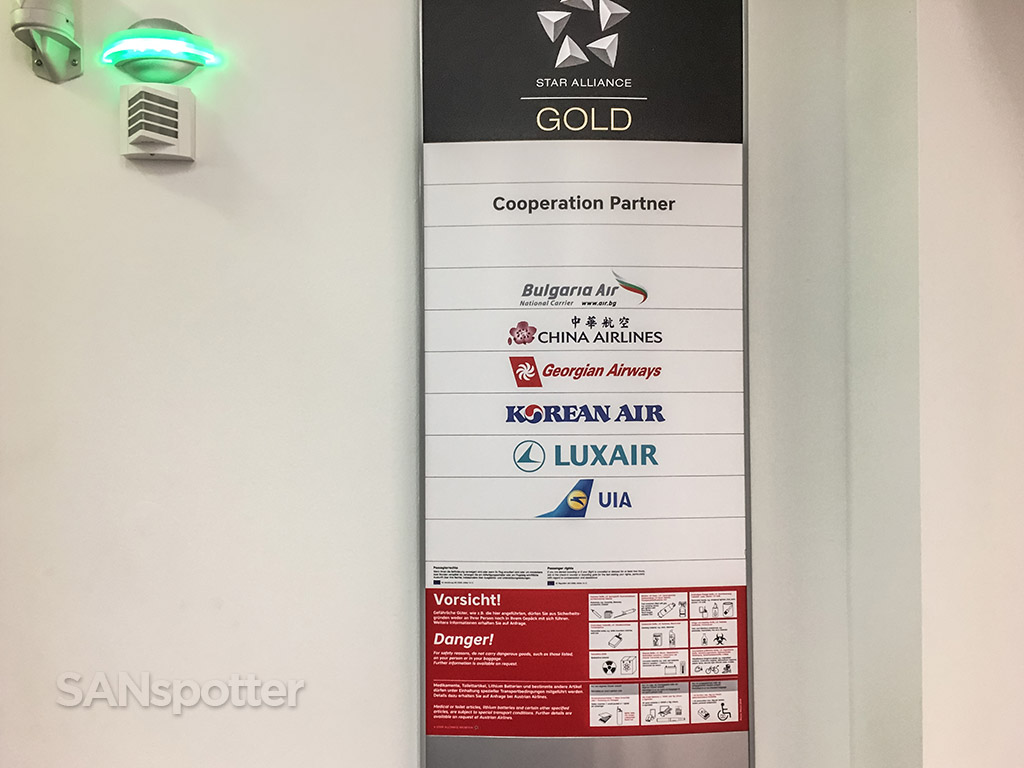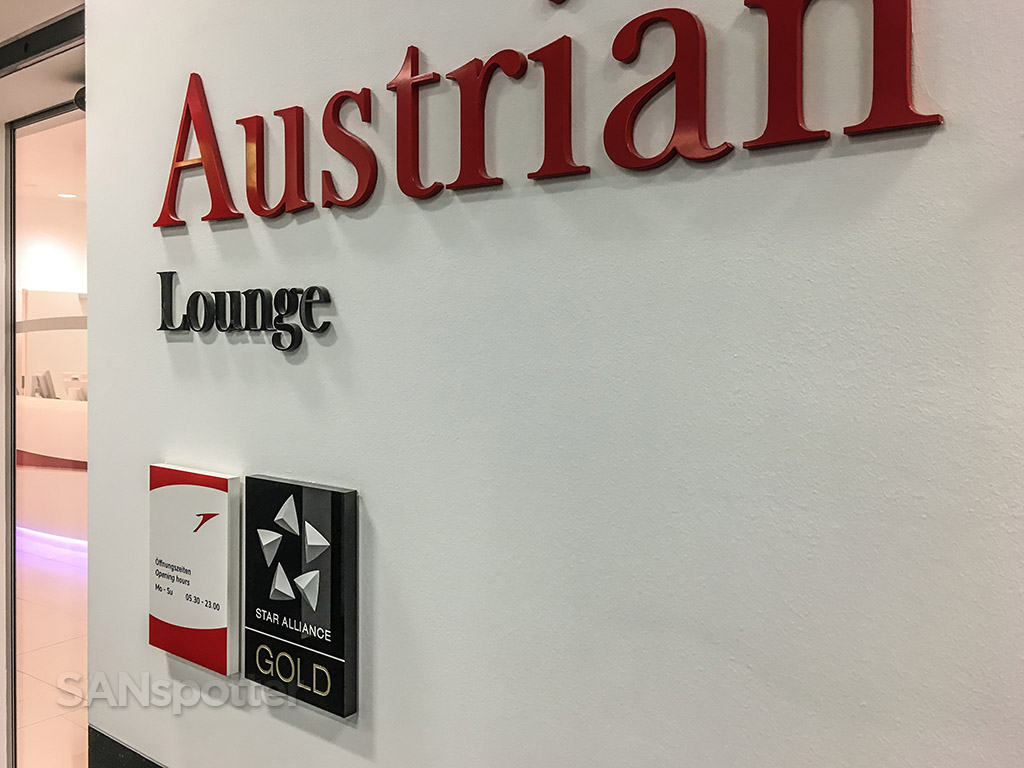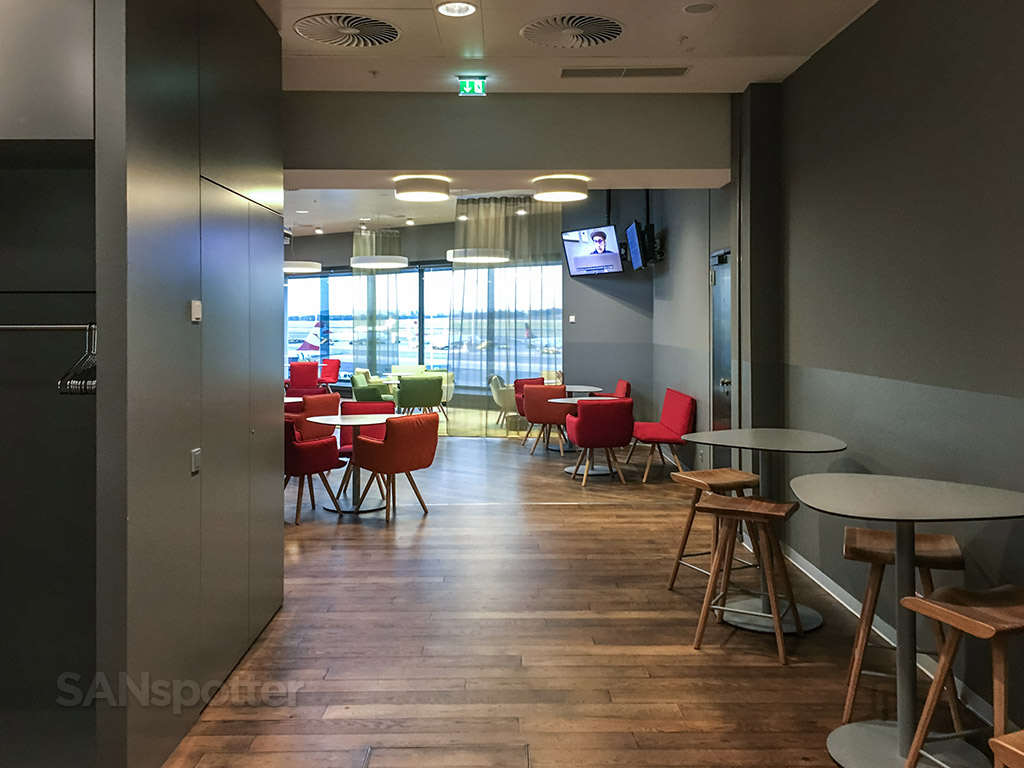 My first impressions of the place were something along the lines of me being disappointed in myself for having such unrealistically high expectations. Of course it looked like a very nice lounge with plenty of relaxing seating options with loads of drinks and snacks, but it didn't live up to what I had been envisioning in my head. I guess I was expecting it to be something more along the lines of the Delta Sky Club in terminal 4 at JFK, or the United Club at LAX.
Nothing about the space screamed "flagship" to me, probably because of how small and cramped it was. It's a really fun looking space with loads of neat little design details (and huge windows to the outside world), but it's a small single room without the nooks and crannies I like which are necessary to hide and get away from everyone else. Not that I'm totally antisocial or anything, but I do like to work on the blog in airport lounges, and there wasn't a very good place to do that here.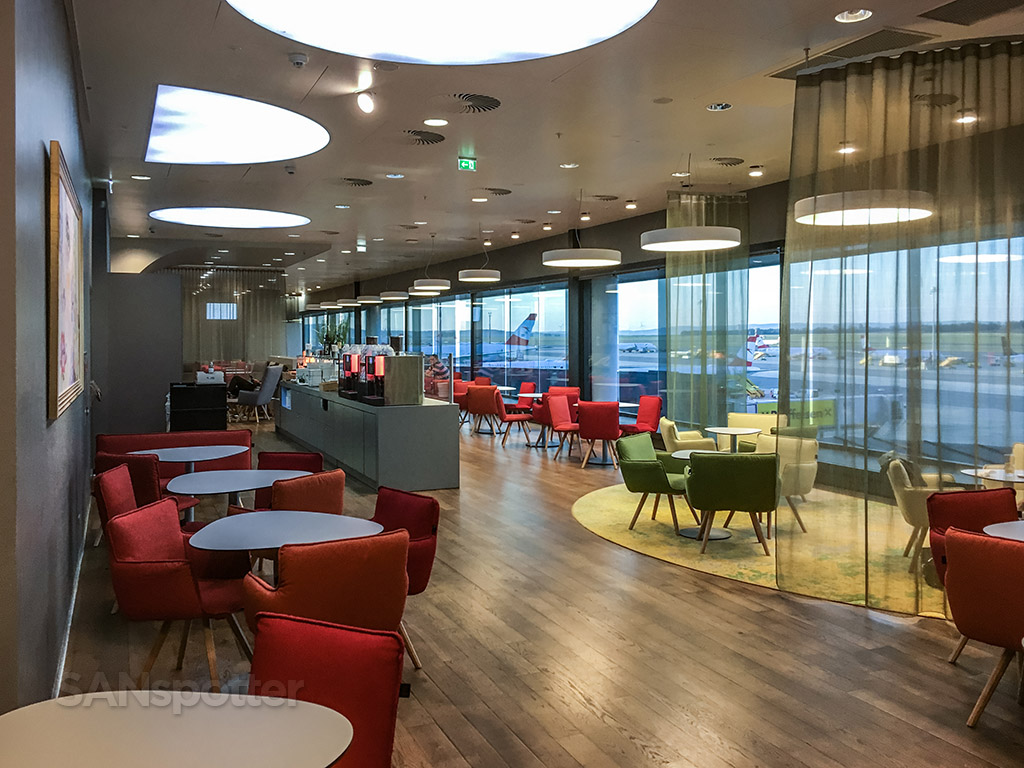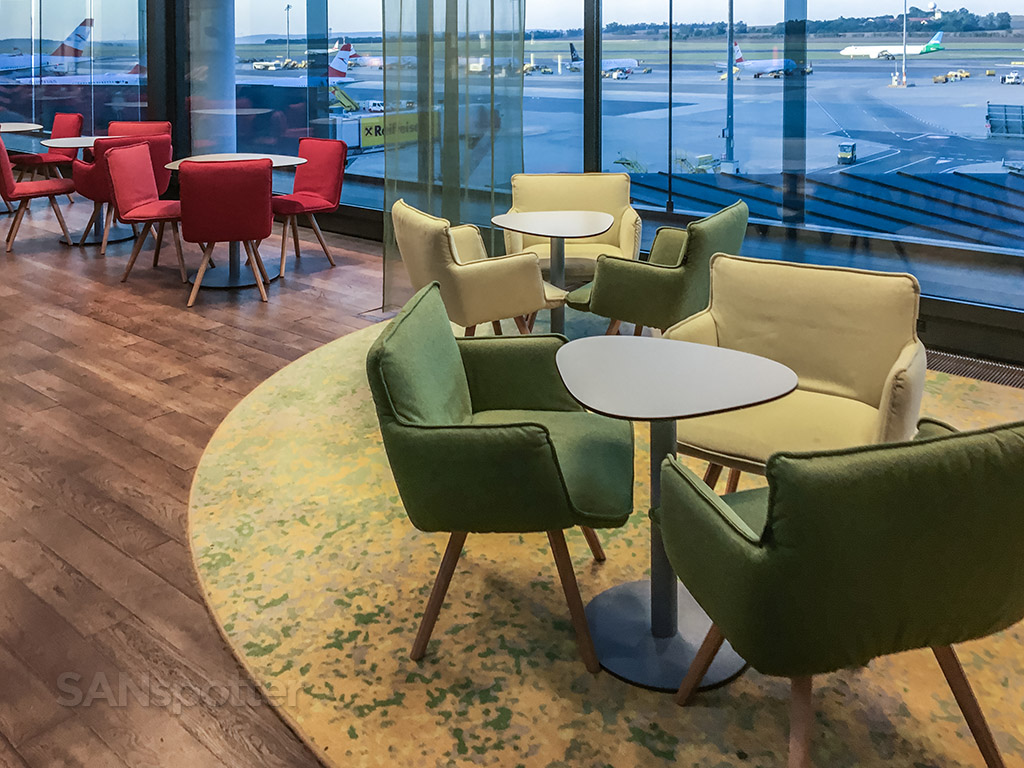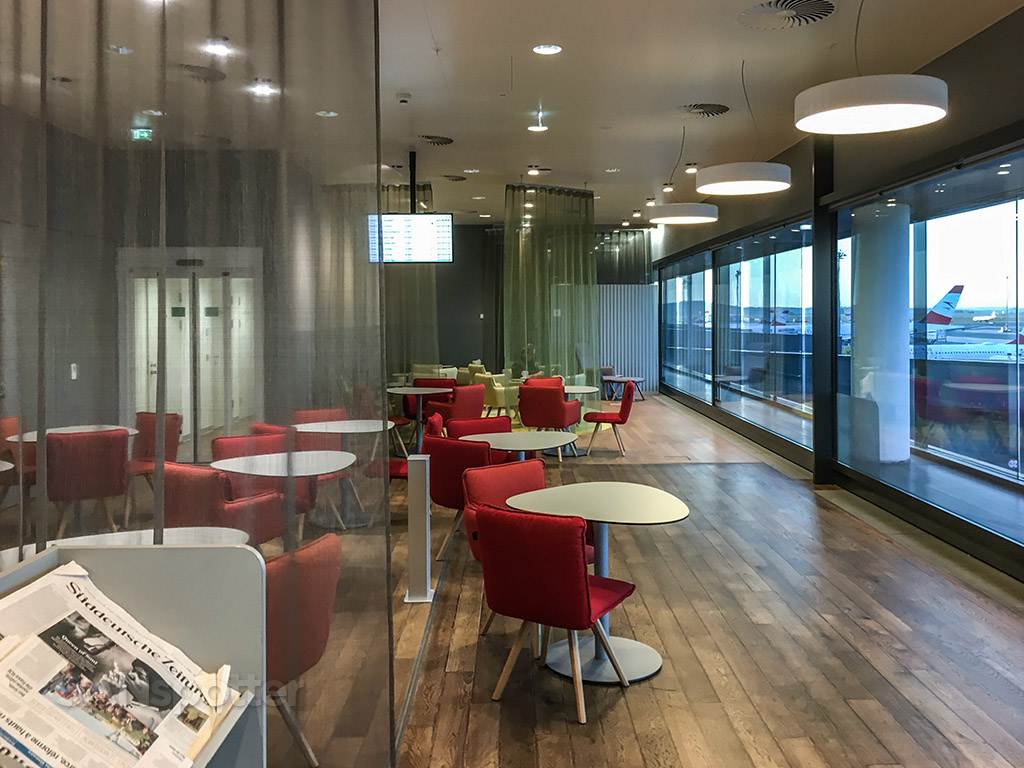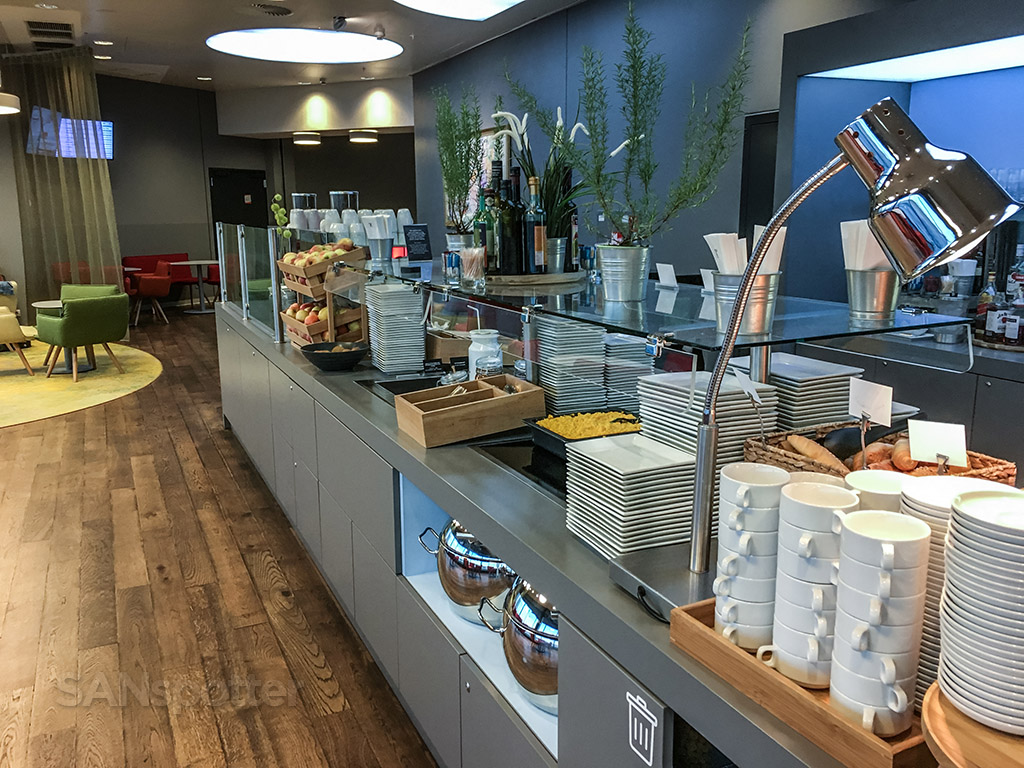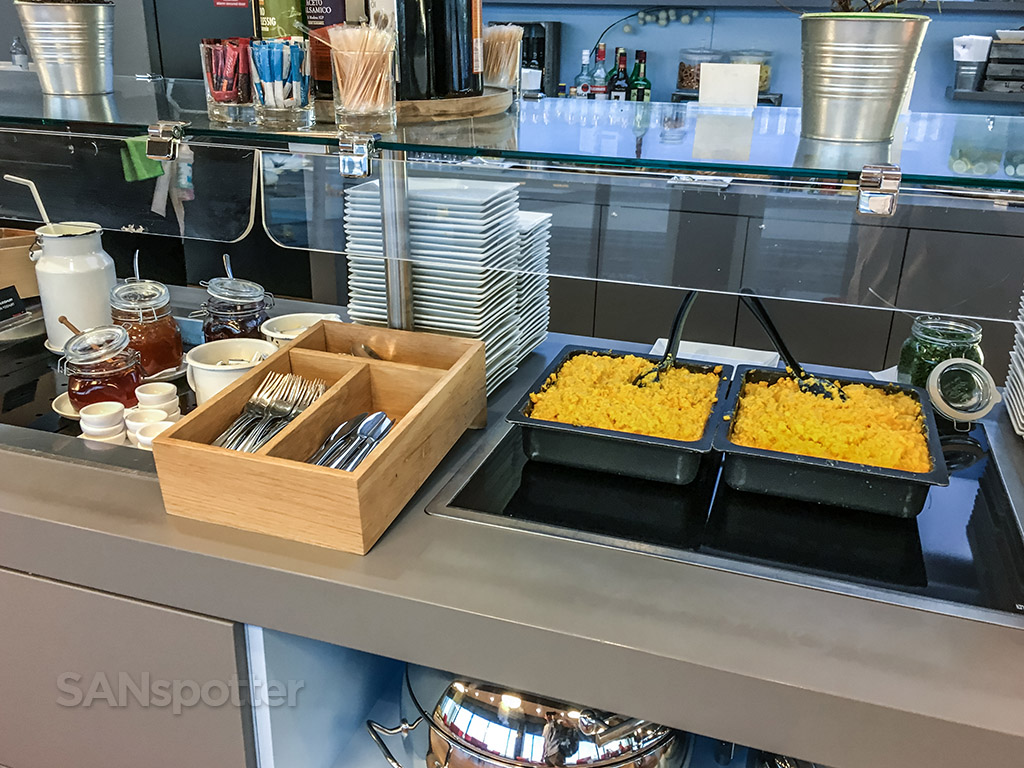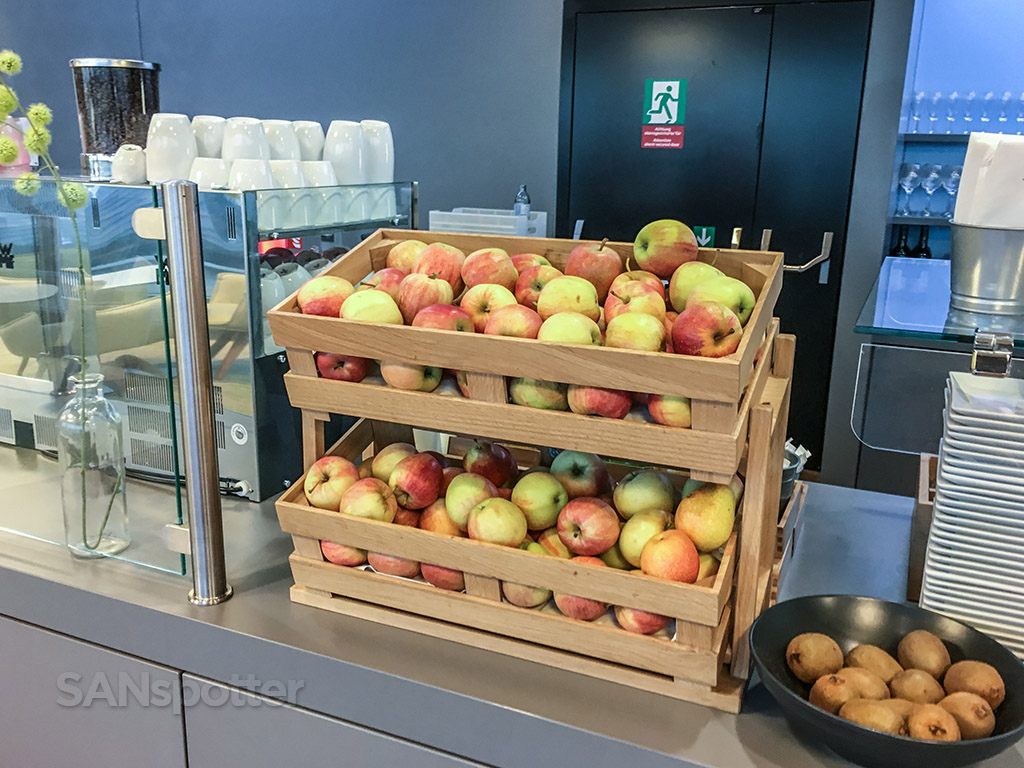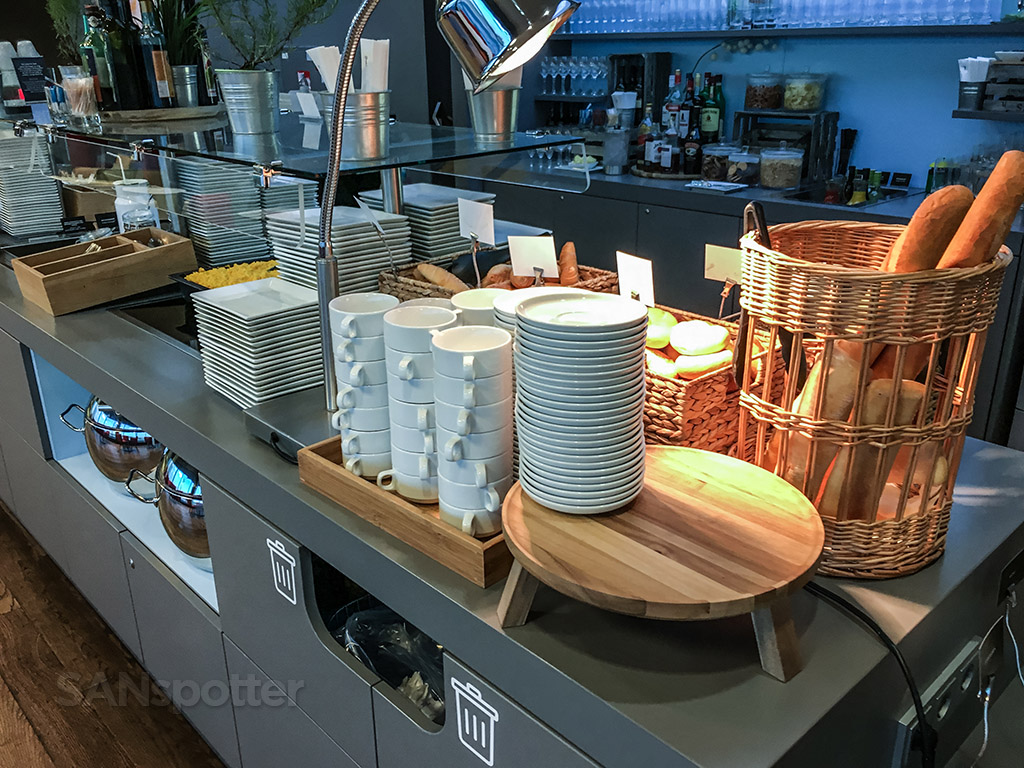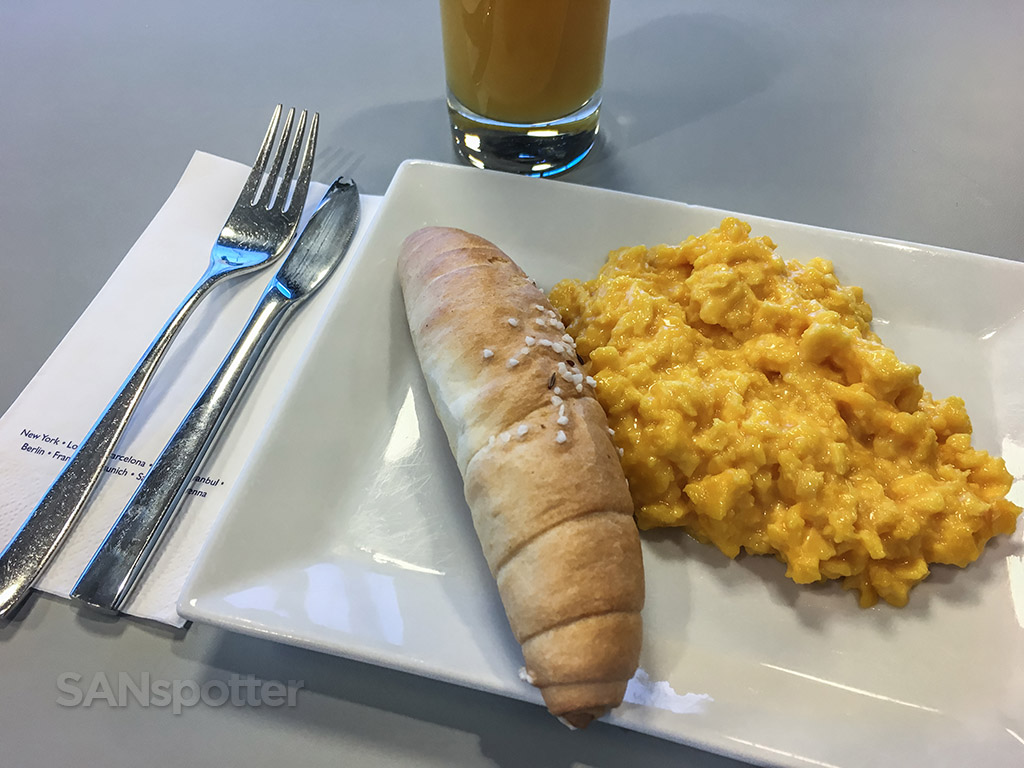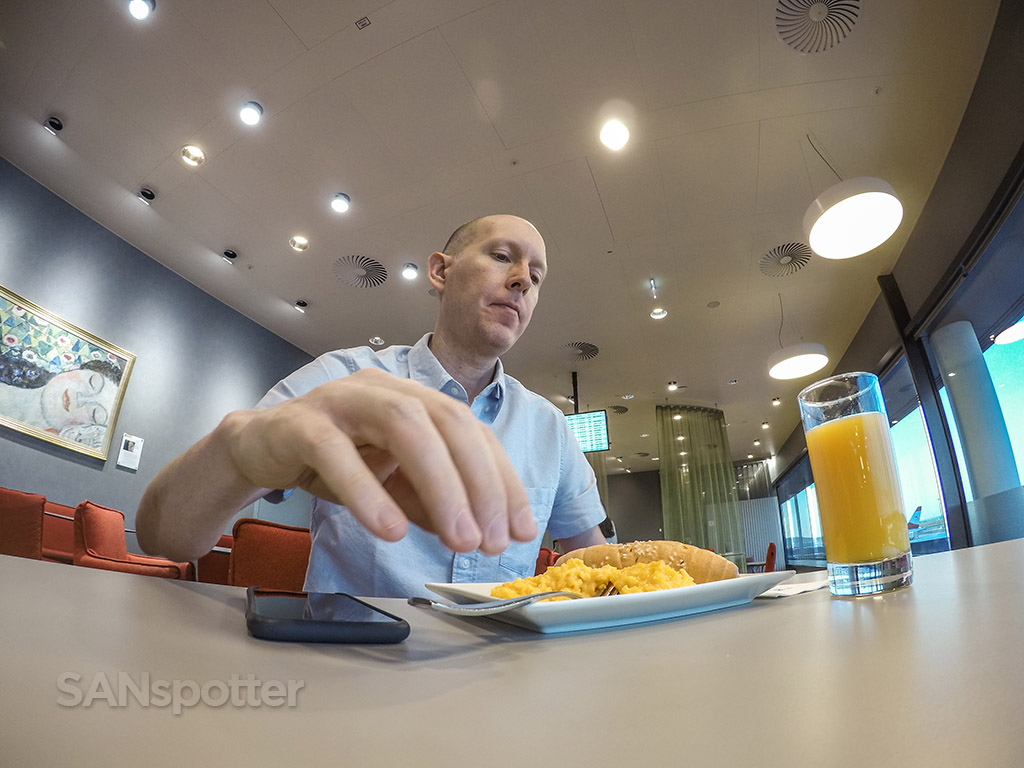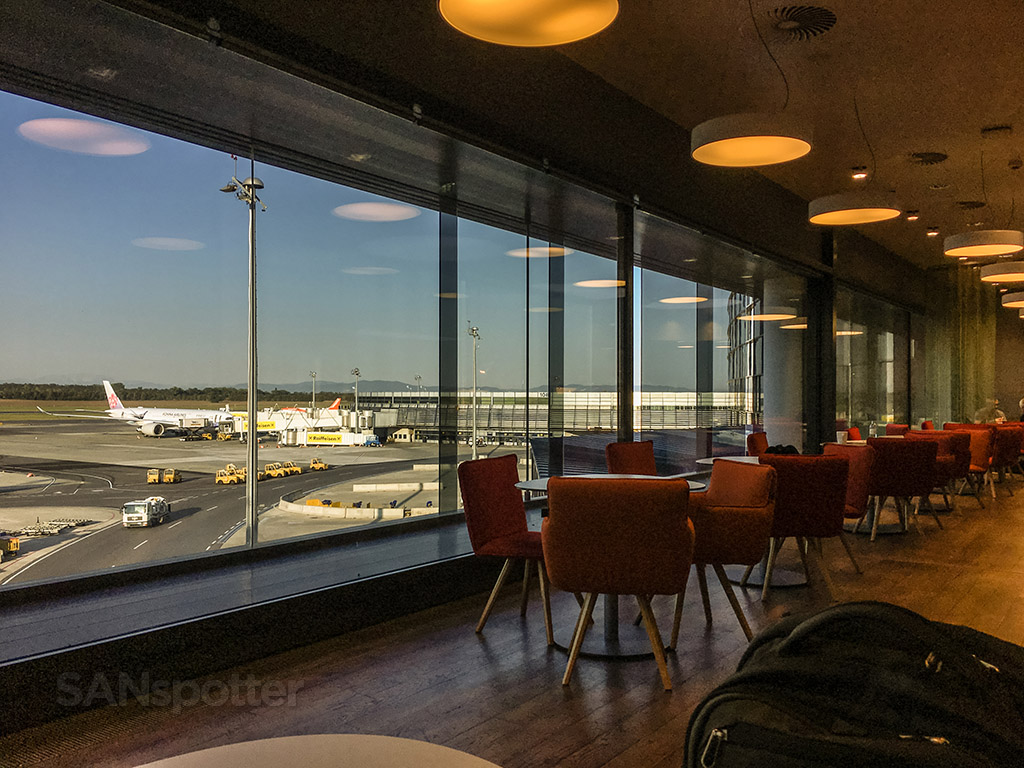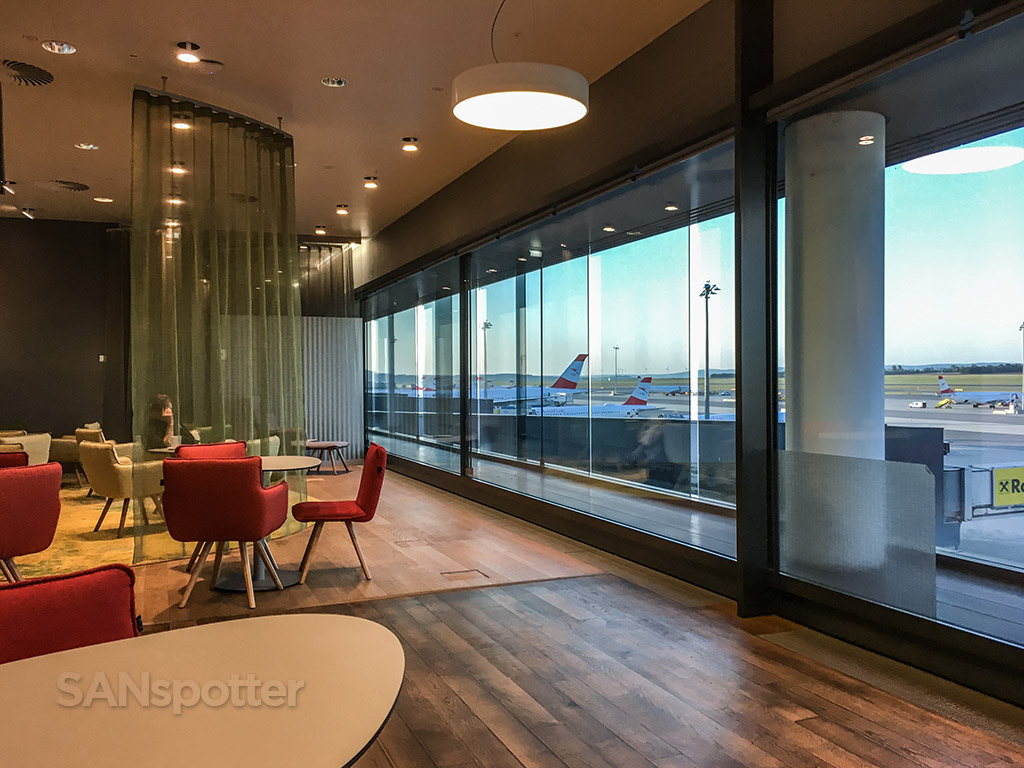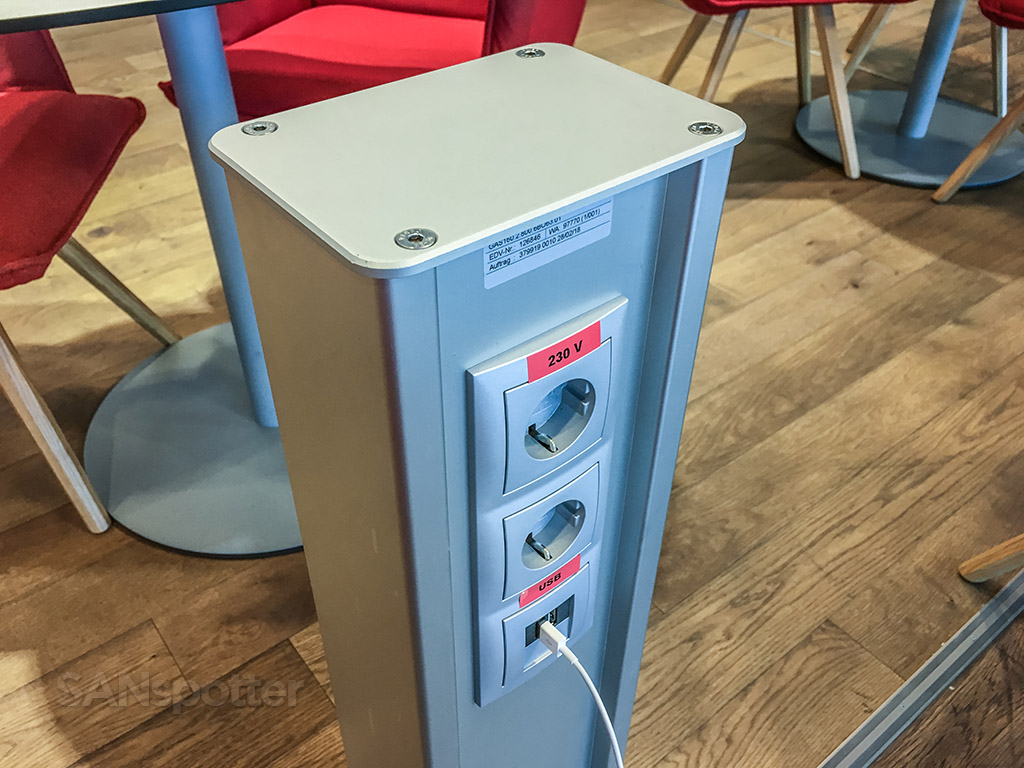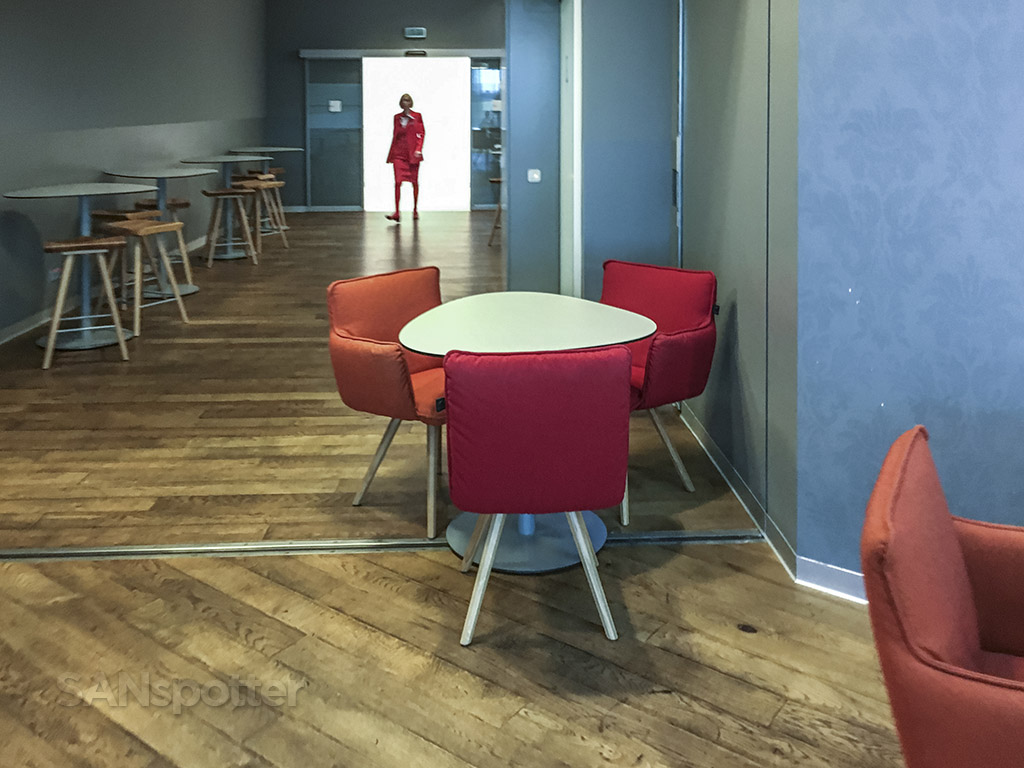 Despite it's really small size and the fact that it looks like a hospital upon entering for the first time, this lounge grew on me quickly and it wasn't hard to appreciate it for what it is (a library-quiet retreat from the hustle and bustle of the main terminal). The breakfast menu wasn't all that impressive, and I couldn't find a quiet spot on my own to hide from everyone else, but overall I enjoyed the peace and quiet and the large views to be active taxiways right outside the floor to ceiling windows.
For all of you lucky-duck Priority Pass members out there, there's a lounge right next to this one called the "Air Lounge" (really creative name, eh?) which I am told is very similar in style and design to this one. So even though Priority Pass members don't have access to this Austrian Airlines business class lounge, you'll still be able to get the exact same experience right next-door.
How I access airport lounges
Get lounge access with Priority Pass – save up to 10%
Access to over 1300 airport lounges around the world, regardless of airline flown or class of ticket.
Complimentary snacks, drinks, and meals.
Digital entry for instant access through the dedicated Priority Pass app.
Check it out!
Note: I may earn a commission if you make a purchase, at no additional cost to you.
Ok, who else is getting excited about seeing what Austrian Airlines 777-200 business class is like? That review is next!