Despite getting nearly 6 full hours of sleep the night before this flight, it wasn't near enough the amount that I needed to walk into to the airport with a smile on my face. This journey to Lisbon and back had been a long one so far, and all the jetlag and lack of quality sleep was starting to catch up with me in a big way. I love flying, but nothing would've made me happier than sleeping for 15(ish) more hours before having to give Air Canada Rouge A321 economy class a try for the very first time.
RV1887
Toronto, Canada (YYZ) – San Diego, CA (SAN)
Monday, July 24, 2017
Aircraft: A321-211
Registration: C-FJQL
Duration: 4 hours 38 minutes
Seat: 40C (economy class)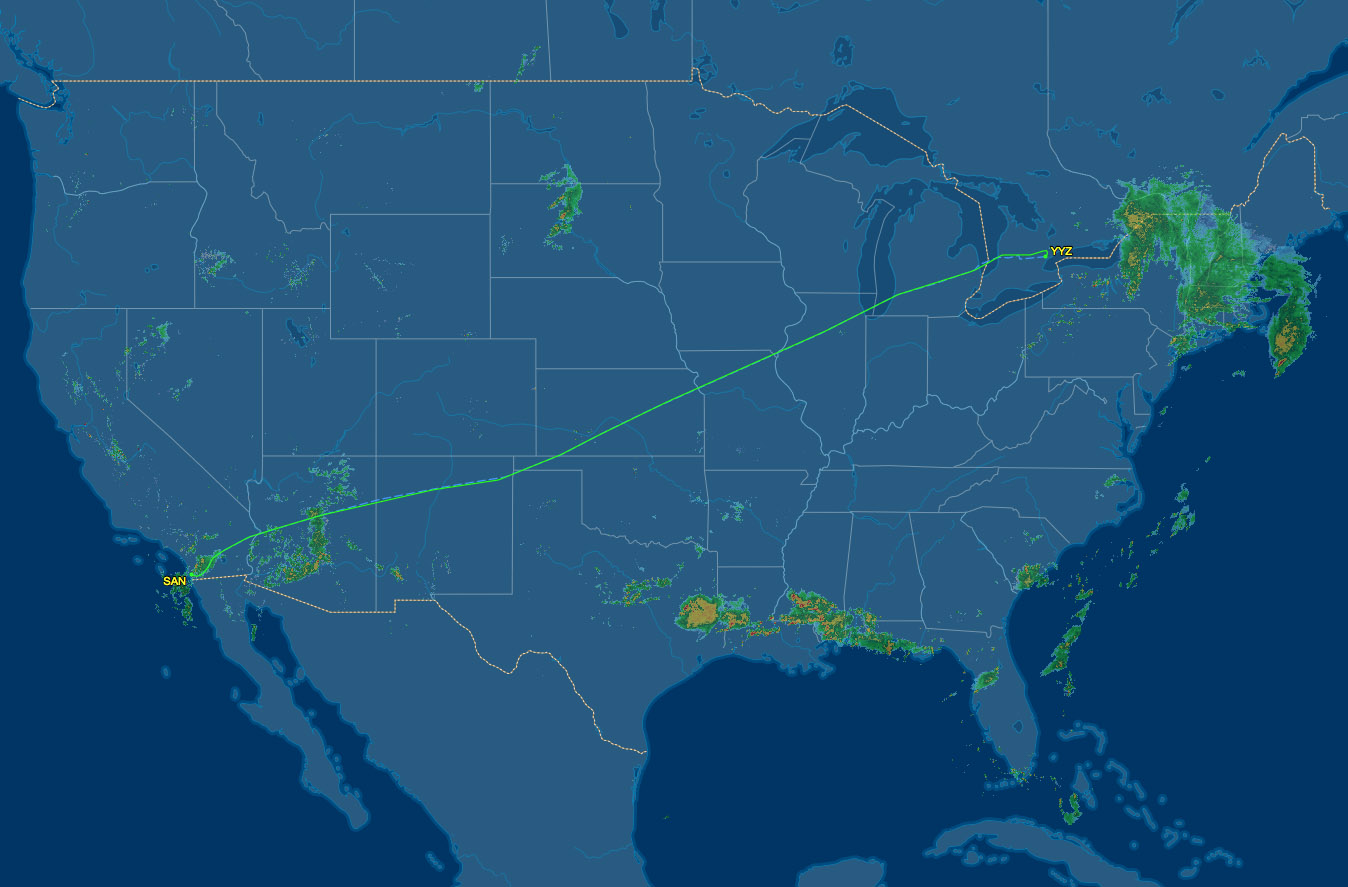 Thankfully I didn't have to go far to reach the airport this morning, as the Gateway Sheraton is located adjacent to Terminal 3. I needed to go to terminal 1, but it wasn't a big deal thanks to the very convenient inter-terminal train. By the way, the Terminal Link train is the reason why 1 hour layovers are ok in Toronto (most of the time). Without it, connections would be a mofo in this place.
I saw a lot of tired-looking faces in that train, confirming that I wasn't the only one dragging my ass through the airport that morning.
Flying to the US from Canada is really convenient in the grand scheme of things. US customs and immigration happens in Canada, so you arrive in the US as if you're on a domestic flight. I'm a huge fan of getting annoying things over with fast as possible, so clearing US passport control even before walking into the terminal is my kind of thing. The less stuff that I have to do later the better.
This is exactly why I am a morning person by the way – normally I hit the ground running as soon as I wake up and tackle as much as I can so that I can enjoy the rest of my day without worry. To be honest though I was having a little bit of hard time hitting the ground running this morning. I could barely even walk.
Thinking that a hearty breakfast would do well to help me perk up, I took my place in line at a decent looking café with an extensive menu of craft bagels. It's pretty hard to screw up a breakfast sandwich in my opinion, but this cafe (who shall remain nameless) did so in spectacular fashion.
The bagel itself was cold and stale, the egg and cheese lukewarm, and they smothered it in some kind of "western" sauce which ended up making me gag with each bite as I chewed my way through it. The fact that I paid $13US for it only made it worse.
As you can imagine, I wasn't in a particularly good mood at that point. That disaster of a breakfast combined with the fact that I knew I was facing a five-hour flight in economy class didn't give me a very good feeling as I was walking down to the gate. At least I had an aisle seat, and I wouldn't have to pass US passport control again upon arrival in San Diego. That's something to look forward to, right?
My only experience with Air Canada up to this point were two flights back in February 2001. I flew to Toronto and back from San Diego, and all in all they ended up being decently nice flights – though my experience on the ground was less than memorable. But now only Air Canada Rouge flies between these two cities, and I was very much looking forward to getting onboard and seeing what this airline is all about.
For those that don't know, Air Canada Rouge is a low-cost spin off of Air Canada which serves touristy and vacation-type destinations. I guess San Diego qualifies as "touristy and vacation-type", but I've never really understood the real differences between Air Canada and Air Canada Rouge.
They seem to be pretty similar based on the description on their website, and to me the only thing they seem to be doing admirably is diluting their own brand. What's wrong with having just one airline to do everything?
Once onboard and in my seat, I honestly couldn't figure out what makes Air Canada Rouge different from Air Canada. There is indeed a premium cabin on these Rouge planes (called "Premium Rouge"), and the only thing that looked sort of cheap were the seat backs without any video screens.
OK, the seat pitch was really tight too, but all in all nothing really screamed "LCC" to me. It really looked like any other mainline flight I've been on in the US recently as a matter fact.
Today's flight was completely full, so there was no chance of me scoring an open window seat for the ride west. The aisle seat was gonna have to do, which was actually quite OK by me since there wouldn't be any real photography opportunities from the window anyway thanks in large part to the high sun all the way across the country today.
Summertime midday sun doesn't offer much in terms of quality light for good pics unfortunately. My apologies in advance for the lack of views to the outside world from this point forward.
Cabin announcements were in French and English, and we were off the gate and on our way right on time despite it feeling like there was a lot of congestion around the airport this morning. I thought for sure we were going to be delayed a little bit, but I checked my watch just after departure and we were exactly right on time.
30 minutes into the flight and I was already having strong flashbacks of my recent Miami to San Diego segment on American Airlines. That flight was nearly the same time of day, I had an aisle seat just like this one, I wasn't planning on buying any food or drinks, but I had my Podcasts to keep me entertained. Flashback city, man.
I will say that the streaming video content here on Air Canada Rouge is actually pretty good. I was able to connect quickly and easily with my iPad, and a few tests that I did of various movies and TV shows proved that the connection was fast and reliable.
I didn't feel much like watching streaming content though, but it was nice to know that it was there if my Podcasts started to bore me a bit later on in the flight.
Also entertaining was the in-flight menu. Never in my life have I seen a food-for-purchase menu in economy class of this caliber. We're talking pages and pages of food options, and as far as I could tell (when the flight attendants came down the aisles), every single one of those items were available for purchase today.
The only disappointing thing about the in-flight service on today's flight was that they completely skipped over me for some reason. It's OK. I get. I'm easy to forget, and besides, I wasn't all that hungry anyway.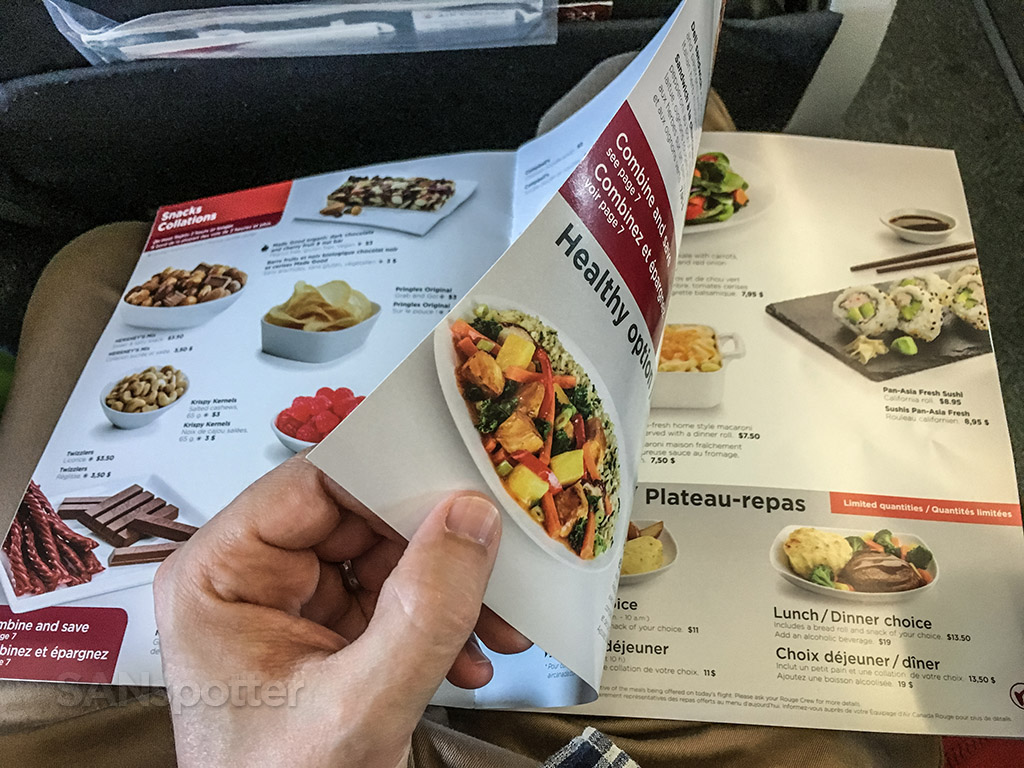 Time spent in an aisle seat in the back of a transcon flight isn't very exciting. Sometimes you have to get up to let the window seat and middle seat passengers out, and other times you have to tuck your elbows in to prevent them from being ripped off by service carts.
But if you're flying Air Canada Rouge like I was today, you also have to squirm in your seat a lot to find a comfortable position which gives your knees a rest from being pressed really hard into the seat in front of you. The struggle is real back here.
The descent and landing process is equally lackluster from the aisle. There's nothing to look at except for that big gray seat in front of your face, and you start contemplating stupid things like why they chose that exact shade of gray.
Occasionally you can sneak a peek out the windows, but then it gets kind of awkward when you catch the eye of the person sitting in the window seat and you look away quickly for fear of having them think that you were looking at them when you were really not.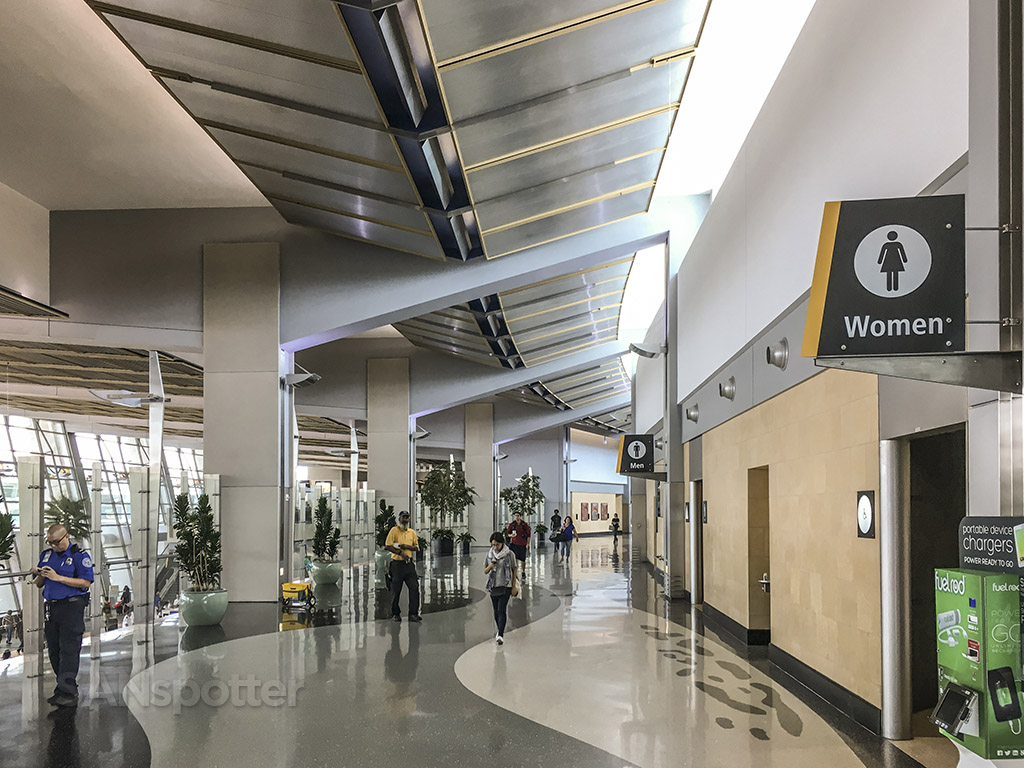 And this is where my first ever experience on Air Canada Rouge ends. By the end of this flight I still didn't really understand how this airline differentiates itself from its bigger brother (parent?), as there was really nothing low-cost about this flight other than the fact that the seat pitch was a good inch or two inferior to a mainline aircraft of Delta or American for example. The food-for-purchase and streaming in-flight entertainment is something that is pretty much standard on all mainline carriers these days.
Prices, as far as I can tell, aren't any cheaper either. I've tried pricing out round-trip flights on Rouge from San Diego to Toronto for the past year or so and it was still insanely expensive. So what gives? What is Air Canada's plan for this niche spinoff? To be honest I really don't get it, though this was a decently good flight and I would have no hesitation about flying Air Canada Rouge again. I just don't know why I would choose it over Air Canada if given the choice.