It only took five minutes of wandering around the main terminal here at MIA for me to realize that there aren't many other airports in the continental US that are as busy and chaotic as this. McCarran Airport in Las Vegas is the absolute worst when it comes to trying to find a quiet spot to sit and relax while waiting for a flight, with LAX easily filling the number two spot.
I walked up and down Concourse D here at MIA 3 times before I finally gave in and sat down in the middle of a busy gate area for a flight that was departing to Philadelphia in 30 minutes. I should've stayed in the lounge.
AA1815
Miami, FL (MIA) – San Diego, CA (SAN)
Monday, May 29, 2017
Aircraft: A319-132
Registration: N819AW
Duration: 5 hours, 8 minutes
Seat: 17D (economy class)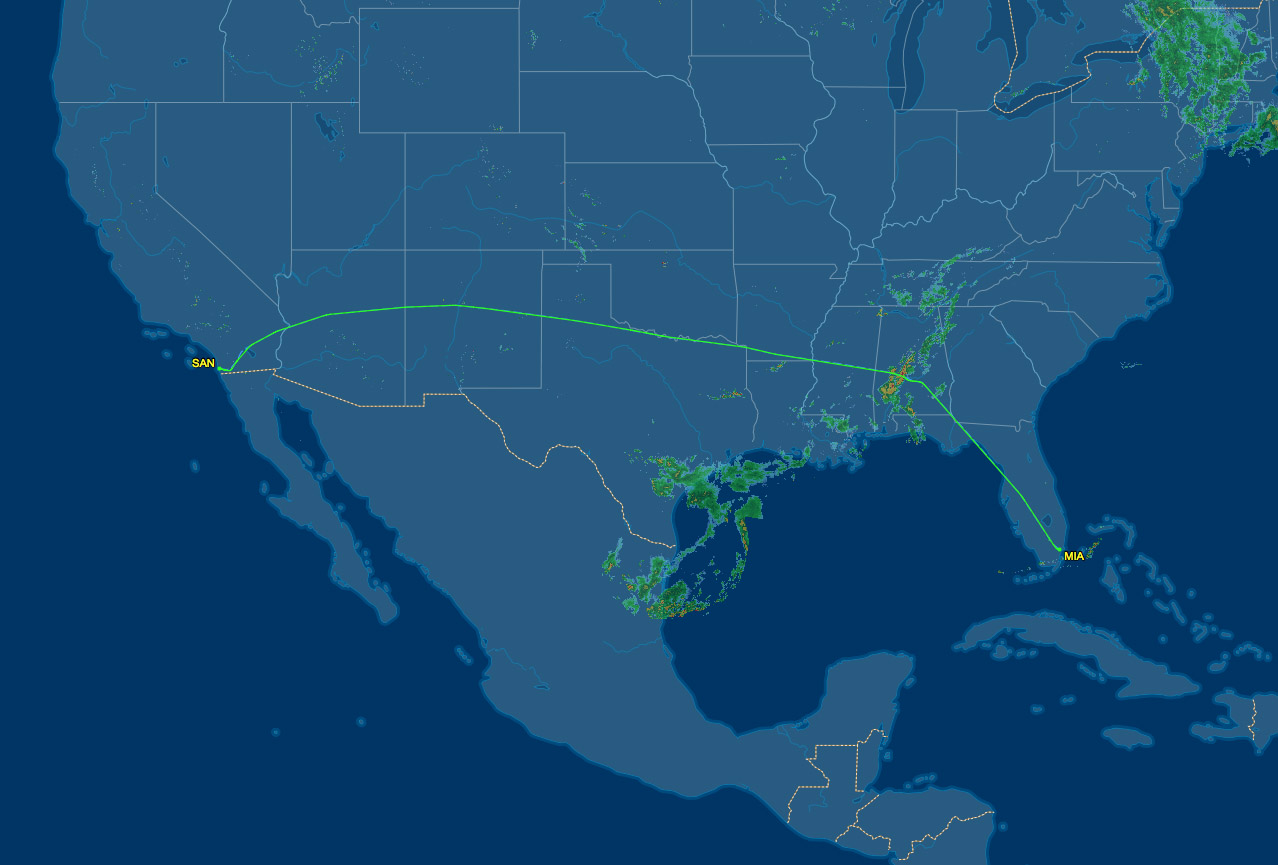 As I was sitting there trying to drown out the noise and chaos around me, I realized that this flight to San Diego had the exact same flight number as the flight two days ago from San Diego to Miami. Weird.
I know nothing about airline route management and scheduling, but it gives me a headache to think about how they manage to schedule two separate daily flights with an identical flight number. If there's anyone who is reading this that works for a major airline and knows the answer as to why this happens, please let me know. I'm actually very curious!
I arrived at the departure gate of this flight about 15 minutes ahead of schedule, and I didn't feel much like sitting down. This was gonna be a long flight, so I didn't mind standing and giving my legs every opportunity to stretch out before being crammed into a tiny economy class seat for five hours. At least I had an aisle seat for this flight, as that would allow me to get up and stretch whenever I felt the need.
As far as domestic economy class flights go, this one couldn't have been any more routine. Boarding was right on time. There was a little bit of congestion in the jet bridge. The airplane smelled like stale coffee and scented cleaning products. Absolutely nothing out of the ordinary happened, which when it comes right down to it, is just how I like it for an early morning flight like this. Yes it does make for slightly dry trip reports, but it was early and I was tired, so the less drama the better.
Voluntarily choosing an aisle seat means giving up any opportunity to look out the window. I know that. But I'll never understand the kind of people who immediately close the window shade upon sitting down and don't open it again until parked at the gate at the destination airport. The guy in 17F was that kind of guy unfortunately, and there was no natural light in our row for the entire journey across the country today.
Complimentary drinks and meals for purchase came through the aisles 45 minutes after departure, and as tempting as the turkey sandwich looked, I passed on it considering that my belly was still full from the bucket of oatmeal that I had in the lounge. On top of that, there are some pretty good restaurants at SAN nowadays and I was looking forward to a big lunch at the airport upon arrival.
What is it about podcasts that makes time go faster? My original plan was to sleep for most of the flight, but I started listening to a podcast in the first hour flight that ultimately led to another, which eventually led to three more. Every time I checked my watch I was amazed at the progress we were making, and I made a mental note to subscribe to more podcasts before my next big trip. A good podcast definitely eats up the time!
At least 30 minutes of this flight was dedicated to me thinking about how hard it is to write a good trip report for a flight as dull and routine as this one. I was in an aisle seat on a generic A319, not partaking in any food or entertainment provided by the airline, and I was lost in my own little world sitting there motionless in that tiny little seat with my earbuds crammed into my ears listening to podcasts.
How in the world was I going to write an interesting trip report about that?? I'm even struggling a bit as I write this, but I'd have to think that if you've made it this far I'm doing an okay job documenting the experience. Don't bail me on me yet though – we're landing soon and the trip report is just about over.
So yeah. Landing. Since window seat guy refused to open the window shade, I had to make use of my other senses to get a feeling of where we were in the landing process. Have you ever closed your eyes and just listened and felt the plane descend and then touch down?
If you have, you'll know that airplanes make some pretty scary noises as it transforms from high-speed mode into landing configuration and you start to really appreciate the miracle of flight. At least that's what I was feeling during this landing sequence. It's especially fun to guess when the wheels are going to hit the pavement. If you're not looking out the window it's a lot harder than it seems!
Overall I'd have to give American Airlines an A- on this particular flight. They got us to San Diego on time, well-snacked, and we didn't even crash into the desert on the way in. That's a good flight in my book.
Thanks for following along with me on this quick trip to Miami! My next trip report will be starting very soon, and it's going to be something a little bit different and a little out of character for this blog. I think you'll like it though, so stay tuned…