I flew Air Canada A220-300 business class from San Diego to Montreal last week. It was such a great experience that I wasn't even miffed about the fact that they can't figure out how to get a flight off on time out of San Diego.
There are only 12 business class seats on the AC A220-300, so the experience was intimate and personalized. That (combined with the stylish and comfortable domestic / regional Air Canada business class seat) makes this a product that other airlines can learn a thing or two from.
They've just got to work on their on time performance out of SAN. I know I just said that I wasn't upset about it, but I will admit that I am teetering on the edge of not being able to let it go.
AC526
San Diego, CA (SAN) – Montreal, QC (YUL)
Aircraft: A220-300
Registration: C-GVUH
Duration: 4 hours 40 minutes
Seat: 2A (business class)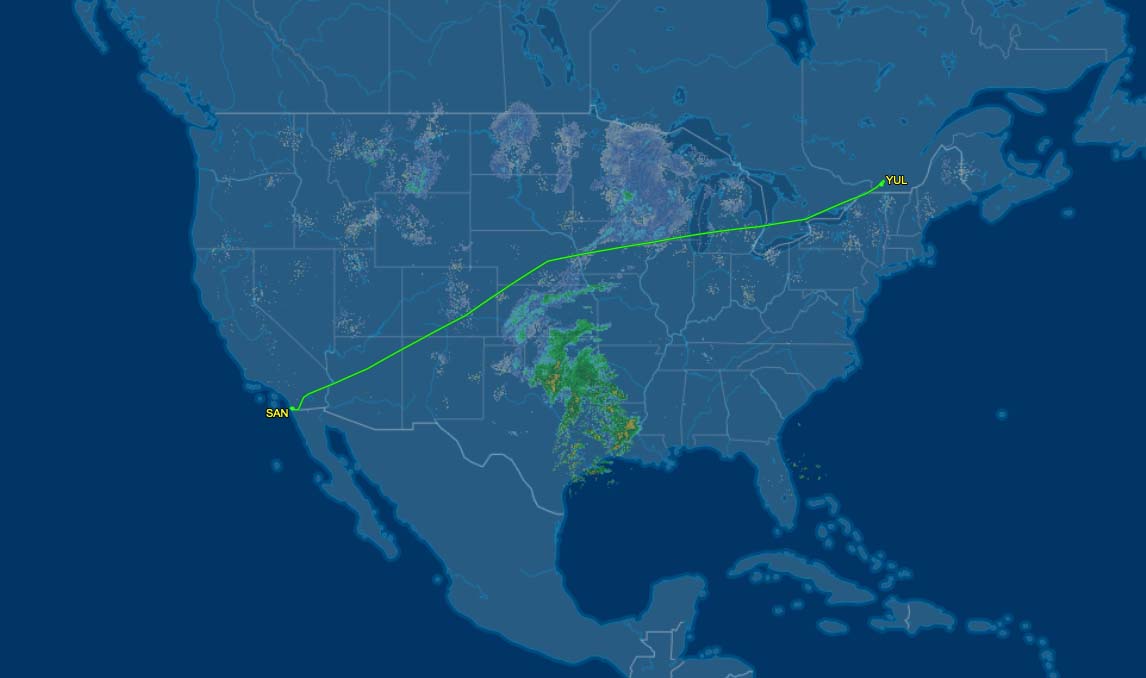 My full review of Air Canada A220-300 business class from San Diego to Montreal
Those of you who read my Air Canada 737 MAX 8 business class review will notice a lot of similarities in this one. It's the same great seat, with the same excellent onboard service. The only difference is that this flight was four times as long. FYI, watching the video I put together for this flight is a pretty good primer for the written review that follows:
Arrival at the San Diego International Airport
This flight to Montreal was scheduled to depart at 9 AM, so I arrived at the airport at approximately 7:10. That was early enough to avoid feeling stressed and rushed getting through security, but late enough to not give myself too much time.
Air Canada is notorious for having delayed flights out of this airport. I mean, my Air Canada 737 MAX 8 economy experience out of SAN two months ago was delayed an hour and a half, so it wasn't all that unreasonable to expect more of the same this time.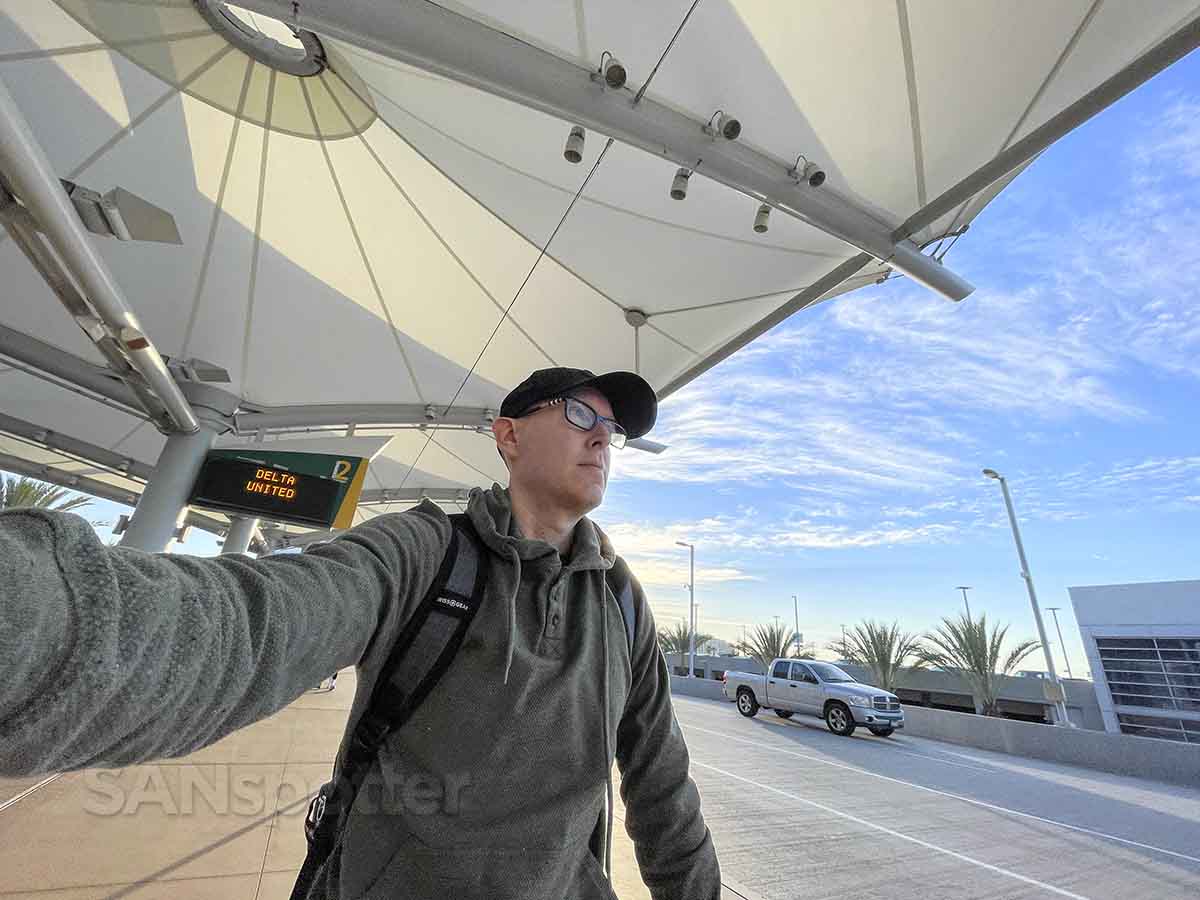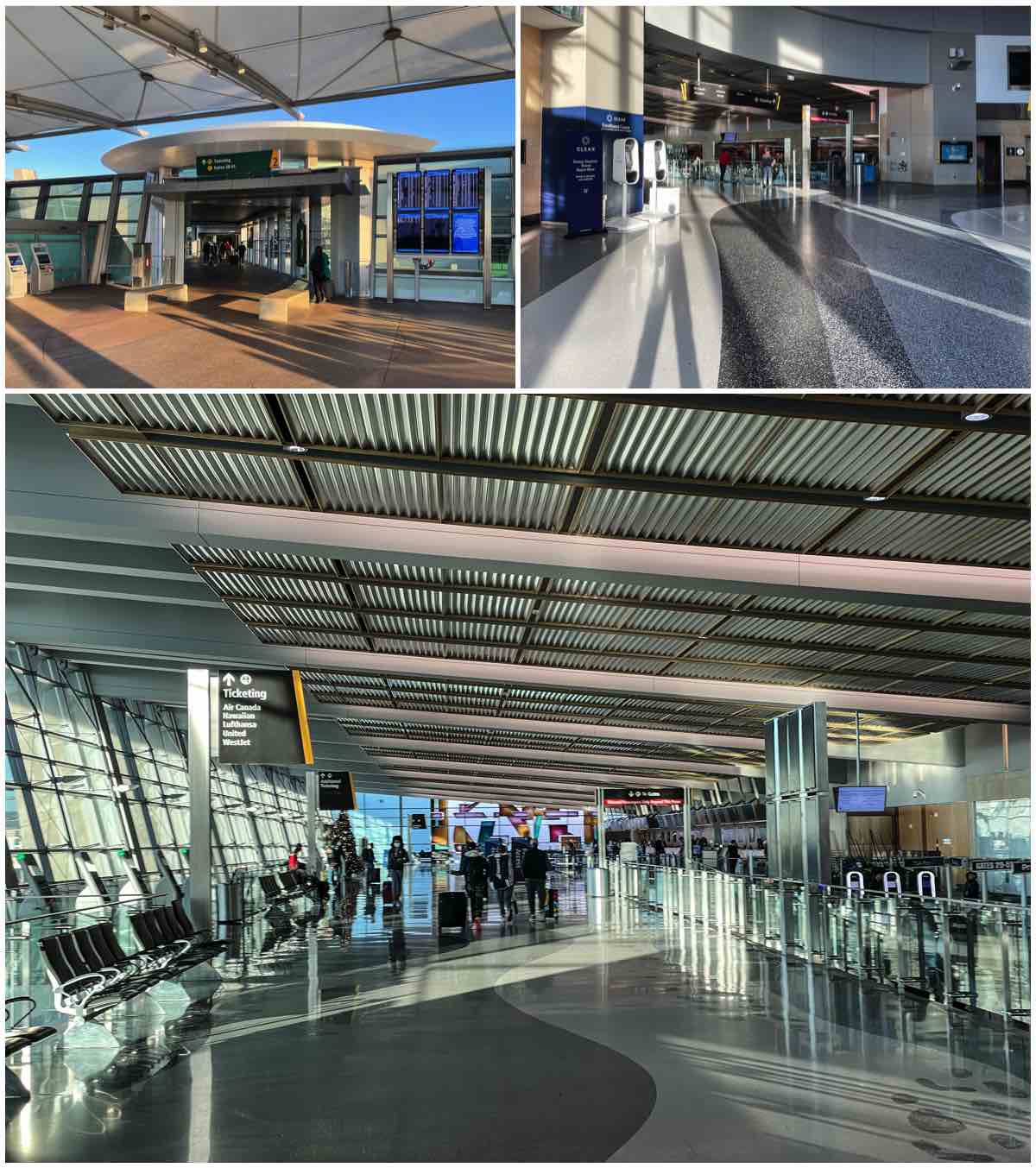 The boarding process for Air Canada flight number 526 to Montreal
The boarding process started exactly on time despite the plane being towed to the gate nearly an hour late. Yeah, I know. I too was hopeful that we would be departing on time, but a lot is going to happen between now and pushback. Stay with me here…
My first impressions of the Air Canada A220-300 business class seats
I love the new domestic / regional business class seats on Air Canada. They look right at home inside the Airbus A220 with their stylish gray materials and huge video screens.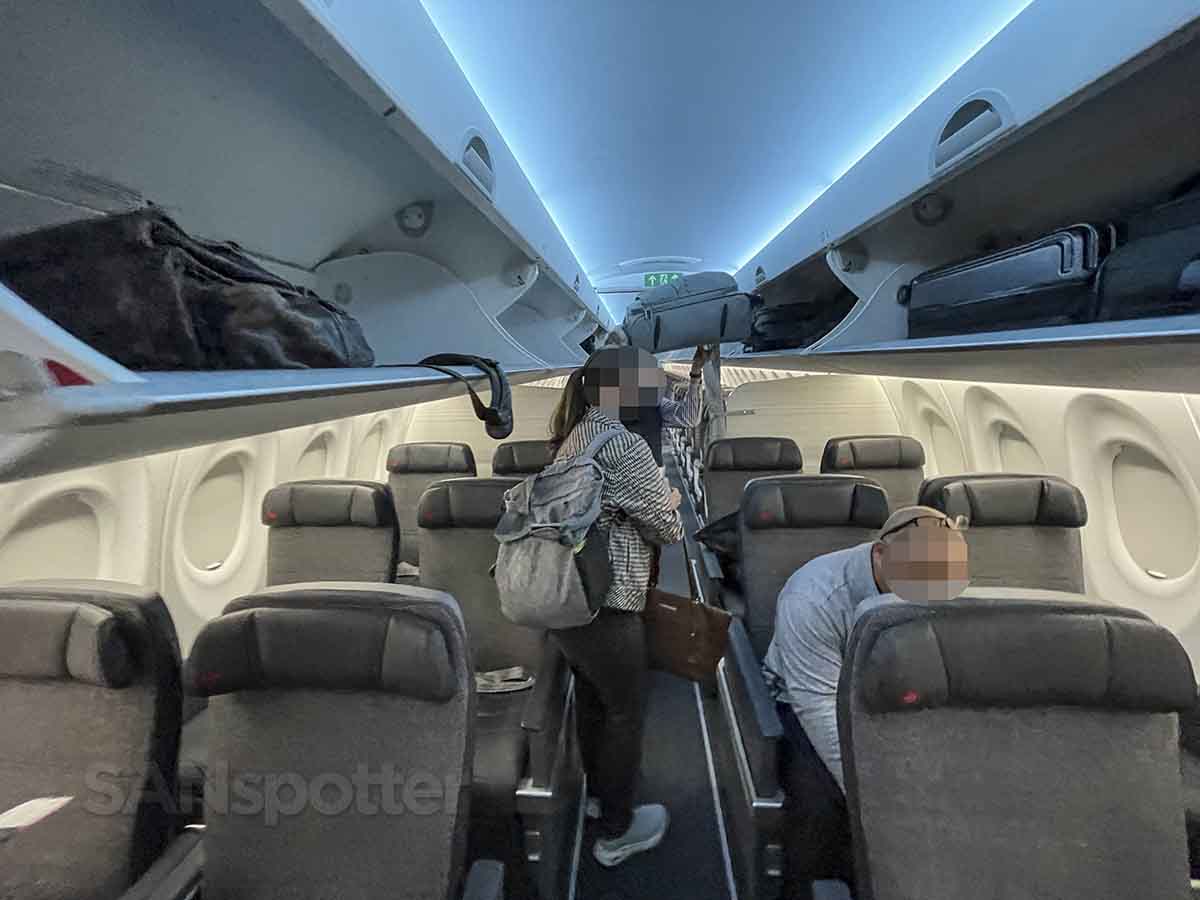 Leg room is pretty decent. It's a really great domestic business class seat, and I was really looking forward to seeing how they perform on a five hour flight across North America.
The departure out of San Diego (was challenging)
Things were looking really good for an on time departure right up until the point that the last passengers stepped on board. That was when I saw both pilots come out of the cockpit complaining to the ground crew about something.
Long story short, there was a catering snafu and they hadn't loaded any dairy products onboard. The captain was especially miffed about it, and he wasn't willing to fly the plane all the way to Montreal without milk in his coffee.
I'll spare you the details of how it was resolved, but we ended up pushing off the gate 35 minutes late.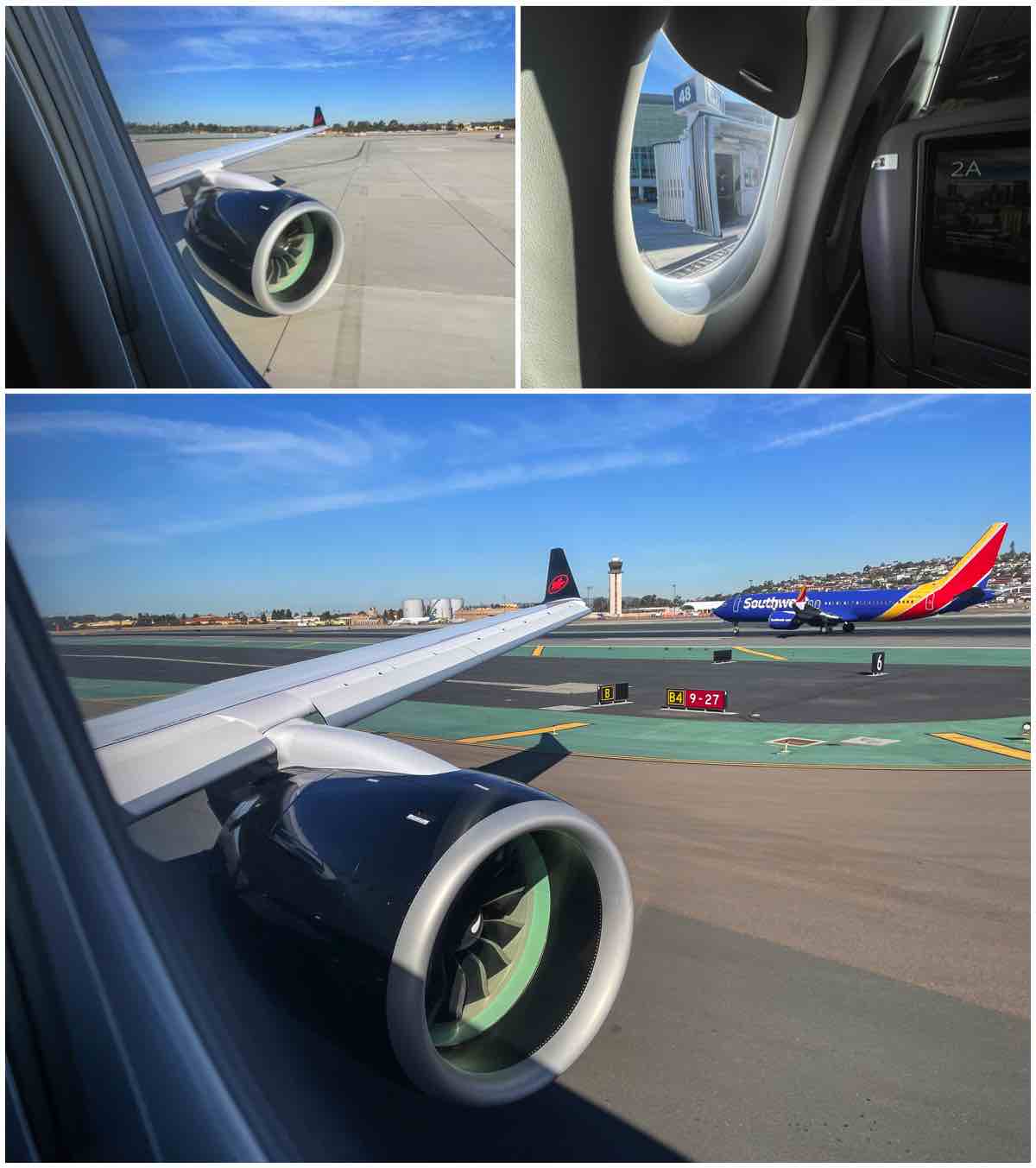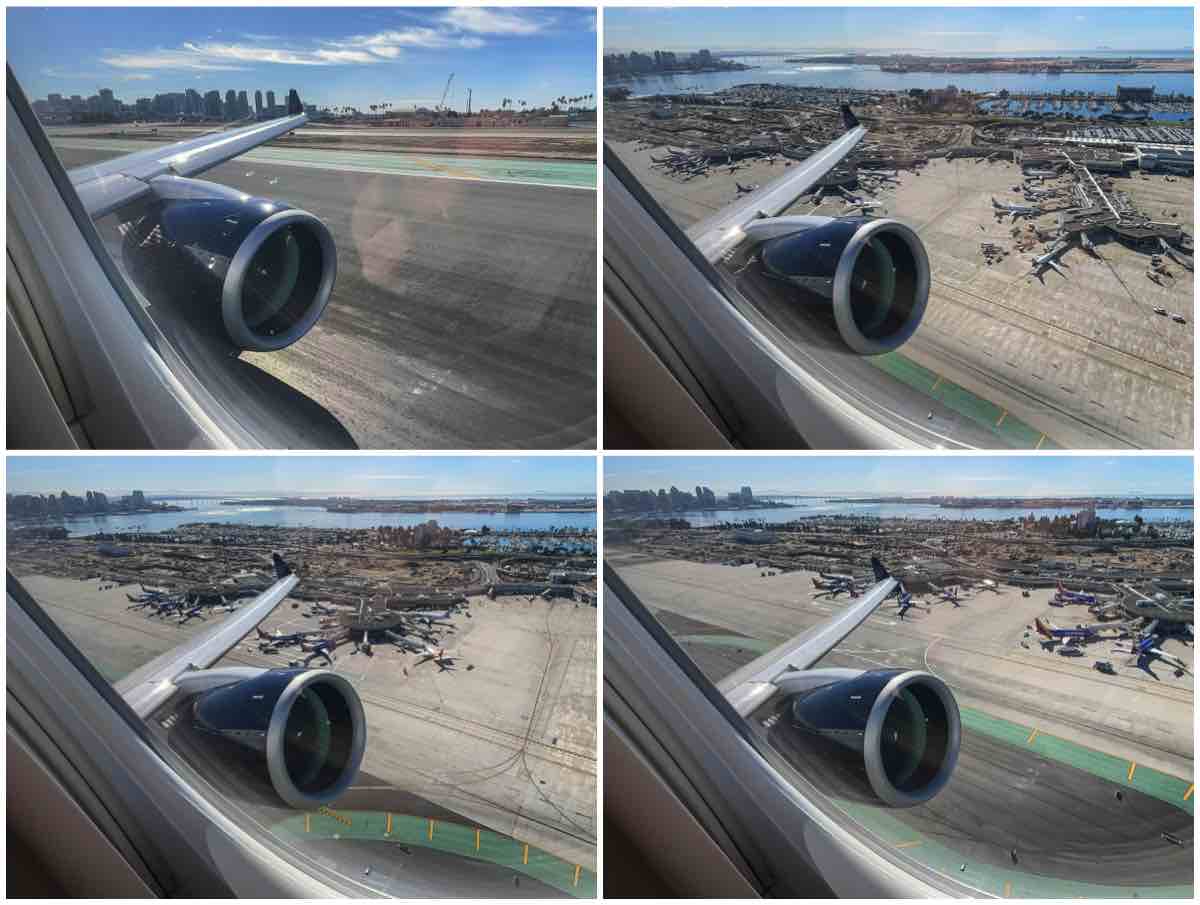 For those of you who prefer watching a video of the takeoff instead of looking at pics (with silly commentary), your wish is my command:
In-flight entertainment
Remember how in my Air Canada A320 business class review I couldn't find anything nice to say about the video entertainment? I'm happy to report that it's going to be the complete opposite in this review.
Essentially, the video entertainment system in business class on the A220-300 is phenomenal. It was the perfect companion for a long five hour flight.
My only complaint is that they didn't give us proper noise canceling headphones. They handed out cheap air buds to anybody who wanted them, but I just used a pair of my own from a previous flight.
The food
The quality of the food in Air Canada domestic / regional business class continues to impress me. They served breakfast on this flight to Montreal, and it was every bit as good as I was expecting.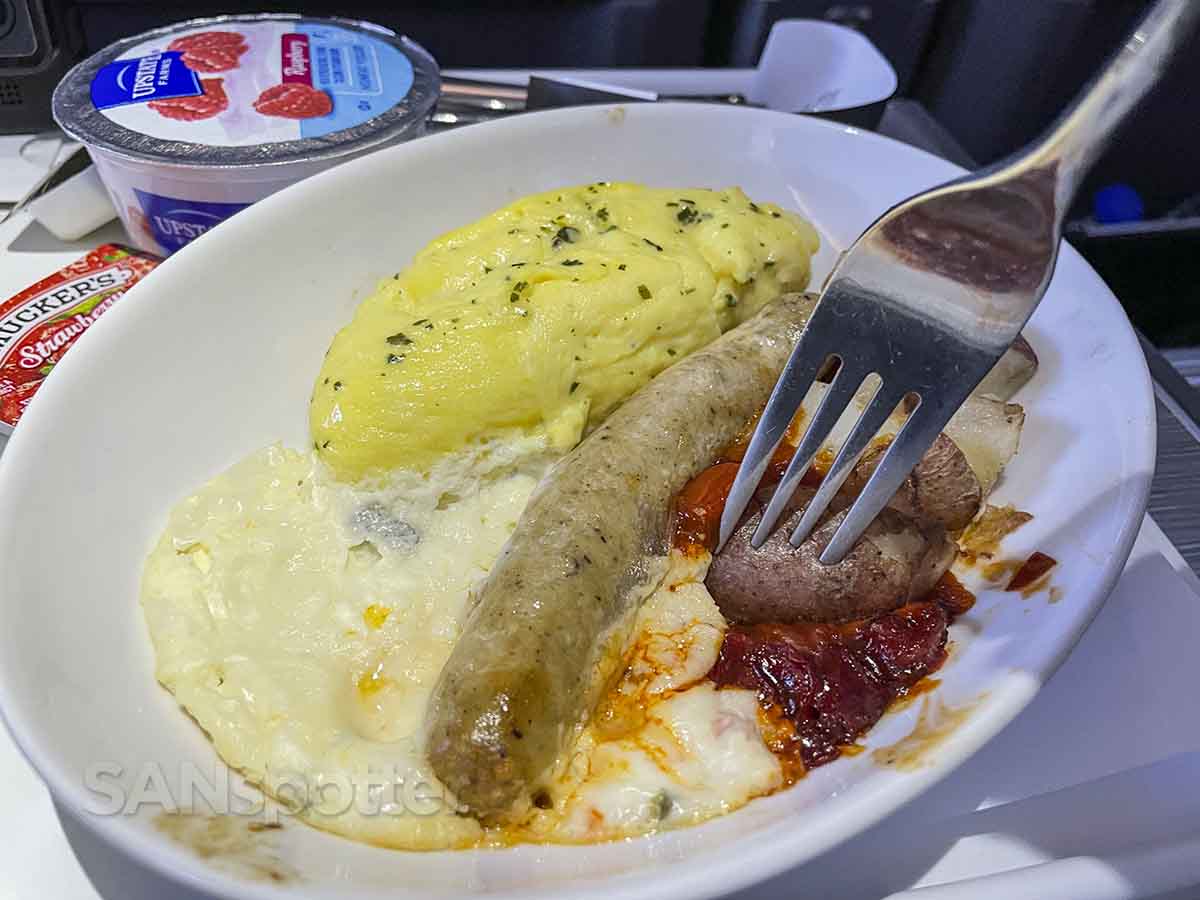 In summary, the meal they served wasn't quite as refined as the snack you saw in my Air Canada A321 business class review. That felt like fine dining, whereas this particular meal was more mass produced / cafeteria style (but still quite tasty).
Seat comfort
Even though I have experienced these seats once before, that was only on a one hour flight. It's five hours from San Diego to Montreal, so this was the ultimate test.
The good news is that the seats are wide and they offer a decent amount of recline. There's also a good amount of legroom, which definitely adds to the experience.
The bad news is that they are rather firm, in my butt and lower back was starting to hurt by about hour number three. The seats are comfortable, but five hours is definitely pushing it.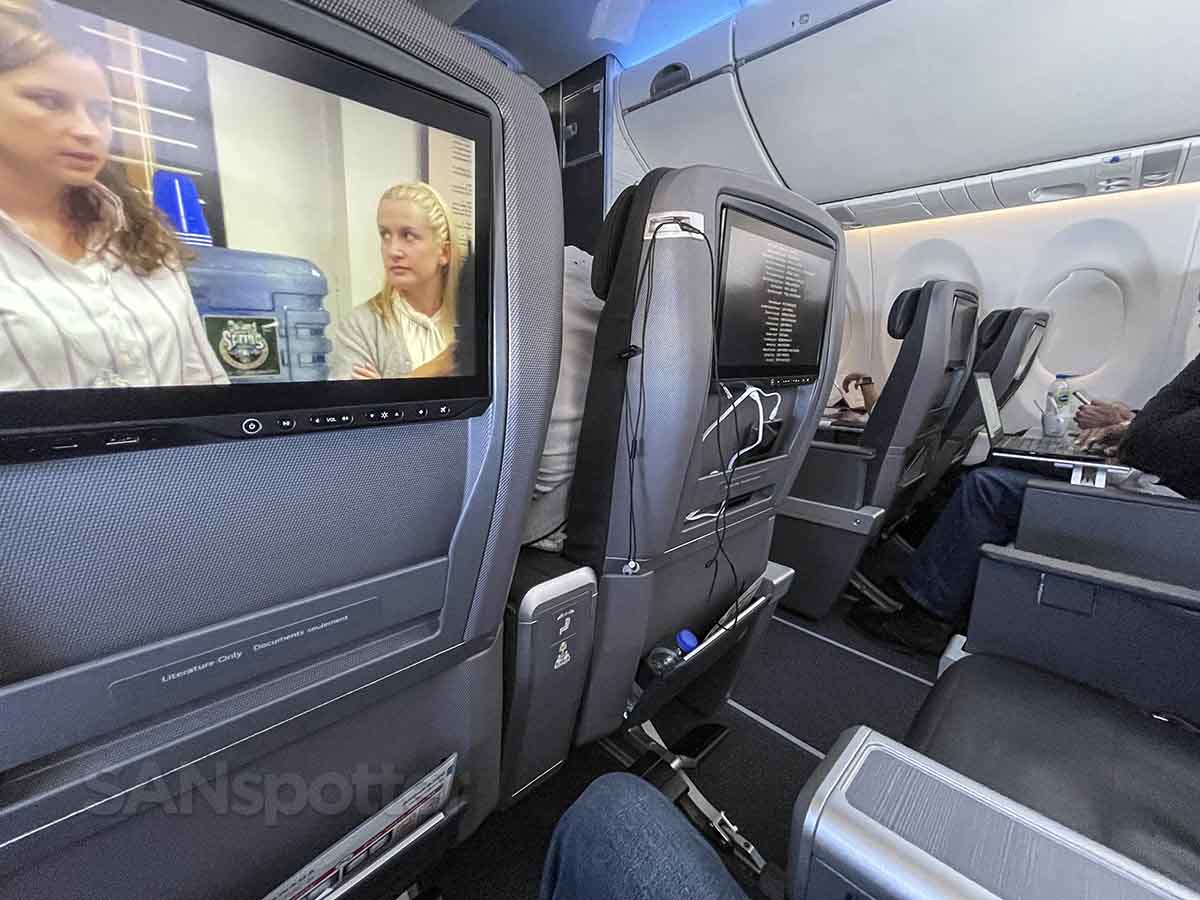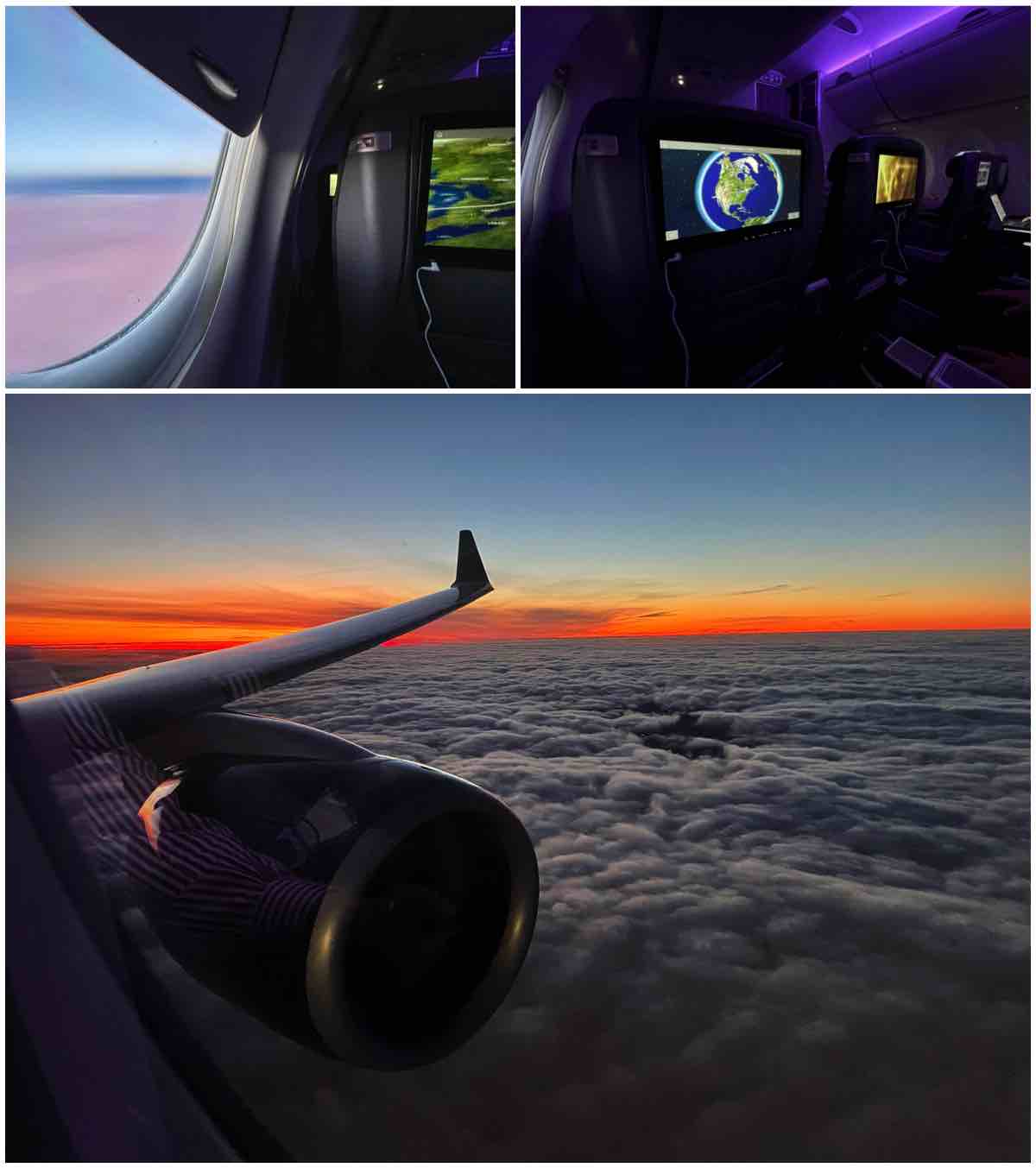 The descent and arrival into Montreal
It was completely dark by the time we started the descent into Montreal. This is a city that I've flown into and out of before, but yet again, it was dark and I couldn't really see anything. They tell me that Montreal is a beautiful city, so I'll have to take their word for it.
Pros and cons of Air Canada A220-300 business class
I hope I was able to convey how nice of a business class experience this was. Despite yet another delay out of San Diego, the cabin crew and overall seat comfort made up for it. These aren't perfect seats, but the service from the cabin crew makes it worth going out of your way for. Here's a more detailed list of all the pros and cons:
Pros
In addition to being wide with copious amounts of legroom, the seats offer other comfort-enhancing amenities such as foot rests and retractable leg rests.
Not only are the video screens large and bright, I liked the shortcut buttons to the most common used features.
There are only 12 business class seats on the A220-300 (3 rows in a 2–2 configuration). This means not having to wait as long to be served, as well as more personalized service from the cabin crew.
Cons
The retractable leg rests and foot rests are nice, but only those of you 5′-8″ and less will get much use from them. They aren't all that usable if you're any taller than that.
The seats are hard. Yeah, they look great, but your bones are going to ache after a long five hour flight in one of these bad boys.
While the video quality is excellent, I just wish Air Canada would provide proper noise canceling headphones in business class. That would easily take this experience to the next level.