Like a hungry squirrel to a freshly fallen nut, I couldn't resist giving Swoop Airlines to try shortly after they initiated service from San Diego to Edmonton.
Basically what I found was that Swoop Airlines is the Spirit Airlines of Canada. There's no first class, the seating configuration is really tight, they don't serve free snacks, and everything (even the water) comes at an extra cost.
And you know what? It was an oddly enjoyable experience. Imagine that.
WO721
San Diego, CA (SAN) – Edmonton, AB (YEG)
Thursday, April 21, 2022
Aircraft: 737-8CT
Registration: C-FLBV
Duration: 3 hours 28 minutes
Seat: 5A (Main Cabin)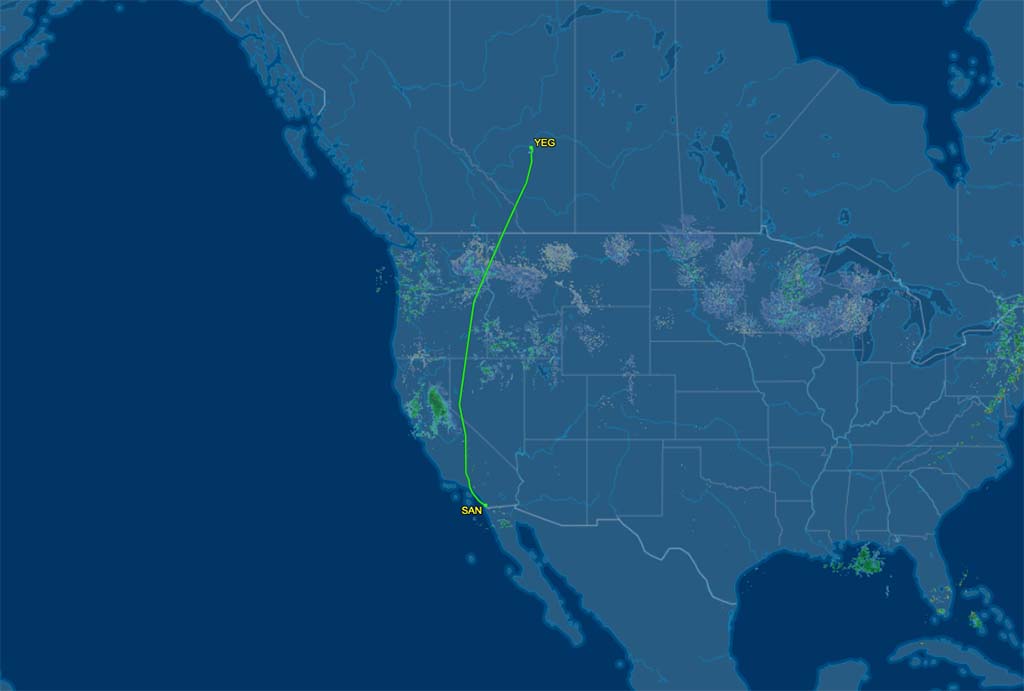 The video
My video review of Swoop Airlines flight number 721 to Edmonton was made easier by the fact that I had an entire row of seats to myself. There's only so much video content I can get crammed into a tiny little seat on an ultra low cost carrier, but when there's no one next to me, it's game on.
As you can see in the video, the star of the show was the scenery way up there in northern(ish) Canada. It's beautiful up there, and the window views didn't disappoint.
As always, the music for this video came from my pals over at Epidemic Sound. The song that I used in the first half of the video was "In the Cypher" by Bonkers Beat Club, and the song and the second half was "Good Die Young" by Nbhd Nick.
My full review of Swoop Airlines flight 721 from San Diego to Edmonton
A nonstop flight from San Diego to Edmonton on any airline was something that I never could have expected to see. Is there really that much demand between these two city pairs? Obviously there is, because this review wouldn't exist if there wasn't.
What terminal does Swoop Airlines use at the San Diego Airport (SAN)?
Swoop Airlines is located in Terminal 2 West at the San Diego International Airport. This is where all international flights arrive and depart from, so it only seems natural that they'd group them together with everyone else.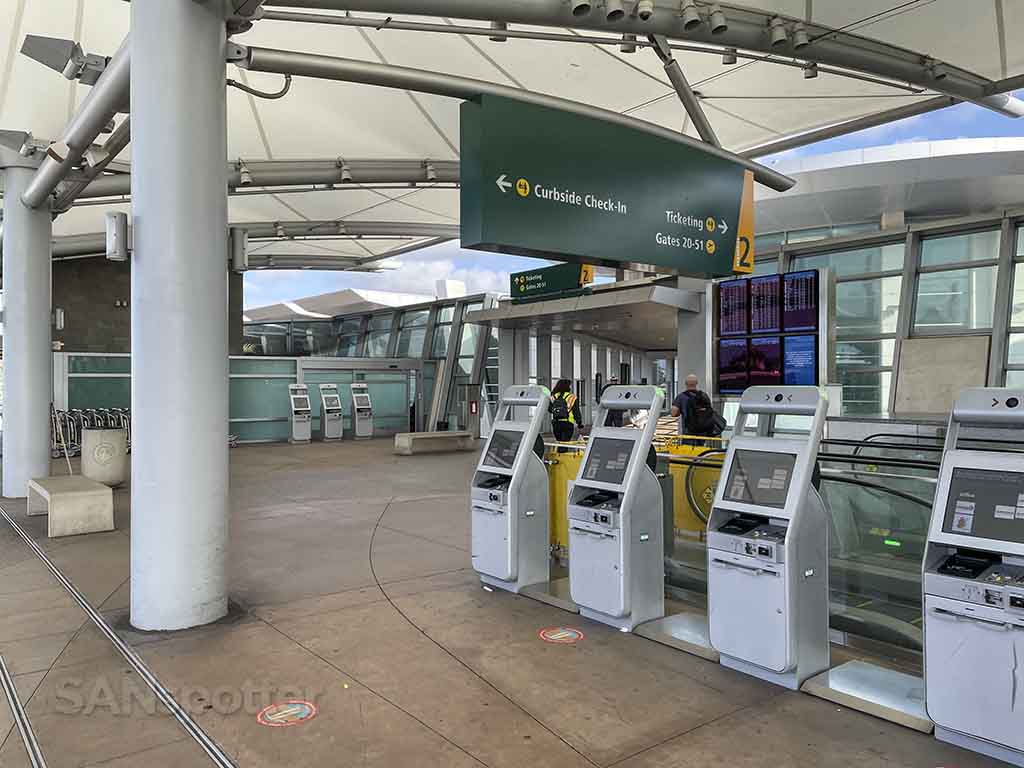 The Swoop check-in counter is located at the far end of the ticking hall, so be prepared for a decent hike once you walk through the main entrance.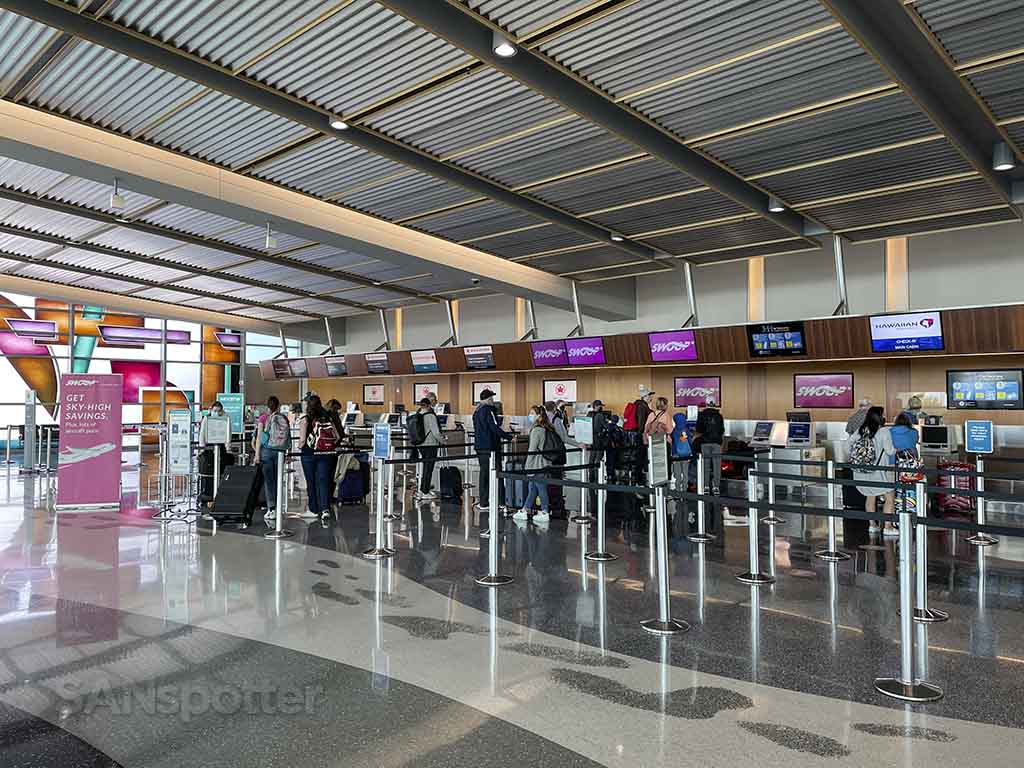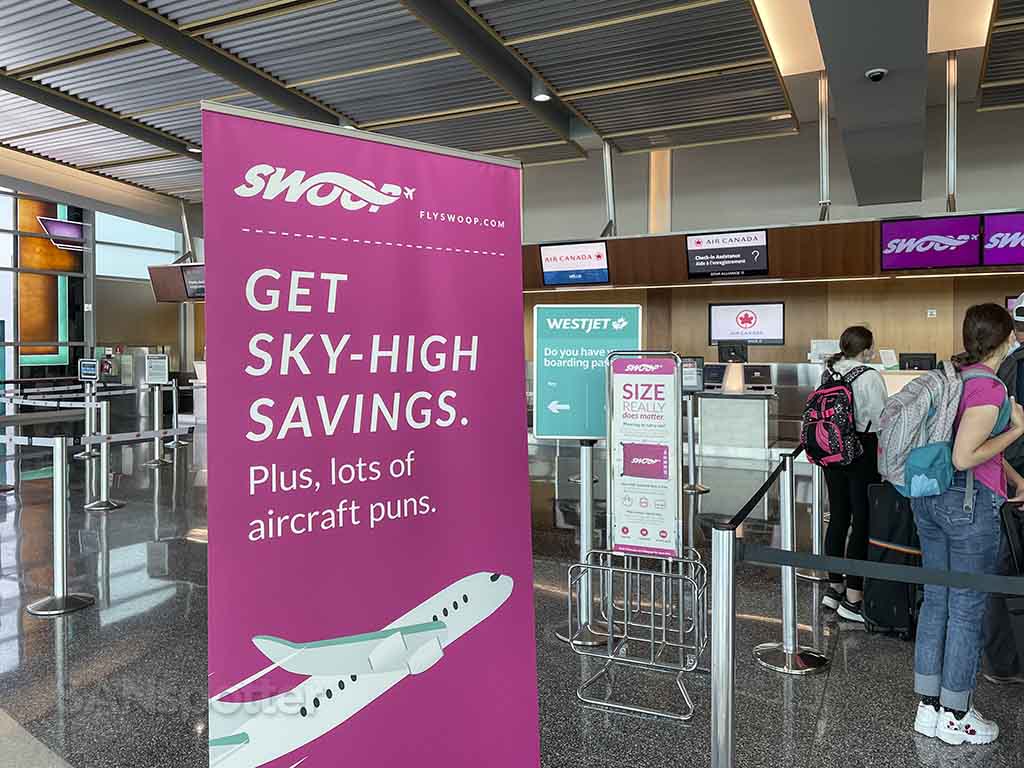 Once past the security checkpoint, you'll see that Swoop Airlines uses gate 50 or 51 most of the time. It's the same gates that Air Canada and WestJet uses here in San Diego.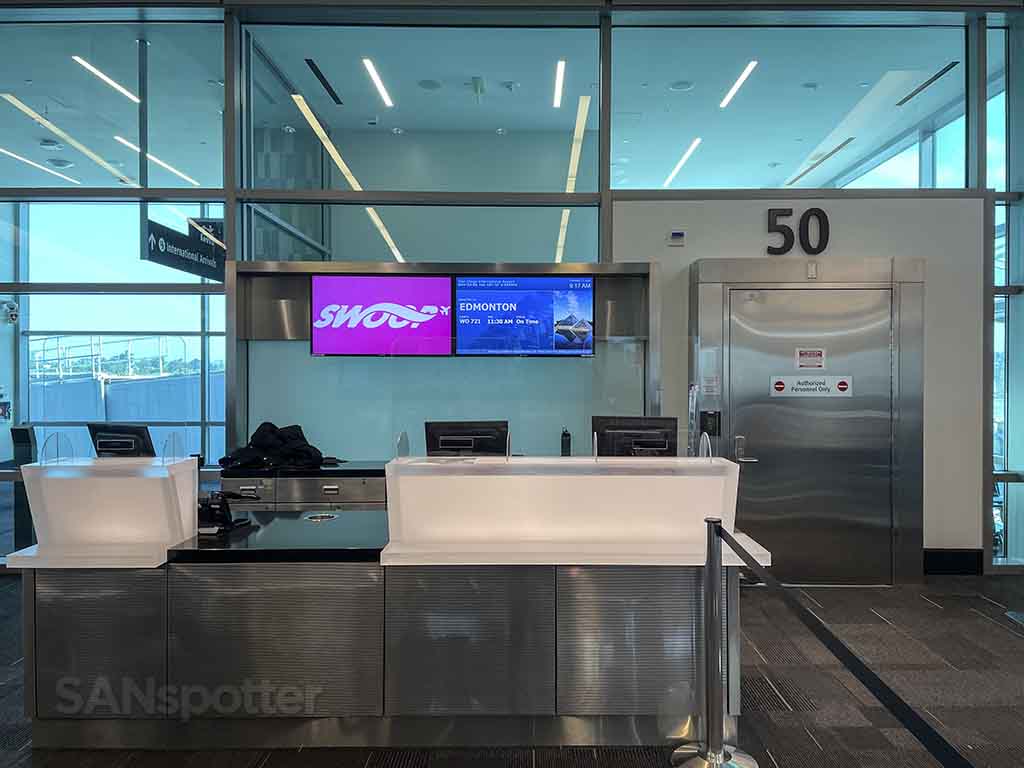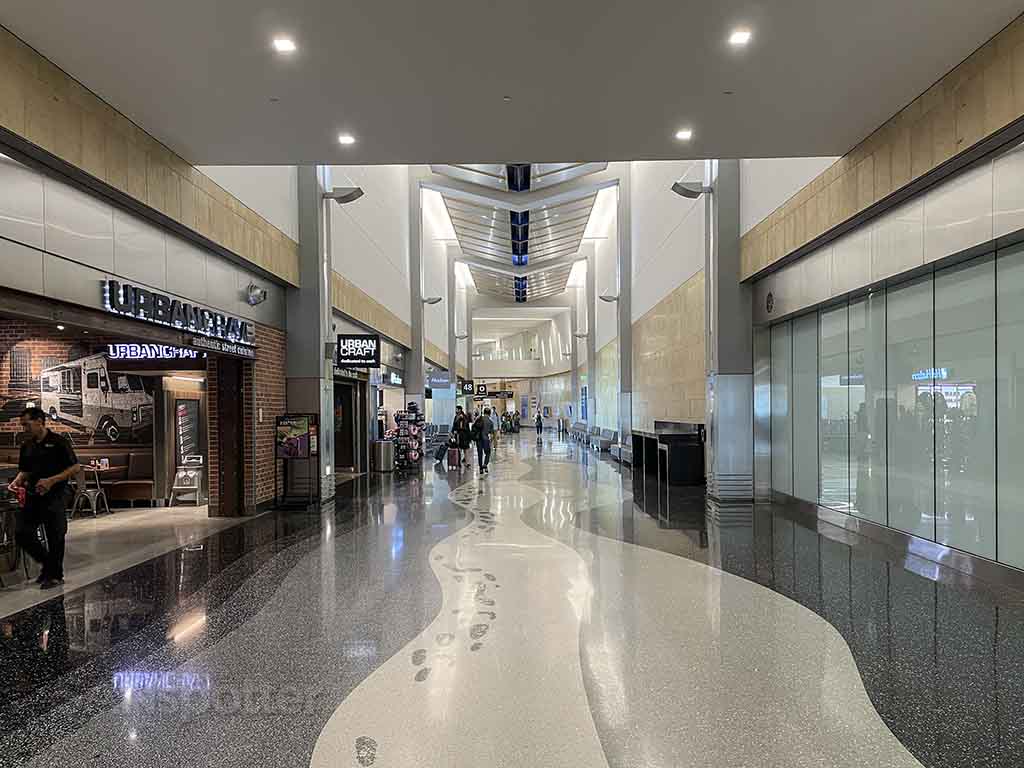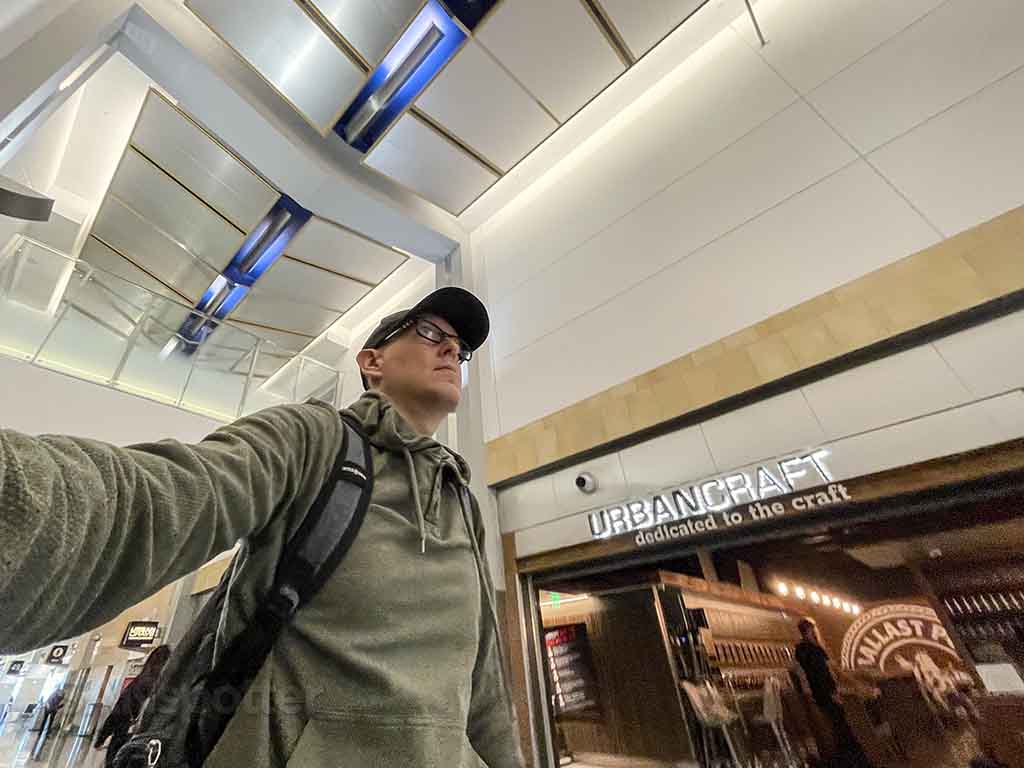 The boarding process for Swoop Airlines flight number 721 to Edmonton
Two days prior to this flight, the federal government announced the end to the mask mandate inside all US airports.
However, here at the gate getting ready to board this Swoop flight up to the Canadian north, the gate agents were quick to remind everyone that the mask mandate still exists in Canada (and on Canadian aircraft). You could almost hear the sighs and groans in the gate area when they made that announcement.
I paid $20 extra for a seat towards the front of the plane when I booked my ticket, so I was blessed with a zone 2 boarding pass.
And despite not trying to look too anxious, I somehow managed to be one of the first passengers on the plane (even before the families with small children).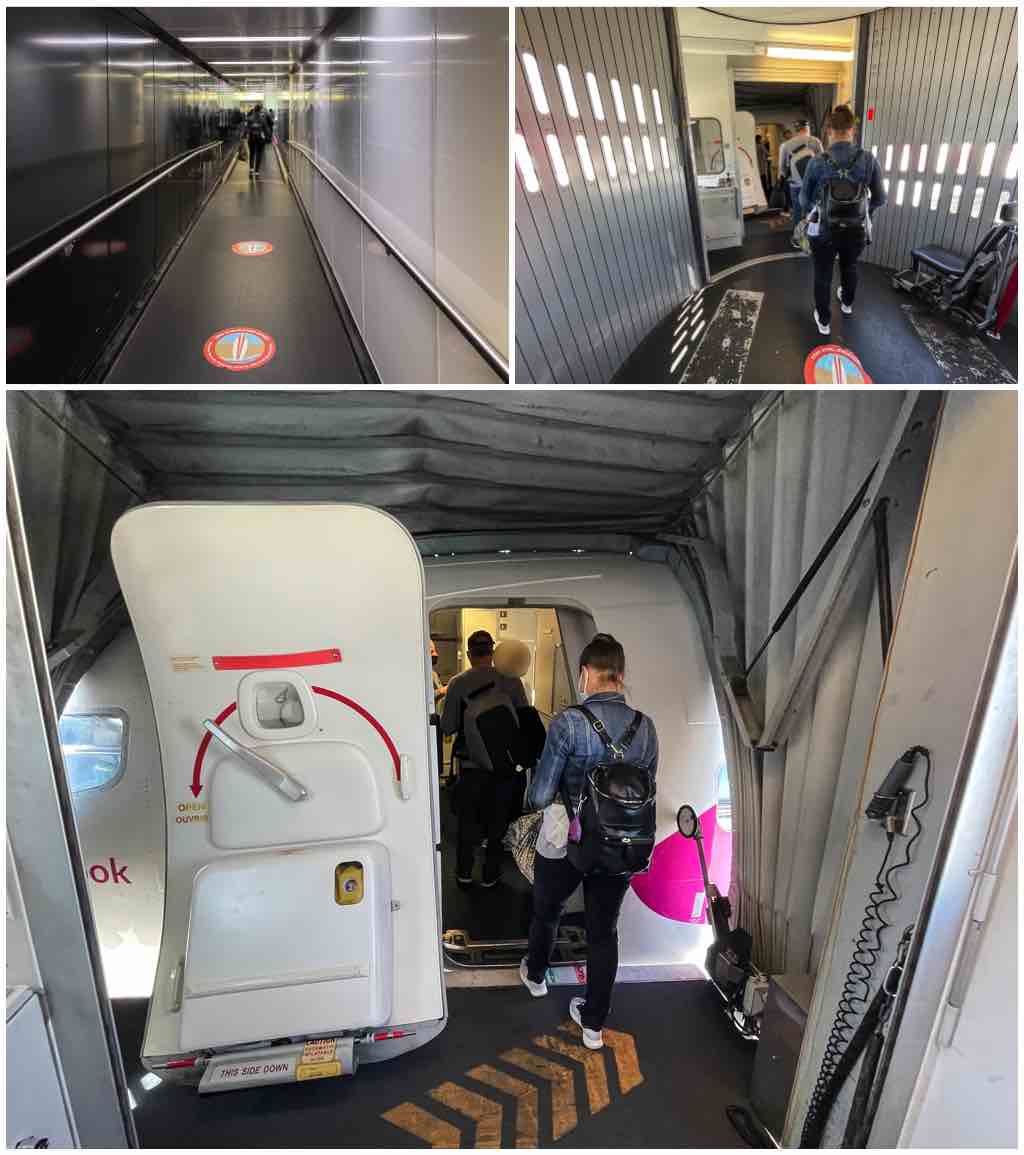 My first impressions of Swoop 737-800 seats
Anyone hoping to see comfortable and stylish seats in this Swoop Airlines review is going to be disappointed. The seating configuration on the Swoop 737-800 is about as basic and tight as it gets on any commercial airline.
It won't seem all that uncomfortable if you go into this reminding yourself that it's an ultra low cost flight experience, but otherwise, you may be disappointed.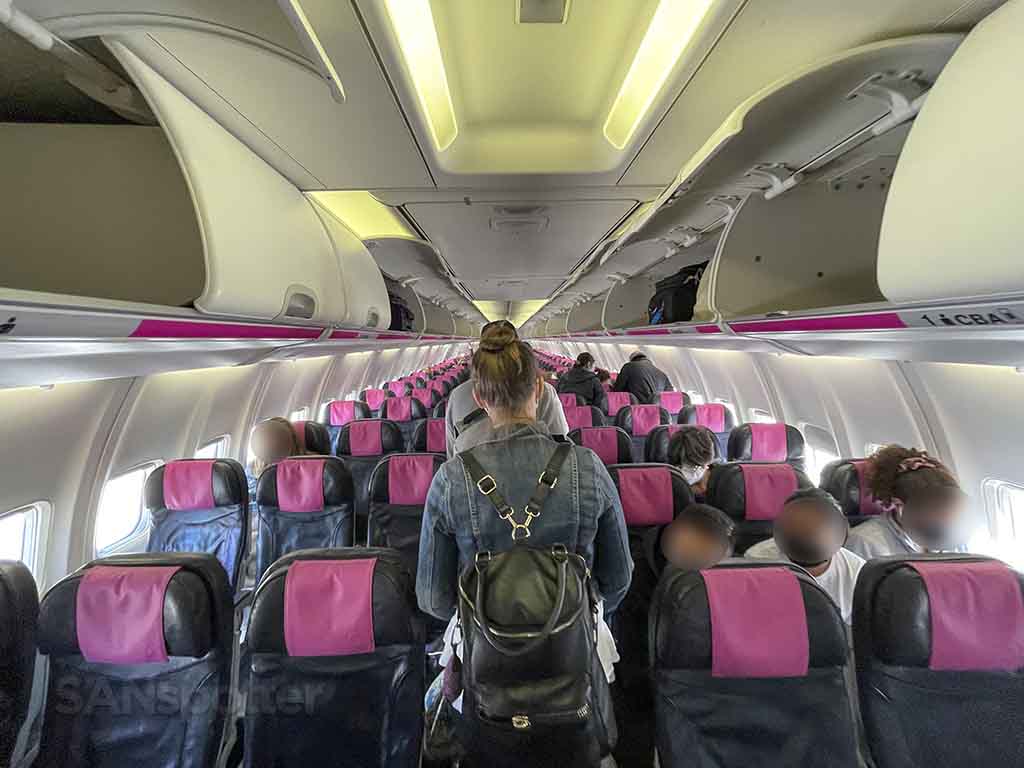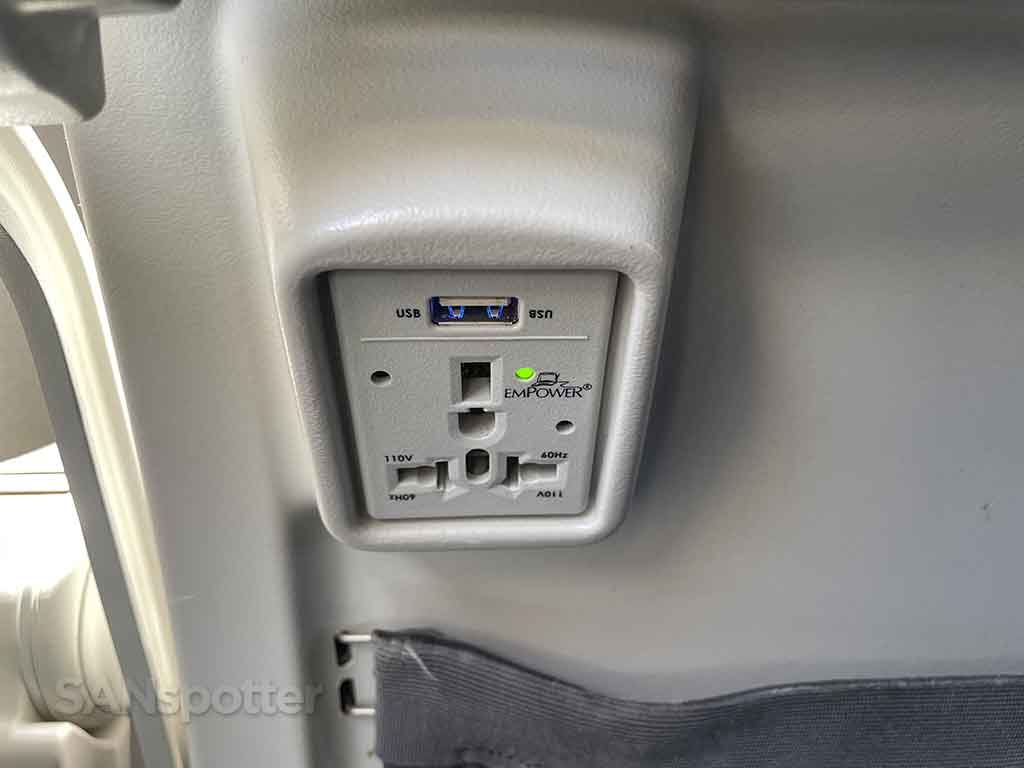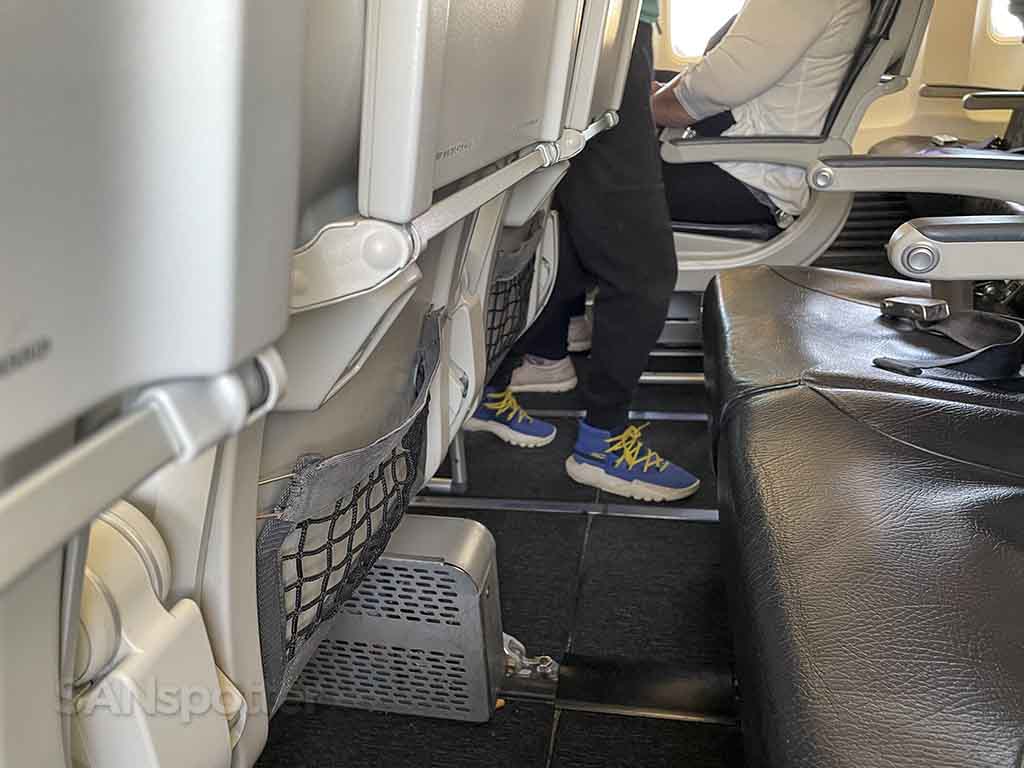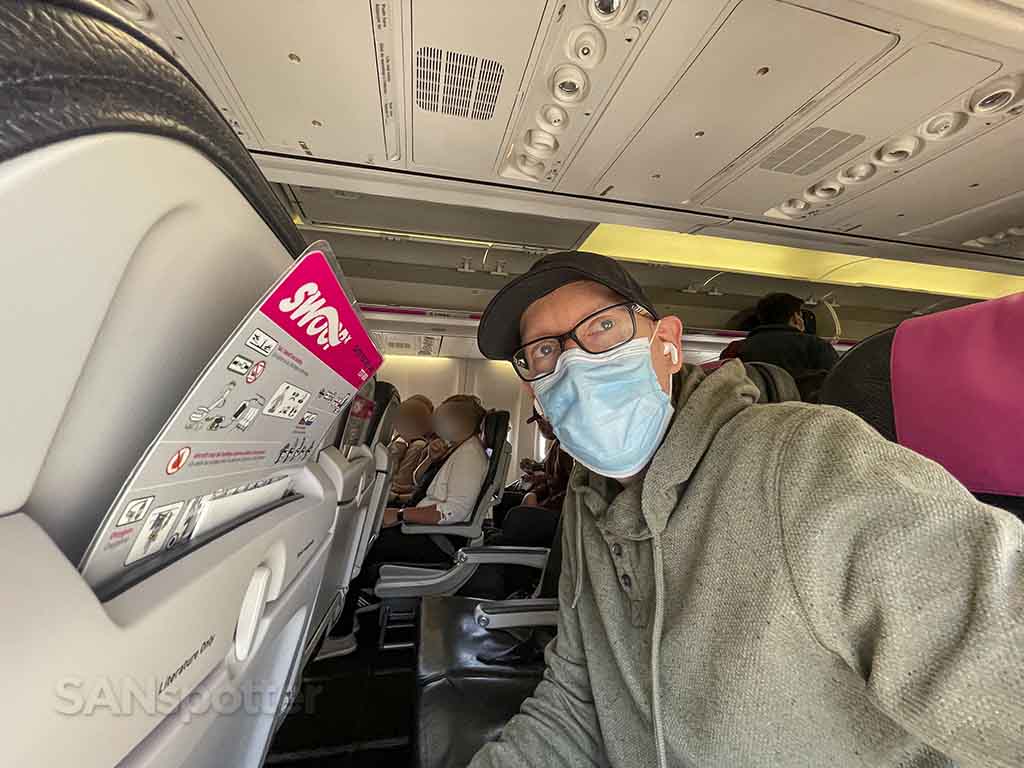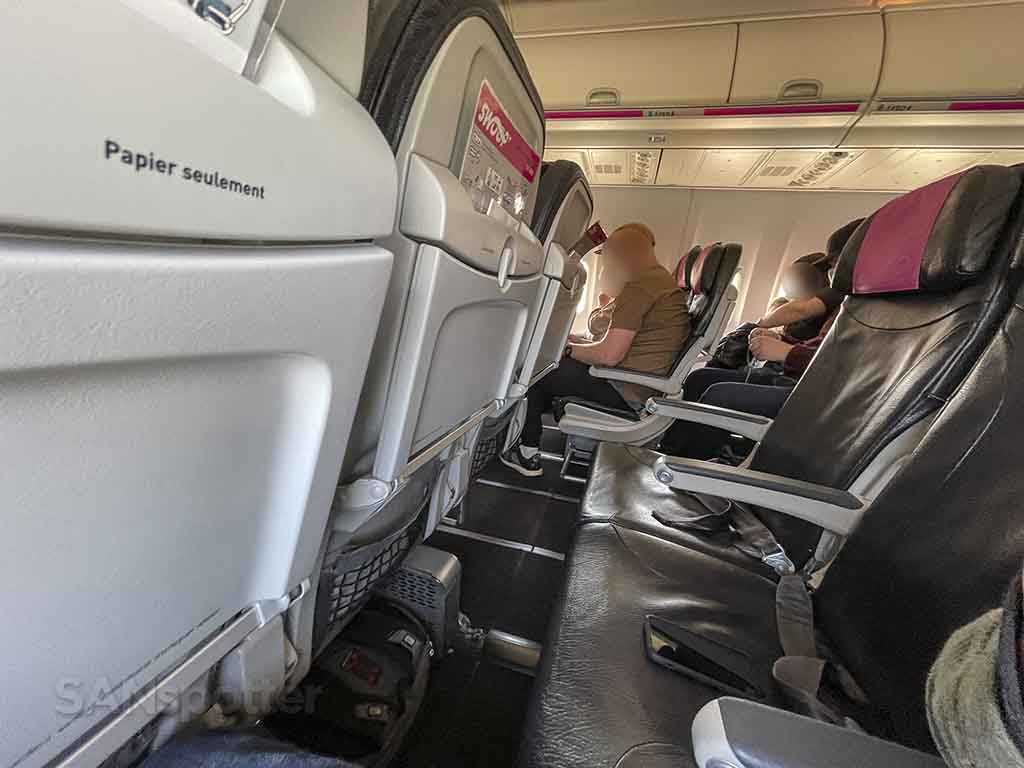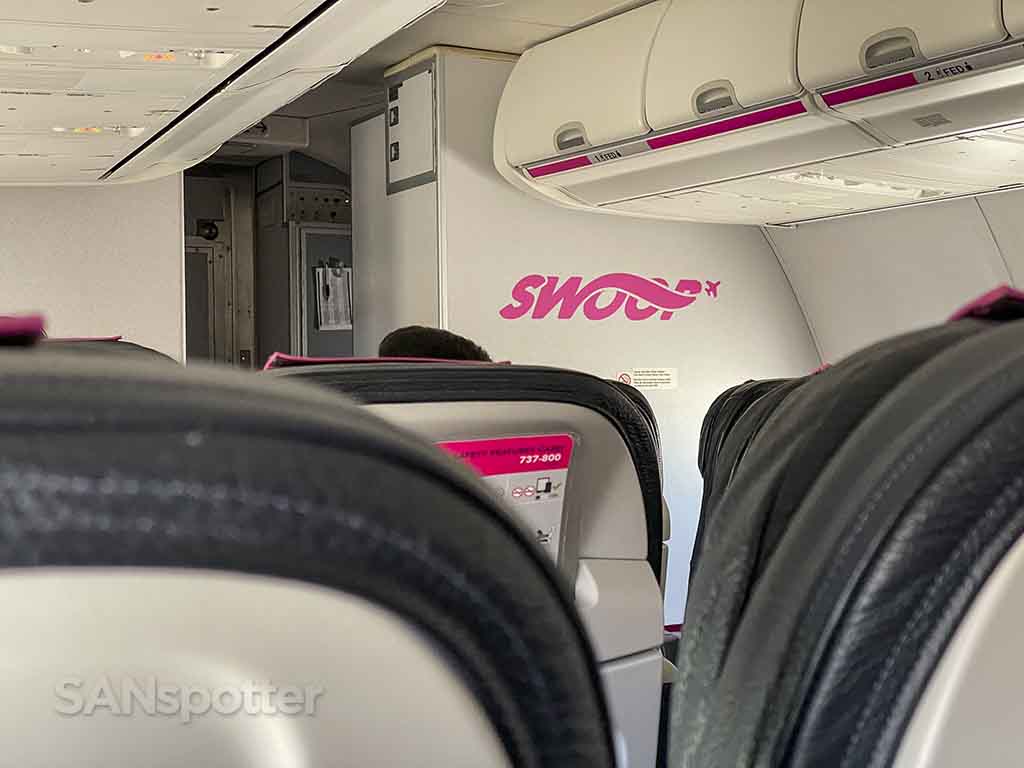 Long story short, everything seemed fine, but I have a feeling that anyone over 6 feet tall is going to be extremely uncomfortable in these Swoop 737-800 seats.
The departure out of San Diego
This flight up to Edmonton was scheduled to depart at 11:30 AM. True to their word, that's exactly when we pushed off the gate. I love it when a plan comes together.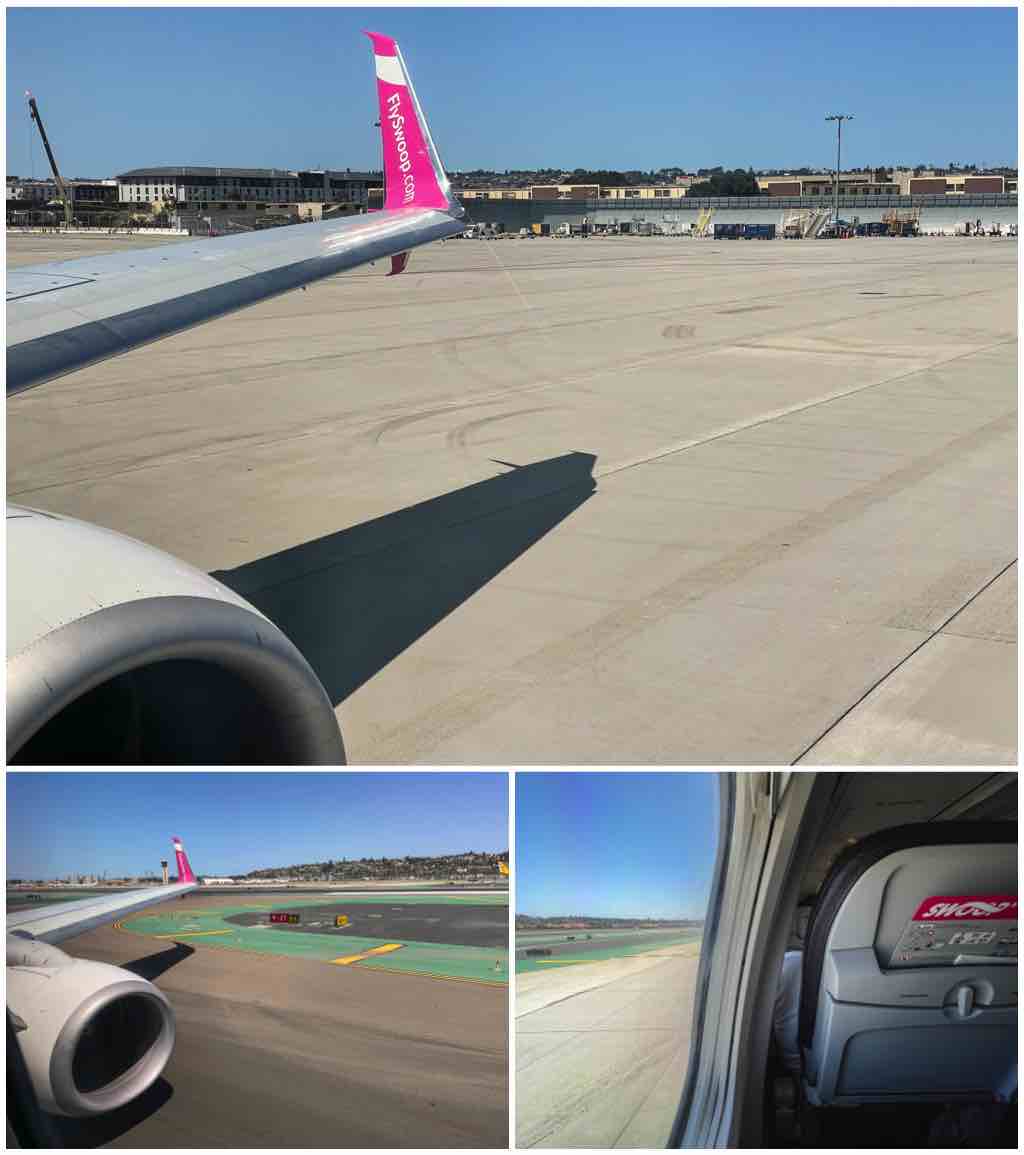 Is there any in-flight entertainment on Swoop Airlines?
There are no video screens in the seat backs of any Swoop aircraft, so you're going to have to use your own devices to stay entertained. However, they do offer Wi-Fi for an additional cost. I truly wasn't expecting that on an ultra low cost carrier such as this.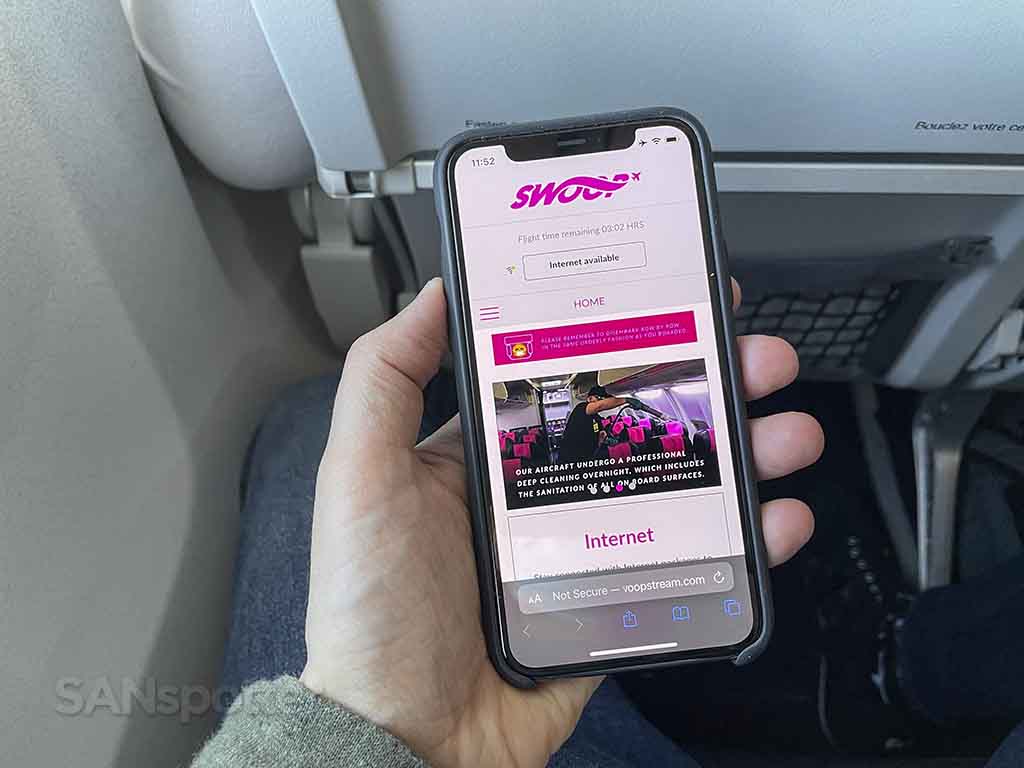 Also unexpected (but very much appreciated) was having power outlets at every seat. That's not even something you saw in my last Spirit Airlines review. Well done Swoop. Well done.
Are snacks and drinks free on Swoop?
You can't see me, but I'm laughing hysterically as I'm typing the response to this question. No, food and drink is not free on any Swoop Airlines flight. Not even a small cup of water. If you want anything, you're going to have to pay for it.
That said, I'm glad to see that they have the option to purchase food. It's not much, mainly consisting of small snacks and soft drinks, but at least it even exists.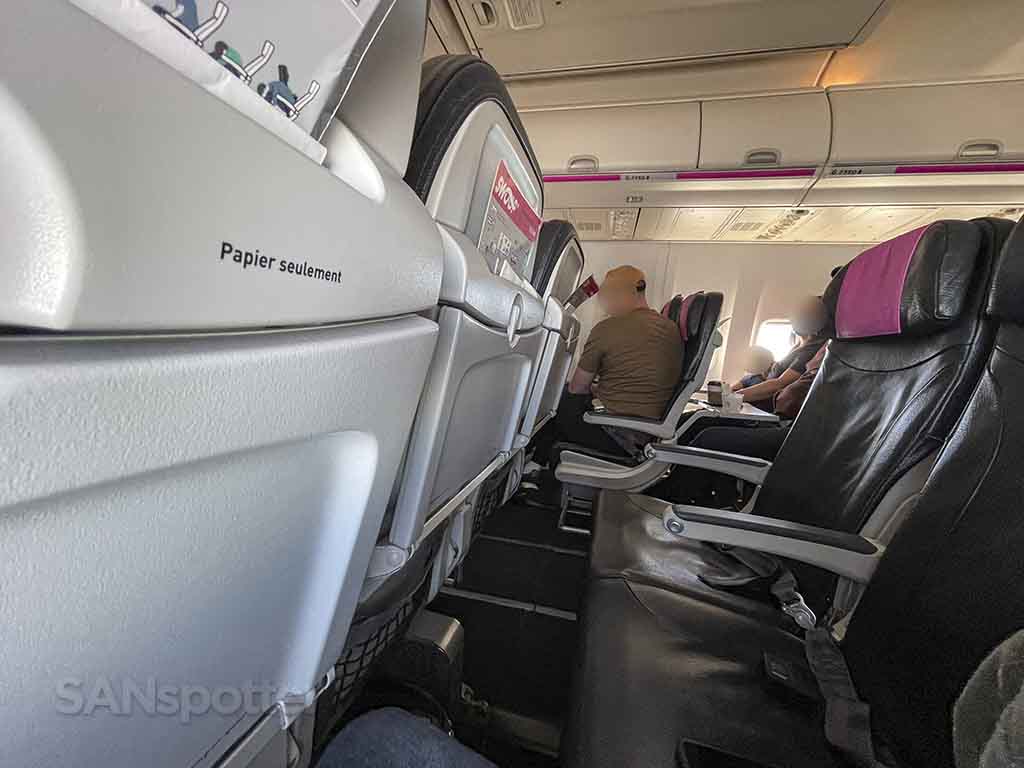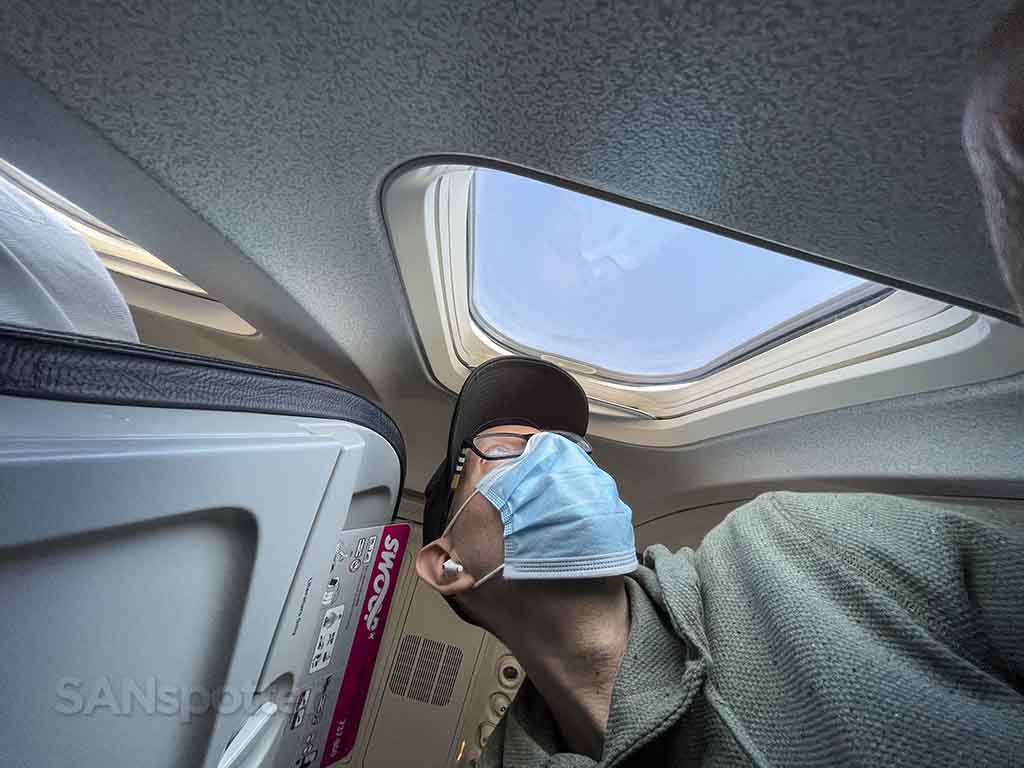 How comfortable are the seats?
I don't mean to sound overly blunt, but Swoop 737-800 seats are not very comfortable. Then again, I went into this experience fully expecting that they wouldn't be. Considering that I only paid $166.32 for my ticket, it wasn't really fair for me to expect anything more.
As I noted earlier, seat pitch is very tight. Not only that, The seat cushions are very thin and there's not a lot of lumbar support for the lower back. I basically arrived in Edmonton crouched over holding my back looking (and feeling) like an old man.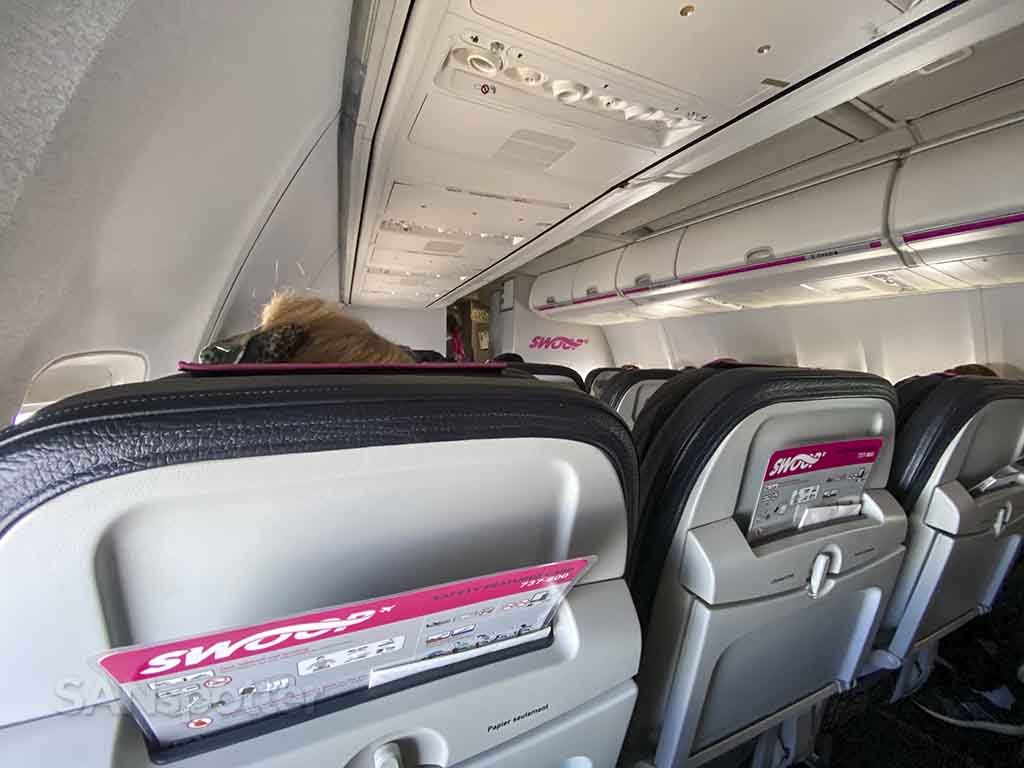 The arrival into Edmonton
As we were flying over top of Calgary, I realized this is the farthest north that I had ever been in Canada. It's beautiful up there. One the most interesting things about it was the fact that it looked snowy and cold around the Calgary area, but up in Edmonton, it seemed dry and very Spring like.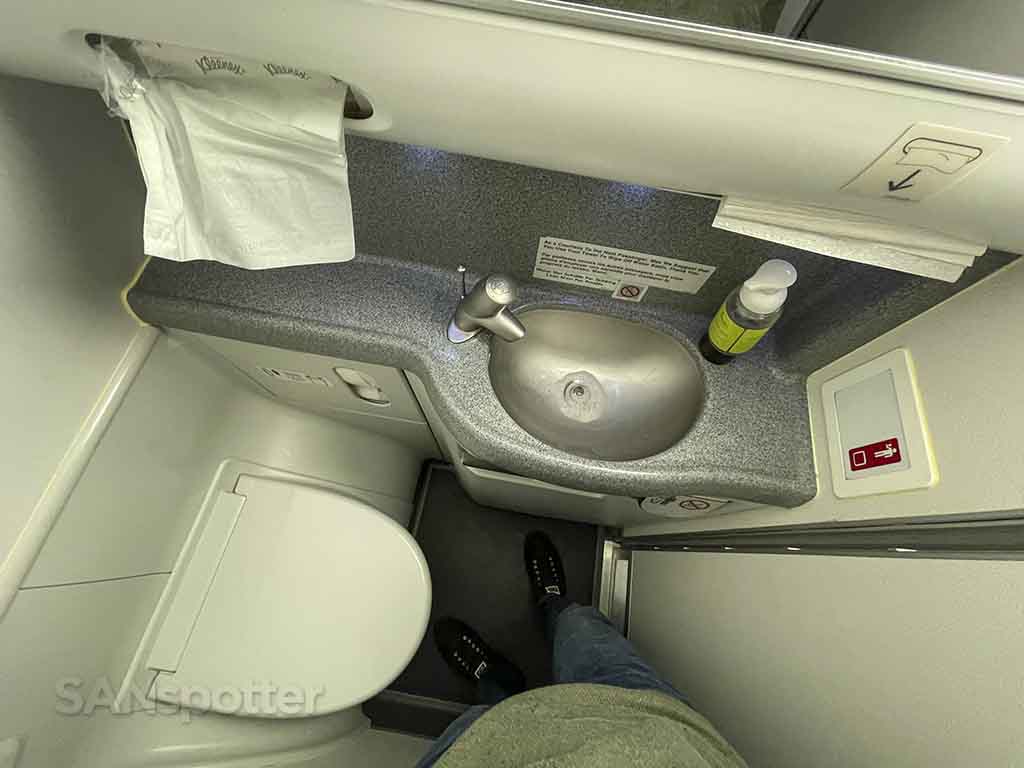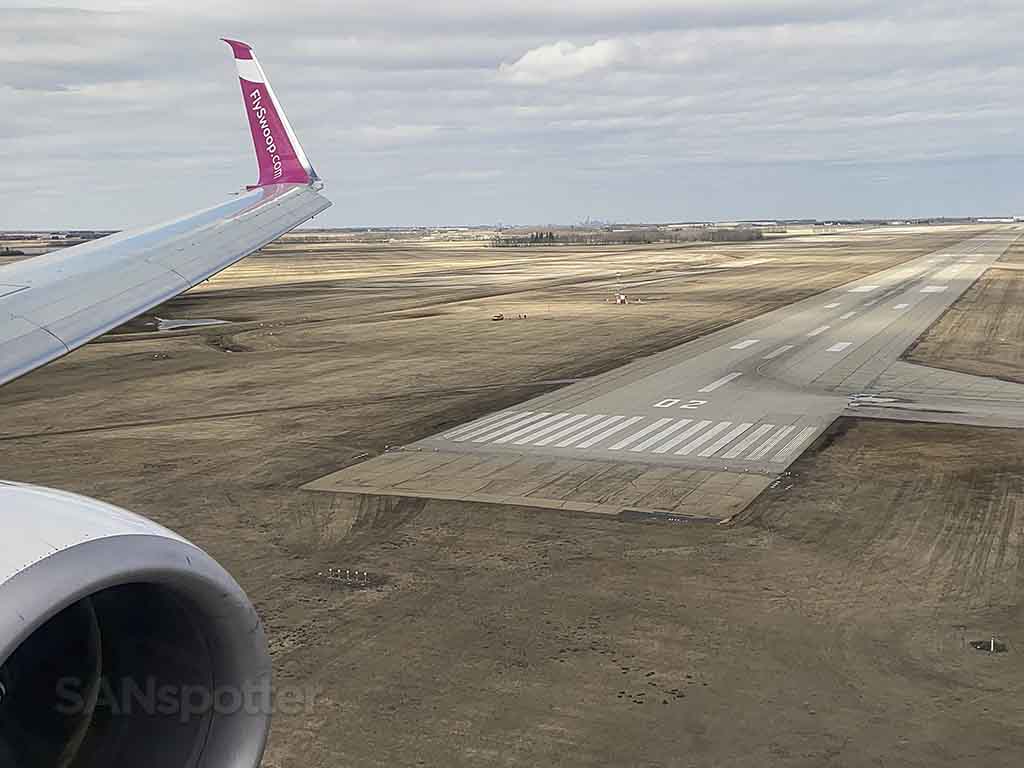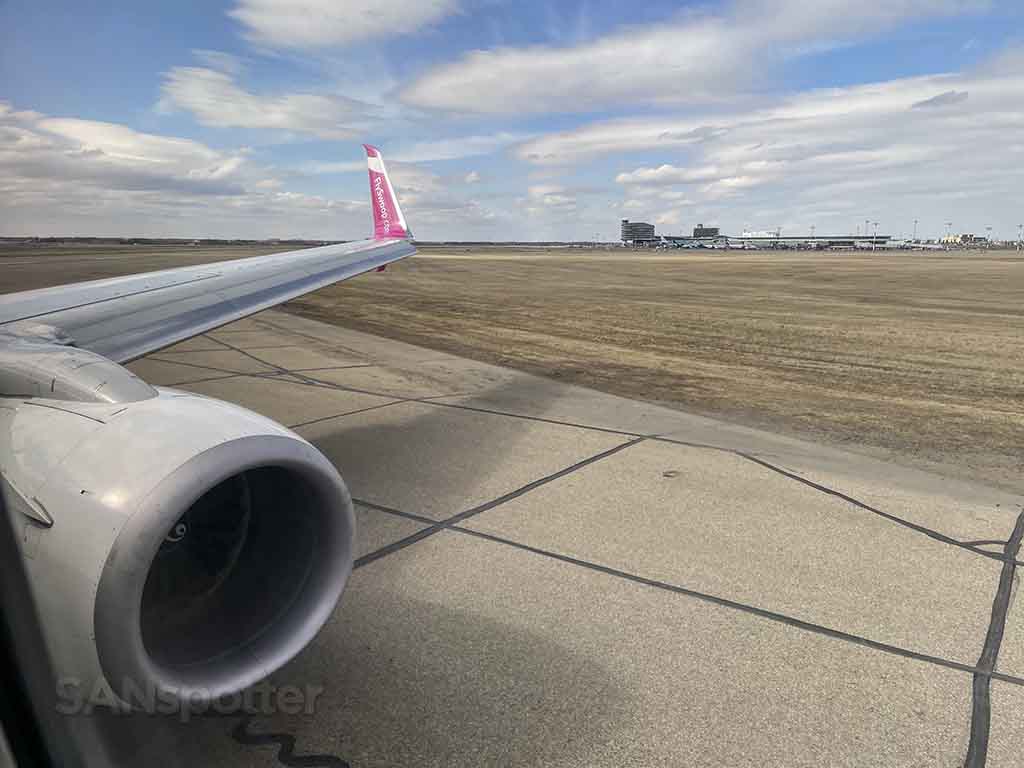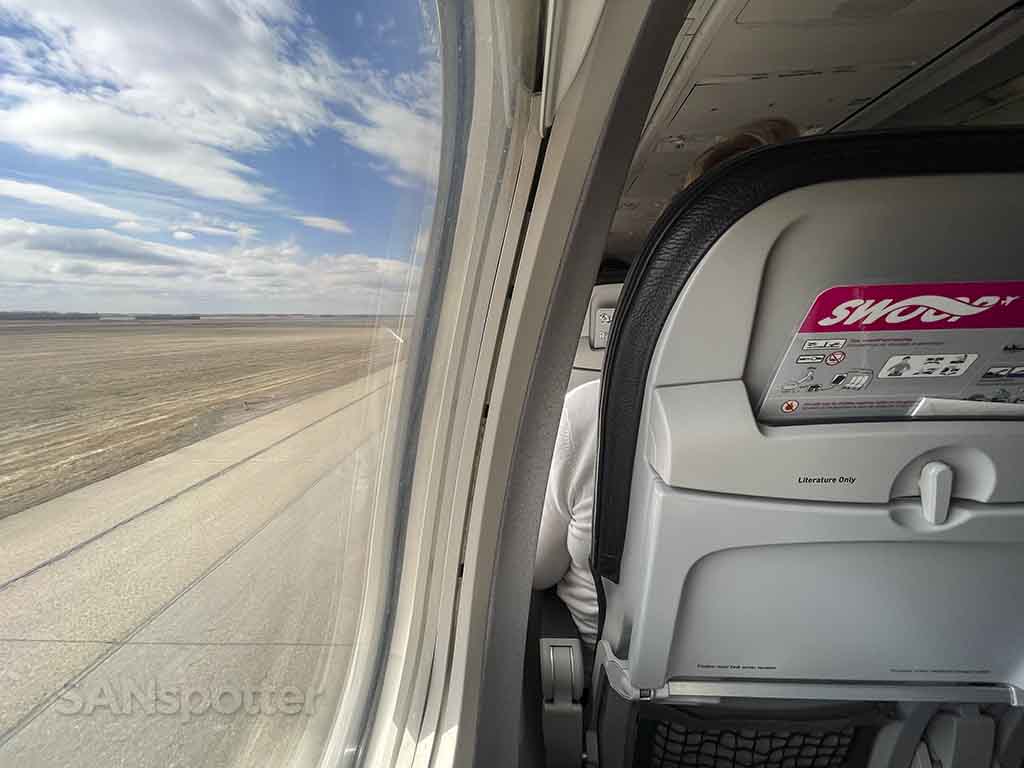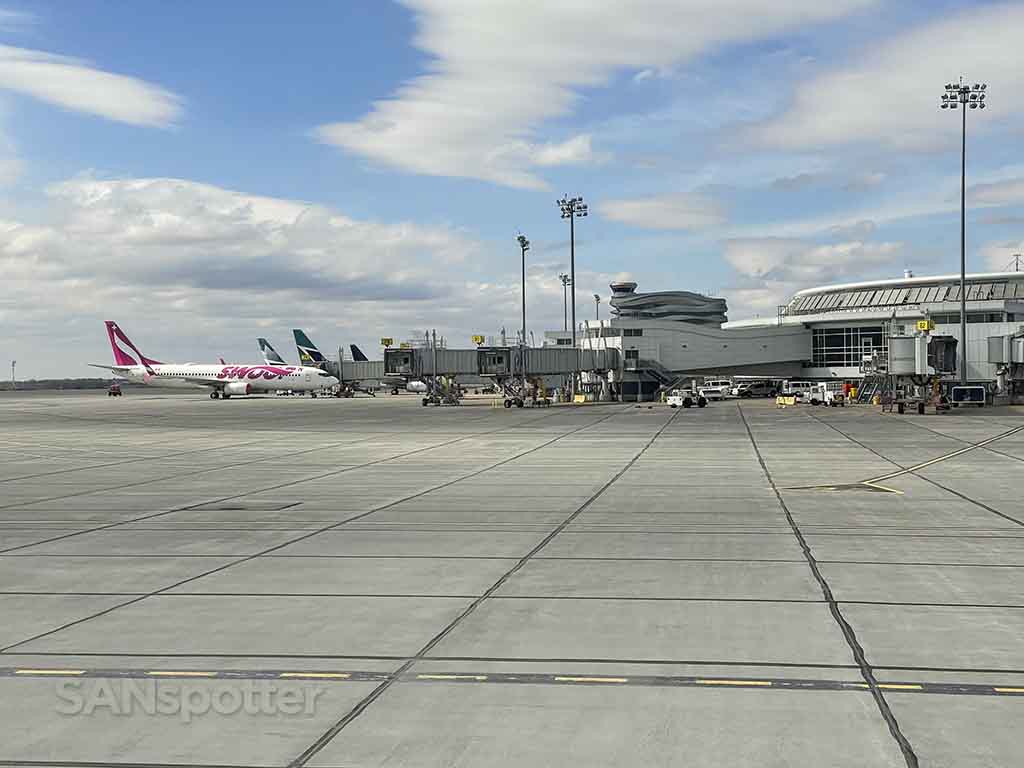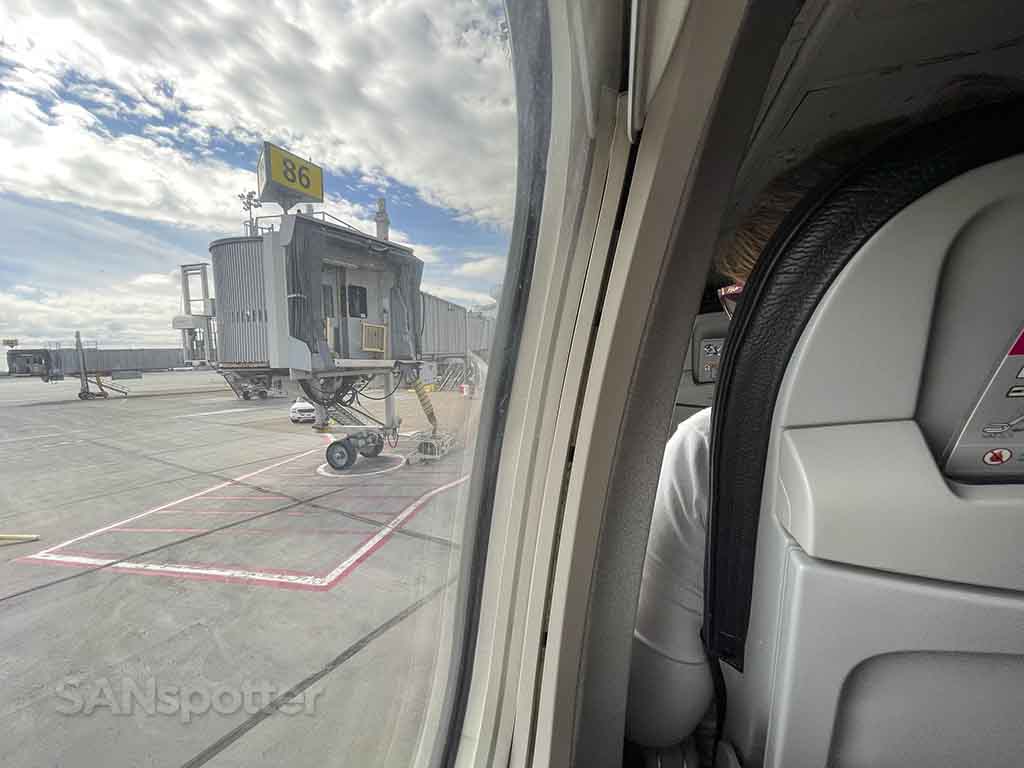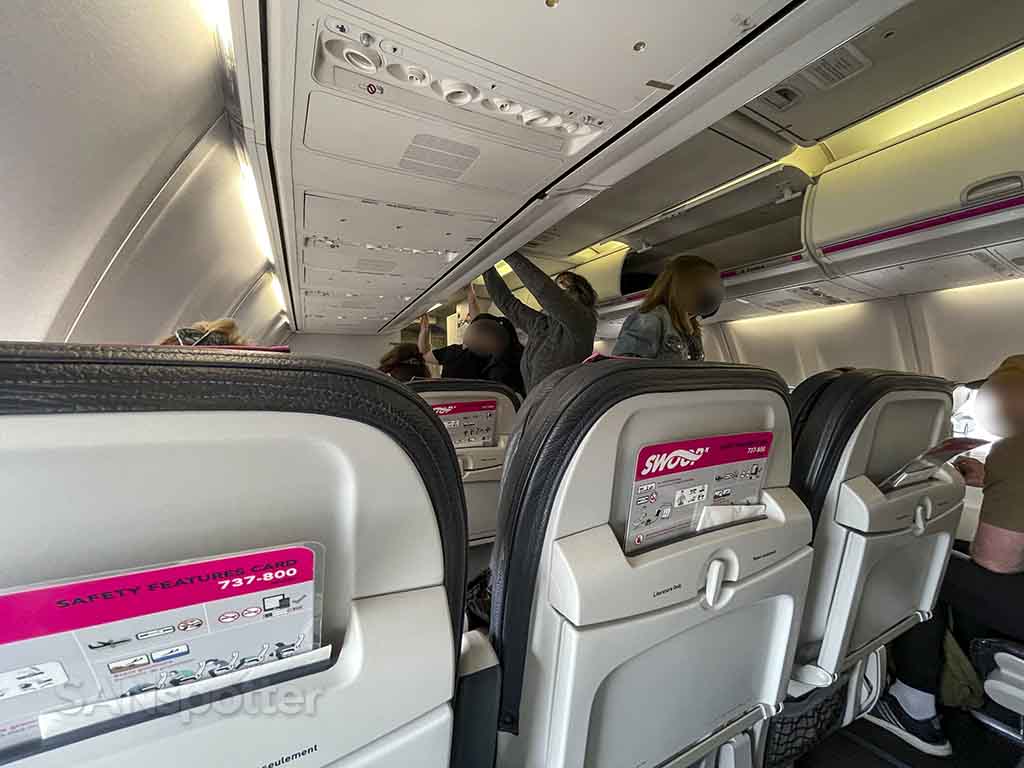 Pros and cons of flying on the Swoop Airlines 737-800
If all you need is a bare-bones experience between the US and Canada, it's hard to beat Swoop Airlines. They're not trying to be anything that they aren't, and they do pretty well at offering a decent product at a really great price. Based on my experience flying from San Diego to Edmonton, here are what I see as the pros and cons:
Pros
It's cheap! I mean that in the financial sense, of course. Even though my ticket was $166.32, it could've been $20 less if I hadn't paid extra for a seat towards the front of the plane. That's a pretty good price for a flight from Southern California to the middle of Canada IMHO.
There are power outlets at every seat. This is not something that I expect to see on an ultra low cost carrier such as Swoop, so it was highly appreciated.
Even though you have to pay extra for it, there is food available on the plane if you're hungry.
The cabin crew on my particular flight was outstanding. They were extremely cheerful and helpful, which is something that I'm seeing less and less on mainline US carriers these days.
Cons
Leg room (seat pitch) in these seats is extremely tight. Anyone over 6 feet tall is going to be uncomfortable.
There's no in-flight entertainment of any kind (except for the Wi-Fi you'll have to pay extra for), so be sure to bring your own.
Unlike some other ultra low cost carriers, Swoop Airlines doesn't offer the option to purchase a larger/more comfortable seat. All the seats on Swoop aircraft are the same (and they all pretty much suck).