Despite the anxiety I was feeling about the fact that my last day as a corporate employee was only four days away, I was in surprisingly good spirits as I checked out of the hotel and walked over to the main terminal. I was going to be flying Edelweiss Air A340-300 economy today (with a pretty good seat that I paid extra for) and I was very much looking forward to trying out my new Priority Pass membership for the first time.
The theme song from Shaft would have been perfect accompaniment for that walk, as I was feeling cocky and confident about how the day was going to go and nothing was going to stop me from enjoying the hell out of it. Little did I know that there were going to be a few unexpected and awkward twists along the way…
WK018
Zurich, Switzerland (ZRH) – San Diego, CA (SAN)
Monday, April 30, 2018
Aircraft: A340-313
Registration: HB-JMF
Duration: 11 hours 41 minutes
Seat: 26A (economy class)
The full video for this Edelweiss A340 economy class jaunt to SAN – with music courtesy of Epidemic Sound:
Obtaining my boarding pass from a self-service kiosk and then squeaking through passport control was quick and painless – I was still feeling very much like a travel pro at this point, ready to deflect trouble with nothing but a raised hand and a piercing glare (Jedi style).
Even getting through the security checkpoint was a breeze, despite the fact that I have a medical condition which makes going through metal detectors not such a good idea. It's never a big deal though, and they always pull me aside to do one of those uncomfortably awkward pat-downs where all I can really do is just stare blankly off into space, trying my best to ignore the guy who is rubbing his hands back and forth and up and down across my junk.
As usual, I stood there repeating "I'll never see this dude ever again in my entire life so it's no big deal" over and over again in my head. As soon as he was finished doing what he needed to do, I grabbed my stuff with an ashamed "thanks" and that was it. Little did I know of the significance of what had just happened, and if you are feeling clueless as well, don't worry – it's all going to make sense a little bit later in the trip report…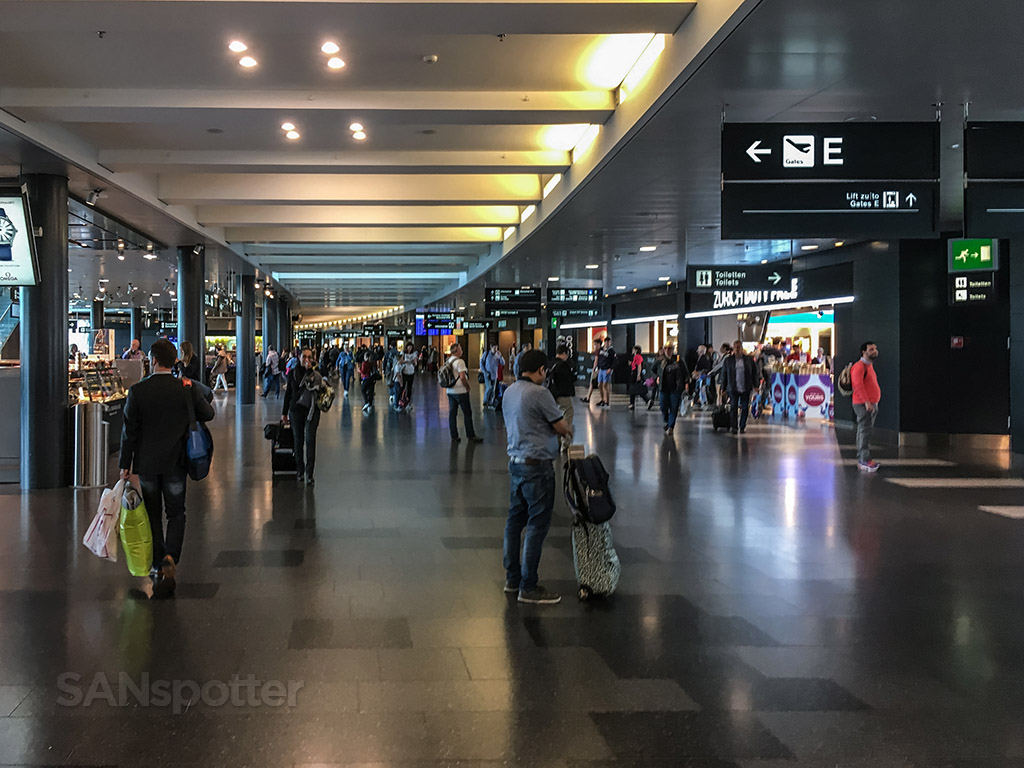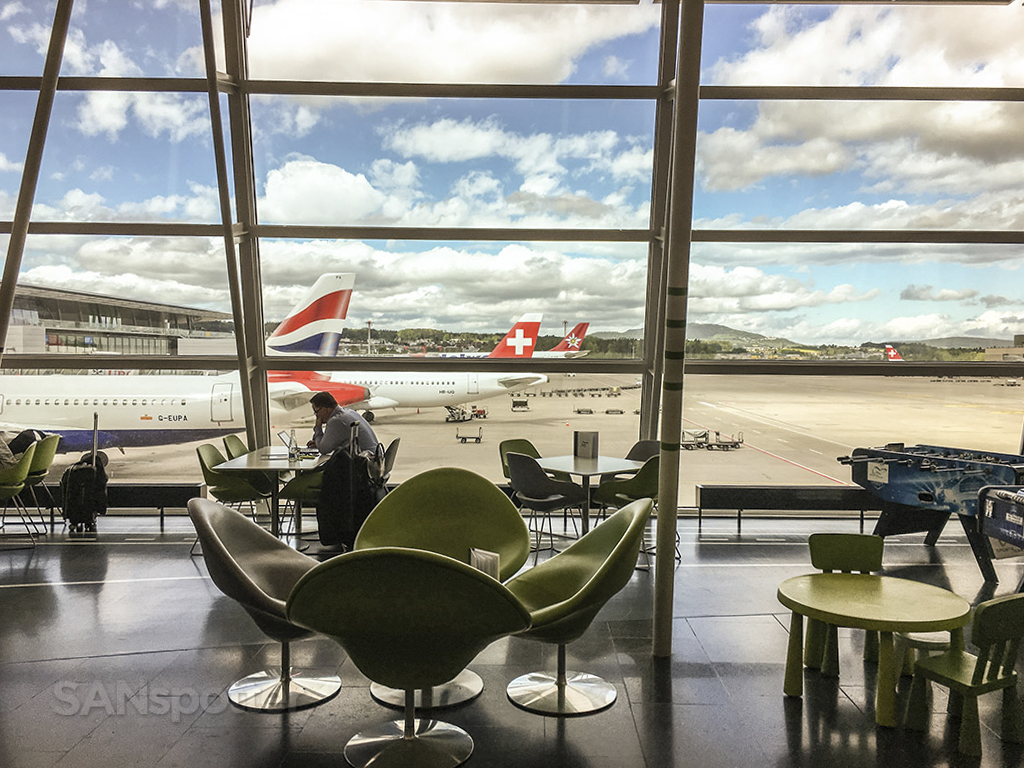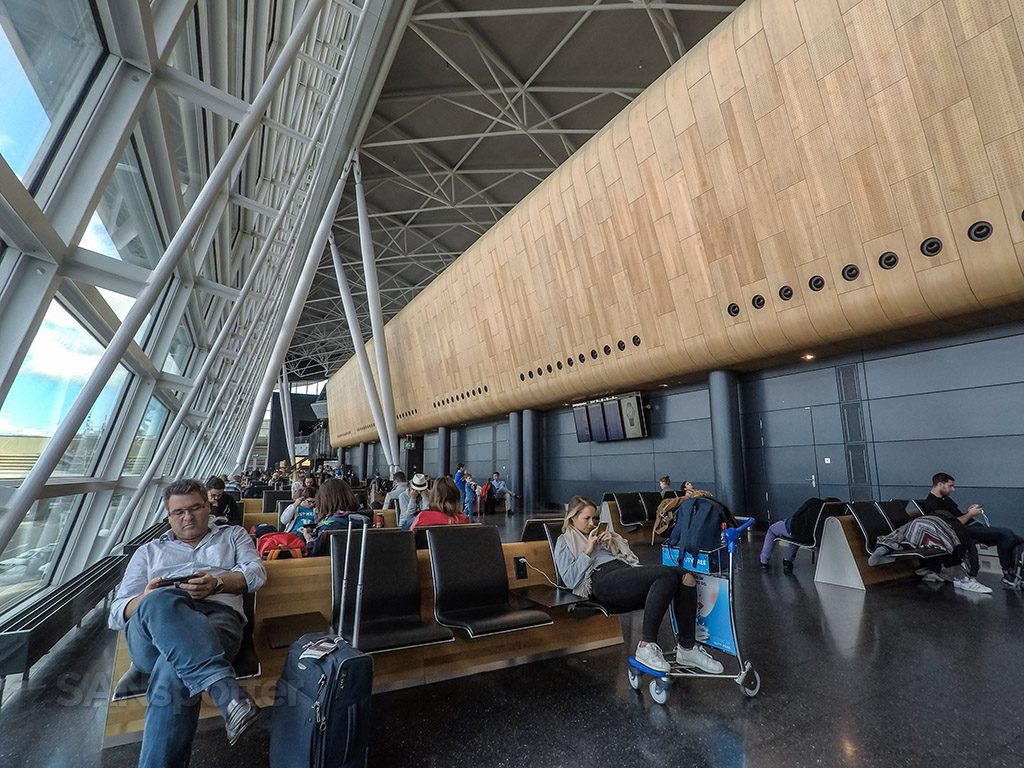 Everything was still going smashingly well as I arrived in terminal E and began my quest to do a bit of lounge hopping with my shiny new Priority Pass membership. FYI, my favorite credit card at the moment is the American Express Platinum, which despite its hefty annual fee, is a total powerhouse of a travel card with loads of good benefits.
How I pay for all my travel expenses
The American Express Platinum Card
100,000 welcome points (woo-hoo!)
Earn 5x points on flights and prepaid hotels
$200 hotel credit + $200 airline fee credit + $155 Walmart credit + $240 digital entertainment credit (and much more)
Transfer points to a wide variety of global airline and hotel partners
Sign me up!
Note: I may earn a commission if you make a purchase, at no additional cost to you.
One of those benefits just happens to be a complementary Priority Pass Select membership which allows access to thousands of airport lounges around the world. According to them, there are two here in terminal E and you're darn daaamn right that I was going to check out both.
How I get into airport lounges
Access 1300+ airport lounges worldwide with Priority Pass
Access to over 1300 airport lounges around the world, regardless of airline flown or class of ticket.
Complimentary snacks, drinks, and meals.
Digital entry for instant access through the dedicated Priority Pass app.
Check it out!
Note: I may earn a commission if you make a purchase, at no additional cost to you.
This is where things get awkward again. Little did I know that I actually had to sign up for Priority Pass in order to obtain a card, and you can't just waltz into any of the participating lounges and wave your Platinum card around thinking that it'll be enough to get you in. Unfortunately, that's exactly what I did and it confused the heck out of the nice ladies at the front desk of the Aspire lounge. I was feeling confused as well, and I instantly felt the urge to make a stern phone call directly to American Express telling them that they were full of crap and the whole Priority Pass thing was not working as advertised.
It's a good thing I didn't though because after the second lounge denied me, I kind of put two and two together and realized that I actually needed a physical Priority Pass card in order for this to work. I felt like a complete idiot, and really bummed that I wouldn't be able to do any lounge hopping as I had planned.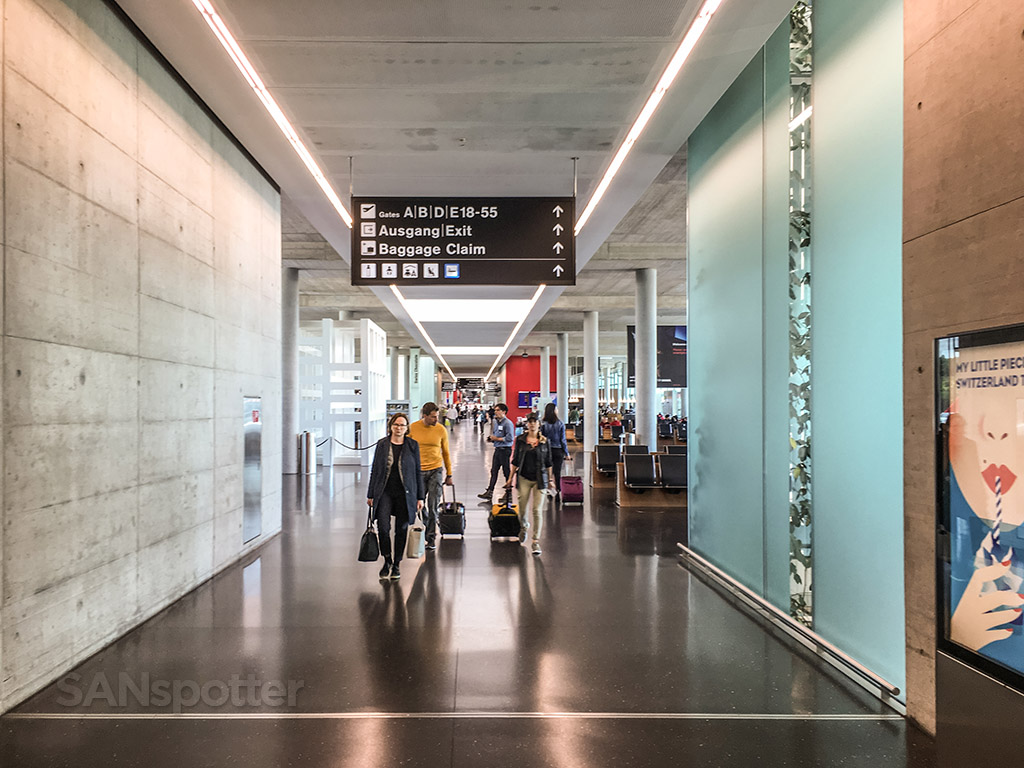 Thankfully, the people at the Zurich airport understand how fun it is to watch airplanes, and there are some of the best observation decks in the world here. So even though I didn't have lounge access this morning, I wasn't feeling completely bummed about it since I was able to get up close and personal with some amazing aircraft from the vantage point of a magnificent outdoor observation deck.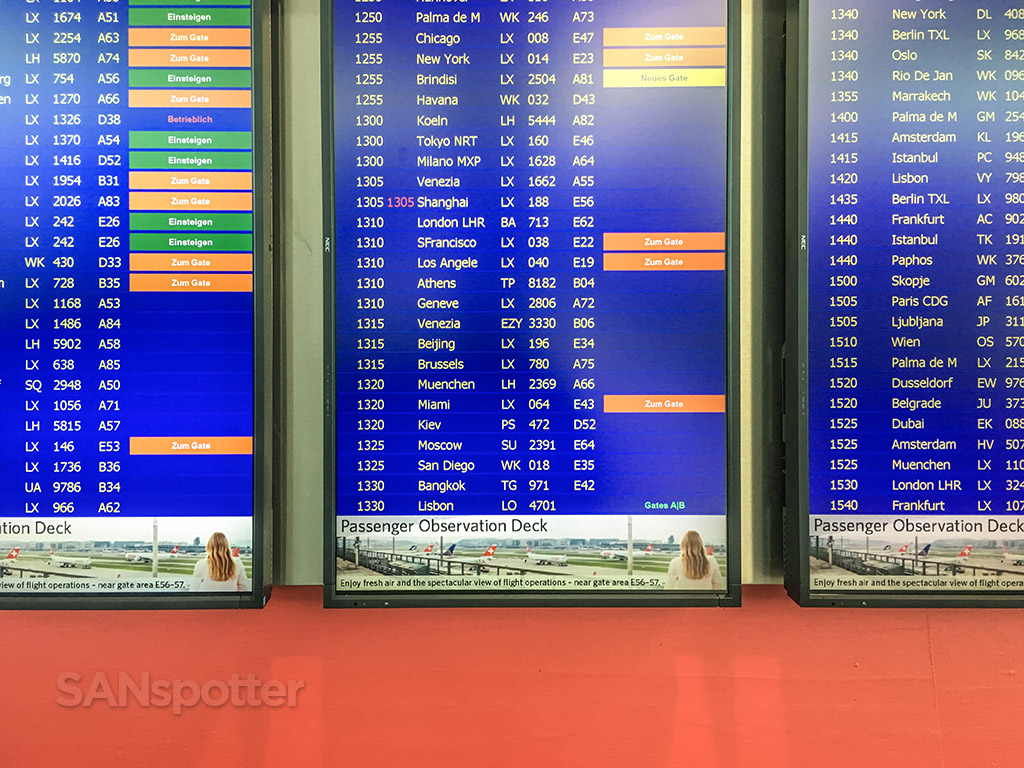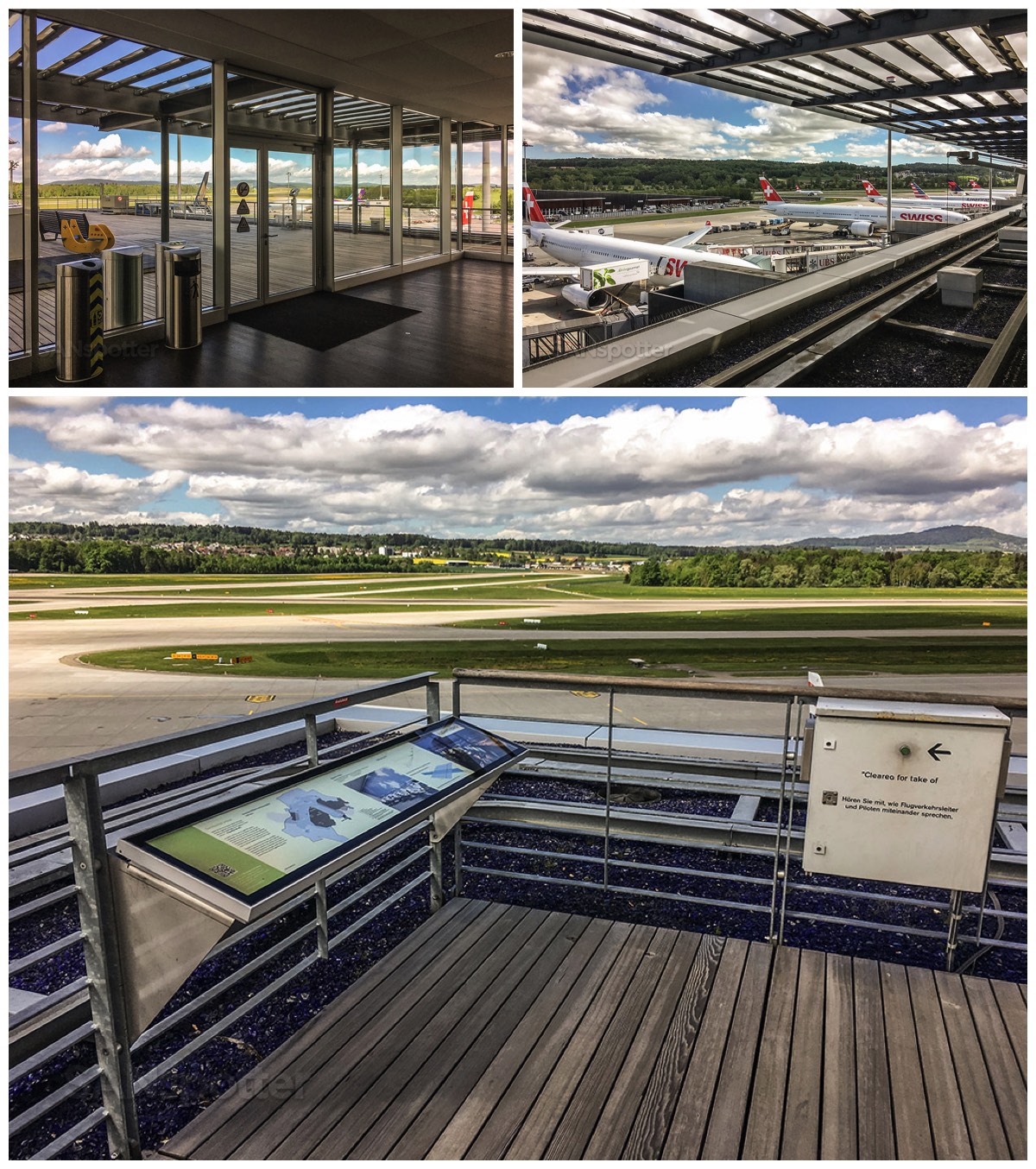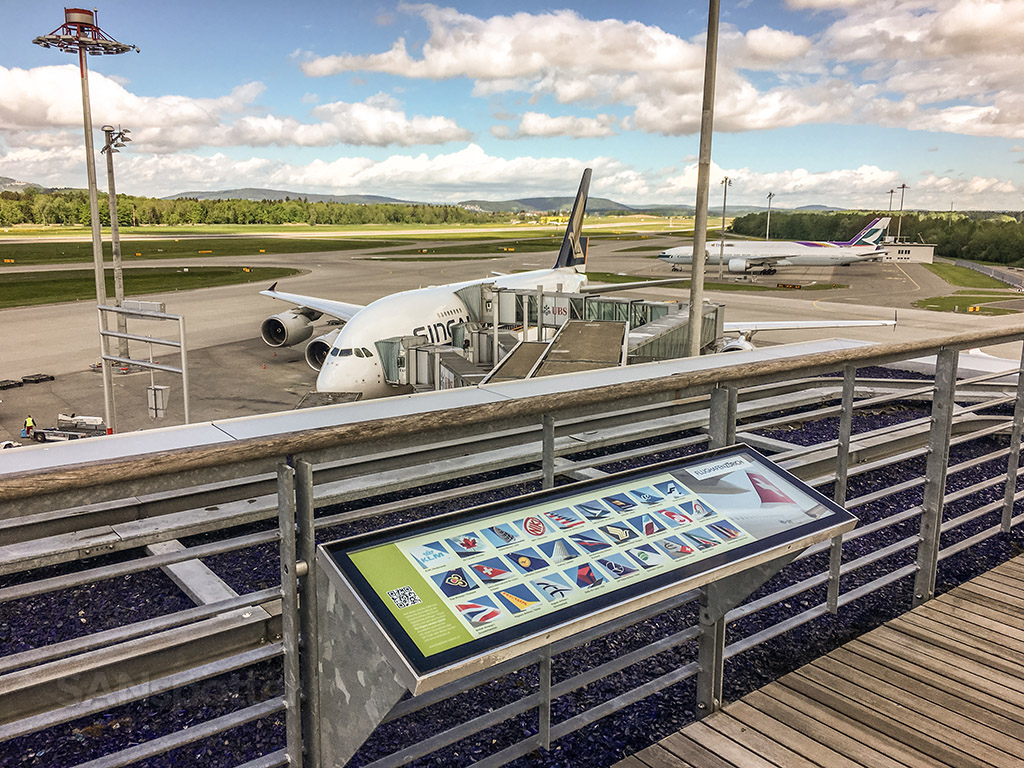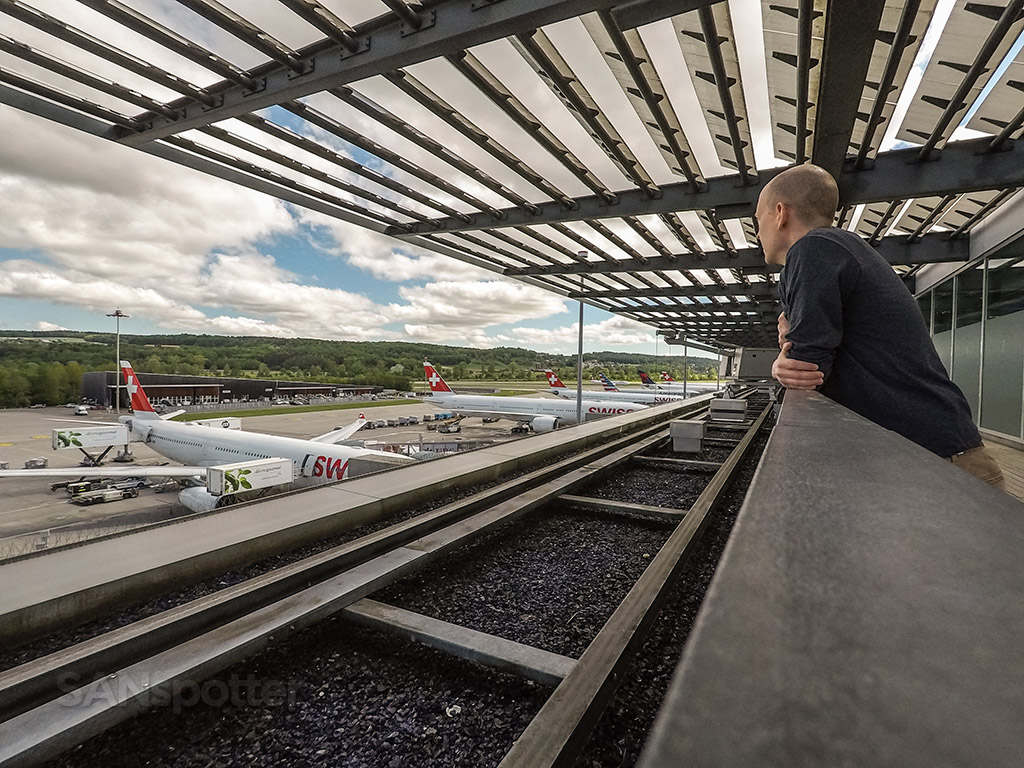 By the time I had my fill watching airplanes, it was getting very close to the scheduled boarding time and I decided to head back inside and get myself into flight mode. The first thing I noticed once I arrived at the gate was how empty it was. The plane was sitting there getting prepped as normal, but I couldn't help to think how empty it was at the gate area so empty so close to the boarding time. That's when I started thinking that maybe it was going to be a very empty flight and being in economy class for 12 hours might end up being not as bad as I was expecting. There goes that Shaft music again…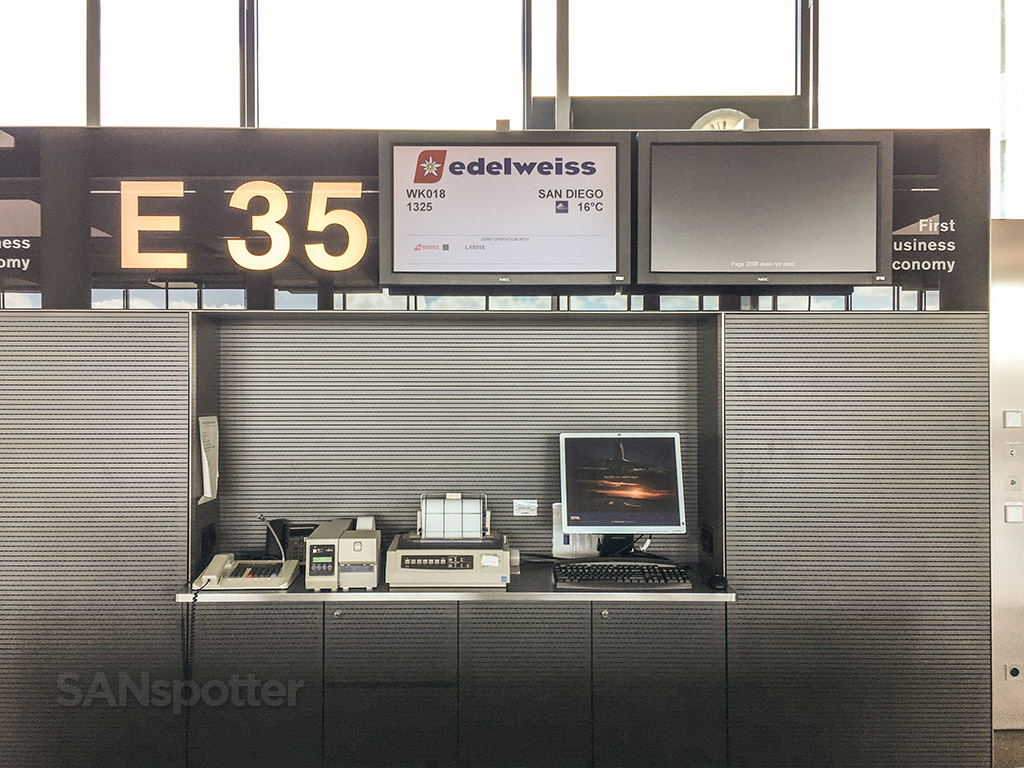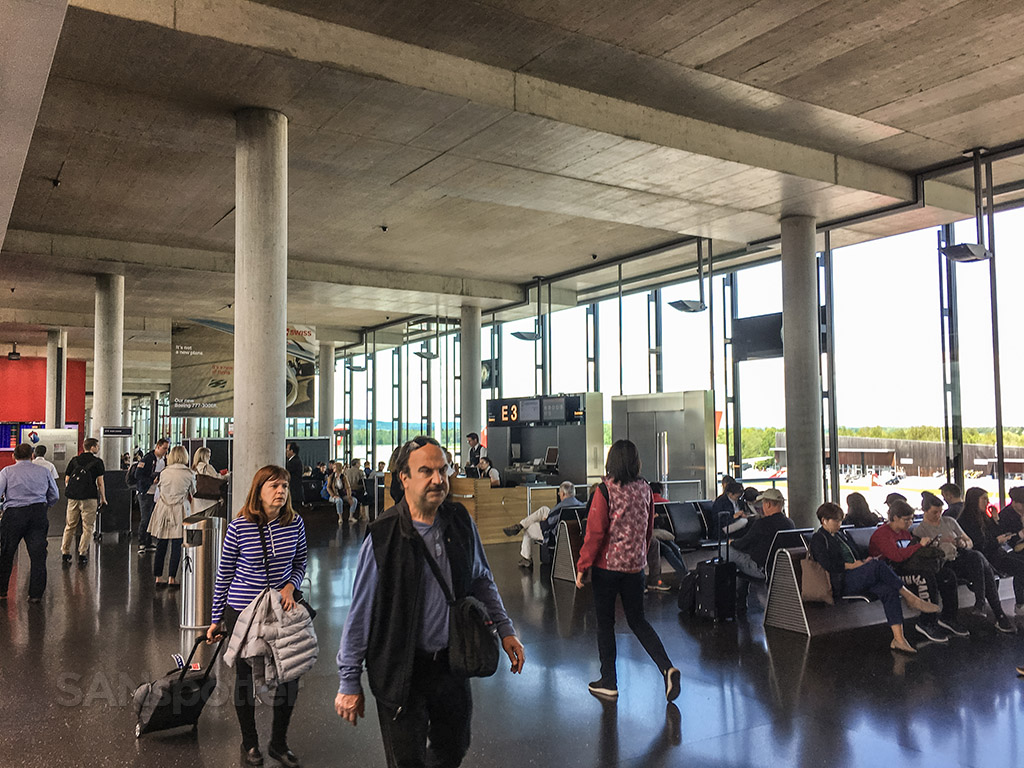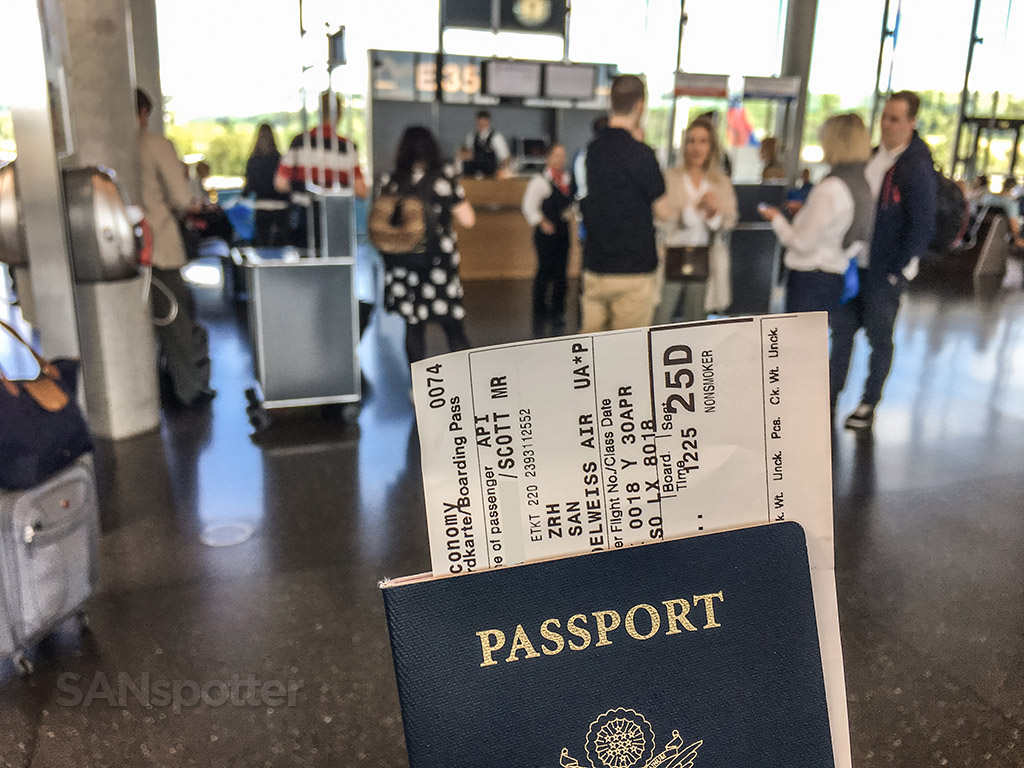 The boarding process began, and things seemed fairly normal – initially. Let me show you some pics before I tell you about the next awkward thing that happened.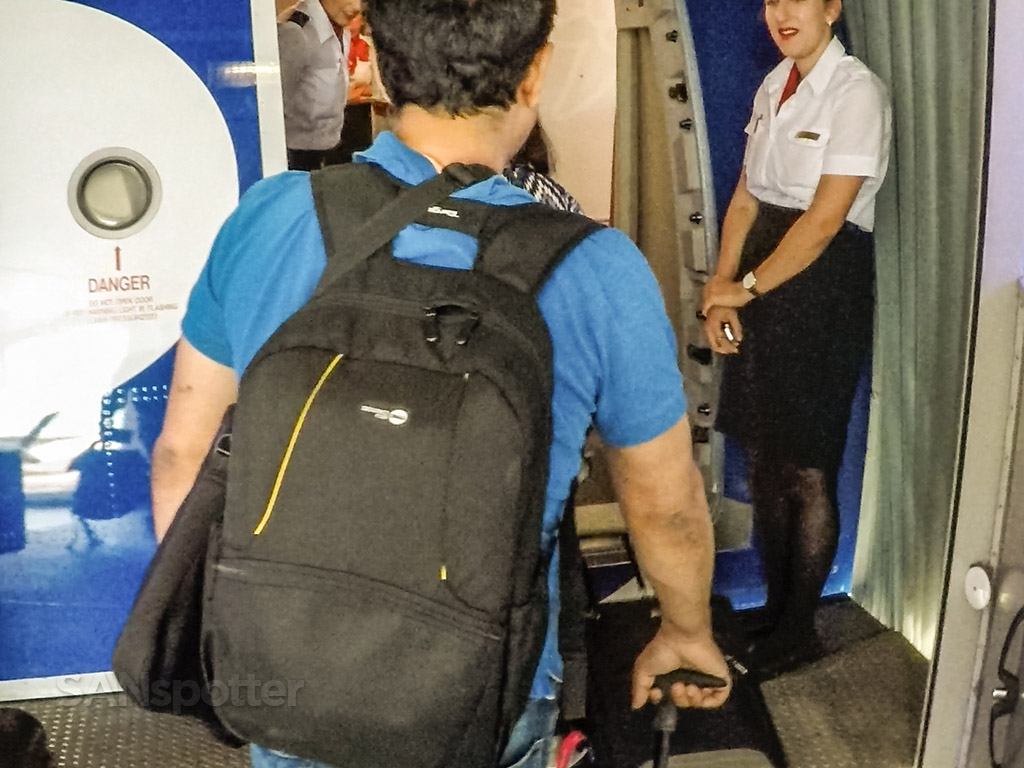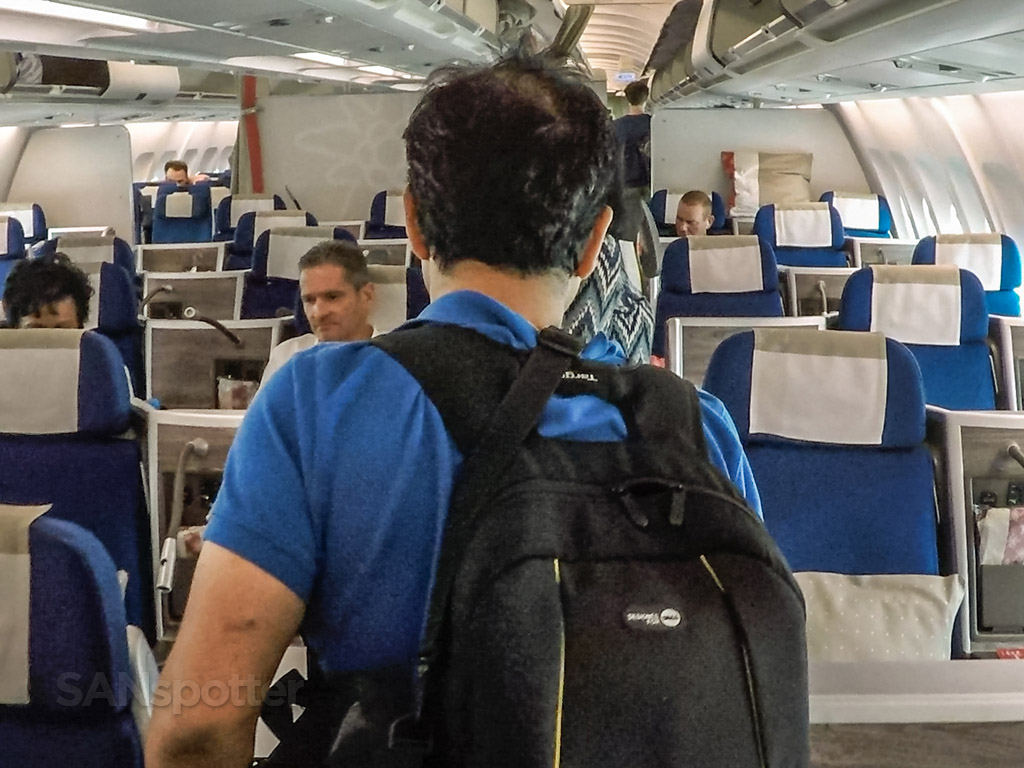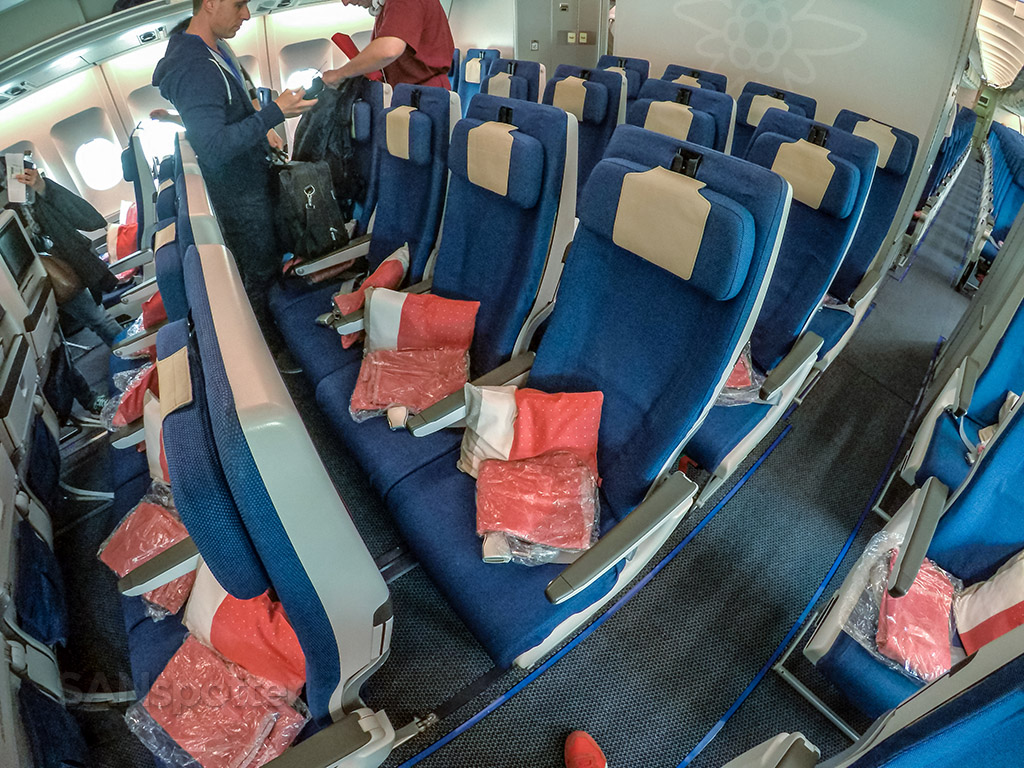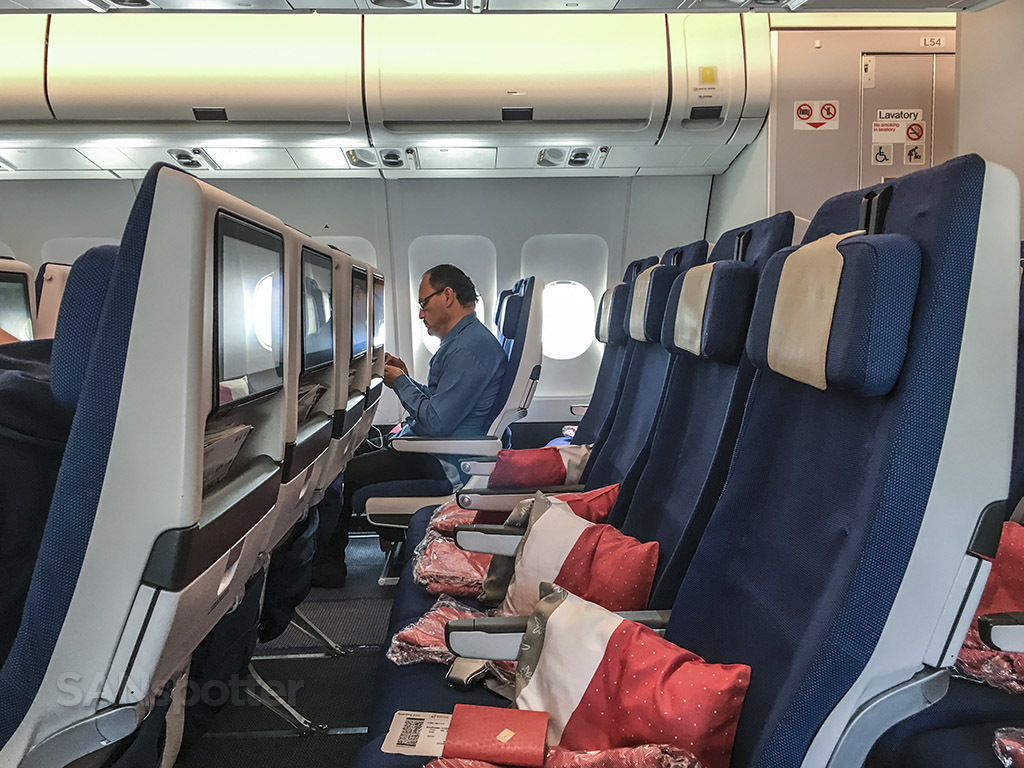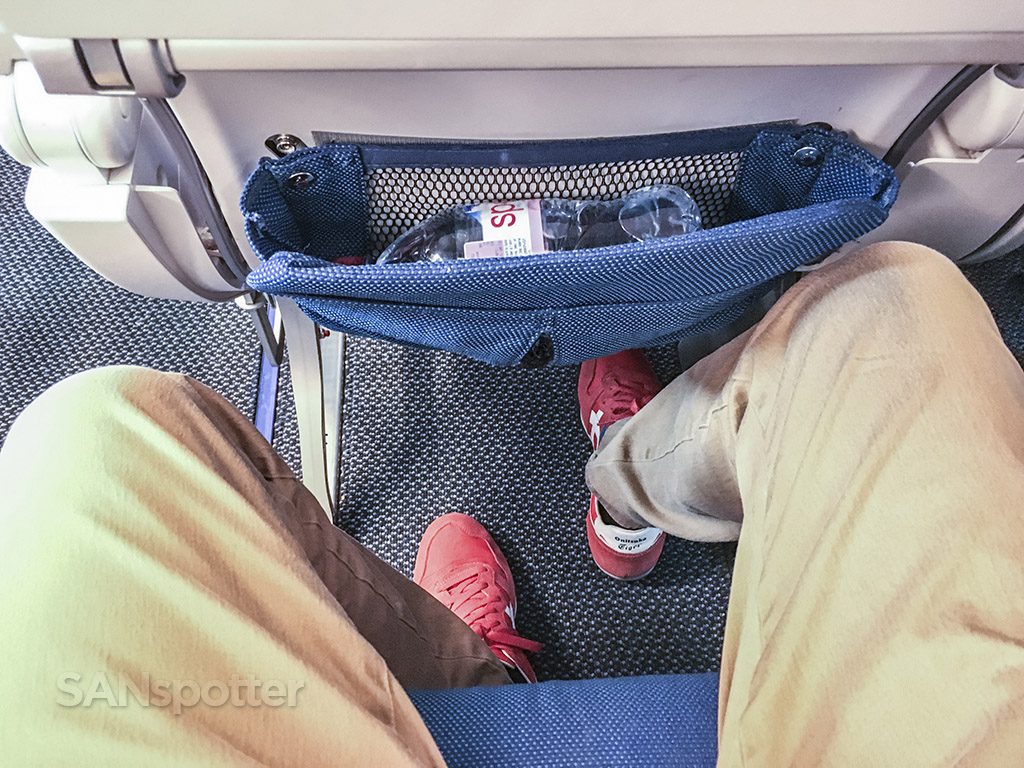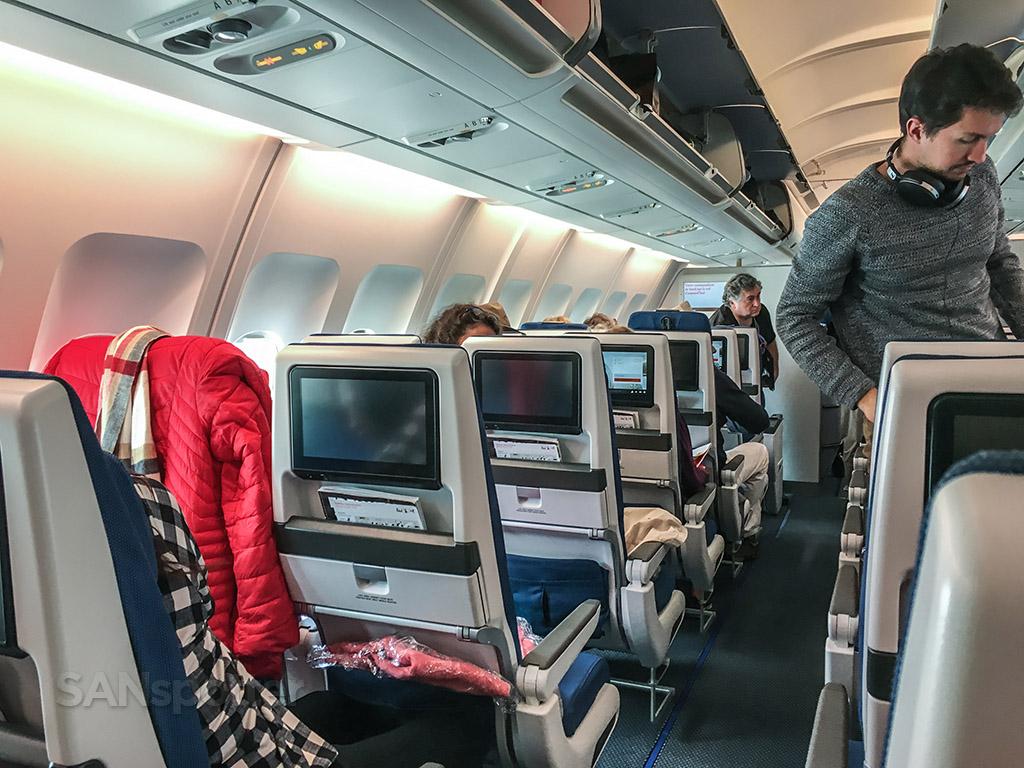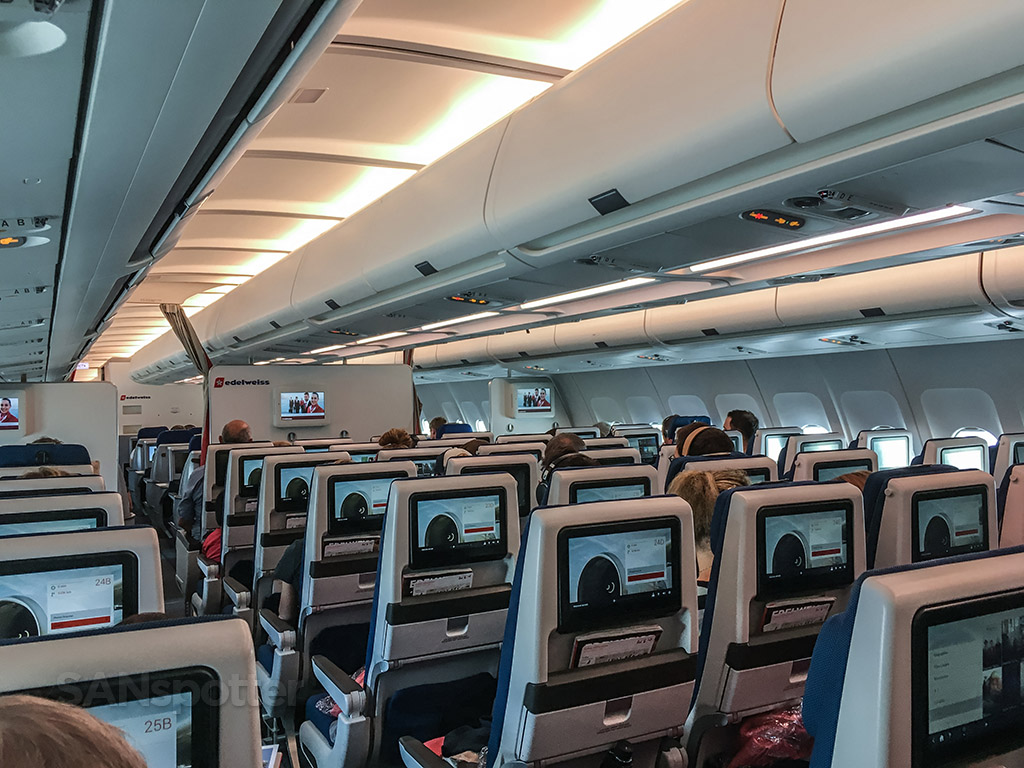 So yeah, time for more awkward stuff. The first thing that was really weird was the fact that even though it was quite obvious that the flight was going to be very empty, there was someone in the seat adjacent to mine (an aisle seat I paid $25 for). Throughout the entire boarding process, people slowly came onboard and sat down in seats with no one else around them, but there I was sitting shoulder to shoulder with a complete stranger on a very empty airplane as the main boarding door was closed. How the hell does stuff like that that even happen?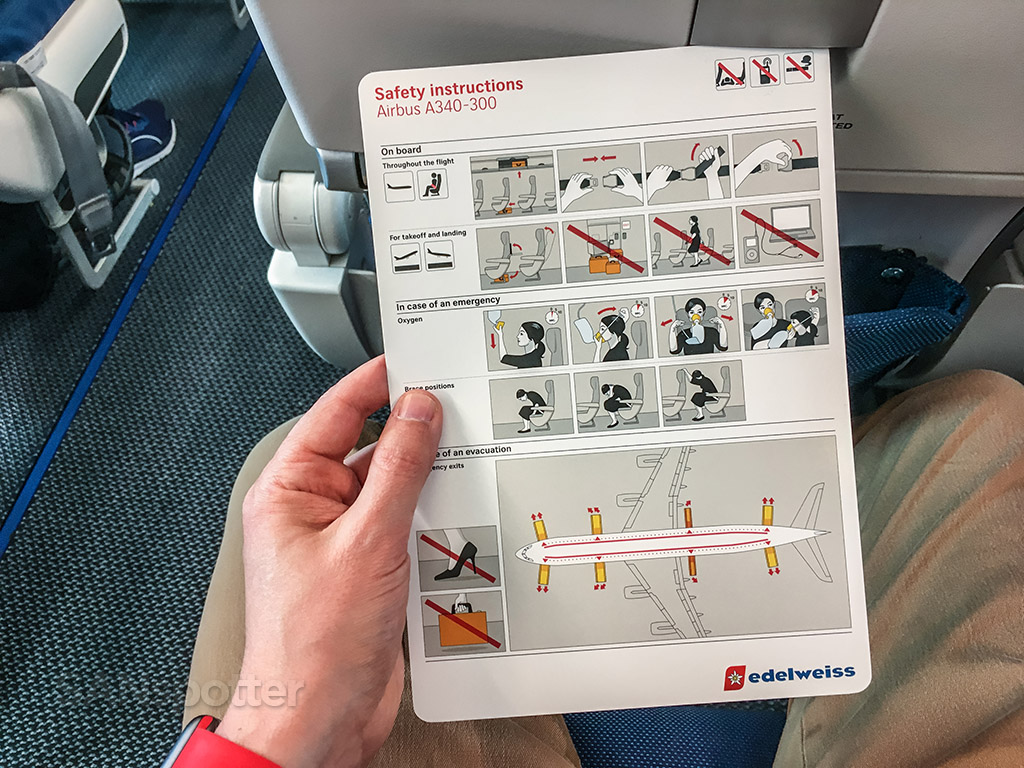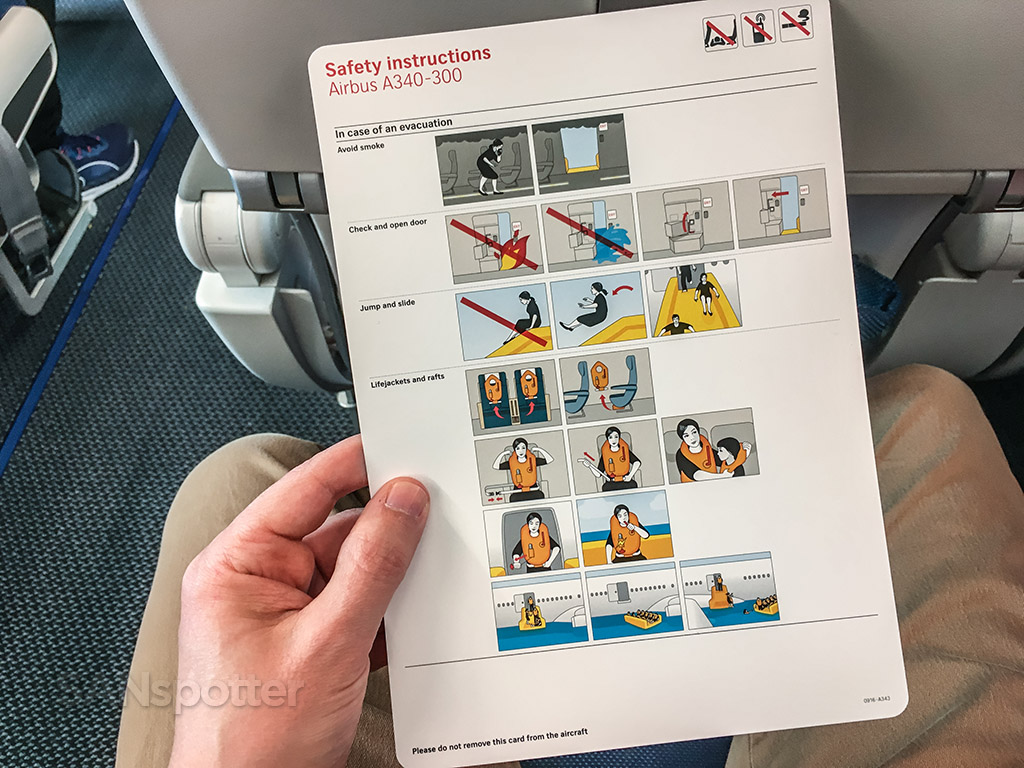 It was about the time we were sharing nervous small talk when yet another really awkward thing happened. My phone buzzed, alerting me to a DM from my Instagram friend @travelswithamandeuce that simply asked "are you the one with the red shoes?" I immediately thought that he was sitting right behind me without me even knowing it, which caused me to pop my head up and look around the cabin to see if I could spot him. I didn't see anything, so I was curious as hell as to how (and where) he spotted me.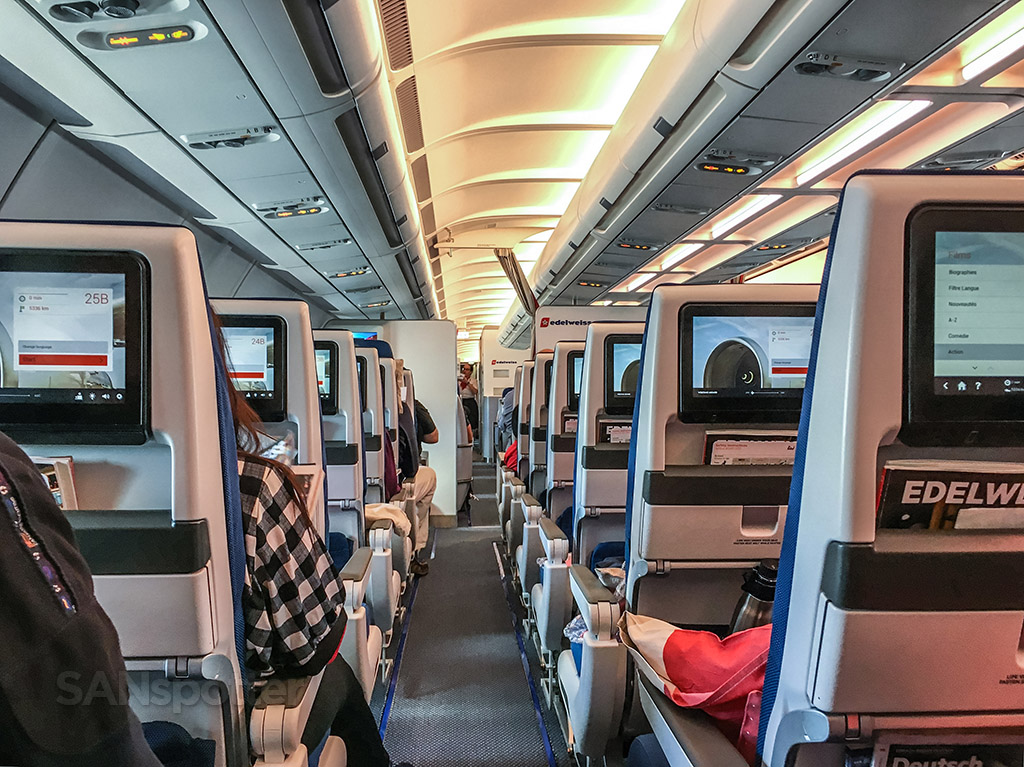 Long story short, he was the guy who cupped me at security. Whoa. Talk about an awkward first meeting! We didn't even recognize each other at the time, and it was only after he saw one of my real-time Instagram stories about boarding this flight that he realized it was me. Now, I've had some awkward first meetings in my life, but this one tops them all. So even though our encounter was less than 30 seconds, it's hard not to think that he knows me more than most people (male or female) ever will. Lol!
Realizing that the flight was nearly empty helped to wash away the feelings of embarrassment, and I bid adieu to my seatmate as I jumped across the aisle to an open row with a vacant window seat. Just as I was sitting down, the cabin crew made an announcement that anyone wishing to upgrade to business class could do so for the price of 800CHF. I'll admit that I was tempted, but since I had a entire row to myself I figured it wasn't necessary and I decided to stay put.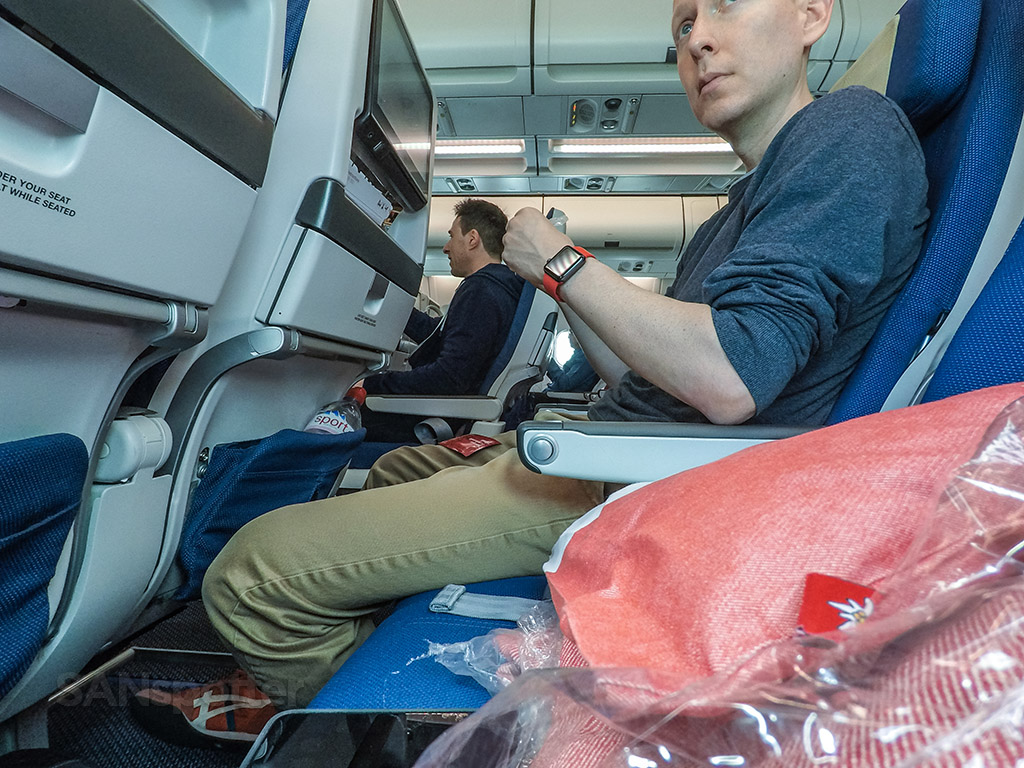 The two girls sitting behind me were making me second-guess my decision to switch to this row though because they would just not shut up. Seriously, it was just nonstop talking with hardly any breaks to stop and take a breath. I thought for sure that I would not be able to stay put, which was OK given how empty the flight was. Finding a new (and much quieter) seat wasn't going to be a problem if they pushed me to my breaking point.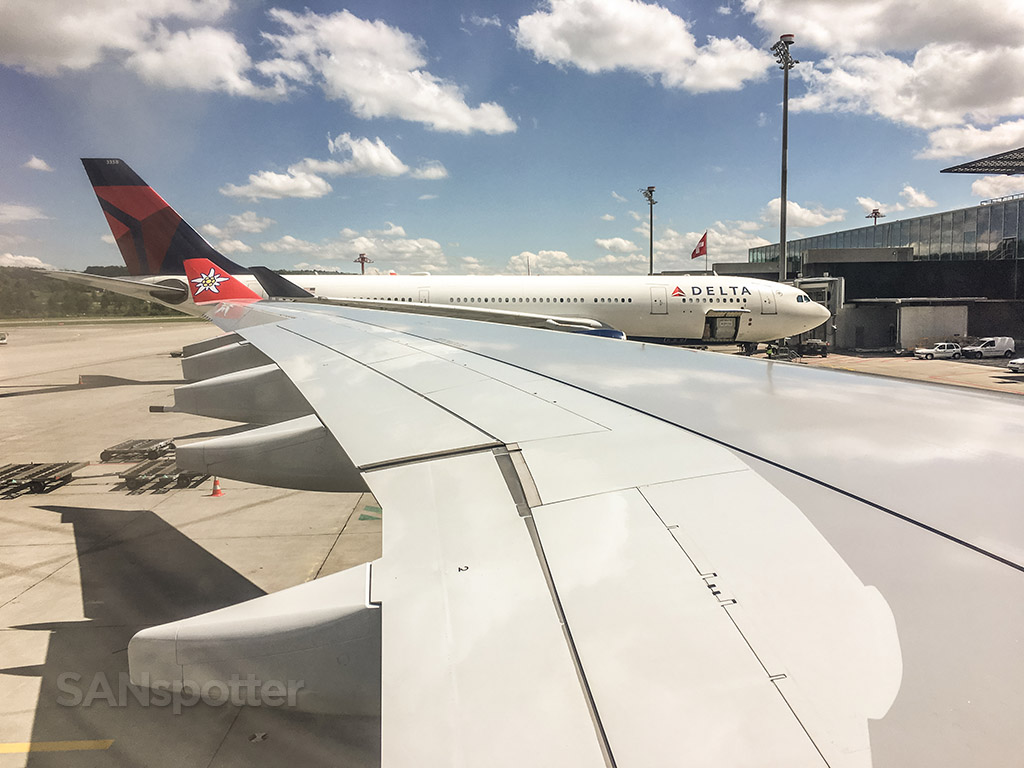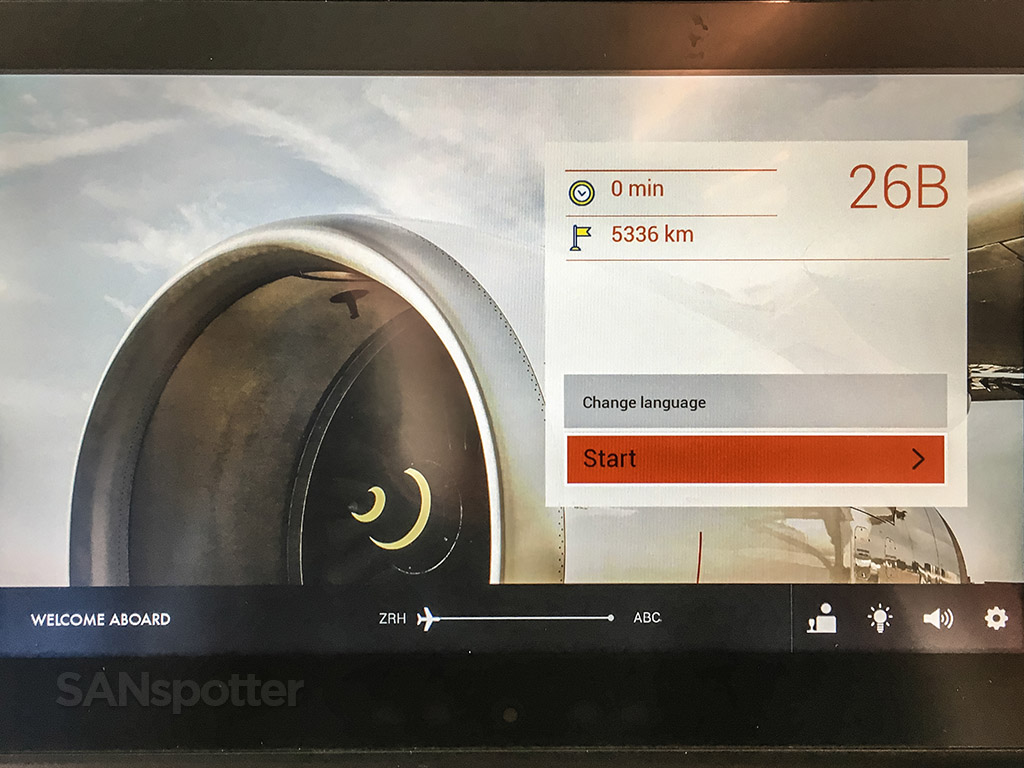 After an approximate 40 minute wait at the gate due to airport congestion, we were finally on our way to San Diego. The two girls were still yapping away behind me though, and I was pretty sure that I was going to have to make a run for it as soon as we took off and reached cruising altitude.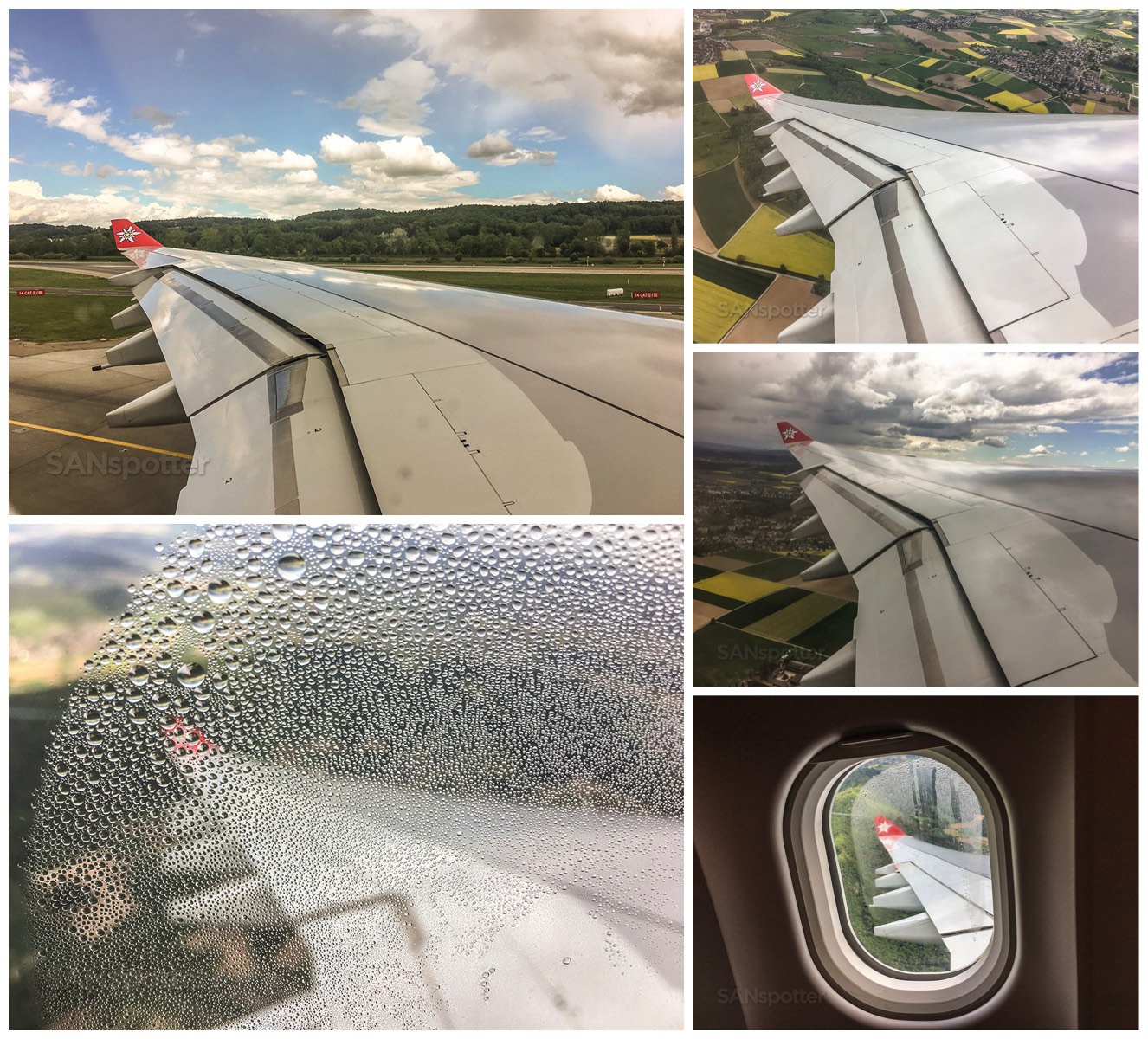 Thankfully the cabin service started nearly immediately after we departed, which shut the girls up enough to think that I would be able to stay put – at least for a while. Drink orders came first, and while I was sipping on my water, I started to think that it was odd that the cabin crew didn't make a welcome announcement at all. They just jumped right into things, which didn't really bother me any since I was getting pretty hungry by this point.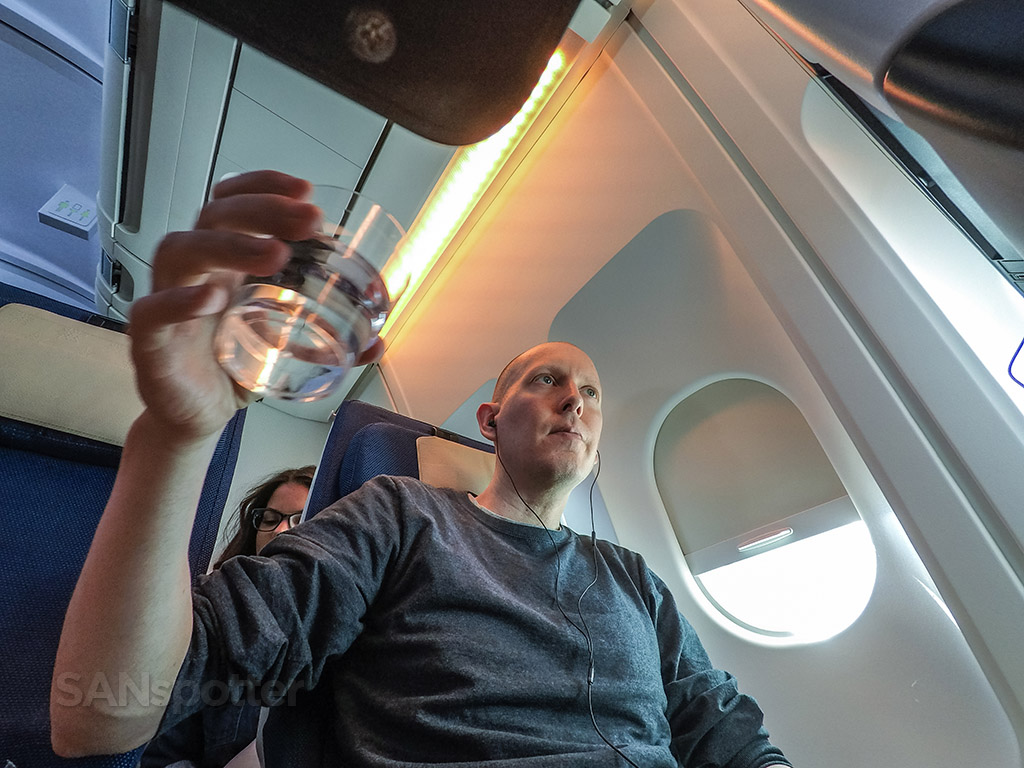 The lunch service came within minutes after the drinks, which consisted of a vegetarian dish or something with sausage in it. My apologies for not being able to remember exactly what it was, but there were no menus distributed. They simply rolled up to my seat, asked me what I wanted, and that was that. Oh, I went with the vegetarian dish by the way.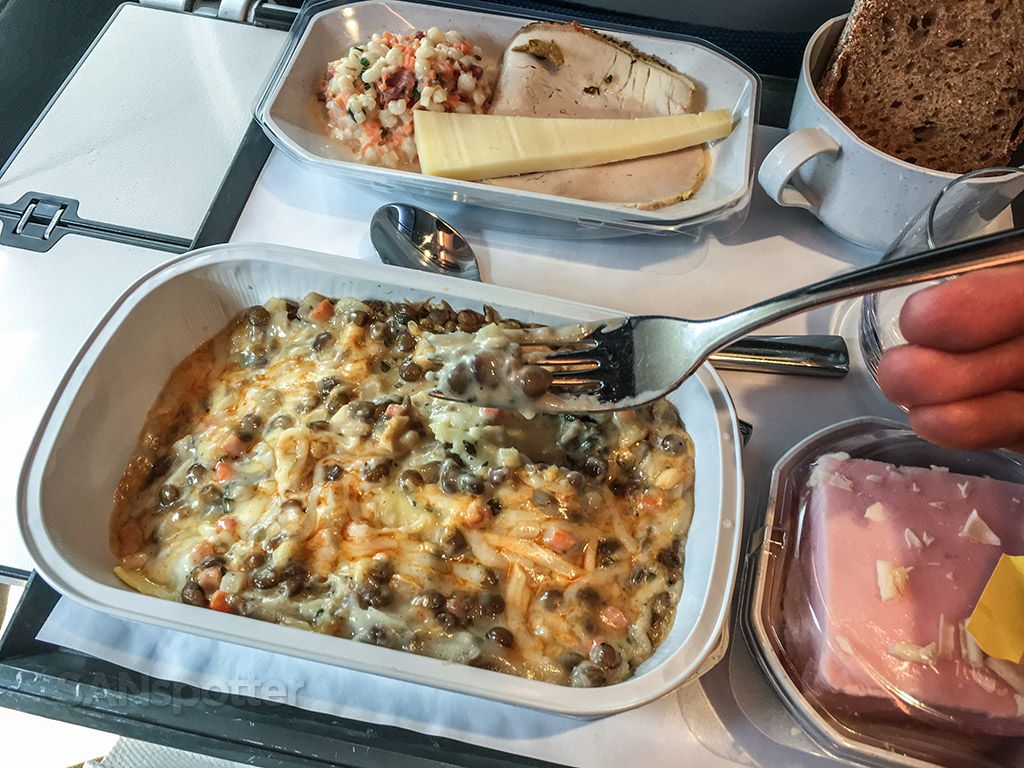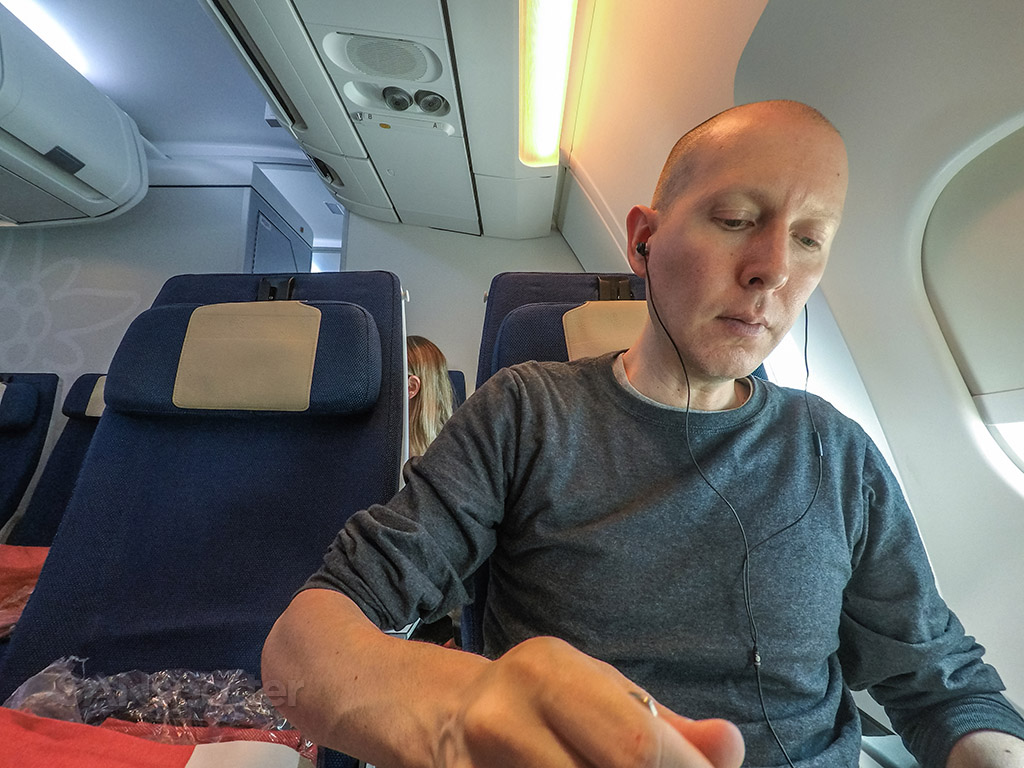 I watched episodes of Will and Grace during the meal service, which was a bit difficult since the person sitting in front of me reclined their seat back the full amount and I ended up staring at a video screen mere inches from my face. Welcome to economy class!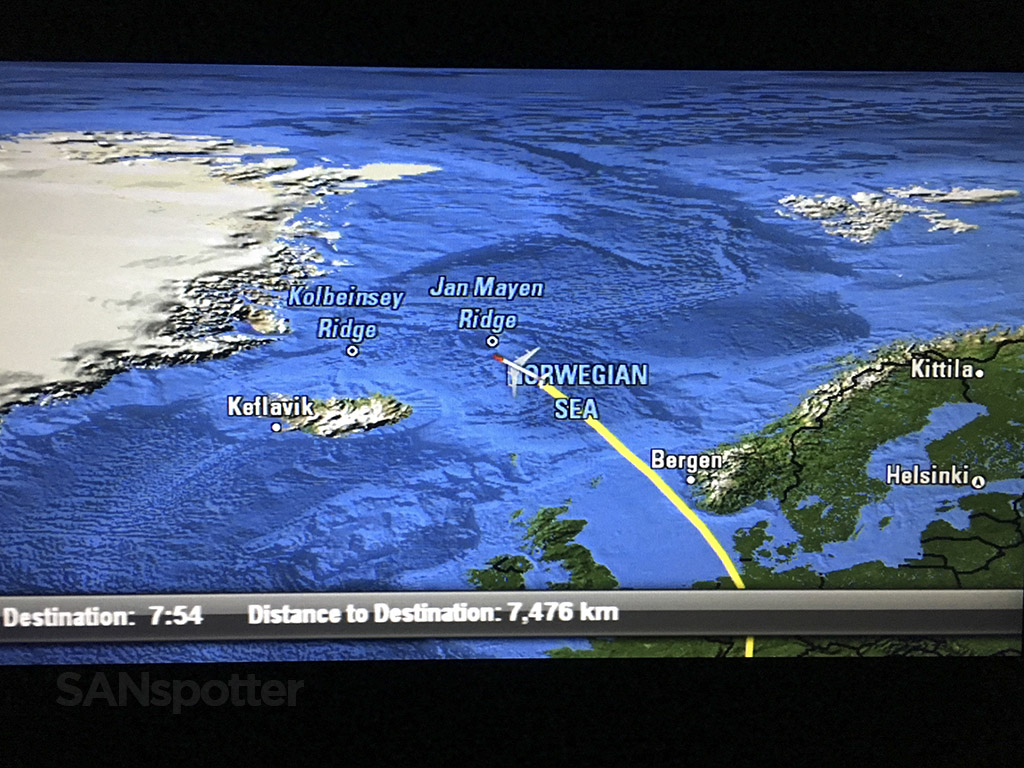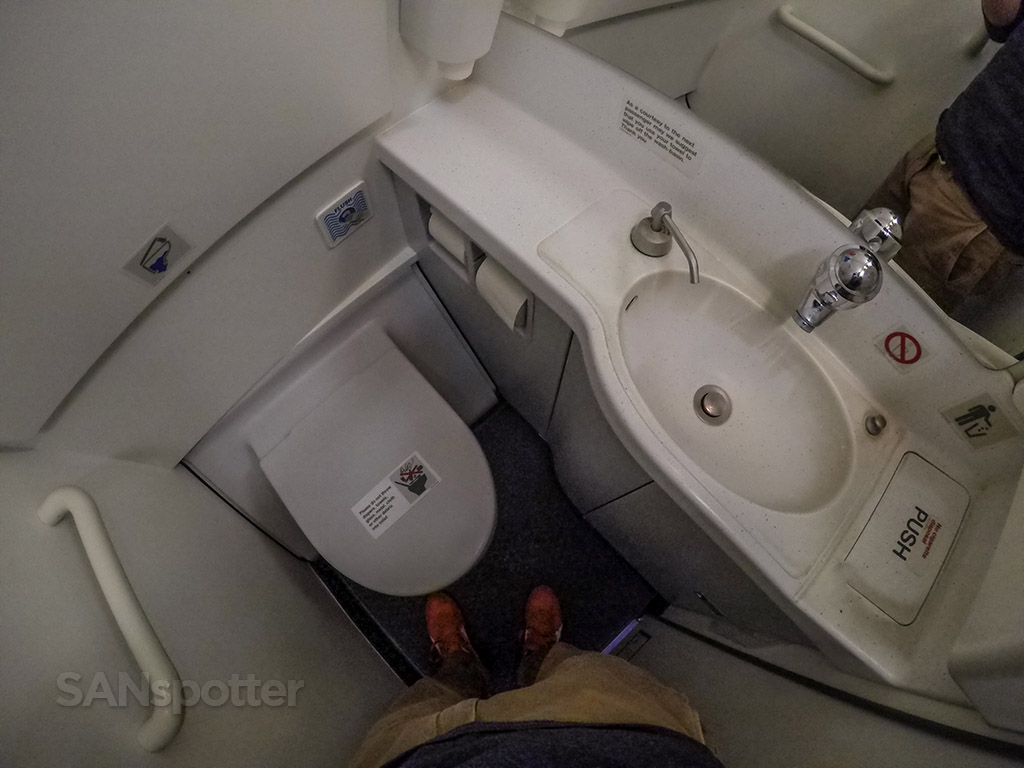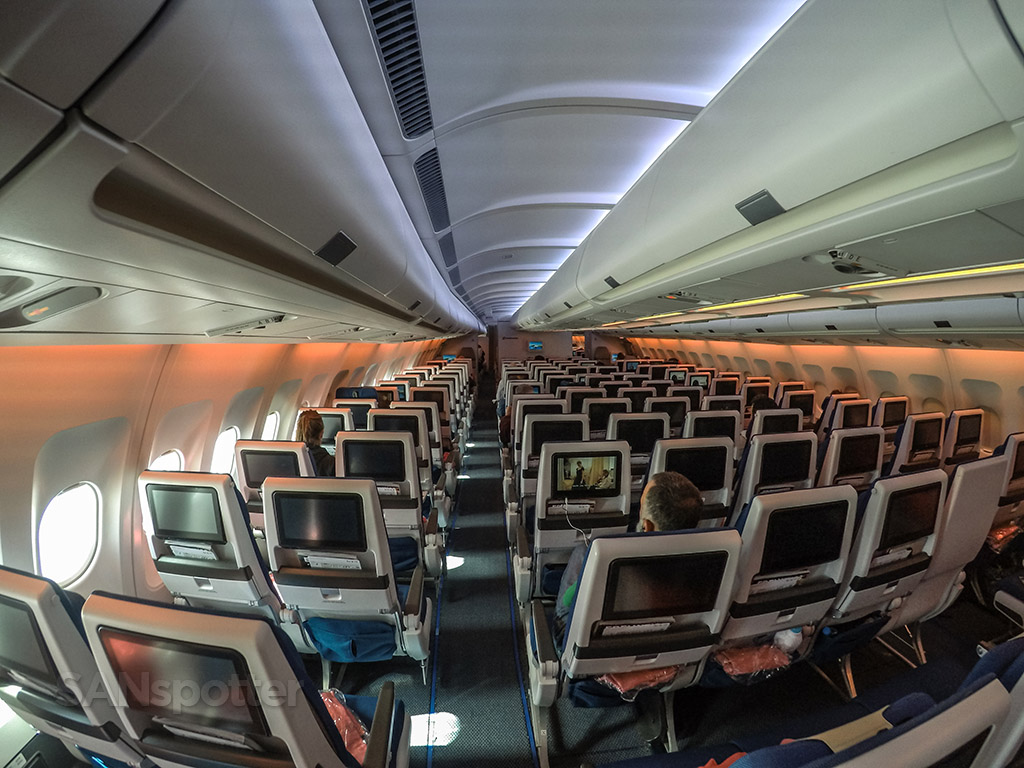 The cabin lights dimmed slowly over the next hour or so, with nearly everybody drawing their window shades closed. Except for the woman sitting in front of me. She was dead asleep, and it ended up that her window shade was the only one left open in the entire cabin – and it was highly annoying. That's when I decided to go for it, and I reached forward between the seat and the wall and shut it for her (thinking that she wouldn't even notice). But wouldn't you know it, it woke her up and she immediately looked around wondering what the hell had just happened. Of course I didn't say anything and just pretended to be asleep. Yeah, I'm sneaky like that.
It was right about then that I realized that things were not going all that well. You see, my flight over to Europe a few days ago on Lufthansa wasn't all that uncomfortable actually, and I guess I was kind of expecting the same level of comfort for this Edelweiss flight back to San Diego. But it was worse. Much worse. The seats on this particular aircraft were so hard and uncomfortable that I simply couldn't find a position which didn't make my legs fall asleep in less than 10 minutes. Combine that with the fact that the seat pitch was painfully tight (I'm talking Air Canada Rouge tight), and it was pretty much the most uncomfortable economy class I've ever been in.
Thankfully the flight attendants came through the aisles every now and then with trays of drinks, and taking shots of water or apple juice every hour or so was a nice break from the pain and discomfort.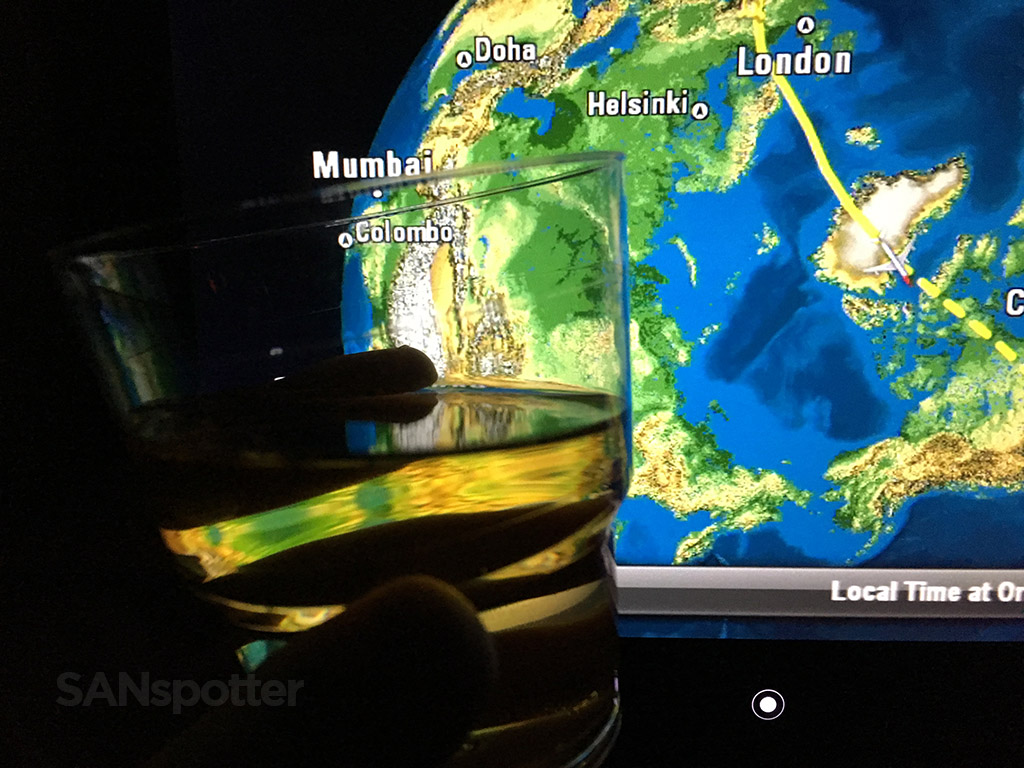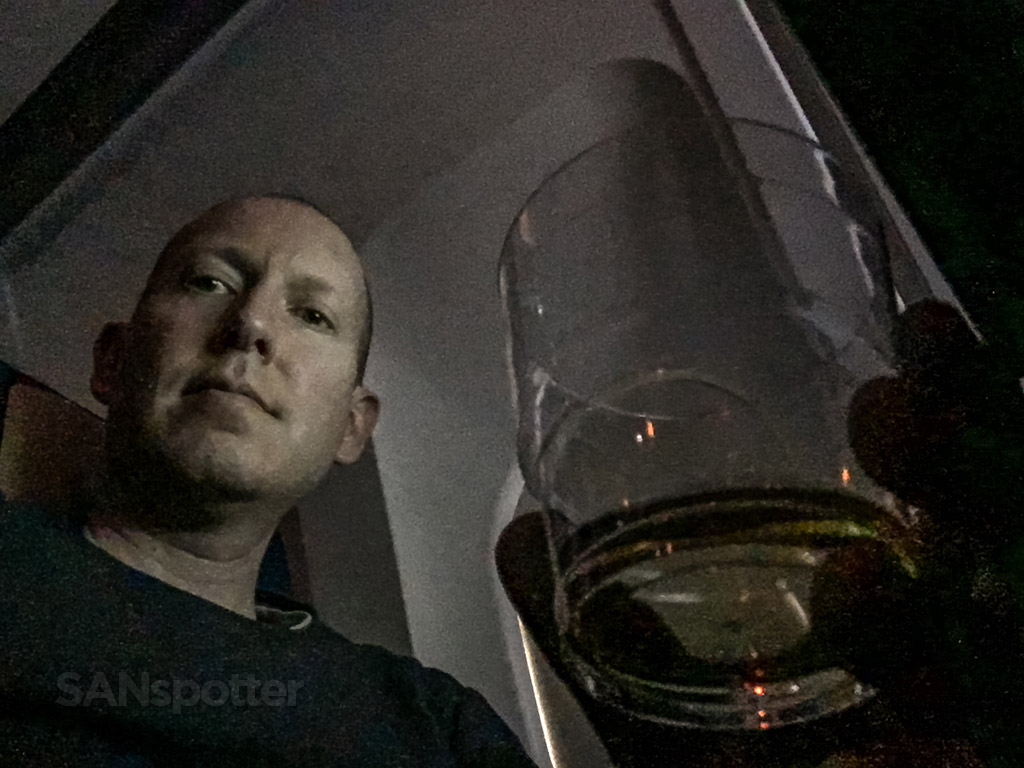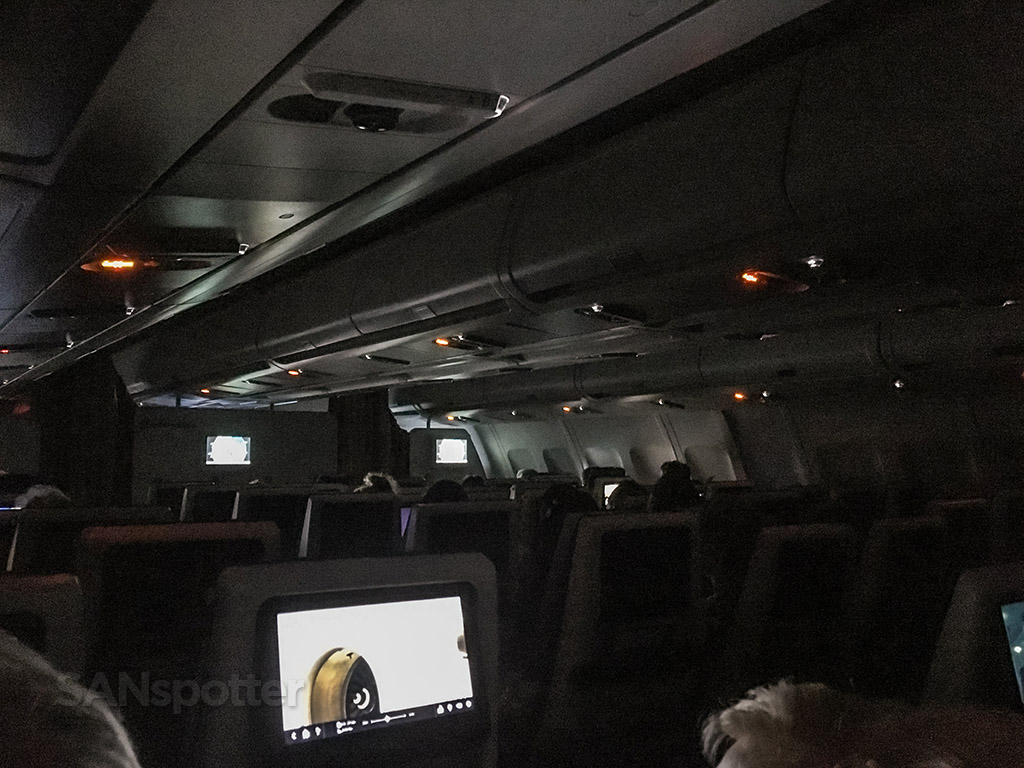 Then the ice cream came. I wasn't really in the mood for ice cream due to the fact that I couldn't feel my legs and my back was killing me, but ice cream is ice cream and I did what I could with it.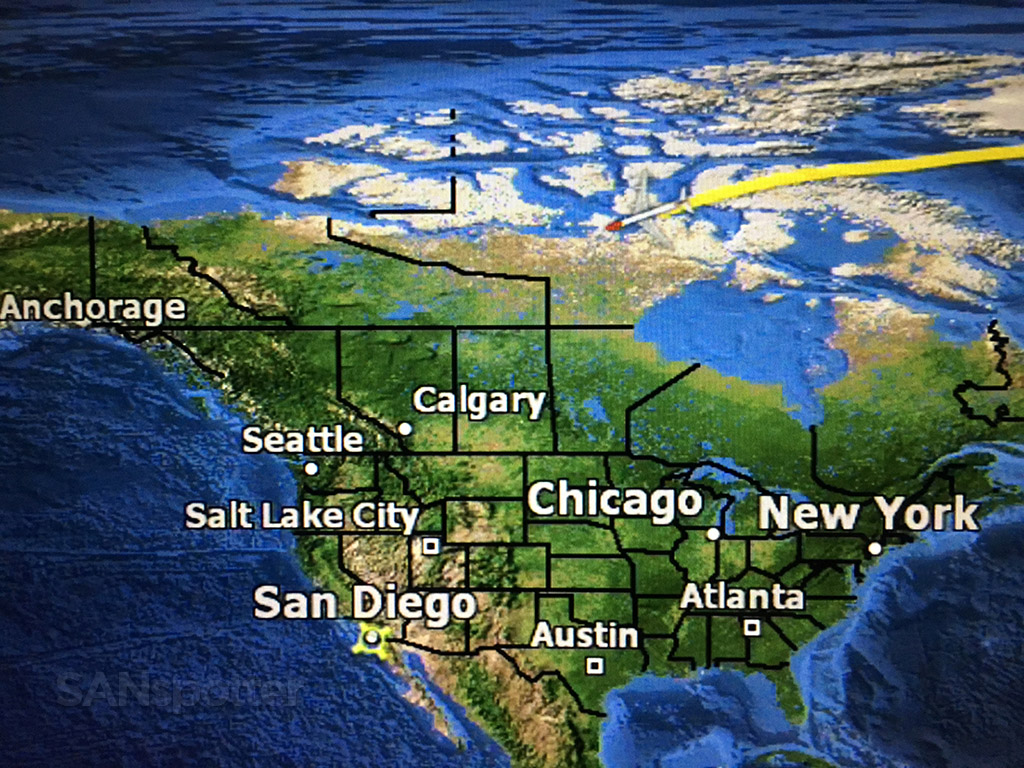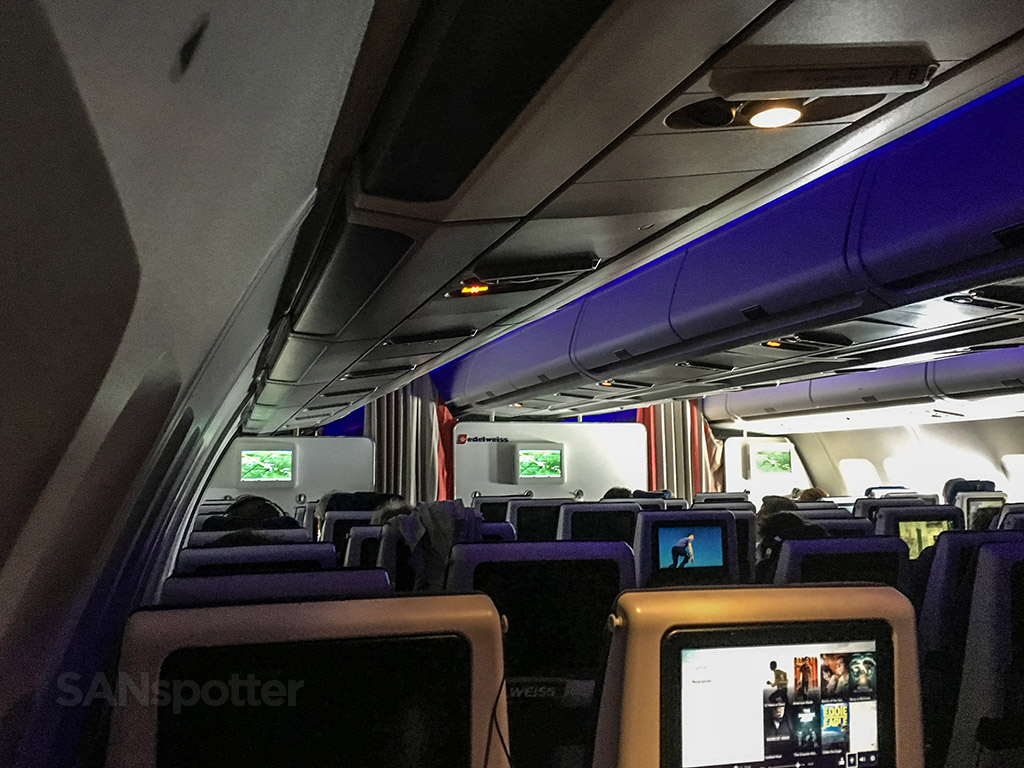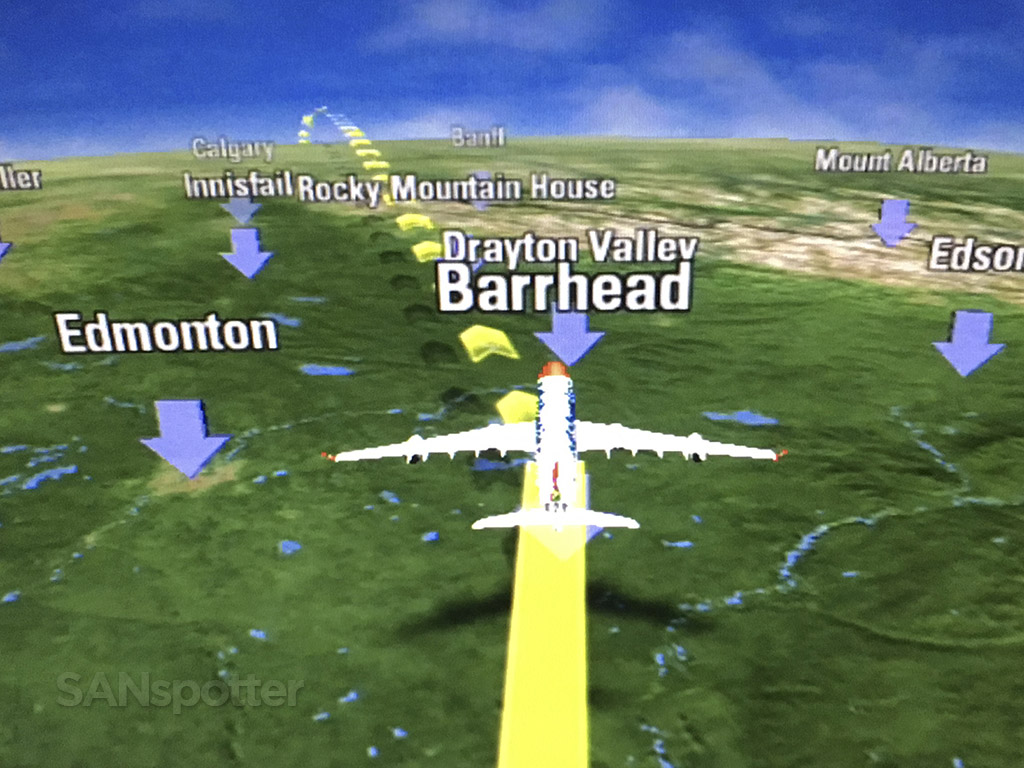 The only thing that could take my mind off my numb legs and throbbing back was to do a bit of business planning, which consisted of trying to figure out what I was going to do the first day of self-employment next week. It kept me busy for a couple hours, long enough for them to start coming through with the breakfast service.
Thank God I made it through the night alive – I was really worried for a while, especially since this flight had not been going as well as I expected it would. Don't get me wrong – the service had been excellent so far, but the seats I pretty much hated.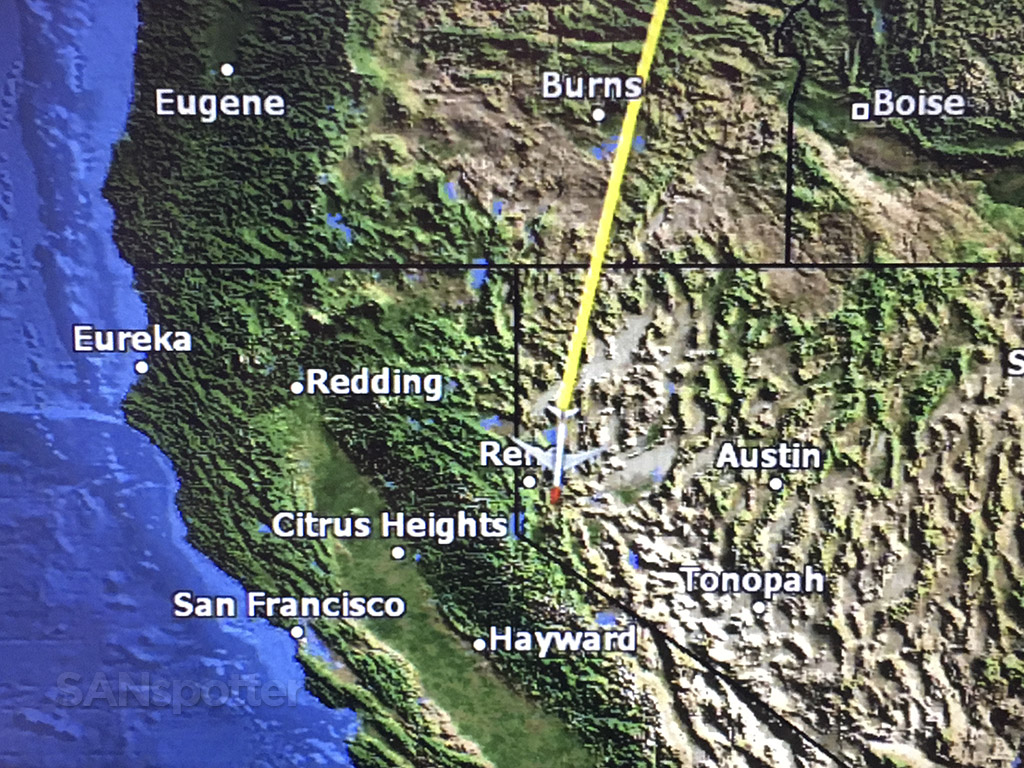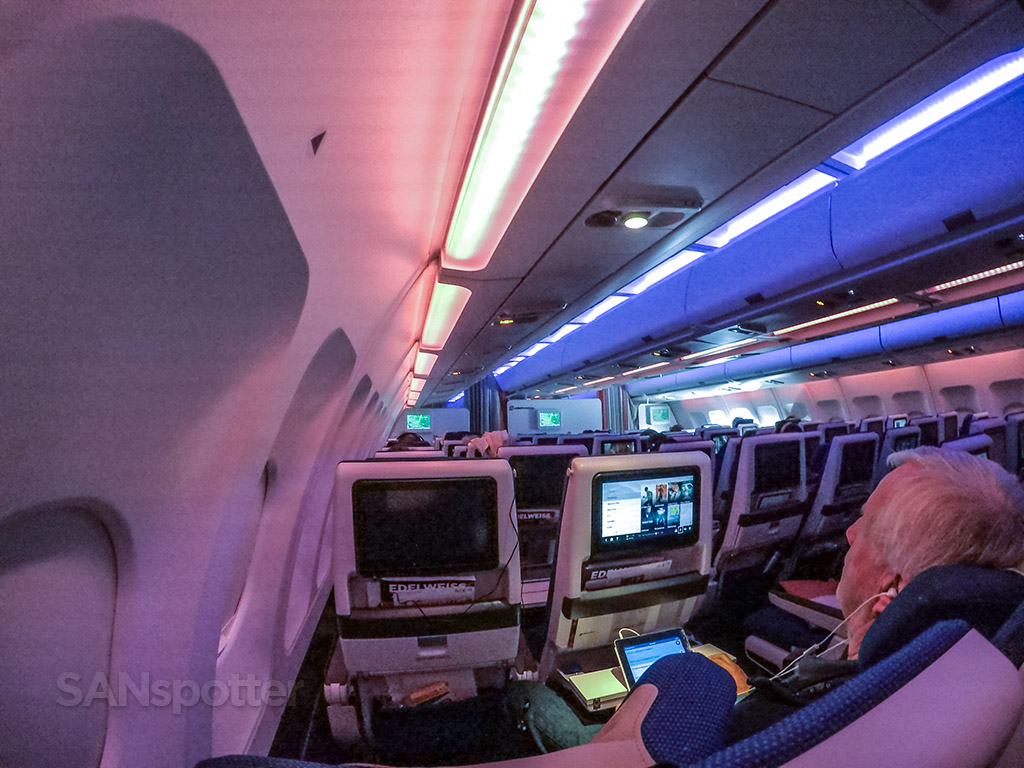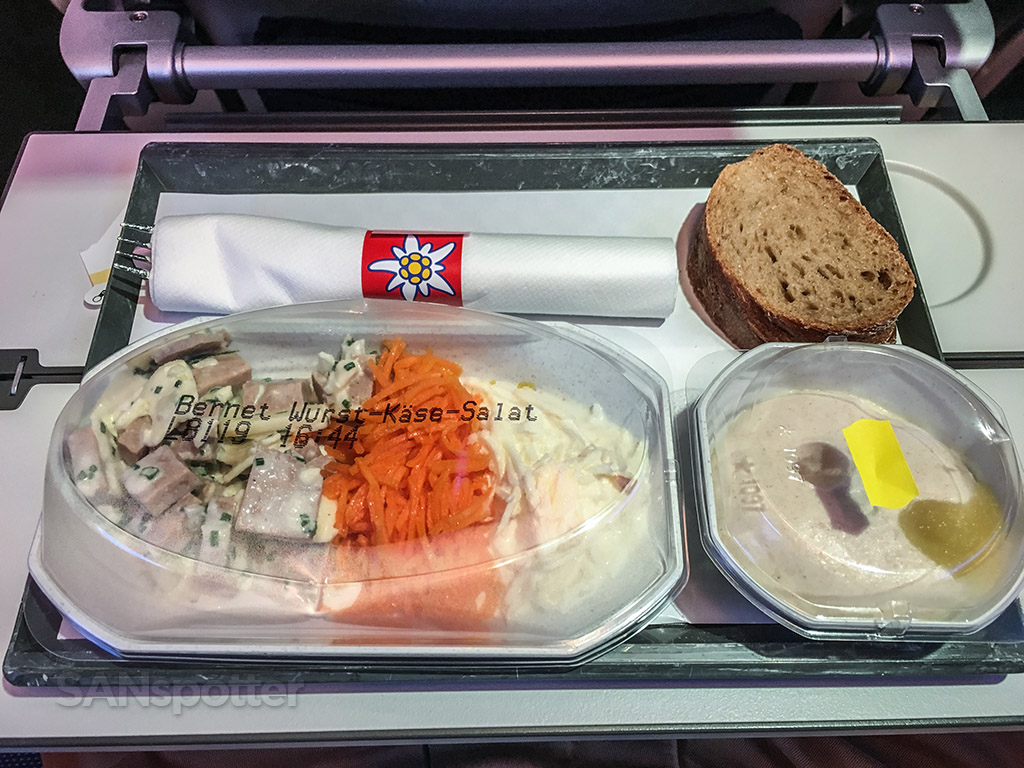 The descent into San Diego began shortly after they cleared my breakfast tray, and I was so numb at that point that I didn't even care that there was a thick layer of clouds hugging the coastline of Southern California and I wasn't going to be able to get a beautiful and sunshiny series of pics for the approach and landing. "Screw it… just get this damn plane on the ground!"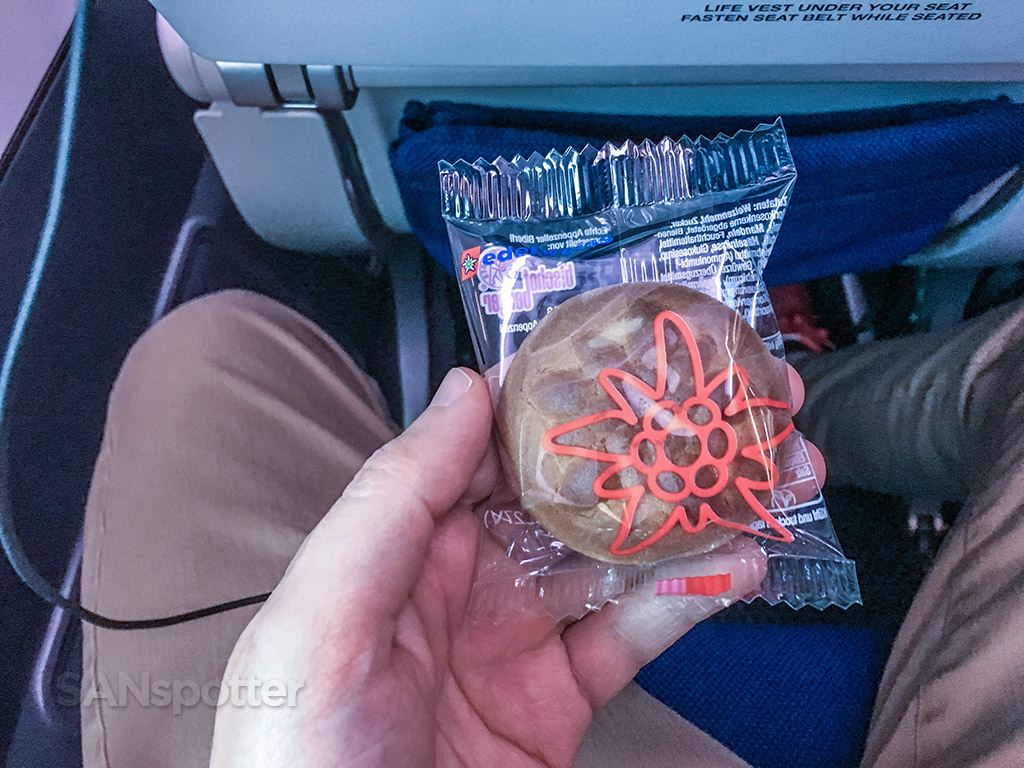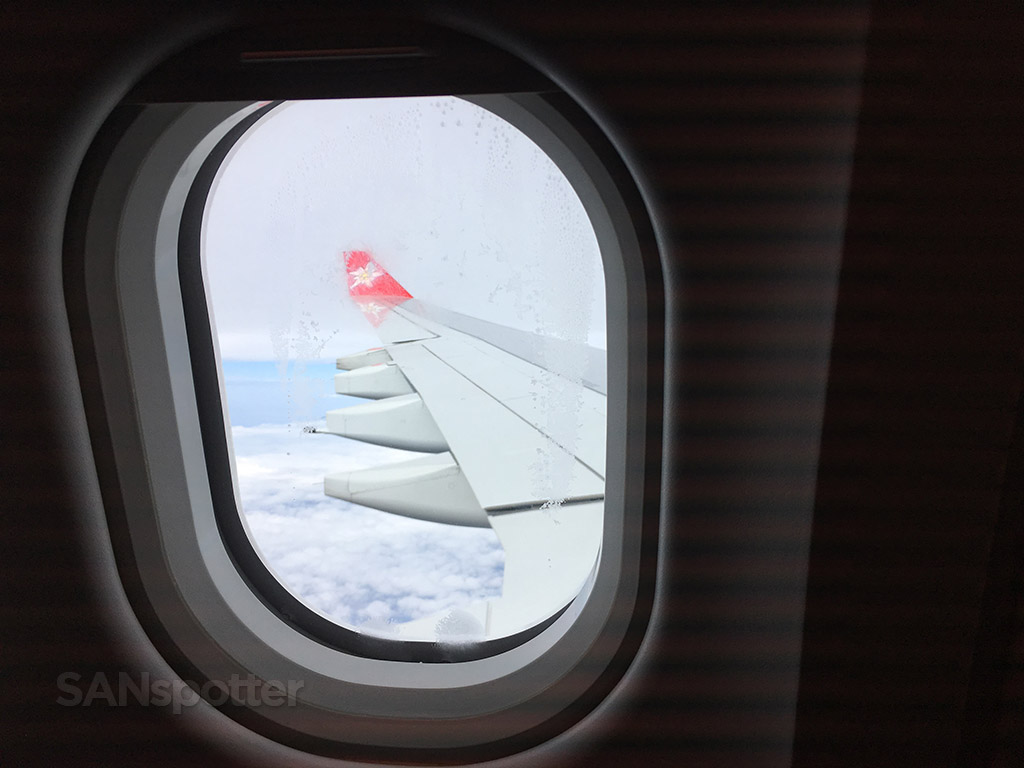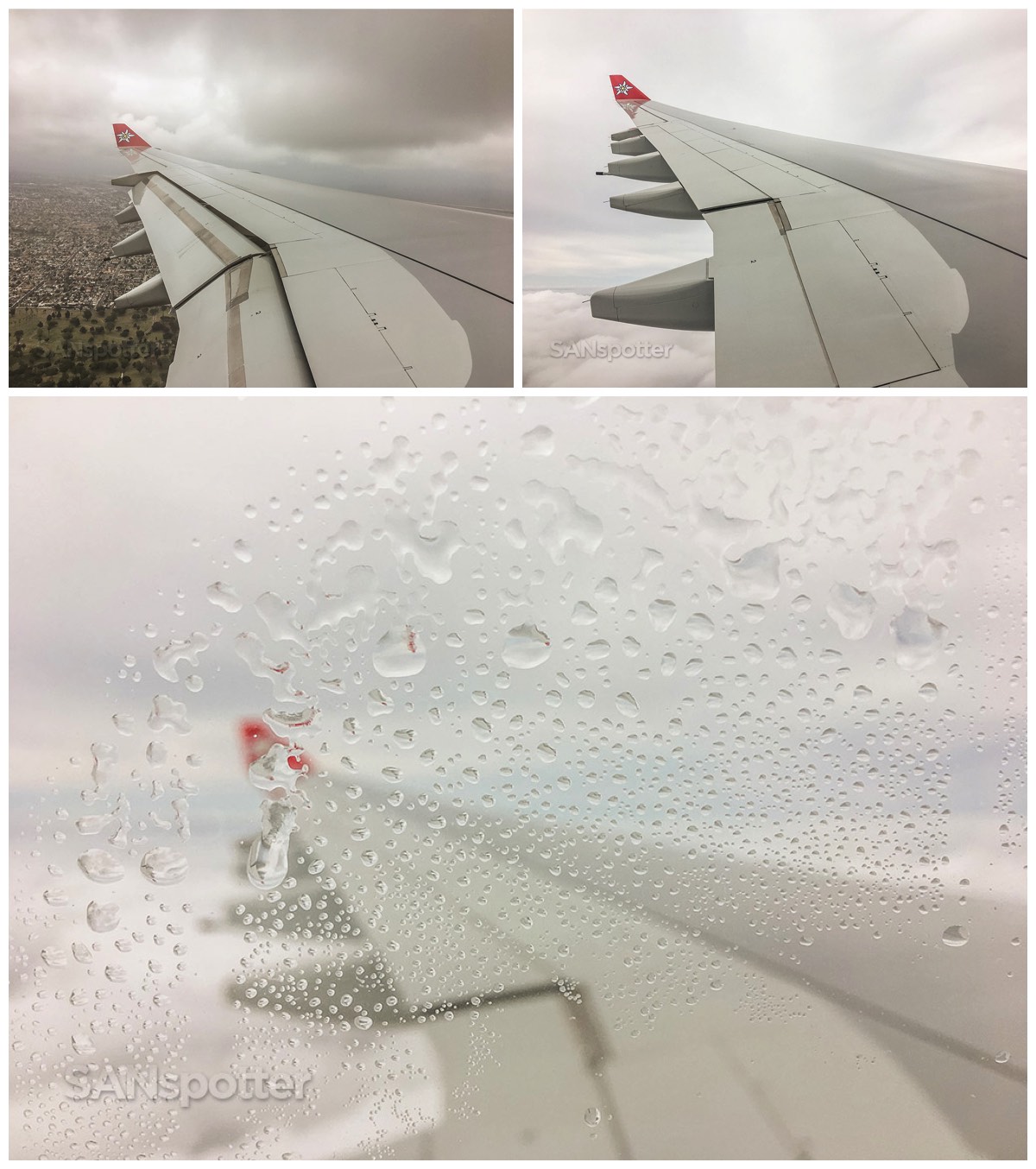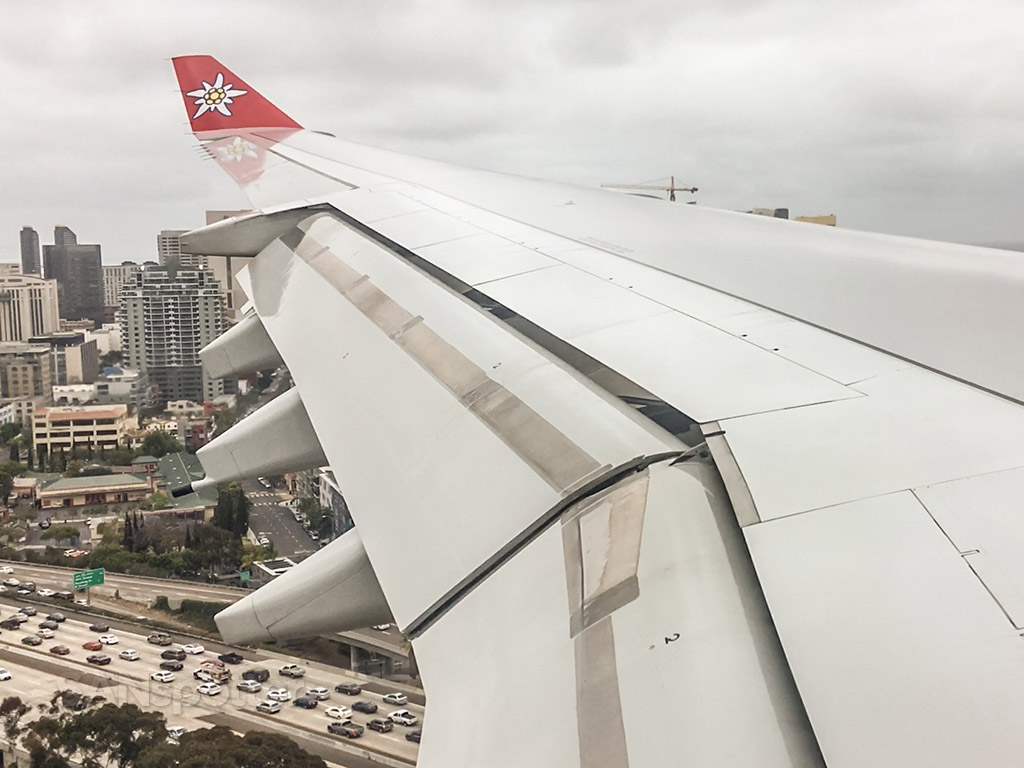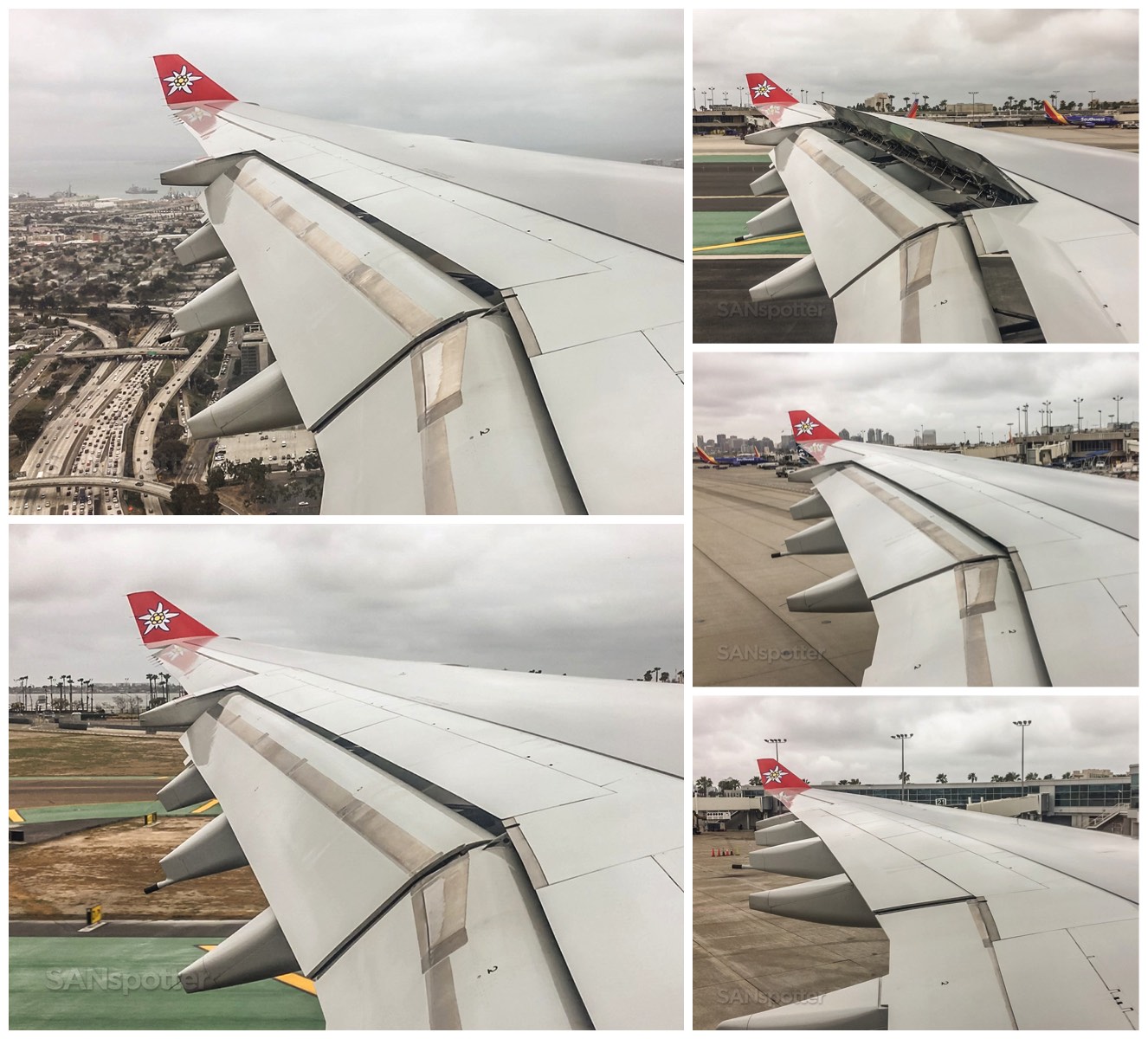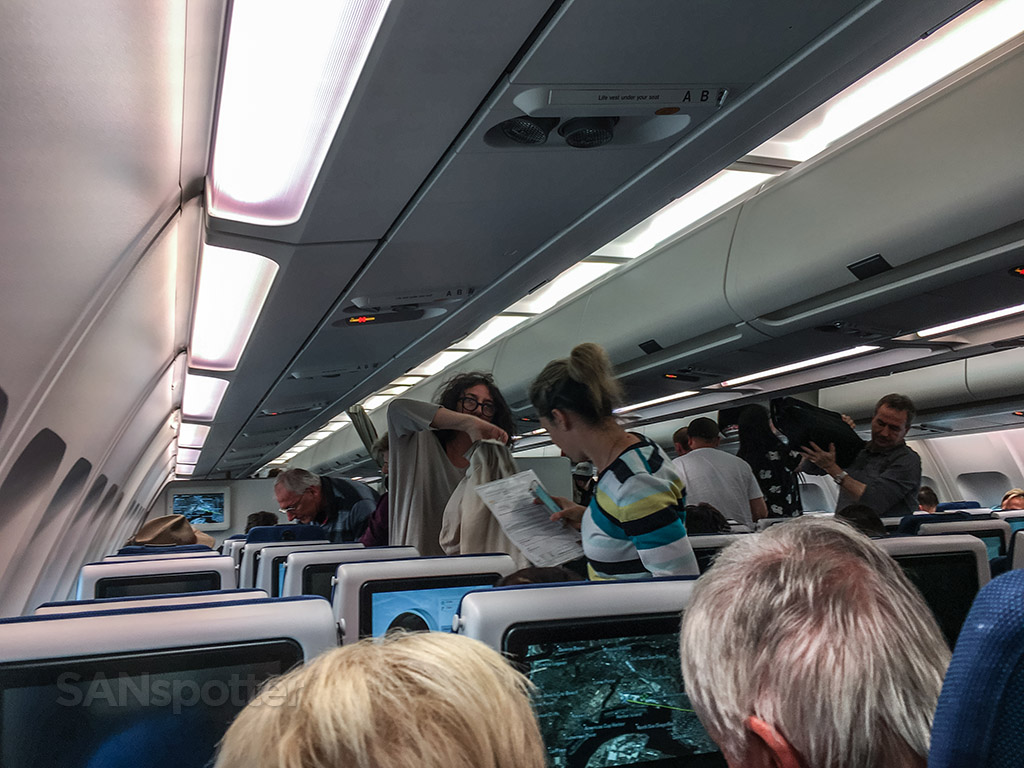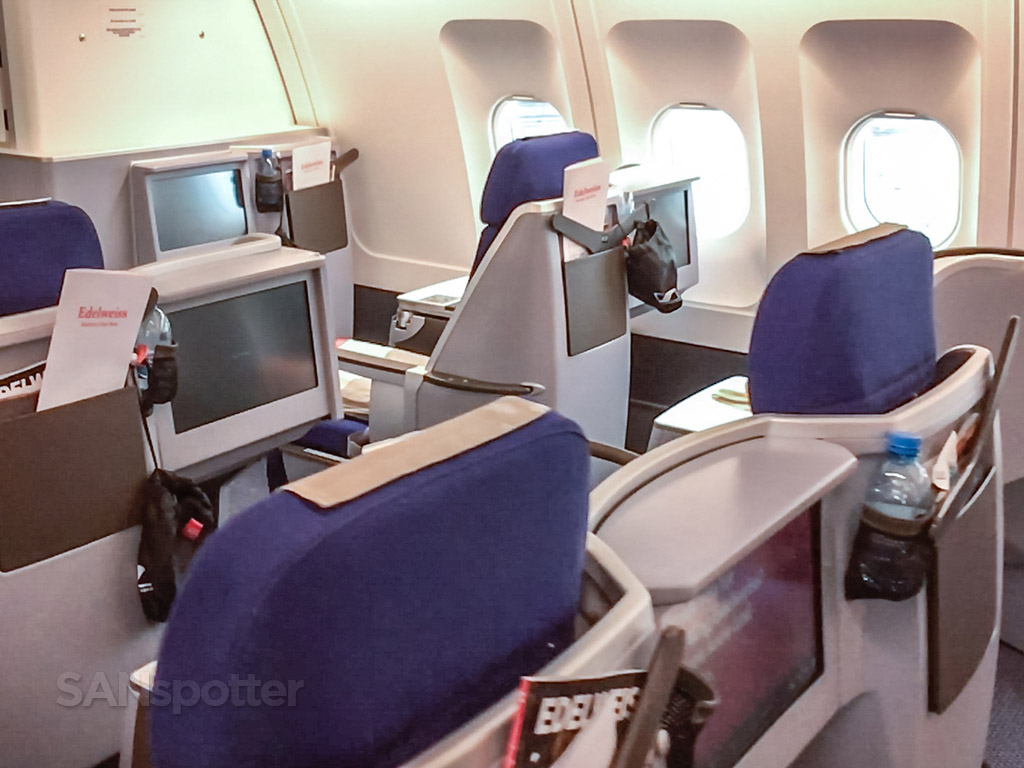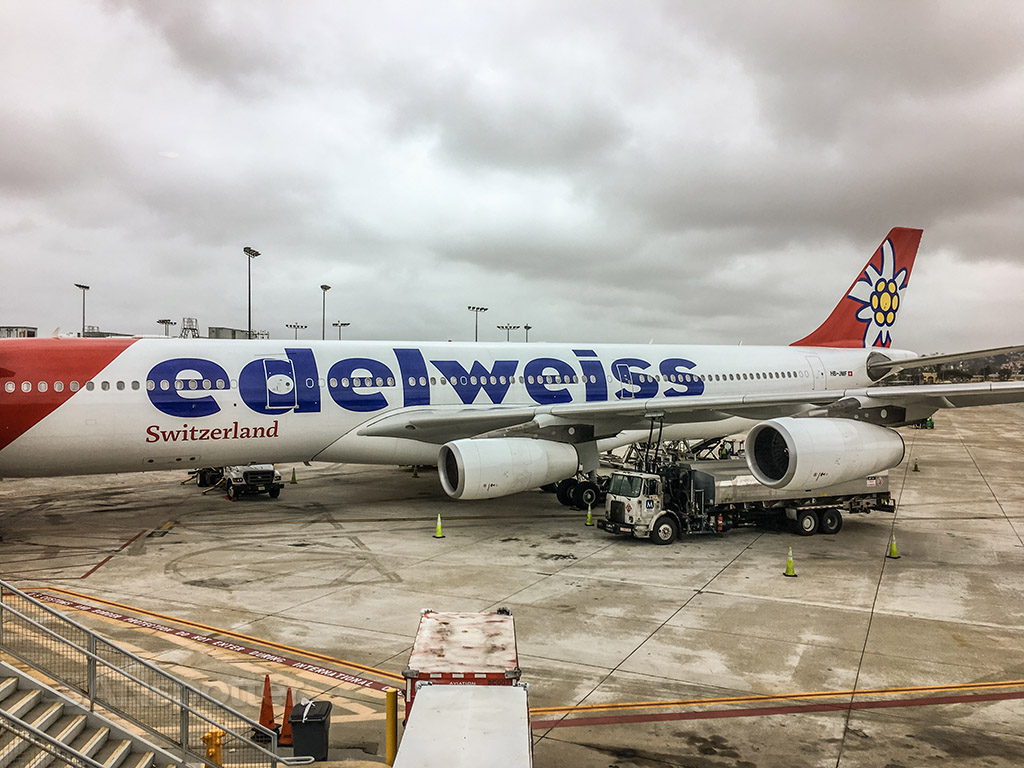 Well, that's it folks. This was a flight that I had been looking forward to for a very long time and I'm so very glad that I finally had the chance to do it. The announcement that Edelweiss Air (an airline most non AvGeeks have never heard of) would be serving San Diego with nonstop flights to Zurich last year came completely out of left field and took me by complete surprise – and as a matter of fact, I am still in disbelief they're actually flying here! Let's just hope those load factors improve and that the low number of passengers on this particular flight was just an anomaly, because they may not be fine here for long if these planes are flying this empty all the time.
I'd also like to hope that I don't run in to any more of my Instagram buddies as awkwardly as I did during this trip. Getting felt up by strangers is perfectly acceptable in certain situations, but chatting about travel and airplanes over a beer or two is always a far less weird way to meet someone for the first time. Always.