There's nothing on this earth that will chill me out and vaporize anxiety more than a 15 hour flight will. My flight from San Francisco touched down here in Melbourne a full three hours behind schedule, which completely obliterated any chance of making my connection to Sydney. I missed that flight in a spectacular fashion, yet I couldn't help but to crack a smile as I walked into the departures hall at MEL feeling clueless as to what was going to happen next.
As much as I'd like to write about a busy morning of negotiating with QANTAS ticket agents and making it to Sydney by the skin of my teeth (I was so mentally prepared for it), I'm disappointed to tell you that it didn't play out anything like that.
I simply walked up to the nearest kiosk, pressed the "print boarding pass" button, and it spit out a little slip of paper confirming my first class seat on flight number 470 departing in exactly 53 minutes. There wasn't even a line at the security checkpoint. I breezed through it in a matter of seconds, feeling miffed that I didn't get to take advantage of my super chill state of mind. Why is there never a crisis when I want one?
QF470
Melbourne, VIC (MEL) – Sydney, NSW (SYD)
Friday, February 1, 2019
Aircraft: 737-838
Registration: VH-VXQ
Duration: 1 hour 3 minutes
Seat: 1A (first class)
It's a miracle that there's even a video of this MEL-SYD segment at all considering how short and relatively benign it was compared to my previous flight. Besides, Melbourne to Sydney on a 737 is probably just as exciting to an Australian as a Phoenix to San Diego flight is to an American like me – so I totally get how dry of a topic it is.
Worried that I may end up putting you guys to sleep, I decided to approach it with a slightly different perspective by answering a question I hear all the time: what's the difference between domestic first class in Australia vs the US?
As usual, Epidemic Sound came through for me with a very fitting super chill soundtrack for this video. They've got music for any mood, and it behooves you to be a subscriber if you need beats to augment your own YouTube videos.
Confirmed: flights are a lot more fun when the airplane is wearing a special livery
First of all, I need to come out and say that the domestic terminal here at MEL is a major disappointment. The main ticketing hall looks nice and very modern, but it set me up to be massively disappointed once clearing the security checkpoint and spilling out into the bleakness that is the departure gate area.
The best way to describe the feeling of walking into the domestic terminal for the first time is like walking into an old shopping mall that is just weeks (possibly even minutes) away from demolition. It was a depressing concoction of dark gate areas, big open spaces void of any furniture or other fixtures, and tiny shops with sad-looking clerks who seemed desperate for someone (anyone) to step inside and buy a pack of gum.
Just as I was mulling over the probabilities of getting mugged by an evil-looking guy hiding in the shadows, I stepped into a shadowy gate area (lol) to get a better look at the airplane which would be flying me up to Sydney this morning. What I saw was so enticing that I wouldn't have even noticed a creepy dude sneaking up behind me with a razor sharp boomerang who was looking to dash off with my backpack.
The fact that I'd be getting a ride on the Retro Roo II this morning was all the reason I needed to pull my camera out and start getting footage for the video (which I wasn't even planning on making). The last special livery airplane I had the chance to take for a spin was the 2018 Year of Zayed Emirates A380 from Los Angeles to Dubai last year, and knowing how much fun that was, I was in for a special treat this morning.
The boarding process wasn't any more different than it is back in the US, but it was nice feeling knowing that I didn't have to spend very long here in the confines of the Melbourne airport domestic terminal struggling to find something to do.
My very first impression of QANTAS 737 first class
Telling you all about my first impressions of a new-to-me airline product always makes me chuckle inside because the truth is that I'm usually so busy trying to get pics and video footage that I never get the chance to look around until we're pushing back from the gate. I'm basically a hot mess covered in sweat at that point, and it would surprise me if everyone seated around me thinks that SANspotter is a much more intense dude than they thought he was.
QANTAS 737 first class seats are pretty nice actually. They aren't any more comfortable (or lumpy) than the first class seats we have back in the US, and I do appreciate the fact that they used a color other than blue or gray. You've heard me question the reasoning for blue seats in airplanes that fly over water before, so it should be of no surprise to know that I had to question the brown seats in this airplane – which likely spends much of its time flying over the central desert here in Australia. It's like they don't want to find our bodies after a crash or something.
Just as with any decent first class product we have back home in the US, the flight attendants came through the aisle offering drinks to all before we pushed off the gate.
What's with all the delays at the Melbourne airport?
My first ever experience with MEL came exactly 2.5 hours ago on the descent from SFO. Just as we crossed the 14 hour mark, the pilot informed us that air traffic control was staggering arrivals and that we'd have to do loops for a while as we await our slot. And now, trying to get out of this place, we faced the exact same situation (but in reverse).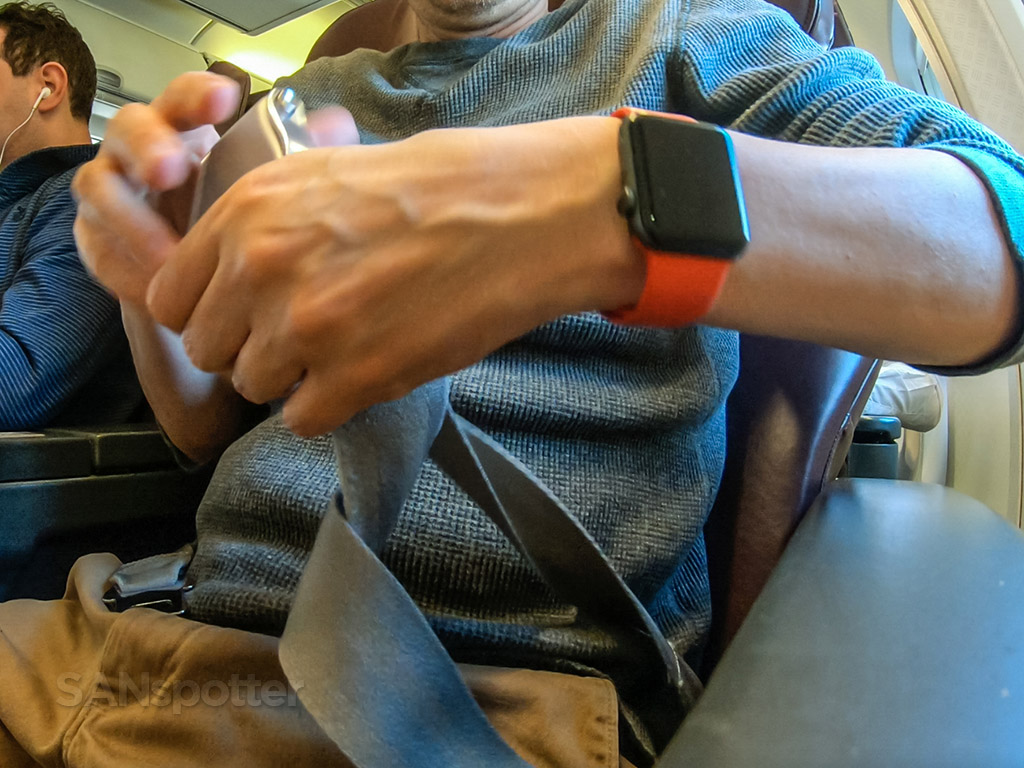 I wish I could have seen the interior of the international terminal (it looked really nice from the outside), because my brief experience with this airport wasn't all that memorable if I'm being honest. If the dumpy and somewhat sketchy domestic terminal didn't leave me with many good things to say, the delays trying to get in and out of this place surely didn't help.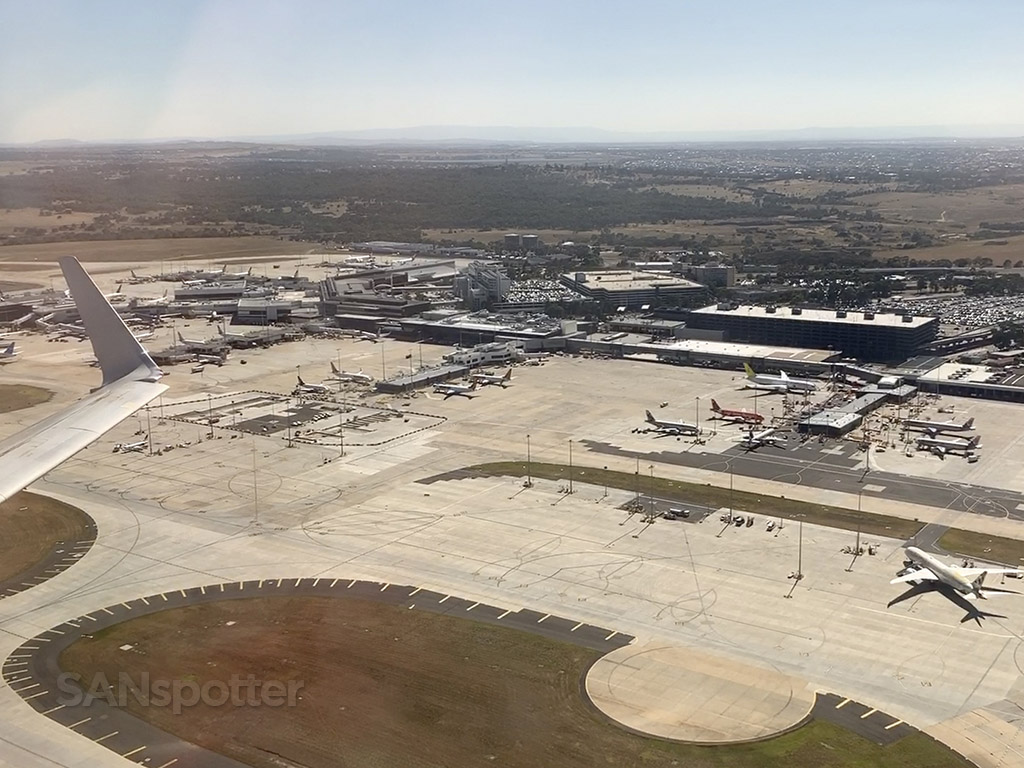 Does anyone know if there are any plans to build another runway here? Or better yet…if the the domestic terminal will be blown to bits and rebuilt from the ground up?
QANTAS 737-800 domestic first class food
Yes, I said "food". I know, I wasn't expecting anything either on a short one hour flight up to Sydney from Melbourne, but this section is sure to make any US airline executive reading this squirm nervously from side to side in his or her seat. Come to think of it, I don't think there is a single airline executive here in the US who feels remotely sad about not offering meals on 1 hour flights. It seems that "success" to them is defined by seeing how much they can get away with, and that's just not right.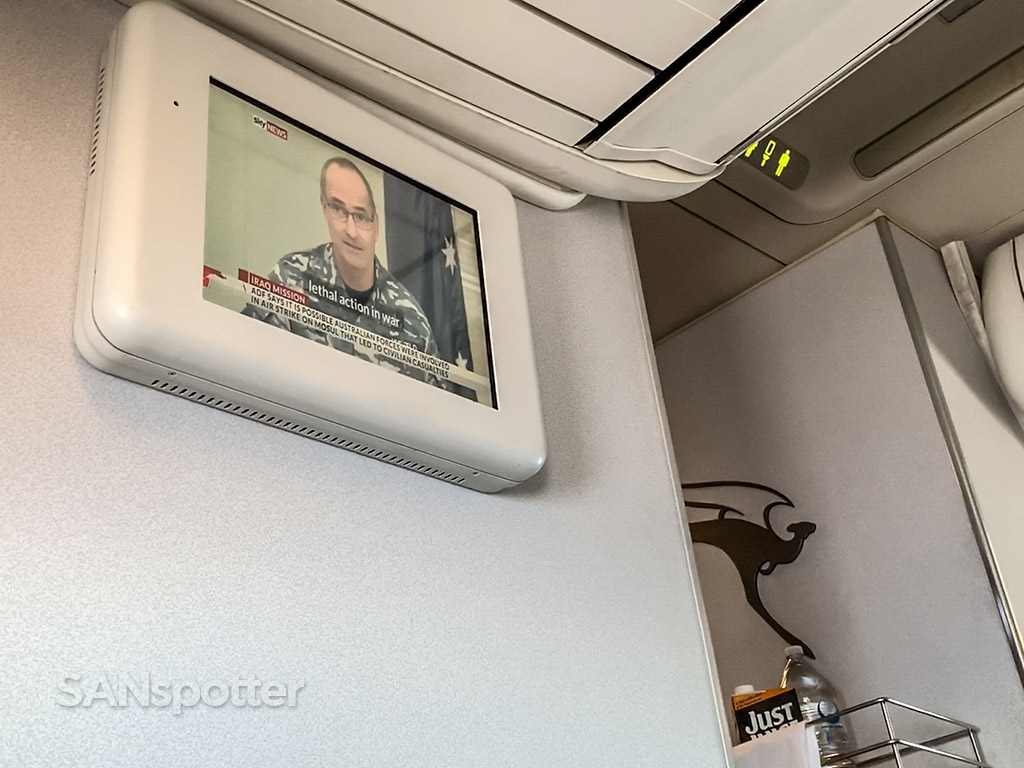 The fact that they were offering two separate meal choices on this short 1-hour flight seemed really amazing (and strange) to my American-centric point of view. The choices weren't extravagant by any means, but having the ability to choose between a healthy bowl of fruit or an artery-clogging hot meat sandwich was a nice change of pace from the "peanuts or pretzels" dilemma I've struggled with for my entire life back in the states.
Wrapping it all up
QANTAS 737 first class was basically exactly how I thought it was going to be, except for the part about the food. The seats were familiar, the service from the crew was just as pleasant and attentive as what we get in the US, and there really wasn't anything more I could have asked for on such a brief flight from Melbourne to Sydney.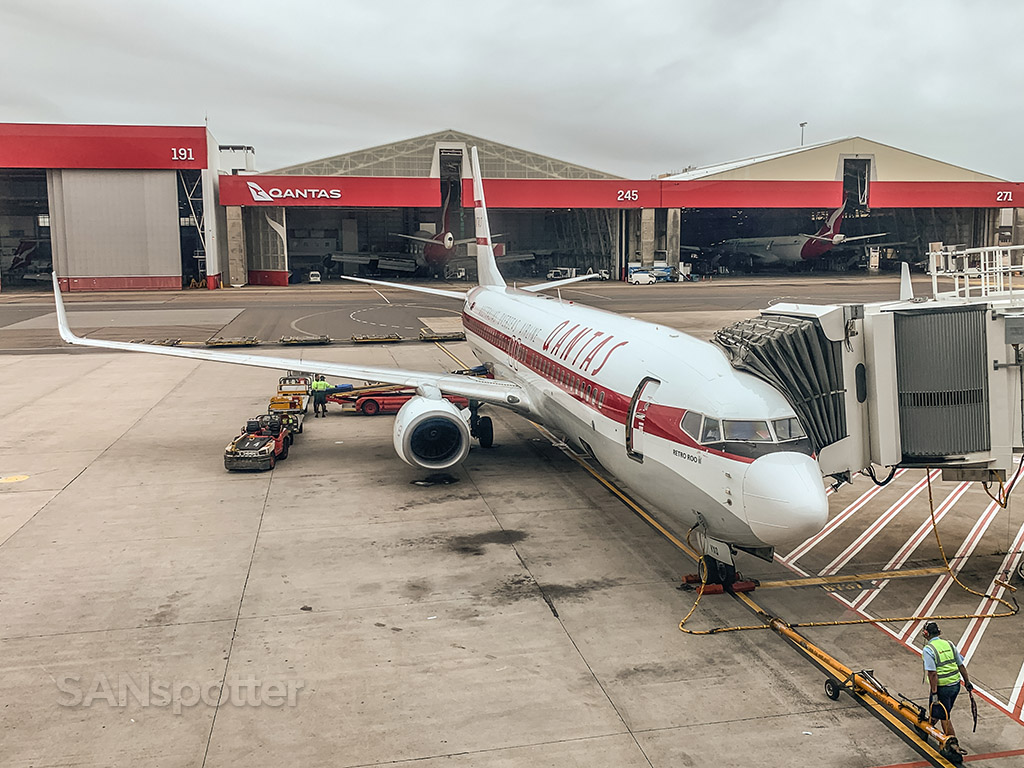 The fact that I was lucky enough to do this segment on the Retro Roo II made it all the more interesting, though I don't think there was another person aboard that knew that this was a special livery plane. There may have been a few people who were thinking that QANTAS desperately needs to freshen up thier brand image, but I didn't hear a peep from anyone else about how they miss the good 'ol days.