Hmmm. I'm not even sure how I should start this one. Normally I would kick off a review of this caliber with uncontainable excitement and enthusiasm for what I was about to write, but I'm not feeling it just yet. Don't get me wrong – QANTAS 787-9 premium economy was absolutely fantastic, but I thought I would be a lot more excited about writing my first ever trip report featuring the red and white airline from down under. Wait. Isn't there another Australian airline with a red and white color scheme? Oops. But you know what I mean.
The problem is that this wasn't the first time that I've ever flown QF, so it's no surprise that it kind of feels like I've done this before. Yup, that's right! Only the two (or three) of you who have ever read my entire flight log will know that I once flew QANTAS between Los Angeles and Australia on the 747-400, which was actually one of my first ever big international trips right out of college. I was a total travel newb back then, but it felt really good to scratch one of my favorite airlines off "the list" right from the get go.
Now that I think of it, writing about how this airline has changed over the years does seem kind of exciting actually. The 747-400 I flew to Australia so long ago seems ancient in comparison to the spanking new 787–9 I had the opportunity to fly on last week, so I take back what I said about the lack of enthusiasm. Let's do this!
Spoiler alert: there was no Vegemite on the menu, and no real-life kangaroos were spotted at any point during the flight. Sorry. It isn't going to be that exciting.
QF50
San Francisco, CA (SFO) – Melbourne, VIC (MEL)
Wednesday, January 30, 2019
Aircraft: 787-9
Registration: VH-ZNA
Duration: 14 hours 42 minutes
Seat: 20A (premium economy)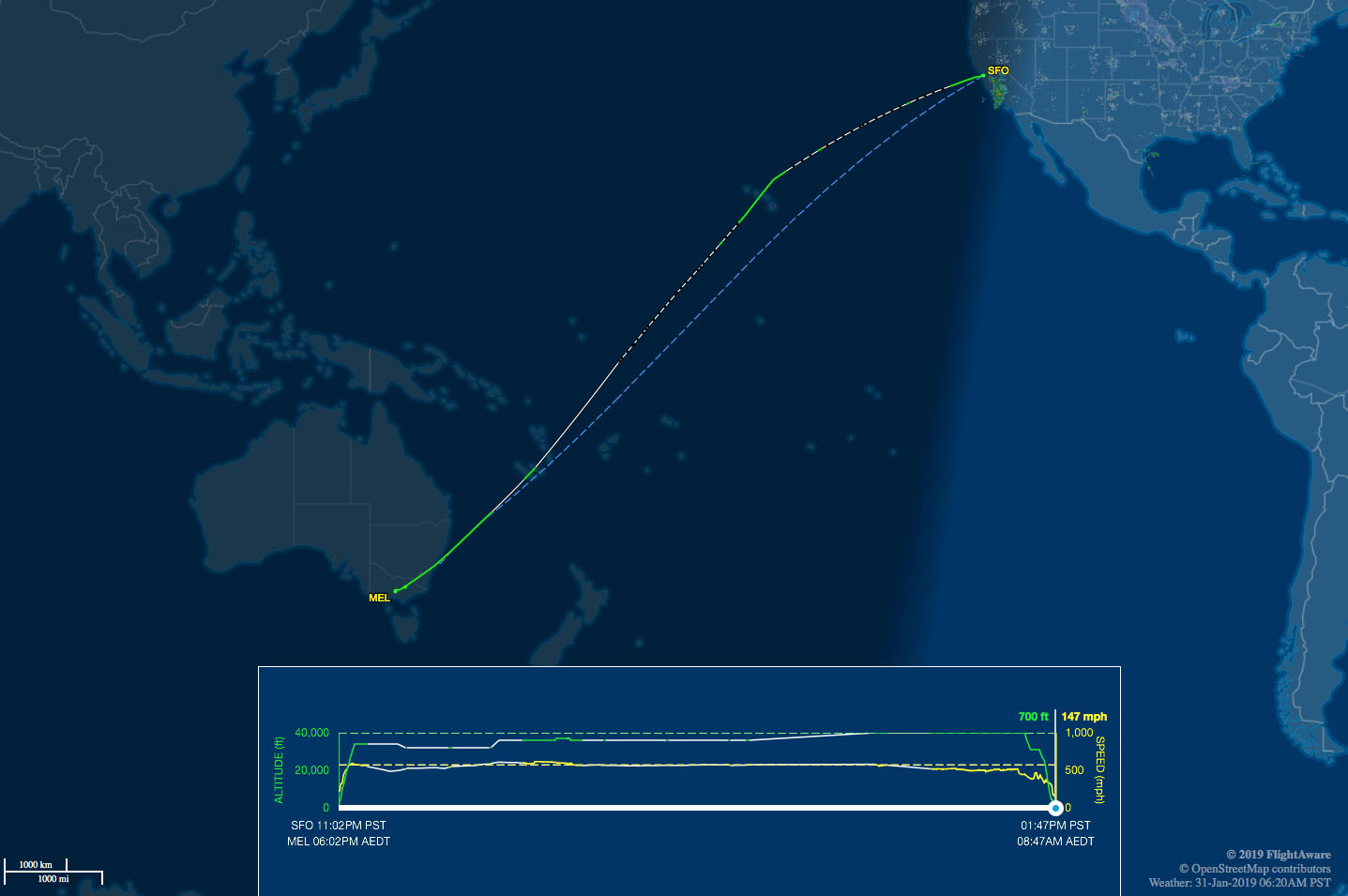 The video for this flight down to Melbourne was a lot of fun to put together, though I will admit that it was scaring the hell out of me before I even started cutting the footage. I shot over 15 GB of video for this flight, which is just stupid in the grand scheme of things.
Believe it or not, having too much footage is more stressful than not having enough, but I think I did a pretty good job with this one – and I hope you enjoy it. As always, the beats are courtesy of Epidemic Sound (which I highly recommend to any YouTuber in need of music for their own videos).
QANTAS 787-9 premium economy would've been a lot more fun if I didn't have to wait so long for it
This trip down to Sydney (via Melbourne) was an award ticket obtained through the Alaska Airlines Mileage Plan. It cost 55,000 Alaska miles, which I considered to be a fair price for a product as good as QANTAS premium economy. Especially since SFO to Australia is nearly 15 hours in the air. It was definitely worth it in my opinion.
Anyway, that award ticket didn't include the cost of getting myself from San Diego to San Francisco, so I had to pay for an Alaska Airlines ticket out of my own pocket.
And you're darn right that I made sure to get an early enough flight to protect myself against any unforeseen delays. I was so much of a worry wart that I ended up with a 3 hour layover in San Francisco before the flight down to Australia. Excessive? Absolutely. Especially since I've found international to domestic connection times at SFO (and vice versa) to be better than they are at other airports.
As fate would have it, it turned out that this flight to Australia was also delayed three hours, which gave me a grand total of 6 hours to mope around the airport with nothing to do. I tried my best to keep busy writing blog posts and editing photos, but all I'm gonna say is that being stuck for six hours in terminal A at SFO is an unfortunate situation to be in.
The problem with terminal A is that there are very few electrical outlets to charge your devices, and the food is crazy expensive. Worse yet, there is no air side access to any other terminal here at the airport, so it was kind of like being in airport jail.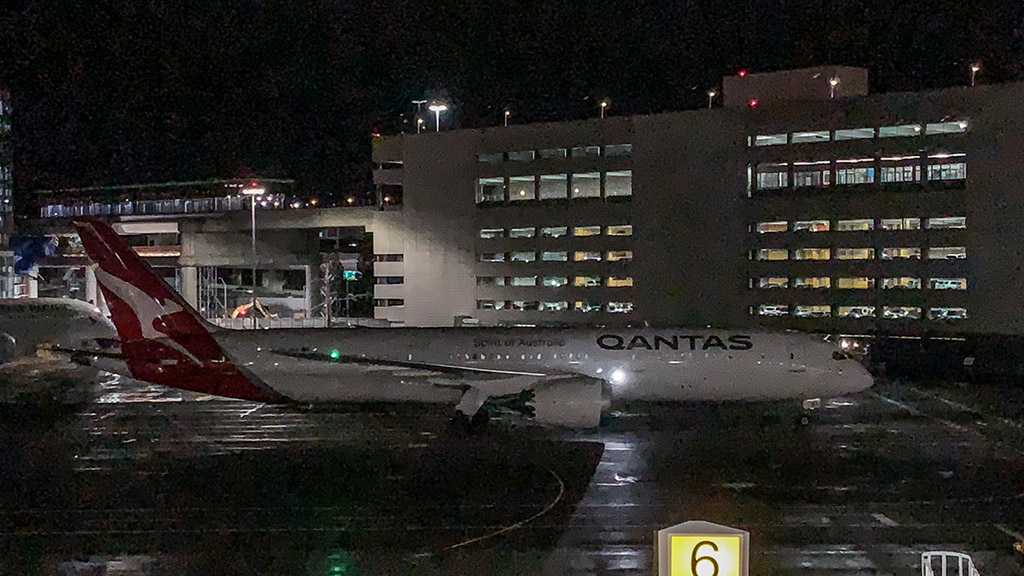 A premium economy product so good that I was muttering expletives upon seeing it for the first time
Boarding started shortly after 10 PM, and by that point I was both physically and mentally exhausted. Walking down the jet bridge to the plane, all I could think about was sleep. And quite frankly, I didn't care if it was going to be crappy economy class sleep…I was so drained that any kind of position I could get myself into where I could drift off for a few minutes would have felt like heaven.
Upon first glance of QANTAS 787–9 premium economy, it almost felt as if I had been stabbed right through the chest with an injection of pure adrenaline and I was wide awake again. I say "almost" because I truthfully have no idea what that feels like (lol).
The point I'm trying to make here is that I was really pumped to discover that these premium economy seats are basically the equivalent to the first class seats the airlines are using here in the US. As a matter fact, I believe these to be a deluxe version of the same seats that are in the Hawaiian Airlines A321neo's right now.
Not only is the QANTAS premium economy seat a huge step up from the standard economy seat, you also get extra perks such as noise canceling headphones (something you won't get in Lufthansa premium economy), full size blanket and pillows, and enhanced menus. It's essentially what international business class used to be 15 to 20 years ago. That's what I call progress.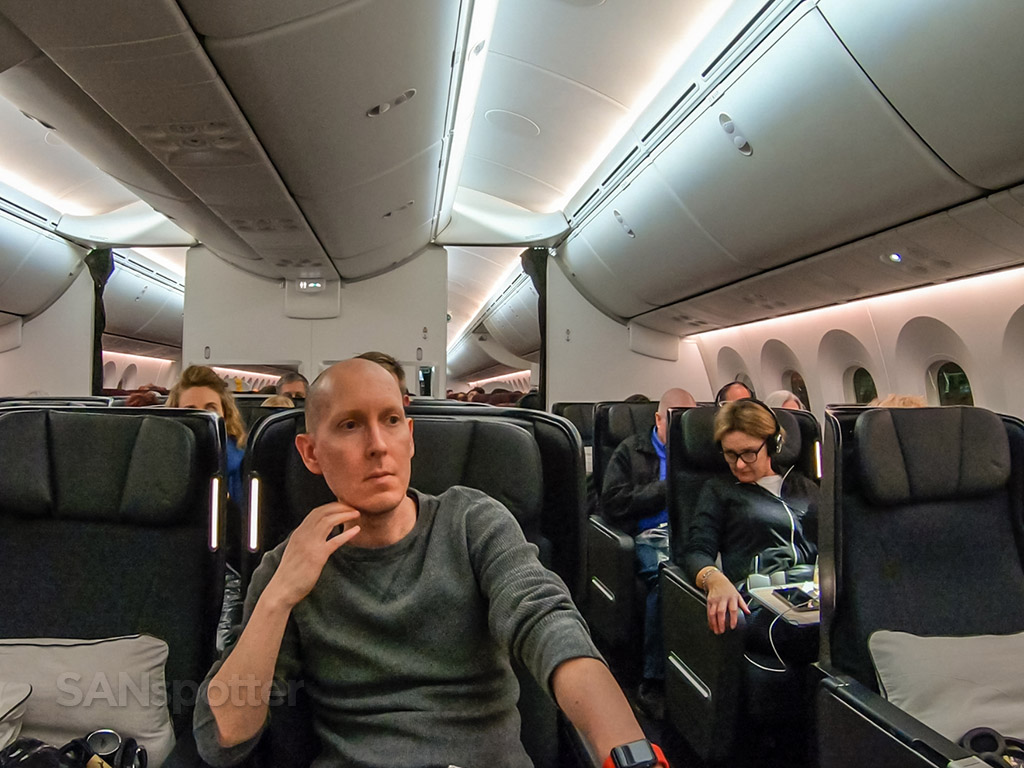 I personally found the materials and textures used in these premium economy seats to be really sharp. No, I don't mean all pointy and prickly – I mean super stylish in a "omg I want these seats at home" kind of way. This is one of the best looking economy class cabins I've seen in a while. Yeah, the Air Transat A330-300 economy class cabin was really cool, but in a different way. That was just flashy good fun. This QANTAS interior is downright classy.
Is QANTAS premium economy food better than what you get in regular economy?
Without hesitation, I can say yes – absolutely, the food in premium economy is far better than what you would get in the standard economy product. For starters, there were three options (as opposed to the two) that is normally offered to everyone in back.
And then, there's the presentation. Yes, the food is still served on a single tray just as it is in normal economy class cabins all over the world, but the difference here in premium economy is the fact that they use actual dishware. That's right – the kind that you can smash over somebody's head when you disagree with them in a heated debate about which airline serves the best food.
I'll be completely honest and say that I didn't get a good look at the standard economy class meals on this flight, but based on pictures that I've seen from other reviews, QANTAS premium economy meals are far more substantial and are of higher quality then what you would get in the butt end of the airplane.
Is paying for premium economy worth it for such a long flight?
I'm going to answer that question by stating that it's unlikely that I will ever purchase a standard economy class seat for a long international flight ever again. On second thought, let me rephrase that. What I mean is that once this travel blogging thing starts paying enough to elevate me out of poverty, then I'll I have no problem paying for premium economy. Until then, I'll be schlepping it out in regular economy dreaming of being a premium economy flyer (someday).
It should also be noted that it's possible to score some really good deals using points and miles for premium economy seats. My recent Delta A350 premium economy flight from Seoul to Detroit (trip report coming soon), was award ticket that I obtained for just 33,000 measly Sky Miles. It's certainly a good deal if you can score it for that low of a cost.
Anyway, premium economy easily pays for itself in terms of comfort and overall well-being on flights over 12 hours in my opinion (such as LAX or SFO to Australia). It's far cheaper than the cost of business class, yet you get a big seat that's actually possible to sleep in. The extra bit of food is nice as well.
But for me, sleep is the big thing. Keep in mind that these QANTAS premium economy seats are not lie flat, but they do recline more than a standard economy seat does. And as far as I'm concerned, any economy class seat that I can sleep in is totally worth it and I'll happily do it again and again.
Wrapping it all up
I think the fact that I didn't do any research before this flight is what made it so impressive to me. This QANTAS 787 experience proved to me that premium economy is so good that its going to make me not to worry so much when I can't find a business class seat for a decent price on a big international trip in the future.
Just knowing that premium economy is available (and viable) is a very relieving sensation actually – and I really like the direction that airlines are taking the concept of an enhanced economy product. Of course, it's only viable if they can keep the cost down and affordable to the masses, and I really hope that we don't see a gradual increase in price as the airlines start to realize that many people are willing to pay for such an upgrade in comfort.
And yeah – I realize everybody has a different definition of what "affordable" is, but for me, is long as it sits somewhere reasonably priced between the cost of basic bare-bones economy and business class, I'm good with that.
As far as comparing this premium economy experience to my basic economy experience to Australia many (many) years ago, the difference ended up being much bigger than I thought it would be. I actually walked off of this airplane in Melbourne thinking that it was one of the best flights of my entire life. I can't remember the last time I felt that way after seated so long in any other economy class product!
More than anything else, its really crazy to think that the seat that I had on this flight was likely the equivalent of a business class seat on that other flight so long ago.
Mind. Blown. And I can't wait to do it again…