When it comes to cheap(ish) long-haul flying, ANA 777-300ER economy is hard to beat. I recently had the chance to try it out from San Francisco to Tokyo, and guess what? It's still (very easily) one of the best economy class experiences in the entire world.
Legroom was phenomenal, the cabin crew treated everyone like royalty, and most importantly – I didn't feel completely wrecked at the end of the 10 1/2 hour flight.
The food though. They're slippin', and that makes me sad.
NH107
San Francisco, CA (SFO) – Tokyo, Japan (HND)
Wednesday, July 12, 2023
Aircraft: 777-381ER
Registration: JA788A
Duration: 10 hours 6 minutes
Seat: 34E (Economy Class)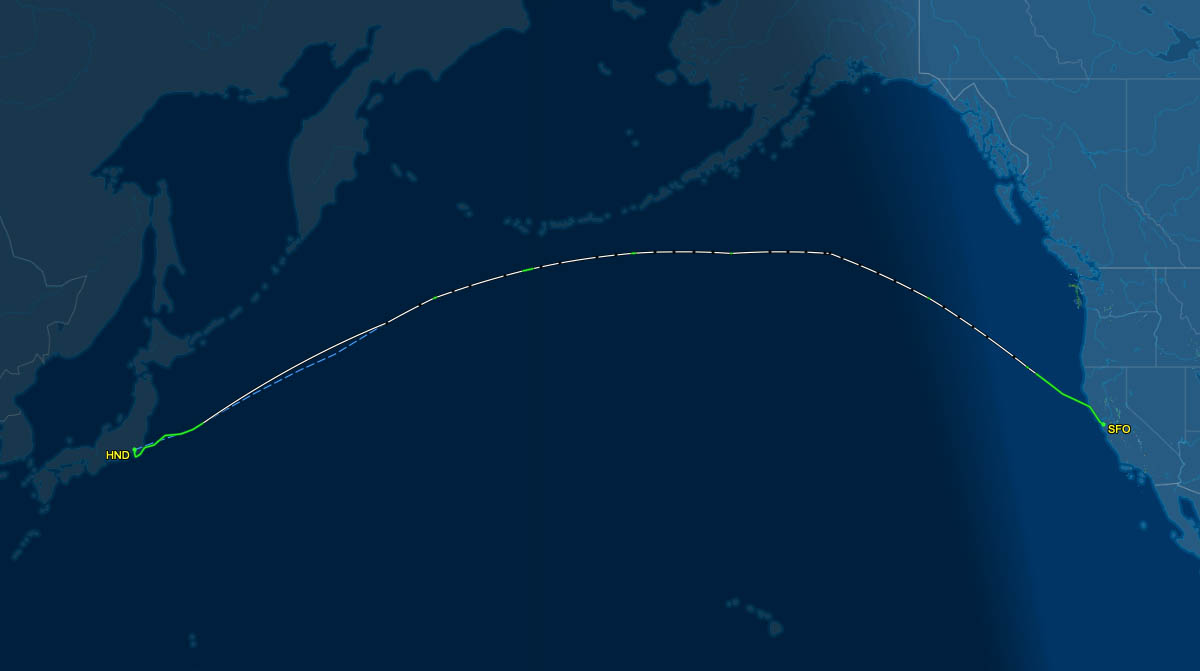 My full review of ANA 777-300ER economy from San Francisco to Tokyo (Haneda)
Long story short, my destination for this trip was Hiroshima. One of the most convenient ways of getting there from San Diego is on United and ANA. Unfortunately, the only transpacific flight that worked best for connections to Hiroshima was the 1:45 AM ANA flight from San Francisco to Tokyo/Haneda. Freaking ouch.
Arrival at SFO
Arriving at SFO on a United flight from San Diego at 9 PM wasn't all that fun knowing that I had four full hours to kill before the 1:45 AM departure time to Tokyo. Making matters worse was that the airport was freezing, and I was woefully underdressed. Come on, man!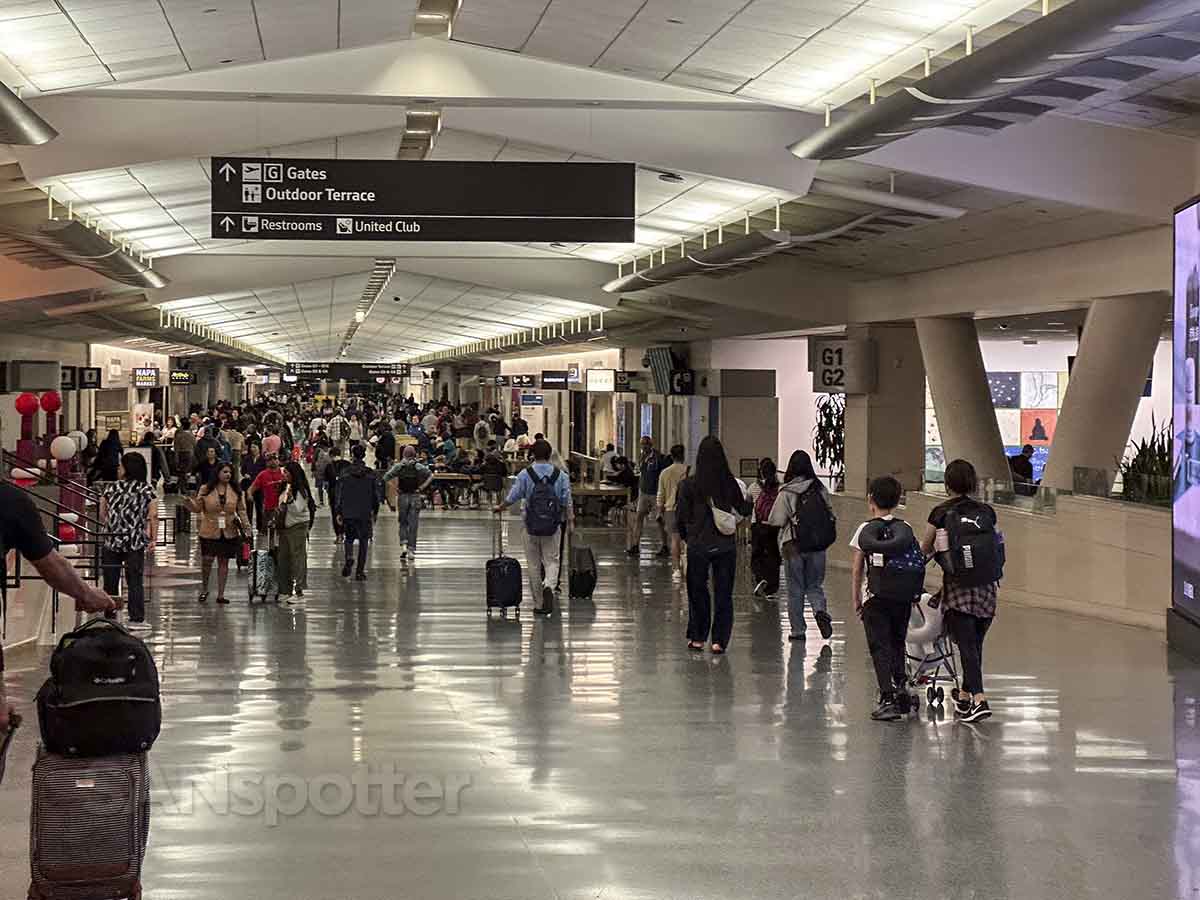 The boarding process
Thank God they kicked off the boarding process right on time. Not because I was concerned about making my connection in Tokyo, but because I was borderline unconscious due to it being way past my bedtime.
Boarding at gate G7 started precisely at 1:25 AM. I chose to wait a bit even though I could've boarded with group 2 (thanks to my Star Alliance gold status). I mean, there's really no point in rushing when you know that you'll be stuck in a middle seat for the next 10 1/2 hours.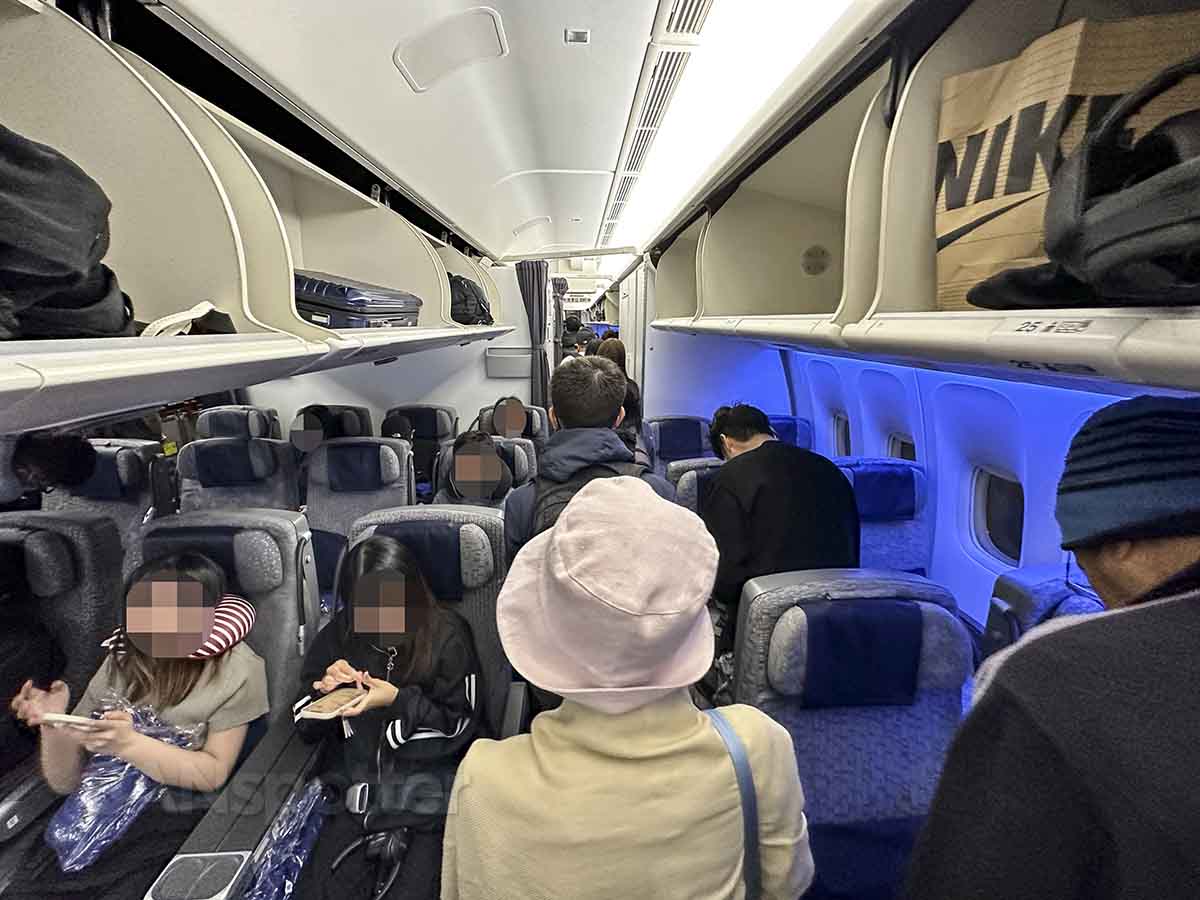 Seat overview
Yeah, that's right. You read it correctly. I ended up with a middle seat for this segment. It was entirely voluntary though, as I was traveling with family and I figured that it was probably unwise to be selfish.
ANA 777-300ER economy seats are pretty darn nice IMHO. Not only are the video screens massive, the leg room is Grand Canyon like. You'll be hard-pressed to find a better economy class seat anywhere in the world.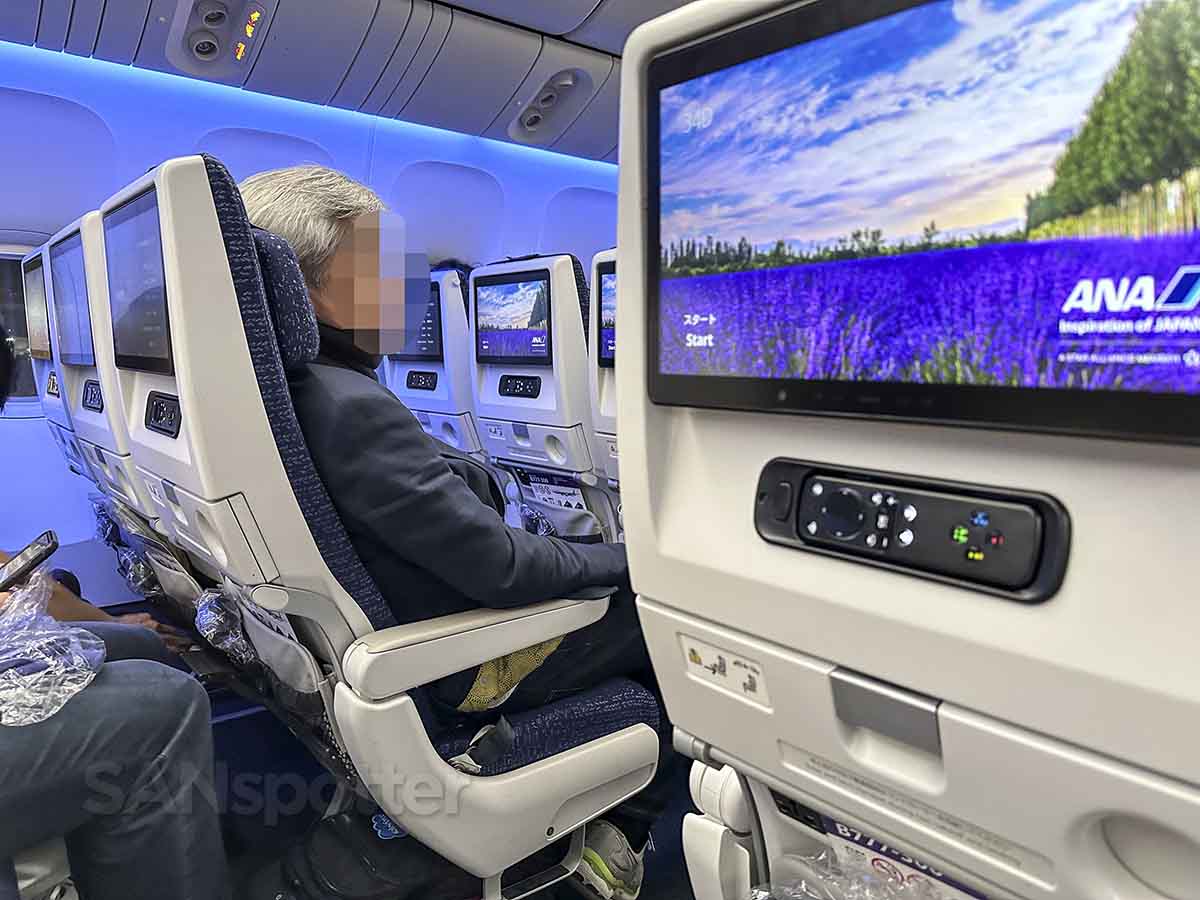 The departure out of SFO
Getting decent footage of the departure is hard enough when you're in a middle seat. It's even harder when it's 1:45 AM and you're barely clinging to consciousness. I did what I could to get pictures (and video) for the review. And yes, we departed right on time.
In-flight entertainment
The extremely large video screens were my first indication that the entertainment system in these economy class seats was going to be good. Thankfully, the software (and diverse catalog of content) lived up to my expectations.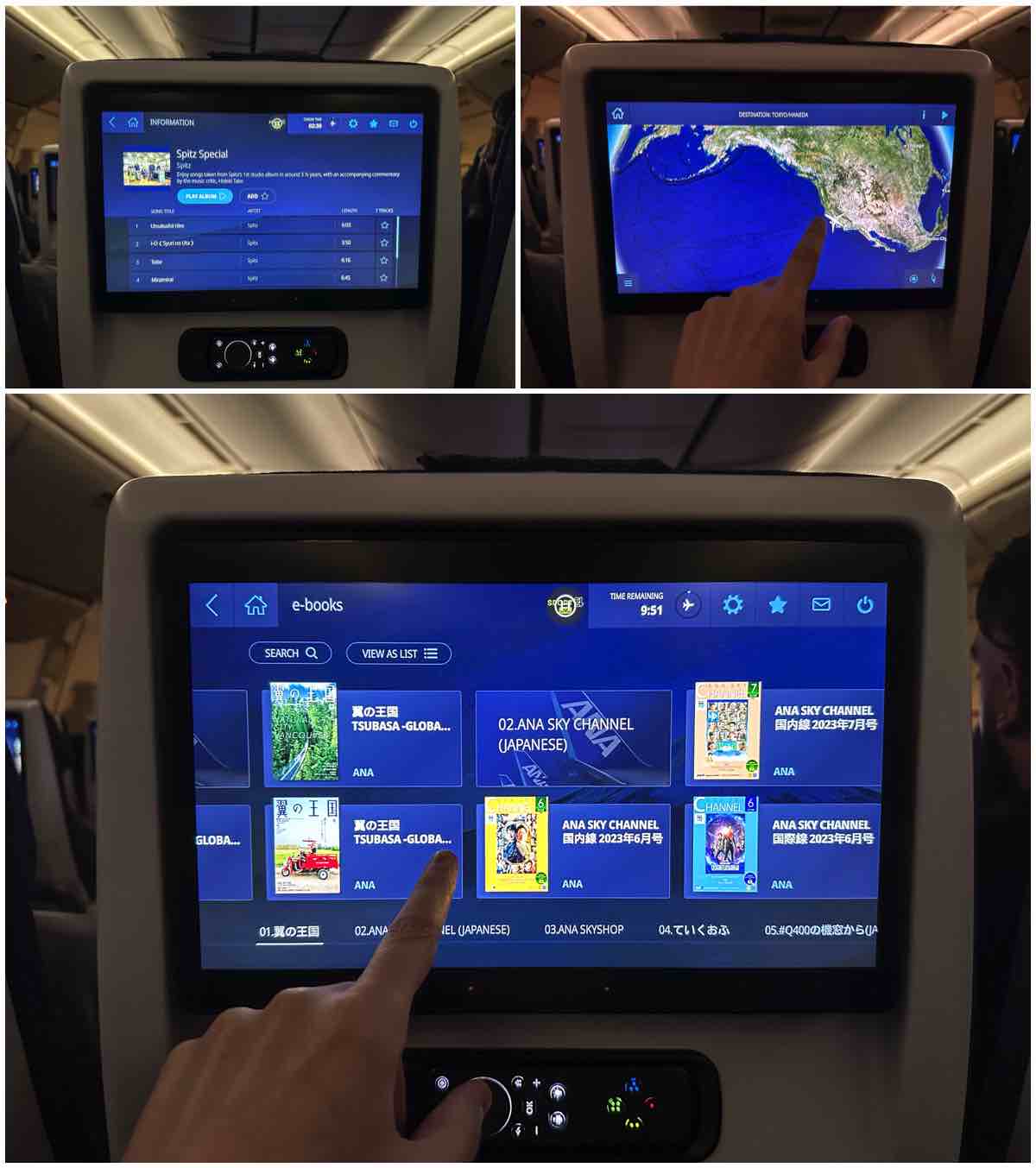 One of the neatest things about this in-flight entertainment system is the fact that you can pair it with your personal device. Doing so will allow you to use your personal device as a wireless remote for the screen, as well as enabling the ability to stream content. The only caveat is that you need to download the ANA app to your device before departure (which I totally forgot to do).
The first meal service
Honestly, I wasn't expecting much for the first meal service. I know from past experience that ANA economy class food is fairly decent – but I also knew that it was unwise to expect anything significant for a flight departing at 1:45 AM.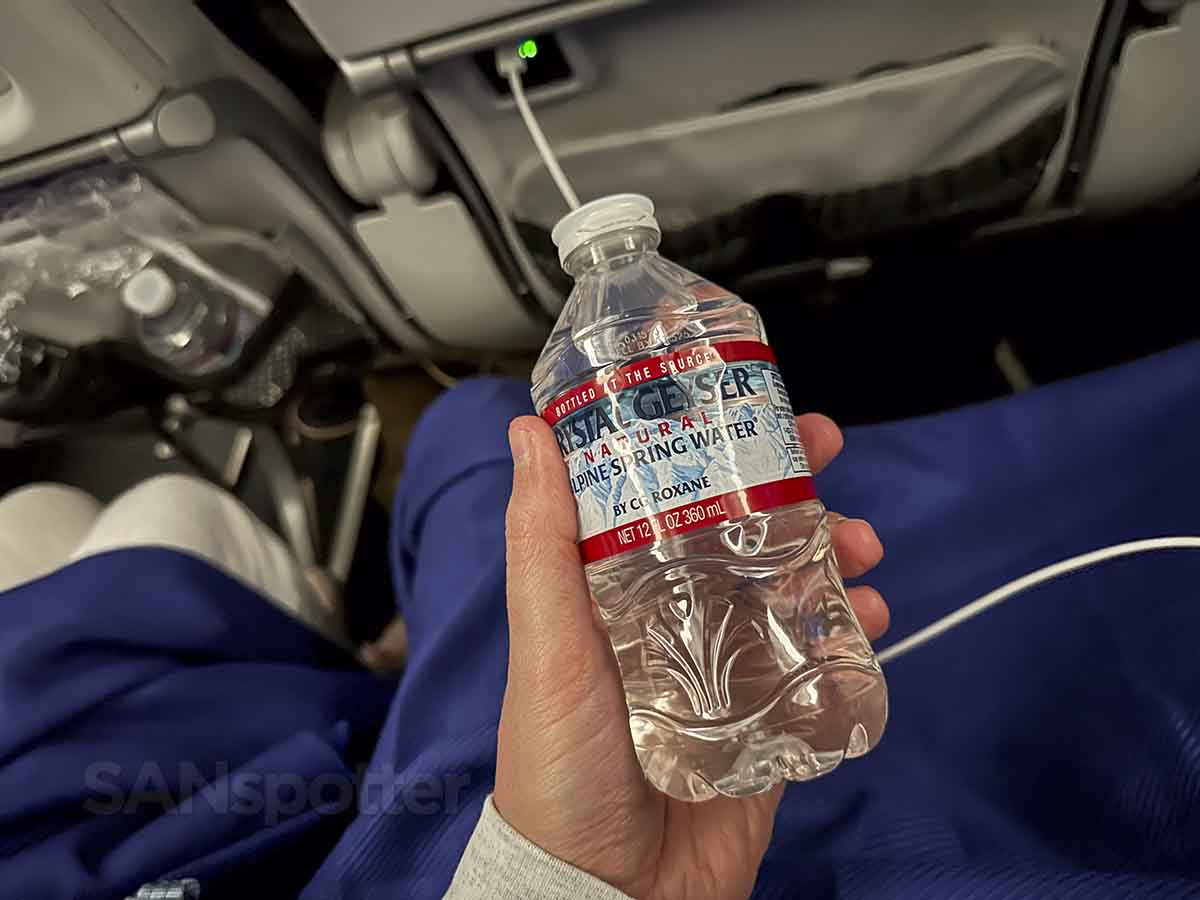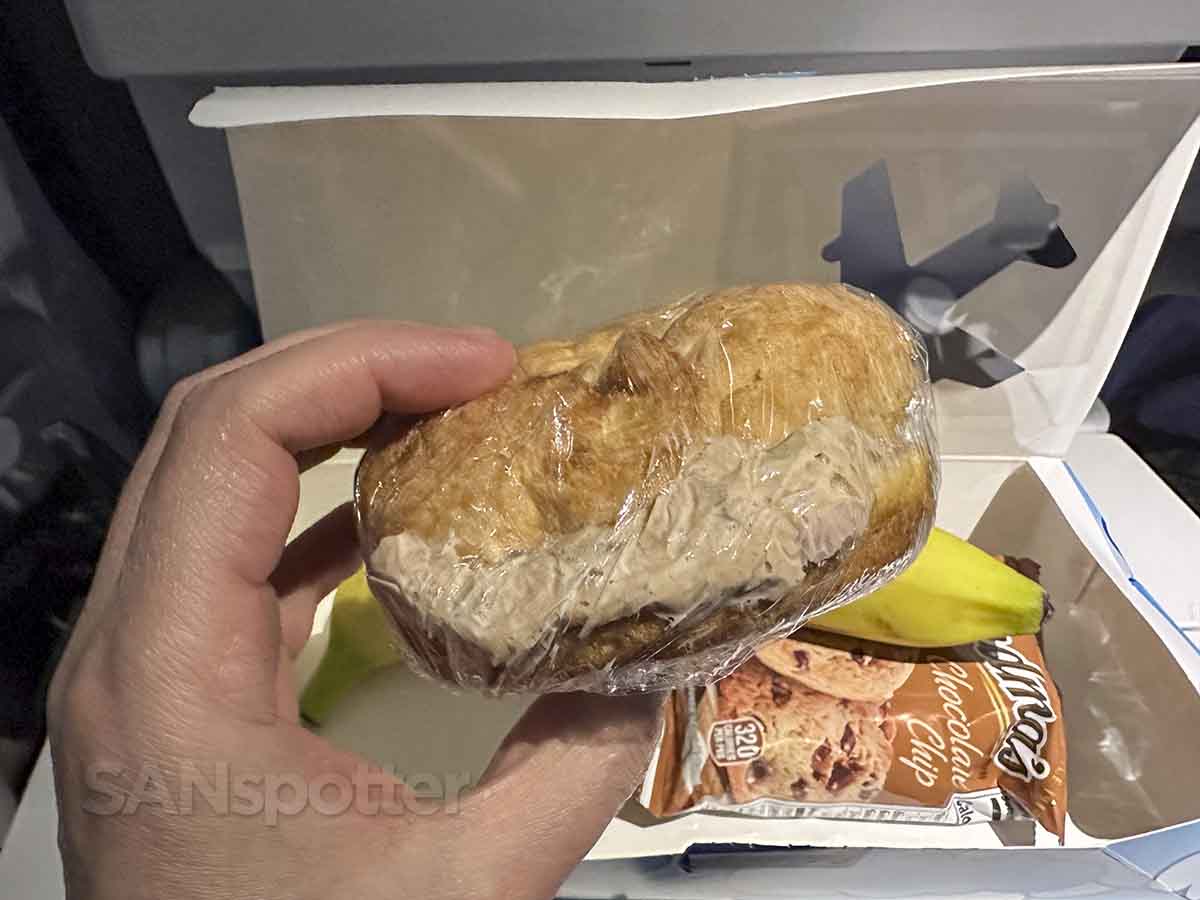 Even though I didn't find the tuna sandwich to be all that appealing, I appreciated the effort. Besides, I was far more sleepy than I was hungry. Food was the least of my concerns.
How comfortable are the seats for sleeping?
What better way is there to test the comfort of ANA economy class seats on a flight departing in the wee hours of the morning? I don't typically sleep all that well in economy class, but I'm happy to report that I got around four hours worth on this flight. It wasn't great sleep, but it was enough to prevent me from feeling like a total zombie the next day.
In summary, seat recline is fairly decent for economy class. Combined with the excellent amount of legroom, it wasn't a half bad experience.
Cabin tour
I was starting to feel a bit restless about six hours into the flight. My middle seat was causing me to feel a bit claustrophobic as well, so getting up every now and then to walk around the cabin was a pretty good way to pass the time.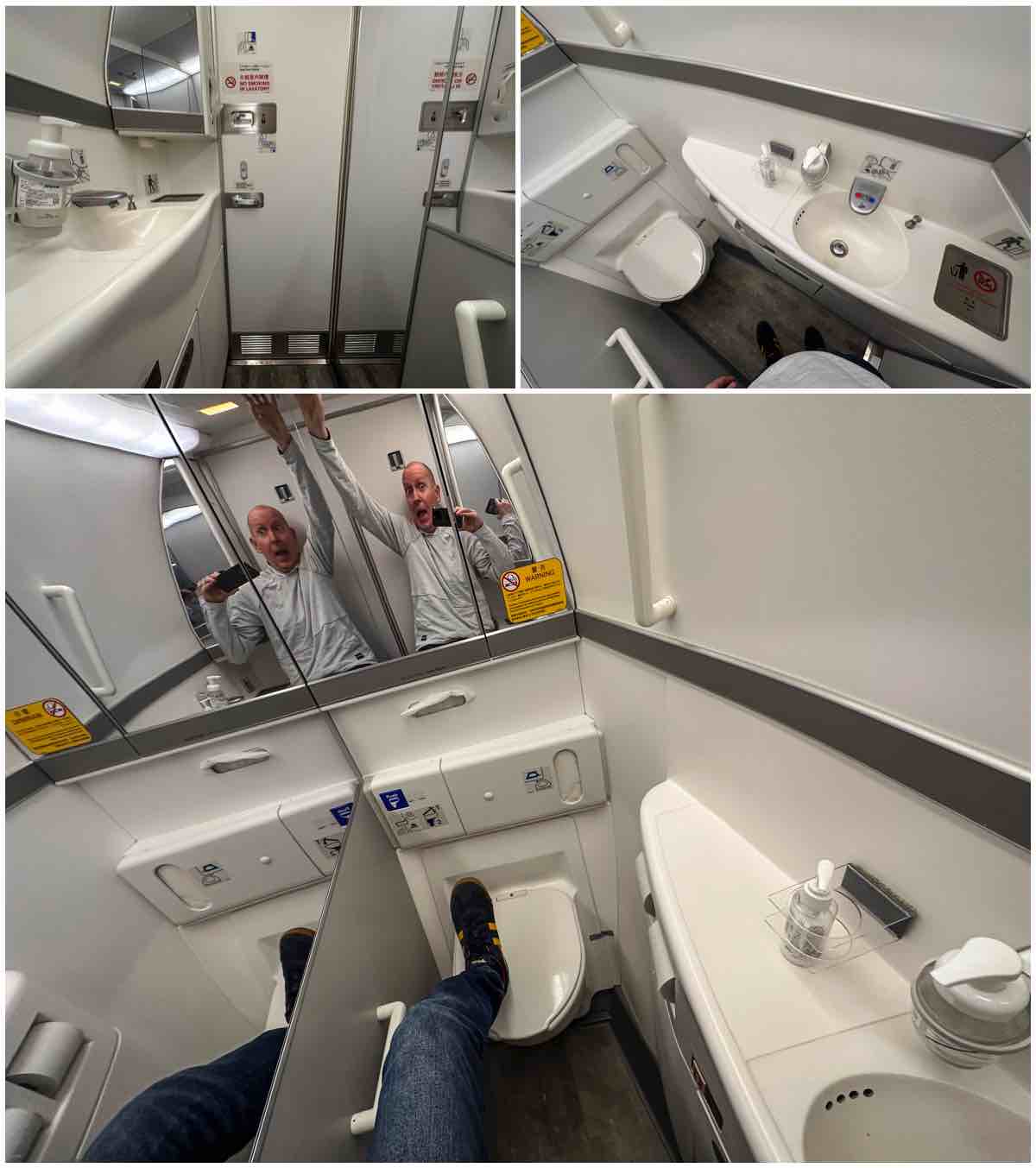 It should be noted that the ANA cabin crew was utterly fantastic throughout the entire flight. Every time I got up to walk around, I was approached by no less than three flight attendants offering water, snacks, or anything else that I needed to be comfortable. They basically bent over backwards to help. Proactively no less!
The second meal service
The cabin lights were turned on with just over two hours of flying time remaining. Minutes later, the cabin crew were pushing drink and meal carts up the aisles. They handed out large menu cards (with pictures!) to each passenger, so all you had to do was point and make your selection.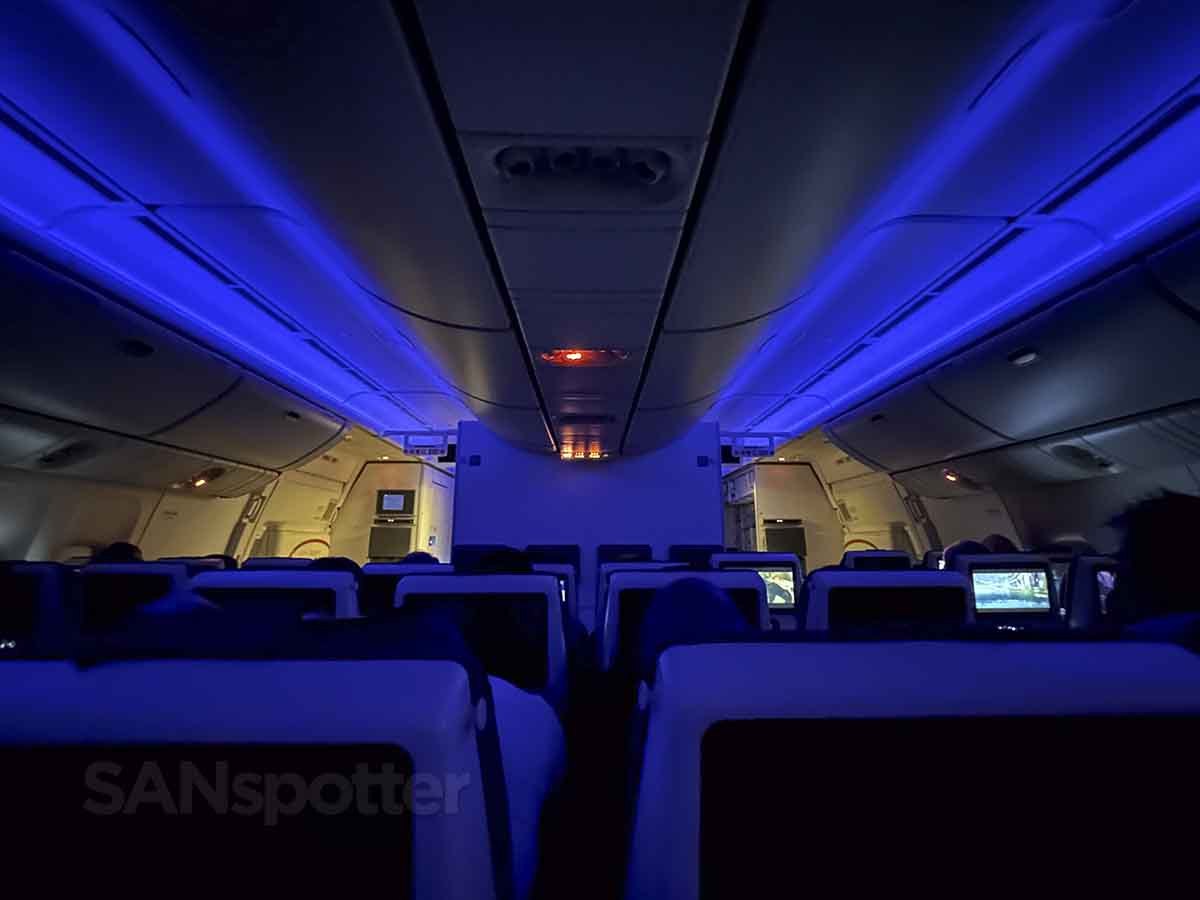 I'll be honest: the food wasn't all that great. It certainly wasn't as great as what I remember ANA economy class food to be from many years ago. For comparisons sake, it was nowhere near as good as the food I had in Turkish Airlines 777-300ER economy class a while back. Just sayin'.
The descent and arrival into Tokyo
The fact that I felt mildly refreshed and somewhat energetic during the descent into Tokyo was nothing short of a miracle. I mean, the seats were good, but not good enough to make me feel like I was capable of going another five hours.
It goes without saying that I highly appreciated the external cameras for the views of the approach and landing from my middle seat.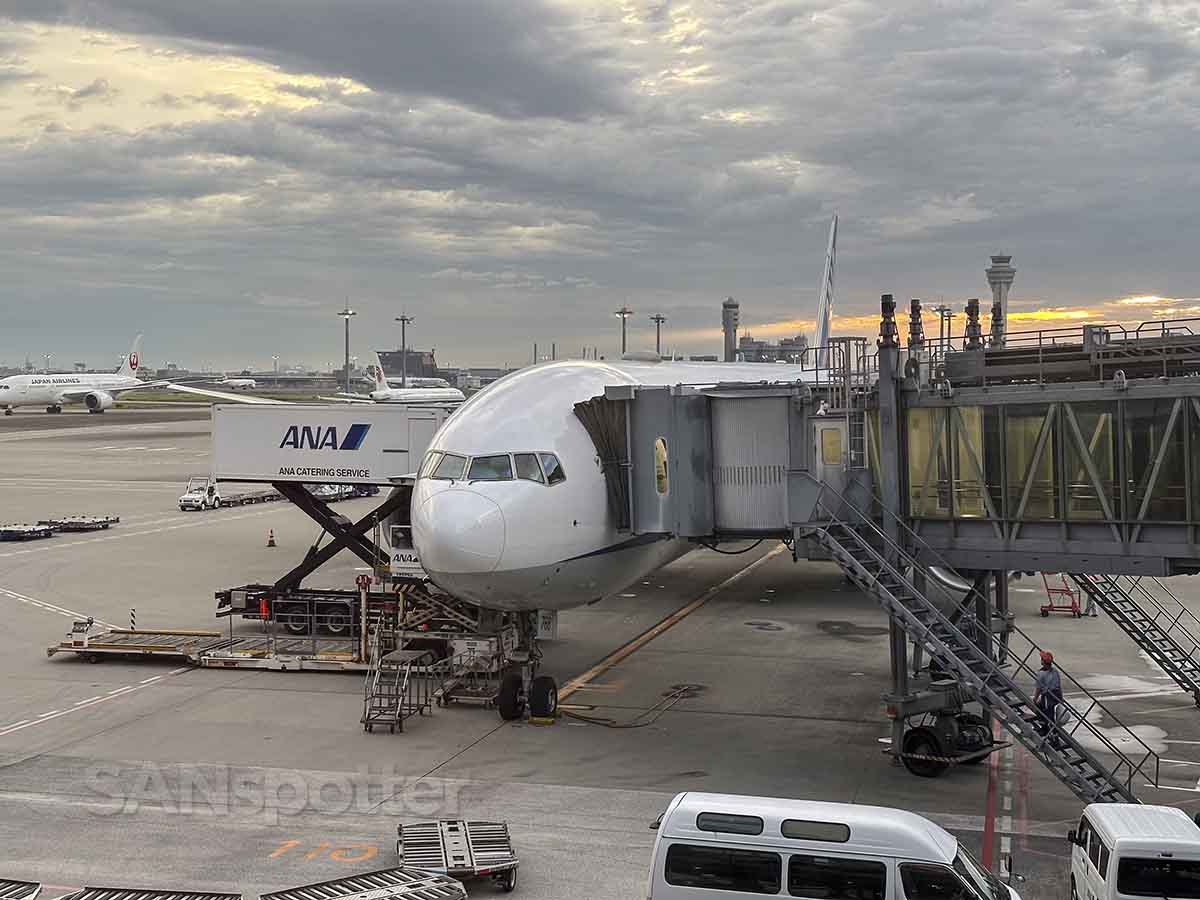 Pros and cons of the ANA 777-300ER economy class experience
The most interesting takeaway from this experience is the fact that it was both better and worse than my last ANA long haul economy flight (10 years ago). The seat was much better than it was back then, but the food was worse. And that leads me to my full list of pros and cons:
Pros
The legroom is utterly fantastic. It's every bit as good as some premium economy on some airlines.
The video screens are huge. Not only that, the catalog of content is excellent – and I appreciate the fact that I could connect it wirelessly to my personal device.
The flight attendants were beyond kind and helpful. It was like the kind of service you would expect in business class.
Cons
The food was surprisingly disappointing for a Japanese airline. It was essentially the same economy class slop you would get on any other carrier.
The cabin was very warm throughout much of the flight. This is saying a lot considering that I am most comfortable wearing thick hoodies year-round (even in the summer).