Before reading this review, take every preconceived notion you have about ANA A321neo economy and push it to the side.
Yes, you'd be absolutely right in assuming that the seats are narrow and hard. You'd also be totally correct predicting the limited food and drink options. I get it. It's not all that hard to assume the worst.
However, it would be foolish of you not to have a little more faith in Japanese service culture. Have you any idea how pleasant even the most basic economy class seats can be when the cabin crew actually gives a s**t about your well-being?
NH684
Hiroshima, Japan (HIJ) – Tokyo, Japan (HND)
Wednesday, July 19, 2023
Aircraft: A321-271N
Registration: JA147A
Duration: 1 hour 10 minutes
Seat: 9K (Economy Class)
My full review of ANA A321neo economy class from Hiroshima to Tokyo (HND)
Choosing an A321neo over a 767 or 787 between Hiroshima and Tokyo (Haneda) is a lot harder than than it sounds. This is a relatively high-traffic route requiring high density aircraft most of the time, but the 7:00pm A321neo option jived with my schedule the best. It was the obvious choice.
Arrival at HIJ
I love the Hiroshima Airport. It consists of one medium-sized terminal laid out in a way that just makes sense. Not only that, it's the kind of airport where you can always show up 35 minutes before departure and make your flight without even breaking a sweat.
The boarding process
I was starting to get worried about 20 minutes prior to departure. The flight was scheduled to depart out of gate C, but it was essentially void of any activity. Not only was there nobody in the waiting area, even the gate agents were missing in action. The hell? Thankfully, things started to look normal (chaotic) 10 minutes out.
The seats
The fact that color is the first thing that comes to mind when attempting to describe the economy class seats says a lot. Yeah, they're really blue. So blue in fact, that it occupies my mind more than how generous the leg room is. Even more than the other useful features such as large video screens and power outlets. They're really blue!
Departure from HIJ
Seeing the weather take a turn for the worse just before departure is never good. A storm was brewing, and it was looking sketchy, but we pushed off the gate anyway. The only thing I was disappointed about was the fact that they never turned off the cabin lights. Getting juicy pics (and video) was impossible thanks to all the glare on the windows.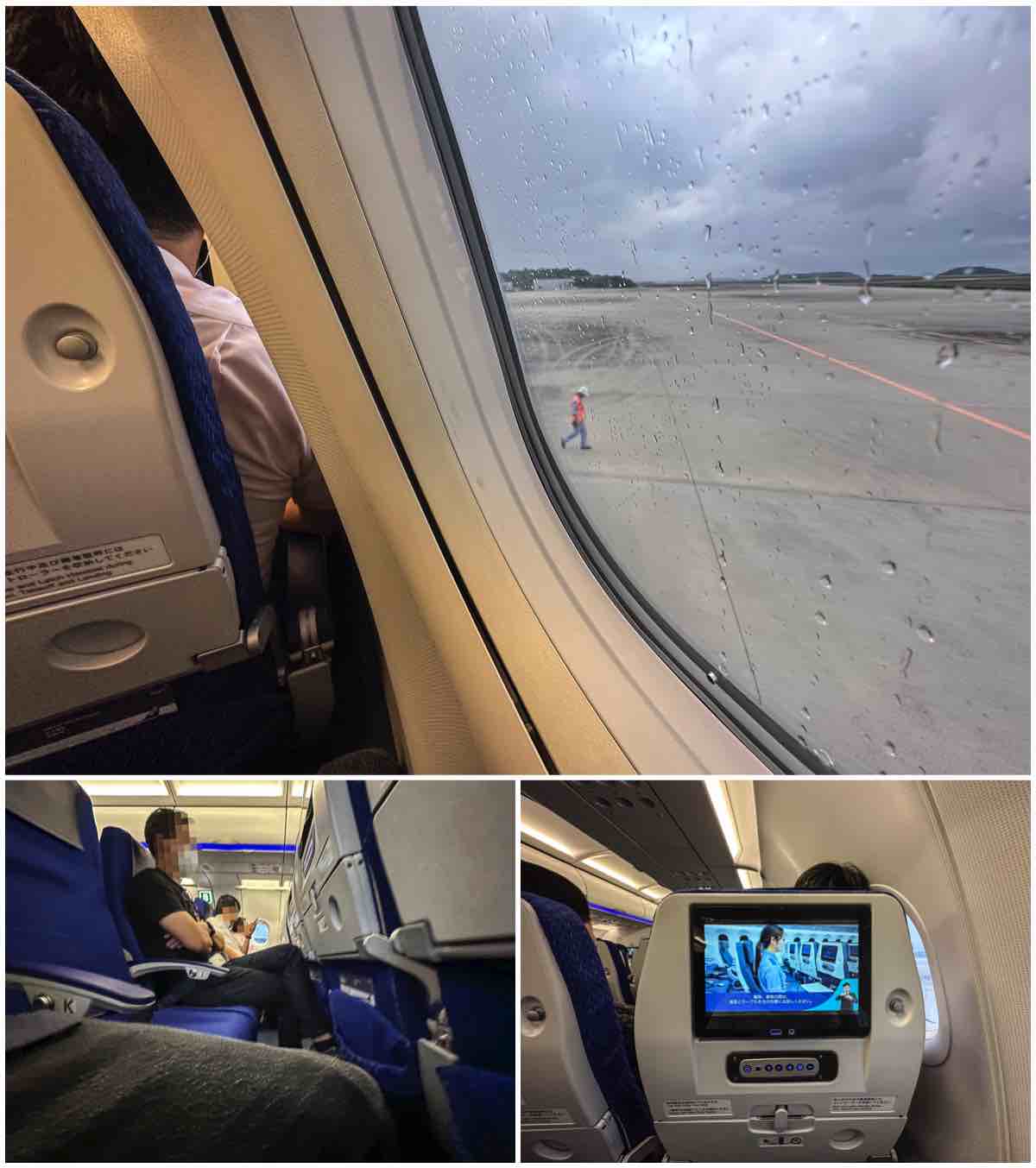 In flight entertainment
There's a lot to like about the in flight entertainment in ANA A321neo economy class. The seat back video screens are relatively large by economy standards, and they seem to feature the same UI (and content catalog) as what you'll find on long haul aircraft in the ANA fleet.
It's not perfect though. The video screens are extremely glossy – so good luck watching anything in direct sunlight.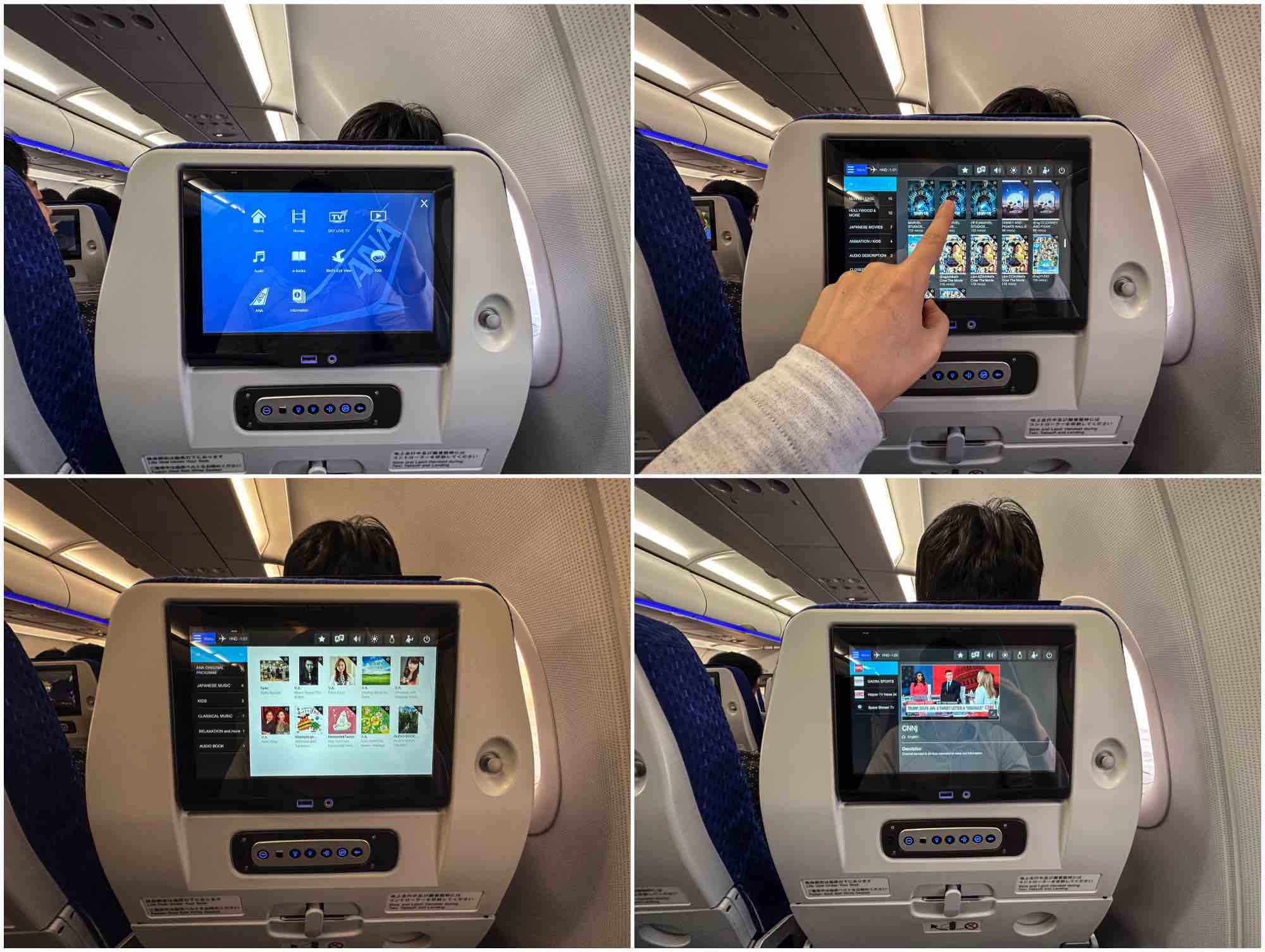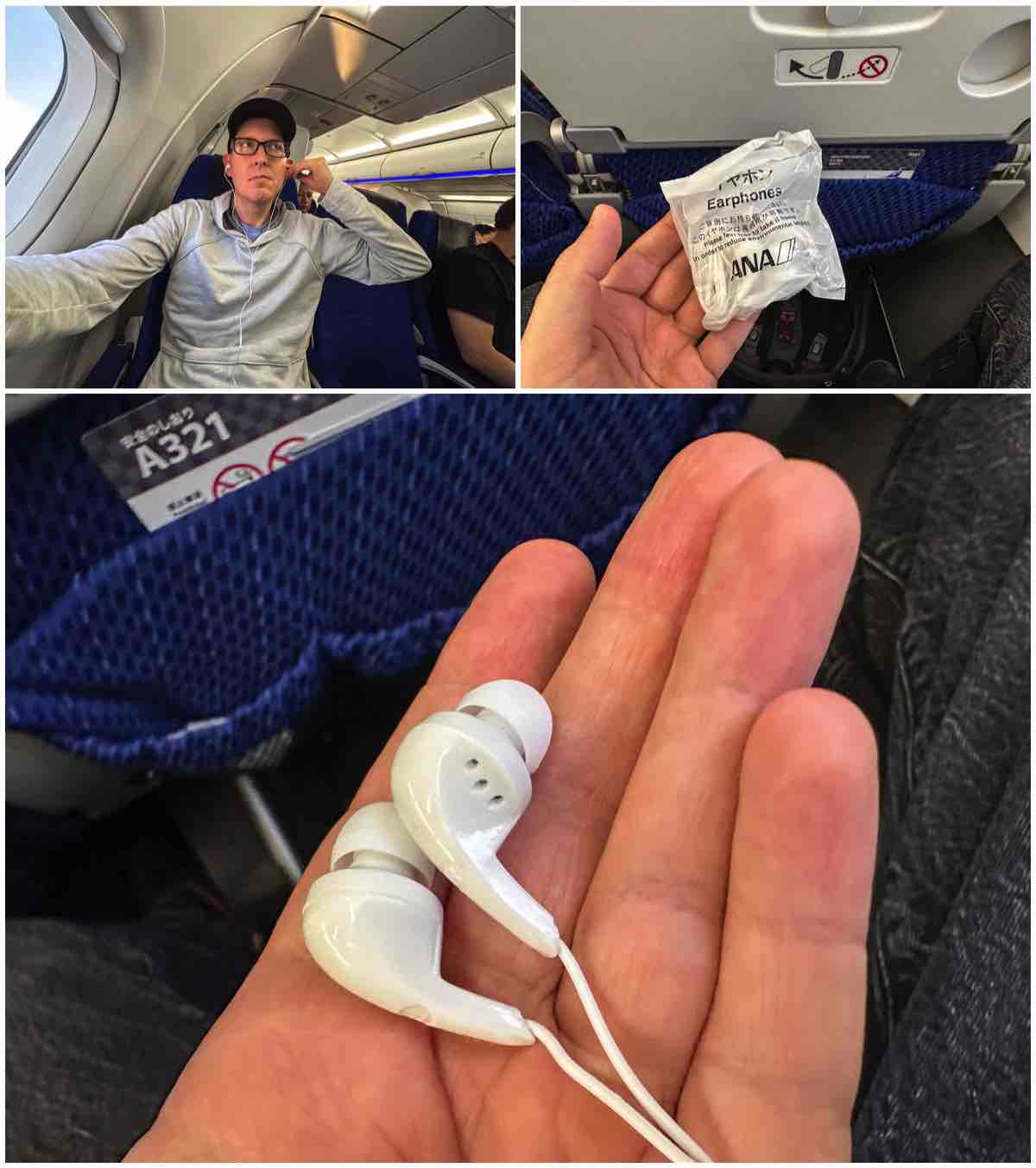 Food and drinks
This being my third ANA economy flight in the span of a week, I knew that it was unwise to expect much in terms of in flight service. They haven't exactly impressed me in that regard.
True to form, they were relatively stingy with the food and drinks on this flight to Tokyo. All we got was a beverage in a neat little paper cup.
Seat comfort
There's not much I can say about the comfort of these seats in a way that doesn't make them sound bad. The truth is that they are perfectly acceptable economy class seats for short flights. Padding is minimal, but the extra legroom makes them feel better than they actually are.
Perhaps the most surprising thing about these seats is that I found them to be slightly less comfortable than what you can find in IBEX /ANA Connection CRJ-700 economy. Mainline aircraft are larger than regional jets, but they aren't always more comfortable.
The descent and arrival into HND
Those darn cabin lights. Just as it was for our departure out of Hiroshima, the cabin crew left the lights on for the full descent and landing. My efforts to get decent pics of Tokyo on the way down were squashed like a grape on a busy sidewalk.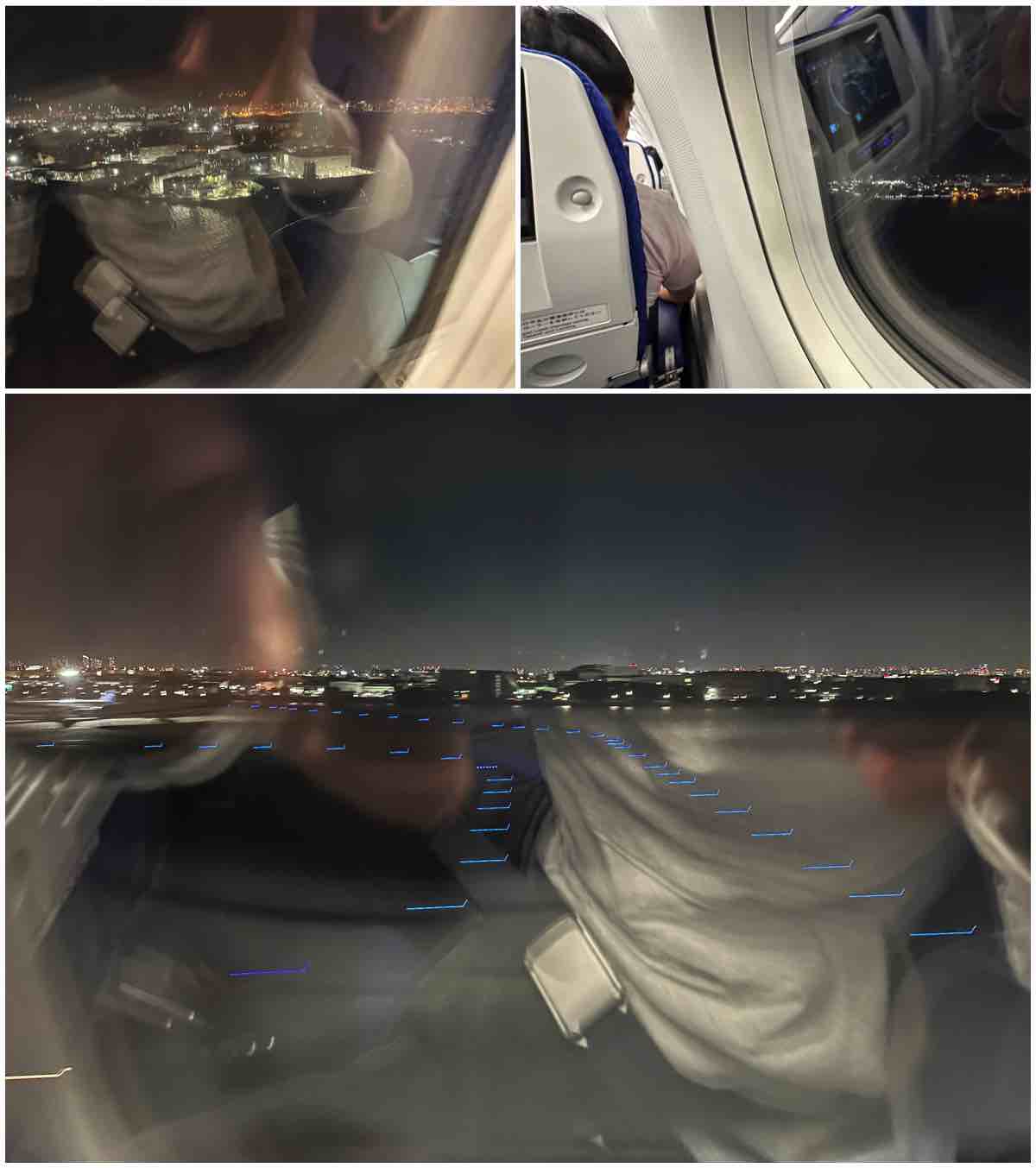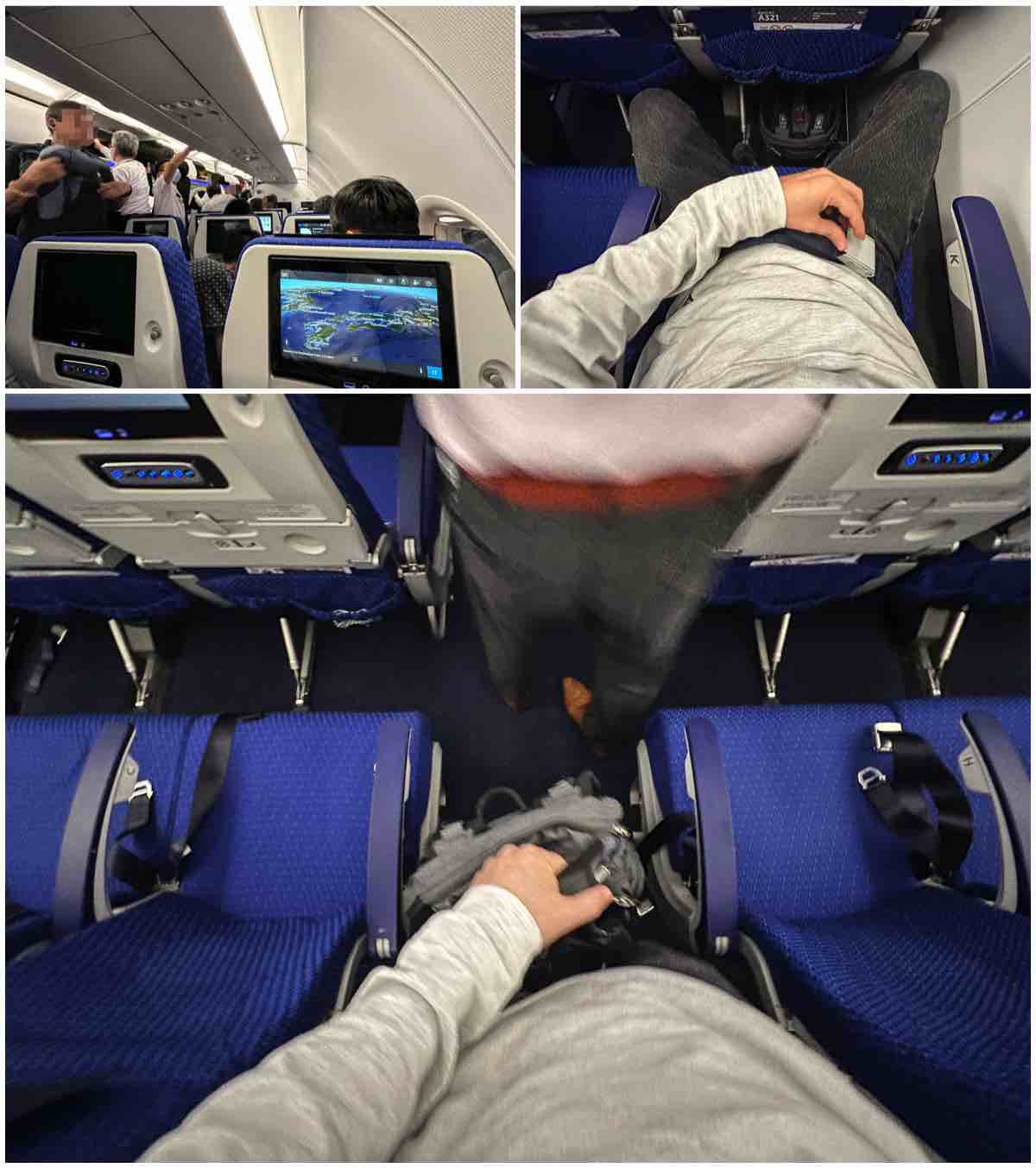 Finally, it's worth noting that we arrived at HND exactly on time. This was especially important to me as I was making an international connection back to the US (in ANA 777-300ER premium economy), so I needed all the time I could get. At least I didn't have to deal with taking the Haneda to Narita transfer bus (a process which sometimes takes hours).
Pros and cons of economy class on the ANA A321neo
Perhaps the best thing about the ANA A321neo is that they are used primarily for shorter regional routes. It'll be rare to have to spend more than a couple hours at a time on one, so economy class will be perfectly fine (unless you're unusually picky).
Pros
Leg room is decent. At no point did I feel the need to take copious notes about how uncomfortable I was.
While the video screens aren't perfect (see below), they are fairly large. And bright!
The cabin crew is fantastic (even in economy). You can expect them all to be happy, energetic, and highly proactive.
Cons
The video screens are extremely glossy, which makes watching content difficult in bright sunlight.
Onboard service will be limited on most domestic flights. You'll be disappointed if you expect anything more than a small beverage.