The ANA 787-8 economy class situation is a little complicated at the moment. At the time of this writing, there are three different versions: The domestic version, the old international version, and the new international version.
Making things extra spicy is the fact that this is a review of the old international version on a domestic Japanese route (HND-HIJ).
I know. It makes my head hurt too, but all you need to know is that flying around Japan on a 787-8 (even in economy class) is a pretty good time. I highly recommend it.
NH671
Tokyo, Japan (HND) – Hiroshima, Japan (HIJ)
Thursday, July 13, 2023
Aircraft: 787-8
Registration: JA815A
Duration: 1 hour 2 minutes
Seat: 24K (Economy Class)
My full review of ANA 787-8 economy from Tokyo (Haneda) to Hiroshima
I had originally planned this to be a review of the domestic ANA 787-8 economy class experience, but there was an aircraft swap at the very last minute. It was still a 787-8 thankfully, but one with the old (outgoing) international configuration instead. Them's the breaks sometimes.
Arrival at the Tokyo Haneda Airport (Terminal 2)
I probably don't even need to tell you how tired I was feeling as the shuttle bus dropped me off at the entrance of Terminal 2 at HND. I had just cleared Japanese customs and immigration after arriving on a flight from San Francisco, and to be quite frank, I would've much preferred walking into a hotel at that moment than an airport. But this review ain't gonna write itself…
The boarding process for ANA flight number 671 to Hiroshima
Flying is much more relaxing in Japan than it is back home in the US. Nobody starts crowding around the gate area 20 minutes before boarding time, and pretty much everyone stays seated until their zone number is called. Maybe nobody wanted to go to Hiroshima today. I don't know. What I do know is that I highly appreciated not having to protect my groin (and other sensitive parts) as I approached the boarding pass scanner.
My first impressions of the economy seats on the ANA 787-8
I'll admit it. Walking through the antiquated business class cabin on the way back to economy class gave me palpitations. I was expecting the worst. I mean, if the premium cabins look that antiquated, I can only imagine what steerage is like!
Thankfully, the economy seats are pretty nice. They are every bit as spacious as their newest long haul economy seats featured on other aircraft in the ANA fleet, and they contain the same great technology as well (large video screens, in-seat power, and a fully featured remote control for the entertainment system).
To help put my feelings about these seats in better context, be sure to read my ANA A321neo economy review. As you will see, the seats here on the 787-8 are a lot more spacious than even the newest seats on ANA domestic aircraft.
Along those same lines, I'd even say that they look like mini versions of the seats you'll find in ANA 777-300ER premium economy. Right down to the color and texture of the fabric!
The departure out of HND
Flying into or out of the Haneda airport is always a treat. This is an airport located smack dab in the middle of Tokyo, and the scenery (whether you're departing or arriving) is spectacular. Unless it's foggy and rainy of course, in which case you're not gonna see s**t. Guess what the weather was like today?
In-flight entertainment
Don't let the small(ish) video screens fool you. Despite not being as large as what you will find in ANA's newest economy class seats, it still features the same great software and catalog of content. In additions to movies and TV shows, you'll find a fairly vast collection of music and e-book titles. Much of it in Japanese, of course.
It's worth noting that ANA does not provide full-size headphones in economy class on domestic flights. All we got was the same cheap little earbuds that we get in economy in the US.
The snack service
If you're looking for the best possible way to feel disappointment, it's simply a matter of showing up to a domestic ANA economy flight feeling hungry. Of course you would be a fool to expect a full meal service. But I wouldn't blame you for thinking that there would be a delicious snack (or two). That's what I did.
Long story short, they don't serve snacks on these flights. All you're going to get is one of three drinks: water, tea, or apple juice (served in a tiny little cup no less).
Seat comfort
Hate on this old economy class configuration all you want, but I could easily go 12 hours in these seats. Really – they are every bit as nice (and fully featured) as what any other airline in the world is offering. It's the generous legroom that makes the most difference in my opinion, and if you're over 6 feet tall, you'd be a fool to choose any other airline for long-haul economy.
The descent and arrival into Hiroshima
It had been a while since I had flown into Hiroshima during daylight hours, and I forgot how mountainous the terrain is surrounding the airport. As a matter of fact, the environment is so challenging that they actually had to build a portion of the runway extending off the side of a mountain. It's hard not to freak out when it looks as if you're about to crash into the jungle when landing at HIJ!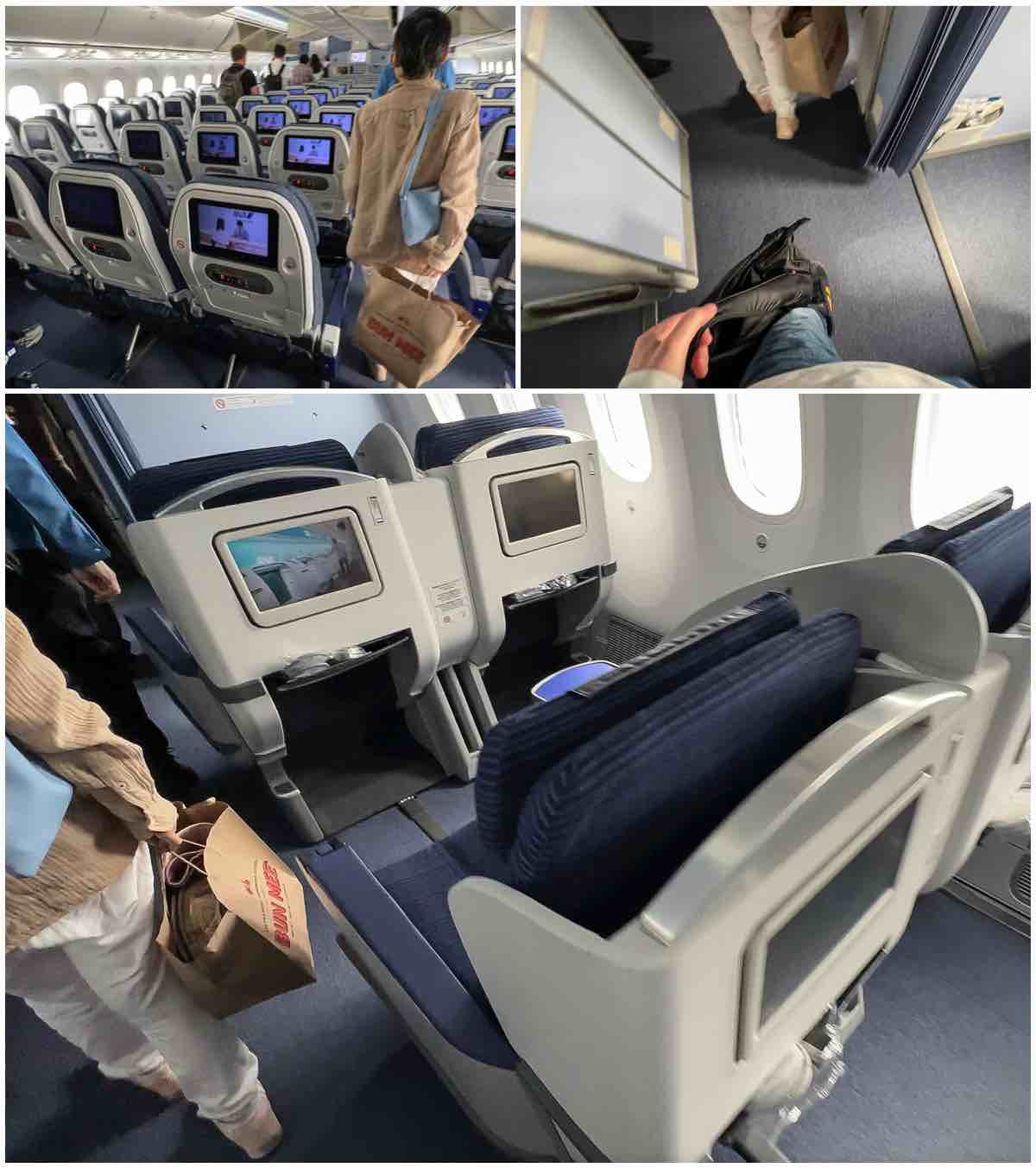 Pros and cons of the domestic ANA 787-8 economy class experience
I really want to tell you that ANA economy is the best in the world, but I just can't. Yes, the flight attendants are beyond amazing, and the amount of organization and cleanliness is next-level awesome. That said, they're awfully stingy when it comes to in-flight service. I was expecting a lot more on this 1 hour domestic flight.
Pros
The amount of legroom is fantastic. It's basically premium economy levels of legroom for the price of economy class.
The flight attendants are absolute rock stars. Ask for anything (well, except maybe for food), and they'll be happy to oblige.
Everything is spotless and clean. The Japanese take pride in their work!
Cons
The food (or the lack there of it) was a letdown. Something as simple as a bag of snack mix to go with my drink would have done wonders to knock back my jet lag a bit.
Speaking of drinks, it's important to remember that Japanese serving sizes are a lot smaller than US serving sizes. There's no shame in asking for seconds though, because the flight attendants will essentially trip over themselves to get it for you.