Japan Airlines flight number 65 from San Diego to Narita. This is easily my favorite flight serving San Diego International Airport at the moment, and it's always fun to get a ride on it. Well, I've only done it one other time, but still, you know what I mean. Anyway – this is my full review of JAL economy on the 787-8.
Spoiler alert: it was as good as I was expecting, and I stepped off that airplane in Japan feeling as if it was exactly the kind of experience that sets the bar for long-haul economy class. No, it wasn't perfect. But it was better than most and…
Dang it. I'm getting way ahead of myself here. Let's just get this review started the way I normally do:
JL65
San Diego, CA (SAN) – Tokyo / Narita, Japan (NRT)
Wednesday, February 26, 2020
Aircraft: 787-8
Registration: JA838J
Duration: 11 hours 27 minutes
Seat: 21G (economy class)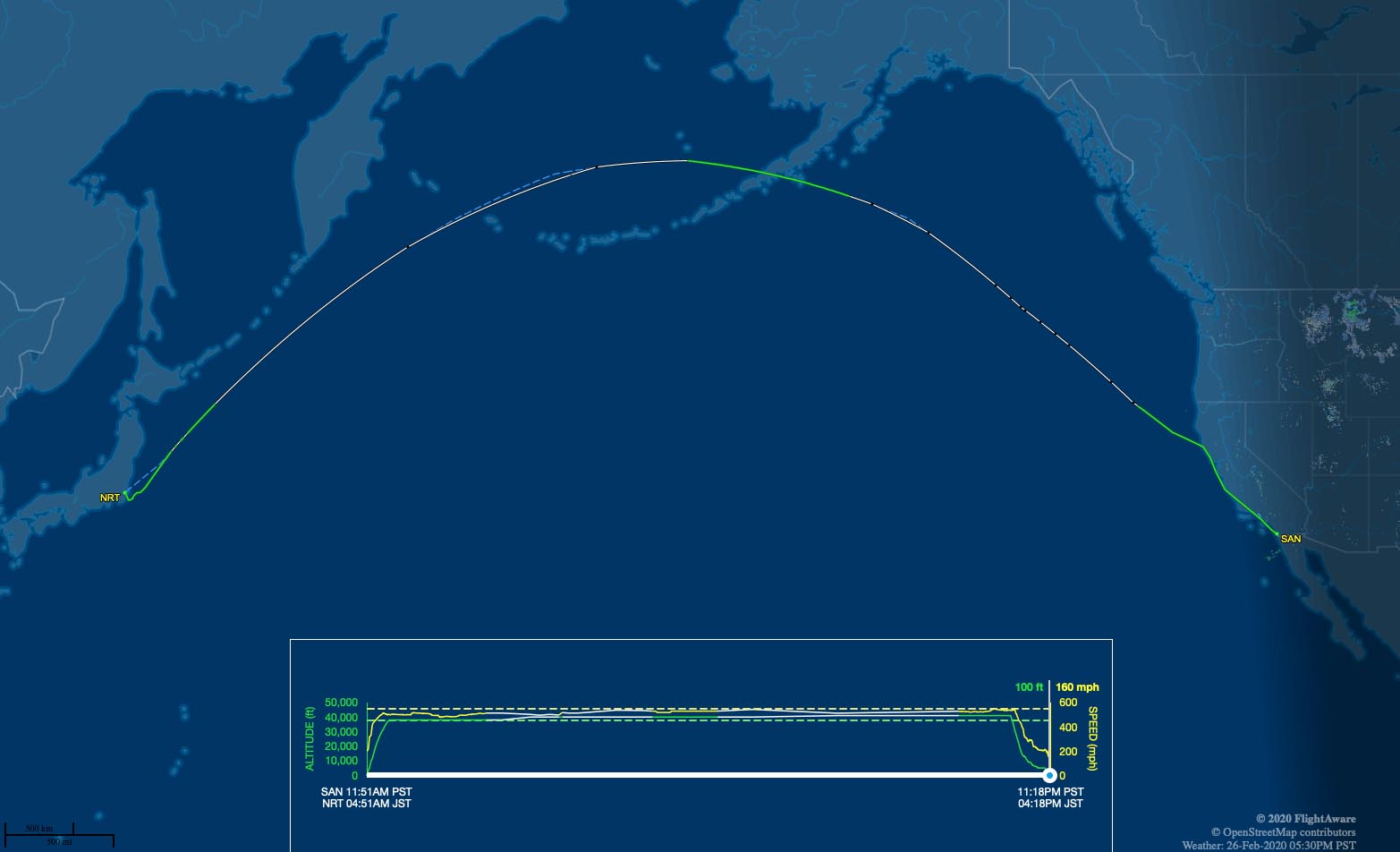 My full video review of Japan Airlines flight number 65 from San Diego to Narita
This video marked an important moment for my YouTube channel. I published it just as the COVID-19 situation here in the US was exploding, and the results were…dire. The view count was much lower than expected, and it only took a day or two to ultimately realize that video airline reviews are probably going to be dead for a while.
Despite the lower interest in travel content right now, I still had a lot of fun putting this video together. I've always wanted to fly JAL economy out of San Diego, so crafting a video which encapsulated the entire experience in under 12 minutes was both extremely challenging – and fun.
Having two empty seats next to me definitely made the process of gathering footage easier than normal. That's why you see a lot of different angles in this video. When there's nobody sitting next to me, I pretty much go all out and record everything!
Want to guess where the music for this video came from? If you guessed Epidemic Sound, you're absolutely right. Their extremely vast library of copyright-free YouTube music is always my first source for soundtrack options.
Full transcript of my video review (with pics!)
Remember – this is just a transcript of my full video of this experience, so do be sure to check that out if you want to see these pics (and words) come to life!
Arrival at the airport
The boarding process
Welcome aboard JAL flight number 65 to Narita
As you are about to see, Japan Airlines 787-8 economy is awfully nice. The leg room is fantastic, and the seats are fully featured with large video screens and convenient pockets and hooks for all your stuff. I much prefer this over ANA 787-8 economy.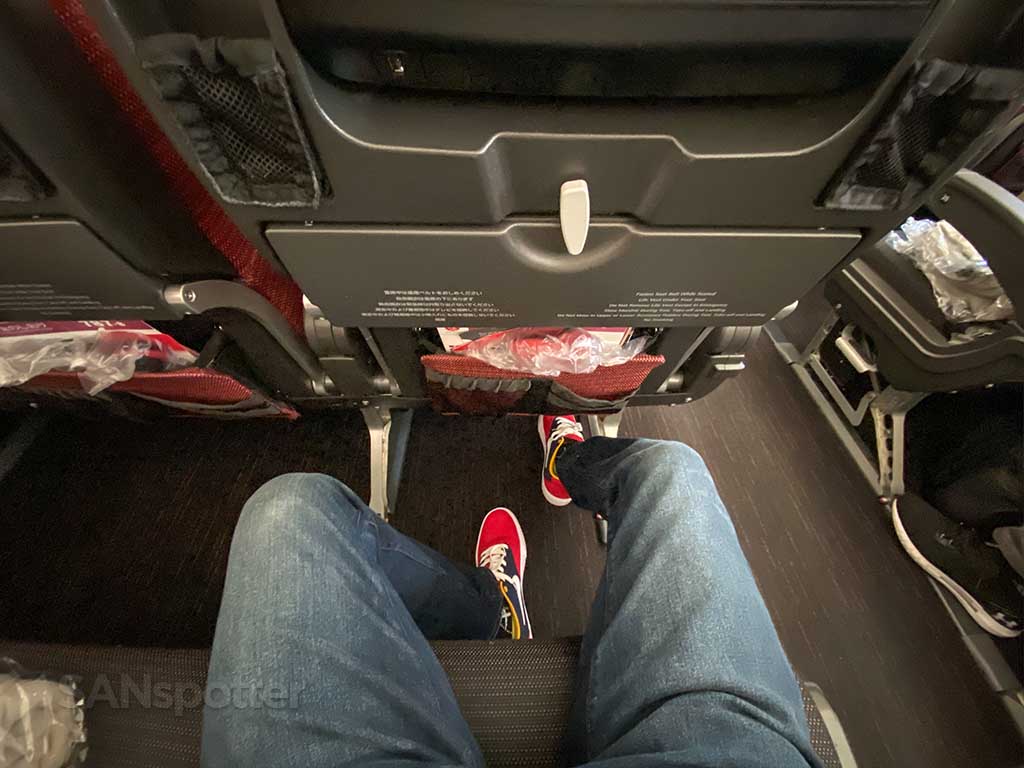 The first meal service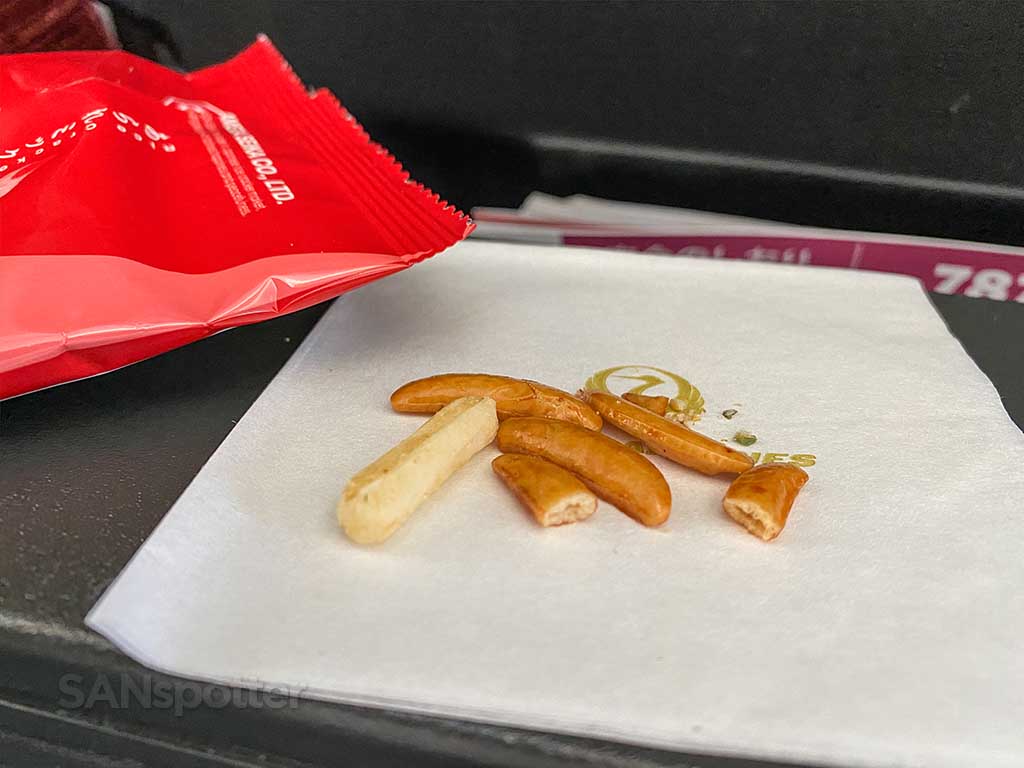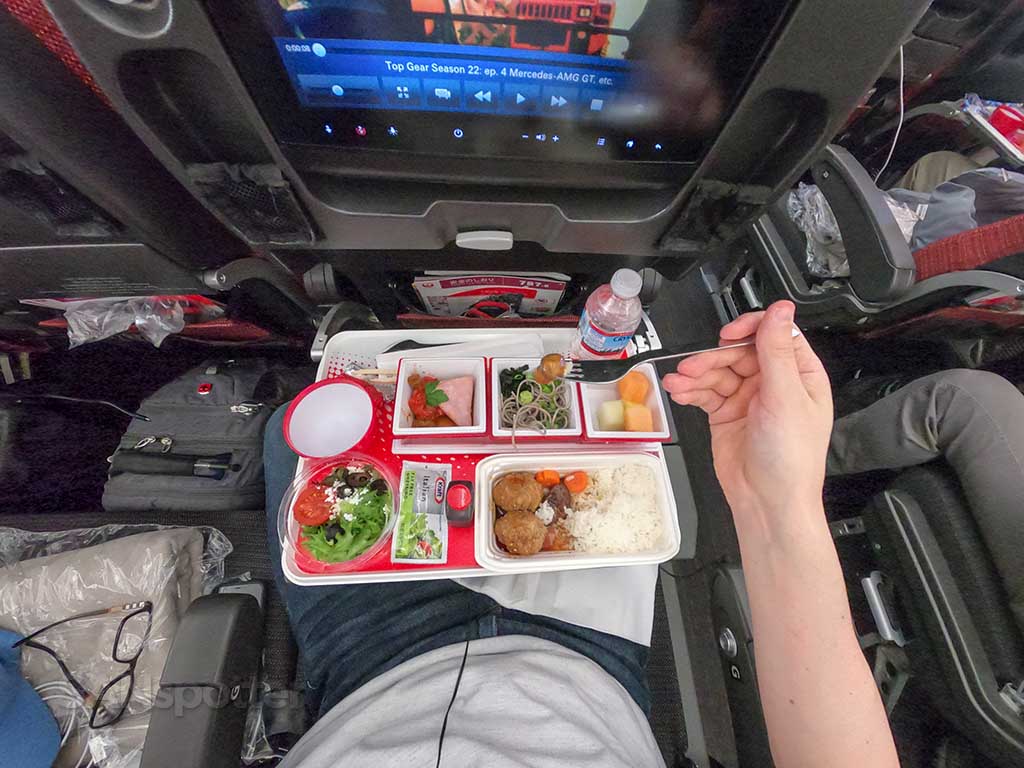 What happened mid-flight?
The second meal service
So what do you think? Does this look like a product you would be comfortable in for more than 10 hours? Do me a favor and let me answer that for you: Yes. You would very much enjoy Japan Airlines long haul economy.
Arrival at Narita Airport
How much did I pay for this flight from San Diego to Narita?
$502.90. And I'm quite proud of that, thank you very much. You see, for years I've been trying to find decent economy class fares on JAL out of San Diego.
Since reviewing airlines is my thing, I rarely book round-trip tickets. Most of my purchases are one-way segments, which allows me to review a wide variety of airlines. Unfortunately for me, one-way JAL fares are (generally) on the obnoxious side of the spectrum.
I've never seen a one-way fare from San Diego to Narita this low, so yeah – you better believe that there was some fist pumping going on immediately after purchasing that ticket.
Total points earned for this flight was 8102. This is because I used my American Express Platinum Card to make the purchase, which always gives me 5X points on all airfare purchases. For those of you out there who are mathematically challenged (such as myself), 509 x 5 = 2545. Combined with the 5557 miles flight distance, it ended up being a pretty nice addition to my American Airlines AAdvantage account. At least I thought so.
How I pay for all my travel expenses
The American Express Platinum Card
100,000 welcome points (woo-hoo!)
Earn 5x points on flights and prepaid hotels
$200 hotel credit + $200 airline fee credit + $155 Walmart credit + $240 digital entertainment credit (and much more)
Transfer points to a wide variety of global airline and hotel partners
Sign me up!
Note: I may earn a commission if you make a purchase, at no additional cost to you.
Pros and cons of JAL economy class
I've known for years that economy class on Japan Airlines is quite good – even though my only experience with this airline up until this point has been four business class segments back in January 2018 (SAN-NRT, NRT-PEK, PEK-HND, NRT-SAN).
All of those segments were all phenomenal, so naturally, I assumed that economy would be fairly swanky as well. A safe assumption, right? Anyway, as much as I would've loved to have flown business class this time, I was still really excited to see (first hand) what the economy experience was all about.
Pros
Leg room in JAL long haul economy is nothing short of spectacular. Seat pitch is a very generous 33 inches, which puts it into premium economy category on many other airlines. Heck, even Hawaiian Airlines premium economy wasn't as good as this.
Service from the cabin crew was incredible as expected. Japan prides itself on being a service culture, and it shows through in the character (and actions) of the flight attendants. They were all happy, polite, and extremely patient with needy passengers. They also kept me quite happy with a steady flow of beverages and snacks throughout the flight even though I wasn't asking for anything.
I really liked the fact that the flight attendants showed each passenger a picture of the meal options to help them make a decision. It certainly helped me!
Cons
As typical with many Asian carriers, I found the cabin temperature to be a bit too warm for my liking. And that says a lot considering that I'm usually the guy wearing sweatshirts in the middle of summer.
Although the food was good, it was far from being the best meal that I've ever been served in economy class (that honor goes to AirAsia on a 45-minute flight from Penang to Kuala Lumpur btw). Anyway, I'm putting this down here in the cons section because I had higher hopes for the meal services.
JAL economy FAQs
I don't know about you, but Frequently Asked Questions (FAQs) are quickly becoming my favorite segment of my trip reports. This is most likely because I have an extremely short attention span and I feel immense satisfaction in summarizing the experience in a handful of bullet points. Sometimes less is more, and I believe it's the brief summaries which have the most impact.
However, it's my job to write, and I assume that most readers prefer a little bit of meat in their trip reports and reviews. Consider everything above this point to be the fatty pork belly, and everything below to be the lean prime rib. Hmm – can you tell that I'm writing this just before dinner time?
Is JAL economy worth the extra cost over other airlines?
As I mentioned above, I've always found JAL economy fares to be on the slightly expensive side of the spectrum. At least out of San Diego. However, they do offer two things with their regular economy product that many other airlines do not:
Generous leg room
Consistently amazing service
Let me clarify this a bit more, since everyone values airline service differently: If you're the kind of traveler who values seat comfort and extra legroom more than anything else, then YES – JAL economy is totally worth the premium.
However, if you're tough-as-nails and you don't mind being wedged into a tiny seat (or dealing with moody flight attendants) as long as you're paying an incredibly cheap fare, then NO. The extra cost of JAL economy probably isn't going to be worth it for you.
What is the experience like connecting at Narita airport?
Before I started traveling heavily, transferring at NRT seemed like a scary and daunting proposition. Japanese culture is very much the opposite of what I was familiar with here in the US, and I always assumed that nobody spoke a lick of English anywhere in Japan (and that all the signs would be impossible to understand).
Long story short, don't be like younger (and more inexperienced) me and assume that Japan is a completely different world. Transfers are extremely easy and organized at Narita, which is not surprising at all considering how neat and organized Japanese culture is.
As a matter fact, if you find yourself having to transfer between Narita and Haneda, that's extremely easy as well. My full review of the NRT to HND transfer process is the perfect primer for explaining everything that you're going to need to know.
How would I rate the food?
As I mentioned earlier, I was expecting just a little bit more in terms of substance and quality in JAL economy class food. It was OK. Certainly edible, and I didn't wrinkle my nose too harshly at anything on my tray. For comparison sake, I'd say it was on par with the grub that European carriers (such as LOT Polish Airlines) typically serve.
It was massively better than what I experienced in Virgin Atlantic economy though. On the flip side, it was not quite as good as what they were slinging at me in Turkish Airlines long haul.
What is the video entertainment like in JAL economy?
It's not bad. It's not great either. But then again, I have a very short attention span and there are only but a handful of movies that will hold my attention on a long flight. Planes Trains and Automobiles being one of them.
The video screens themselves were large and bright, and the responsiveness of being touched and manipulated (eeew!) were on par from smart phone offerings from 2012 or so.
Will people over 6 feet tall be comfortable in Japan Airlines economy class?
Yes. At least on the 787's they will. Honestly, I can't remember any other economy class experience where I felt as if I had as much legroom as I did on this particular aircraft. I'm 5'10", and I had way more room than I needed.
For comparison sake, I thought leg room in economy on the air New Zealand 777-300 was pretty good. But it pales in comparison to what Japan Airlines is offering, which is really odd considering how statistically short the Japanese population is.
Then again, JAL configure these airplanes to attract a global audience. They thought of others before they thought of themselves, which says everything you need to know about Japanese culture. Yet another reason why it's never a bad decision to book your next long-haul flight on Japan Airlines.
Is it true that they keep the cabin temperature uncomfortably warm?
Unfortunately, from my experience, yes. This flight from San Diego to Narita was my 5th ever segment on JAL, and it was exactly the 5th time that I was peeling layers of clothes off by the middle of the flight.
Keep in mind that I'm a very thin guy and I'm always cold. I normally freeze to death on airplanes, even when others are complaining of it being too warm. Every single JAL flight that I've ever taken had me feeling uncomfortably toasty somewhere along the way. Even that short three-hour hop from Tokyo to Beijing two years ago!
No matter if you're really thin / cold-blooded or not, I definitely recommend dressing in layers for your next flight on Japan Airlines. Better yet, I recommend bringing a small fan that you can plug into the USB port to keep you cool for the entire journey.
What is the baggage allowance for JAL economy?
As far as I can tell, it's fairly typical with other long-haul airlines. You're allowed two checked bags per person (not to exceed 50 pounds each). You're also allowed one carry-on bag no larger than 115cm (45in) total (length+width+height). Finally, you're also allowed to carry on one personal item such as a purse or small backpack.
Keep in mind that requirements for carry-on and checked baggage changes often, so do be sure to check the JAL website before you start packing.
Do they serve free alcohol?
Yes! They don't have a notably extensive offering of alcoholic beverages such as beer and wine in economy class, but it's enough to keep most people happy I assume.
At the time of this writing, you'll get two complimentary alcoholic beverages her flight. Again, do you be sure to check the latest beverage information on the JAL website to see what they're offering for your particular flight.