I can't recall a single moment in my life prior to this trip that I had thought that I ever wanted to visit Molokai, so I'm very thankful that this flight made a brief stop on this amazingly beautiful Island. It's not like I have anything against Molokai – it's just that I didn't know a thing about it before this trip and there are so many other places in the Hawaiian island chain that I've always wanted to visit instead.
For that reason alone, I had always considered it to be just a "flyover" island that poked out of the water right between the other (more interesting) islands. Big thanks to Mokulele Airlines for dropping me here at MKK to show me what I've been missing. I'm definitely going to spend time on Molokai someday!
MW600
Ho'olehua, HI (MKK) – Kahului, HI (OGG)
Sunday, April 30, 2017
Aircraft: Cessna 208 Grand Caravan
Registration: N839MA
Duration: 27 minutes
Seat: row 1 (right side)
Even though we were only scheduled to be on the ground for a few minutes, I took the opportunity to walk around a bit outside the terminal in order to ingest as much of that clean and fresh Hawaiian air as possible. I was not feeling all that well after the inbound flight from Honolulu – the bumpy ride combined with my mistake of watching my camera more than the horizon brought feelings of motion sickness on well before we landed, so I tried as hard as I could to shake that off before getting back on that plane.
Past experience has taught me that motion sickness is not something that can be cured within minutes, but I tried to put that out of my mind as best I could and focused more on positive thoughts instead. "I'm having fun. I'm having lot's of fun. This is fun dammit!"
The Ho'olehua airport is neat little facility, with a heavy emphasis on "little". It's just a small building with enough chairs and ticket counters to make it look like a legit airport, and there's even a bit of security equipment too like x-ray machines and metal detectors. But none of that security stuff was in use today, as I was able to walk out of the airport completely, and then walk right back in and into the gate area without anyone saying a word. A totally weird feeling – especially in a US airport.
Seat assignments were called out by the Mokulele agent right at the boarding door. I was told that I would be seated in row 1, so I took my spot in the first position in line. Row 1! Score! That meant that I'd have the chance to look over the shoulders of the pilots during this flight, and possibly offer suggestions if I had any. I'm sure the pilots would love to hear "do a barrel roll!!" coming from the AvGeek seated right behind them…
I was the second passenger to board the plane, so I decided to sit on the right side (which had a better view of the first officer). Although I was told to sit in row 1, there are two seats for every row so I was able to pick which side I wanted. That was a nice little perk. It ended up being quite a good seat (if a bit small), and the excitement of sitting up there right over the pilot's shoulders was enough for me to forget about my motion sickness all together.
After another brief welcome by the pilot, we were off. The nice thing about tiny airports like this is that there is absolutely no waiting to take off. Simply close the doors, fire it up, and roll down the runway.
The climb out of MKK was one of the most beautiful takeoffs I have ever experienced in my life despite the gloomy weather and windows that were covered in condensation. Following the rugged landscape of the northern shores of Molokai was a near religious experience – the lush green cliffs were simply mesmerizing, and I actually spent more time watching with my own eyes rather than taking pictures. The island of Molokai is desolate and largely untouched, and I will return again someday. I will. There's no doubt about it.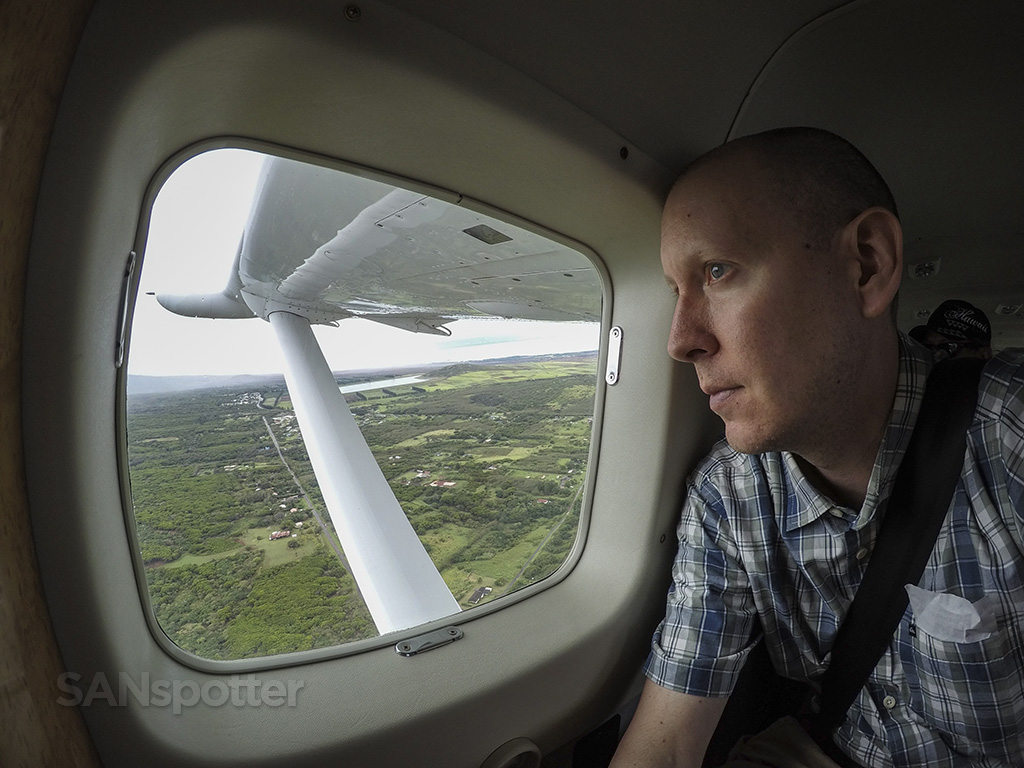 The water crossing portion of this flight was very short. Molokai and Maui are very close together, so there was quite a bit of beautiful scenery to watch for a majority of the flight. I think being able to see land (and a clear horizon) helped me to feel much better on this flight – I only started feeling ill whenever I was focusing on the controls in the cockpit, and I could always remedy the bad feelings with look to the outside world instead. Being in row 1 might have also helped in this regard. It felt a lot less bumpy up there compared to being all the way in the back like I was on the previous leg.
The descent into OGG was gloomy and wet, but still very interesting since I was able to watch the pilots glide us all the way in. It should be noted that this was not my first time here on Maui and OGG. The last time was way back in September of 2000, which now that I think about it, is quite unacceptable. That was far too long ago. I need to go back ASAP and get reacquainted with this place!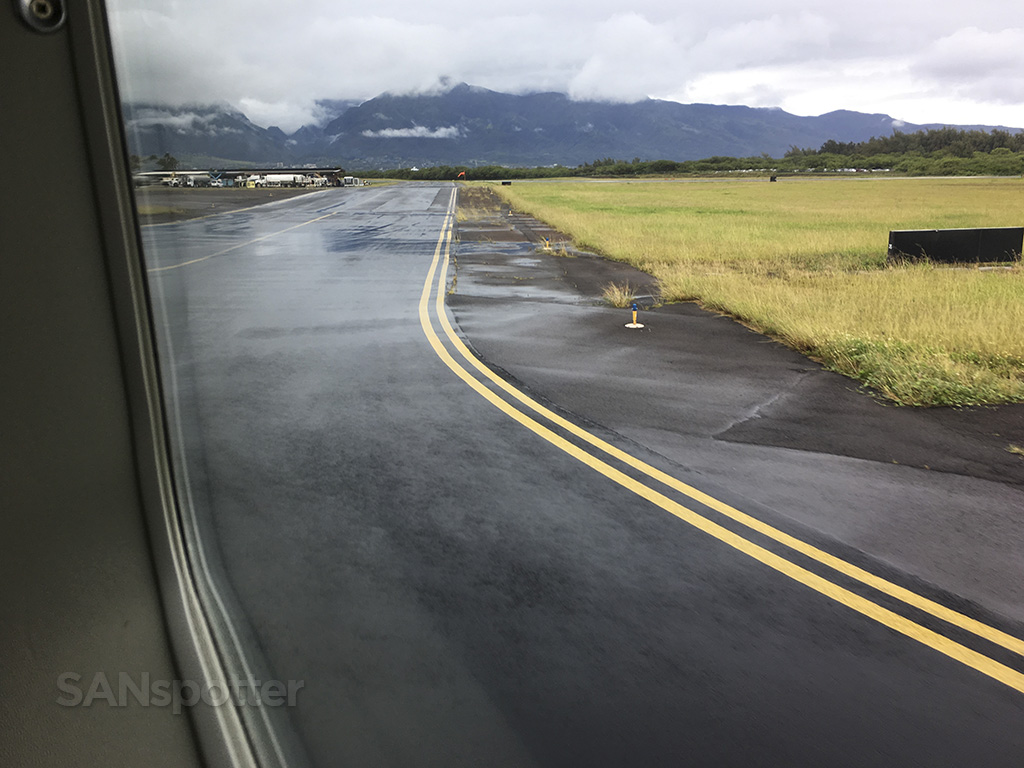 Unfortunately, there was no time to get reacquainted with Maui on this brief stopover. Just like how we did it on our arrival to MKK, they booted everyone off the plane and had us walk into the terminal for a few minutes so that they could prepare for the final leg over to Kona – the longest leg of this island-hopping adventure. I was able to fend off the feelings of motion sickness for now, but the worst was yet to come…