I know. That's probably not the kind of title you would normally expect to see for generic AirAsia reviews. It's not what I expected to experience either, so I guess there's shock and awe all around.
Wait. Before you get too excited, you need to know that there's not really a lot of other things that qualify for "shock and awe" in this review. So – it's probably best if you go grab a beer or a glass of wine before proceeding because you're going to need to calm down.
My sincerest apologies for hyping this up into something that it's really not.
AK6123
Penang, Malaysia (PEN) – Kuala Lumpur, Malaysia (KUL)
Sunday, March 1, 2020
Aircraft: A320-216
Registration: 9M-AGM
Duration: 39 minutes
Seat: 4F (Hot Seat)
The video
I've mentioned it several times already, but making videos for these extremely short low cost carrier flights are really difficult. Usually what happens is that I panic and end up shooting far more footage of the time waiting for the flight than I do of the actual flight itself. In other words, I had a whole lot of trimming to do to make sure this video wasn't a documentary of me just waiting at the airport.
Thankfully, as you just saw, the AirAsia Chicken Rice saved the day. It ended up being the star of the show, and without it, it would've been extremely difficult to justify publishing such a lame video.
Well, it wasn't completely lame. The music (which I got from Epidemic Sound), was pretty good in this one. They've always got a wide variety of new tracks to choose from every week, and it makes the process of choosing the soundtrack for my videos fun and easy.
The full video transcript of my AirAsia review – with loads of detailed pics (and cheesy commentary)
As a reminder, everything you're about to see has been extracted from the video that I created for this flight. Yeah, I've added a few extra little bit of details here and there. However, if you're the kind of person too much prefers watching a video, do be sure to check that out.
Arriving at the airport
Don't get me wrong. I love reviewing airlines for a living, but having to get out of bed at 3 AM to catch an ultra low cost carrier flight in a strange country where I don't understand the language and isn't always as fun as it sounds. Despite all that, I somehow managed to pull myself together and end up where I needed to be.
Hey everyone, my name is Scott, I'm the founder of SANspotter.com, and I'm in Penang Malaysia this morning checking in for AirAsia flight number 6123 to Kuala Lumpur.
The AirAsia pre-flight experience in Penang
As usual, once pass the security checkpoint and into the main terminal, I realized that I had arrived far too early. I've got a really bad habit of doing this, and the amount of sleep I get while out on the road could be drastically increased if I learn to chill out just a bit.
The boarding process for AirAsia flight 6123 down to Kuala Lumpur
If you've ever flown EasyJet, the process of boarding a AirAsia flight will feel eerily similar. It's not a strange and awkward as what you saw in my Ryanair 737-800 basic economy review, but it is a little different than what you would normally expect at any major airport around the world.
My first impressions of the AirAsia Hot Seat
As a reminder, AirAsia is all about economy. From the seats, to the service, to the entertainment, and everything in between – very little of the AirAsia experience is considered "premium." Not even these Hot Seats were all that fun and extravagant. Well, that's not to say that you couldn't order every drink on the menu and have a really good time, but you know what I mean…
What's the food like on AirAsia?
My God, you have no idea how long I've been waiting to get to the part about the food in this AirAsia review! However, I feel like I've given way too much information already. Especially if you seen the video.
Regardless of what you know so far, I'm just going to say this: AirAsia Chicken Rice is otherworldly. Think I'm exaggerating? Well I'm not because there's apparently a lot of other people that think the same thing. Next time I'm in Malaysia, I'm definitely checking out the AirAsia restaurant in Kuala Lumpur.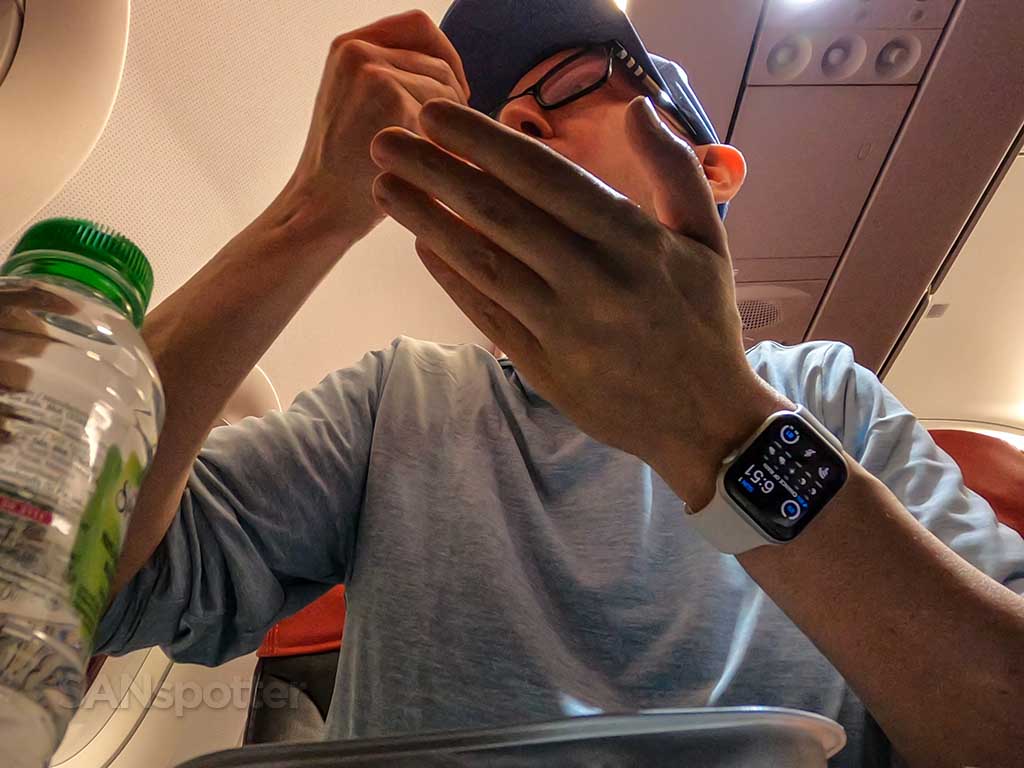 Never in a million years would I have guessed that my best ever meal in economy would have happened on a 45 minute AirAsia flight. I don't know what was in that stuff, but…damn.
A few words about "Hot Seat" comfort on AirAsia
Maybe because it was the fact that this was an incredibly empty flight and I had an entire row to myself (and my belly was full of the best meal I've had a in a good long while), but I was decently comfy up there in the Hot Seat. Though, to be honest, it felt nearly the same as my EasyJet experience from Amsterdam to London last year. These are perfectly fine seats for short segments such as this.
What's the verdict? Would I fly AirAsia again?
I would! And I did. I'll be posting my AirAsiaX review about the segment from Kuala Lumpur to Taipei soon, but I will say that it was an equally good experience as this was.
However, this segment down to Kuala Lumpur isn't over yet. Where was I? Oh yeah – basking in the sweet sweet glow of AirAsia Chicken Rce. Combine that with a beautiful sunrise right outside my window, and all was pretty much perfect in the world.
How much did I pay for this AirAsia flight down to Kuala Lumpur?
It's complicated. You see, the price of this flight was actually bundled into a rather convoluted purchase. For example:
It was a 2-segment one-way ticket from Penang to Taipei via Kuala Lumpur
This segment from Penang to Kuala Lumpur was booked as a "Hot Seat" – which is AirAsia's clever marketing term for the seats towards the front of the plane with extra leg room. Note that you'll also get priority boarding if you're in a Hot Seat.
The second segment of the itinerary was on AirAsiaX. Not AirAsia. I know. That's confusing for me too.
Not only was the second segment on AirAsiaX, it was also in business class.
Without dragging it out any further, I paid $497.02 for this one-way itinerary to Taipei. Personally, I feel that was an excellent price to pay just for the business class segment from Kuala Lumpur to Taipei alone. Having this Hot Seat segment from Penang to Kuala Lumpur thrown in made it all the better.
As always, I use my American Express Platinum card to make the purchase. Because I earn 5X points on all airfare purchases with that card, I earned a grand total of 2,485 Membership Rewards points for this itinerary. Nice!
How I pay for all my travel expenses
The American Express Platinum Card
100,000 welcome points (woo-hoo!)
Earn 5x points on flights and prepaid hotels
$200 hotel credit + $200 airline fee credit + $155 Walmart credit + $240 digital entertainment credit (and much more)
Transfer points to a wide variety of global airline and hotel partners
Sign me up!
Note: I may earn a commission if you make a purchase, at no additional cost to you.
Pros and cons of the AirAsia A320 Hot Seat
Is it rude of me to admit that I was expecting the worst before this flight? I mean, AirAsia is essentially the Spirit or EasyJet of Asia, and I was expecting a rather miserable experience. Especially since this flight required me to get out of bed at 3 AM.
Some would say that that's not the fault of the airline, and that shouldn't be included in this AirAsia review, but I beg to differ. They were the ones who decided to time their Penang to Kuala Lumpur flight at 6:40 AM.
I was booked in a "Hot Seat" though, which meant that my experience would be elevated (slightly). According to AirAsia, perks such as priority boarding and extra leg room are yours if you choose to pony up the extra Pesos.
Pros
As I've already mentioned, there are some really good deals to be had on AirAsia. I can't believe how little I paid for this entire itinerary up to Taipei.
Everything ran on time and exactly on schedule. There were no surprises, and the process from checking in at Penang to deplaning in Kuala Lumpur was simple and easy.
The food! OMG the food. No, it isn't free, and yes – it is a little expensive. However, the hot meal that I was served was probably the best meal that I've ever been served in economy class. That's right. I'm knocking the meal that I had on my Turkish Airlines 777-300ER economy experience from Chicago to Istanbul out of the number one spot. AirAsia Chicken Rice rules all.
I quite liked the interior design of the aircraft. It was also spotless and clean.
Cons
Nothing is free on AirAsia. If you so much as want a sip of water, you're gonna have to pay for a full bottle.
I didn't find the extra leg room of the Hot Seat to be all that generous actually.