01. Introduction: San Diego to Bellingham and back on Allegiant, Horizon, and Alaska Airlines
02. Allegiant Air A319 San Diego, CA to Bellingham, WA
03. Holiday Inn Express, Bellingham WA
04. Horizon Air Dash 8 Q400 Bellingham to Seattle
05. Alaska Airlines 737-800 economy class Seattle to San Diego
I'm starting to notice a trend when it comes to me and my enthusiasm for blogging at the very end of my trips. Basically, I become mentally spent the closer I get to home, and the thought of taking more pictures and documenting the process of travel starts to get annoying at times.
I almost didn't document my trip home from Japan last year for this very reason – I arrived at the Hiroshima airport, started taking pics, and then felt the pointlessness of it all. What ever happened to just enjoying the moment and not having to worry about trying to document everything? I ended up documenting the rest of that trip anyway, but I did decide to forgo a full trip report for my transcon jetBlue flights last April.
I was pretty much feeling the same way right before this Alaska Airlines flight down to San Diego, and I came very close to not documenting it at all. But I pushed on anyway simply because I had a ton of content already from every other segment of this trip, so I thought it was best to make the full trip report as complete as possible. It's funny though – I really didn't want to be taking pics at the time, but now (nearly 5 weeks later), I'm glad I did!
Upon arrival from Bellingham, I quickly discovered that my original flight that I had booked myself on to San Diego had been delayed, and they hadn't even started boarding yet. Score! Hoping for the opportunity to get put back on that flight instead of the later one they had rebooked me on earlier in the afternoon, I approached the gate agents to see if there was any chance that they could fit me in.
Quite simply…nope. That flight was overbooked and they already gave my seat away. Oh well – I was confirmed on the next flight only two hours later so I really didn't mind.
Now that I had some time to kill, I quickly took notice of how massively busy the Seattle airport is. It seems every time I come through this place it's standing room only and the gates are bursting at the seams. I did notice it in years past, but this time it really hit me. This is a very (very) busy place.
I decided to grab a healthy hummus wrap for dinner at Wolfgang Puck Express, but was bummed to see that they included a huge pile of irresistible cheese fries with it. Dang it! Here I was trying to be healthy, but…those damn fries were freaking amazing and I ate every single one. Ugh. Oh well.
AS496
Seattle, WA (SEA) – San Diego, CA (SAN
Saturday, August 1 2015
Aircraft: 737-800
Seat: 17c (exit row)

After dinner I took my time walking over to the N gates to wait for my flight to San Diego. This was the first time that I've ever used the inter-terminal train at SEA, and I've got to say that it's quite nice and it made me appreciate how big this airport really is. But I wasn't in a hurry to get over to N – I was there last year for another SEA-SAN flight, and I remember it being small and crowded with no place to sit.
Luckily the gate being used for this flight to San Diego was N2, which is located in the far corner of the terminal away from everything else. It was relatively quiet compared to all the others, so I did manage to sit and relax a bit before boarding commenced. I was still pretty bummed at myself for gorging on those cheese fries…
As I said at the top of this post, I wasn't much in the mood for taking pics as I boarded the plane and found my seat. That's just as well though – this is simply Alaska Airlines economy class, so there's nothing really special to say about it other than the fact that the power ports at EVERY seat was a very welcome thing to see. The exit row seat I had wasn't too shabby either. Leg room for miles it seemed.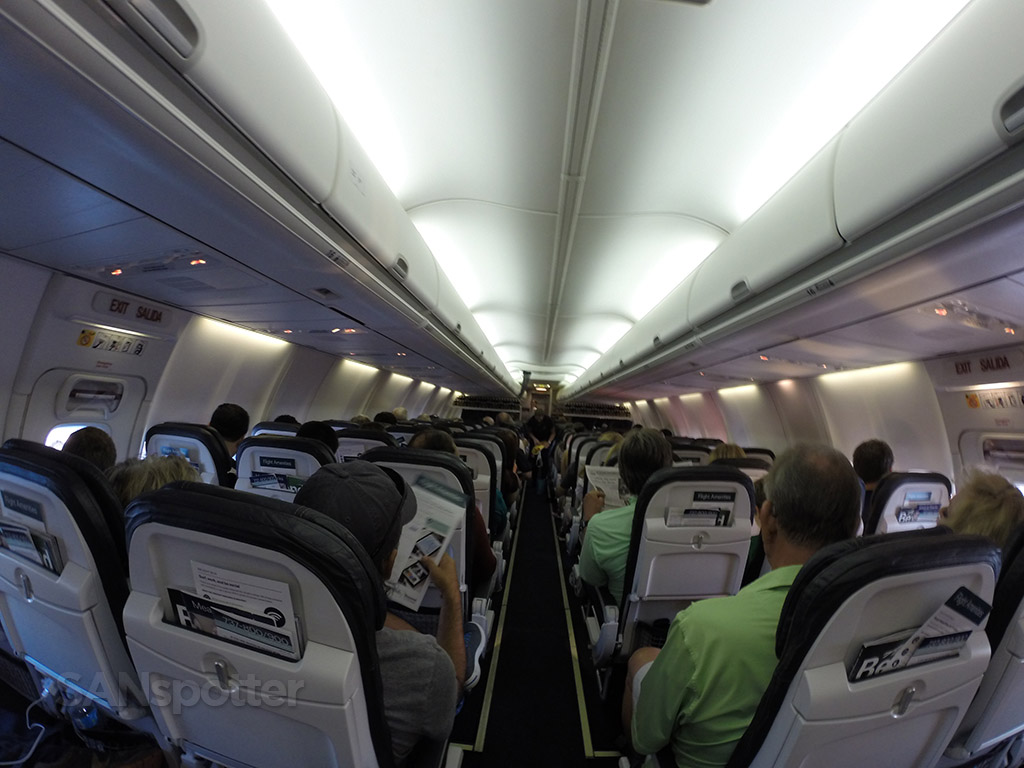 The only other thing really worth mentioning here was my craving for a diet coke during this flight. I can hear the "so what's" from all of you now, but you've got to understand that I never drink soda. I just don't like the stuff but I had two on this flight. Weird, I tell ya.
Arrival in San Diego is one of the best feelings in the world, and I was feeling really good to be home again once I got off that plane and walked into the Circle of Death (terminal 1). I did start to think that this trip went by way too fast and that yet again I tried to cram too much into too short of a timeframe. I'm not a young kid anymore, so I'm not sure how many more of these bonsai "gogogo" two-day trips I have left in me. I'm ready to start staying at my destinations longer!