If you've been following my adventures on YouTube, you'll know that I recently flew from Fort Lauderdale to San Diego (via Houston) on Spirit Airlines. This was the kind of trip that I always used to get really excited about writing trip reports for in the past, but now that I'm becoming so heavily focused on video reviews, I decided to forgo the written version. However, there is still a lot I've got to say about the experience that I wasn't able to cover in the video. Most importantly, I feel like I still need to answer the question that seems to be on everybody's mind these days: just how bad is Spirit Airlines?
The TLDR answer to that question is: not as bad as you might think. As a matter of fact, I'm almost to the point now where I have to think long and hard about choosing another airline on a route where there are other options.
Yeah, Spirit isn't always the best choice for many, but…I'm not one of those people. Should I be worried that I'm ok with flying on the airline that gives me the highest probability of involuntary ending up on the evening news? Maybe. But I'm totally ok with it.
Despite Spirit Airlines not being bad enough for me to avoid completely, I still think it's worth having a closer look at their operations to identify all the problem areas.
I'll also discuss some ways they might be able to improve, as well as keeping things interesting along the way by waxing poetic about how freaking awesome they are for my particular needs. It's gonna be the weirdest and most contradictory Sprit Airlines piece you've ever read.
How bad is the Sprit Airlines ground experience?
Just to be clear, I define "ground experience" as everything leading up to the actual flight itself. It begins with being annoyingly bombarded with upsell offers during the ticket booking process on spirit.com, and ends with the stampede of (typically) less-experienced travelers rushing the gate as they call for the first group to board.
So yeah – if you're not very good at reading between the lines, let's just say this: I'm not a very big fan of the Spirit Airlines ground experience, and my fondness for this airline doesn't actually begin until I'm actually on the plane. Most everything leading up to that point gives me the temptation to stab my eyeballs out with a fork.
How so? Well, I'm glad you asked:
1. The website is annoying
You know how annoying it is to walk through a department store with sales staff at every intersection waving you over to try something "amazing"? Spirit airlines has brought that same high-pressure sales technique to it's website, and its incredibly annoying. So annoying as a matter of fact, that I consider it to be the pinnacle of how bad Sprit Airlines really is.
Upsells for their loyalty program (which is terrible by the way), carry on bags, hotels, rental cars…it's so overdone to the point of distracting me from the whole point of coming to the website in the first place. "Spirit Airlines sucks!" is what I cry every…single…time.
I fully understand the reason for these upsells though. As an online entrepreneur, I know for a fact that they actually work. Love 'em or hate 'em, many people do take advantage of upsell offers. They wouldn't be able to offer flights for ridiculously low prices without them and it's just something we are going to have to put up with if we want those really low fares.
2. The check in process is ok – as long as you don't have to fight your way to a kiosk
If there's one thing I can be thankful for after the dreadful booking process, it's the fact that the check in procedure at the airport is intuitive and easy most of the time! The Sprit Airlines marketing team has been absolutely brilliant in dumbing everything down to the point of being campy and (almost) fun.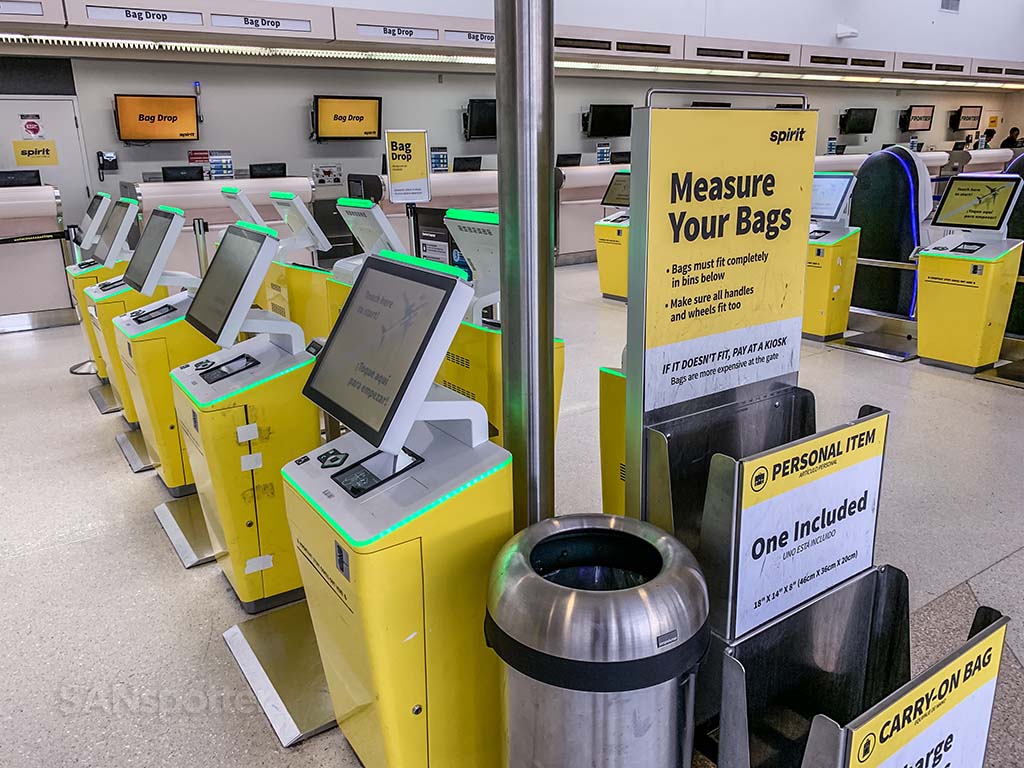 The problems start bubbling to the surface when it's crowded in the ticketing hall and you've got to fight your way to an open kiosk. My own personal experience has led me to believe that a significant percentage of the Spirit Airlines clientele is of the "once-a-year flyer" variety. Not that there's anything wrong with that.
These types of people don't have as much experience with general airline and airport procedures, resulting in a very frustrating process as you wait for them to figure things out. BTW, yes, in cases such as this, being kind and helpful to anyone who seems to be struggling IS the right thing to do.
Anyway, despite how messy it can get sometimes, it's not always bad. I'm actually willing to bet that if you were to ask random people at random airports using these check in kiosks, you'd hear relatively few negative reactions to the "how bad is Spirit Airlines?" question. Really. When things are running smoothly it's actually a decent experience!
3. God help you if you were expecting peace and quiet at the gate
Ok. Now we're getting to the good stuff. How bad is the Sprit Airlines boarding process? Bad enough that I look forward to hanging out in the gate area just about as much as I do hanging out down at the local proctologist's office.
Imagine kids running and screaming everywhere (families fly this airline because it's cheap), an over-abundance of confused once-a-year flyers, and far too many people scarfing down smelly things like onion rings and garlic fries because of the lack of free food served onboard.
Not only that, Spirit Airlines doesn't usually spend much money in order to rent space at the nicest gates at most airports. Except for my recent experience at Fort Lauderdale, most every other Spirit Airlines flight I've ever taken has departed from a tiny gate space that felt more temporary than it did permanent.
Their current digs in terminal 1 here in San Diego is a perfect example of that. You basically gotta walk into that place holding your nose in disgust as you fight for any available seat. It truly is hell on earth.
How bad is Spirit Airlines in the air?
Not that bad actually! And really, that's all that really matters. I can always escape a crowded and busy gate area (well, unless it's terminal 1 at SAN), but there's no place to run to once onboard the plane and in the air. Let's have a closer look at all the things that make up the in flight experience:
1. The seats
The nice thing about Spirit Airlines is that you can pay for only the things you want. If all you're looking for is a cheap seat for the cheapest price possible, they've got that. If you want something a bit more comfortable, they've got that too with their Big Front Seat product.
It's nearly as good as business/first class on any other domestic US airline – but for a LOT less money. For example, I paid only $297 for my one-way FLL-SAN Big Front Seat, and I found it to be an incredibly good value.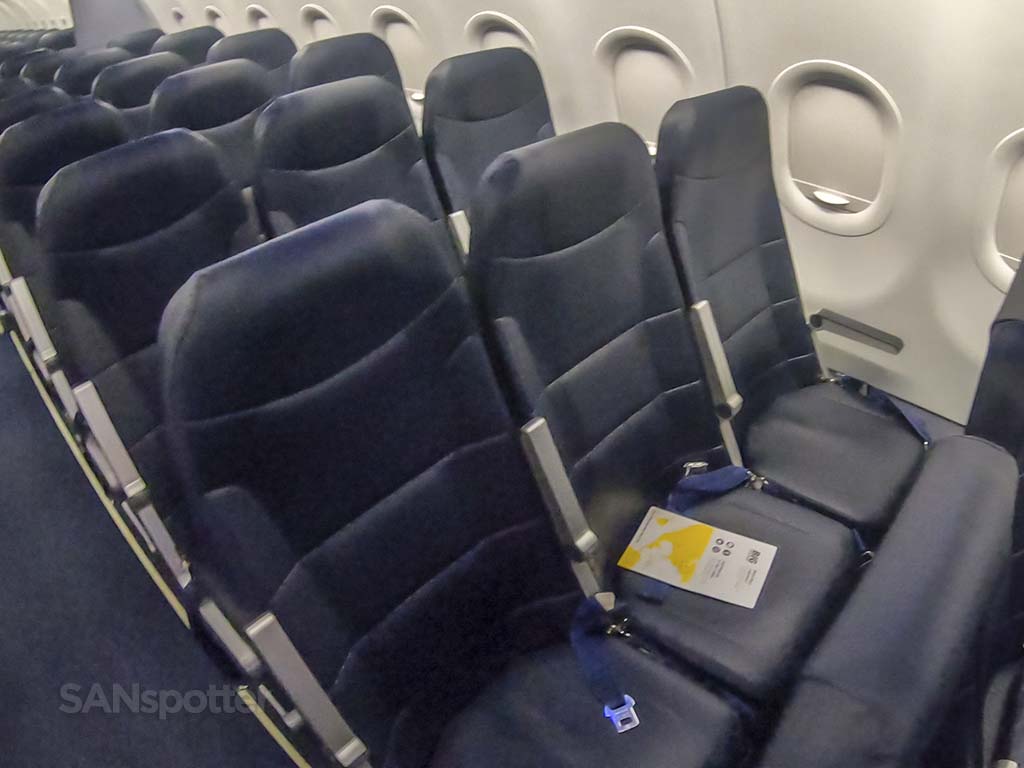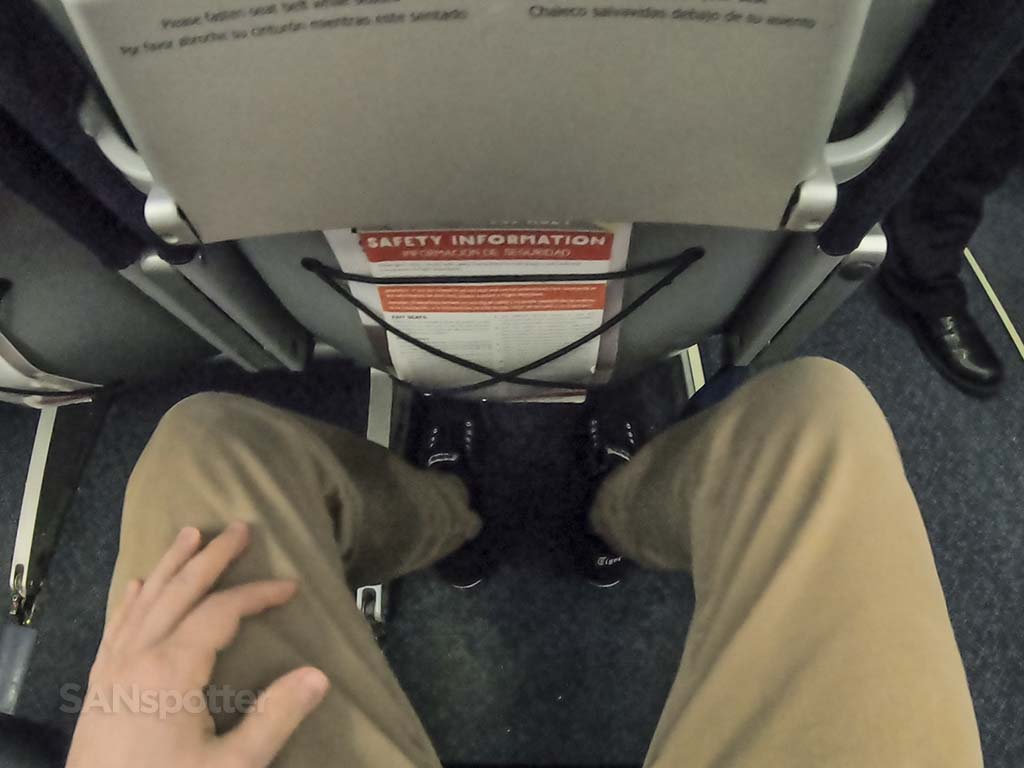 It seems like whenever I hear someone talk (complain) about how bad Spirit Airlines is, it's because of the uncomfortable seats in the main cabin. While I do agree that they aren't the best for flights over three hours, the Big Front Seats are an incredibly good value – and comfortable. Nobody ever complains about those.
2. The food
Ok. Spirit Airlines food is bad. But not in the way you might think. For the record, food isn't free. Not even water! Everything comes at a rather significant cost, and that's exactly the problem. I paid exactly $11 for a can of Diet Coke and a few wedges of cheese, which still gives me a migraine from having to type it out (like digging up painful memories from my past).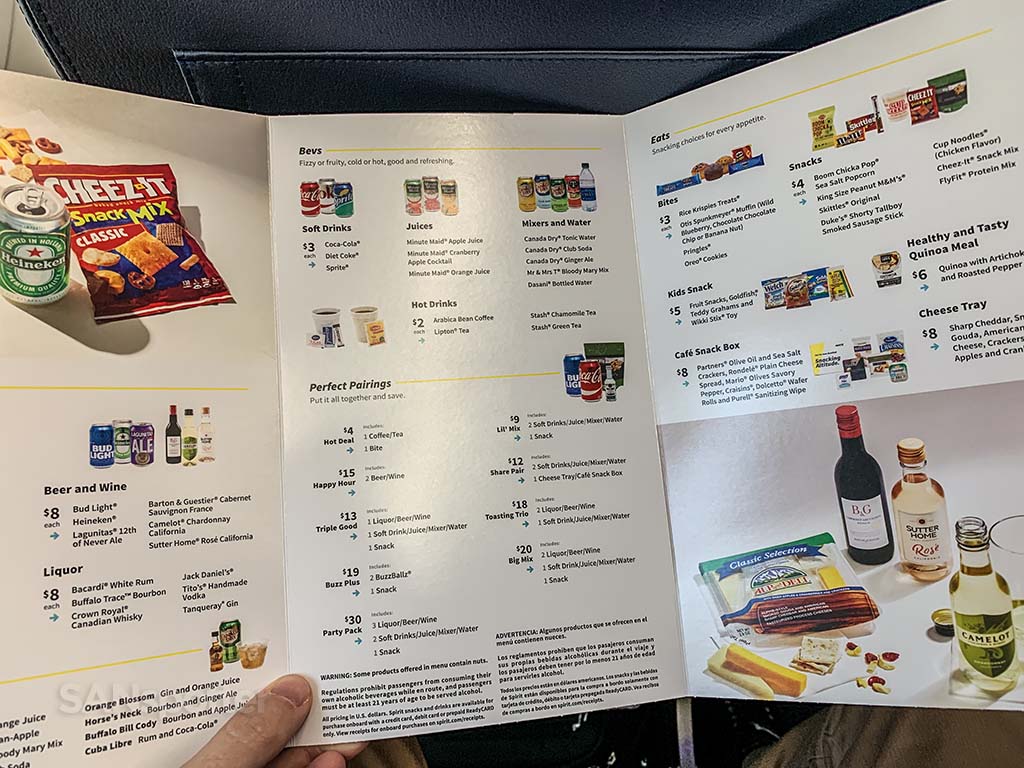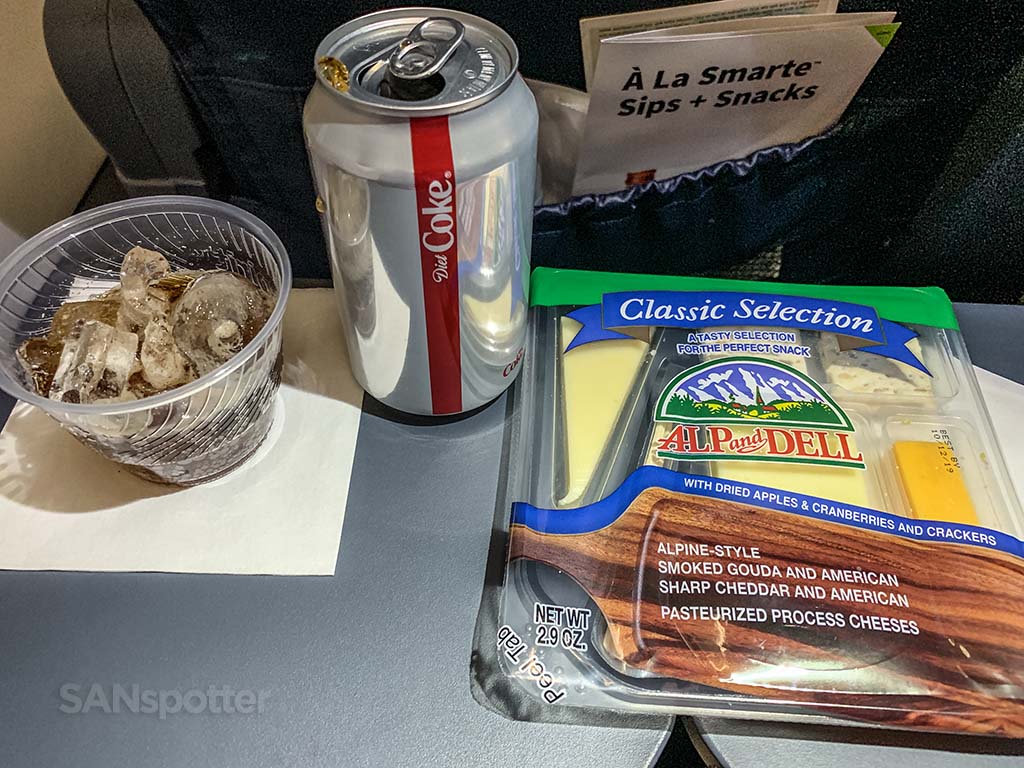 The food itself tastes ok. It's not anything more extravagant (or more disgusting) than you would get on any other airline, and you're likely to find something you'll like on their extensive menu. But be prepared to pay an arm and a leg for it.
3. The flight attendants
How bad is Spirit Airlines cabin crew? Well, rude flight attendants are one of the things I always seem to hear complaints about. But why? Where are these demon cabin crew members and why have they never worked any Spirt Airlines flight that I've been on? In my personal experience, happy and attentive crews are what I think of the most when I think of this airline. I just don't get the hate that some people are spewing.
Much of the problem, I'm sure, comes from frustrated passengers who take their anger out on the nearest cabin crew member. Some flight attendants handle that abuse better than others, but when one reaches their limits of what they will take from an angry passenger, said passenger thinks they are a terrible person. My inability to deal with illogically angry people is one of the reasons why I could never be a flight attendant.
Speaking of angry passengers, that leads me directly to the next section…
Why are we hearing so many horror stories about Sprit Airlines?
To be honest, I think it would have been a lot more fun to write this "how bad is Spirit Airlines" article 10 years ago. Back then, they were a much smaller and still relatively unknown airline for a vast majority of the traveling public.
That was a time when they were still trying to figure out their niche in the domestic US airline market, and things didn't always go smoothly. I totally understand the negative effects of growing pains and how it has the potential to make an already questionable airline seem like something sent from the devil himself.
However, I'm totally of the opinion that Spirit is an airline that has got things figured out, and I'd even go as far as to say that they've reached "well oiled machine" status. It's a really good airline once you get past the booking process and chaotic pre-boarding experiences.
But why all the hate? Why are we still hearing from so many frustrated travelers about how bad Spirit Airlines is?
Well, I've got three guesses:
The rise of social media
Being unaware of fees
Having unrealistic expectations
1. Social media
Do I even need to explain it? We use social media for everything these days, and it's often the first place we go to when we desperately need want to vent our frustrations. Heck – even I (a person who hated social media with a passion just a few years ago) have come around and come to enjoy (and depend on) all the things that social media has to offer.
People like to complain. Especially on their favorite social media platform, and especially about how bad Spirit Airlines is (whether it's justified or not)
2. Being unaware of fees
This one befuddles me a bit. I mean, I've already talked about how annoying the Spirit Airlines website can be with all the upsells. That, along with the fact that they make it perfectly clear that everything (even the right to bring a carryon bag) costs extra, it amazes me that people still show up at the airport completely flabbergasted once they realize that they are going to have to pay extra for a seat assignment and every bag they brought with them.
Granted, these complaints are far less frequent now than they used to be. But still – it still happens, and I'm more and more shocked with each passing day. Shouldn't we all know by now that Sprit Airlines charges extra for everything?
3. Unrealistic expectations
"What do you mean I have to pay for water?!" This is something I hear every time I fly Spirt Airlines, and…I don't disagree with it. However, I always know ahead of time that that I'm going to have to pay for basics such as this and I've accepted it as the way it's gonna be.
Uncomfortable seats and small tray tables (too small to put a laptop or iPad on) are other common complains I hear. To that, all I can ask is: what did you expect for a $63 LAX-BWI ticket?
The most epic Spirit Airlines moments of all time
Finally, to wrap this up, I thought it would be fun to list out a 4 of the most epic Spirit Airlines moments I've ever seen (or read about). You know, the kinds of things which have made this airline the butt of all aviation-related jokes. A butt they share with Air Canada Rouge, that is.
Despite the things you just witnessed, does this mean that Spirit Airlines is really bad? Not at all in my honest opinion – as long as you go into the experience knowing what to expect, it may end up being one of the best flights you've ever had. And who knows? You might actually see something that'll make you smile. Such as: