Now this was a flight that I had been looking forward to! Most of my traveling this year has been on ultra low cost carriers such as Spirit, Frontier, and Allegiant, so I think I've earned the opportunity to be pampered on a long haul first class international flight! I was also very much looking forward to getting a ride on my first A380, as well as checking out the newly rennovated Tom Bradley International Terminal. So yeah – this was a pretty exciting moment for me.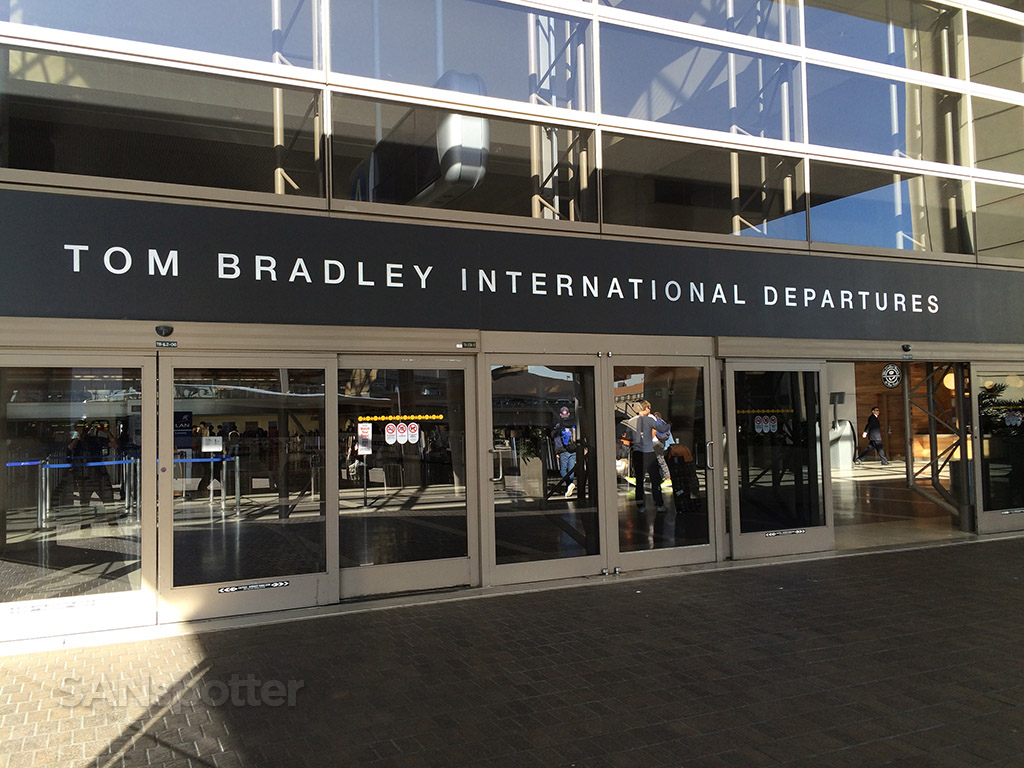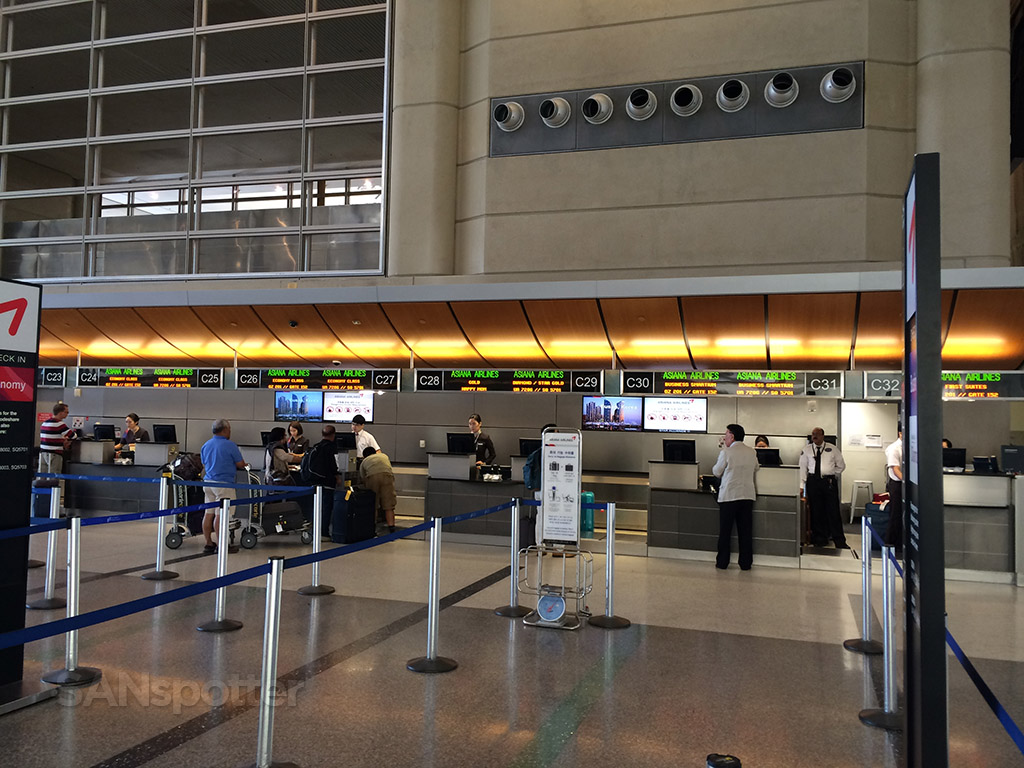 After coming downstairs from the Star Alliance Lounges, I took a bit of time to check out the new terminal. Bottom line, LAX now has a world-class international departures hall, rivaling some of the best in the world. It's relatively small compared to the behemoth airport structure in Beijing, but it's a very nicely designed terminal with loads of good restaurants, shopping, and places to sit.
OZ201
Los Angeles, CA (LAX) – Seoul, South Korea (ICN)
Friday, September 18, 2015
Aircraft: A380-800
Seat: 1A (First Suite Class)
I was starting to feel a bit rushed due to the fact that I decided to exchange currency right before boarding, but I timed things just right – I arrived at the gate just a few minutes before the scheduled boarding time. But as I was looking out the window at that big Asiana A380, I noticed a large gathering on mechanics (plus a CSR with a walke-talkie) huddling around the front landing gear pointing at it and talking a lot like there was some sort of debate going on.
This didn't look good. Two minutes later, they announced a 1-hour delay due to a last-minute tire change. Ugh – can they really do that in an hour? I was slightly pessimistic about thier time estimate, which then led me to worry about my connection in Seoul. If we were delayed too long, there would be a strong chance of missing my A380 connection to Hong Kong. Praying to the aviation gods I was…
Luckily they held true to their one hour estimate and boarding was called in a way I've never seen it done before. They basically lined everyone up into separate groups (premium cabins, Asiana Club status holders, and economy) in the central walkway of the terminal. I'm not going to lie – it felt good to stand at the front of that first class line!
First class passengers boarded though the forward door on the lower level, and once onboard I was escorted to my seat. I wasn't offered a drink or even an explanation of the features of the suite, but personally I didn't mind. I like to get situated and settled when I board an airplane – before any service begins.
It was difficult to tell how full the first class cabin was today due to the high walls of the first class suites. Even standing up and looking at the entire cabin doesn't mean you will see any other passengers! That's the kind of privacy I like on an airplane – I'm not very social onboard aircraft, so this was really great.
The lead flight attendant eventually came by with the amenity kit and introduced herself to me, and we chatted a bit about how this was my first time in Asiana first class – she seemed eager to make sure I was going to have a great flight, and that left me with a pretty good feeling. I can get used to this first class stuff.
Warm peanuts (not macadamia nuts) were served just before takeoff, and I held off on the urge for a glass of champagne to go with it. I know, I know – champagne and warm nuts are a first class pre-departure tradition but I just couldn't do it. I'm not a fan of drinking on airplanes!
We departed runway 24R just under an hour behind schedule, and I was still petty giddy about the next 12 and a half hours. I knew there was some good food and comfortable sleep coming, and it was hard not to take pics of everything for this stupid blog! Chilling out and soaking up the experience was tough, but I did the best I could.
Lunch service began shortly after departure, and I opted for the Korean style meal (of course). Do I even need to say how excellent this service was? The food was fantastic and the professionalism of the flight attendant was top notch – hands down the best service I've experienced on an airplane thus far. Unfortunately, I forgot to take pics of the menu! Oh well – here is what was served: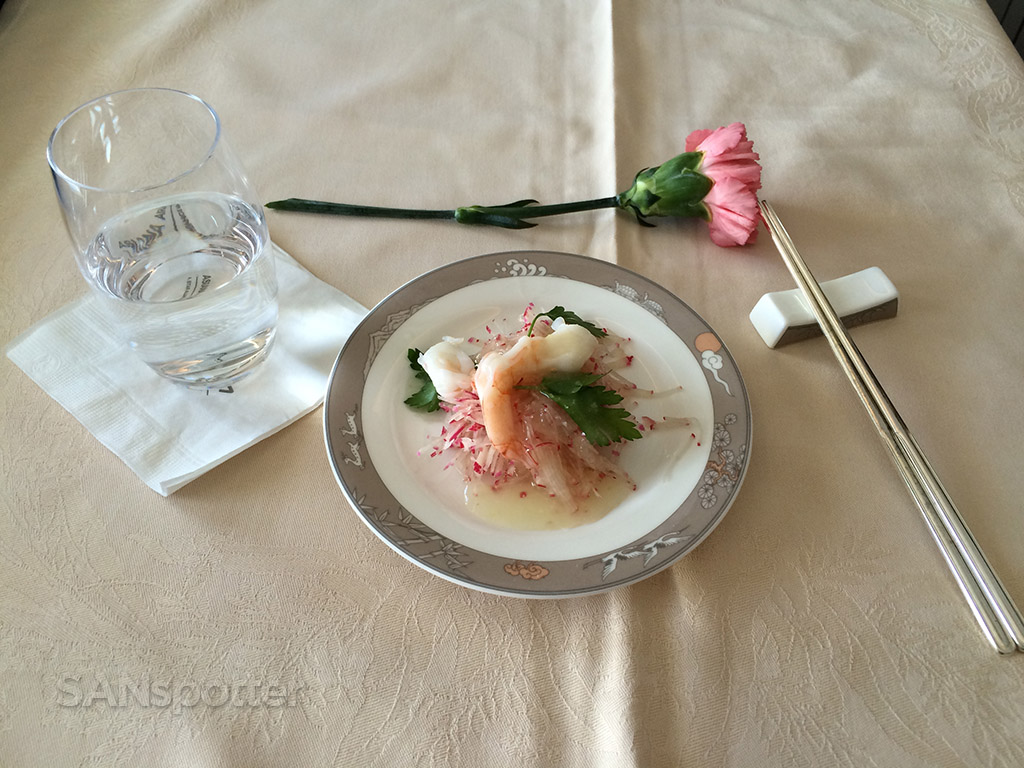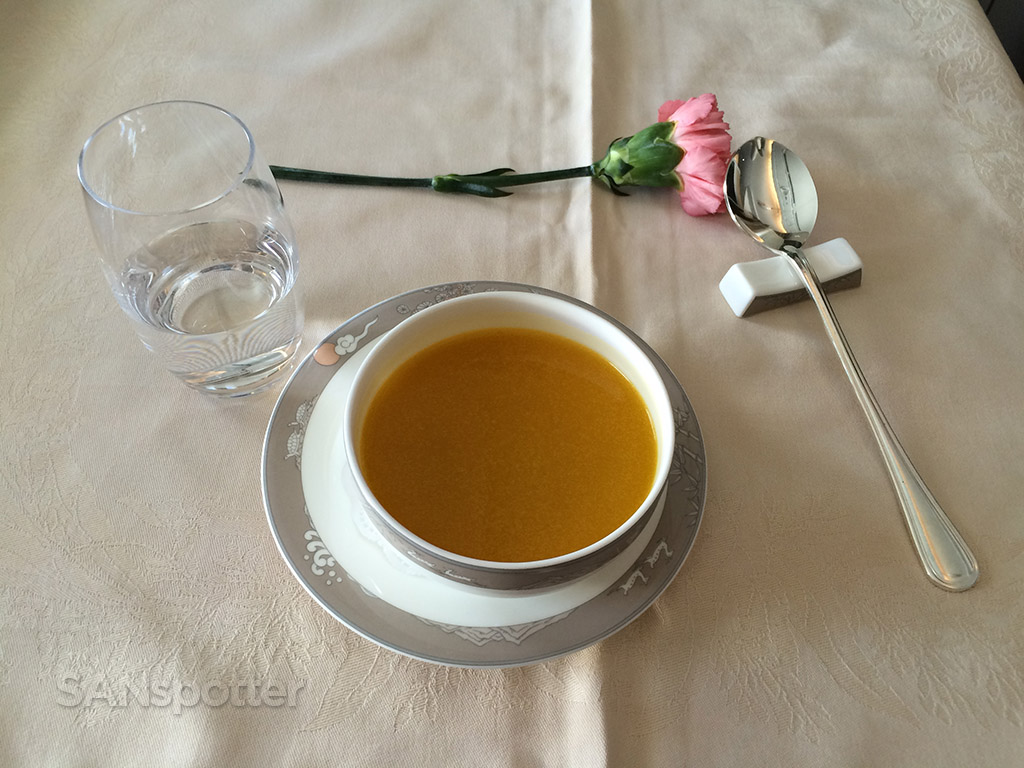 I was pretty much stuffed after lunch, but I wasn't quite ready for a nap yet so I watched a bit of "Furious 7" to pass the time. All I could think about was how cool it was to be in first class so I wasn't really paying attention to the movie that closely.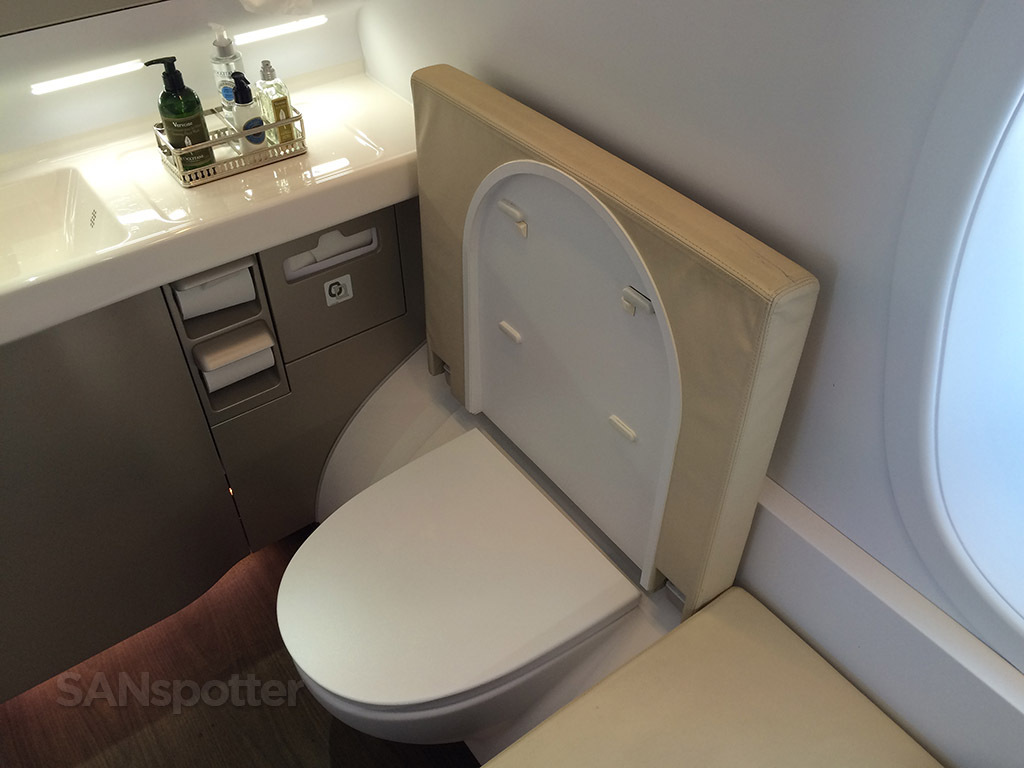 Earlier in the flight, the flight attendant told me to request turn down service if I wanted it, but when it came time for a nap I chose to pass on that and do it myself. And that was probably a good thing considering how warm the cabin was – I certainly didn't need that duvet! It does take a lot to make me warm and uncomfortable, so the fact that I was a little bit warm meant that it must have been really hot for other passengers.
I ended up getting about four hours of solid sleep before waking up and just tossing and turning for the next few hours before the second meal service began. I wasn't even hungry at all, but who am I to pass up another great first class meal? Once again I chose the Korean option – a fine choice it was, mostly because it was probably lighter than the western omelet.
The sun began to drop to the horizon as we descended into Seoul, and I did the best I could taking as many pics outside the window as I could. I was sitting too far forward in the aircraft to get a decent pic of the engines and wing, but it really was turning into a beautiful evening out there.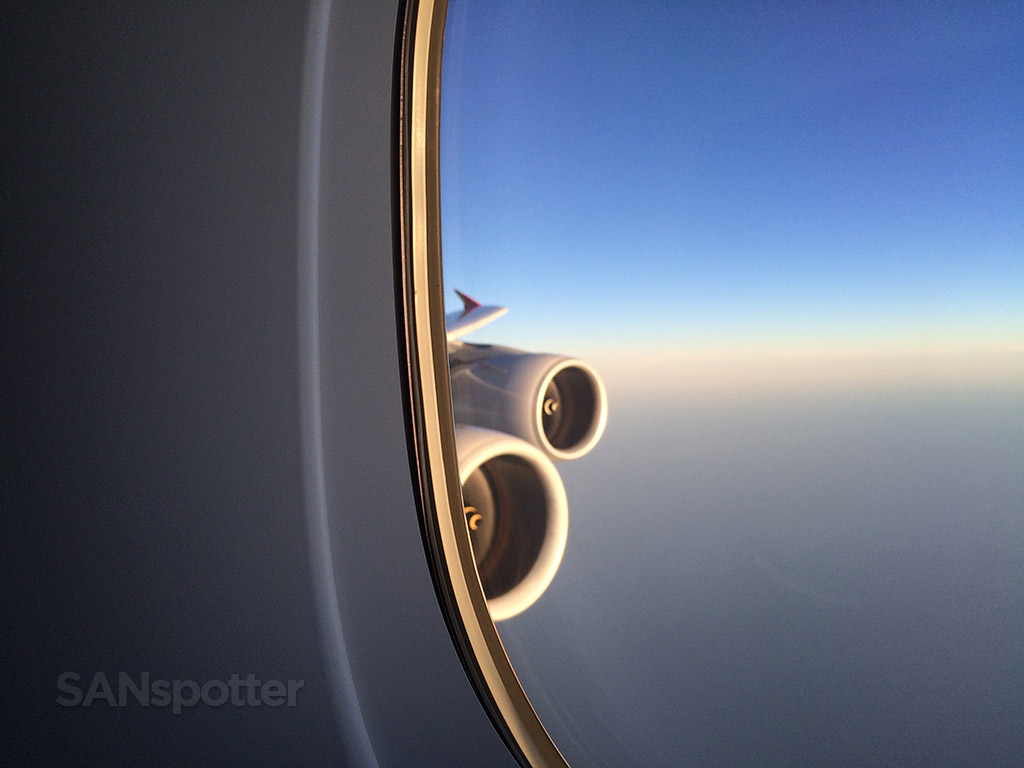 We hit runway 34 at ICN with a gentle nudge, and spent the next 10 minutes taxiing to our gate. It certainly was a fantastic flight, with a phenomenal crew and outstanding service, and truth be told I was a bit sad to have it come to an end.
However, my Asiana A380 First Class experience wasn't totally done yet. There was one more A380 waiting for me today…