Before going into this AirAsia X review, I honestly had no idea what the difference was between AirAsia and AirAsia X. I mean, it's essentially the same airline, with the same livery, owned by the same parent company. I didn't get it.
You see, here in the US, applying an "x" to something implies that it's "extreme" and / or super rad. It wasn't my fault that I couldn't help to think that I was about to fly on the raddest flight of my life in the moments leading up to it. Exciting stuff!
D7372
Kuala Lumpur, Malaysia (KUL) – Taipei, Taiwan (TPE)
Sunday, March 1, 2020
Aircraft: A330-343
Registration: 9M-XXD
Duration: 4 hours 7 minutes
Seat: 2K (Premium Flatbed)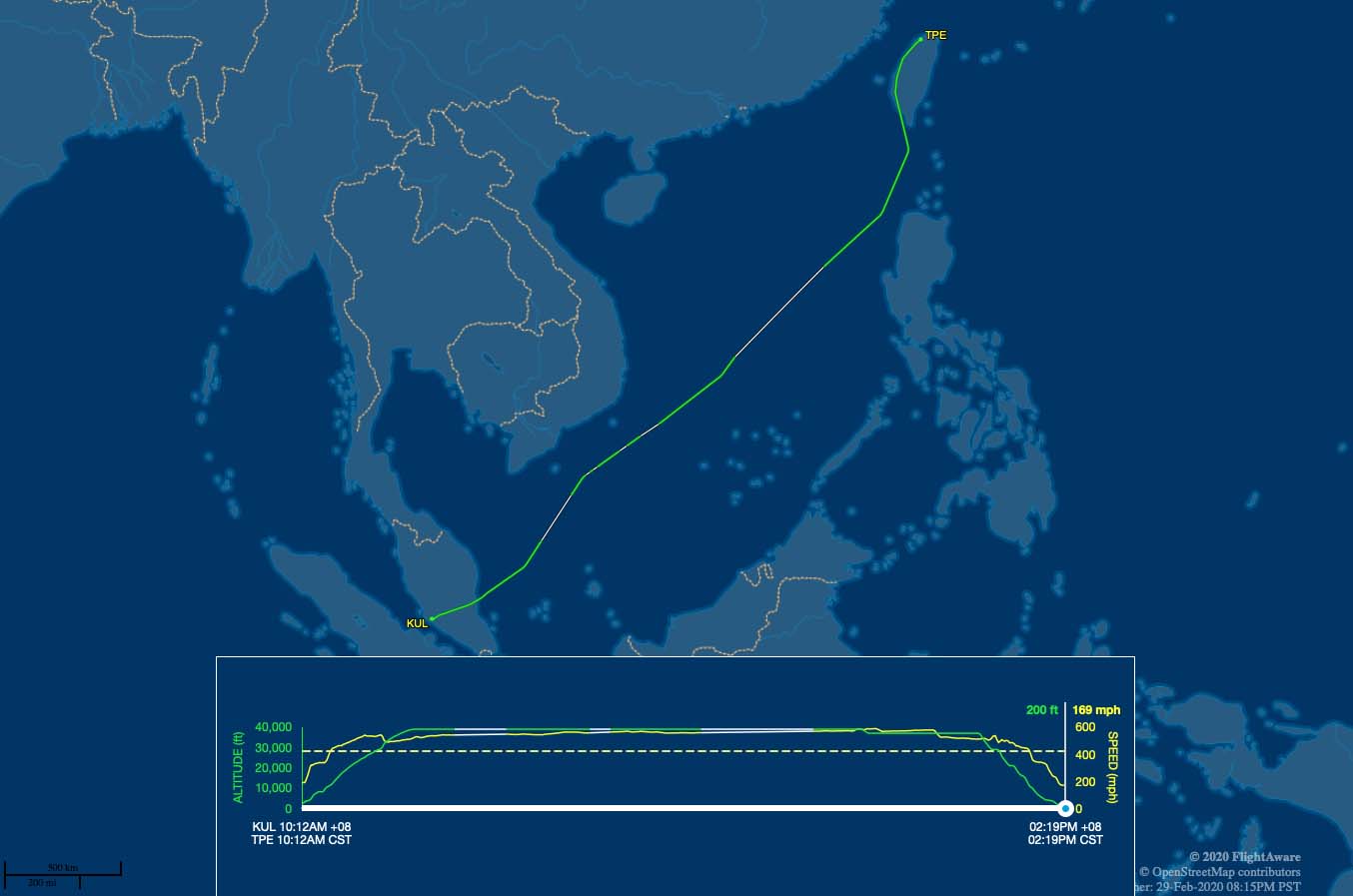 The video
A rad flight calls for an equally rad video, so tensions were high as I was getting footage for this AirAsia X review. However, there were no fireballs or explosions involved, and I didn't even have to say the word "bro" once.
Looking back on it, I think I missed a golden opportunity to tell you how sick this flight experience was. Of course I mean the good kind of sick. The kind of sick that you would hear someone say just after they ripped off an inverted 760 on the half pipe.
As always, the music from this video came from my pals over at Epidemic Sound. Their collection of YouTube-friendly royalty-free music is growing every week, and it behooves you to check it out if you're making really sick videos of your own.
The full transcript of my AirAsia X review video (with lots of bonus content that you didn't see)
If you're not already a subscriber to my YouTube channel, I'd recommend heading over there and checking out my content. What you are about to see is a written version of the full AirAsia X Premium Flatbed review video that I put together for this flight. Plus a some extra bonus content, as always.
Arrival at Kuala Lumpur International Airport
My arriving flight from Penang was approximately 15 minutes early, which was nice since I didn't have a lot of time to waste before this flight up to Taipei. At least that's what I thought. I actually arrived so early that this flight wasn't even listed on the departures board yet.
The AirAsia X pre-boarding experience
Unfortunately, there's not much of an "experience" to tell you about. AirAsia X does not have lounges for premium passengers, so there really wasn't much to do other than just meandering around the terminal as I would be for an economy class flight.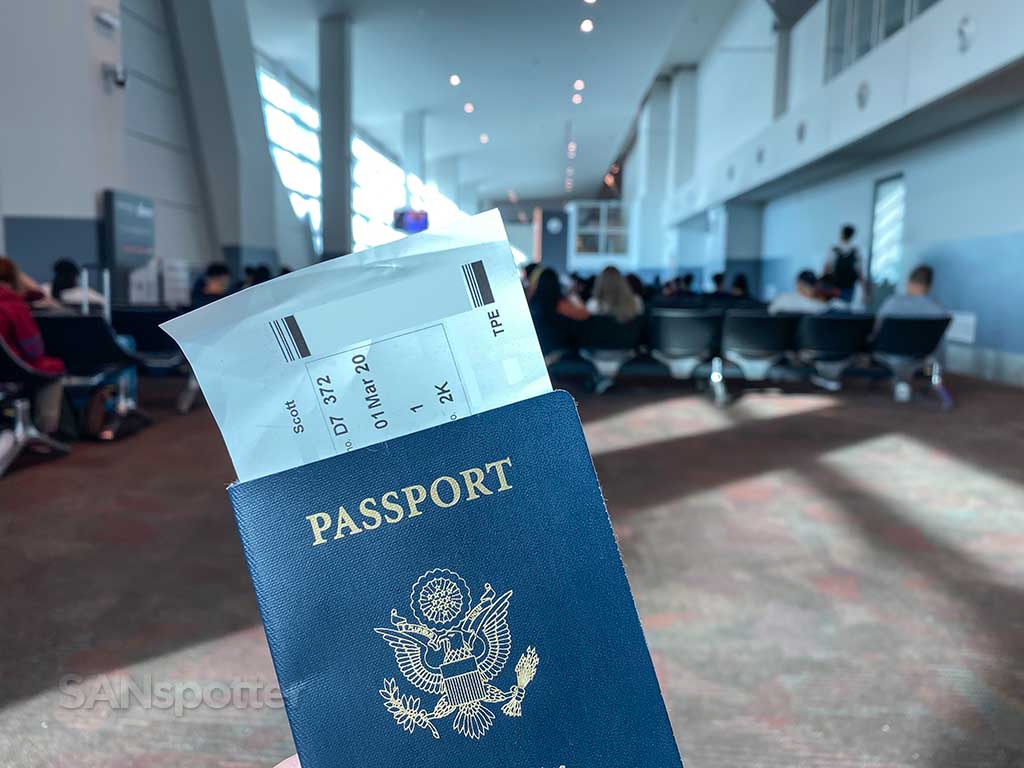 My first impressions of the AirAsia X Premium Flatbed
For the record, I'm probably going to get a lot of slack for referring to the Premium Flatbed seats as "business class". But, let's face it – this is a fully lie flat business class seat, similar to the ones you'd have to pay thousands of dollars for on other airlines. Even though air AsiaX doesn't explicitly label it as "business class", I do. So there.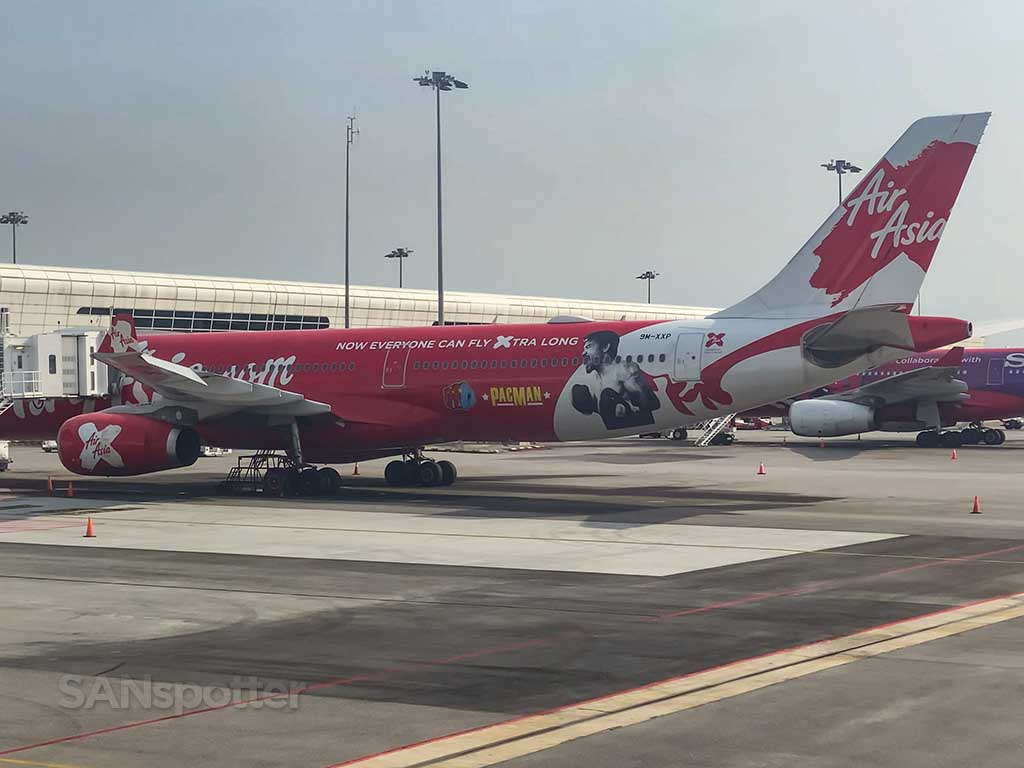 In the air and getting settled in
The fact that I was one of only three passengers up in the forward cabin this morning made it all the more comfortable. I had plenty of room to spread out and do whatever I wanted in order to get the content I needed for the video and this blog post.
You know, things like getting up and placing my GoPro camera in different parts of the cabin in order to get footage of me eating. Weird stuff like that only airline reviewers such as myself thinks is perfectly normal.
What's the food like on AirAsia X?
Having just experienced the best airline meal of my life on an air Asia flight just several hours prior, my expectations were extremely high going into this hop up to Taipei.
For the record, I had the exact same choices for a meal that I had on the previous flight. My selection was made on the AirAsia website when I booked the ticket, so I didn't even have to do anything once on board. The food just came to me without even asking for it.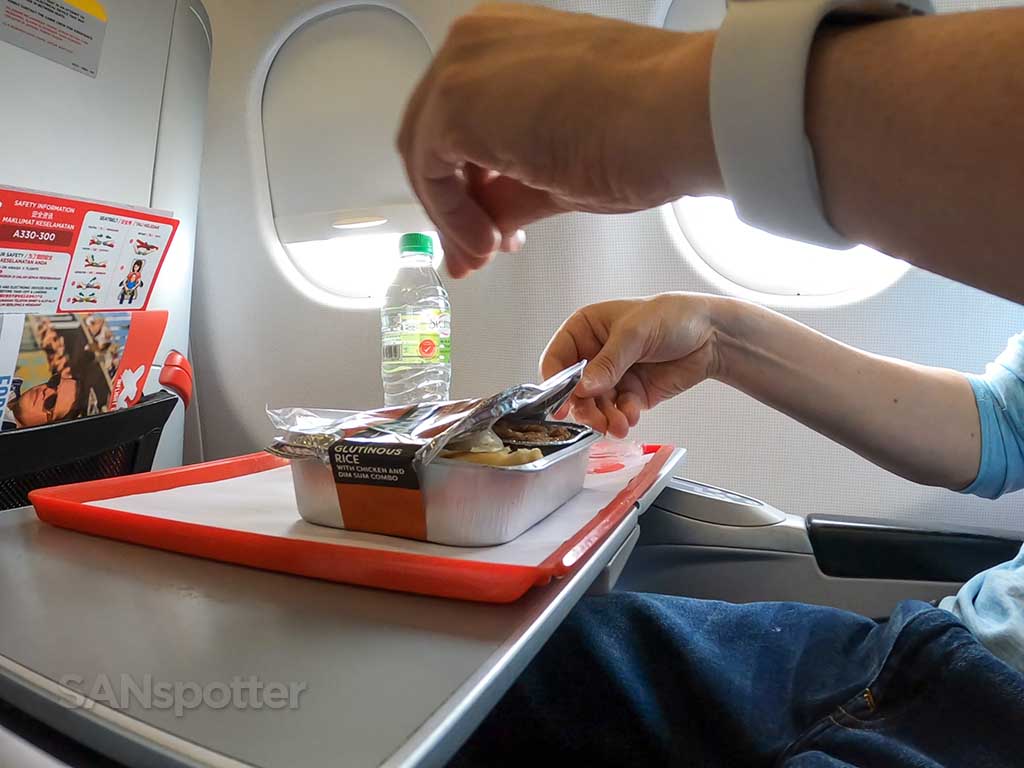 A detailed trip to the lavatory (and other useless AvGeek nonsense)
Just how comfortable are the AirAsia X Premium Flatbed seats?
Extremely comfortable! The fact that I had the entire forward cabin nearly all to myself probably helped a lot. But the seat itself was still pretty darn comfortable.
Final thoughts: is it worth paying a little extra for an AirAsia X premium seat?
At the time of this writing (October 2020) AirAsia X is out of money and has announced plans to significantly downsize as a result of decreased demand from the COVID-19 pandemic. That's extremely unfortunate considering how good of an airline this is, and I wish them nothing but the best on their eventual road to recovery.
That being said, I had nothing but really good feelings as I was sitting there in seat 2K for the remainder of this flight. I already knew that I'd be flying AirAsia and AirAsia X on future trips to Asia – although I wasn't aware at just how bad the pandemic would be hurting them over the coming months. Anyway, here's the descent and arrival into Taipei: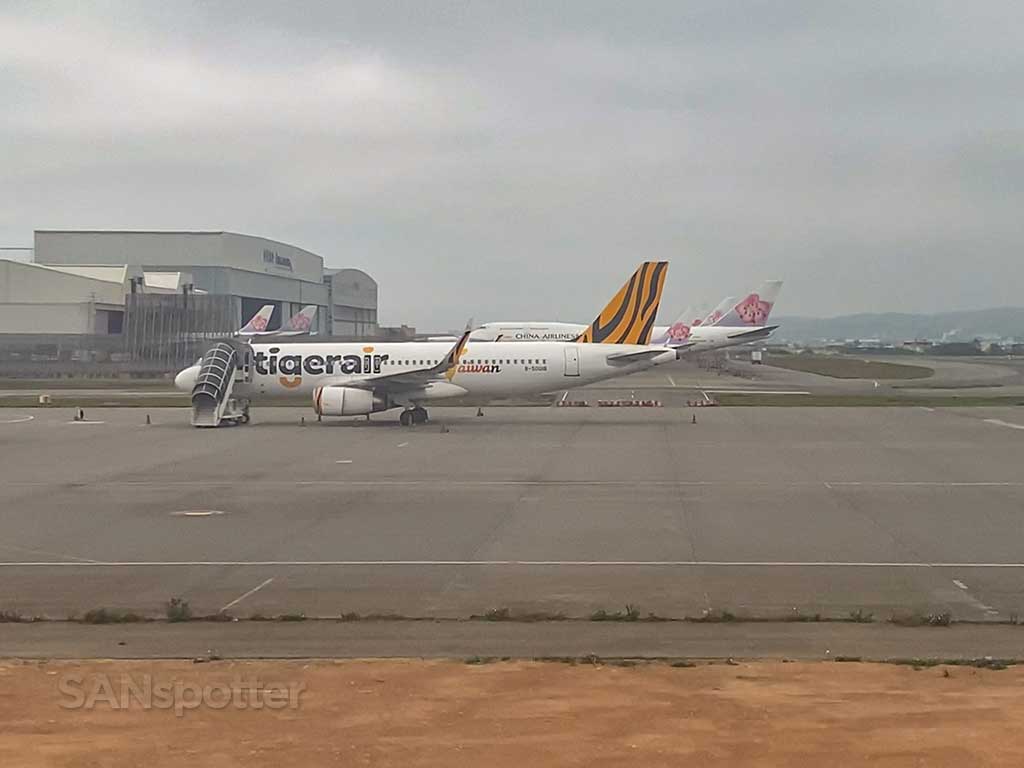 How much did I pay for this AirAsia X flight from Kuala Lumpur to Taipei?
Did you happen to catch my AirAsia review about the flight from Penang to Kuala Lumpur that I just posted? If you did, you already know that this flight to Taipei was bundled into that. As a reminder, the total price for this AirAsia / AirAsia X experience from Penang to Kuala Lumpur to Taipei came in add a measly $497.02.
This was a fantastic deal in my opinion. Not only did it include a premium seat with extra leg room from Penang to Kuala Lumpur, it also got me into a lie flat business class seat for this segment up to Taipei. It was a pretty sweet deal if you ask me.
This entire AirAsia / AirAsia X experience was purchased with my American Express Platinum Card, which always earns me 5X points on all airfare. 2485 Membership Rewards points were mine for the purchase of this flight.
How I pay for all my travel expenses
The American Express Platinum Card
100,000 welcome points (woo-hoo!)
Earn 5x points on flights and prepaid hotels
$200 hotel credit + $200 airline fee credit + $155 Walmart credit + $240 digital entertainment credit (and much more)
Transfer points to a wide variety of global airline and hotel partners
Sign me up!
Note: I may earn a commission if you make a purchase, at no additional cost to you.
Pros and cons of the AirAsia X Premium Flatbed experience
Normally I have to dig pretty deep to come up with a list of cons about a flight experience involving a fully lie flat seat. However, it's going to be especially easy in this particular AirAsia X review.
No, this wasn't a bad experience. At all. The issue is that AirAsia X is a discount airline that (by design), cuts costs wherever possible. That means that their Premium Flatbed product is a little different than what you would expect on a mainline carrier. Let me explain…
Pros
The bang for the buck on AirAsia X is unbeatable. The ability to get a lie flat seat on a 4 1/2 hour international flight for under $500 it's pretty darn amazing. I'd even go as far as to say that it's totally sick.
Even though AirAsia X doesn't advertise these as traditional business class seats, they are still quite nice. As mentioned, they are fully life flat, and quite comfy. Even in the upright position.
The cabin crew on this particular flight to Taipei was exemplary.
Cons
Food and drinks are not free on AirAsia X (not even if you're sitting in a premium seat). Yes, they do serve hot meals, but you have to pay extra if you want to eat.
Even though the seats were extremely comfortable, they were slightly dated. The most notable downside of the seats was the fact that there were no built-in video screens.
Video and audio entertainment is complementary, but it comes in the form of tablets handed out by the cabin crew.
At the time of this writing, there are no lounges available for AirAsia X premium passengers. Sorry, you're just gonna have to schlep it out with the common folk out in the terminal while you wait for your flight.