This is it. This United 787-8 business class review is the one I've been looking forward to writing all year. I know – it doesn't seem all that aspirational in the grand scheme of things, but United Airlines business class used to be really bad. Thankfully, after the completion of this flight, I can confirm that it's not bad anymore.
For the record, the Polaris business class seat on the 787-8 is nearly identical to the one you saw in my United 767-300 business class review. However, as you will see in the pics below, the aircraft (and the configuration of the seats) makes all the difference.
Prepare yourselves. I'm about to change your mind about United Airlines. I'm going to try to anyway…
UA424
Washington, DC (IAD) – San Francisco, CA (SFO)
Wednesday, October 20, 2021
Aircraft: 787-8
Registration: N26910
Duration: 5 hours 33 minutes
Seat: 6L (Polaris / business class)
The video
One of the most interesting things about creating a video review for this flight was that I found myself forgetting to get footage of everything. I was so distracted by how good the experience was that I actually had to go back and re-create certain events (such as putting the seat into a lie flat position) because I forgot to do it the first time. I basically worked harder instead of smarter.
If you didn't already know, I get all the music for my videos from Epidemic Sound. The title of the first track was Dewy Haze by _91nova, and the title of the second was Backseat Driver by baegel.
A comprehensive review of United Airlines 787-8 Polaris business class from Washington Dulles to San Francisco
I got lucky on this one. At the time of this writing, not all United 787-8s feature the all new Polaris business class product. If you recall, the old business class product (which you can see in my United 777-200 BusinessFirst review) was horrible. It's nice to see the 787's getting some love. Finally!
My arrival at Washington Dulles Airport
I spent the night at the Washington Dulles Marriott hotel, which I can't recommend highly enough. No, it's not a very luxurious property, but it is extremely convenient.
I especially like it because it's walkable from the main terminal. It takes about 10 minutes, and it's a nice excuse to stretch the legs before (or after) a long flight.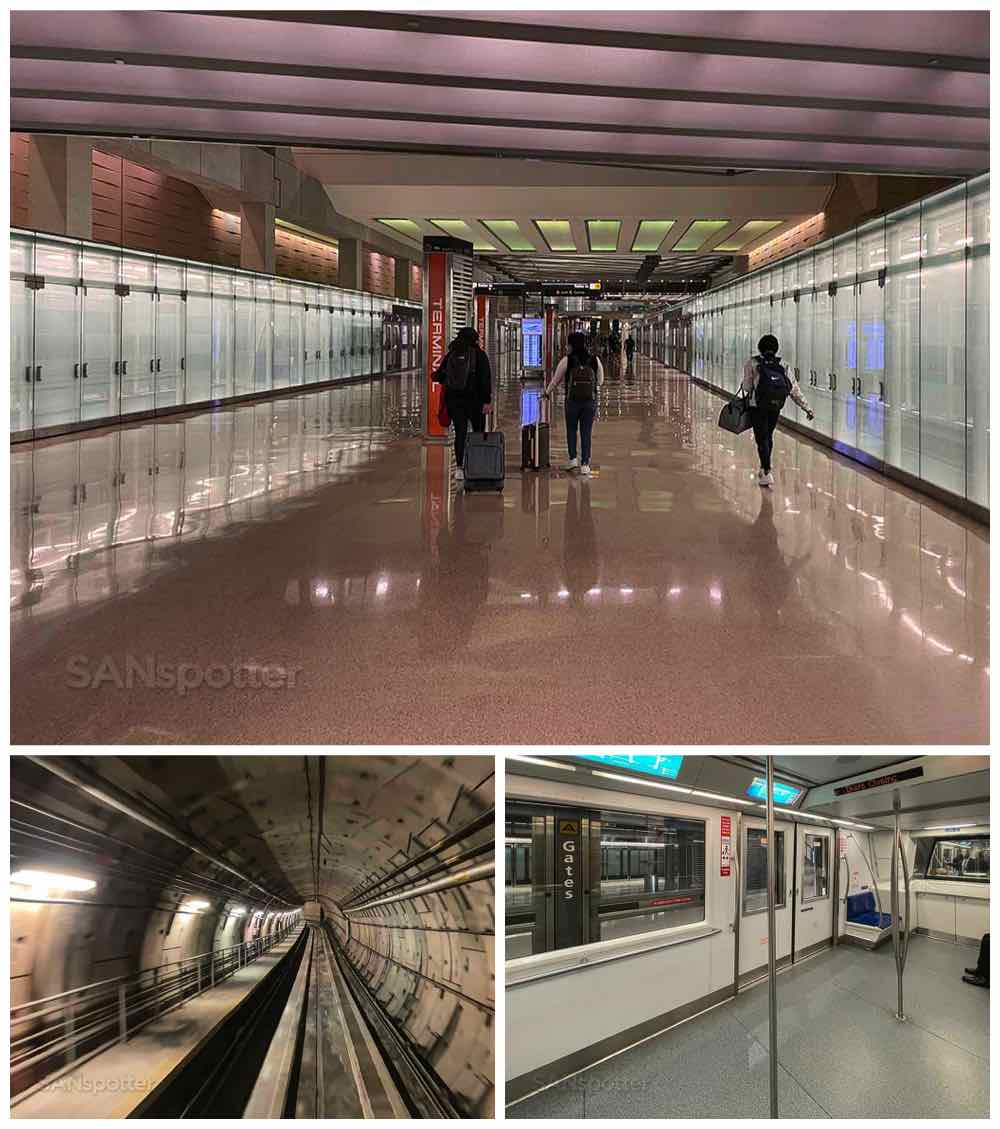 Sorry, but the United Airlines terminal at IAD is terrible
United Airlines uses terminal C at Washington Dulles. I'm not trying to sound mean when I say this, but the satellite terminals at IAD may be the worst in all of the US. Those of you mature enough to remember the old single-story Tom Bradley International Terminal at LAX will probably agree with me that it's eerily similar to what that used to be.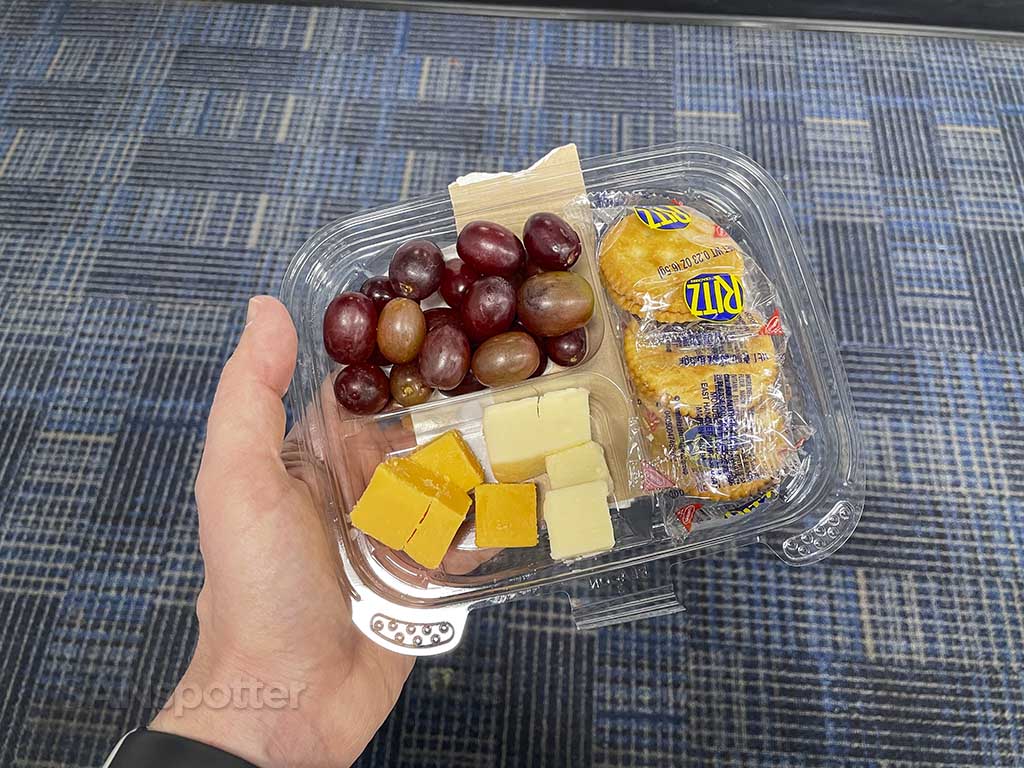 The boarding process for flight number 424 to San Francisco
Because of how crappy the design of terminal C is, there were no windows to the outside world, and I couldn't see our aircraft. At all. Not even a sliver of it. Not only that, the gate we were using seemed awfully small to handle the number of passengers for a fully-loaded 787-8.
My first impressions of United 787-8 Polaris business class
Since I had already experienced Polaris on the 767-300 the day before, I kind of already knew what to expect stepping foot onboard the 787. Yes, the seats were nearly identical. However, the Polaris business class cabin is split into two sections on the 787-8. I had a seat in the smaller aft section (which consists of only tw0 rows of seats).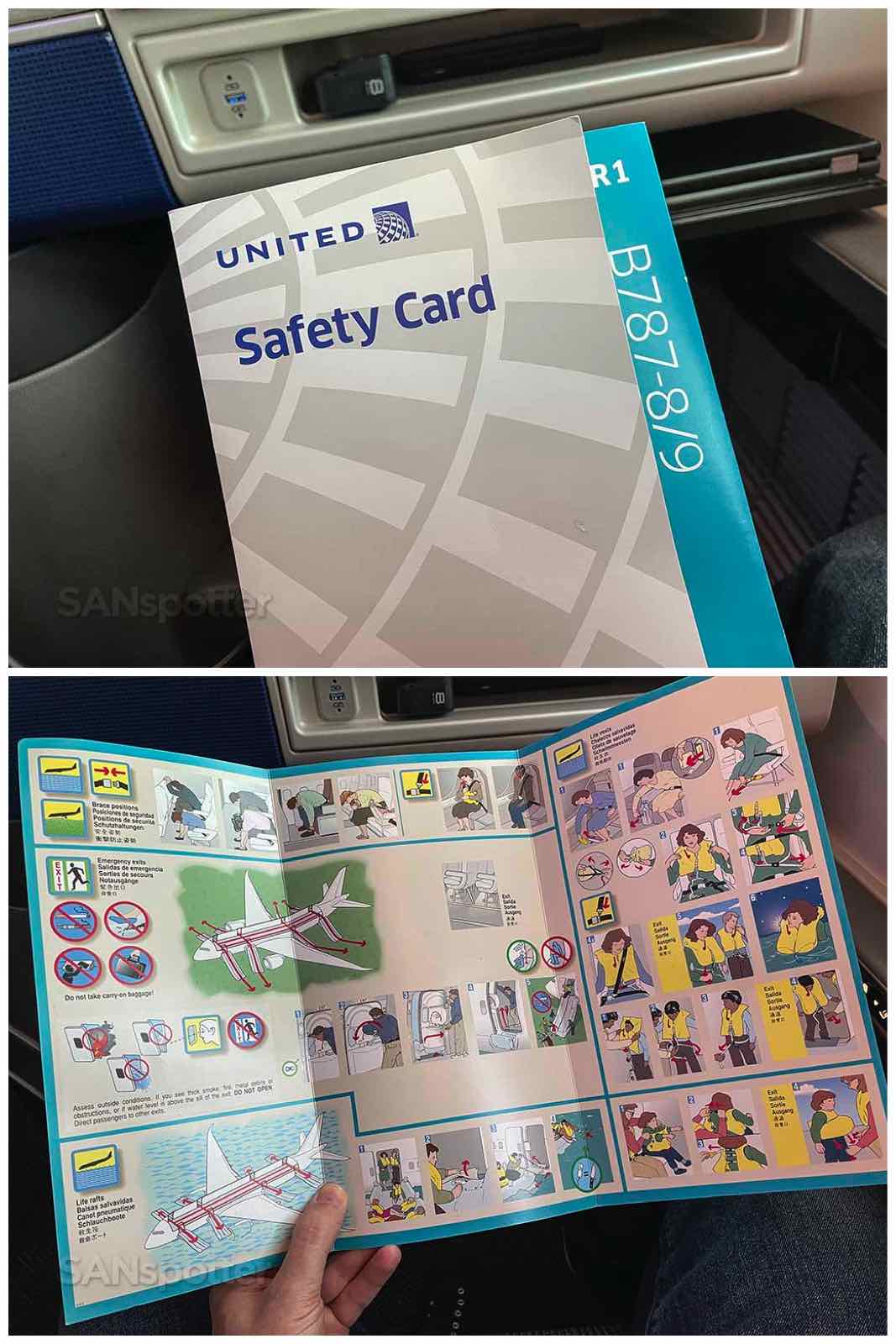 Pro Tip
Save money by purchasing United MileagePlus miles
It's often cheaper to pay for a flight with miles than it is to pay with cash!
I usually purchase miles to pay for long haul business class on United and Star Alliance partners. It's generally cheaper that way.
Its a great way to top off your account balance if you're just short of the amount required for an award trip or upgrade.
You can buy miles for yourself or another MileagePlus member.
Buy Now
Note: I may earn a commission if you make a purchase, at no additional cost to you.
The departure out of Washington Dulles
It was a beautiful morning for flying. The sun was rising just as we were pushing off the gate, and the captain said that it was going to be smooth sailing across the entire country.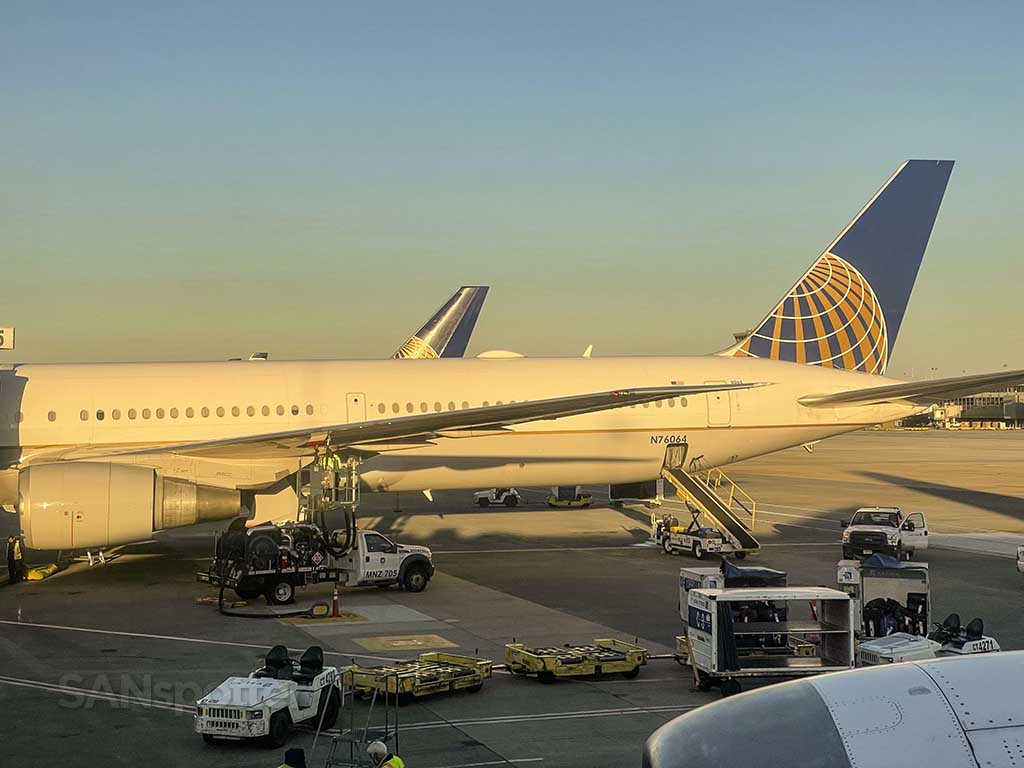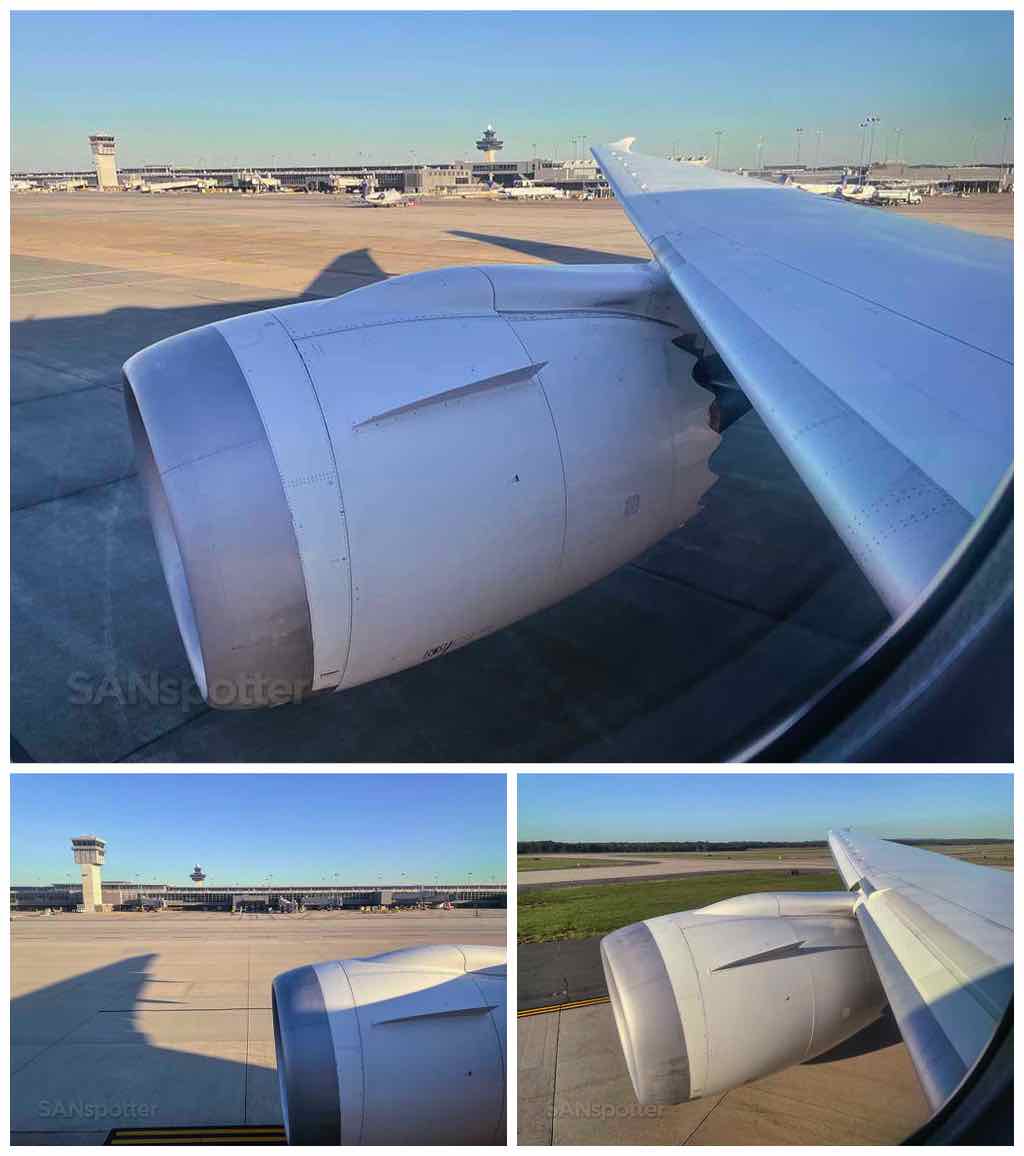 What is the video entertainment like in United 787-8 business class?
As you would probably expect, the video entertainment was exactly like what I had experienced on the 767-300 the day before. United is doing a fantastic job with their in-flight entertainment product in my opinion, and it's nice to see them finally making an effort to be the best for once.
The food. Let's talk about the food.
Having flown Polaris just the day before, I already knew what the breakfast choices were going to be. And no – they did not hand out any menus on today's flight. The flight attendant simply stopped by, verbally presented me with two choices, and then walked off to retrieve it.
If you're curious, the two choices were: eggs with sausage and potatoes, or waffles. Since I did the eggs the day before, I went with the waffles this time.
If anything, this experience was just a big fat reminder of how much better some airlines (especially JetBlue) do premium meal services. I've got a pretty detailed breakdown of those differences in my JetBlue vs United comparison if you're curious…
How comfortable are the 787-8 Polaris seats for sleeping?
These seats are very comfortable for sleeping! However, in my 767-300 review, I told you that the seats were somewhat uncomfortable for sleeping. But I take that back. Sort of.
I still stand by what I said about them being incredibly rock hard and narrow. It's like sleeping on a bench actually. However, I (somehow) slept a solid two hours on this flight, so that has to mean something. I guess they are comfortable enough for deep sleep after all.
Is Polaris business class on the 787-8 worth it?
Despite the hesitation I have regarding the color scheme of the seats (dirty gray and dark blue isn't my favorite combination) – as well as how hard and narrow they are – it's hard for me to say bad things about the Polaris business class product. No, I don't find these seats to be as nice looking as the seats on other US airlines, but I really appreciate how private they are.
If you can find a good deal, it's absolutely worth it. However, if the price is equivalent to any other airline, I would think twice.
That being said, Polaris business class on the 787-8 is not a bad experience. At all. All the complaints I have are minor, and I do consider it to be an extremely competitive business class product.
But this review isn't over yet! Here's how the rest of the flight went:
Pros and cons of United 787-8 business class
I've already mentioned how Polaris doesn't always match up to the business class offerings of other US airlines. It's true that it's not the best business class in the US. However, there are some things about it that I really like. The best way to summarize my feelings about it is to give you a list of pros and cons:
Pros
The seat, while nearly identical to other Polaris business class seats on other United aircraft, feels nicer on the 787. The larger windows and higher levels of cabin humidity makes a world of difference.
The Polaris cabin on the 787-8 is broken up into two sections. The smaller section (which I was seated in) feels very intimate and quiet.
Privacy in any Polaris seat is excellent. Only the JetBlue Mint Suites (and some Delta One configurations) are more private.
Cons
The shoulder harness (which you're required to wear during takeoff and landing) is positioned oddly. It dug into my shoulder the entire time I was wearing it.
The bulkhead seats aren't that great. There's a lot of light and noise coming from the galley, which could be extremely annoying on long flights.
The quality of the seat itself was so-so. For example, the armrest in my seat was wobbly and didn't stay where it was supposed to. It was annoying.