As usual, I'm a little late to the party. This American Airlines 777-200 business class review is something that I was planning on doing years ago, but instead, I preferred to focus my attention on what I thought we're better (more exotic) airlines.
Of course, the pandemic changed all that. Long-haul international travel for US citizens like me has been difficult, and my wings have been clipped ever so slightly. I've been forced to focus my attention to what's available here in the US for the time being.
You've already read my Allegiant Air review. I'm sorry about putting you through that kind of torture. But now it's time to wash yourself off, raise a pinky or two, and drool with me over American Airlines business class. Proper business class, complete with lie-flat seats and trippy mood lighting.
AA2239
Dallas / Fort Worth, TX (DFW) – Miami, FL (MIA)
Sunday, July 4, 2021
Aircraft: 777-223/ER
Registration: N758AN
Duration: 2 hours 59 minutes
Seat: 4A (business class)
The video
Business class review videos are hard to make. All I ever end up feel like doing is sitting back and enjoying the flight, but…I can't because I've got to stay busy getting all the footage that I need to make a video about it.
In order to keep things as interesting as possible, I chose to take a slightly different approach to the video about this particular flight. Instead of a typical run-of-the-mill review, I thought it would be fun to point out all the little things that American Airlines doesn't tell you about the 777-200 business class seat. There are definitely a few things you need to know.
As usual, the soundtrack for this video came from my pals over at Epidemic Sound. The song in the first half the video is "Unapologetic" by Timothy Infinite. The song in the second half is "This Way" by Snake City.
A full review of American Airlines 777-200 business class from Dallas to Miami
While admittedly not exactly the route I'd prefer to be reviewing a product like this, I took what I could get. Boeing 777s between Dallas and Miami are rare in normal times, so I jumped all over this the moment I decided to do a trip to visit my family in Florida.
Due to the pandemic and all the lockdowns, it was going to be the first time that I had seen them in a year and a half. What better way to kick off a long-overdue family reunion than to arrive in style on a swanky 777-200?
Terminal D at the DFW Airport is amazing
My arriving flight from San Diego docked in terminal A, so I had to hop on the inter-terminal train and scoot on down to terminal D to catch this flight to Miami.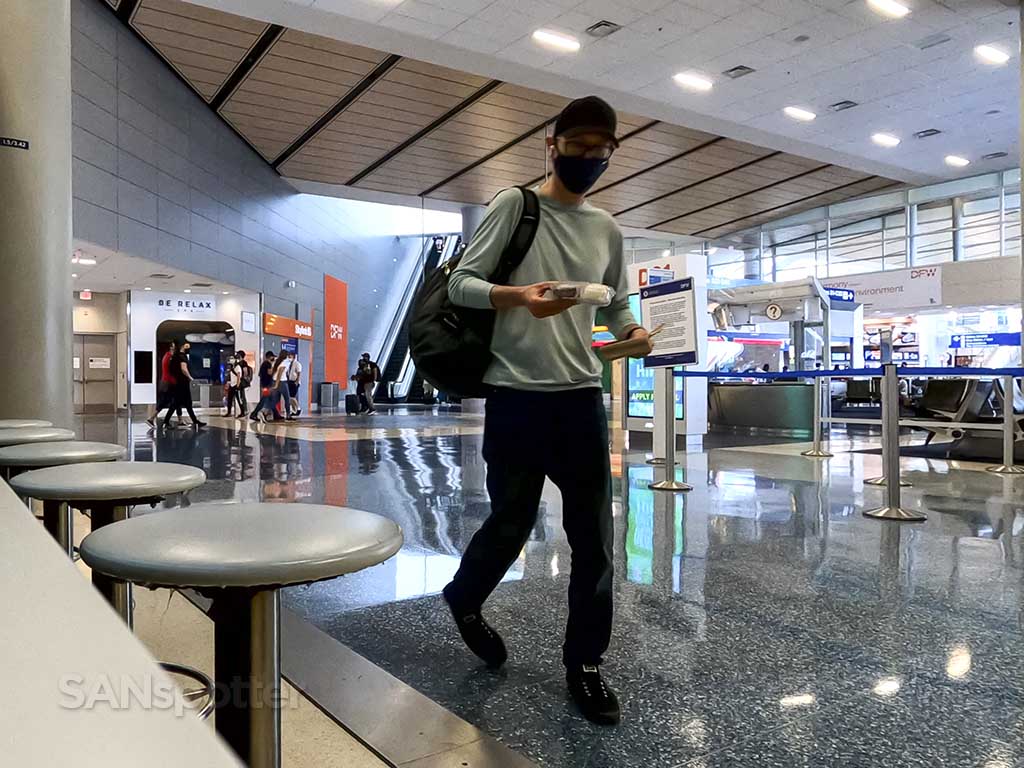 American Airlines had been changing schedules like crazy in the weeks leading up to this flight. They left me with a 1 hour layover, which as scary as it may sound, didn't phase me at all. 60 minutes is more than enough time for a connection at DFW, and I actually had plenty of time to relax and get something to eat.
The boarding process for flight 2239 to Miami
By far the biggest drawback to flying on a widebody aircraft on a domestic route is the time that it takes to board. It was complete chaos at gate 33, and I'm surprised they got everyone on board without any fist fights breaking out.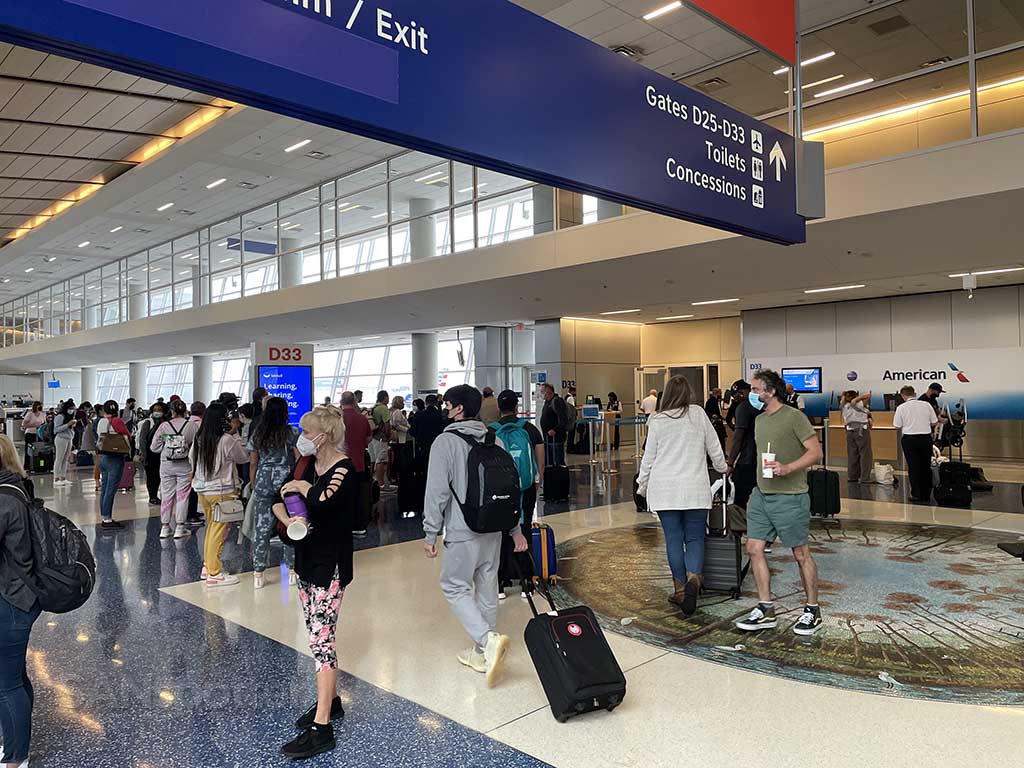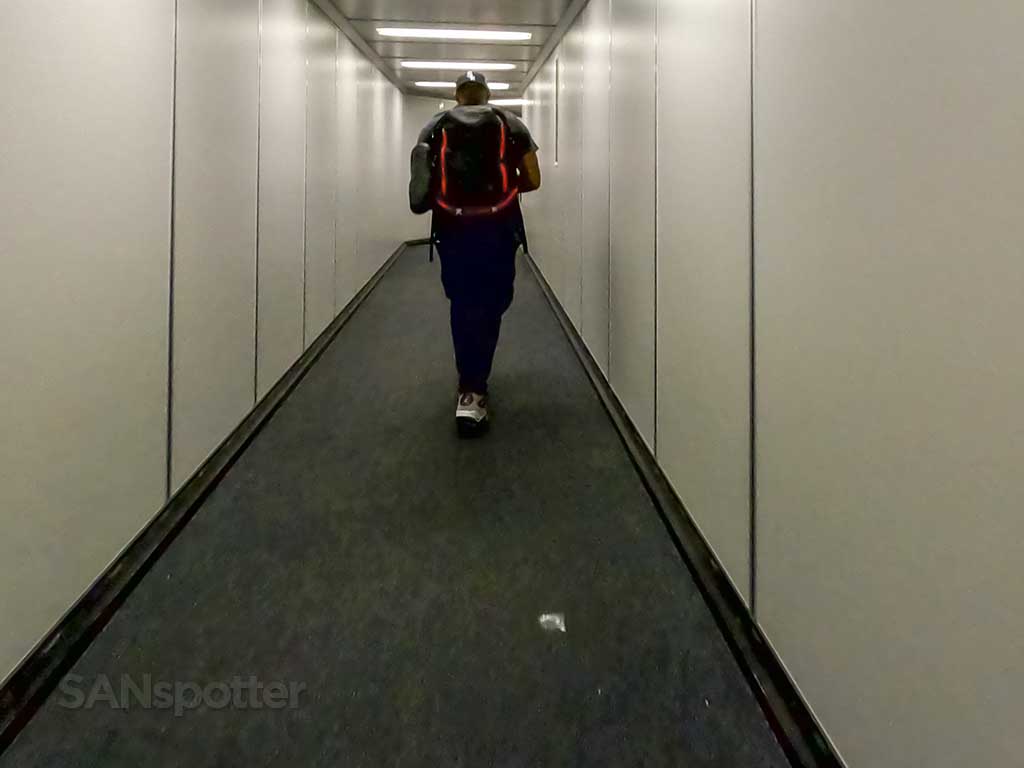 My first impressions of the American Airlines 777-200 business class seat
Having already spent 15 consecutive hours in an American Airlines 777-300/ER business class seat, I already knew that this was going to be pretty good. I was also curious to see how different (or the same) this business class cabin would be compared to the American Airlines 787-9 business class cabin.
Spoiler alert: it was completely different than the 777-300/ER and nearly identical to the 787-9. I really wish airlines would make more of an effort to create a consistent product across all of their different aircraft types.
What are the best business class seats on the American Airlines 777-200?
Once I had a pretty good look around at all the different seat types, it was pretty obvious which businesses class seats are best on the American Airlines 777-200.
I highly recommend a window seat in the middle of the cabin (even if you're traveling with somebody). These seats are extremely private, and during the times during the flight or you might want to talk with your traveling partner, it's easy to pop your head up and have a quick conversation.
Personally, I would avoid any seat in the first or last rows. There is a galley located at both ends of the cabin, and it can get quite noisy at times. Not only during meal time – those galleys are a common place for other passengers to stand up and stretch their legs (and talk loudly).
The departure out of DFW
Even though I like the Dallas Fort Worth International Airport quite a bit, I'll be the first to admit that it's not a visually exciting place. The terminals aren't very stylish (except for terminal D of course), and on the outside, there is concrete in every direction for miles. Was that a great way to talk up this departure sequence, or what?
In-flight entertainment
Not surprisingly, the video entertainment on the American Airlines 777-200 is exactly what you would get on any other American Airlines aircraft with video screens. The screens are large, very responsive, and stuffed full of TV shows and movies that most of us never have time to watch at home.
I will say this: the video screens reflect light off the windows like crazy – even though they're covered with a matte-textured finish. The only way to eliminate the reflections was to lower every window shade in the cabin until it was pitch black.
The food
Because of the fact that this was a short domestic flight, the only food we were served was of the "snack" variety. It wasn't a full meal service by any means, but they gave us a choice: a fruit and cheese platter, or a chicken sandwich of some kind. My recommendation: always go for the cheese platter.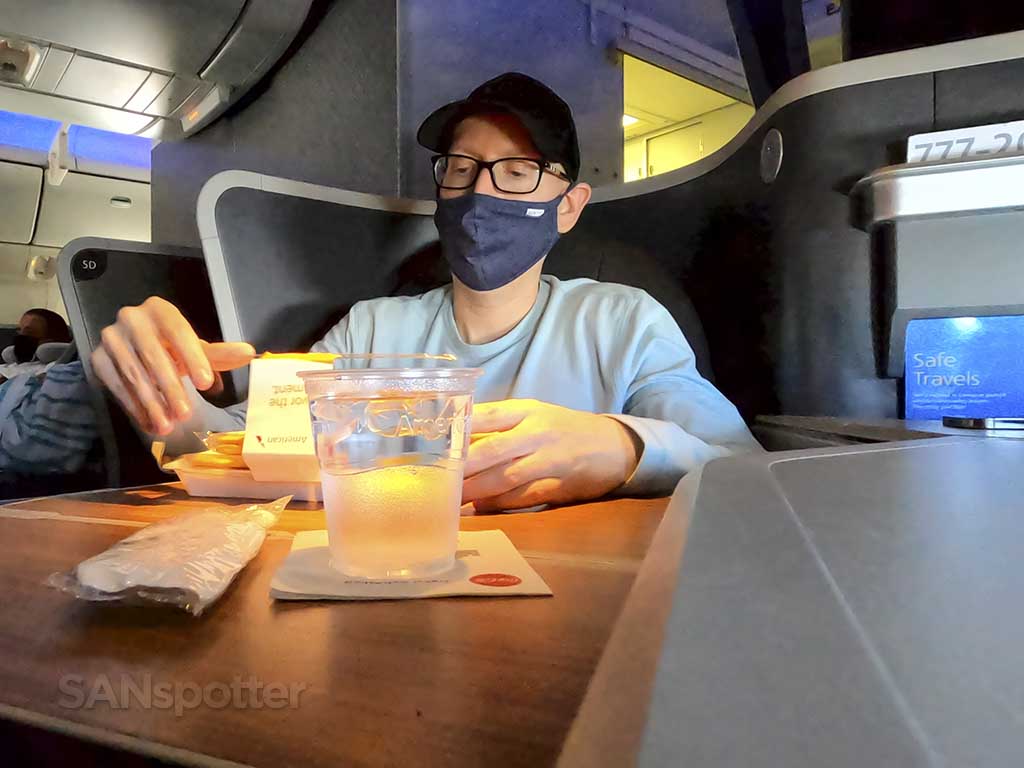 Seat comfort
I didn't have a lot of time after the meal service to stretch out and relax, but gosh darn it, I tried my best.
While not quite as comfortable as the seats on their 787 aircraft, these 777-200 seats are more than adequate. Yes, they lie fully flat, and I know for a fact that I'd be able to sleep like a baby all the way to Hong Kong one of these bad boys.
The arrival into Miami
Just as I was starting to get comfortable, they turned on the cabin lights and informed us that we'd be dodging thunderstorms all the way into Miami. I opened my window shade, clenched my butt cheeks, and got ready for the show.
Pros and cons of American Airlines 777-200 business class
If you read my full review of American Airlines 777-300/ER business class, you'll know that I am a pretty big fan of the premium service on this airline. No, it's nowhere near the levels of quality and service that you get in Qatar Airways business class, but they try their best. And it's not half bad.
Pros
Unlike United 767-300 Polaris business class (a very similar product), the seat is phenomenally comfortable, and is perfectly suitable for long-haul flights over 12 hours.
Privacy at the window seats is quite good. In a seated position, it's extremely difficult to see anyone else without twisting your head around or standing up slightly.
Two USB charging ports and a full-size electrical outlets will give you all the power you need to keep your devices charged for the entire flight.
The seat lays 100% flat and is quite comfortable for sleeping. There are no bumps or lumps!
Cons
The seatbelt is incredibly large and uncomfortable.
Not only is the tray table extremely difficult to figure out, it's located too far forward (in my opinion anyway). This means that you have to bring your seat to the full upright position in order to use it effectively at meal time.
The window shades need to be completely shut in order to avoid reflections on the video screen. It's pretty annoying if you're like me and you always like to keep one eye on the ground below.
Keep in mind that the interior noise levels of the 777 are higher than they are compared to similar aircraft. My comparison of the A330 vs the 777 contains a section about interior decibel levels, and you might be shocked at how much louder the Boeing really is…