What in the world is going on? I recently flew United 777-300/ER business class, and I couldn't help but to think it was one of the best experiences that I've ever had on this airline. It wasn't perfect, but it's blatantly obvious they are very serious about being the best in the world.
Polaris Business Class on the 777-300/ER is phenomenal. The seats are very private, in-flight entertainment is some of the best I've ever experienced, and I found it to be a great place to either sleep like a baby or work like a boss.
The food still kind of sucks though. Gordon Ramsay, if you're reading this review, please – for the love of all that is holy – give United Airlines the kick in the butt they so desperately need to be culinarily competitive.
UA1247
Chicago, IL (ORD) – San Francisco, CA (SFO)
Thursday, February 17, 2022
Aircraft: 777-322/ER
Registration: N2534U
Duration: 4 hours 35 minutes
Seat: 15L (Polaris Business Class)
The video
I've made several videos about United Polaris Business Class before, and all of them were really fun to put together. This particular video about 777-300/ER business class was just as fun. Maybe even a little bit more.
As you can see, I'm trying to get better about showing more details about the seat, the service, and entertainment in my reviews. However, I'm still finding it difficult to find the right balance between sleeping like a baby for the second half of the flight and staying awake to get the content I need for a great video.
As usual, the music for this video came from Epidemic Sound. The title of the first song was "Stupid Lies" by Luwaks, and the title of the second song was "Keep on Waiting" by Can't Find Ollie.
My full review of United 777-300/ER business class from Chicago to San Francisco
After a very comfortable night at the O'Hare Hilton Hotel, I stumbled my way into the airport a little after 6 AM. The last time that I flew United Airlines into or out of O'Hare was back in 2018 (in United 737-900/ER economy), so it felt really good to come back and see what has changed since then.
What terminal does United Airlines use at the Chicago O'Hare airport?
United Airlines occupies Terminal 1 at O'Hare. Terminal 1 is broken up into two separate concourses (A and B), and I am of the opinion that they are the most beautiful airport concourses in the entire US. Which is saying a lot, since it's nearly 35 years old at this point, and it still looks as amazing as it did when it first opened in 1987.
The boarding process for flight number 1247 to San Francisco
My flight to San Francisco was departing out of gate B16 this morning (which is located at the far end of the concourse). It's a bit of a cluster**** considering that all of the gates in this vicinity are for large widebody aircraft, and it's a total zoo if there are two flights or more boarding at once.
That was exactly the case this particular morning. There was a flight to Honolulu departing immediately next door at gate B17, and it was really hard to figure out what was happening when they were making announcements for both flights simultaneously.
My first impressions of United 777-300/ER Polaris Business Class
Having already tried Polaris Business Class on several other aircraft types late last year, I sort of already knew what to expect. As a reminder, United 767-300 business class was surprisingly good. United 787-8 business class was even better.
Considering that the 777-300/ER is the unofficial flagship aircraft of the United Airlines fleet, my hopes were high that this was going to be my best Polaris experience yet.
Pro Tip
Save money by purchasing United MileagePlus miles
It's often cheaper to pay for a flight with miles than it is to pay with cash!
I usually purchase miles to pay for long haul business class on United and Star Alliance partners. It's generally cheaper that way.
Its a great way to top off your account balance if you're just short of the amount required for an award trip or upgrade.
You can buy miles for yourself or another MileagePlus member.
Buy Now
Note: I may earn a commission if you make a purchase, at no additional cost to you.
The departure out of O'Hare
I love the O'Hare Airport. This used to be my "go to" airport back in my aviation photography days, and I know it like the back of my hand. Well, sort of.
There have been a lot of big changes over the past five years or so at O'Hare, and parts of it have become brand-new to me all over again. It was kind of neat to see what had changed from my window seat on the United 777-300/ER.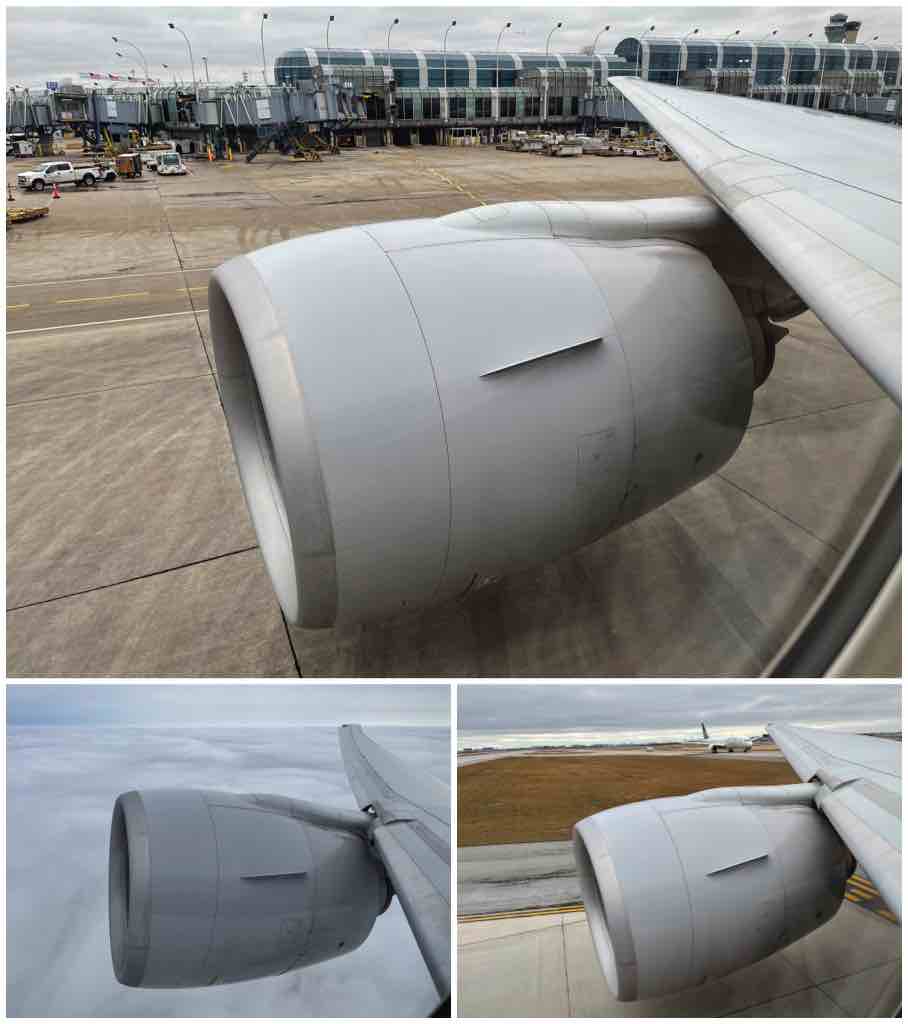 What is in-flight entertainment like in United Polaris Business Class on the 777-300/ER?
If there's one thing that I have to give United Airlines credit for it, it's consistency. When it comes to in-flight entertainment, it's nice to know that you can pretty much expect the exact same quality of in-flight entertainment from one aircraft type to the next.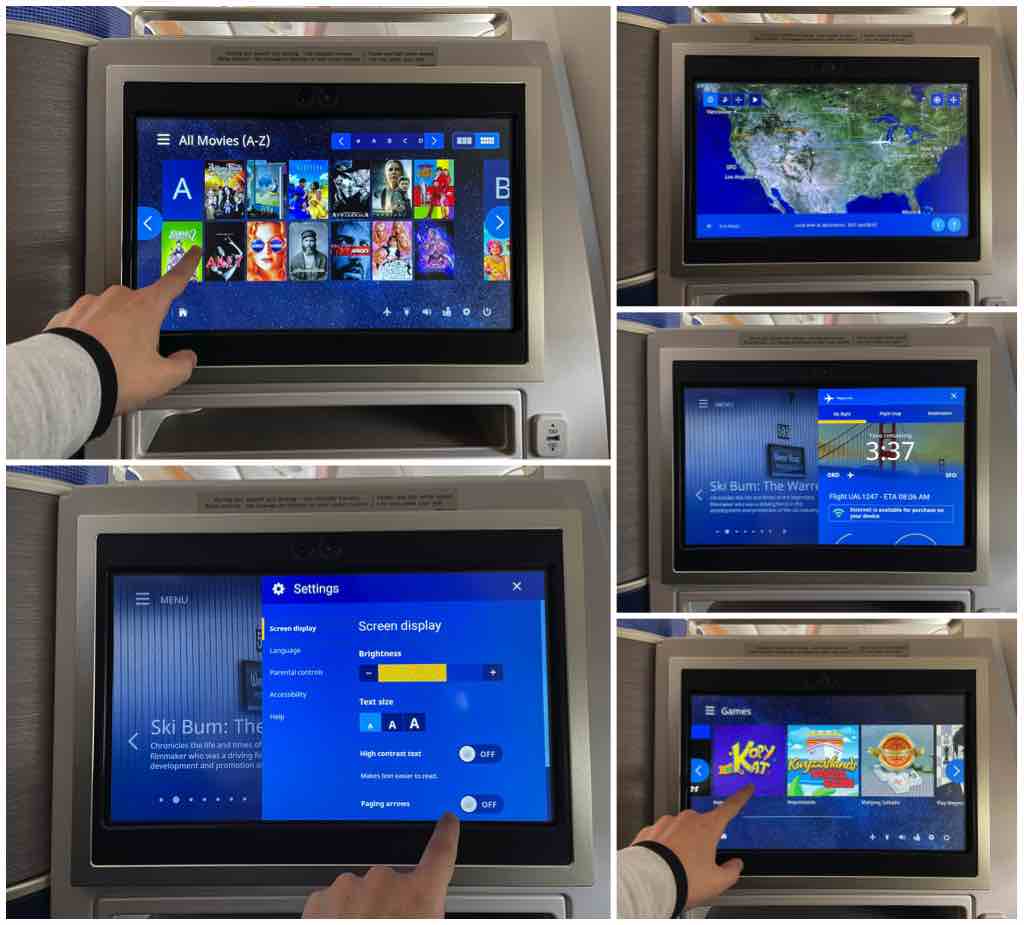 My only real gripe about this particular flight from Chicago to San Francisco was that they didn't provide noise canceling headphones. Which is strange, because I got them from my last two domestic Polaris Business Class flights. I really hope they haven't decided to cut back on these kinds of perks.
Is the Wi-Fi free in United business class?
Sort of. At the time of this writing, connecting to the in-flight Wi-Fi will give you complementary access to the messaging apps on your phone while in flight. However, if you want access to the actual Internet, you're gonna have to pay extra for that.
It should also be noted that you can stream video entertainment on your own device if you choose to do so. It's completely free, and all you need to do is to connect to the in-flight Wi-Fi.
How bad is the food in United Polaris Business Class these days?
Although I am extremely grateful that they are serving hot food at all, it is slightly disappointing that it's not very good. Not that I was expecting 5-star quality food or anything, but I was hoping to get something better than what I could get from the freezer section at my local gas station.
Are the seats in United 777-300/ER business class good for sleeping?
Unless you're the type of person who can't sleep on airplanes no matter what, I'm willing to bet that most people would find the seats in business class on the United 777-300/ER to be extremely comfortable. They lie fully flat of course, and I appreciated the fact that there are no lumps and bumps.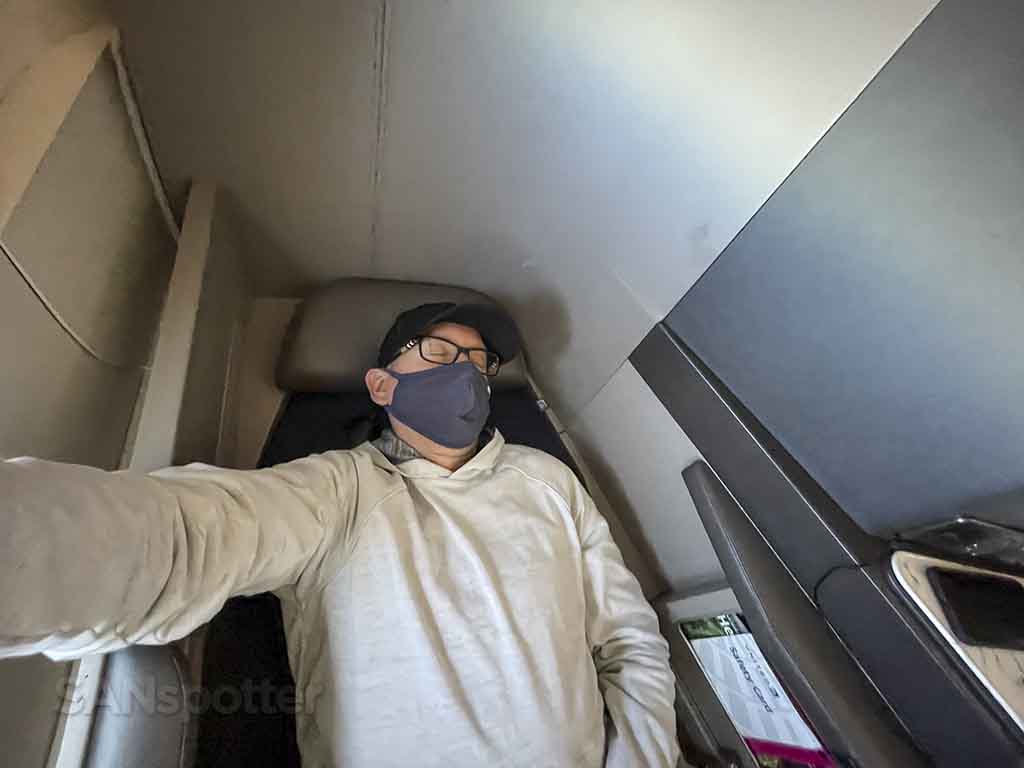 It's also important to note that the odd-number window seats are the most private. Polaris Business Class on the United 777-300/ER is staggered, meaning that the seats are offset from one another from one row to the next.
The window seats in the odd number rows are closer to the windows. Those are the ones that you want if you're looking for maximum privacy.
The descent and arrival into San Francisco
Having slept for the second half of this flight, I didn't partake in the second snack and drink service. However, just know that the cabin crew will come through the aisle about an hour and a half prior to landing offering more snacks and drinks to anybody who wants them.
The weather was darn near perfect for our arrival into San Francisco. It was even nicer than what it was on my last visit to SFO (which was a pretty nice ride in American Airlines Flagship Business Class, btw).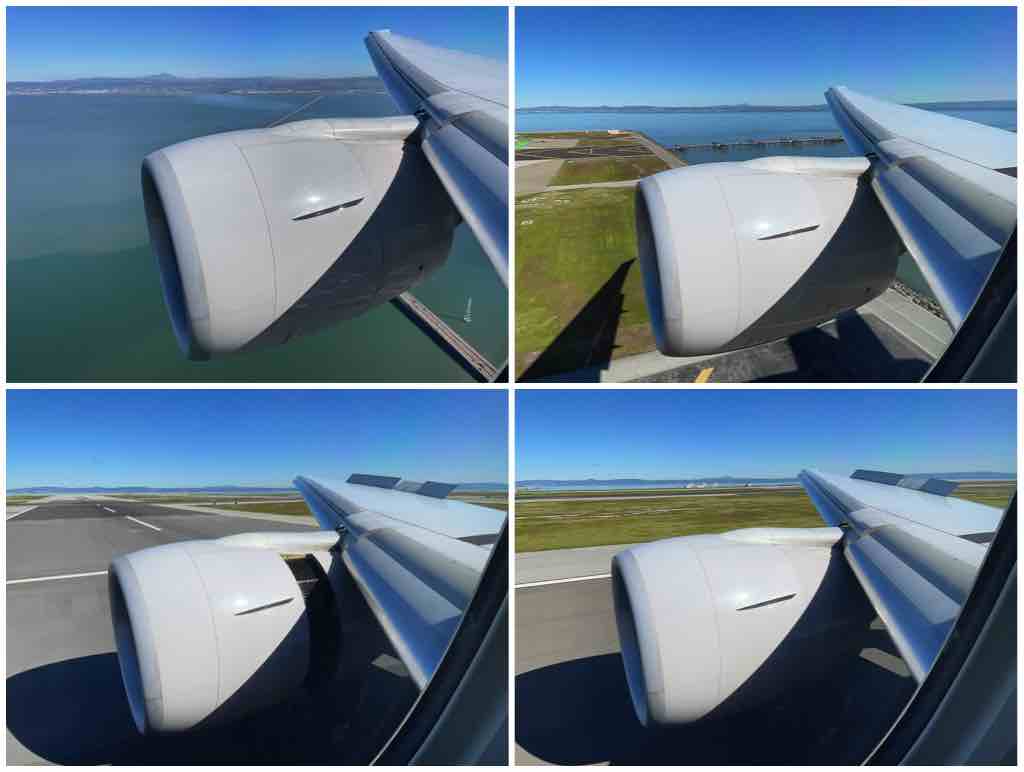 Pros and cons of Polaris Business class on the United 777-300/ER
As I mentioned up at the top of this review, United 777-300/ER business class isn't perfect. It's darn near close though, and my fingers are crossed that it'll be only a few years before they reach total perfection. I know, it's a stretch, but I like to be optimistic. Anyway, here are all the pros and cons:
Pros
Compared to other premium business class seats on other US airlines such as (Delta One on the 767-400), I really like how private the odd-number window seats are. They are some of the most private non-suite business class seats that I've ever tried.
This may be subjective, but I find the tray tables to be perfectly positioned in these seats. I didn't have to lean forward (or side to side) to eat, which helped to make this experience all the more comfortable.
There is a self-serve snack bar positioned between the two Polaris Business Class cabins. They didn't stock it with anything for this short flight from Chicago to San Francisco, but it is something you'll have access to on longer international flights.
The overhead bins are huge on the 777-300/ER. You'll have no problem finding a place for your carry-on bag.
Cons
There are a lot of business class seats on the United 777-300/ER (60 in total). Most of the time, the cabin crew will offer the highest-level frequent fliers their choice of meal first (instead of starting at the front and moving to the back). Long story short, if you don't have any status on United, you're likely to be getting whatever meal is left over – no matter where you are seated.
Speaking of the food, it's not all that great. If you're the slightest bit picky, your best option is to eat a big meal in the terminal before the flight, or bring something to eat on board with you.
The overall experience was really good, but it still doesn't compare to JetBlue Mint IMHO (a product that will compete with the UA 777-300/ER on some routes). Be sure to check out my JetBlue vs United comparison for the specific differences.
For as new as these seats are, I was surprised to see so much wear and tear on them. For example, the shoulder strap for the seatbelt in my seat didn't retract once I pulled it all the way out. It was more than a little awkward.